Please Note: Firefox and some other search engines are not suitable – Use "Internet Explorer" for this page to load perfectly!

Click the logo above to reach the ssMaritime FrontPage for News Updates & "Ship of the Month"

The Private Stanley Charles Neil French Story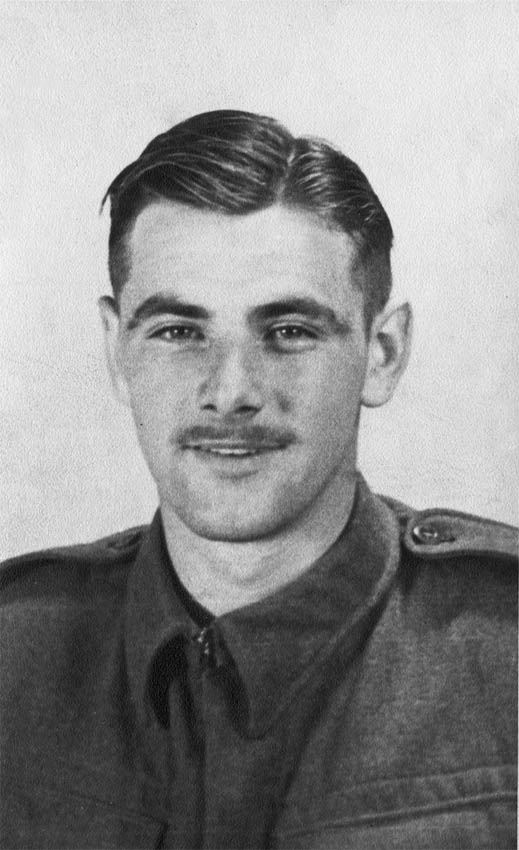 A professional photo taken of Stan prior to his tour of duty in Europe
Please Note: This story is told in two separate parts, by the author of ssMaritime and by Stan's daughter, Judy French. Her story will be shown as follows;
"Just three months after Stan became regular Army aged 21, he was embarking a troopship on July 21, 1943 but sadly I have no name or details of this ship."
Thus the author's part of this story is located closer to the left margin.
Introduction:
There is no doubt that this is one of the most comprehensive and well documented stories of a young New Zealand man from the South of New Zealand who was taken all the way to Europe and fought in a vicious battle and severely wounded and returned home on the Australian Hospital ship Wanganella. I trust that you will appreciate this story of this brave New Zealander for it will give us an insight to those dark days of World War 2, the Troops and the troopships that served New Zealand and Australia so well, especially the wonderful services provided by fine passenger liners that were rapidly converted into efficient hospital ships.
I wish to thank Judy French for all her cooperation and providing the many photographs and other images and documents, for it has made this one of the most comprehensive accounts of those days and of course the full life of Stanley French!
Reuben Goossens.
Stanley
Joins the Army:
Stanley Charles Neil French was born in the beautiful Scottish inspired City of Dunedin in Otago New Zealand on October 7, 1921. He would live in the suburb of Ravensbourne, went to school and lived a very normal childhood and grew up as a young man until the war commenced and he was conscripted on his 19th.birthday on October 7, 1940 as a Territorial.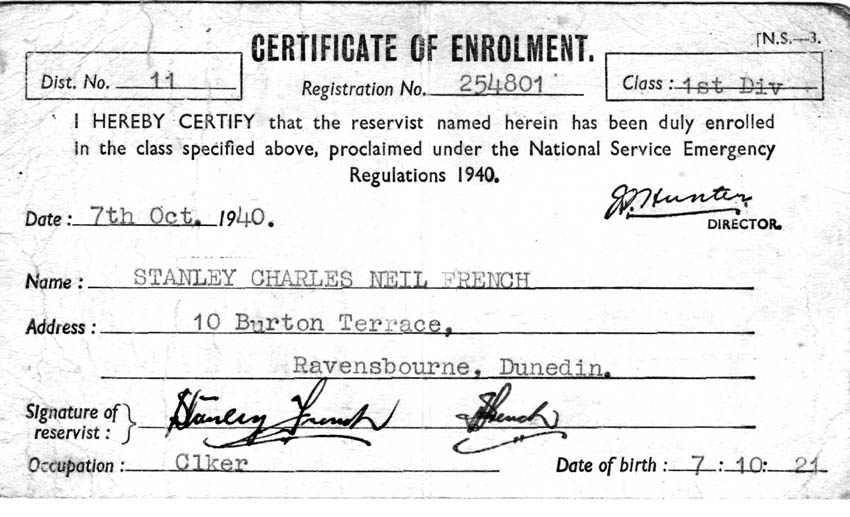 His Certificate of Enrolment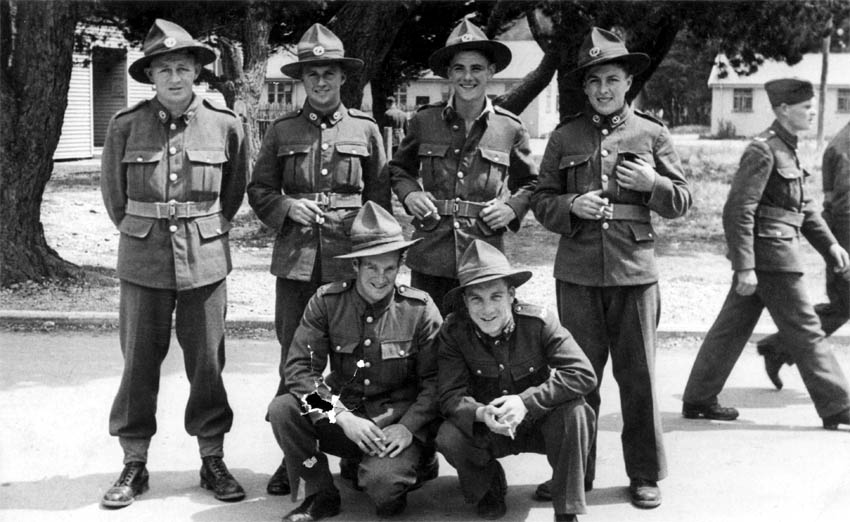 Other conscripts in Stan's platoon
"In 1941 Stan was sent to Burnham Military camp where he trained with the infantry until April 23, 1943 when he official became part of the fulltime Army. His number was 254801 Private French S.C.N. of the 26th.Battalion, D Company of the 2nd.NZEF, which was essentially made up of men from the Otago region."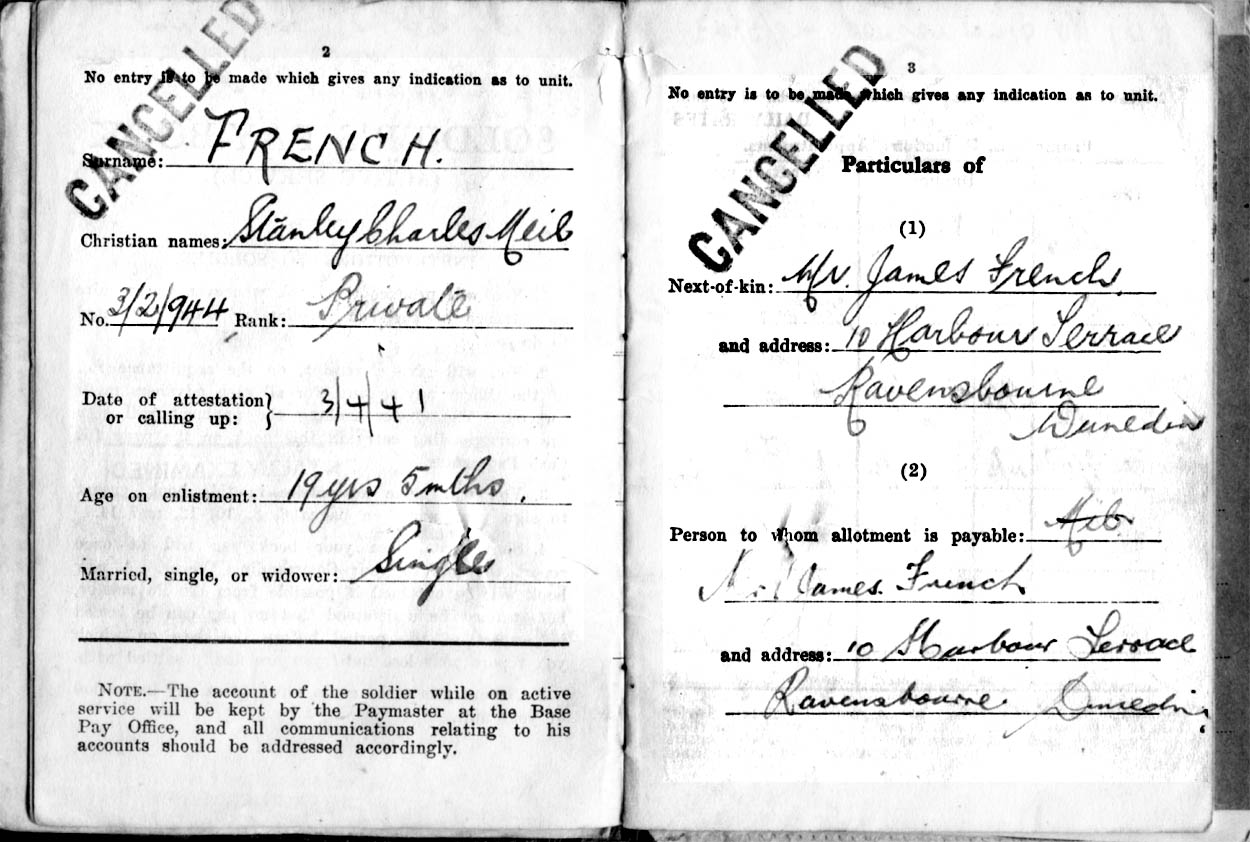 Pte Stanley C. N. French's Attestation booklet dated April 3, 1941 just be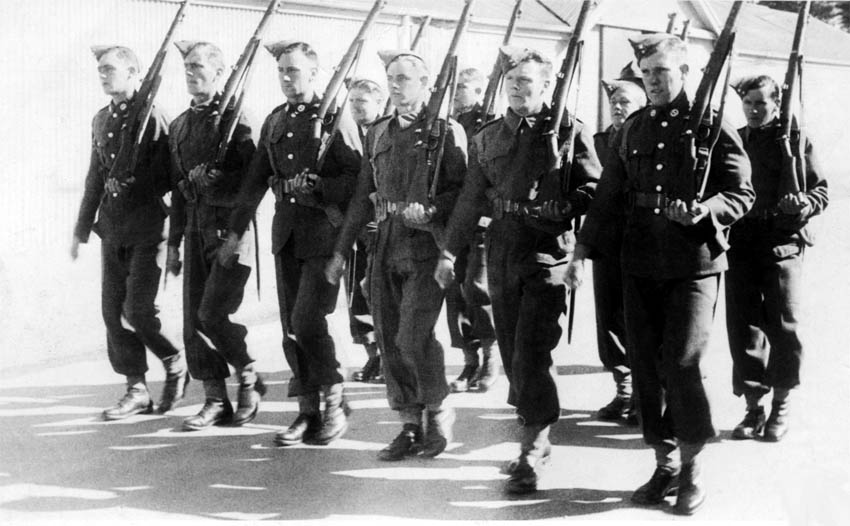 Stan is seen front 4th.from the left, during a drills parade at the Burnham Military camp.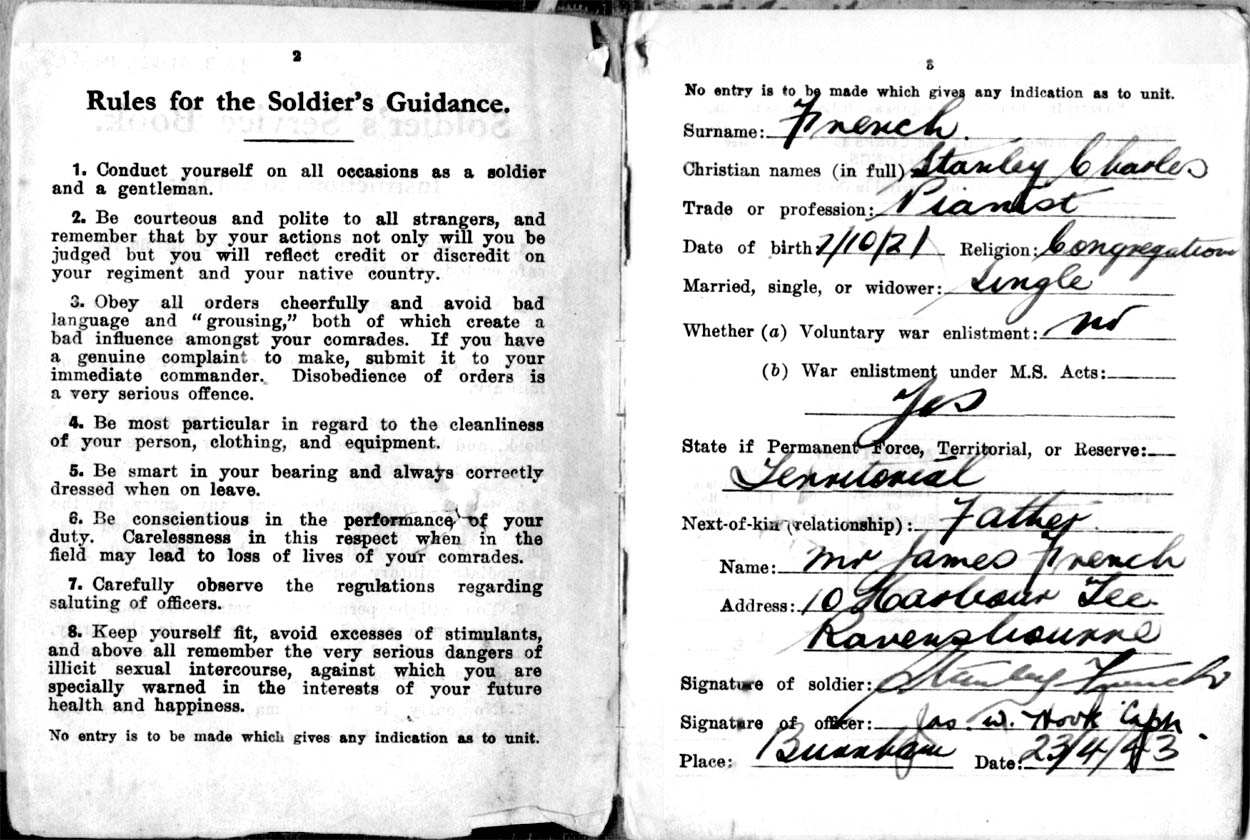 Boarding a Troopship off to War:
"Just three months after Stan became regular Army aged 21, he was embarking a troop ship on July 21, 1943 but sadly I have no name or details of this ship."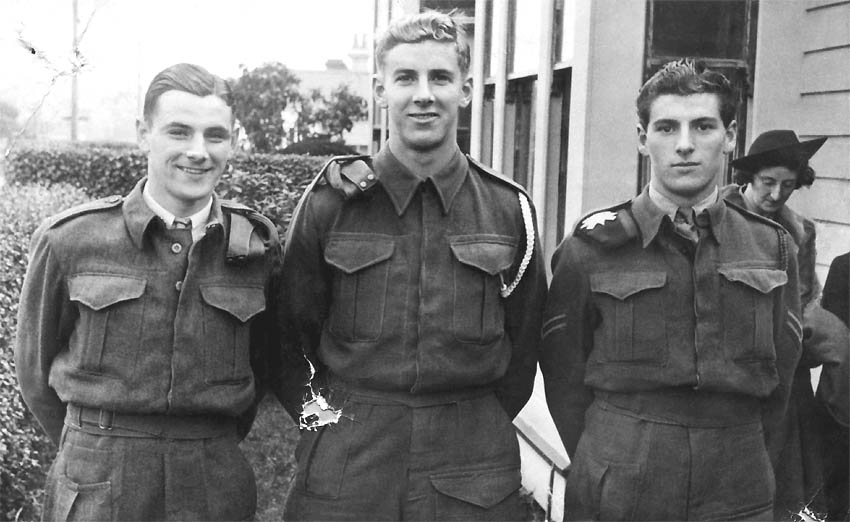 Taken in November 1942, the three brothers French
Left to right: Stan, Neil and Robert all in their uniform
Note the shrapnel damage top left around the post, Neil's trousers and bottom right
Judy French provided the following information regarding Stanley's brothers:
"Robert was the oldest of the three boys and was he a cook in the Army. Although he was posted to Italy along with Stan, but he never saw any active battle and thankfully returned home unharmed. Neil being the youngest was actually underage when he signed up therefore he never went overseas for the war had ended before he turned 21 years of age."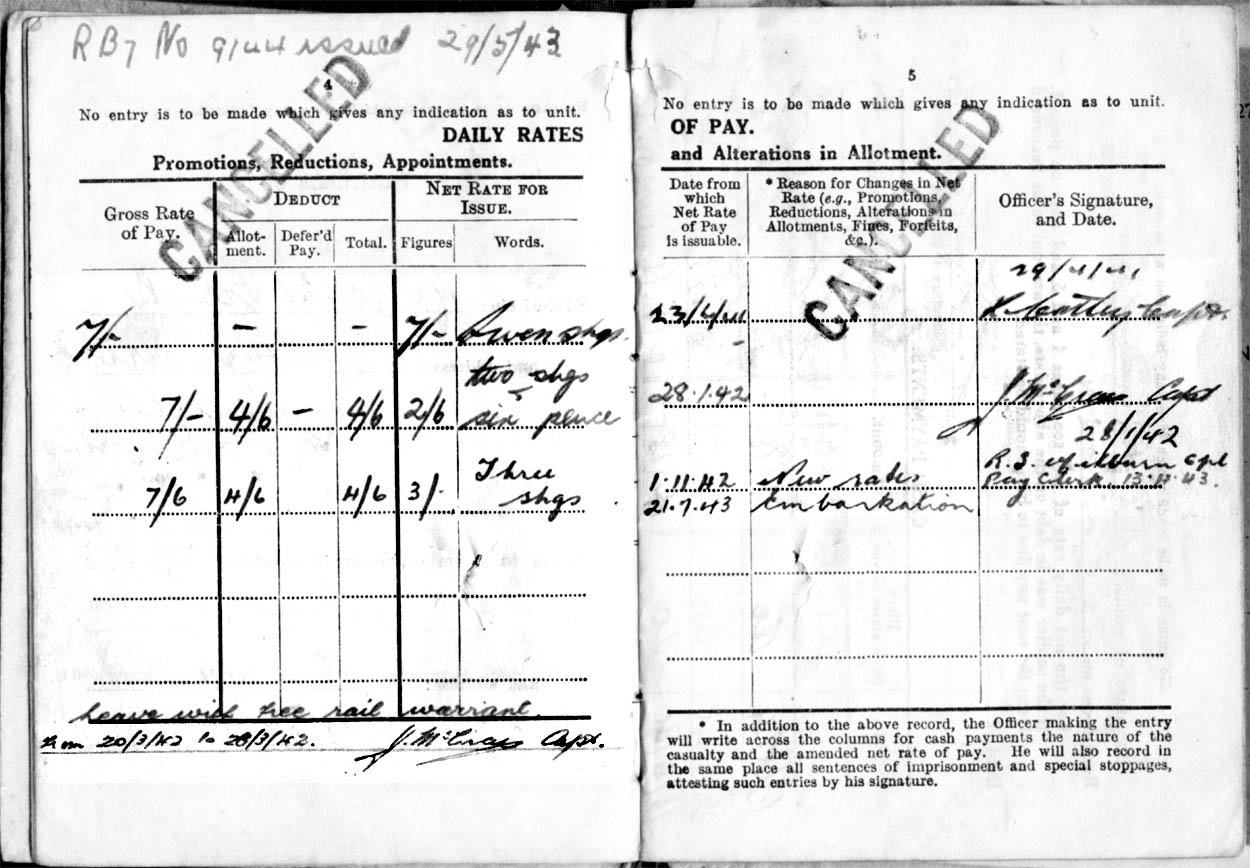 Please note the entry of July 21, being his embarkation pay of 7 shillings & 6 pence, less Stan's withdrawals
Stan's voyage on this troopship would be far more enjoyable than he had expected, as we will soon understand.
But, I will let Judy French, Stan's daughter tell the story regarding his experiences en route to the war campaign.
"I am not sure of the date the troopship arrived in Fremantle (Perth) but it is here where he met his future wife and my mother whilst on shore leave. Her name was Ruby and she had turned 19 years of age that year, and Stan would be 22 in October. She was told by her mother to spend her lunch break at the wharf and welcome the young men from New Zealand who were off to war as she may be the last friendly face they see. She did this and met Stan. They spoke and liked each other and exchanged addresses and wrote weekly. Over the course of the next six years they fell madly in love."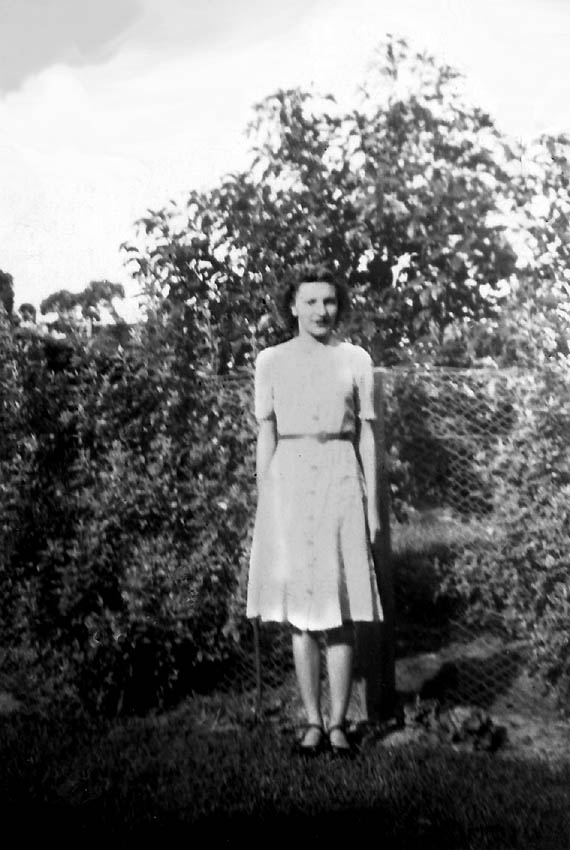 Ruby Anne Newton is seen here when aged 18 she was born on April 14, 1924
"As the troopship continued on its voyage the ship arrived in Egypt on August 24, 1943 where the troops were allowed to go ashore on some valuable leave and most headed for Cairo and enjoyed its many sights and bazaars. Stan had written some postcards and photographs, which he sent home."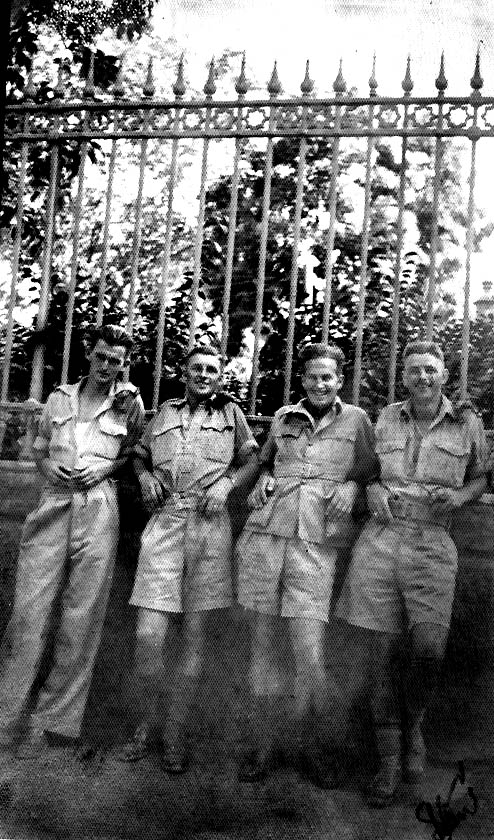 A postcard photo, Stan is seen on the right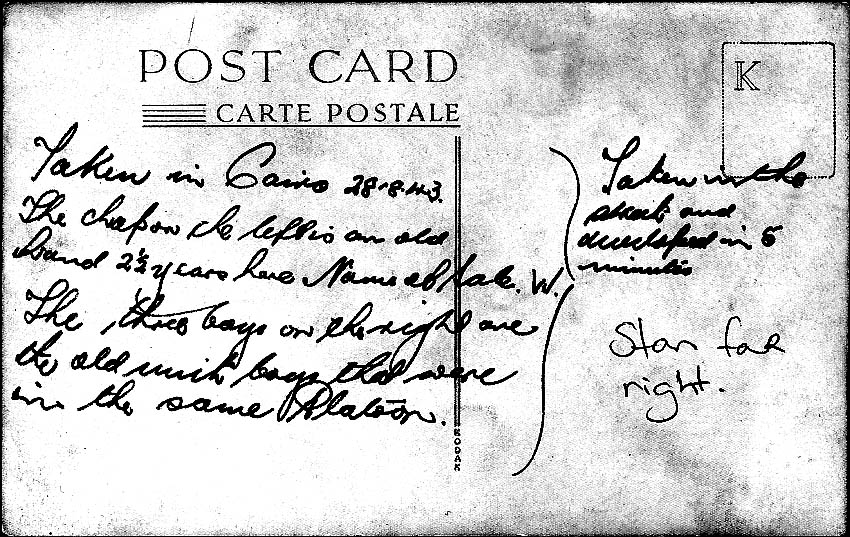 Below is the back of this postcard photo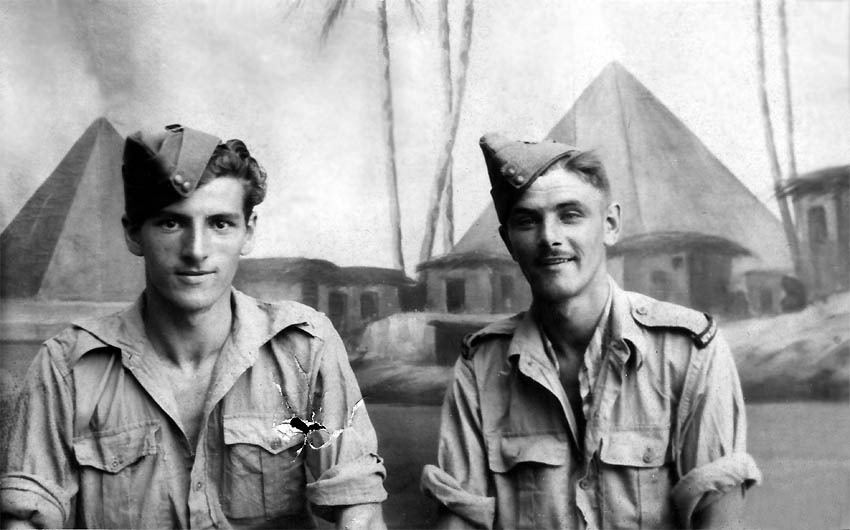 Bob and Stan seen in Cairo – note the shrapnel damage in Bob's shirt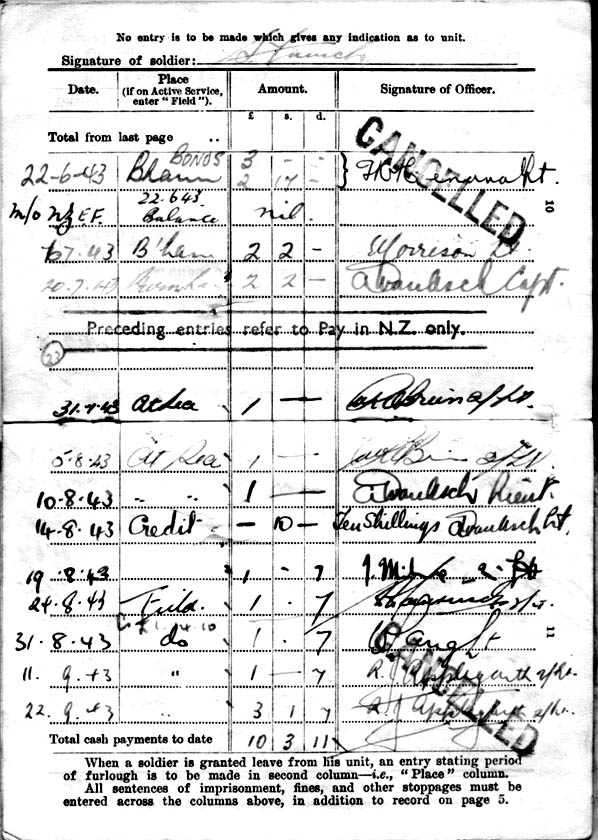 This pay book is dated from June 22, whilst at sea to September 22, when he was on the battlefields of Italy
On the Battle Fields of Italy:
As the time was coming close for the American units to be withdrawn from the Italian "Battle of Monte Cassino," they were going to be replaced by the New Zealand Corps, being the New Zealand troops and the Indian Division as soon as they arrived. The New Zealand Corps were commanded by Lt. Gen. Bernard Freyberg.
Thus, as the troop ship departed Egypt, the ship headed directly to Italy, where there had been an extended battle going on quite some time; it was known as the "Battle of Monte Cassino," but it was also known as the "Battle for Rome." This was a long and a drawn out battle, and Stan would be there for a considerable time.
"Sadly I do not have a thorough account as to exactly where my father was initially deployed, but I have pieced together a time-line of the events from what I do know and others from his pay book etc. I believe he was in the 26th.Battalion D Company of the 16th.Platoon part of the 6 New Zealand Infantry Brigade. And I know that he ended up in a great big battle in Italy."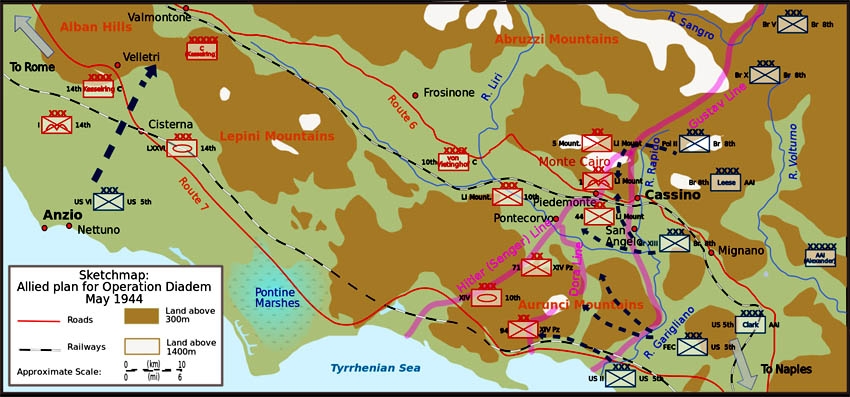 The Battle Fields of Cassino
Suddenly Pte Stanley French had become fully involved in this ongoing and this vital Monte Cassino battlefield where he fought bravely, but then came a huge onslaught when German shelling was extremely heavy, and Pte Stanley Charles French was severely wounded and his body was riddled by a large amount of shrapnel and he required urgent medical attention!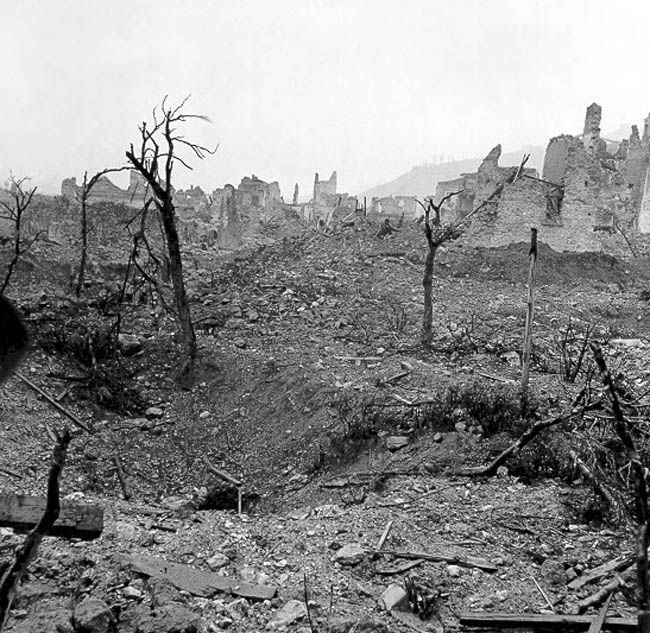 These are the ruins of the town of Cassino seen after the great battle
"Having been wounded by mortar fire at Cassino, I believe this would have happened on or between; March 15 to 25. Stan was eventually taken to No. 3 General Hospital at Bari on the east coast of Italy and it was also the last link in the chain of evacuation in Italy. Patients were evacuated from 2 General Hospital at Caserta by train, for certain cases, notably fractures of the femur, were sent on to Bari at the earliest opportunity and this being part of Stand injuries that Stan's secondary treatment could be undertaken there."
The Voyage Home:
"My Dad (although I was not born as yet) was placed on board the HMAHS Wanganella and amazingly he had a compulsory "toe-tag" attached. The ship slipped out of port on May 5, 1944 and she sailed home via the Suez Canal to Wellington New Zealand."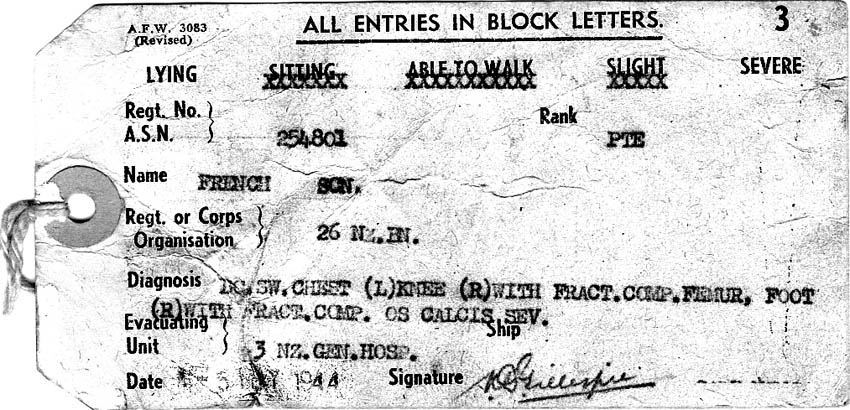 Stan's toe-tag that reveals that he was "severely wounded" and his various wounds in his feet, legs and chest
The Wanganella had been sent to Bari to collect the many wounded New Zealand soldiers from this horrid battle. Most required urgent surgery whilst they were onboard as well as a great deal of intensive and general nursing care as they were taken on their long voyage home. This was HMAHS Wanganella's Voyage number 19.
"Stanley was well cared for by the medical team onboard, but there were two very special nursing sisters who were appointed to look after him during the voyage. One was Sister McDonald and the other Sister Pollick. They were not just medically efficient, but they really cared and looked after their patients and for Stan. This must have resonated with Stanley for he always remembered these two wonderful ladies with great fondness! As the voyage continued, Stanley improved enough to be able to go out on deck and on one day he took an excellent photograph of the two Sisters who gave him so much time and great medical care and also of some other soldiers that were on board."
The photo taken of the two Sisters – McDonald and Pollick by Pte Stanley French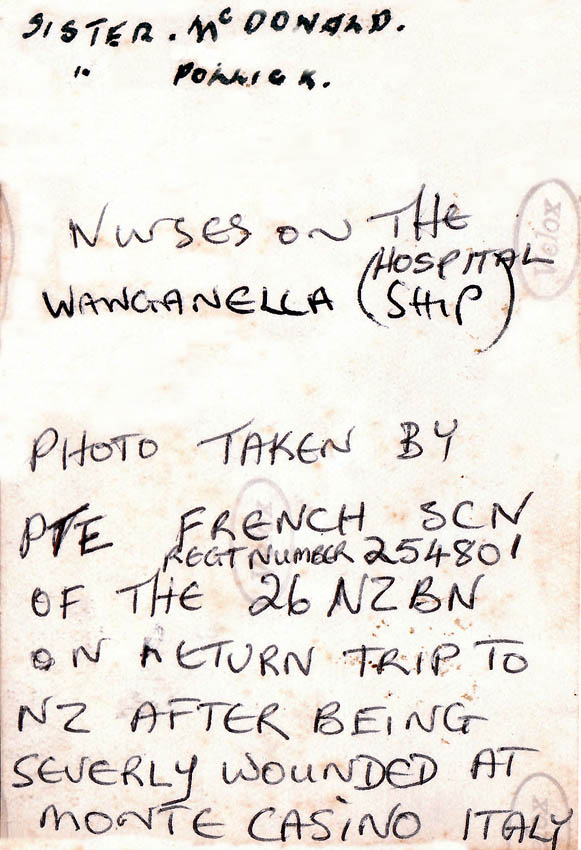 This is what was written on the back of the photograph

above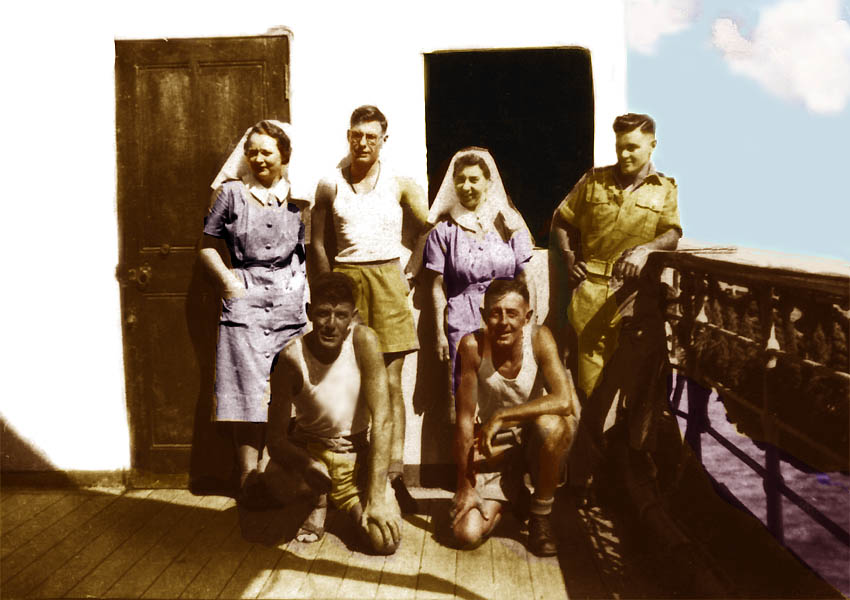 Left to right: Sister McDonald, L/Cpl. G S. Wain, Sister Pollick and Pte. J Anderson
Front: Pte. W. Law & Pte. G. Page
This photo was B&W but colourised by the author of ssmaritime.com
"As the voyage continued, Stan once more reached the Suez Canal, but this time it was very different to the last time he visited, for then he was strong and healthy and able to head off to Cairo and enjoy himself with his brother and friends. But this time it would be a very different story, as he was confined to the ship. However, he was able to take a photograph from the deck of the Wanganella, as the ship gently glided through the arid dessert."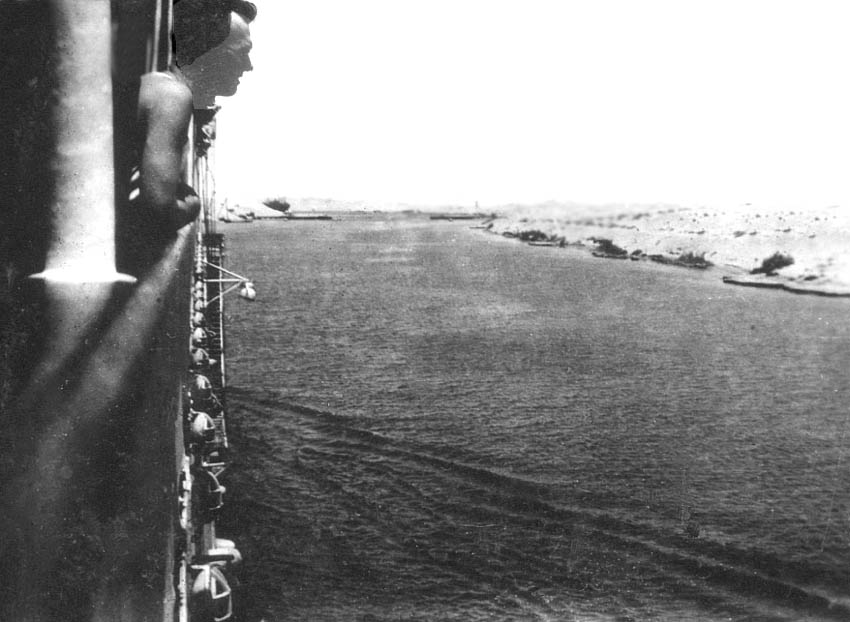 The Suez Canal, a photograph by Stan French
During the voyage he managed to keep one of the lunch menus dated Wednesday May 31, 1944 and from looking at the menu, the food looked rather good, for there would have been nothing like having a home style "roast lamb" with "mint sauce", but there was also a "rump steak" that was specially cooked to order, now that would have been just like a really good restaurant back in the 1940s. For a wounded soldier who had been eating rather horrid Army supply canned food, this was just like food straight from heaven!
"Stan packed the menu in his kit-bag, however the menu became somewhat marked, being due, because when he was operated on and they removed many pieces of shrapnel from his body, he decided to keep some pieces as reminders from the war and sadly it leeched through its wrappings, and it marked the menu as well as some other items."
NOTE re Images and the Menu below: Below I will show both the original front and back cover of the menu that actually looks better than the actual menu. It is followed by the fully restored and original front cover and the inside showing the Lunch Menu. The restoration was a mammoth task and it was achieved per Photoshop, as I have done with many photographs on this page, including colourisation of the Wanganella at the head of the page and the delightful photo by Stan of the two Sisters and the four soldiers on board. However, there are two photographs where I have deliberately left the shrapnel marks as you may have seen above, for I have noted these!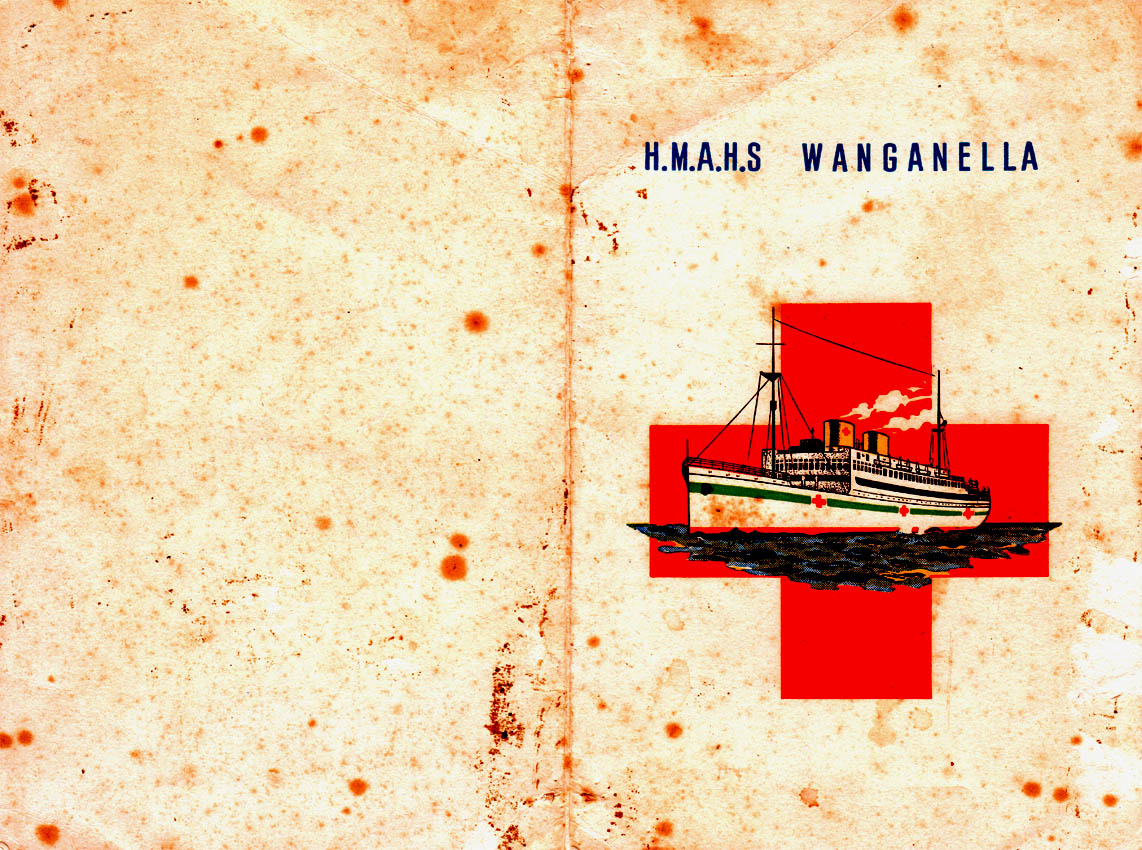 Above & below:
Here are the front & back cover of the lunch menu complete with all the shrapnel stains and the inside menu below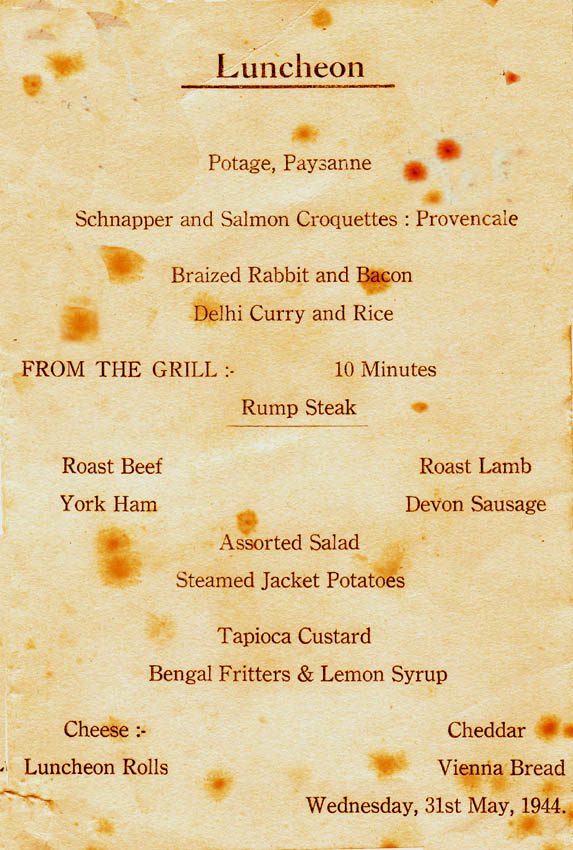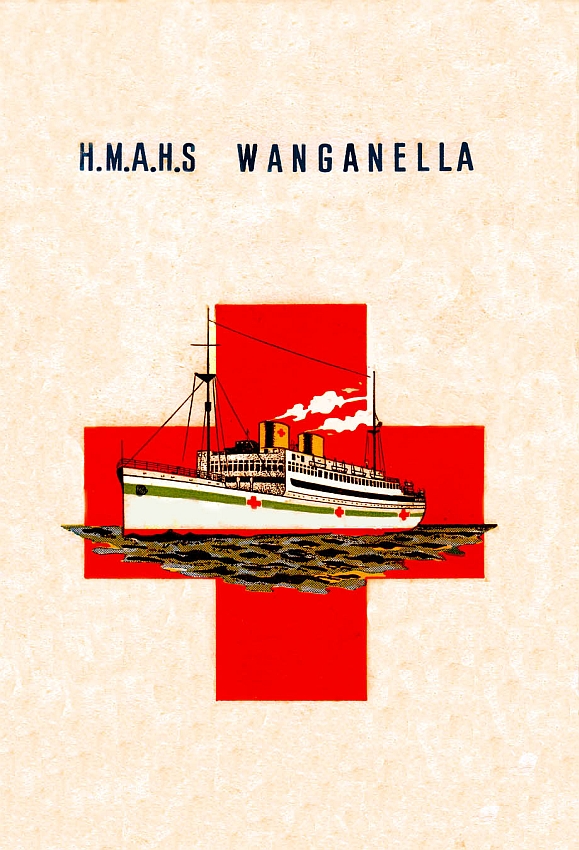 The restored front cover of the HMAHS Wanganella Luncheon Menu - Wednesday May 31, 1944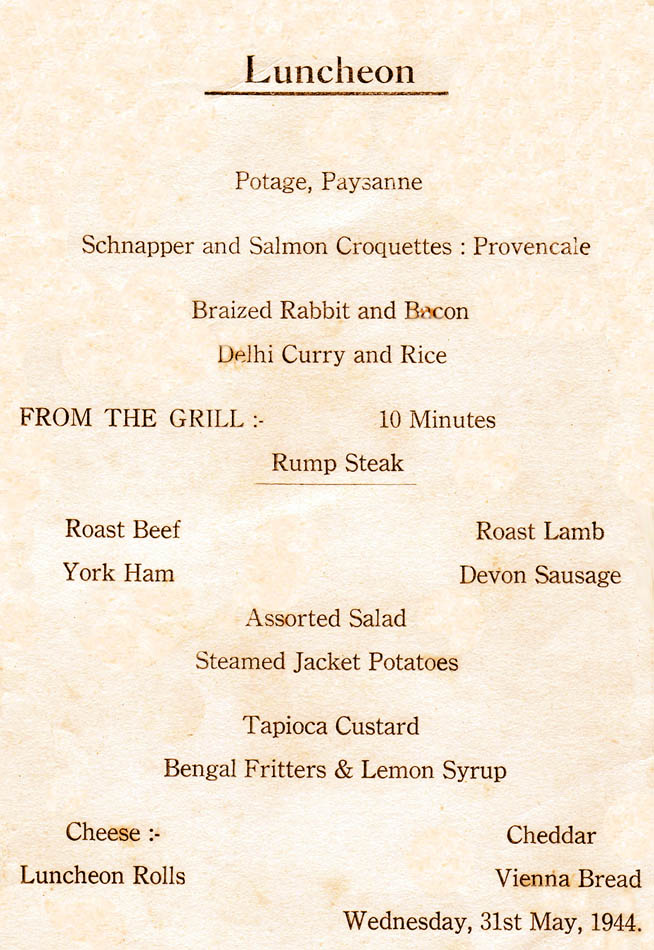 The restored Luncheon Menu, offering a remarkable menu for a wartime ship!
Well to be honest, these men deserved everything that was good, for they fought for their countries and laid their lives on the line!
In the meantime, back home in New Zealand family members were being advised about the casualties on the battlefields, both regarding the tragic deaths as well as the wounded. At the end of the week of April 17, 1944 a list was compiled about the most recent servicemen affected, but again the first thing that was done is to have the families advised. Some time later, the local paper in the South Island in the Otago region, the "NZEF Times" placed the official notification of their men affected.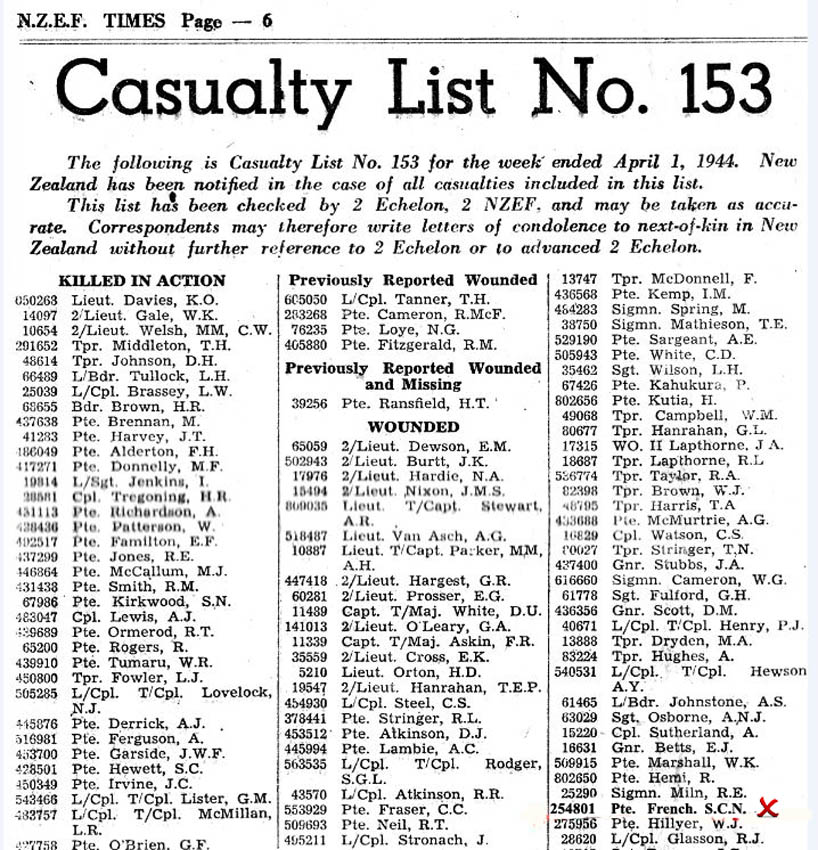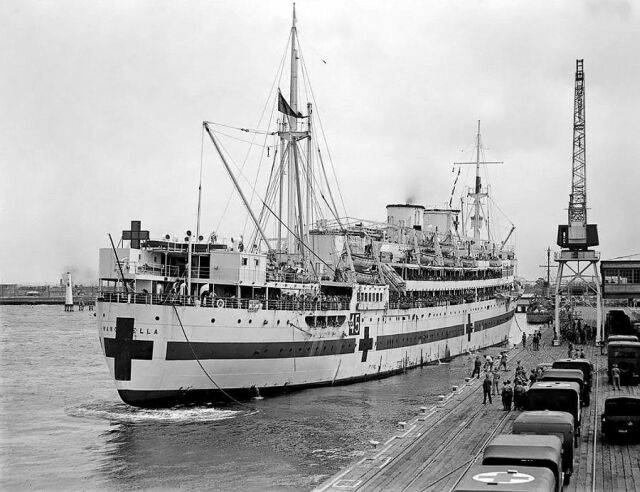 A typical arrival of the hospital ship Wanganella packed with wounded soldiers, with transport waiting
"Stanley arrived home in Wellington New Zealand on June 11, 1944 and the Army arranged special transport for him to go home to Dunedin, where he would have to enter into hospital again. Thus in Wellington he boarded one of the overnight passenger ferries sailing to Lyttelton sailing being the port of Christchurch, on board he would have been provided with a cabin. From Lyttelton a train would have taken him south first to Christchurch and then onto Dunedin and transferred to the hospital."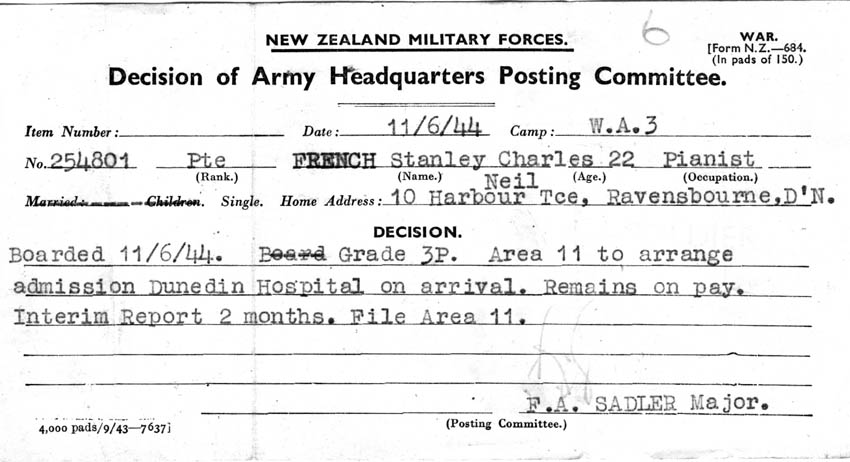 This was the rather simple transfer paper for Stan's travels from the Wanganella in Wellington to the Dunedin hospital
"Stan remained in Dunedin Hospital for ten long months and was finally discharged on April 17, 1945 when he was sent to convalesce further at Hamner Springs. He was finally medically discharged from Army service on May 26, 1945. Stan had remained on full pay until now, but he was now placed on a War Pension for the rest of his life.
During all this time Stan had been in regular contact with his now fiancée and on January 1, 1949 he sailed from New Zealand to Fremantle (Perth), Western Australia to meet up with the girl he met there (what would have seemed so long ago) his beloved Ruby and soon enough, they were married on March 18, 1949 in the Methodist Church, Charles Street, West Perth."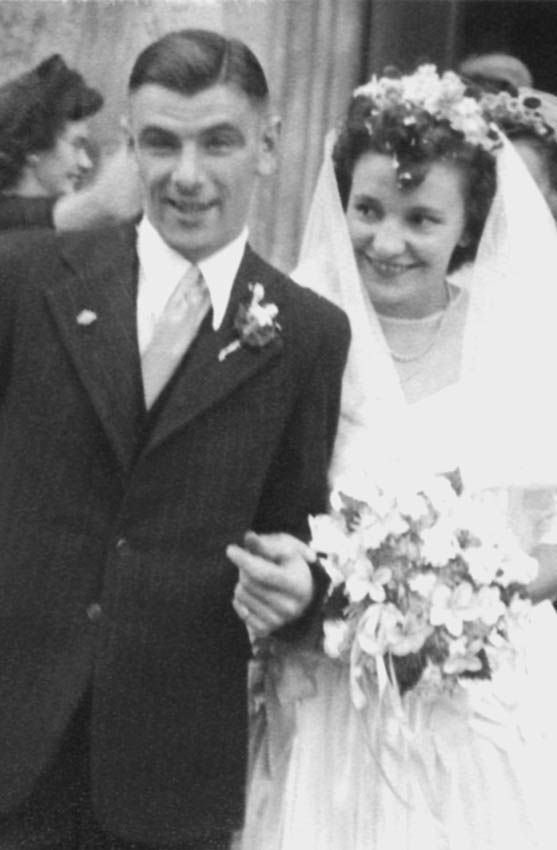 Above & below:
The Very Happy and just married Mr & Mrs Stanley Charles Neil and Ruby Anne French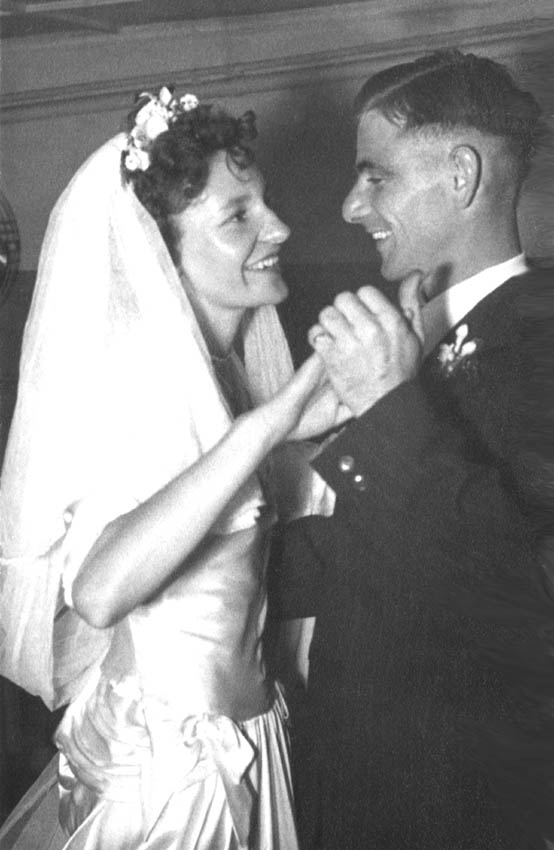 "Ruby and Stan built a house in Applecross a suburb of Perth, and they had three children, Richard in 1950, Jill in 1951 and Judy (yes that is me) in 1952. They lived a full and happy life in Perth, but in the early 1950s they decided for a change!
Thus, they packed up their young family, goods and chattels and headed back to New Zealand in order to take advantage of the "Returned Servicemen's Ballot Farm Scheme." Stan obtained a farm in the central North Island at Tirohanga. However, due to Stan's failing health and ability for the strenuous farm work they sold the farm in 1966 and moved to Hamilton and later to Tauranga where he worked in the clerical field until his retirement in 1981."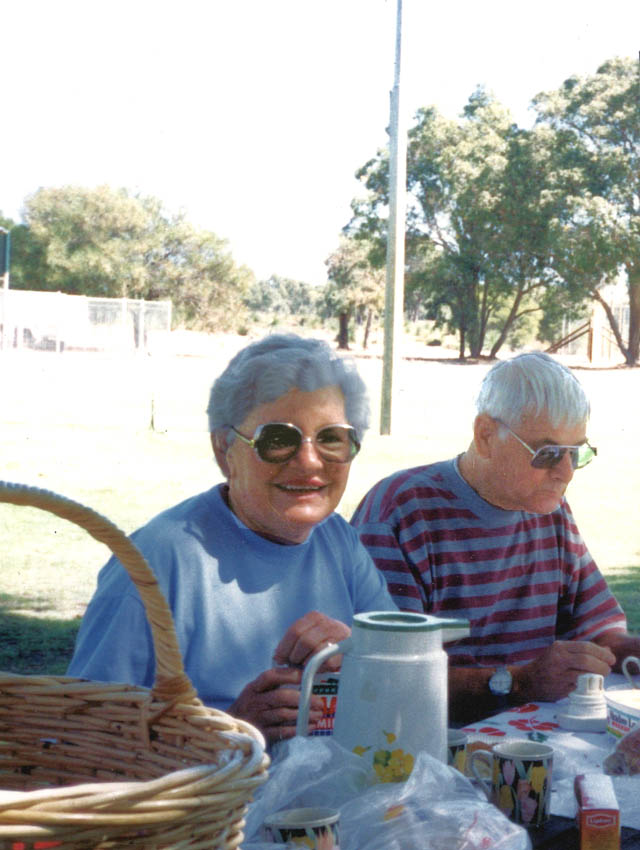 Ruby and Stan are seen on March 28, 1994 whilst on a picnic
"In August 1995 Stan was diagnosed with a rampant Lung Cancer and sadly, this was unresponsive to chemotherapy or radiation treatment. It was just eight weeks later that Dad died at home in Tauranga surrounded by all his loving family on October 28, 1995 having seen in his 74th birthday, 21 days earlier. My dear Mother, Ruby passed away 10 years later on August 23, 2005."
Judy French."          
I am exceedingly grateful to Judy French who originally wrote me about her dear Father in March 2014, for originally she had seen another menu of the Wanganella online, and she asked if I would like it in order to preserve it. Of course I did, for this menu was more than special, as it was from the Wanganella whilst she was serving as a Hospital Ship and it was even damaged as we have seen! I asked about Judy for her dad's story and she was kind enough to provide me with the details as well as all these wonderful and historic photographs and images! It all certainly proves again how the HMAHS Wanganella served so well as a Hospital Ship worldwide, she did herself and Australasia proud, as did the brave servicemen who fought for their countries during WWII and all Wars for that matter! It is amazing, for as I am completing this feature, tomorrow is ANZC Day 2014! Thus …
"Lest We Forget!"
Reuben Goossens.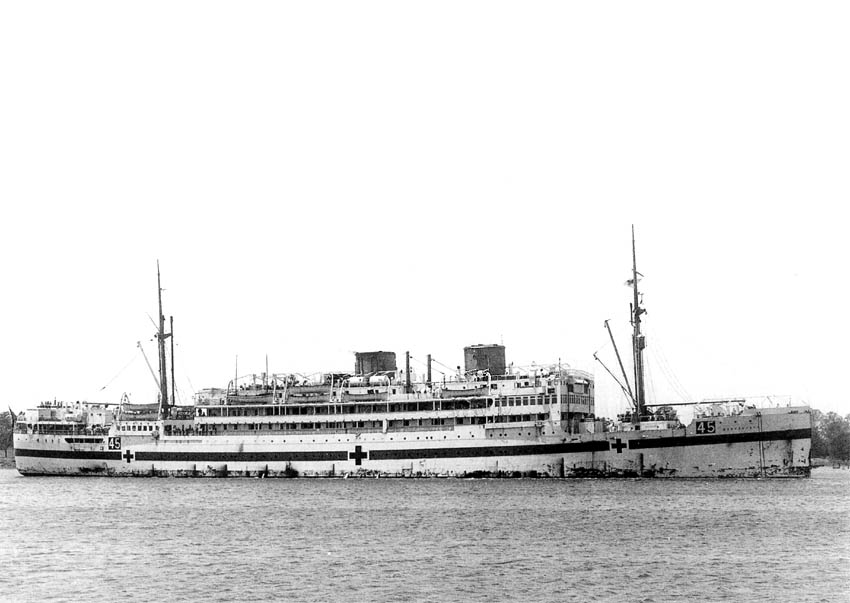 HMAHS Wanganella is seen in the Brisbane River late during the war and she is looking rather ragged
Photograph by V.H. Young L.A. Sawyer
TSMV Wanganella INDEX:
Page One -    Ships History Page
Page Two -   Photo Page
Page Three - Deck Plan & Brochure
Page Four -   Pte Stanley French heads for war and returns on the Wanganella a wounded soldier
                            A remarkable story of a New Zealand soldier who fought in a major Battle.
************************************
Use the Back button on your browser or Close the Page to return to the previous page
or go to our
INDEX
Who is the Author of ssMaritime?
Commenced in the passenger Shipping Industry in May 1960
ssMaritime.com & ssMaritime.net
Where the ships of the past make history & the 1914 built MV Doulos Story
Also visit my …
"Save The Classic Liners Campaign
Photographs on ssmaritime and associate pages are by the author or from the author's private collection. In addition there are some images that have been provided by Shipping Companies and private photographers, collectors as well as by supporters. Thus, although credit is always given to all contributors, but there will be some photographs that have been provided to me without details regarding the photographer/owner concerned. I hereby invite if owners of these images would be so kind to make them-selves known to me (my email address may be found on www.ssmaritime.com only), in order that due credit may be given.
This notice covers all pages, although, and I have done my best to ensure that all photographs are duly credited and that this notice is displaced on each page, that is, when a page is updated!
ssMaritime is owned and © Copyright Reuben Goossens - All Rights Reserved