Huddart Parker Liner - TSMV Wanganella - 1929 to 1970
Please Note: Firefox and some other Search Engines may not be suitable
Use Google Chrome for this Web Page to load perfectly!

Click the logo above to reach the ssMaritime FrontPage for News Updates
With Reuben Goossens
Maritime Historian, Cruise'n'Ship Reviewer, Author & Lecturer
Please Note: All ssMaritime and other related maritime sites are 100% non-commercial and privately owned, thus ssmaritime is NOT associated with any shipping company or any other organisation! Although the author has worked and been involved in the passenger shipping industry for well over 60 years, but due to his old age and poor health, he was forced to retire. Yet, he has completed well over 1,360 Classic Liners, Passenger-Cargo Liners as well as humble converted C3 converted Migrant Liners, which has transported countless thousands folk to the new world, as well on vacations'. I trust the features online will continue to provide Classic Liner and Ship enthusiasts both the information they are seeking, but more so provide a great deal of pleasure and relive many happy memories!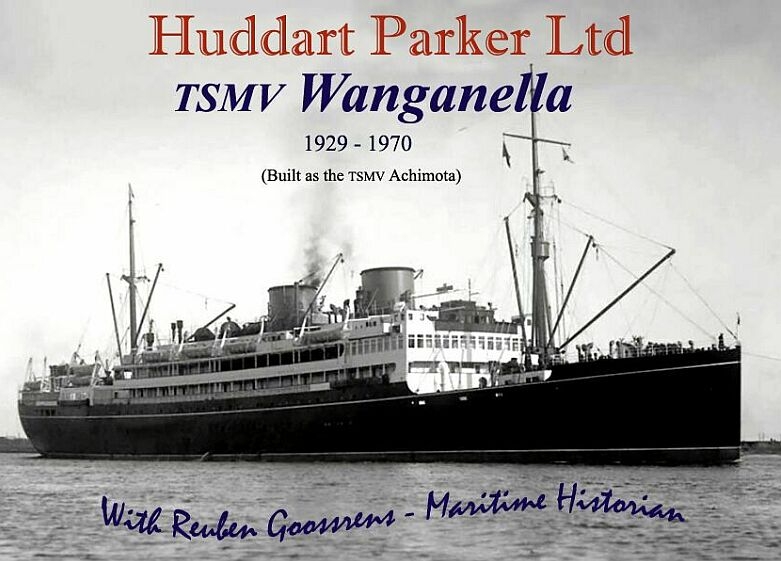 Page One
The History and Story of a Very Special Ship!
This page was recently updated:
The TSMV Wanganella had quite an amazing forty-one year history during which she served four owners extremely well! Although she was owned for the majority of her days at sea by the famed Huddart Parker Ltd and in 1961 she was obtained McIlwraith McEacharn but this was a short engagement as she was obtained just over a year later by a Chinese Hong Kong based Company - Hang Fung Ltd late in 1962. Thereafter she was sold again to become a workers accommodation ship in New Zealand and this feature will cover all these aspects.
But let us start from the very beginning and cover the story in short regarding a well-known Melbourne based Australian Coastal Shipping Company that in due course ventured further afield!
Huddart Parker Ltd:
Huddart Parker Ltd was officially formed on August 1, 1876 by James Huddart, who was also the nephew associated to T.J Parker, as well as John Trail and Captain Webb who made up the company board members.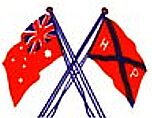 The Huddart Parker Ltd - House Flag
Although the firm, under various operating names, commenced operating their first vessel in 1854, being the 199-ton schooner-rigged iron steamer named "Express," which operated a service between Geelong and Melbourne in the southern parts of Australia. Over the years the company grew from strength to strength, and obtained bigger and better ships and slowly commenced services further afield to Sydney, Newcastle as well as Tasmania. But is would be the SS Ulimaroa that would make inroads for Huddart Parker and sailed as far as New Zealand!
SS Ulimaroa:
It was not until 1908, when the delightful 5,777-GRT SS Ulimaroa came into service and commenced the company's service on the Trans Tasman service, between Australia and New Zealand. Although, she was still considered as a partial coastal liner considering that she sailed from Sydney via Melbourne to Hobart and only then she would cross the Tasman to New Zealand. She would then sail back to Sydney. Thus she carried passengers on both coastal voyages and well as Trans Tasman sailings. Then there were those who preferred to book a full round voyage for their vacations, and make it what we would call today "a cruise."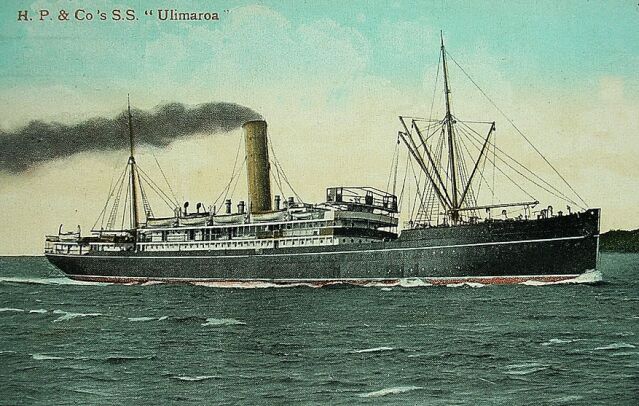 A postcard on the SS Ulimaroa
Postcard is from the author's private collection
The 5,777 GRT, all steel, twin screw SS Ulimaroa was built by Gourlay Bros & Co ship builders at Dundee in 1908. She had twin triple expansion engines producing some 1,095 NHP. She has passenger accommodations for 190 First Class, 120 Second Class, and 120 in Third Class. She was sold to Japanese breakers in 1934.
TSMV Wanganella - The all-British ship that became a Great Australian Liner:
Personally I love to think back to the days of my youth, for as a child I always loved passenger ships. Then when I was a teenager I came to New Zealand in May 1958 on an elegant Dutch passenger liner, the MS Sibajak of the Rotterdam Lloyd. I clearly remember the two remarkable "Express Trans-Tasman Liners" that operated at the time between New Zealand and Australia. The senior of the pair being the Union Steamship Co, 1925 built, accommodating 386 passengers, 11,036-ton, TSS Monowai and the ship in question, the TSMV Wanganella. Amazingly neither ship was built nor designed for their owners or the service they were operating, but both did the job extremely well and they became much loved and each had their own charm as well as countless followers!
The Wanganella was built by Harland and Wolff shipyards at Belfast, but she was originally ordered by one of the Royal Mail / Elder Dempster Group of Companies and she was to be named "Achimota," and she was to be operated by the "British and African Steam Navigation Company" for their Britain to West Africa mail service. She was launched and officially named Achimota on December 17, 1929, and upon completion some ten months later, due to financial difficulties within the Royal Mail Group the ship was not handed over to her intended owners and instead she was laid up for around a year. Harland and Wolff then placed her on the market and Huddart Parker Ltd of Melbourne Australia immediately showed interest in the ship. Still having the name Achimota on her bow she undertook her deep-sea trials from Belfast in September 1932 as well as another voyage with the Huddart Parker executives on board.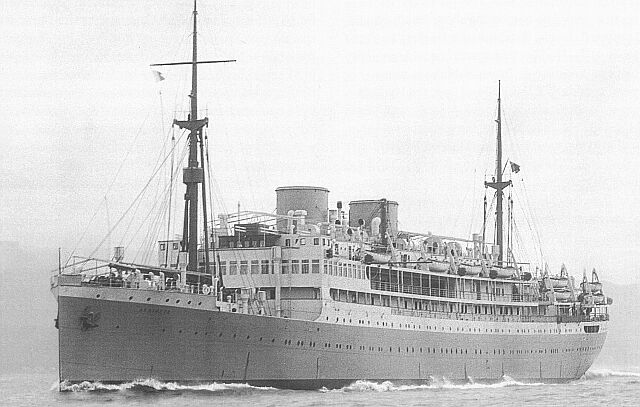 MS Achimota seen on her second trails with the Huddart Parker executives on board
Obviously she still has her original Elder Dempster livery, which would soon change
Photo – Ulster Folk and Transport Museum
That same month Huddart Parker decided to purchase her, although they advised Harland & Wolff that a refit would be required to make her suitable for the Australian trade as she would required considerable upgrading, as she had originally been built to accommodate just 236 First Class and 64 Second Class passengers as well as some Third Class and Deck passengers, between port in Africa. In addition, the crew quarters as built would certainly not meet "Australian Maritime Standards," thus these also required upgrading as Australian standards are very much higher than the British requirements at the time. In addition the Bridge as built was set back with a walk by deck in front of it, and her new owners required the Bridge to be placed flush with the promenade deck, which was done (See the photographs above and below). With all the work completed the ex Achimota became a fine ship indeed and soon the new TSMV Wanganella was ready for her duties Down Under!
It is believed that her original cost was £520.000 (UK pounds), but with the cancelation of her original order, it is believed that Huddart Parker purchased her at a bargain price of just £346.376 fully completed and delivered to them in Sydney Australia.
For interest: There seems to be some debate of timing regarding the purchase and from whom she was obtained, as some historians claim she was obtained from Royal Mail, whilst others state it was whilst she was being built, which is quite wrong. Be assured that the official records agree with what I have written above.
There was no doubt that Huddart Parker had obtained themselves a very special ship, a ship that was never intended for the service that she would soon be operating on Down Under, and there was no doubt that she was a very British ship indeed! She had a delightfully striking profile with a rather strong rectangular, yet elegant lines, enhanced by her twin rather squad buff coloured funnels (the forward funnel being a dummy one) and her two tall masts. She would prove to be the perfect ship for the "Express Trans Tasman" service and she became a popular ship indeed and she outlasted her rivals, the Union Steamship Monowai and Awatea.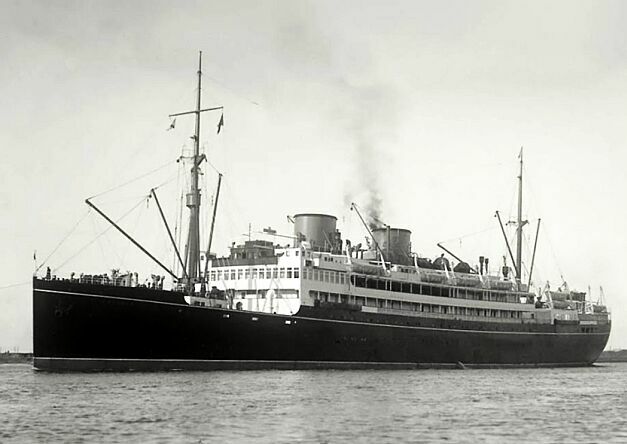 The elegant Twin Screw Motor Ship Wanganella
From the author's private collection
As can be seen below, Wanganella was of a similar design to other ships of that time being built for the Royal Mail Line, as well as its associated companies such as the Elder Dempster Lines, including Royal mail's 22,000-ton sisters the MS Asturias and Alcantara, built just after the Achimota in 1926 and 27 respectively.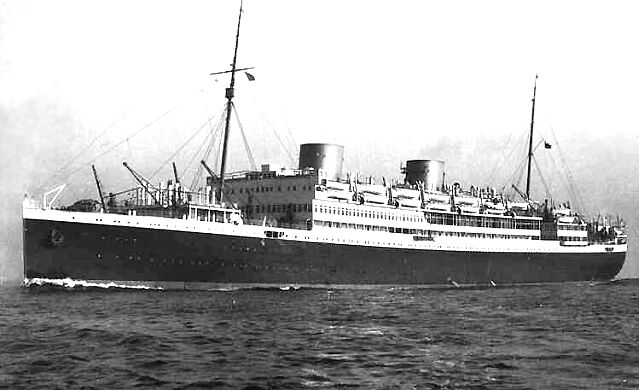 The Royal Mail Lines Liner MS Asturias

From the author's private collection

Interiors

- Sheer elegance personified:

The Wanganella featured a fine range of elegant lounges in both classes, especially the First Class lounges in the manner of the Main Lounge located forward on Promenade Deck. This supreme venue featured fine timbered panelled walls and in the centre of the ceiling the main feature being a dome reaching high up to Boat Deck and superb light fittings and décor mouldings that gave every part of this room a touch of class. The windows were offset by elegant columns on both sides, and featured luxuriant drapes. Located forward of the room in the center there was a massive traditional fireplace that would offer artificial heating on cooler days. Throughout the lounge, Grecian style carved pillars graced the room and it featuring a fine Persian carpet in the middle as well as a grand piano. Yet somehow, there was also a touch of understated luxury, which was "Ever so British!"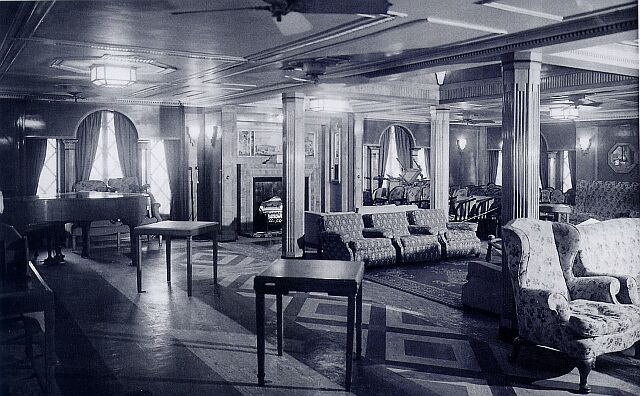 The magnificent domed First Class Main Lounge
Photo provided by W.H. Raine
Just aft of the Main Lounge was the Library and Reading Room. Going further aft past the machinery section, you would first reach the Smoking Lounge, which was a much lighter venue and this Lounge also featured that ever so British traditional fireplace and it was a far more casual venue both for ladies as well as the younger set on board.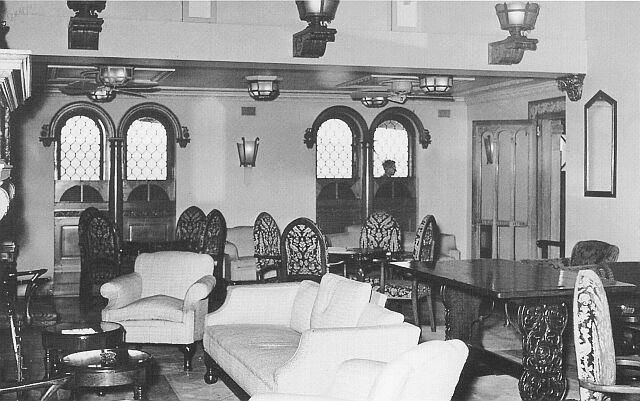 The lighter and brighter Smoke Lounge had some delicately carved timber furnishings
Photographer unknown – *Please see photo notes at bottom of page
The last venue on Promenade Deck, far aft was the somewhat sombre, but elegant dark timbered and velvet wallpapered Smoking Room, which was very much the Gentleman's Lounge. It offered luxuriant leather chairs and sofas and the floor featured several tones of inlaid marble. It overlooked the aft decks and the Verandah Café.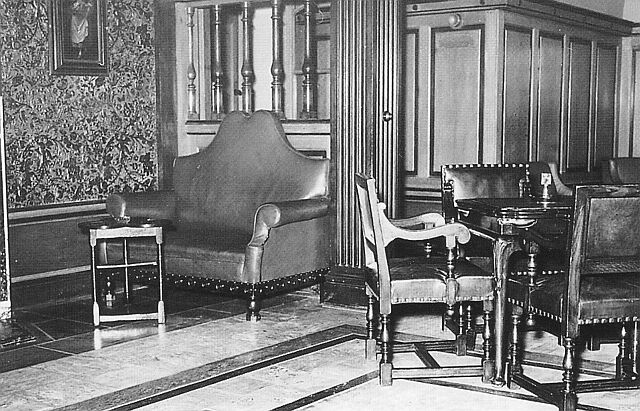 The First Class Smoking Room located aft on Promenade Deck
Photographer unknown – *Please see photo notes at bottom of page
One deck down on A (Bridge) Deck aft was the Second Class Main Lounge, as well as the Library, Card and Games Rooms.
Located forward on C (Main) Deck was the First Class rather grandiose Dinning Room with its huge dome and its lattice-glazed windows and its unique concealed decorative lighting. The Second Class Dining Rooms was located aft, and although smaller it certainly had a similar charm, but obviously on a lesser scale.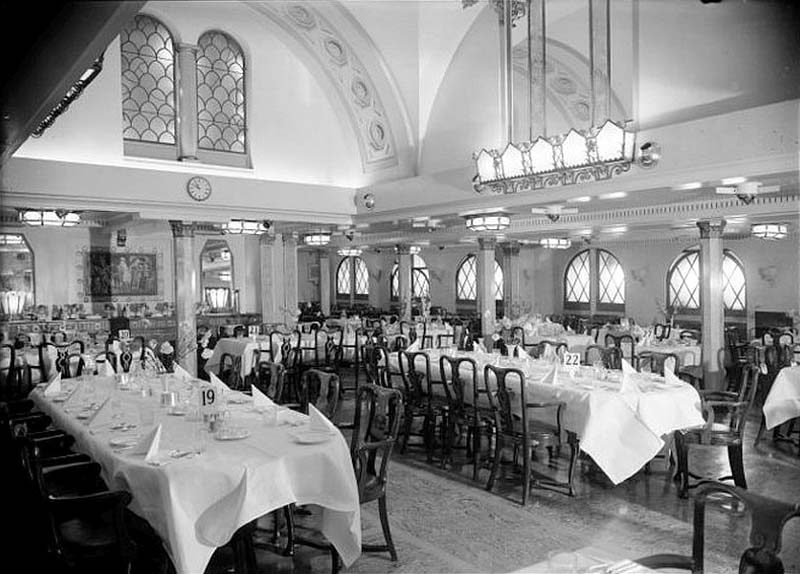 Wanganella's First Class Dinning Room was grand in every possible way!
Photo provided by W.H. Raine
Wanganella's accommodations were simply superb for the day as she offered superb First Class cabins for one, two and three for 304 passengers who would live in style and comfort, as well as 104 Second Class passengers who enjoyed accommodations well up to standard! To attend to all their needs there were 160 crewmembers on board. Although these were not days where air-conditioning was standard and forced air ventilation was the norm, as well as windows and portholes that could be opened.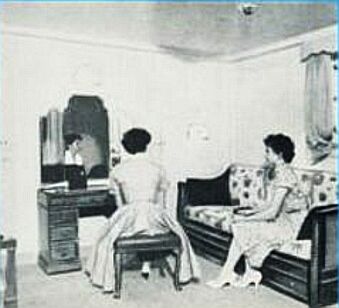 One of the luxury First Class Twin bedded cabins that converted into a lounge during the day
Provided by Neil Higgins
Her Career:
TSMV Wanganella departed Belfast on November 29, 1932 under the command of one of Huddart Parkers other fine Coastal ships, the Westralia's former Master, Captain Bates. She made a voyage of record proportions of just thirty-one days to Sydney. Her arrival in Sydney made the news and she was featured in the "Sydney Morning Herald" on January 2, 1933, which stated, "The arrival of Wanganella provided the occasion for an unusual reunion. L. S. Brew, the guarantee engineer sent out with the ship by the builders, Harland and Wolff, found that the pilot who brought the ship into Sydney Harbour was his brother (Captain A. Brew), whom he had not seen for 20 years."
It so happened that Harland and Wolff had appointed Leonard Septimus Brew, their Guarantee Chief Engineer to officially deliver the ship to Huddart Parker in Sydney, and he was rather surprised that it was his brother that would meet him on board.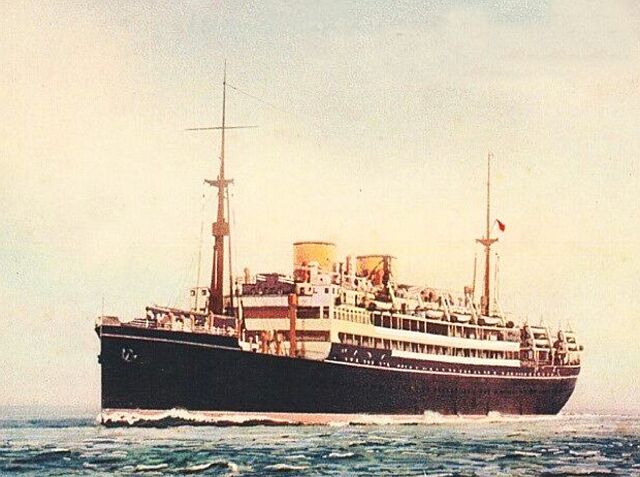 An artist impression of the TSMV Wanganella
The artist is unknown -*See photo notes at the bottom of the page
Ten days later after the ship had been fully stored, and her crew trained, the Wanganella was ready for her maiden departure from Sydney and head for New Zealand, which she would do for many years, except during the war years when she would become a Hospital Ship. She departed Sydney on January 12, 1933 and commenced her regular Trans Tasman Express service sailing between from Sydney via Melbourne to Auckland, Wellington and back to Sydney. She would take three and a half days to cross the Tasman Sea, unless there were unusual weather conditions, which did happen knowing the Tasman Sea! For her return to Australia during this first voyage she would sail down the South Island of New Zealand and visit the famed Fordland's of the South Island and visit Milford Sound before heading back to Australia.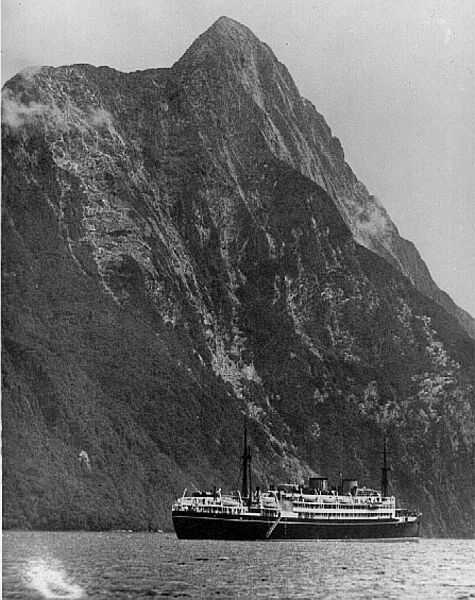 The Wanganella is seen here in Milford Sound during her
maiden round voyage from Sydney to New Zealand in January 1933
Photo by W.H. Raine
Wanganella soon became the darling of all Trans Tasman liners with both Australian's and New Zealanders, for she was indeed the luxury liner they felt they deserved, and although the Monowai was an excellent ship, the Wanganella certainly had the edge of superiority!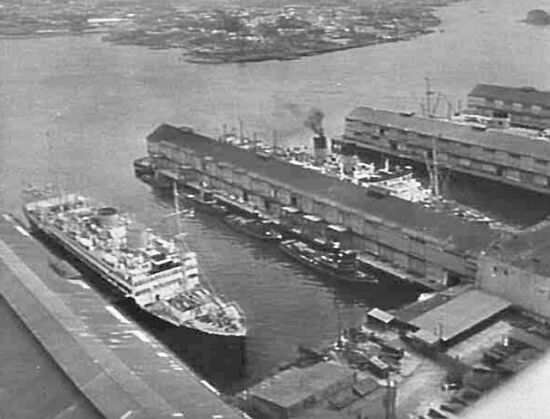 Here we see the Wanganella (left) and the Monowai (center) berthed at Darling Harbour Sydney in the late 30's
Provided by Frank G. Farquhar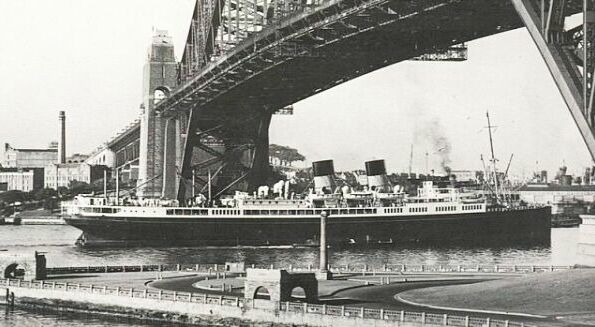 The TSS Monowai is seen here heading under the Sydney Harbour Bridge
Provided by Frank G. Farquhar
Over the years there were many other ships that competed with her on the Trans Tasman service, the Monowai and in due course ships such as the Union Steamship Company's newer liner the Awatea. There were also a good number of much larger liners owned by, Orient Line, P&O, Shaw Savill, the American Matson Line, and the Dutch, Italian and Greek companies would also take passengers between Australia and New Zealand or visa versa depending on their itineraries when operating Tasman cruises, but the Wanganella continued to do very well having a very strong following.
In 1937 the Wanganella did have an accident at sea when she collided with a trawler just off the New South Wales Coast, although no great damage or injuries on Wanganella were recorded, I have no details on the outcome of what happened to the trawler and its crew.
Then on June 19, 1940, Wanganella went to the assistance to the ill-fated Union Steamship liner Niagara that had hit a German mine and Wanganella's crew managed to rescue the survivors, both passengers and crew, from the Pacific, just north of New Zealand.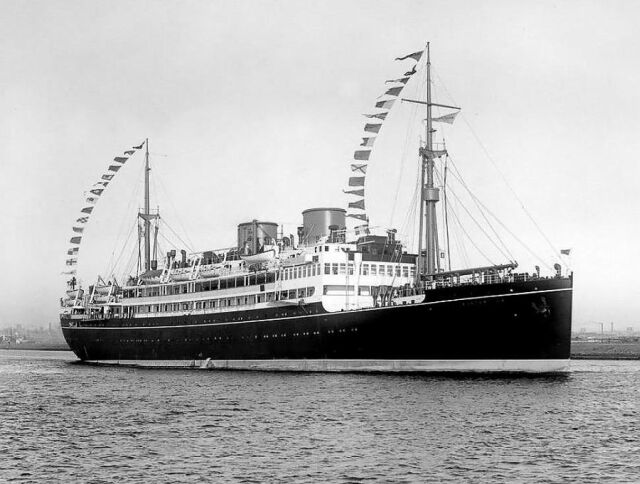 Wanganella looking superb as she is seen here fully dressed with flags
Photo from the author's private collection
At some time in the late thirties she did have windows fitted aft on A (Bridge) Deck being part of the Second Class Promenade Deck, thus providing an enclosed space and shelter being a great improvement considering the occasional windy weather that can occur on the Tasman.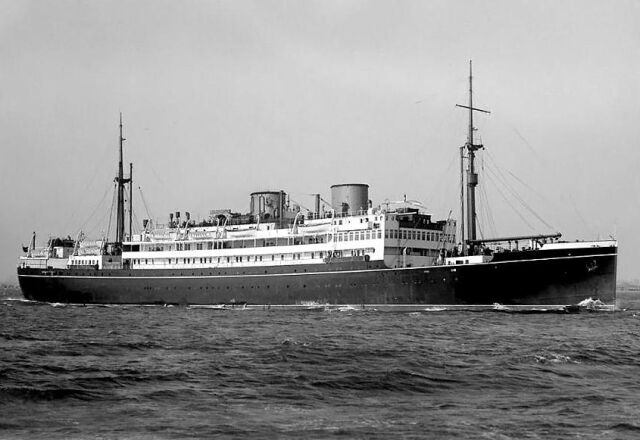 Wanganella seen heading out to sea – Note her new Second Class windows aft
Photo from the author's private collection
TSMV Wanganella - Dimensions:
Built at: Harland and Wolff – Belfast.
Launched: December 17, 1929.
Length: 144.5 m - 474ft.
Beam: 19.5m - 64ft.
Draft: 7.6m – 25ft.
Tonnage: 9,876 GRT – 5,625 Net.
Engines: 2 x 4 stroke Burmeister & Wain 8 Cylinder diesels - 6750 BHP.
Screws: Twin
Speed: 15 Knots - Service Speed.
Passengers: 304 First Class - 104 Second Class.
316 First Class - 108 Second Class - post war.
292 First Class - 108 Second Class - 1960.
Crew: 160/130/150 - Originally/HMAHS/1960.
Wanganella becomes a Wartime Hospital Ship: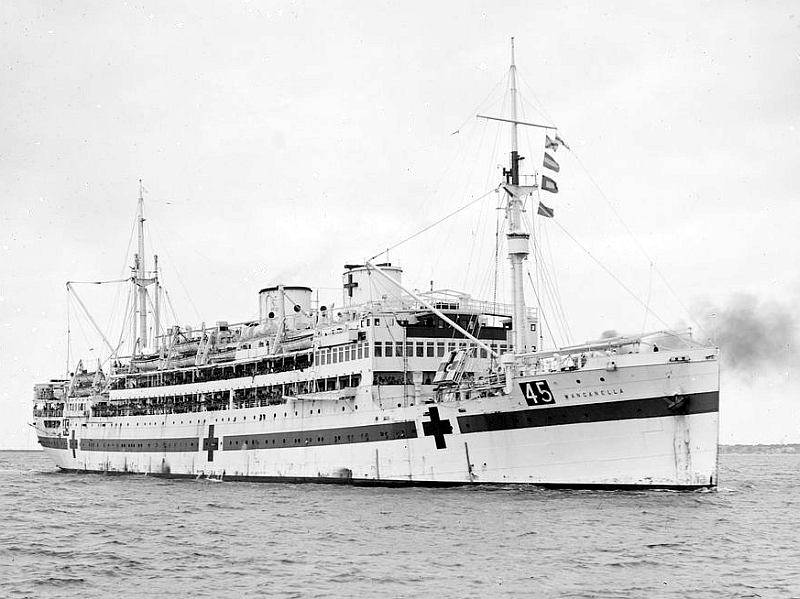 His Majesty Australian Hospital Ship - HMAHS Wanganella Number 45, is seen departing Melbourne
From the Victoria State Library collection
The Wanganella was commissioned to serve as a Hospital Ship in World War II for the Australian Government. Australian registered and crewed, the ship officially became HMAHS Wanganella and she served from May 1941, through to 1946. During this time she carried and cared for Australia and New Zealand soldiers, and the many wounded and sick evacuees from Europe, the Middle East, New Guinea, Solomon Islands, Borneo and the South Pacific. Thus she became a very hard working ship!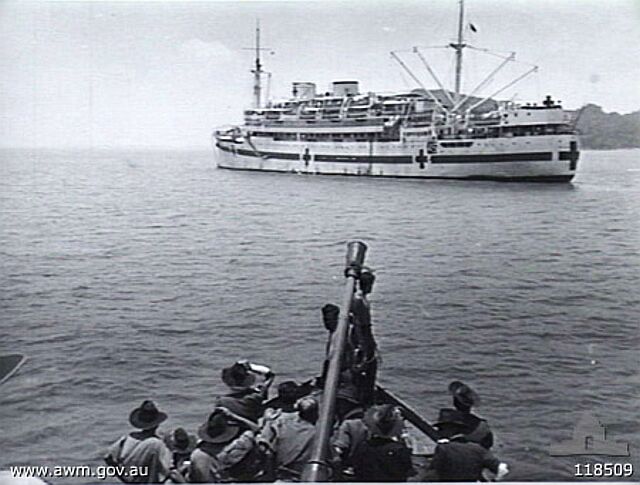 HMAHS Wanganella at anchor at the Solomon Islands
Provided by "The Australian War Museum" #118509
On May 19, 1941, the Wanganella was converted in Melbourne to become a Hospital Ship allowing her to transport equipment and medical personnel as well as to be fully operational as a hospital complete with operating theatres. She was painted white, with the conventional broad green band circling her hull, broken at intervals for large red crosses. During the night the ship would be fully illuminated according to International law. HMAHS Wanganella could accommodate some 434 patients, which was increased to 550 late in 1943. She carried a large medical staff of around 110, which were sourced from the Royal Australian Army Medical Corps. The ships crew was decreased slightly to 123.
The Wanganella was officially commissioned July 21, 1941 in Melbourne and was designated as HMAHS Wanganella number 45 and she departed for Singapore. She sailed first to Sydney, then returned to Melbourne and continued her voyage via Fremantle transporting the "2/13th AGH" (Australian General Hospital). She arrived in Singapore on September 15, after which she returned to Sydney transporting her first load of patients, being Australian troops with various health issues. Also on board were some 216 passengers, some being Government representatives as well as senior Military personal, but most were and civilians.
Her second voyage she headed to Suez where she embarked wounded men from the Middle East campaign and returned first to Sydney and then to Brisbane. It was during this voyage that she experienced first enemy attack. Whilst the Wanganella was at Port Tewfik in Egypt, a bombing raid occurred and a good number of bombs fell very close to her, however luckily she came through it without any damage, whereas the famed English liner the Georgic, which was operating as a troop transport ship, was badly hit and she was on fire in the harbour.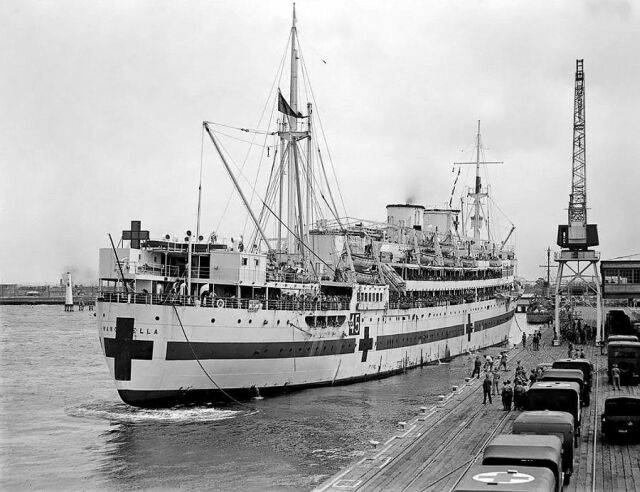 Stern view of the HMAHS Wanganella #45 - as she returns from yet another rescue voyage
Image source unknown – *Please see photo notes at bottom of page
The Wanganella was also involved with a rather famed incident off the coast of Western Australia related to a Shell Tanker the MS Ondina. Although Wanganella only came into the story late in the incident, she certainly assisted to save precious lives at sea. I suggest that you read the whole story "The MS Ondina Story".
During the war years HMAHS Wanganella sailed to many far away ports and carried large numbers of wounded and sick evacuees from countless destinations around the globe. In addition she had many other close calls, but the most famed one is the one that became known as the "Bombay Explosion"!
Her 13th.voyage to this day the most recorded one of HMAHS Wanganella's service record, and here are just some of the details: She departed Sydney late in March 1944, and she sailed via Fremantle to Bombay India. On April 14, 1944 whilst she was at anchor at Bombay, the Wanganella was shaken by what was obviously a several massive explosions and all on board would soon know this would be having a very serious effect upon the harbour and the nearby city. Apparently there was a ship in the harbour that was loaded with bales of cotton as well as a huge load of high explosives, and she had caught fire causing two massive explosions that shook the harbour and the city. The Wanganella just shook badly as the explosion waves from the blast struck her as she was a reasonable distance away. There were massive columns of fire and smoke as well as debris to be seen and it was flying hundreds of feet into the air. Very quickly the greater part of nearby Bombay was ablaze and destruction followed. It is said that around twenty-two ships were damaged and destroyed that day and some ships had capsized due to the explosion and others were a heap of twisted metal, whilst other vessels only had minor damage.
There were many gruesome scenes along the waterfront, including the many dead and the badly injured. As hospitals were filled to the brim, a request was made for the Wanganella to come to the assistance of Bombay, which Wanganella medical team did. Many of the wounded arrived on board and the surgical Staff operated without a break for days. The ship remained in Bombay for another week, then having discharged her patients.
With the week in Bombay completed, she headed for Italy, as she was to take on many New Zealand wounded soldiers and take them home to Wellington in the North Island, and Lyttleton, being the main the Port of Christchurch in the South Island.
The Private Stanley Charles Niel French Story:
Private Stanley French was with the 26 NZBN Regiment Number 254801, and he sailed from New Zealand to the Italian battlefields, where he became involved in one of the most famous Italian battles and was severely wounded and was patched up and sent home on the HMAHS Wanganella. His amazing story and menu as seen below was sent in by Stan's daughter Judy, but you will find so much more as well as many photographs on a very special page.
Visit … "Stan's Story" or use the Link at the bottom of the page, located on the TSMV Wanganella INDEX: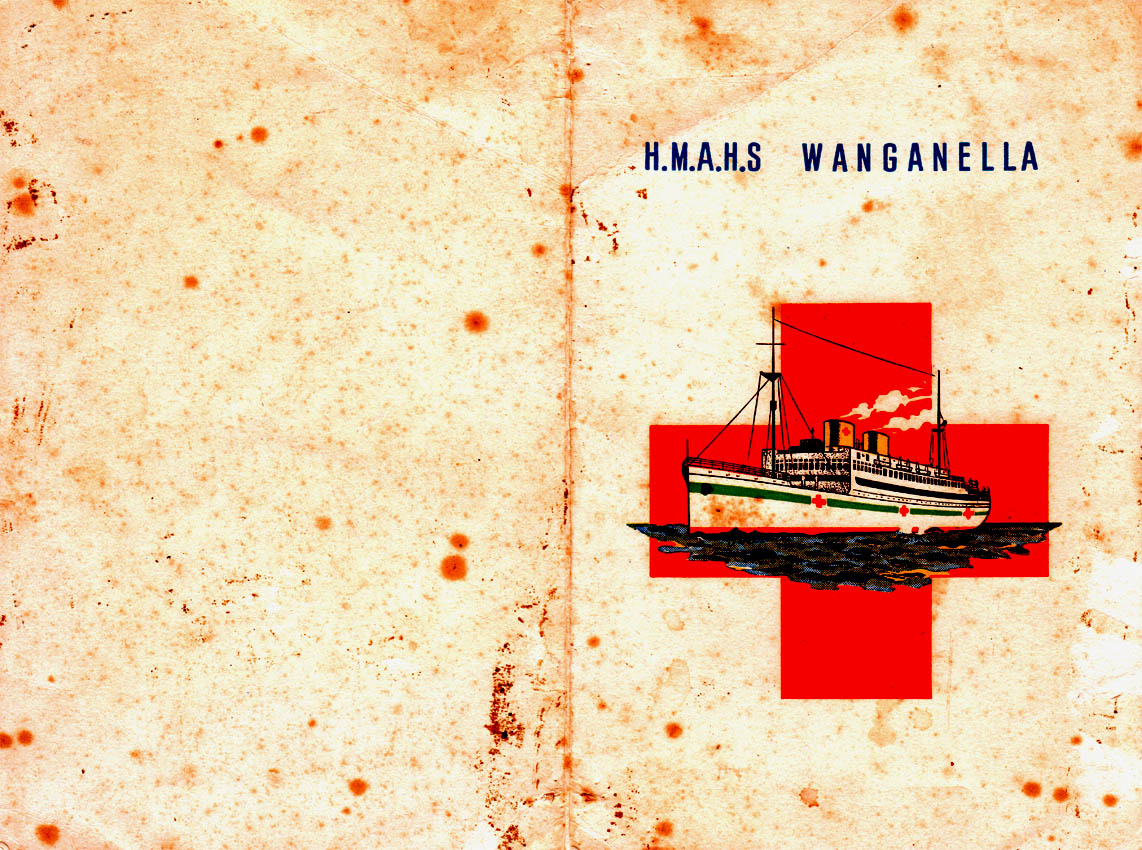 Above & below:
This is the front & back cover of the lunch menu complete with all the shrapnel markings and the inside menu below
On Stan's page, you will find the Author's Photo-shopped version, where both the cover and the menu has been cleaned up
Menu provided by Judy French, Stanley's daughter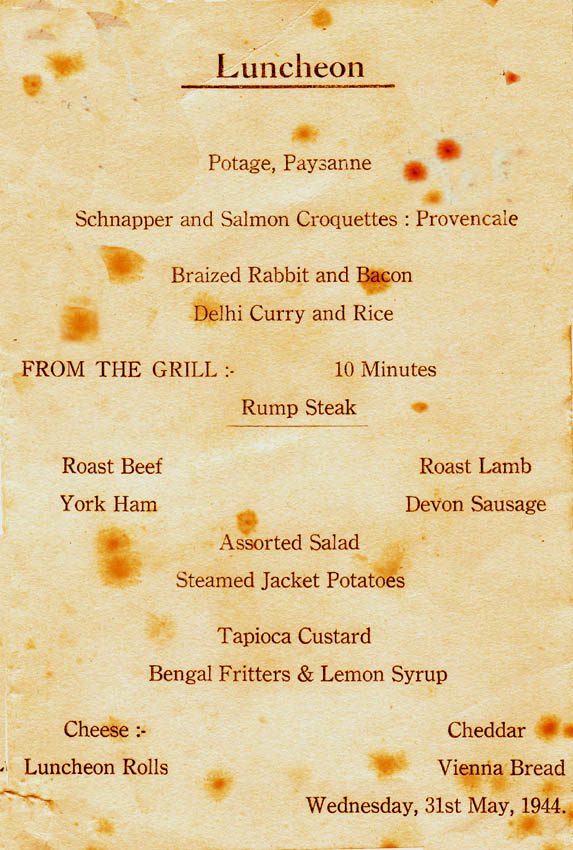 After the Wanganella dropped off the wounded New Zealand soldiers in Wellington and Lyttleton, she returned to Sydney in June 1944 and berthed at Circular Quay.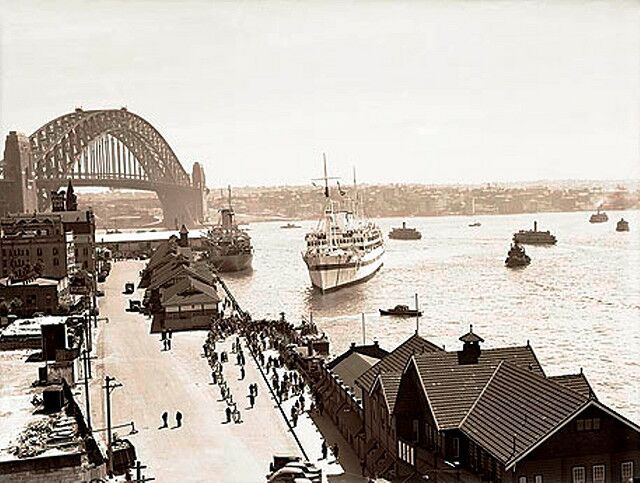 HMAHS Wanganella arrives at Sydney's Circular Quay in June 1944 - returning from New Zealand after the Bombay experience
Image source unknown – *Please see photo notes at bottom of page
During her war service HMAHS Wanganella sailed a good 251,611 nautical miles and carried 13,389 wounded and sick evacuees from the Various War Zones, comprising of Australian, New Zealand and American Service personnel. HMAHS Wanganella served her country with great pride!
Post War Years:
The Wanganella was returned to Huddart Parker Ltd late in 1945, and she was sent to Melbourne have her refit, returning her into the luxury passenger liner everyone loved. This refit would see a number of changes, with her accommodations increasing slightly to 316 in First Class and 108 in Second Class passengers. Externally it was obvious that there was a new two-lever superstructure placed on her aft decks, which contained vastly improved crew accommodations and facilities. In addition the aft section of the First Class A (Bridge) Deck promenade was plated and glazed in to provide protection from the Tasman winds. Along the First Class Promenade Deck, canvas covers could be raised or lowered, pending weather conditions. Obviously the weather was in the companies mind! The refit was completed in September 1946.
Having been completed it was decided by Huddart Parker that the fresh looking TSMV Wanganella would first operate a return voyage to Vancouver, sailing from Sydney sailing via Auckland and Honolulu, returning to Sydney on December 28. She departed Sydney for her first post war Express Trans Tasman Voyage, which would prove to be rather eventful!
Her first voyage after the war sailing as a full-fledged liner with some 400 passengers on board could easily have Wanganella's very last voyage, for she had a narrow escape when she ran aground on Barrett Reef that is located at the entrance to Wellington Harbour in New Zealand. This reef is well known and it would later claim the Union Steamship newest Inter Island Ferry between Wellington and Lyttleton (Christchurch) the TMV Wahine with a tragic loss of 51 lives, on April 10, 1968.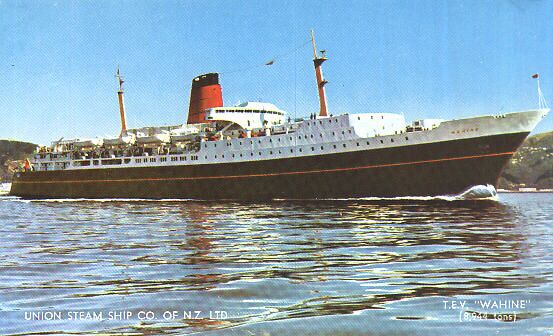 The 8,944-ton Inter Island Ferry TEV Wahine
Postcard from the author's private collection
The Barrett Reef incident at Wellington:
On January 19, 1947, the Wanganella struck Barrett Reef at 11.30 PM, whilst she was sailing at a speed of 13 knots. Apparently (and this is the short version) the Captain, Commander R Darroch, had mistaken the flashing buoy in front of Barrett Reef for the light to guide the ship into Wellington harbour. The Wanganella was firmly stuck on the reef and it would prove to be difficult to remove her from the Barrett Reef as she was stuck badly on the rocks, in addition she had two massive gashes below the waterline at her bow, with the larger of the two being some 12.2m long and up to 6.7m wide.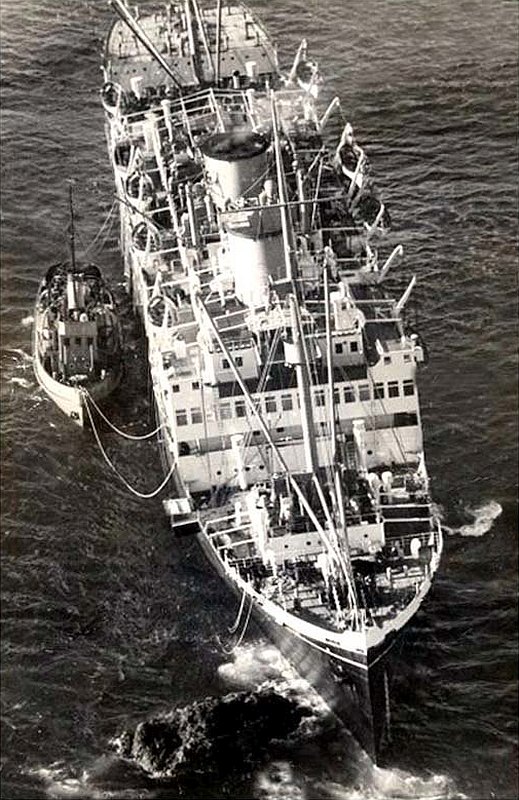 Here is an aerial view of the Wanganella seen here on Barrett Reef
Thankfully, there were no injuries on board. The next day all passengers were evacuated from the ship. For the duration she was stuck on the reef there were a number of attempts to free her, but it would eighteen days the Wanganella would spend on the rocks.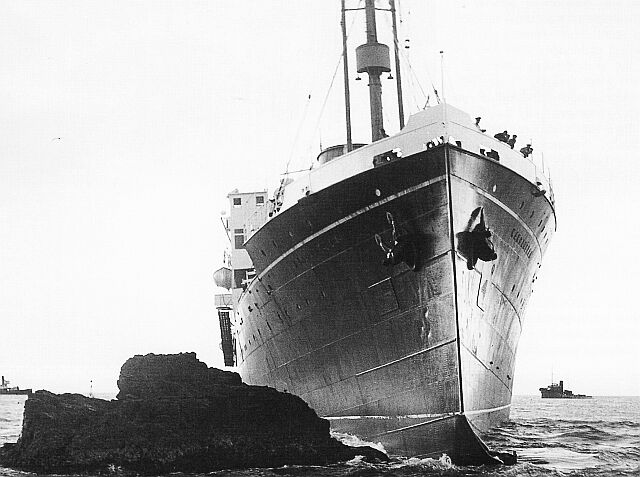 Wanganella is seen here on Barrett Reef - Some damage can be seen at her bow on water level
Photograph by an "Evening Post" staff photographer
Finally on February 6, when there was a combination of tides, good weather and hard work of the tugs and engines at full astern, Wanganella succeeded in being hauled free late in the day and she was towed into the Harbour, arriving at the Aotea Quay just before midnight and she remained there to undergo some internal repairs until she could be levelled and sail into the Floating Dock twelve days later.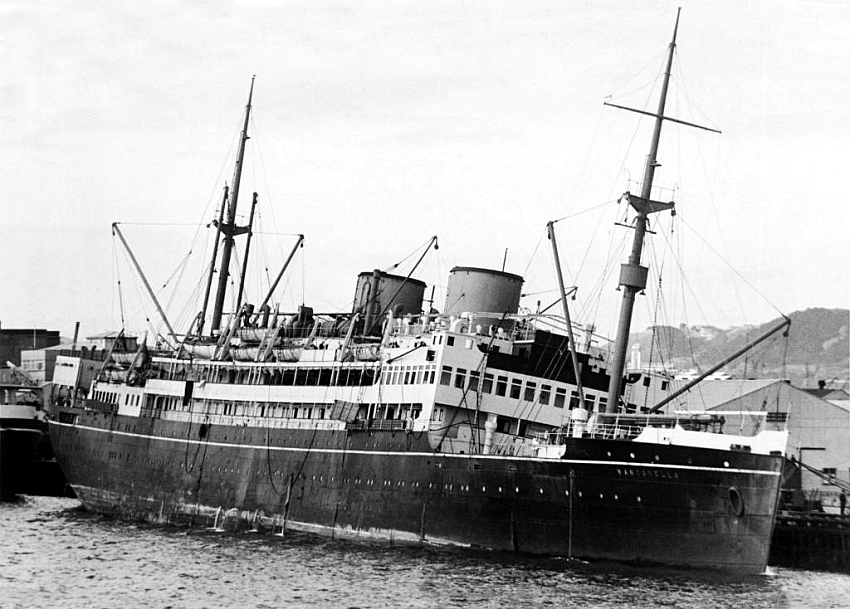 Here we see a rather sad looking Wanganella whilst she was under repairs berthed at Aotea Quay, Wellington
Photograph by a Free Lance photographer, but obtained from "Alexander Turnbull Library" Wellington
Wanganella headed for the Jubilee floating dock under her own power on February 18, 1947, and the people of Wellington were there to cheer her in, and soon underwater repairs were underway. However with her extensive damage, it was going to be a very big repair job!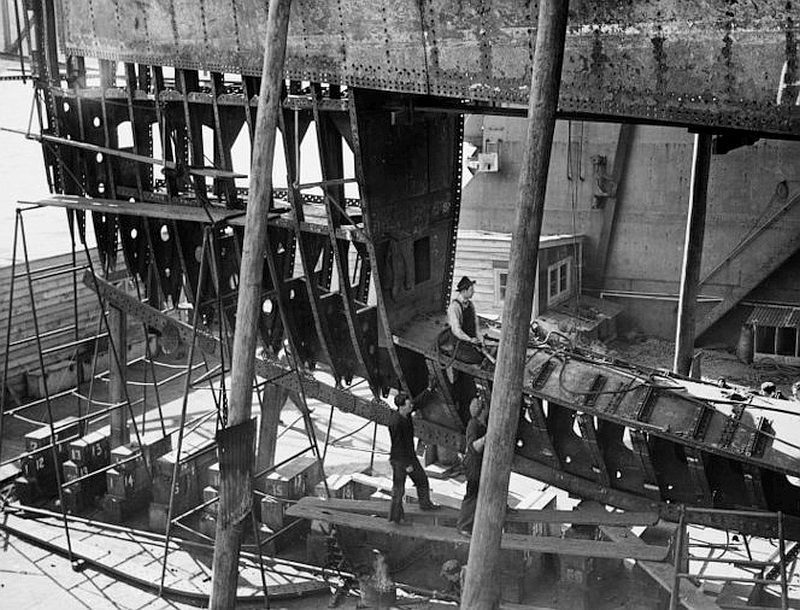 Repairs are seen being undertaken in the "Jubilee floating dock"
Photo taken by the "Dominion Post" Wellington
Wanganella's crew had by now been paid off and returned to Australia on board the rather small 4,436-ton Union Steamship Company liner Wahine. Although some of the engineers and electricians remained on aboard. She came out of the dock again on May 27, 1947 and she was berthed.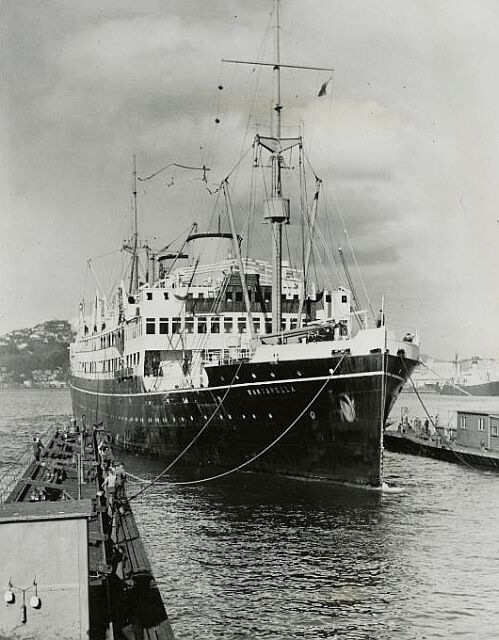 A much better looking TSMV Wanganella seen leaving stern first from the Wellington Jubilee Floating Dock on May 27, 1947
Photograph by an "Evening Post" staff photographer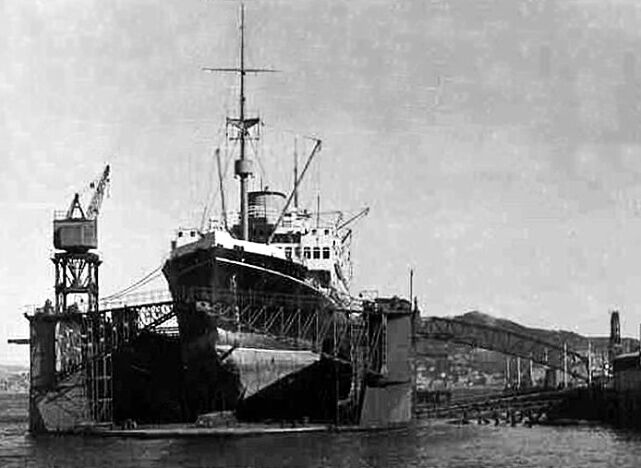 The Wanganella is seen here in back in the Jubilee Floating dock
Photograph provided by John Davidson
The long wait was due to a partial new forepeak for the ship having to be built in the UK, and as soon as it arrived it had to be fitted, under supervision of a Harland & Wolff Assistant Works Manager, after she returned into the Jubilee floating dock. She returned to the dock and work continued, and it was finally completed on October 29, 1948. She undertook her trails on Cook Strait on November 29 and 30 and departed for Sydney on December 9, and as a bonus, she was fully a fully booked ship, for everyone was delighted to have their favourite liner back in service!
The Wanganella had indeed cheated death, but this fine ship would continue sailing and she certainly did have a good long life!
A Menu with a special history:
Recently I received an email from a lady in South Australia who discovered a very special Menu from the MV Wanganella in her Mother in Law's belongings. It is obvious that she or a family member had sailed on her in 1947. However, what makes this Menu extremely special is this - 1: The date, and 2: A notation on the Menu in pencil.
The date was "Friday, 17th.January 1947," which just happened to be two days Wanganella ill-fated conclusion of her voyage as she tragically hit Barratt Reef at Wellington and was firmly stuck there for some time and badly damaged. Therefore, this family member was obviously a passenger on the ship and experienced this ordeal.
The rather simple notation in pencil on the Menu reads, "on rocks 11.30 pm Sunday." Sue Laidler has been so kind to forward this rather valuable Menu to me for safekeeping and to make sure that it will be retained for historical safekeeping.
Below you can relive the history as you view its cover and the interior of this Menu, knowing full well what was going to happen just less than 48 hours later, because the passengers certainly did not, they were having a wonderful evening! Call it the calm before the storm!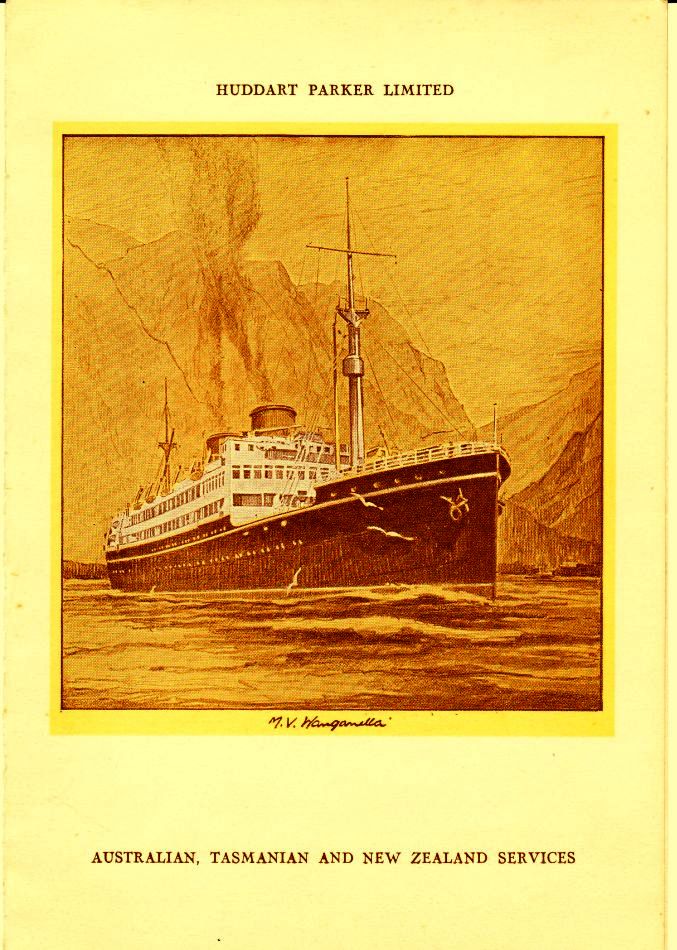 Front cover on the MV Wanganella's Menu dated January 17, 1947

The menu was provided by Sue Laidler and I am most grateful to her – Please do NOT copy it!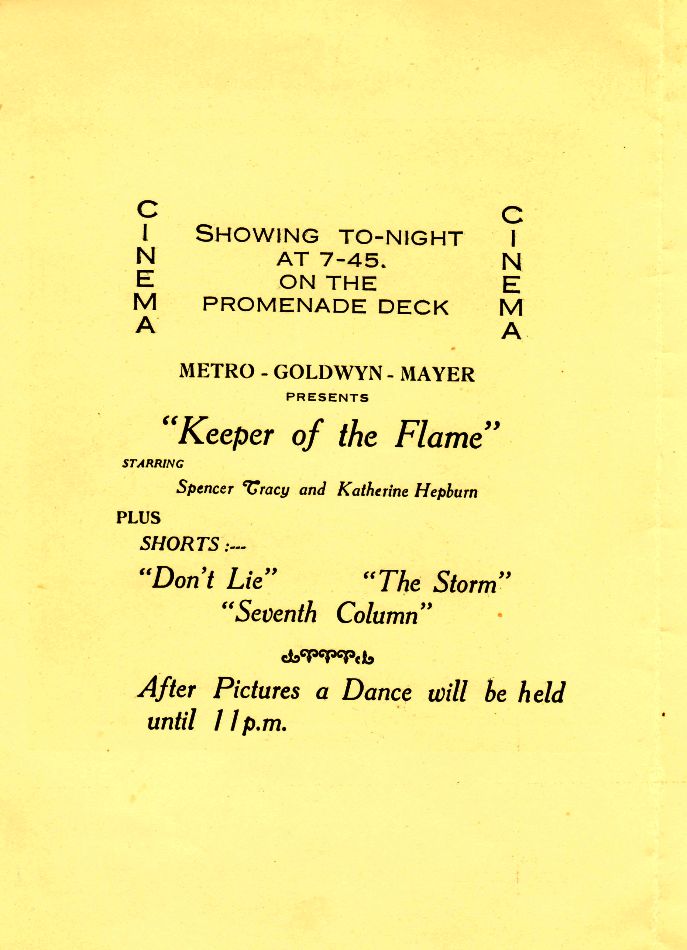 Inside from cover of the menu with details of the evenings events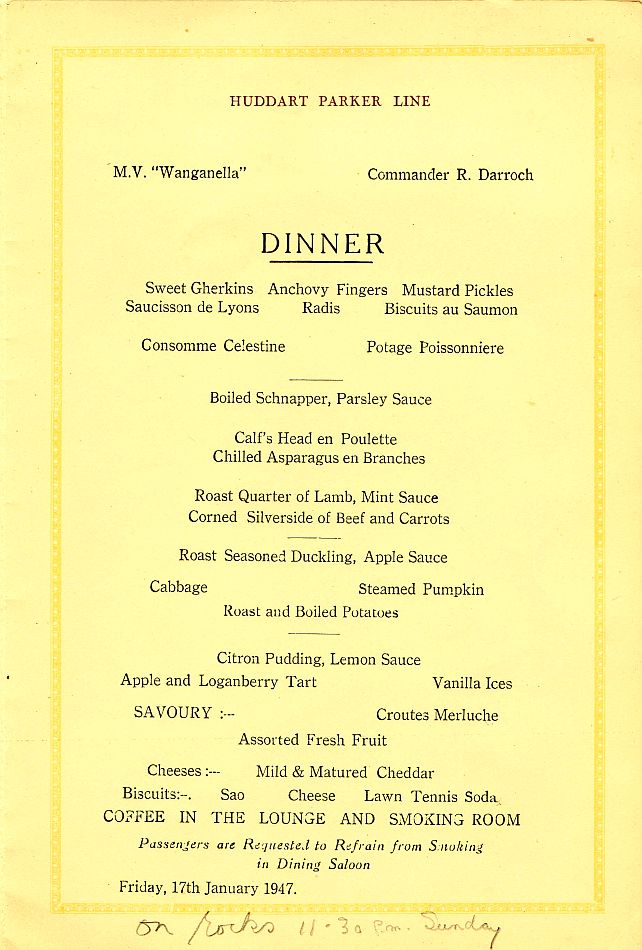 The Menu as well as the passenger's pencil notation!

"on rocks 11-30 pm Sunday"
Return to Service:
From 1948 TSMV Wanganella continued her regular Trans Tasman service as well as operating various cruises. In 1952 the Wanganella was given an another refit, which saw her forward First Class Promenade Deck mostly glazed in leaving only a small aft section open. In addition her aft superstructure was in due course also extended far aft and this provided a stewards recreation room.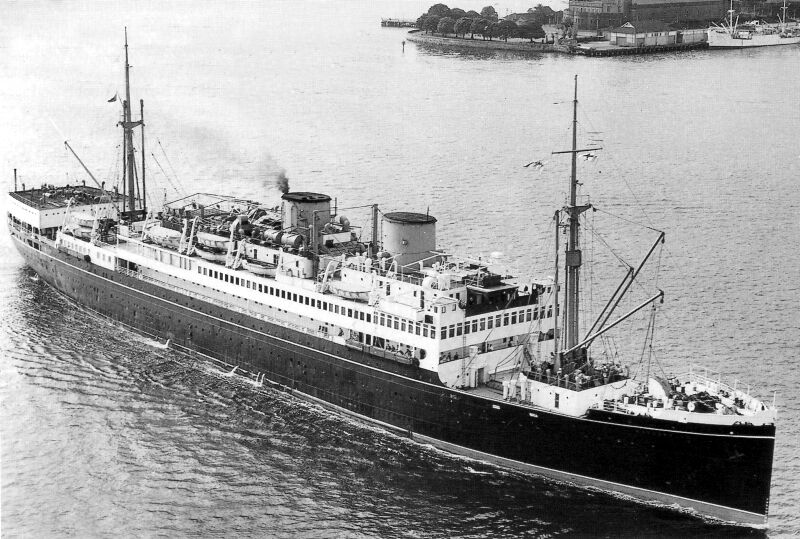 The Wanganella is seen here towards the end of her Huddart Parker days heading under the Sydney Harbour Bridge
From this photograph you can see the glazed in Promenade Deck & that her forward funnel is a dummy
Originally a Huddart Parker publicity photo – From the author's collection
Refitting her for Occasional Cruising:
In 1955/56 her public rooms and some of her accommodations were refurbished in an attempt to keep her up to date with the competition as well as the possibility to make her suitable as the occasional cruise ship!
1956 was the year for the "Melbourne Olympics" that was officially known as the "Games of the XVI Olympiad" and it commenced with the Opening Ceremony on November 22, and concluded with the Closing Ceremony on December 8. The TSMV Wanganella undertook a special Olympic Games Cruise from Auckland New Zealand.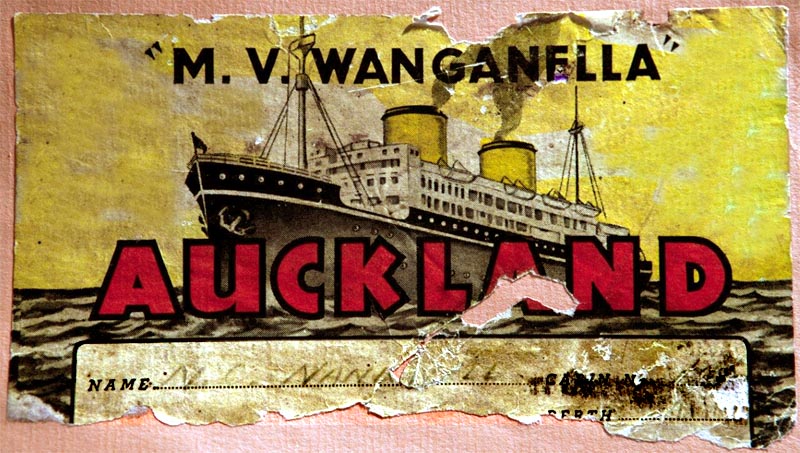 I received the label and photograph above and below from Mr. Paul Nankivell of New Zealand early in 2015, and he told me that he was very young he sailed on this fine ship and still has some memories, but as a two year old. Young Paul and his family boarded the Wanganella in Auckland in November 1956 and she departed for this special cruise to the Melbourne Olympics. Onboard were Mr and Nankivell and their children.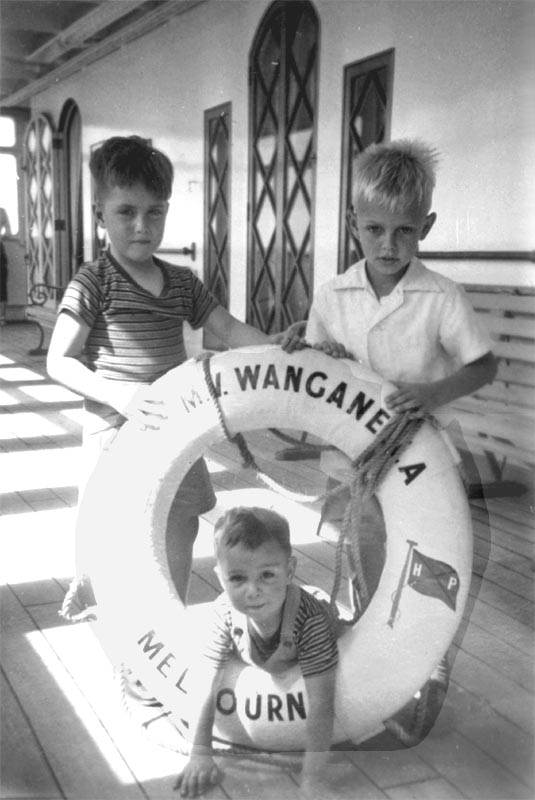 Here we see Young Paul at the bottom of the Life Buoy and I assume his two brothers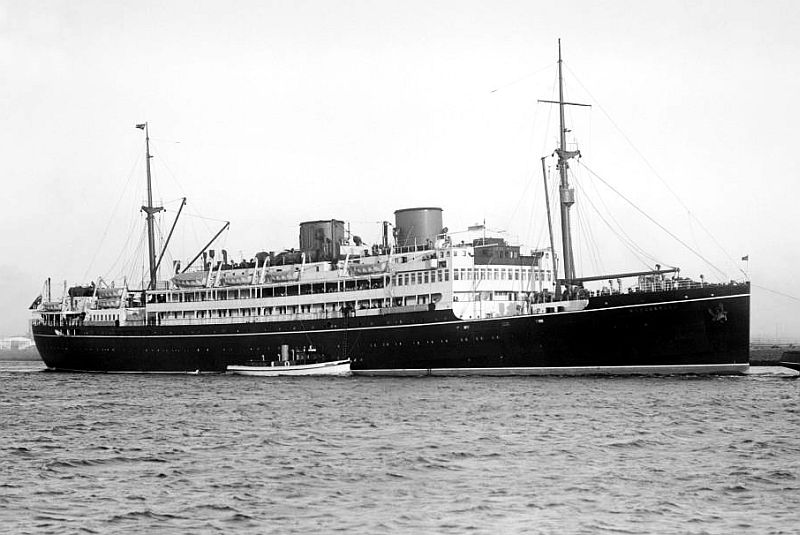 The TSMV Wanganella is seen arriving in Melbourne for the Olympics
Mid 1958 she commenced a series of South Pacific and New Zealand cruises from Australia and New Zealand. Although these did prove to be quite successful as her past Trans-Tasman passengers revelled not only in the tropical South Pacific, whilst it was winter at home, but they enjoyed the elegant surrounding of a ship they knew so well. Others just loved the relaxed way of cruising around New Zealand and the Fjordland's rather than just the express Tasman service and the menus were also far superior and the entertainment was better.
But as I tend to say in so many of my features on passenger liners - "Times are-a-Changing" as a popular song was clearly telling us all in those days! Certainly, air travel commenced to make rapid inroads and with the arrival of the Jumbo Jet, the Boeing 747, air-fares had become cheaper and cheaper, thus passenger loadings on ships worldwide, be they great or small, luxurious or budget, began to decline rapidly and thus shipping companies worldwide has to start rethinking their strategies.
Huddart Parker produced brochures proclaiming Trans-Tasman voyages as being cruise vacations full of fun and relaxation. These could be taken from Australia to New Zealand and return again to their home port, thus a round voyage, or from New Zealand, thus cruises from either end. Although this was marginally successful, and there were even those who undertook the round voyages as a cruise, sadly all too soon Huddart Parker Ltd decided to offload their very last passenger division, and sell this part of their operation to another great Australian shipping Company.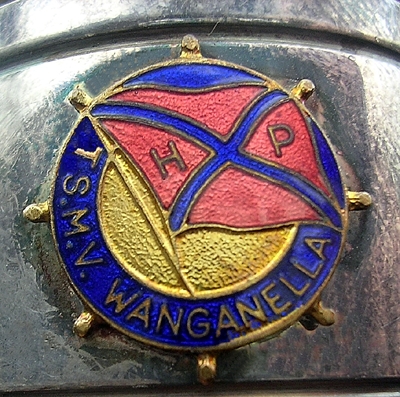 Above & below: A silver Wanganella Napkin ring (after cleaning) & a close up of the logo
From the author's private collection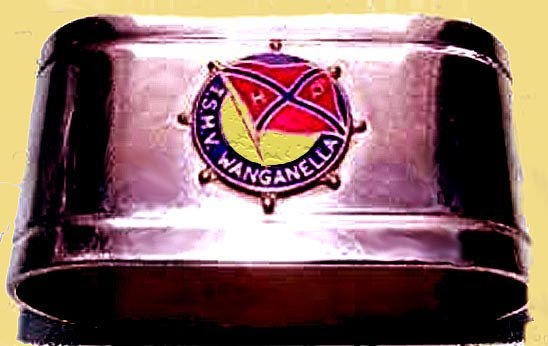 TSMV Wanganella's new owner McIlwraith McEacharn Ltd:
On October 27, 1961 Huddart Parker and the wonderful and elegant Wanganella came under the ownership of "McIlwraith McEacharn Ltd," who were the owners of the once famed and greatly loved and what was called the last Australian coastal liner, the TSMV Kanimbla.
The Wanganella was delivered to her owners in Sydney, with just one change being made to the ship, being that her funnels were repainted deep red with black tops (hats).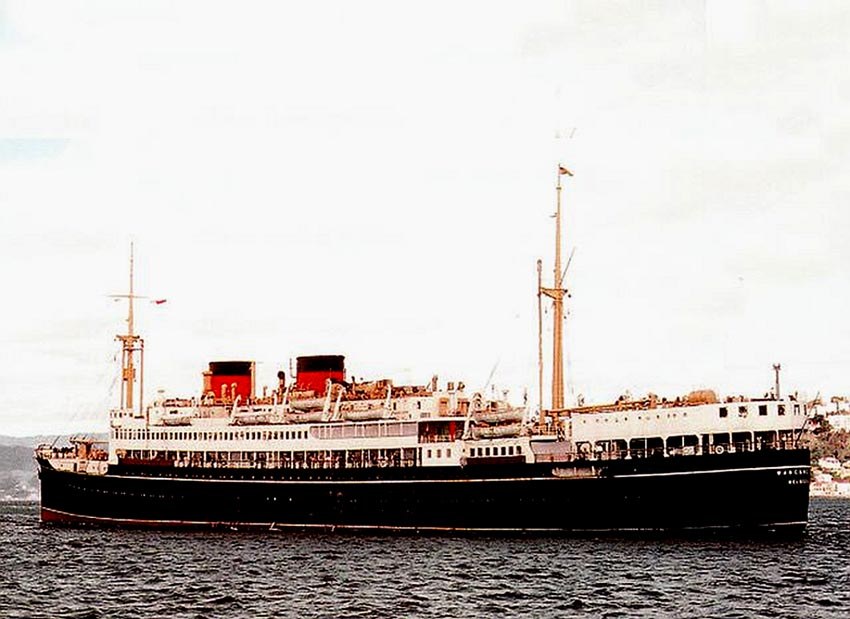 A excellent photograph of the TSMV Wanganella in her McIlwraith McEacharn livery, which was so short lived!
Photographer unknown – *Please see photo notes at bottom of page
McIlwraith McEacharn decided that she would remain on her regular service and she soon departed on her first voyage acroos the tasman under a new owner, but the same Captain who had been in command of the Wanganella for countless years, Captain William Uttley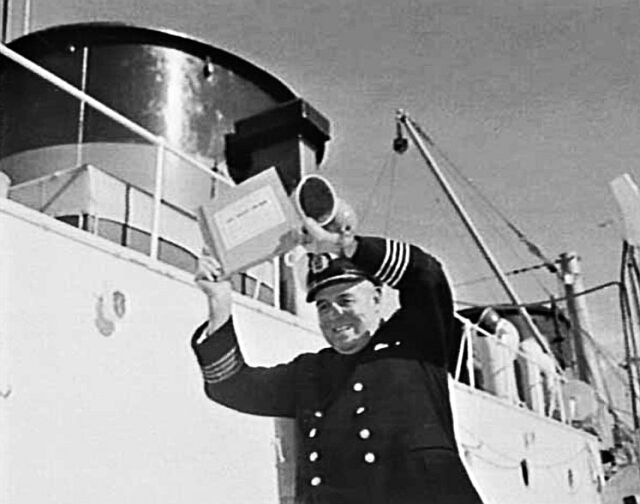 Captain William Uttley of the McEacharn Wanganella celebrates her first voyage with her new livery
Image source unknown – *Please see photo notes at bottom of page
However, this venture would be relatively short lived for loadings sadly did not improve, for on March 26, 1962, a sudden major mechanical problem occurred, mid Tasman Sea. It turned out that she was having problems with her port engine whilst on her way to Auckland. Although she managed to continue to New Zealand by using her starboard engine, under a reduced speed, then having reached Auckland she departed again with passengers and headed home again using the one engine and she arrived back in Sydney on April 4. She immediately went into a shipyard for repairs, which were completed just under a month later, on May 2.
However at this stage, McIlwraith McEacharn Ltd had decided that they would sell her as soon it was possible. A buyer was found rapidly, as she was sold to a Chinese Company with the handover was to take place in Sydney in August 1962, thus within six months the Wanganella would change hands once again!
McIlwraith McEacharn decided that there was time for the Wanganella to return to service until August, but tragically this again proved to be a very costly problem for the company. It was on June 12, 1962 whilst the Wanganella was manoeuvring to dock in Sydney harbour having arrived from Auckland; she suffered an explosion in her engine room. Thankfully there were no casualties, but again just like in the past, she was a lucky ship! She was repaired once again and when completed she returned to service again. When the TSMV Wanganella arrived in Sydney on July 25, 1962, from her "Express Trans-Tasman" voyage as an Australian owned liner, it had been her last voyage officially! Her final official voyage was under the command of Captain William Utley who had sailed on Wanganella for many years and he was sad to see her end as an Australian owned liner! She was dry docked, destored and all her crew were paid off. She was laid up for several weeks after which she would be handed over to her new owners.
Hang Fung Shipping:
Then on August 15, 1962 the Wanganella was officially taken over by "Hang Fung Ltd" of Hong Kong who would at first intended to operate her between New Zealand, Australia and Hong Kong, but also as a Pacific cruise ship as well as operate occasional Trans-Tasman voyages. The only exterior change was that her funnels were repainted black with two silver bands. She was given a crew of 36 European officers and 120 Chinese stewards and other crewmembers. Noteworthy was that the Wanganella was now a One Class liner and cruise ship! "Hang Fung Shipping" maintained the Wanganella magnificently, and she always looked spotless!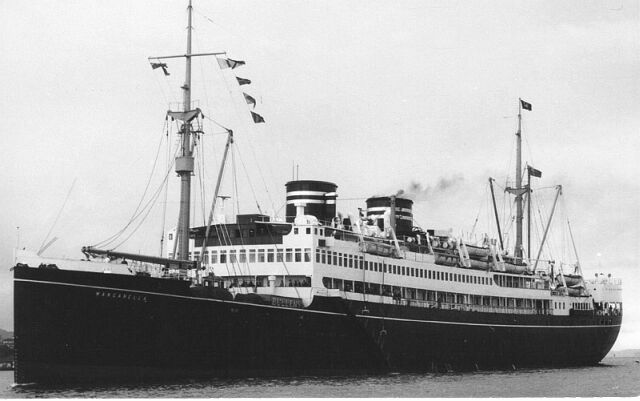 The Wanganella is seen here with her Hang Fung Ltd funnels and looking very smart
Photo from the author's private collection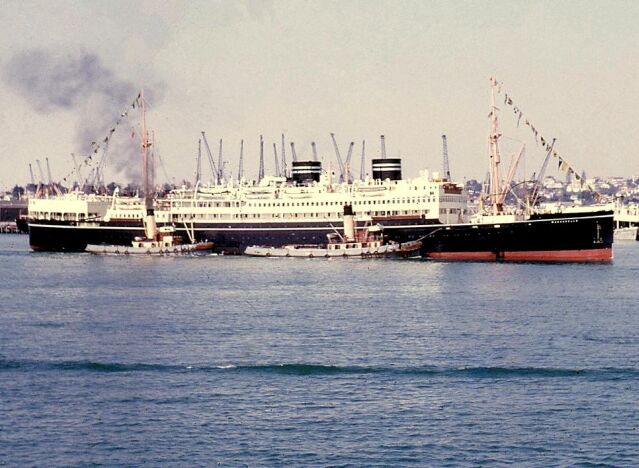 The Wanganella is seen here arriving in Auckland in 1962, on her "Melbourne Cup Cruise"
Photographer unknown – *Please see photo notes at bottom of page
She commenced by heading to Auckland from where she operated a "Melbourne Cup" cruise, then South Pacific cruises, as well as cruises covering various Australian ports. In November 1962 it was announced that she would head for Fremantle in Western Australia where she would be used as a floating hotel during the "Perth Empire Games" (today these games are called the "Commonwealth Games"). After the Games she continued to operated a few more South Pacific cruises, and although her official cruise schedules went as far January 1964, but these never eventuated! Instead, she was placed on the market.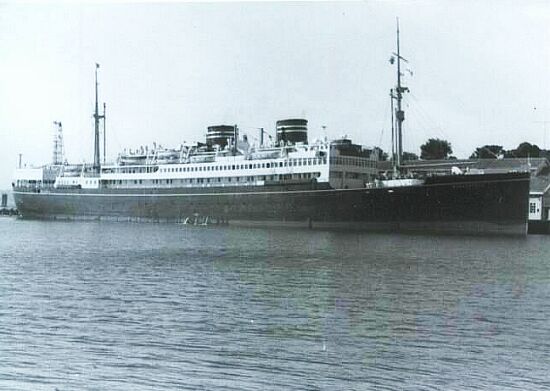 The Wanganella is seen berthed in Fremantle as an accommodation ship for the Games
Photo from the author's private collection
The Wanganella and her "Doubtful" Days:"
The question on the minds of all ship lovers, especially those who dearly loved the Wanganella, was "Is her time up?" Obviously ship lovers clearly felt that this could well be end of the once superb Huddart Parker Liner, for there was no doubt that Trans-Tasman voyages were no longer viable and with air travel having taken over, and taking in consideration that the once line old ship was aging, and with her ongoing engine problems, all felt that the elegant two funnelled Wanganella could well be sold to Asian ship breakers very soon.
However thankfully, there was a last-minute reprieve from her going to the breakers, for in mid 1963 she was sold to an American consortium "Utah Constructions" who were going use her as an accommodation ship for workers at the construction site of the Manapouri Power Station, an Hydro-Electric Scheme in the South Island of New Zealand.
Maritime friend, Neil Higgins wrote: "I was with the Port Agent in Auckland and we did give her quite a send-off to Doubtful Sound being her last voyage (under her own power), with a skeleton crew including the Chief Steward. From memory (prior to this) she was part way through a South Pacific cruise and the balance of which was cancelled. It was all a last minute surprise to me." (Words in italics added by the author).
She would be in use at the Hydro-Electric Scheme from 1963 to 1969 and she was moored in the beautiful surroundings of Doubtful Sounds whilst being used as a comfortable hostel for workers building tunnels and roads, etc.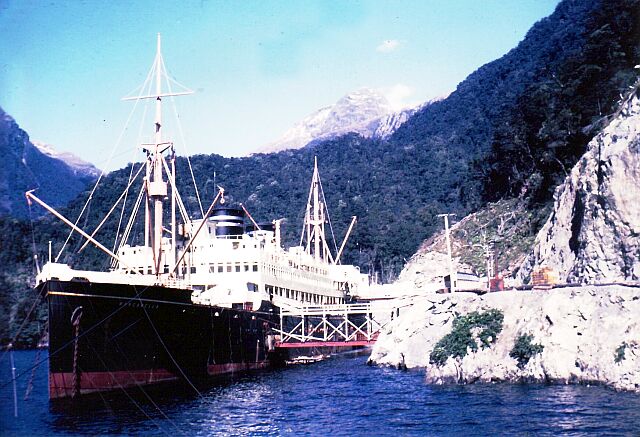 The accommodation ship Wanganella is seen here berthed at Doubtful Sounds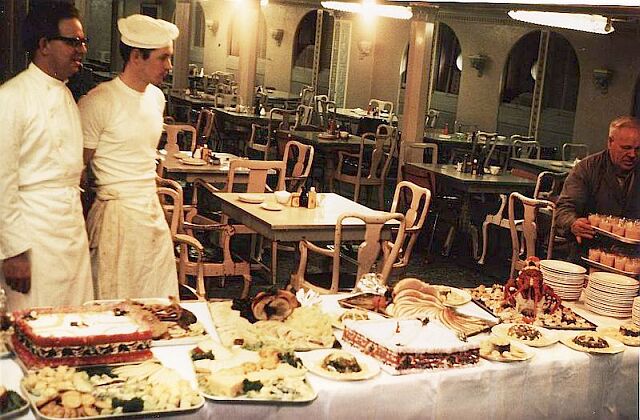 The Dinning Room Buffet on Christmas Day 1967
Photograph by Aaron Nichoson
Although she was still at location, when the work was finally completed Wanganella's days was finally at an end and she was sold to Australian Pacific Shipping Company late in 1969. Due to her having been idle for seven years, it was not possible for her engines to be restarted successfully and for her to sail under her own power, therefore early in 1970 the once proud TSMV Wanganella had to be towed to her final destination, she was taken to Hong Kong where her new owners sought out if her engines could be repaired satisfactorily, but the answer was that the costs would be prohibitive, or even an engine replacement. Therefore they quickly resold her to Taiwanese breakers "Shyeh Sheng Fuat Steel and Iron Works Ltd," and she was towed to Kaohsiung, Taiwan where she was soon broken up late in 1970, aged 41 years.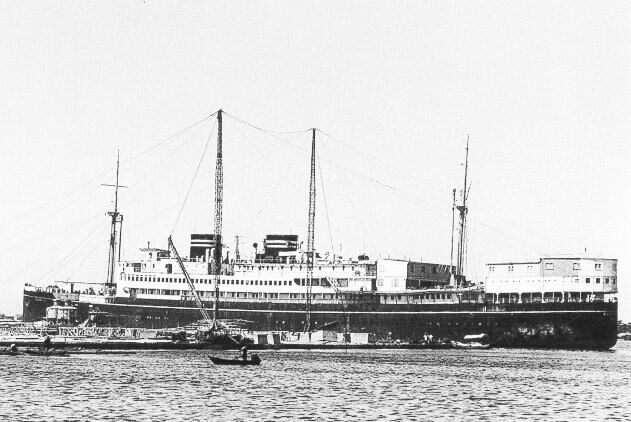 The Wanganella is seen here in Taiwan mid 1970, and still looking beautiful!
Photographer unknown – *Please see photo notes at bottom of page
Memories of a fine Trans Tasman Express Liner!
As I stated earlier, there are ships that stand out in ones mind from the days of our youth, and TSMV Wanganella is just such as ship, as is the TSS Monowai for that matter, and there will be a page on her in the very near future. There is no doubt that the Wanganella was a graceful looking ship with her strong rectangular, yet elegant lines and she was a much loved ship by the many who sailed on her as well as those who would go to the harbour and gaze at her graceful lines when she was in port! I also recall my time as a young man who had just started in the shipping industry and I would go and visit the Wanganella and I loved her stately lounges and superb accommodations, they were quite something for those days! Being built for the British trade, obviously, she was so traditional, giving her that special appeal the kind of appeal that is just not found on the modern ships these days! But at least we can remember!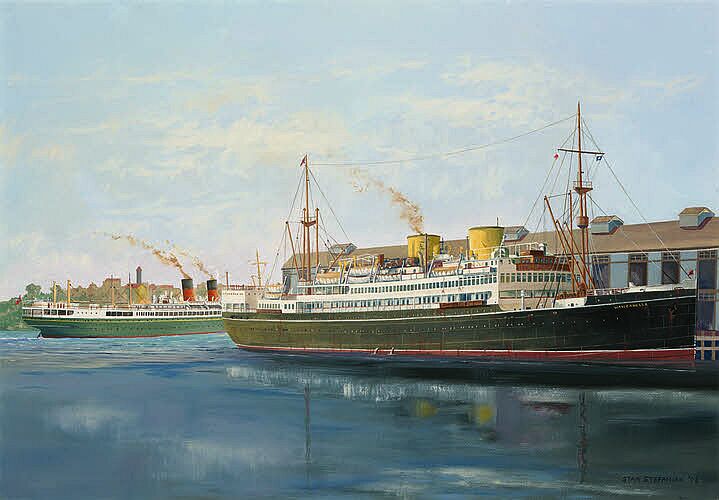 A superb painting of the TSS Monowai (left) and TSMV Wanganella (berthed)
Painting by Stan Stefaniak
I trust that these three pages on the Wanganella will provide you with many happy memories, especially for all who sailed on her, or those who may have served on this fine ship, be it whist a liner or a hospital ship. I trust that I have done this ship justice and if you have something to add, please let me know, my email link is located below!
THANK YOU: Once again, I wish to thank Neil Higgins for his excellent photographs, but also Mr Stanley Evans for providing other images that originally came from a variety of sources, but has been credited to their original source. There are other images sent by other supporters, for which I am very grateful, however I do not know the original owners details. Please see the note below re these! Thank you everyone, you have been of great assistance in making these pages what they are!
Reuben Goossens.
TSMV Wanganella INDEX:
Page One … Ships History Page
Page Two … Photo Page
Page Three … Deck Plan & Brochure
Page Four … Pte Stanley French heads for war and returns on the Wanganella a wounded soldier. A remarkable story of New Zealand soldier Stan who fought in a major Battle.
Remembering the Magnificent T.S.M.V. Wanganella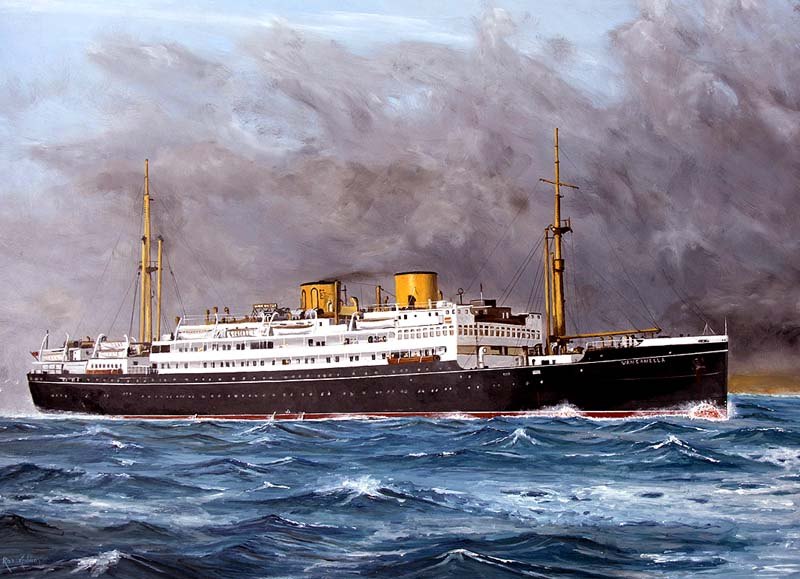 Painted by the brilliant Australian painter Rob Kennedy
"Blue Water Liners sailing to the distant shores.
I watched them come, I watched them go and I watched them die."
********************************
Featuring over 1,360 Classic Passenger Liners, Passenger-Cargo Liners & Classic Cruise Ships!
Or ENTER HERE
For interest: Sadly an email service to ssMaritime is no longer available, due to the author's old age and chronic illness as well as being disabled, etc. In the past ssMaritime received well over 120 emails per day, but Goossens can no longer handle same. He sincerely regrets this!
ssMaritime.com & ssMaritime.net
Where the ships of the past make history & the 1914 built MV Doulos Story
The Author has been in Passenger Shipping & the Cruise Industry for well over 60 years
In addition he was the founder of "Save the Classic Liners Campaign" in 1990
Please Note: ssmaritime and associated sites are 100% non-commercial and the author seeks no funding or favours of any shape or form, never have and never will!
Photographs on ssmaritime and associate pages are by; the author or from the author's private collection. In addition there are some images that have been provided by Shipping Companies and private photographers or collectors. Credit is given to all contributors. However, there are some photographs provided to me without details regarding the photographer/owner concerned.
This notice covers all pages; although, and I have done my best to ensure that all photographs are duly credited and that this notice is displaced on each page, that is, when a page is updated!
ssMaritime is owned & © Copyright by Reuben Goossens - All Rights Reserved