ssMaritime.com & ssMaritime.net
With Reuben Goossens
Maritime Historian
China Ocean Shipping Co, Beijing
Later the: Guangzhou Ocean Shipping Co
MV YAOHUA
Also known as "YAO HUA" Meaning "To Glorify China"
Later renamed MV Orient Princess
Page One – Her History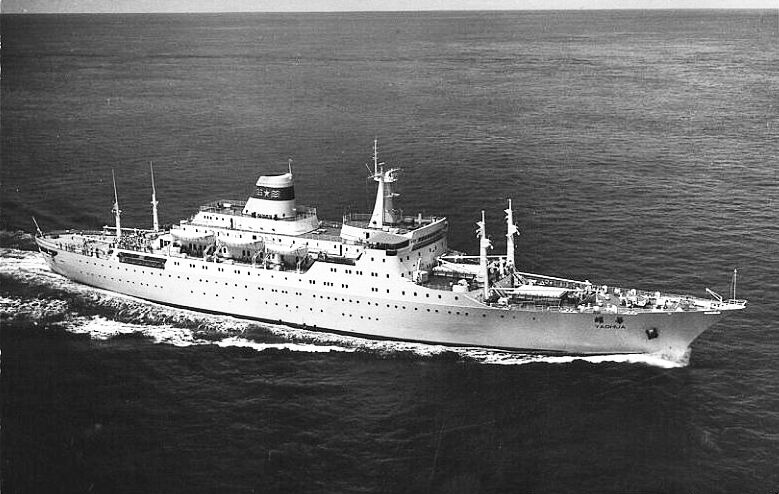 Postcard of China's flagship MV Yaohua
From the author's private collection
The Republic of China ordered their largest ever passenger ship to be built by Chantiers de l'Atlantique (Penho?t-Loire), St. Nazaire, France. Her hull was laid down in Yard number 23.
Named Yaohua, she was launched at a simple ceremony on December 10, 1966. In the future she would become known as being the first ever purpose built passenger ship for the People's Republic of China and their flagship!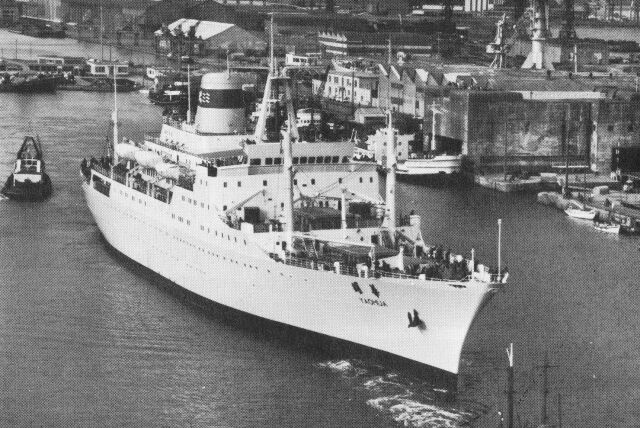 Above & below: MV Yaohua is seen heading off for her Deep Sea Trials in August 1967
From the author's private collection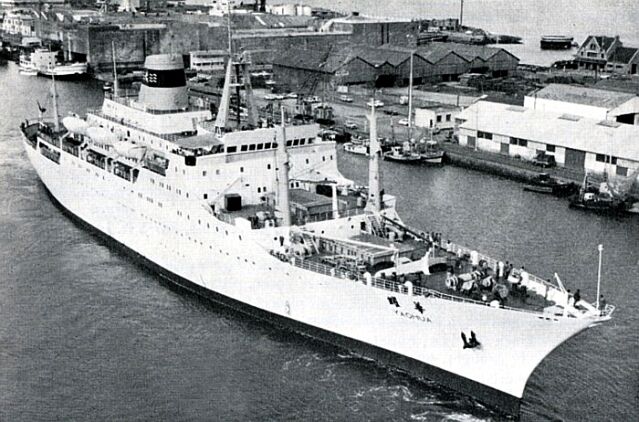 Having been launched and fitted out and completed, she undertook her sea trials successfully and she managed a respectable maximum 22.3 knots, however her usual service speed would be around 19/20 knots.
MV Yaohua was a delightful looking ship with her superbly raked bow, streamlined hull and a beautifully proportioned superstructure that slowly sloped down to her stern. This was combined with her unusual ultra modern A frame radar mast atop of her bridge with a pleasant funnel amidships. In addition she had beautifully stylised kingposts, in all she was a ship that was quite futuristic for her day!
The Yaohua was delivered to her owners, the China Ocean Shipping Company on August, 20, 1967, and with her crew having boarded and stored up, she was ready to set sail!
Although having a considerable cargo capacity with her three holds (two forward and one aft of the pool) she was mostly built to be a passenger liner and offered accommodation for 318 passengers in first, second and third classes. Many observers were amazed that the Chinese had decided on giving her three classes, rather than operating her as a one class liner, which would seem more befitting the Communist manifesto!
Her on board facilities were of a very high standard as she had an excellent variety of public rooms, with spacious and well equipped cabins as well as ample deck space for all classes, for a 10,000-ton ship she had a rather large swimming pool.
MV Yaohua, China's brand new flagship finally departed on her maiden voyage on her regular service, being the China to East Africaroute, which continued for a number of years. In the 1970's she was placed on the Far East service.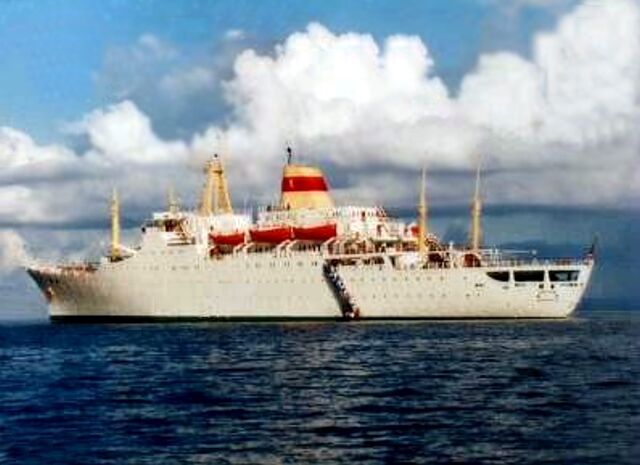 This is an old photograph of the Yaohua at anchor during a cruise in the 70's
Taken by an unknown, but an Asian passenger
Specifications:
Built by:?????????????????????? Chantiers de l'Atlantique, St. Nazaire.
Yard:????????????????????? No. 23.
Launched:?????????????? December 10, 1966.
Delivered:??????????????? August 20, 1967.
Tonnage:???????????????? 10,151 GRT.
Length:?????????????????? 488ft – 148.8m.
Width:??????????????????? 68.9ft – 21m.
Engines:????????????????? 2 x Sulzer Diesels (by the builders).
Screws:????????????????? Twin – 11,200 KW - 15,000 BHP.
Speed:??????????????????? 19 Knots – 20 knots
Passengers:???????????? 100 First Class.
???????????????????????????? 100 Second Class.
???????????????????????????? 118 in Third Class.
Crew:???????????????????? 177.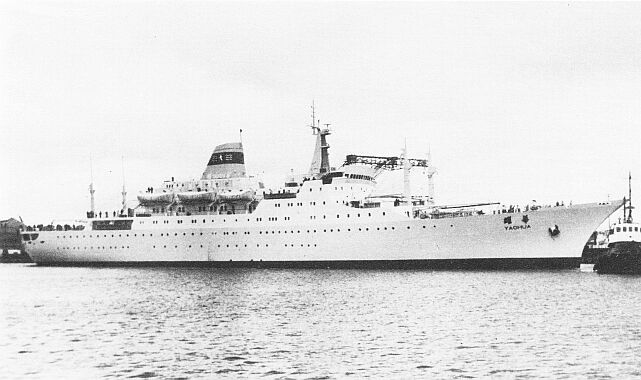 With her shapely bow and high forward superstructure sloping back, she certainly is a good looking ship
From the author's private collection
In 1982 a special charter operation was established with one of the largest and most famed cruise, shipping and travel and travel organisations known as - "Sal?n Lindblad Cruises" a company that became better known in later years as "Lindblad Explorer." The Yaohua certainly became a popular ship with the European, American and international passengers thanks to Sal?n Lindblad.
Prior to commencing her new cruise venture she underwent a special refit making her suitable for the western cruise passenger and she became a one class ship for 176 passengers in a twin bedded configuration, offering comfortable outside staterooms, all having private facilities, except for 8 rooms portside far forward on B Deck that had shared facilities. Some cabins on A & B Decks had upper berths folded away and a number of these could be sold as three or four berth rooms upon request. See the cabin plan on page 3.
For these charter cruises she was operated under the name of China Cruises commencing in March 1983 and operated annually through to November as the Chinese winter months were rather severe. However for the next three months I have not been able to locate any details of her operation, but assume she operated mostly for the local Chinese market between China and Hong Kong.
MV Yaohua may have been a Chinese ship in the true sense of the word during her charter cruise operation; however, she was under Western management having some European staff at hand. She commenced her new cruise service, which saw the "China Cruises" name painted in red on her gleaning white hull. This new cruise venture would become a popular operation as she commenced her Yangtze River and China coast cruises.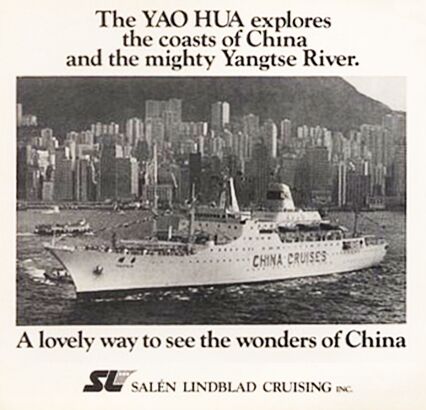 This is part of a Sal?n Lindblad advertisement late in 1982
From the author's private collection
Sal?n Lindblad's Cruises operated as follows: The complete Fly/Land Cruise package was a 14 day vacation commencing either in Beijing or in Hong Kong. These tour groups would usually fly in from overseas and commence with accommodation for two or three nights in the first and/or last city. An extensive Tour'n'Cruise programme can be seen on "Page Two".
Public rooms and facilities on MV Yaohua:
Boat Deck: Sports facilities and Gym. Promenade Deck: Forward to aft, Forward Main Lobby, Hairdresser, Casino Lounge and Bar, Writing Room (starboard), Gallery (port), Club Lounge, Swimming Pool and Sun Deck. A Deck: Forward to aft, Forward Main Lobby, Shops, Conference Room (starboard), Pursers Square (port), Dining Room with two small private dinning areas aft on starboard and portside, aft Staircase, the Dragon Boat lounge, covered and open deck space. B Deck: The hospital/surgery is located amidships, portside.
In 1984 the Chinese Government decided to transfer her ownership to the Guangzhou Ocean Shipping Co, but she remained under the same management as in 1983 and continued on her regular chartered cruise/tour duties for the international market.
MV Orient Princess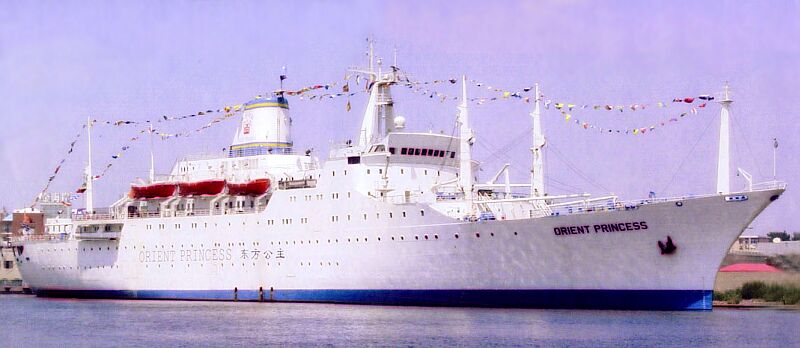 MV Orient Princess seen in her first livery
Photographer unknown - *See photo notes at bottom of page
Changes was in the air and the Yaohua was transferred to the "Republic of China Maritime Corporation" in 1987, and she was renamed Orient Princess. From here her days are somewhat sketchy and I hope to locate details in due course. But I do have the following information.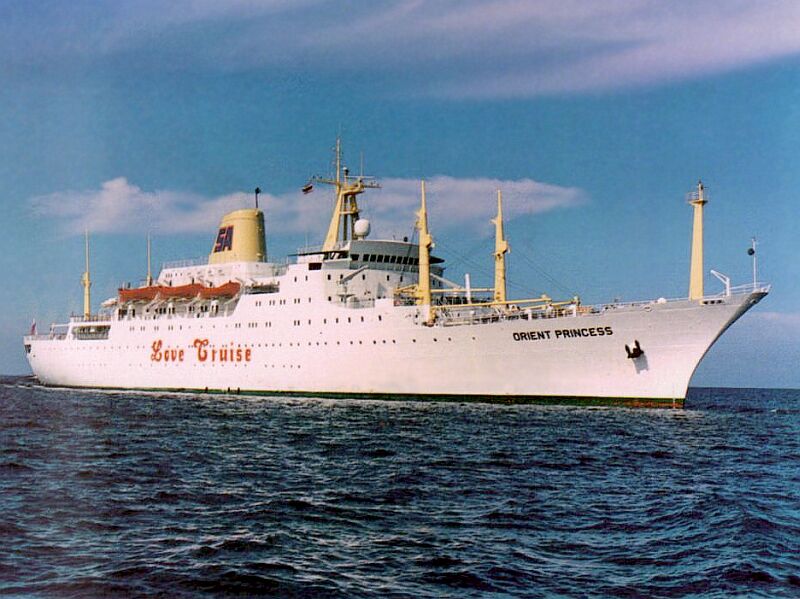 This is without doubt the best photograph I have received of this perfectly designed passenger ship!
She is seen here after 1987 having been renamed the "Orient Princess"
Photographer unknown - *See photo notes at bottom of page
Later she became known as the "Love Boat" having the words "Love Cruise" painted in red on the side of this all white ship, and her funnel featured the logo "SA" but I have little information available in relation to her ports of call, or where she was based, but I assume that she remained in Asia at all times. However, in January 1994 she was being operated as a casino ship by "Asphonel Services Inc," Panama and managed by "Main Fortune Ltd."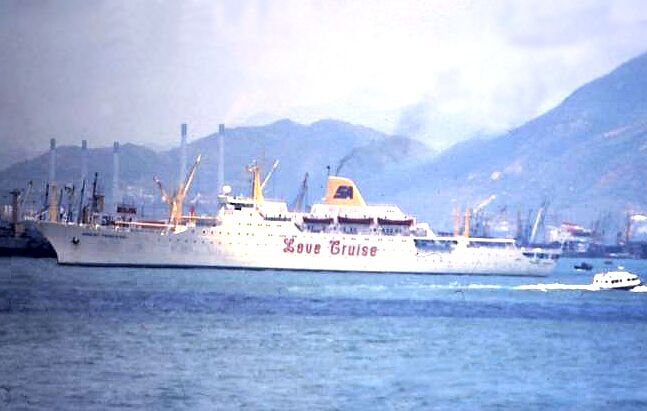 Above and below: These are some of the last photographs taken of the Orient Princess whilst she was still in operation
Sent in by a supporter – photographer(s) unknown - *See photo notes at bottom of page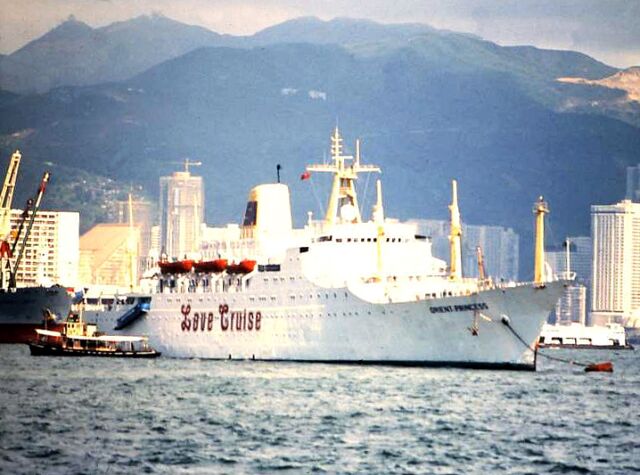 This photograph obviously shows her at anchor in Hong Kong Harbour and I was advised, it was "circa 1988"
In 2000, Orient Princess apparently was still operational, but then in 2003 then came the following report:
"Orient Princess ex Yaohua (1967) operated by the Pallister Group Ltd, Panama, the ship was restrained from operating by authorities at Guangzhou, China on April 11, 2003, until crew is paid back wages."
She was taken over by a Chinese company who gave her a refit to become a tourist facility and restaurant. Later again saw two hideous boxlike structures with square windows being built aft of the ship. One being placed directly aft of the Boat Deck superstructure, the second down on Promenade Deck, although this one had a more pleasant rounded aft section. These two new restaurant sections were at first painted white, but in due course they were painted in the traditional Chinese dark red, and this not make for a great look for what was once a very attractive ship!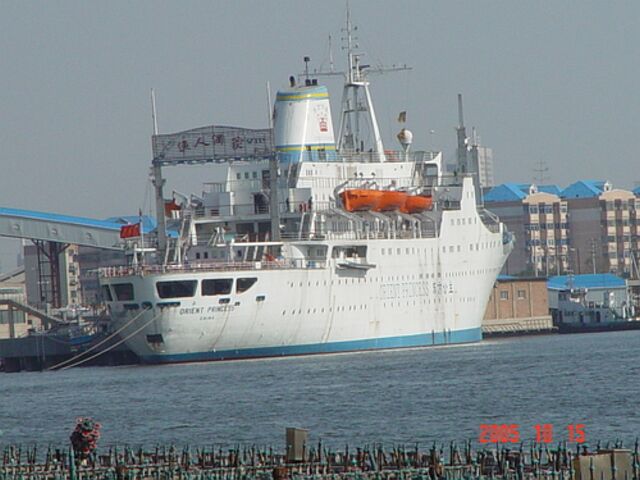 Orient Princess is seen here before her aft rebuilding, but she now had a tall aft advertising billboard
Photographer ? John Gleeson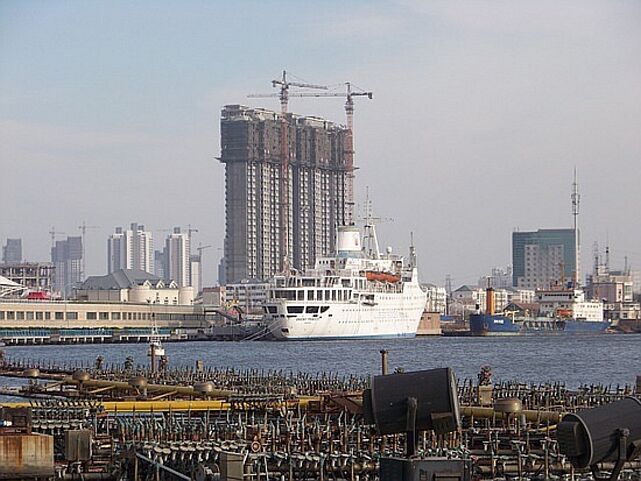 Orient Princess is seen here having been rebuilt, minus the billboard, at the Tianjin seaside resort city in China
Photographer unknown - *See photo notes at bottom of page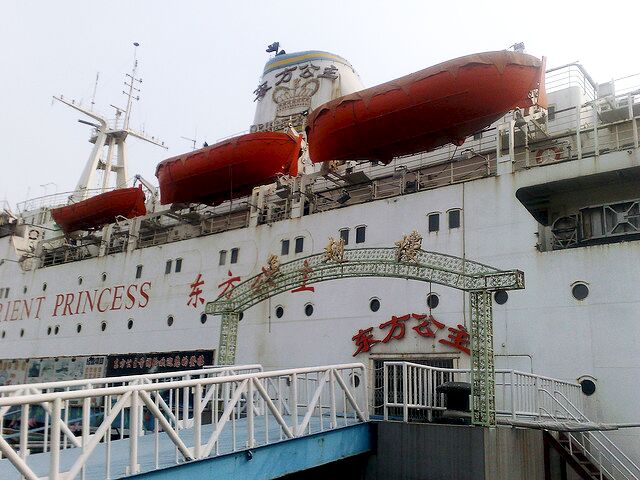 The entrance to the ship
Photographer unknown - *See photo notes at bottom of page
When completed she was relocated to located to the popular Chinese seaside resort of Tianjin, where the Orient Princess continues to operate as a floating tourist facility, with her on board restaurants being her speciality and located in the new built sections aft of the ship.
Although I do not have a great deal of information of her current status, including the question I have been asked; "Is she being used as a hotel?" I would assume that a ship with such high quality cabins that she may well be operating as a hotel. However, I am waiting on further advice.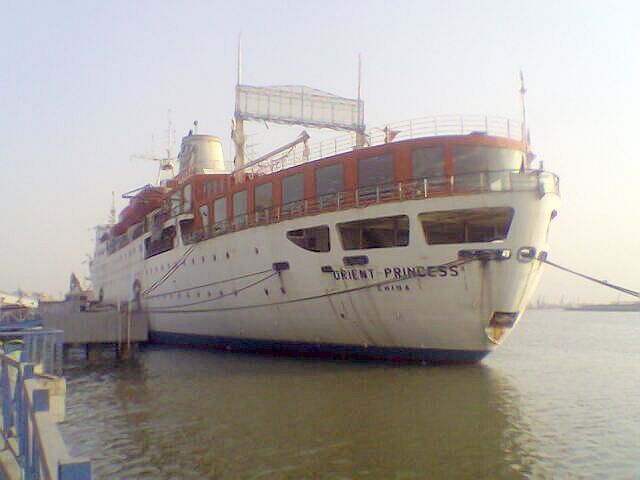 Orient Princess as seen late in 2008 – Certainly not the ship she used to be!
Sent and taken in by an unnamed ssMaritime supporter
If you have any further information regarding the ex Chinese flagship Yaohua, Orient Princess, I would greatly appreciate hearing from you, especially if you have sailed on her and have any photographs! Please email me.
MV Yaohua INDEX:
Page 1 - MV Yaohua - history page
Page 2 - MV Yaohua - Sal?n Lindblad's 1983 - First Brochure
Page 3 - MV Yaohua – Cabin Plan (1982)
**************************************************
Use the Back button on your browser or Close the Page to return to the previous page
or go to our INDEX
Who is the Author of ssMaritime?
Commenced in the passenger Shipping Industry in May 1960
ssMaritime.com & ssMaritime.net
Where the ships of the past make history & the 1914 built MV Doulos Story
Also visit my …
"Save The Classic Liners Campaign" & "Classic Ocean Voyages" pages
Photographs on ssmaritime and associate pages are by the author or from the author's private collection. In addition there are some images that have been provided by Shipping Companies and private photographers or collectors. Credit is given to all contributors. However, there are some photographs provided to me without details regarding the photographer/owner concerned. I hereby invite if owners of these images would be so kind to make them-selves known to me (my email address may be found on www.ssmaritime.com only), in order that due credit may be given. I know what it is like, I have seen a multitude of my own photographs on other sites, yet these individuals either refuse to provide credit or remove them when asked, knowing full well that there is no legal comeback when it comes to the net. However, let us show these charlatans up and do the right thing at all times and give credit where credit is due!
This notice covers all pages, although, and I have done my best to ensure that all photographs are duly credited and that this notice is displaced on each page, that is, when a page is updated!
ssMaritime is owned and ? Copyright 2010/12 - by Reuben Goossens - All Rights Reserved