Ybarra Lines M.S Cabo San Roque 1957 & the Cabo San Vicente -1959
Please Note: Firefox and some iPad's or iPhone's, etc are not suitable
Use Internet Explorer or Google for this page to load perfectly!
Click the logo above to reach the ssMaritime FrontPage for News Updates & "Ship of the Month"
With Reuben Goossens
Maritime Historian, Cruise'n'Ship Reviewer, Author & Maritime Lecturer
Please Note: All ssMaritime and other related maritime/cruise sites are 100% non-commercial and privately owned. Be assured that I am NOT associated with any shipping or cruise companies or any travel/cruise agencies or any other organisations! Although the author has been in the passenger shipping industry since 1960, although is now retired but having completed over 700 Classic Liners and Cargo-Passengers Ships features I trust these will continue to provide classic ship enthusiasts the information the are seeking, but above all a great deal of pleasure!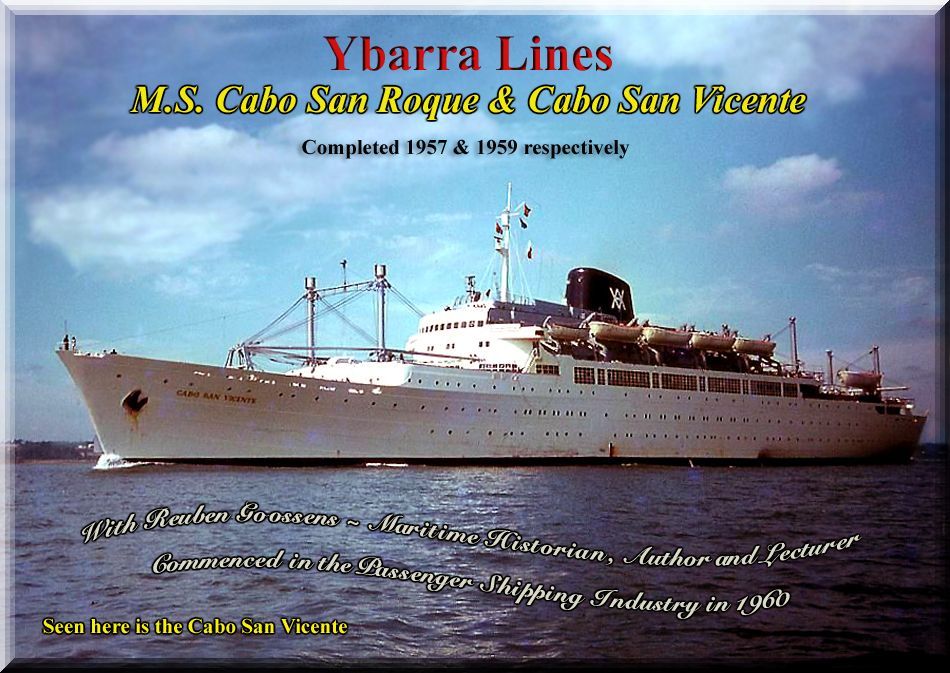 A Wonderful Story of Two Popular & Beautiful Ybarra Liners
Ybarra Line - Ybarra y

Cia

:
Ybarra Line was founded to operate cargo services between Seville and Bilbao, then to the United Kingdom and the United States. However, it was not until 1927 when they commenced passenger liner services to South America until 1977, when their last major line caught fire, and was soon sold. The company continued as ship owners of considerable a fleet of cargo ships and car ferries, until 1981 when their last ship was taken over by "Companhia Trasmediterranea". They continued as agents until 2006 when they were finally taken over by "Hamburg Sud"
Ybarra's First Steam & Passenger Carrying Ship:
Ybarra y Cia goes back to 1843 when in the city of Seville Mr. José María de Ybarra (from Seville) and Gutiérrez Caviedes (from Bilbao) founded a new servicer line between Bilbao and Seville using a small sailing vessel named "Dolores". Soon after they purchased two further sailing vessels the "Ceres" and "Basilia" in order to consolidate the line. Seventeen years after the foundation of Ybarra they acquired their first steam ship, named the "Italica", being 382 tons.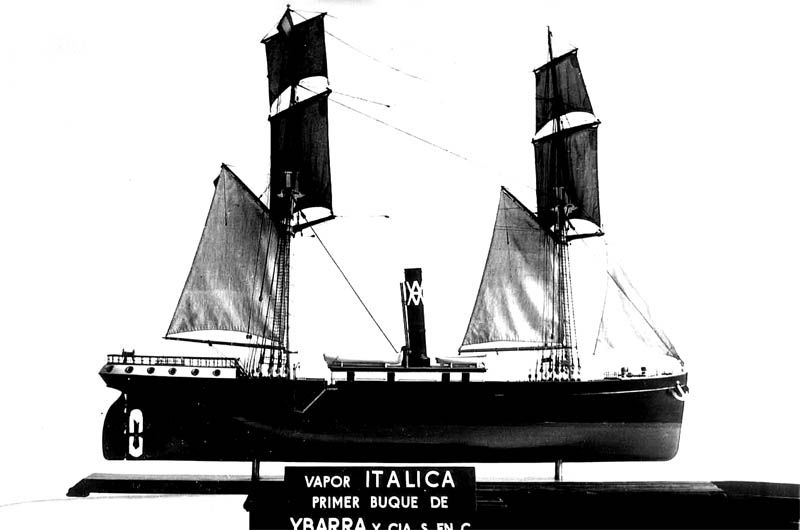 This is the S.S. Italica being Ybarra's very first steam ship, yet with its two tall masts, it could
use its sails and cut costs whenever the weather conditions were right, she was acquired in 1960
In 1919 a regular service was established to the United States, operating a general cargo service, but also with a very small number of passengers on the Cabo Cervera. In 1927, a service was established, which the company would become most known for, a regular line service to South America was established when they acquired the Swedish ship the 5,724 ton "Hemland" built by Götaverken Shipyards at Gothenburg in 1921. She was renamed Cabo Tortosa (II) and she soon commenced voyages.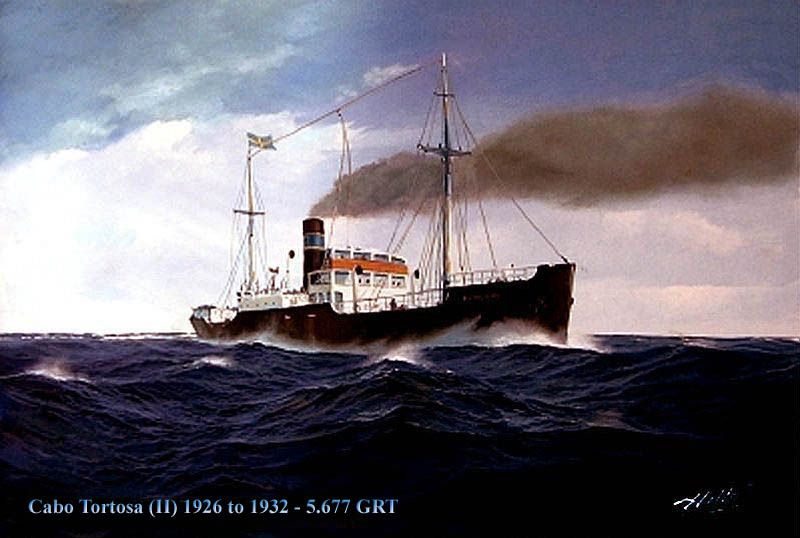 A painting of the very first Ybarra passenger-cargo ship the Carbo Tortosa II, the first ship of that name was a freighter from 1893
She made a total of three round voyages, departing for the last time from New York on December 19, and sailed via for Malaga to Genoa. Thereafter she commenced on the South American services, departing on her first voyage from Genoa on January 25, 1927 and headed to Montevideo and to her destination, sailing via Cadiz - Buenos Aires. She continued on this service for five years, but in 1932 she was sold to "Cia Espanola de Nav," who renamed her "Motomar".
Ybarra's Last Passenger Liners the twin Sisters; M.S. Cabo San Roque & Cabo San Vicente:
Early Design:
The new ships were intended to be revolutionary and would have the finest designed interiors packed with remarkable comfort and wonderful décor in all their public rooms. Yet amazingly the company did want these ships have a slightly traditional look, although modern, thus their original designs showed them with two funnels and two masts, which would have made them look very much like traditional liners. But Ybarra decided to retain the new modern exteriors and have the single beautifully designed funnel, a tall radar mast atop the Bridge. And aluminium painted kingposts forward and aft, and upon completion the results were outstanding and the then ultra modern looking passenger liners were a hit when they appeared on the scene! In the late 1950s!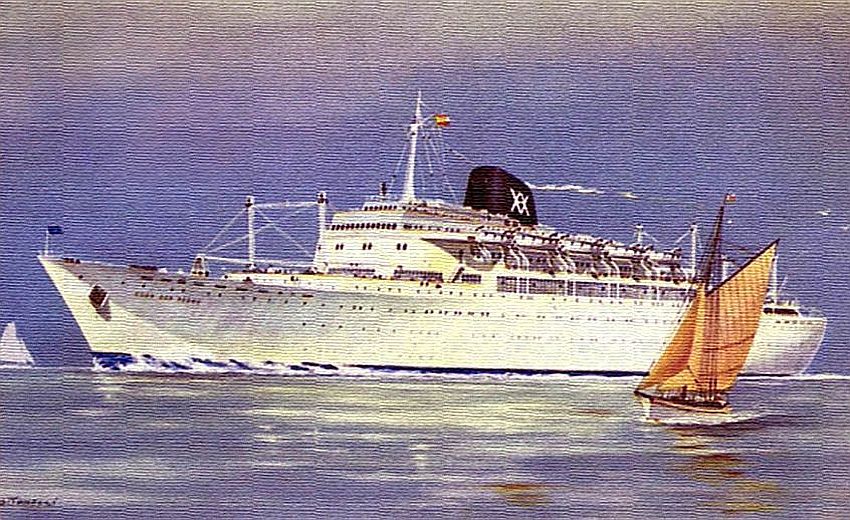 This fine painting of the new Ybarra ships revealed their new design, after the external design changes were made
Ybarra's two new passenger liners were built at the "Soc Espanola de Construccion Naval" of Bilbao, Spain, and they were given hull numbers 75 & 76 respectively. The first of the pair was named Cabo San Roque and launched on April 23, 1955. Having completed her speed trials having attained just over an excellent 22 knots, she was delivered to her owners in August 1957.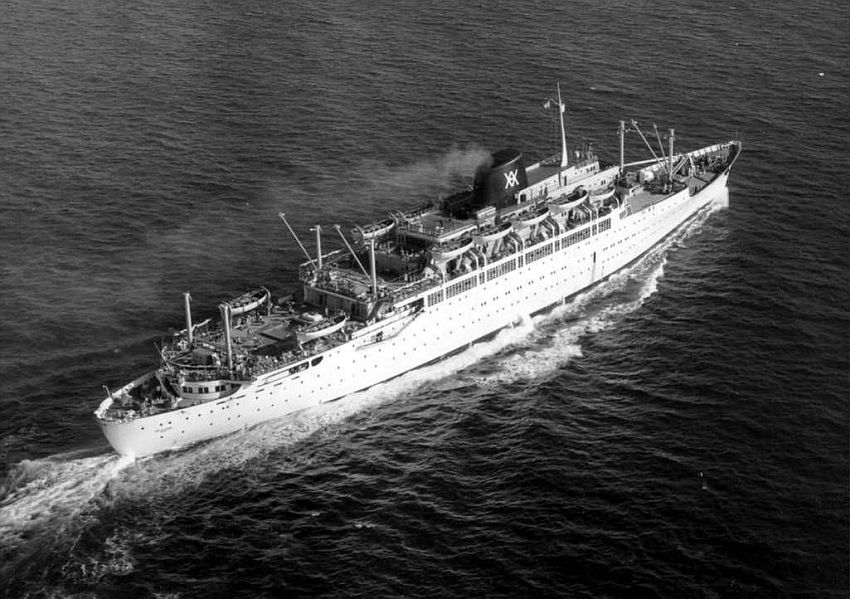 An aerial publicity photo of the M.S. Cabo San Roque seen during her delivery voyage
The second of the identical twins was named Cabo San Vicente and launched on October 6, 1956. Just like her sister during her speed trials, she also reached well over 22 knots, and was delivered to Ybarra in April 1959.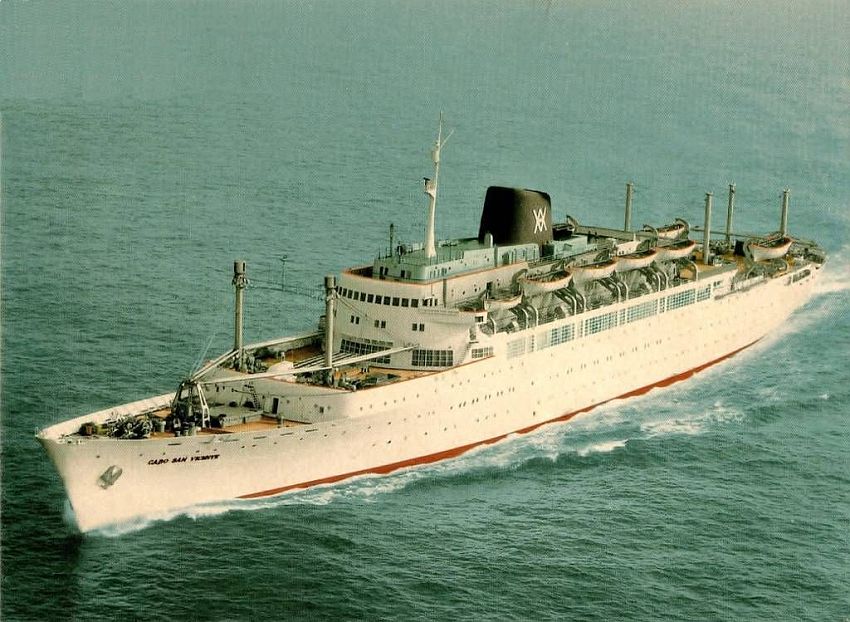 M.S. Cabo San Vicente is seen here in a fine aerial scene
These ships had a tonnage of 14,491 GRT and 14,569 GRT (Gross Registered Tons) respectively and had a capacity of 241 passengers in Cabin Class and 582 in Tourist Class, and having a crew of 231.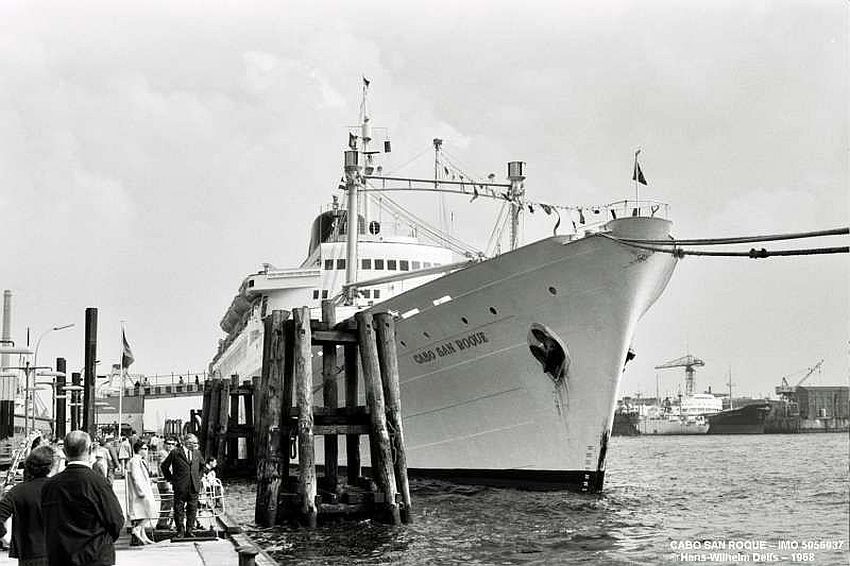 M.S. Cabo San Roque seen ready for departure in 1958, with the last visitors heading ashore, and some are seen on the gangplank
Photograph by & © Hans Wilheim Delfs
Interiors:
Public Rooms & Facilities:
The main public rooms were mostly located on Promenade Deck, commencing with a grand curved Music Room, being the Main Lounge, located far forward, this was followed by Lounge, come Smoking Room and Bar. With a Library and writing room located aft on the port side. Aft of the Cabin Class Lounges came several De Luxe Suites that even had private verandas with floor to ceiling windows. They were followed by the Tourist Class Lounge with bar and their Pool directly aft out on deck. Just above aft on Boat Deck was the delightful Veranda Lounge, come Night Club, with the Cabin Class Pool outside, with views overlooking the Tourist Class pool and the ships stern.
Thus, each ship had four fine Lounges, four Bars, two Library's & Writing Rooms, two Restaurants, a Chapel, Gymnasium, two Swimming Pools, a Solarium, Sports Decks, two Play Room, and a yes, a share Cinema.
Accommodations:
Cabin Class cabins offered accommodations in twin bedded suites and staterooms, as well as three and four berth cabins, all having private facilities. Tourist Class had two to four berth cabins with shared facilities. The ships were fully air-conditioned
Below are a number of larger images which were kindly provided by Mr. Gabriel Alomar Bouzas (Spain) from one of his Ybarra brochures, for which I am most grateful! In addition there are also several smaller images from my files, which together with the excellent images from Mr. Bouzas, provides us with a better insight to their interiors as well as their pool decks!
Cabin / First Class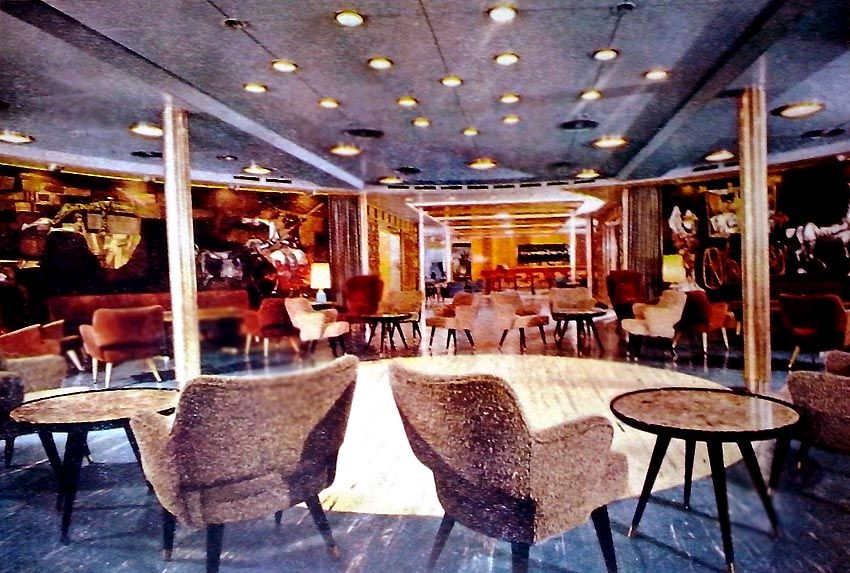 This is a view of the Grand Salon & Bar seen just forward, and this spacious venue is the Music Salon located on Promenade Deck
Provided by Gabriel Alomar Bouzas (Spain)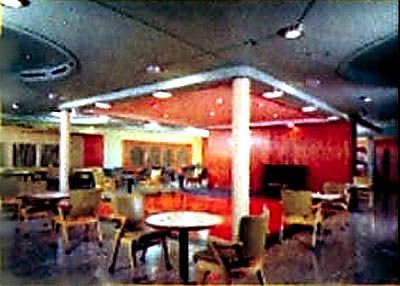 Aft on Boat Deck is the Verandah Lounge, which becomes the Night club at night!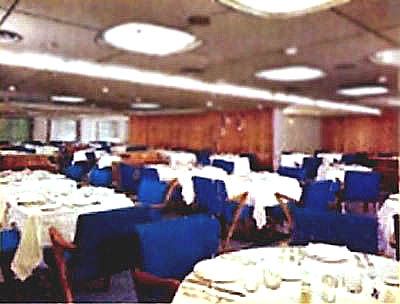 Blue Restaurant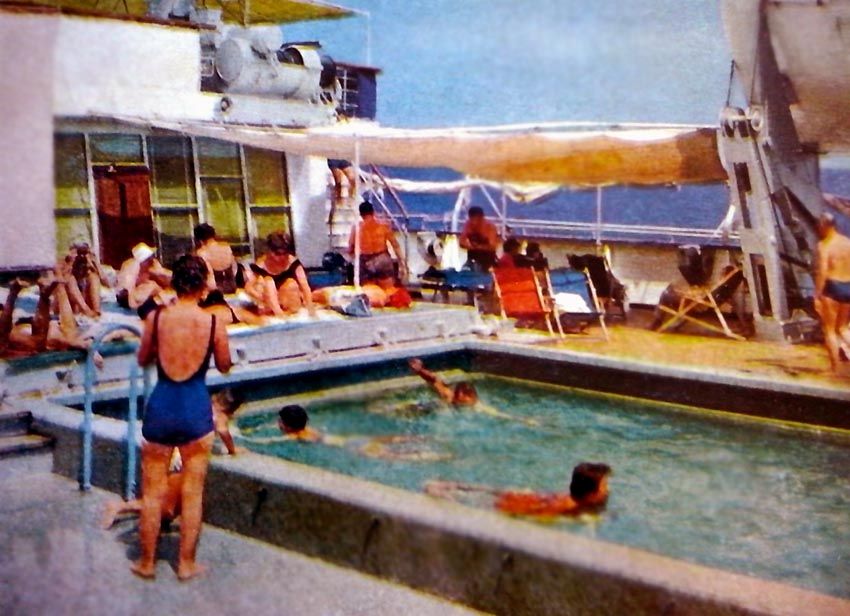 This the Cabin Class Swimming Pool, with stairs heading up to Boat Deck
Provided by Gabriel Alomar Bouzas (Spain)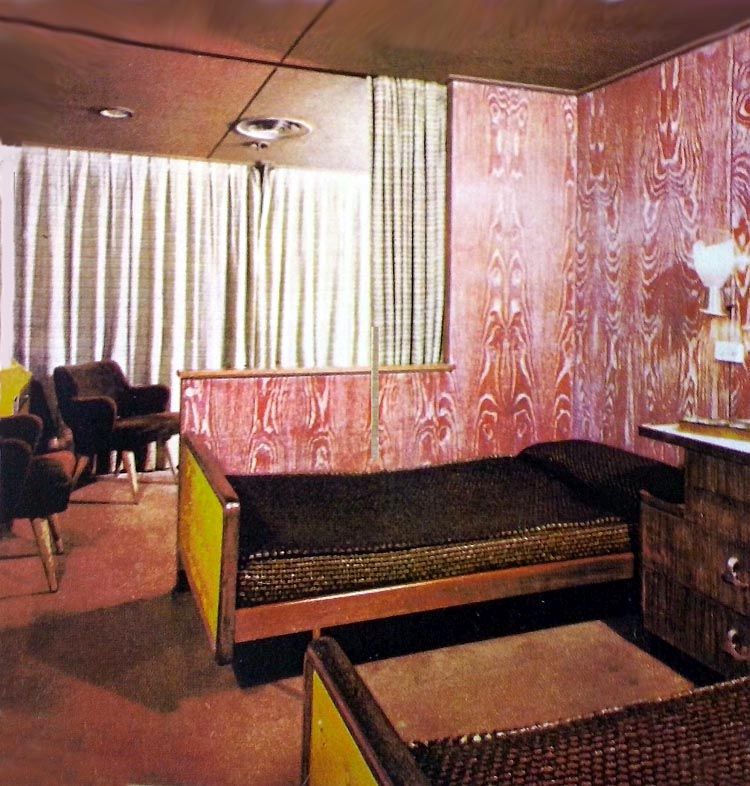 This is one of the De Luxe Suites
Provided by Gabriel Alomar Bouzas (Spain)
Tourist Class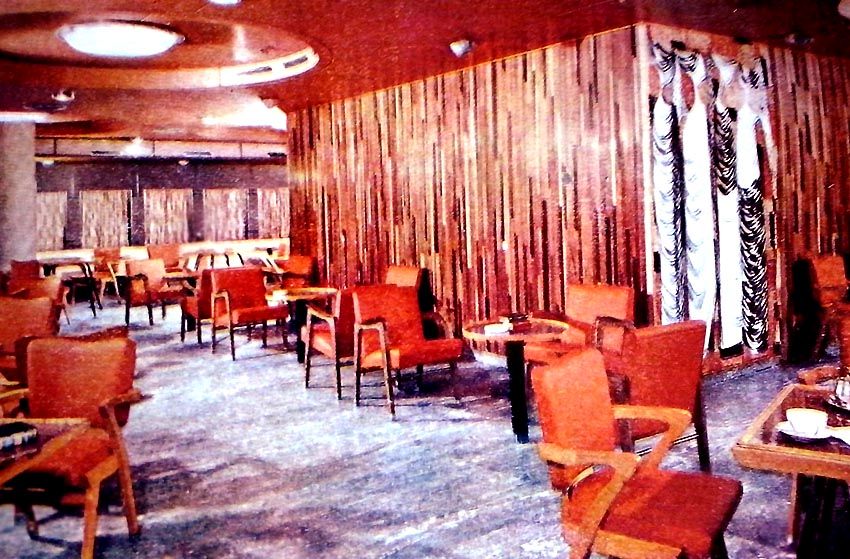 Aft on Promenade Deck is this fine Tourist Class Lounge & bar, and when the aft curtains are open, views are out to the pool
Provided by Gabriel Alomar Bouzas (Spain)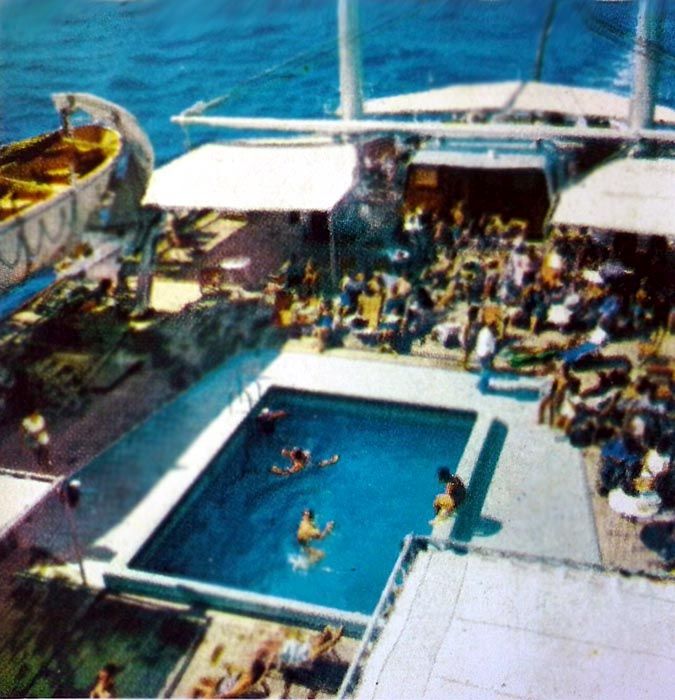 The Tourist Class Pool is the larger of the two, and has a spacious and a well covered deck
Provided by Gabriel Alomar Bouzas (Spain)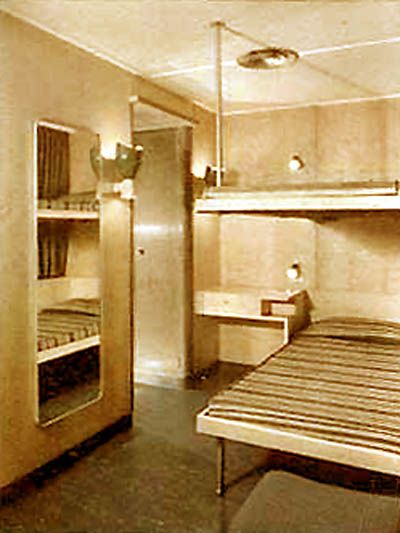 This is a typical tourist class two berth cabin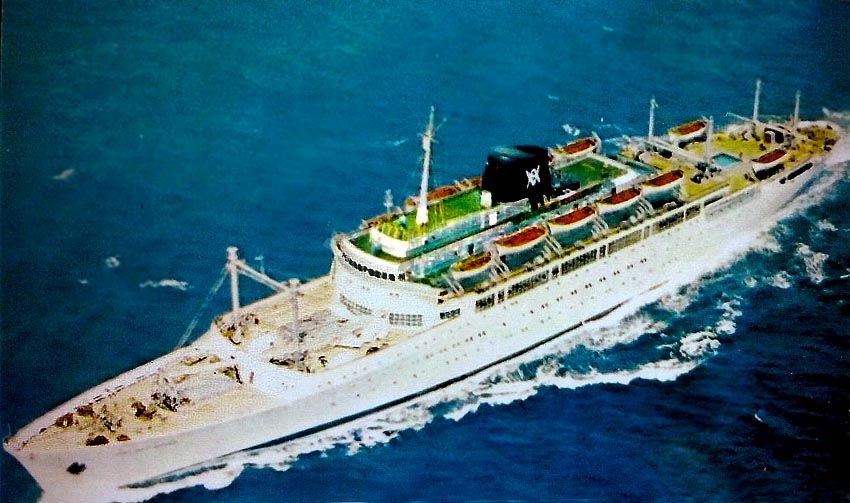 An excellent view of one of these fine Ybarra Liners, with both the Cabin & Tourist Class Pools in view!
Provided by Gabriel Alomar Bouzas (Spain)
Partial Deck Plan
Covering major Public Venues & Cabin Class luxury Accommodations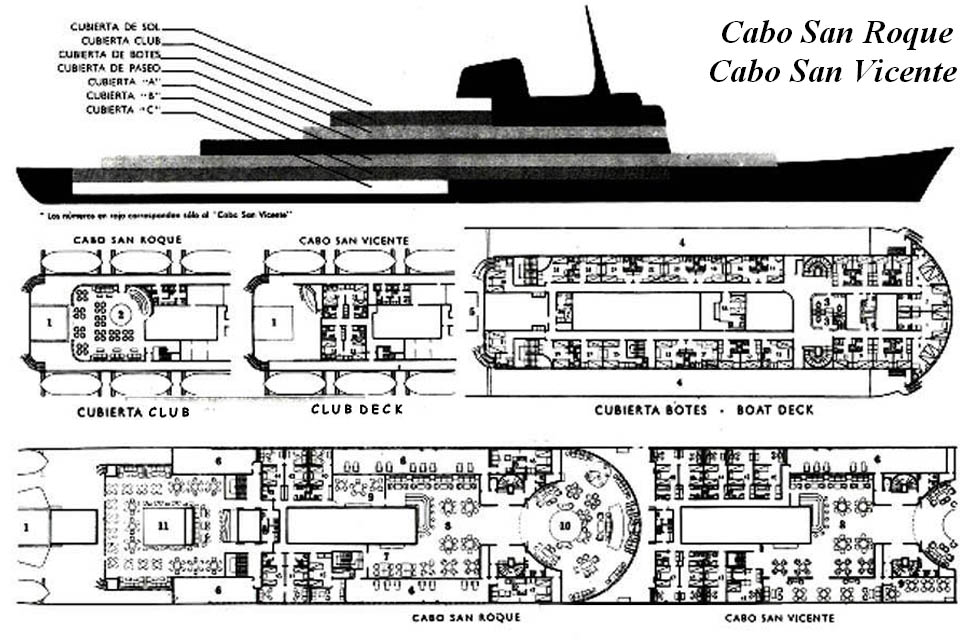 Maiden Voyages:
M.S. Cabo San Roque departed from Genoa on September 5, 1957 to Marseille and Barcelona where she commenced her maiden voyage to Montevideo and Buenos Aires. Whilst her sister the Cape San Vicente commenced her maiden voyage from Bilbao on April 12, 1959 and called at Coruna, Vigo, Lisbon, Tenerife and Montevideo and headed to Buenos Aires. She then returned to Barcelona and Genoa. She commenced her second voyage from Genoa on September 4, 1959. Obviously emigrants bound for Brazil, Uruguay and Argentina would sail on these services and enjoy the comforts of these fine ships, even in Tourist Class, which was of a very high standard.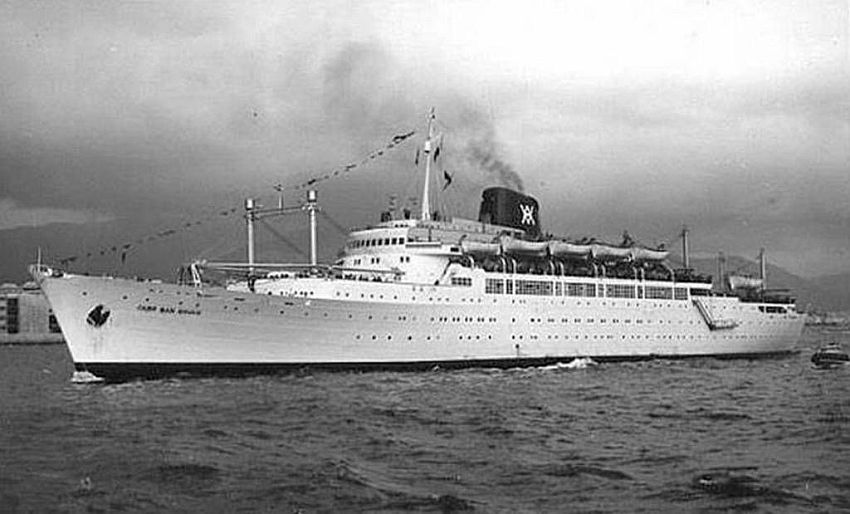 The Cabo San Roque is seen arriving in a port
Just for interest; around 1963 or 1964 both ships had a minor interior accommodation rearrangement, which saw changes as follows; there were now -189 Cabin Class passengers, and 652 Tourist Class passengers, a total of 841, being just 28 passengers more than before.
Cruises & Midnight Sun Cruises to Antarctica and the Falkland Islands:
In addition to their line voyages to South America, both ships were used as Cruise Ships along the South American Coasts: Fueguinos Channels (Fueguino is a volcanic field in Chile, at the southernmost volcano in the Andes), also the ever popular "Carnival" Cruises, as well as Christmas and New Year Cruises, etc.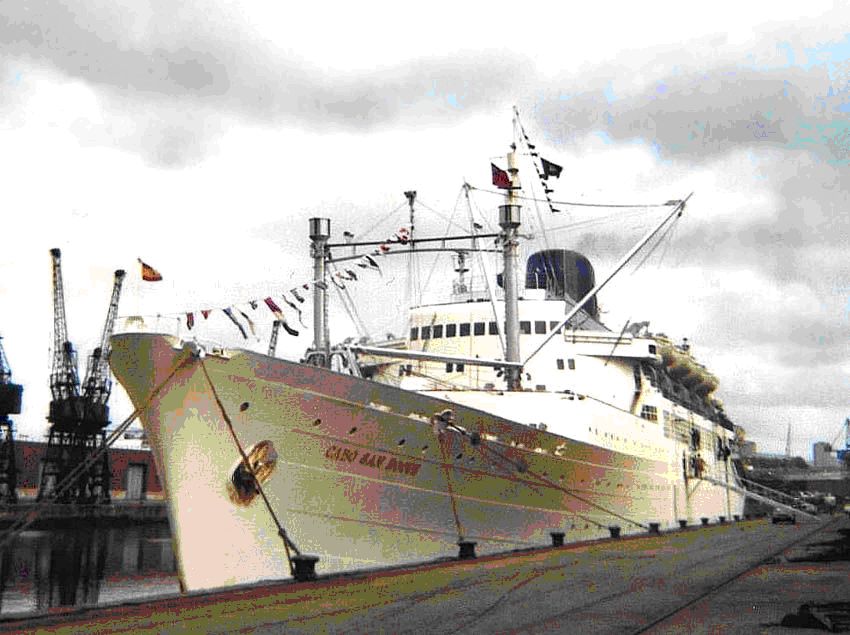 M.S. Cabo San Roque is seen at the Glasgow King George Docks in 1972
M.S. Cabo San Roque being the first of the two, followed by the Cabo San Vicente, undertook "Midnight Sun Cruises" to Antarctica and the Falkland Islands in 1973. Without a doubt these ships were the precursors of the Spanish Antarctic in this kind of tourist activity. The Antarctic tourism was commenced by Argentina in 1958. An expedition was organised in the "ARA Les Eclaireurs," and a number of stations were visited in the Argentinean sector.
The first Midnight Sun departure was on the Cabo San Roque, which departed Salvador de Bahía, Brazil on January 16, 1973 in, however the cruise officially commenced in Buenos Aires therefore, the rarity of the philatelic items with Brazilian postmarks. On January 22, Cabo San Roque departed Buenos Aires and headed for Montevideo, after which she continued to Ushuaia, arriving on January 26.
Below is a Map revealing the costal service from Salvador Brazil, down to Ushuaia in Argentina.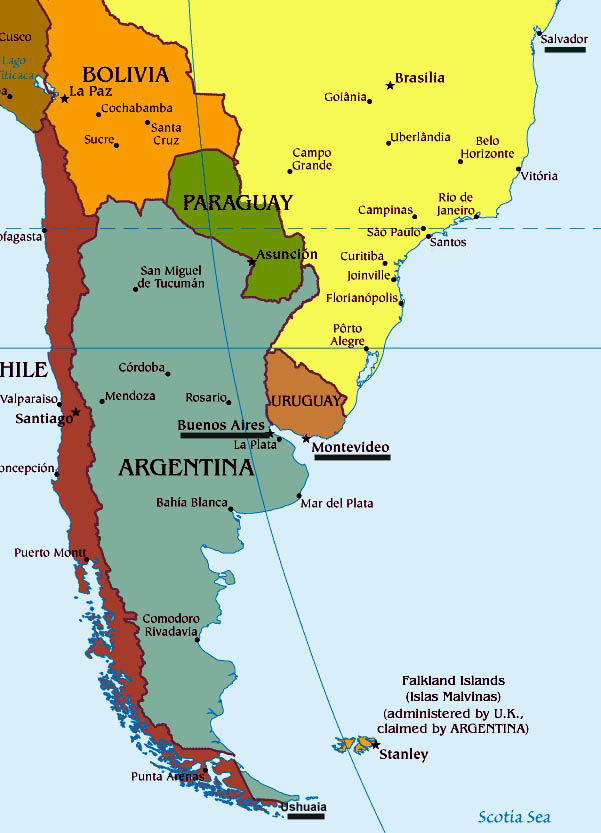 Ushuaia is a popular resort town. It's located on the Tierra del Fuego archipelago in the southernmost tip in Argentina and of South America. It is nicknamed the "End of the World." This windswept town is perched on a steep hill, and it is surrounded by the "Martial Mountains" and the "Beagle Channel". In addition, it is the gateway for exploration voyages to Antarctica, but for those on a stay in Ushuaia, or a cruise, many will opt for an excursion by boat to the nearby Island known as "Isla Yécapasela", which is better known as "Bird" or "Penguin Island" for its large penguin colonies.
From Ushuaia it was sailing down to Antarctica g through Drake Channel where weather conditions is frequently very changeable, therefore the voyage is planned that it can be adjusted to the conditions as they come to hand.
The office in Ushuaia ensured that alternative excursions would be prearranged if changes were need, as it did on a 1974 voyage on the M.S. Cabo San Vicente. They even pre-arranged postal covers at several of the alternative stations visited to be postmarked with the correct date and ships name, etc.
In 1973 visits in Antarctic area included the following areas to be visited: South Shetland Islands, the Larrea Straits, Smith Island, Palmer Archipelago, Melchior Naval Detachment, Gerlache Straits, Paraíso Bay, Bismarck Straits, Neumayer Channel, etc., also visits some stations on the Palmer Peninsula, specially the Argentinean stations. During this first cruise, several stations were visited.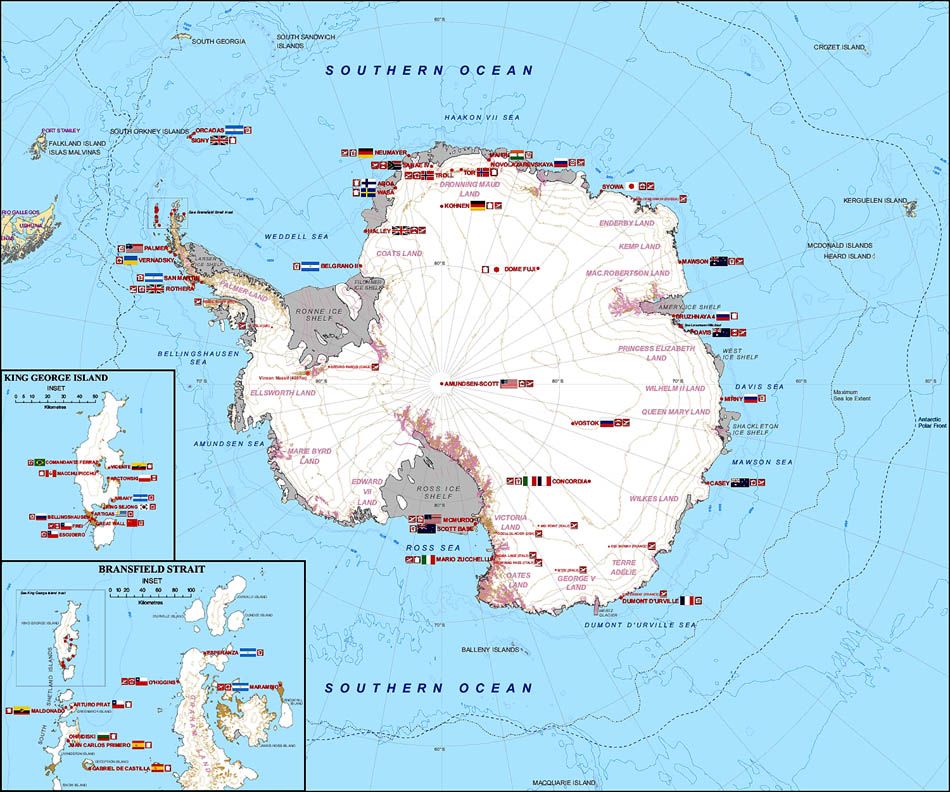 For a larger size map CLICK HERE
Or use this link: http://ssmaritime.com/Ybarra-Antarctica-map-lge.jpg.
During the Cabo San Roque Antarctic expedition she met the ship the MS Linblad Explorer as well as Jacques Cousteau RV Calypso, and our expedition headed for the Esperanza Army Station arriving on January 31, 1973.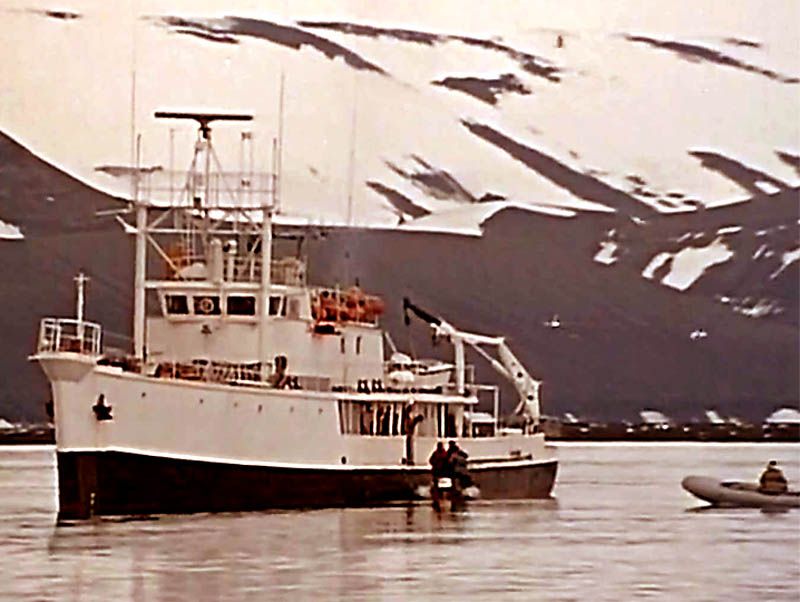 This is the Jacques Cousteau RV Calypso, which is seen here at the Port of Foster
From this latest Station, the return voyage headed for Port Stanley, Falkland Islands, then to Montevideo, next a visit to Buenos Aires, and she then arrived back Salvador on February 9, 1973 as the last stop, and it took 25 days.
In all the Cabo San Roque undertook four Ushuaia Exploration Voyages, whereas the Cabo San Vicente only made three, the 1974-1975 voyage was her final "Midnight Sun Cruise". The main reason the voyages where called off was not due to loadings, but due to the very high overhead, and as costs for sailing and post stops in the region was so very high, for the fares charged! During 1974 M.S Cabo San Roque also undertook a number of Northern Hemisphere Cruises.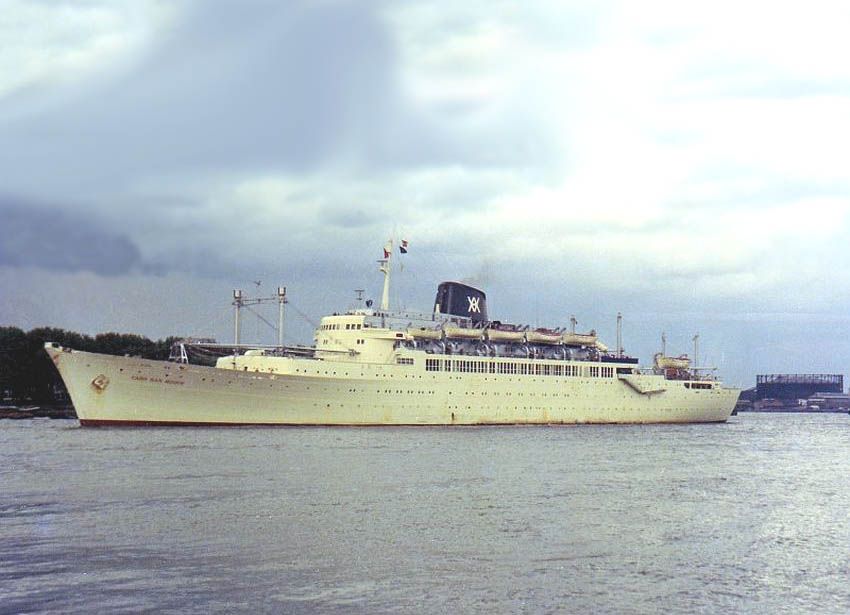 Above & below: M.S. Cabo San Roque is seen heading for Greenwich on September 3, 1974
And then she is seen having arrived at Greenwich and at anchor
Photograph taken by & © Clive Harvey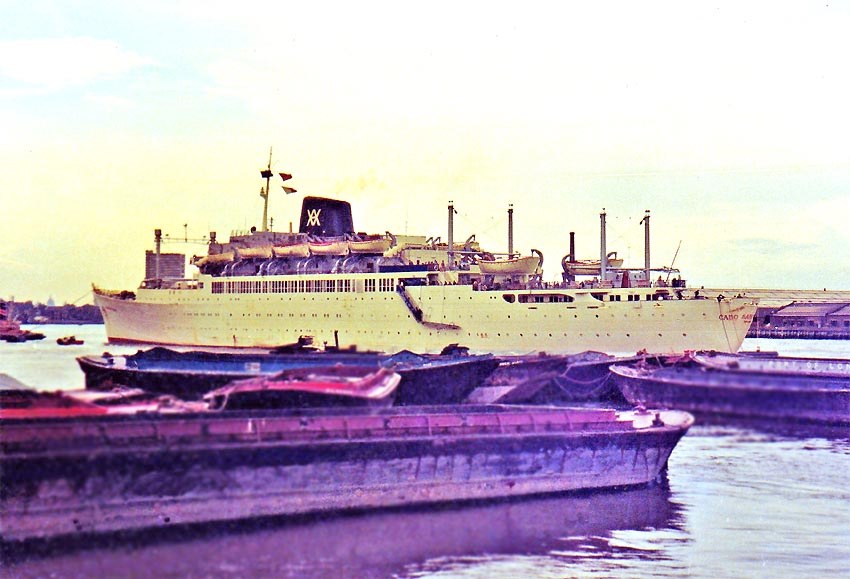 After the 1975 Ushuaia voyages concluded, only the Cabo San Roque returned to her regular service, operation on the Europe to South America and return. Her sister the Cabo San Vicente was laid up.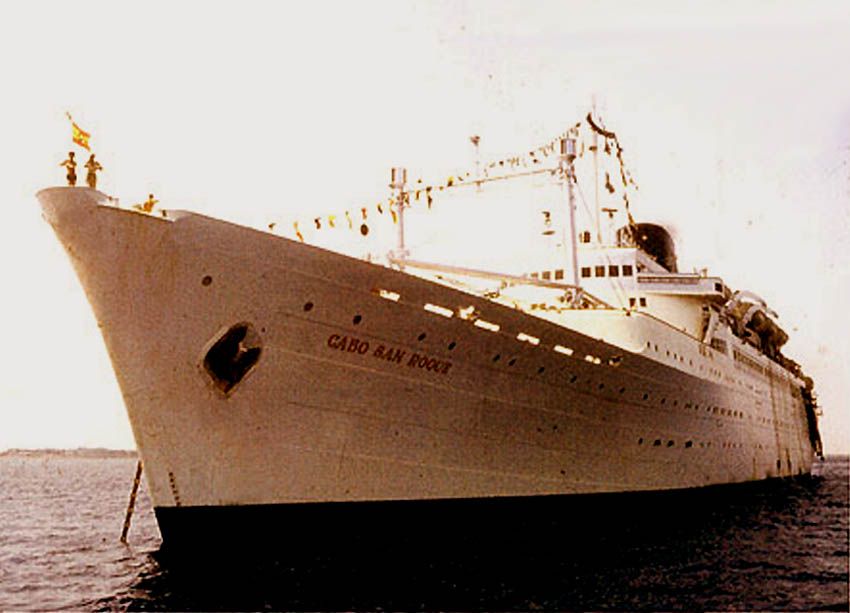 M.S. Cabo San Roque is seen at anchor during her very last days sailing for Ybarra Lines
1…Cabo San Vicente Final Years:
The newer twins the M.S. Cabo San Vicente was obviously the more valuable of the two ships, thus with the declining passengers and cargo loadings in the early 1970s, the directors of Ybarra Lines decided that it would be wise and sell her as a good price could be obtained in 1975. She was soon sold to the Mogul Line of Bombay that same year and they renamed her "Noor Jehan" and they used her as pilgrim ship until 1985. She was sold to an Indian ship breaker in 1985 and she was soon broken up. Thus, the newer ship the two remained afloat for 26 years.
2… Cabo San Roque Final Years:
Whilst the Cabo San Roque was at El Ferrol, Spain on January 24, 1977 she suddenly caught fire and internally from the bridge and her main decks she suffered considerable and very serious damage. However on April 1 of that year, she was purchased by "Growth Maritime Investments Ltd", with the intent of restoring her, and they renamed her "Golden Moon". They had her towed to the port of El Pireo where she would be fully repaired and receive a special refit suitable for the purpose of her new role. However, in 1978 the Cuban Government decided they needed her and purchased her and she was placed under the management of company "Navegación Mambisa", being renamed once again as the "Africa Cuba".
MS Africa Cuba would be used to transport the Cuban army to Ethiopia and Angola. However in July 1978, she was still laid up in port Mariel north of Cuba, but four years later, she was taken in tow to Barcelona where she arrived on July 26, 1982, and she sold and broken up by a Barcelona ship breaker in that year. The Cabo San Roque, the older twin remained afloat for 25 years.
1. Cabo San Roque - 2. Cabo San Vicente Specifications:
1. IMO:5056937.
2. IMO: 5056951.
Built at: Soc Espanola de Construccion Naval of Bilbao, Spain.
1. Hull Nº: 75.
2. Hull Nº: 76.
1. Tonnage: 14.491 GRT.
2. 14.569 GRT.
Length: 169,59 Mts.
Width: 21,09 Mts.
Draught: 8,29 Mts.
Power: Two Diesel Sulzer engines S10D72; 10 cylinders (720 x 1.250); by the builders.
Boilers: 14.600 BHP.
Propellers: Two.
Speed: 20 knots service speed, 22 knots maximum Knots.
Passengers: 241 Cabin Class & 582 Tourist Class.
Later: 189 Cabin Class & 652 Tourist Class.
Crew: 249.
Cargo Holds: Five.
Remembering two of the very last Ybarra Lines Great Passenger Liners
M.S. Cabo San Roque & M.S. Cabo San Vicente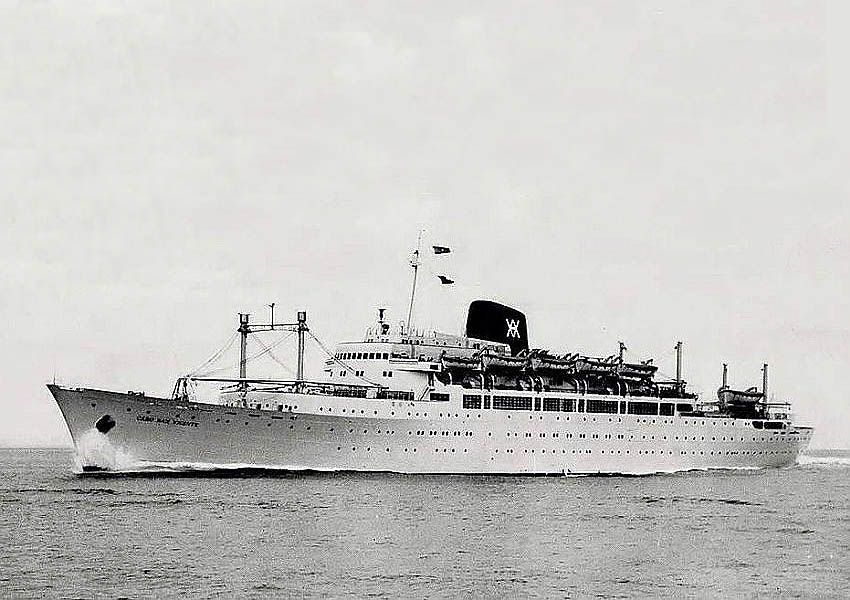 The elegant and modern liner for 1959 MS Cabo San Vicente is seen sailing at full speed at sea
Both ships were simply two of the finest afloat at the time, and they set a very high standard for Spanish maritime history!
Reuben Goossens.
************************
"Blue Water Liners sailing to the distant shores.
I watched them come, I watched them go, and I watched them die."
************************
ENTER OUR ssMaritime MAIN INDEX
Featuring over 1,250 Classic Passenger Liners, Passenger-Cargo Liners & Cruise Ships!
ssMaritime.com & ssMaritime.net
Where the ships of the past make history & the 1914 built MV Doulos Story
Photographs on ssmaritime and associate pages are by the author or from the author's private collection. In addition there are some images that have been provided by Shipping Companies and private photographers or collectors. Credit is given to all contributors. However, there are some photographs provided to me without details regarding the photographer/owner concerned. I hereby invite if owners of these images would be so kind to make them-selves known to me (my email address may only be found on www.ssmaritime.com), in order that due credit may be given.
This notice covers all pages, although, and I have done my best to ensure that all photographs are duly credited and that this notice is displaced on each page, that is, when a page is updated!
ssMaritime is owned & © Copyright by Reuben Goossens - All Rights Reserved