Please Note: Firefox and some other search engines are not suitable – Use "Internet Explorer" for this page to load perfectly!
Click the logo above to reach the ssMaritime FrontPage for News Updates & "Ship of the Month"
With Reuben Goossens
Maritime Historian, Cruise'n'Ship Reviewer, Author & Maritime Lecturer

Page One
SS Jerusalem (1)
Israel's first major Trans Atlantic Liner
NEW - Also a voyage on the SS Atzmaur and the story of Israeli refugee ship SS Theodore Herzl I
A delightful postcard of ZIM's SS Jerusalem
Note the stained timbers on her Bridge and forward upper decks
From the author's private collection
Introduction to Zim Lines:
After the SS Kedmah was sold in l952 and ZIM had decided that it was time to establish itself as a major Passenger Shipping Company, not just in and around the Mediterranean and European ports, but also on the North Atlantic service - operating a regular service between Haifa and New York.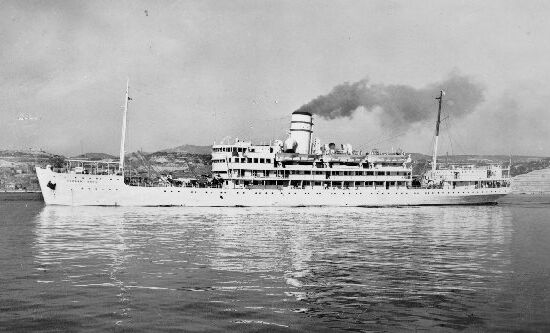 SS Kedmah was one of the early the pride of the Nation of Israel, but a far greater ship was to come!
From the author's private collection
SS Bergensfjord:
With the new venture well in its planning stages, soon ZIM purchased a fine old European liner being the Home Lines liner - SS Argentina, which was built in l913 by the great British ship builder, Cammell Laird & Co., at Birkenhead, named SS Bergensfjord especially for the "Norwegian America Line" for their Trans Atlantic service. She was launched on April 8, 1913, and after her delivery this stately looking, grey hulled, two funnelled liner departed on her maiden voyage from Christiania, Oslo bound for New York the United States on September 26, 1913 and had a successful crossing and it was noted that she arrived on time!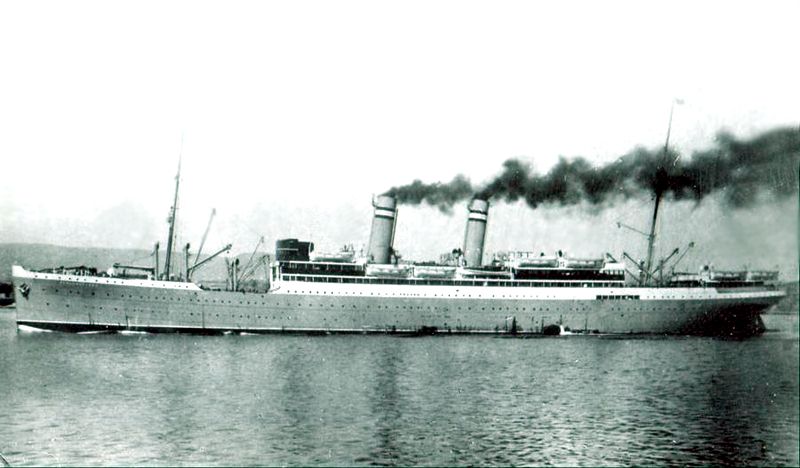 Norwegian America Lines SS Bergensfjord
From the author's private collection
Specifications:
Tonnage:                              10,666 GRT (Gross Registered Ton).
Length:                                512.4ft.
Breadth:                               61.2ft.
Draught:                               29.4ft.
Engines:                               Two four cylinder quadruple-expansion steam engines with exhaust turbines.
Screws:                                Two.
Speed:                                 15 knots.
Passengers:                          105 Cabin (First) Class passengers, 216 Tourist Class and 760 Third Class
.                                          passengers – as built.
Her service was quite a success as she was a well appointed ship with excellent Cabin (First) Class as well as Tourist Class Lounges and accommodations and comfortable Third Class facilities and cabins as well as dormitories being the common in those days.
In November 1925 she was refitted to accommodate 367 Cabin Class and 572 Third Class passengers, thus becoming a two class ship. However that changed just two years later when in September 1927 she received yet another refit changing her capacity to just 90 Cabin Class, 155 Tourist and 500 Third Class.
In 1932/33 it was decided to have her fitted with the more efficient two low-pressure steam turbines, and during the ship general refit her tonnage increased to 11,015 GRT. In January 1939 she received yet another refit to once again to carry just Cabin and Third Class only.
She left Bergen for her final voyage to New York on April 7, 1940, just two days before the Germans invaded Norway. After arriving safely in New York, in December 1940, she was handed over to the British Ministry of War Transport and she soon commenced a career as a Troop Transport ship for the next five years. During her active duties, she carried around 165,000 troops, spending some 919 days at sea having sailed over 300,000 wartime miles. An excellent wartime career was had by her!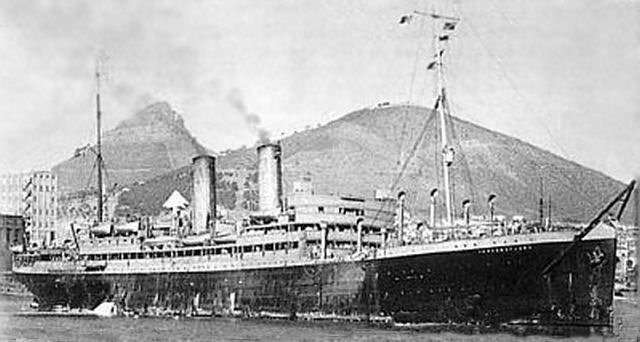 SS Bergensfjord seen as a trooper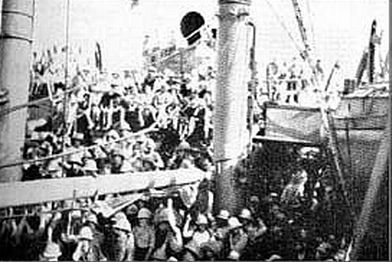 Troops ready for departure
After her wartime service had been completed she was returned to NAL in February 1946. NAL sold her in August the next year to Home Lines, who renamed her SS Argentina to be used on the emigrant route between Italy to South America. However, she was placed under the management, of Panamanian Lines Inc. On July 13, 1951 she commenced the Genoa to New York service. In 1952 she officially was transferred to Home Lines Inc. Her final Trans Atlantic voyage commenced December, 20, 1952.
Home Lines - SS Argentina
From the author's private collection
Finally she became the ZIM Liner - Jerusalem:
Upon her return to Italy, she was sold to ZIM Lines, who renamed her SS Jerusalem. After another refit she now accommodated 38 First Class and 741 Tourist Class passengers. She departed on her maiden voyage from Haifa to New York on April 4, 1953.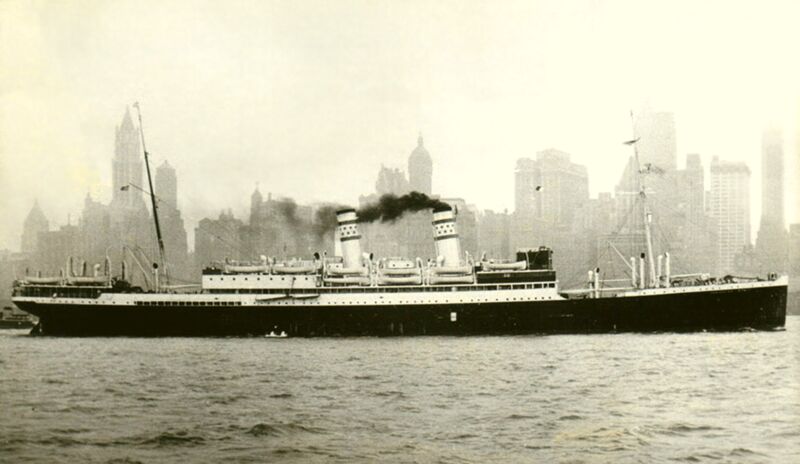 SS Jerusalem departs New York City
From the author's private collection
Her itinerary was as follows: Haifa, Limassol, Malta, Cannes, Halifax and New York. SS Jerusalem crossed the ocean six times a year, as well as five special voyages on the Haifa, Naples, Marseilles run in the mid fifties as you will discover in the item below the next two images.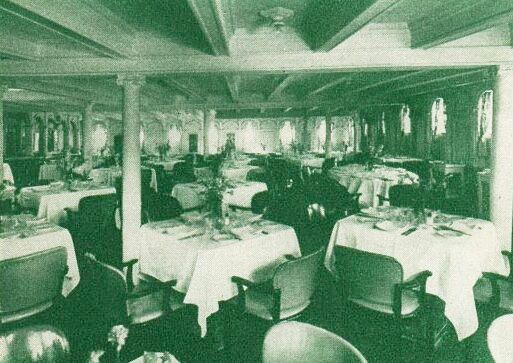 The First Class Dinning Room
From the author's private collection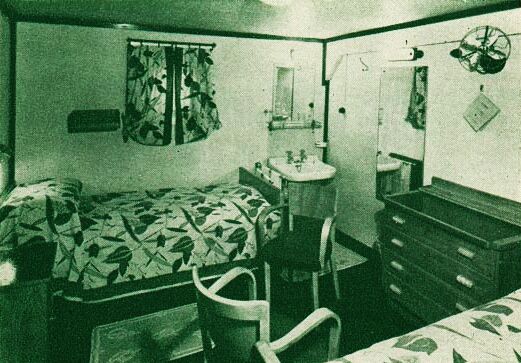 First Class Cabin
From the author's private collection
The Family Seifert Story:
In January 2011, I received an email with a good number of photographs from Mrs Lenny Seifert who provided me with an interesting story of how her husband and family has sailed on several ZIM liners and how she and her husband had later sailed to Australia (which just happen to be where the author lives) on Chandris liners being a company that I managed at that very time! Below you will find the interesting story as was provided, but it has been rephrased for the sake of storytelling!
"In 1949 my husband Markus (Schmaja) went with his Father Mr. Fritz (Abram) Seifert and sister Bärbel (Ruth) departed from Marseille and headed for Haifa Israel on the Zim Lines SS Atzmaut." However, whilst they were in Marseille they photographed the beautiful historic ship that had a long and a proud history, being the SS Theodor Herzl I. The author has placed a brief outline of her heroic days below.
1… SS Guardian - Theodor Herzl I: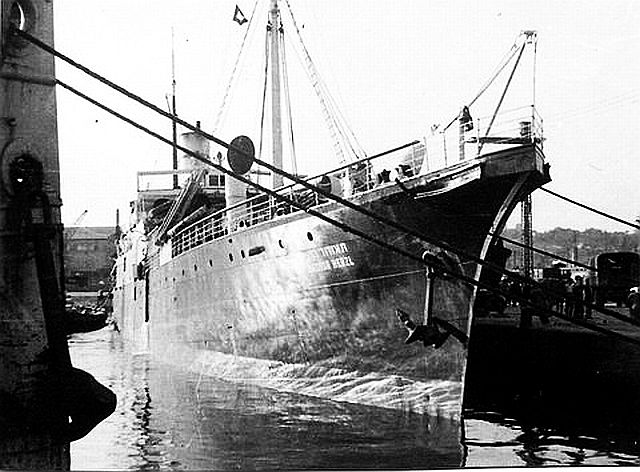 Superbly maintained - the ex Refugee ship - SS Theodore Herzl I seen in Marseille -1949
Photo provided by and is © Copyright by Mr & Mrs Marcus Seifert of the Netherlands
The SS Guardian was chartered by the Jewish Agency "Aliyah Bet" to operate what was considered by the British as an "Illegal" operation. The intention was to bring refuges who had survived the evils of the Holocaust and the concentration camps and bring them back to their homeland, the Land of Israel. For this purpose the old 1,760 ton steamship was renamed the "Theodor Herzl" and some 2,641 persons who had previously been taken south to France by train to the Mediterranean Port of Sete came on board this small vessel late March 1947 and soon she headed for Israel.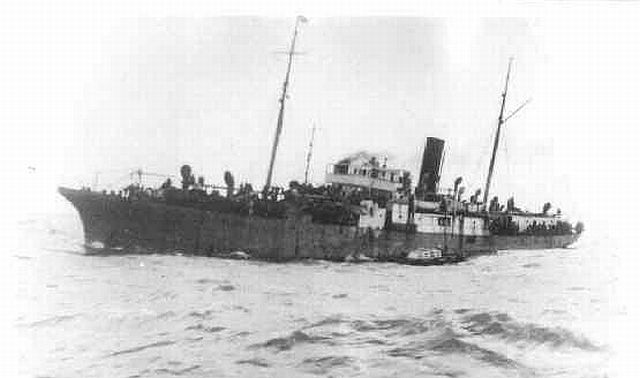 She is seen her having been attacked by two British warships
From the author's private collection
However on April 13, 1947 as they arrived just off the coast of Israel two British warships, the HMS St Brides Bay & HMS Haydon fiercely attacked the SS Theodor Herzl and her crew and some of the passengers fought back and we may wonder why considering the evils they had already seen in the past, for the British certainly had not been angels either for their record had already been badly tarnished! Two on board the Theodor Herzl were killed and one wounded, but died later.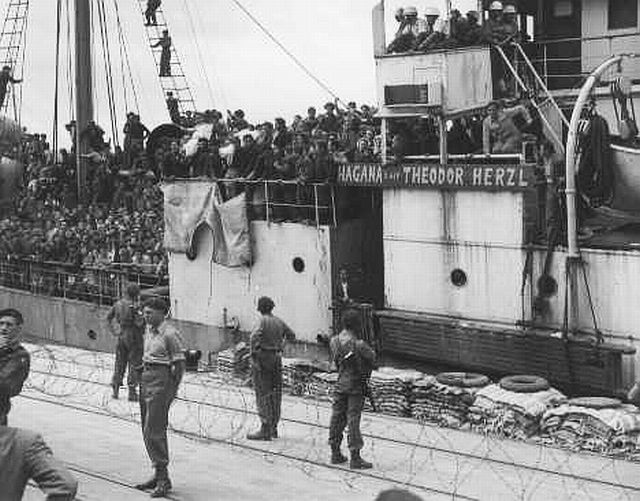 Theodore Herzl in port and the two dead Jews seen in the white shrouds can be seen slowly lowered from the ship
From the author's private collection
The British took charge of the ship and she was taken into the Port of Haifa the next day where the two Jewish bodies that the Nazis did not manage to kill, but the British did, were removed and all the refugees were later interned into cramped prison camps once again in Cyprus, until Israel was declared a "State" by the United Nations! Obviously the Theodor Herzl survived and was still around in 1949, but I have no further information regarding her.
2… SS Atzmaut: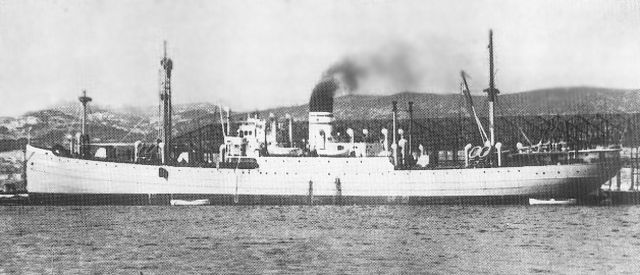 SS Atzmaut – Note there is the single star on the funnel
 … unlike the usual seven stars on the later Zim ships
From the author's private collection
As I stated earlier in 1949 Markus Seifert together with his Father Fritz and sister Bärbel left Marseille bound for Haifa Israel on the SS Atzmaut. She was filled with both accommodated passengers as well as many who were accommodated in large dormitories, which included many Moroccan Jews heading for Israel.
The following two photographs were provided by and are © Copyright by Mr & Mrs Marcus Seifert of the Netherlands!
Please be respectful of private property as these are used by special permission!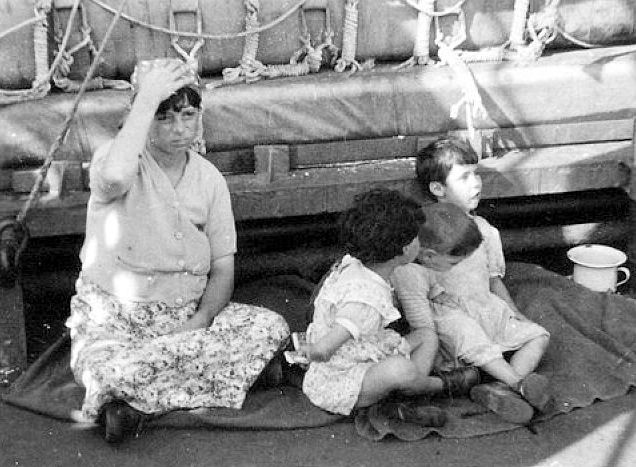 Mother and children up on deck
This little ship was

originally built in 1901 and she was named SS El Ville for the Waterman Steam Ship Company. In 1943 she was sold to the United Fruit Company who renamed her Pan Crescent. But in 1947 she was sold to F&B Shipping Company and having had extensive refits she was placed on a charter agreement with Israel and she was renamed Atzmaut and used as a passenger, cargo liner by the up and coming ZIM Lines. She was placed on the Haifa to Marseilles service offering a variety of ports of call. She was finally scrapped in 1951 having served a faithful half a century!
The voyage was remembered as a voyage of great experience for it took them home to the land of their faith and a new home for the years ahead. The ship was full of Jewish folk, from the more moderate, the religious, those considered very religious to the Moroccan Jews, the ultra orthodox, the Chassidim – those with the big black hats.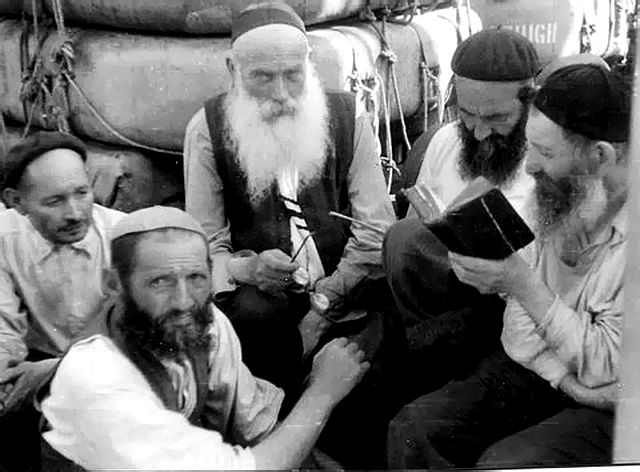 Moroccan Orthodox Jews seen during their prayer time out on deck

3… SS Jerusalem I

:

Markus, his Father and sister remained in Israel for the next six years and returned to Germany in 1955 on the SS Jerusalem I. For him it was as he told me (his wife Lenna) it was some of the best times in his life!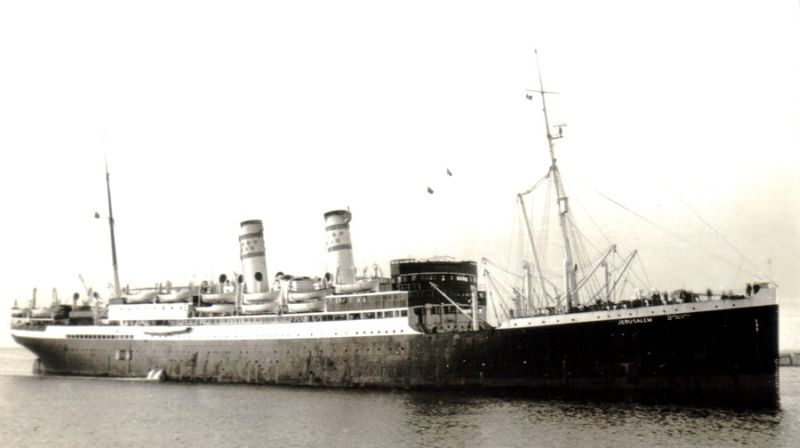 SS Jerusalem seen arriving in France in the mid fifties
From the author's private collection
The following nine images were provided by and are © Copyright by Mr & Mrs Marcus Seifert of the Netherlands!
Please be respectful of private property as these are used by special permission!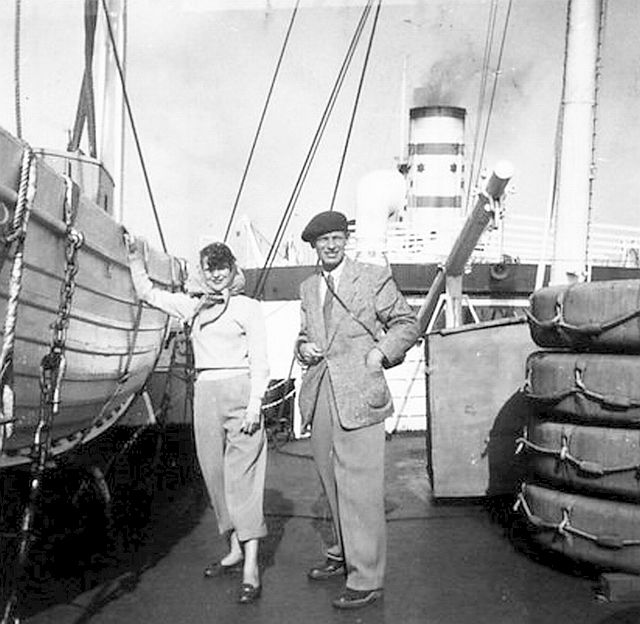 Here we see the Father Mr. Fritz Seifert (Snr) and His daughter Bärbel taking a stroll around the ship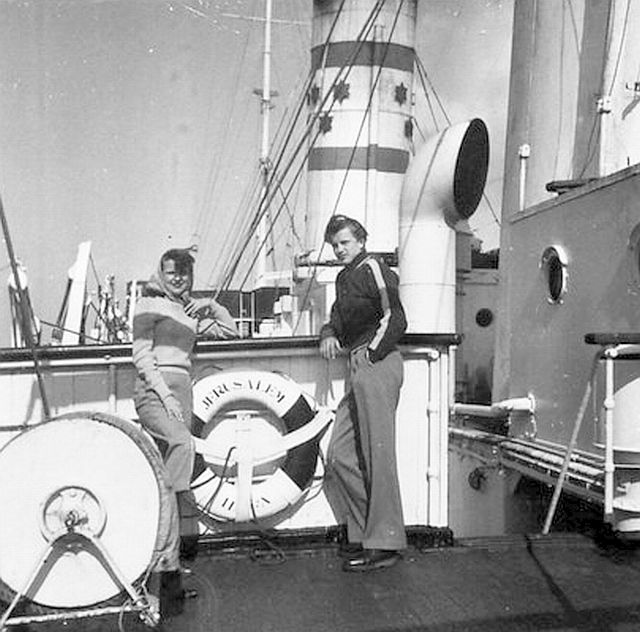 Enjoying the sun - Bärbel and Markus (Schmaja) close to the aft funnel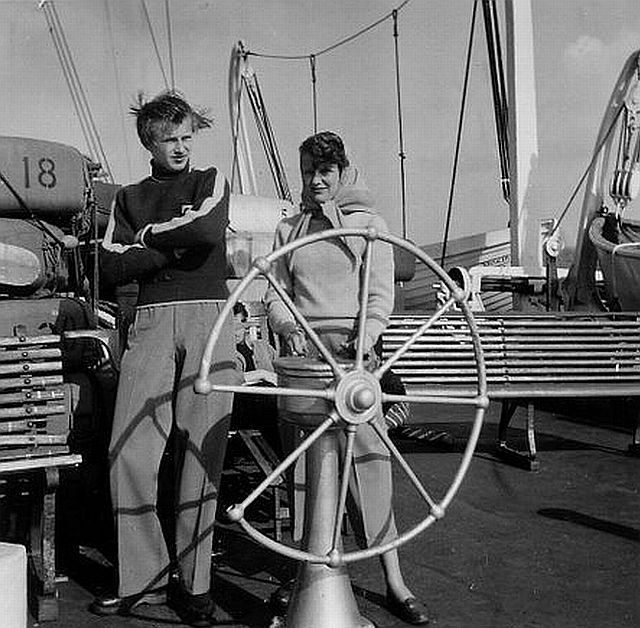 Marcus and Bärbel out on deck of the Jerusalem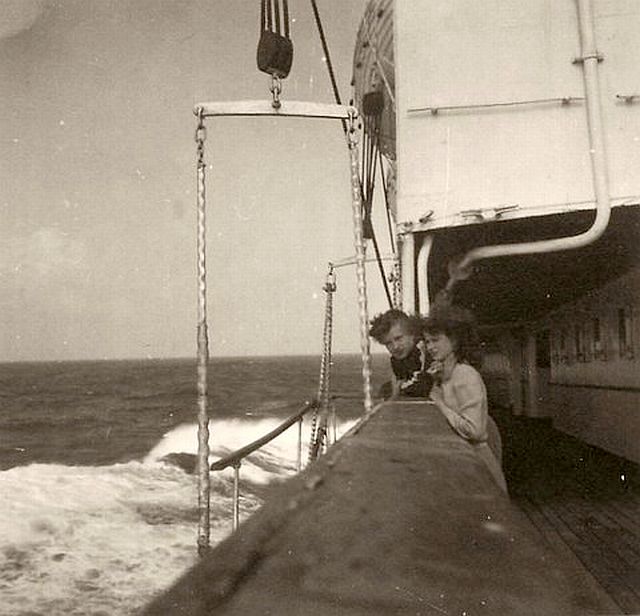 Nothing like looking out to sea!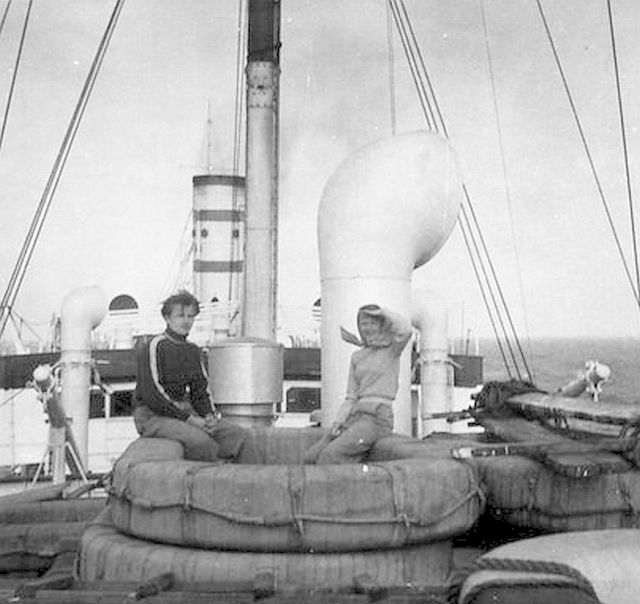 Bärbel

and Marcus spend some having fun out on various parts of the ships decks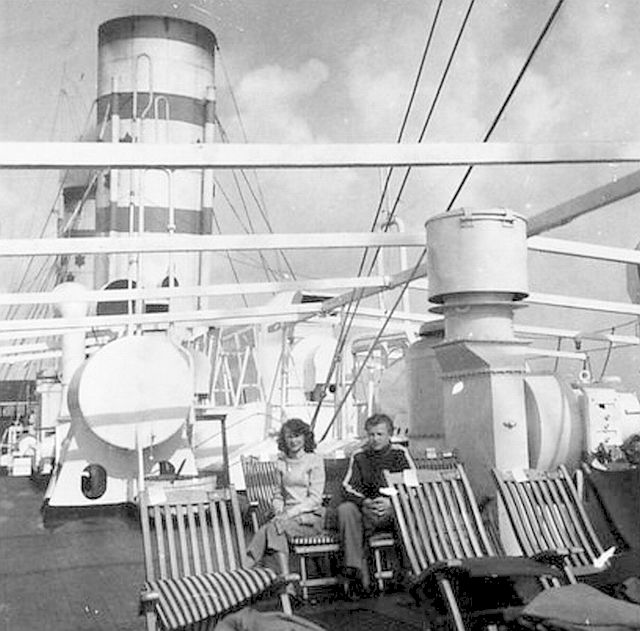 Sun Deck is also used as the Sports deck, although it is cool as you can see, they are wearing jumpers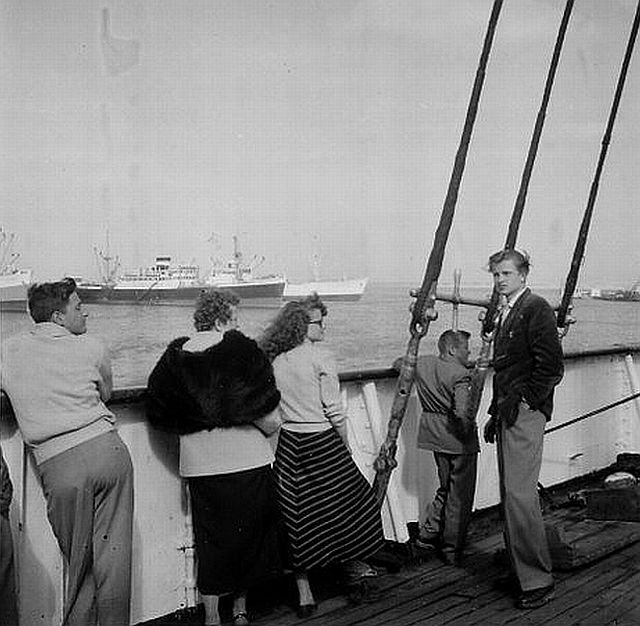 The Seifert's voyage on the SS Jerusalem is about to come to an end!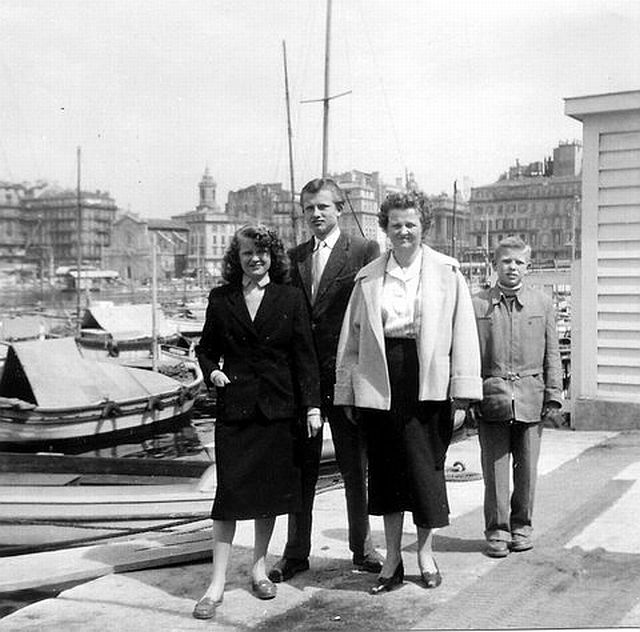 A Family photo: Marcus and Bärbel are seen on the left - Mother Sarah and younger son Frithjof is on the right
It was not until eleven years later that Marcus met me, and after we married we migrated in 1969 to Perth Western Australia on the Chandris liner RHMS Ellinis, but I became very homesick and we returned in 1973 on the SS Australis. After living a further ten years in Germany we moved to Holland, where we still live. I am happy to forward the photographs taken on the voyage on the SS Jerusalem and I am sure that many will enjoy seeing the ship from another angle!
Thank you Mr & Mrs Lenny and Marcus Seifert for your story and delightful photographs!
SS Jerusalem's Final Days:
In 1957 ZIM Lines took delivery of their two brand new especially designed ships for the Mediterranean service. These were the sleek and modern SS Jerusalem (II) and her identical sister SS Theodor Herzl. Due to the arrival of the new SS Jerusalem (II) the good old Trans Atlantic liner SS Jerusalem I was renamed SS Aliya in 1957 and she remained in local service until early 1959 when it was decided to lay her up and sell her to be broken up.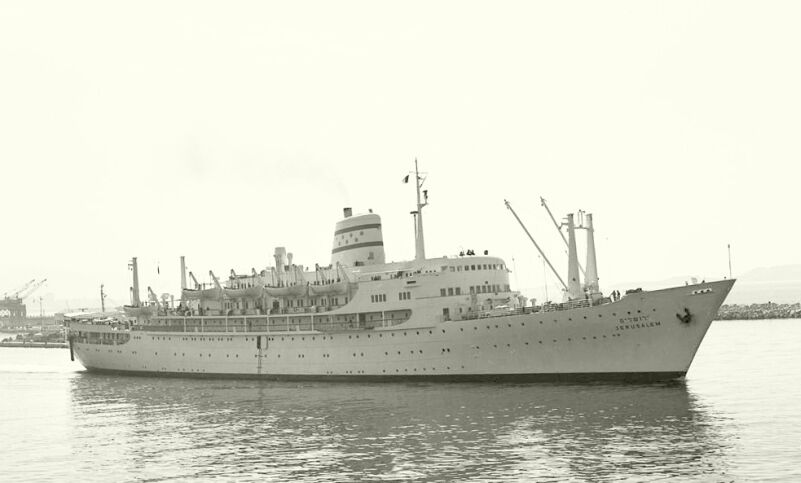 The new SS Jerusalem was a superbly modern ship with elegantly modern interiors and she became a greatly loved ship, as was her sister!
Photographer is unknown - *Please see the photo notes at the bottom of the page
This fine dame of the sea had proudly transported over 118,000 passengers and immigrants, but the time had come that she was to be broken up at the La Spezia Italian breakers Yards in 1959.
There is no doubt that she was a staunch and a strong ship, but the time had come that she could not longer conceal her old age, but amazingly she had remained exceptionally dependable right through to the very end of her career, having never missed a sailing or delayed by mechanical difficulties. This is something that not be said for many ships around the globe, but it is also due to the superb engineers that looked after her, from her Norwegian days, right through to her excellent Israeli engineers, who are let's face it, known to be some of the world finest! In spite of her high fuel consumption, she had proved to be a profitable ship indeed, and she had ar flawless 46 year long career and even ZIM Lines was sorry to let her go, but her age had become too great for those days, as most ships only lasted 30 at the most, and she had long passed that!
Memories of a Faithful Maiden of the Sea!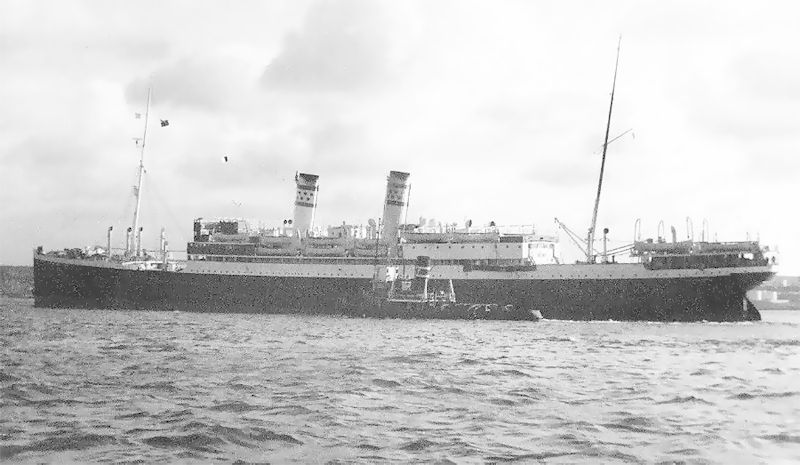 She will be long remembered for being a ship that served her owners without a single stoppage!
From the author's private collection
************************
ZIM Lines INDEX
Introduction:     ZIM Lines early history & their early smaller passenger ships, such as …
                                             SS Kedmah, SS Negbah, SS Galilah & SS Artsa.
Page One:          SS Jerusalem I, ZIM's very first Trans Atlantic passenger liner – This Page.
Page Two:         SS Israel, SS Zion, SS Jerusalem (II), SS Theodor Herzl & MS Moledet.
Page Three:       SS Shalom, Hanseatic, Doric, Royal Odyssey, Regal Sun, Sun – Israel's Grandest Liner!
Page Four:         SS Shalom, Mr. Edmond Wilhelm Brillant the ships naval architect and new photo's.
Page Five:          SS Shalom, Deck Plan from the official archives of Estate of Edmond Wilhelm Brillant, Naval Architect.
***********************************
Who is the Author of ssMaritime?
Commenced in the passenger Shipping Industry in May 1960
Return to the ssMaritime MAIN INDEX
ssMaritime.com & ssMaritime.net
Where the ships of the past make history & the 1914 built MV Doulos Story
Also visit these pages;
"Save The Classic Liners Campaign" & "Cruise-Australia"
Please Note that ssmaritime and all associated sites are 100% non-commercial and the author seeks no funding whatsoever!
Photographs on ssmaritime and associate pages are by the author or from the author's private collection. In addition there are some images that have been provided by Shipping Companies and private photographers or collectors. Credit is given to all contributors. However, there are some photographs provided to me without details regarding the photographer/owner concerned. I hereby invite if owners of these images would be so kind to make them-selves known to me in order that due credit may be given.
This notice covers all pages, although, and I have done my best to ensure that all photographs are duly credited and that this notice is displaced on each page, that is, when a page is updated!
ssMaritime.com is owned and © Copyright by Reuben Goossens - All Rights Reserved.