Please Note: Firefox and some other search engines are not suitable – Use "Internet Explorer" for this page to load perfectly!
Click the logo above to reach the ssMaritime FrontPage for News Updates & "Ship of the Month"
With Reuben Goossens
Maritime Historian, Cruise'n'Ship Reviewer, Author & Maritime Lecturer

Page Two
SS Israel, Zion, Jerusalem (II), Theodor Herzl & Moledet
1… SS Israel & SS Zion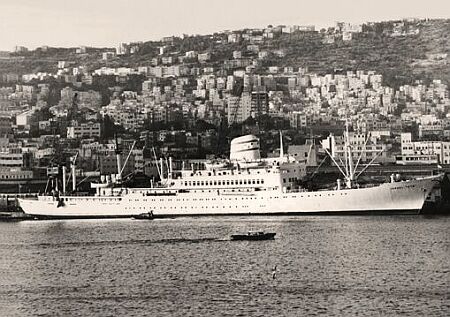 SS Zion
Previous ZIM ships consisted of older small ships (as described on page one of this feature), but now they had the opportunity to have two modern passenger-cargo liners built. SS Israel was the first ship to be completed for ZIM. She and her sister, SS Zion, were built in 1955 and 1956 respectively, by the Deutsche Werft in Hamburg, under the Reparation Payments Agreement.
SS Israel was the first to reach Haifa in October 1955, followed a year later by the Zion. Each ship had four holds with a capacity of about 4000 weight tons including refrigerated space. In addition they had a drive in garage for up to 30 cars.
They were built to operate the Trans-Atlantic service, sailing from Haifa, Piraeus, Naples, Gibraltar, Funchal to New York. The primary purpose was to bring Jews back to their ancient homeland.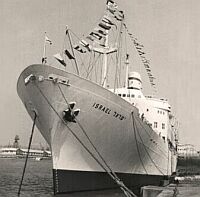 SS Israel
Both had attractive Israeli style décor throughout, especially their lounges and other public rooms. All cabins converted into day sitting rooms, which was a popular feature and appreciate by their passengers. Although they accommodated 323 passengers, there were only 24 passengers in First Class. First Class cabins were located on Boat Deck, comprising of both two berth, some having upper Pullmans.
First Class lounges were located forward on Promenade deck, which were followed by Tourist class cabins Amidships with a Verandah café aft. Further Tourist Class cabins were located on Main Deck, the Synagogue was located amidships, with the Tourist Class Smoking Room and Pool aft. The dinning rooms were located on A Deck, as were the balance of the Tourist Class cabins, most with private facilities.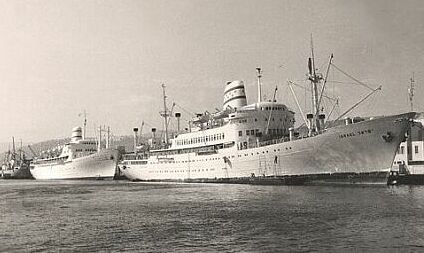 SS Israel & the SS Theodor Herzl is seen behind her
Specifications:
Built:                                   Deutsche Werft in Hamburg
Tonnage:                              9,855 GRT
Length:                                501ft – 152m
Width:                                  65ft
Draft:                                   27.7ft
Engines:                               Steam DR Geared Turbines
Screw:                                 Single
Service speed"                       17.5 knots
Passengers:                          323 (First and Tourist Class)
                                           Fully Air-conditioned
                                           Stabilized
Captain Eliezer L. Aczel. 1911 - 2004.
I received an email recently from a Mr. Amir D. Aczel who provided me with some information regarding his late Father who was a well-known ZIM Lines Captain. I felt that his story was worthwhile including on these pages and thus his details are below. These have been sourced in part from his email and from what I have gained from Mr. Aczel's personal webpage and I have combined as much of the story as possible.
"My Father was Captain Eliezer Ladislas Aczel and he was a captain throughout ZIM's entire period of operation serving on their passenger fleet. He served as the first captain on the company's first official passenger ship that commenced in service with ZIM in July 1947, being the 2,499 GRT, SS Kedmah and later he served on both the 9,855 GRT SS Israel built in 1955, as well as the 1957 built 9,914 GRT SS Theodor Herzl. He was also the captain of the delightful 7,811 GRT, 1961 built, MS Moledet for some time.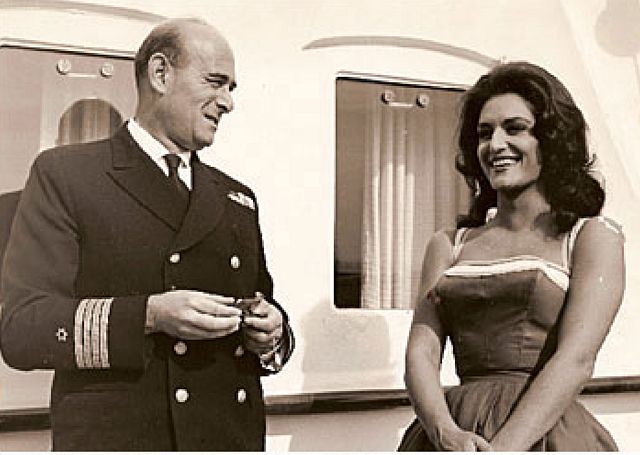 Captain Aczel and famous French-Italian songstress 'Dalida' on board his ship
Photograph provided by Amir D. Aczel
During WW 2, Captain Aczel had done many heroic acts whilst he had been working with the Allies, for which he had won a good number of medals! But one of the worst things he had to do was he once successfully delivered a baby on board his ship, something he said he would never wish to do again! During his lifetime my Father was known simply as 'Captain Aczel' and his ships ploughed throughout the Mediterranean during the 1950s and 1960s many of these were by then mostly popular cruises, departing Haifa and sailing to Piraeus, Naples, Marseille and Barcelona. On some years Venice would be included in the itinerary. Then at other times the ships would sail to Rhodes, Monte Carlo as well as the Balearic Islands and other jewels around the Mediterranean!"
Thus it seems to be quite clear that there is no doubt that Captain Eliezer L. Aczel must have made Israeli maritime history in a good many ways, as well during the war years, but he loved being a Captain during peacetime and commanding a good number of fine ZIM Lines passenger ships!
Reuben Goossens.
***************************
2… SS Jerusalem (II) & SS Theodor Herzl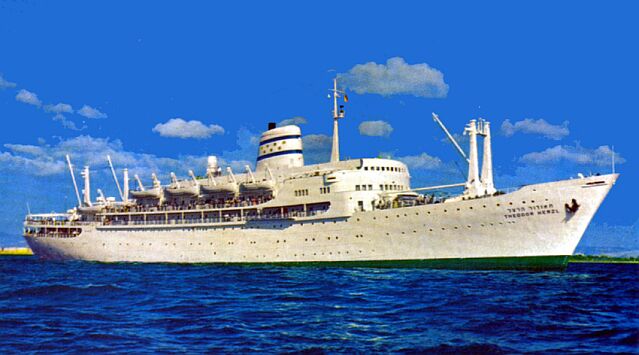 SS Theodor Herzl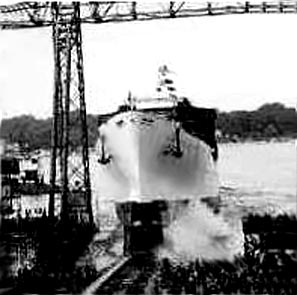 Launch of the SS Theodor Herzl in Hamburg - 1957
ZIM took delivery of SS Jerusalem (II) and her sister SS Theodor Herzl in 1957. SS Jerusalem (II) was named after her popular forerunner, SS Jerusalem (I) which sailed with the company from 1952 to 1955, when she was renamed Aliya, but continued sailing with ZIM until 1959. SS Theodor Herzl was named in honour of the visionary of the Jewish State.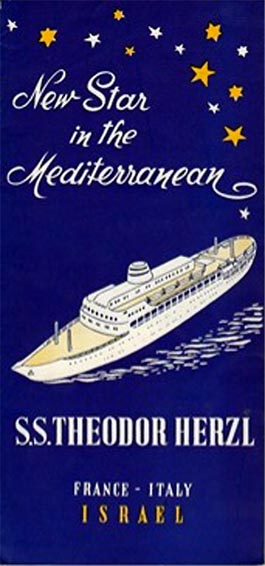 This is a brochure released by Zim before the Theodor Herzl was
even launched and images were colourful artist impressions
From the authors private collection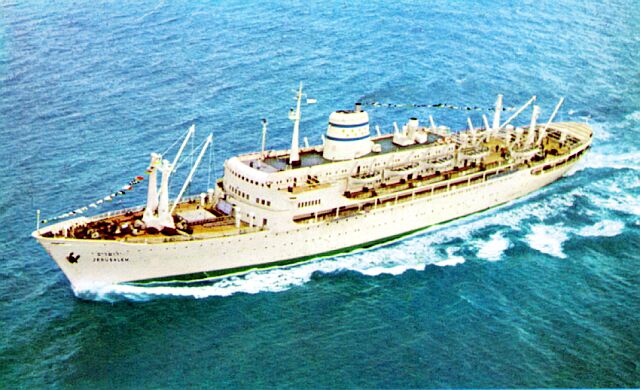 ZIM Lines postcard of the SS Jerusalem
SS Jerusalem & SS Theodor Herzl were designed for the Mediterranean service, but they differed from their earlier sisters in having a shallower draught and twin screws. Again Décor was essentially Israeli in style. Special features included a Cinema, Art Gallery, one of the first on a liner, and a Synagogue. Main social rooms were located on Boat deck with the Pool aft. The Dinning Rooms were located on A Deck (two decks down). Main and A Deck contained mostly cabins, both First and Tourist Class. In 1964 both ships were converted into one class cruise ships, which saw all cabins converted to two bedded/two berth cabins, all having private facilities. They were fully air-conditioned and stabilized.
Both these ships were built to remain in the Mediterranean and European waters. SS Jerusalem operated the Haifa, Genoa, Marseilles, Naples, Haifa service, with occasional calls at Limassol. SS Theodore Herzl sailed from Haifa to Limassol, Piraeus, Venice, and back to Haifa. From 1965 both ships were used exclusively for cruise duties.
Specifications
Built:                                   Deutsche Werft in Hamburg
Tonnage:                              9,920 – 9,914 GRT
Length:                                488ft
Width:                                  65ft
Draft:                                   21ft
Engines:                               Steam DR Geared Turbines
Screws:                                Twin
Service speed"                       18.5 knots
Passengers:                          570 (First and Tourist Class)
                                           Fully Air-conditioned
                                           Stabilized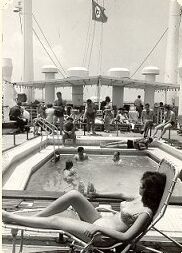 Relaxing by the Pool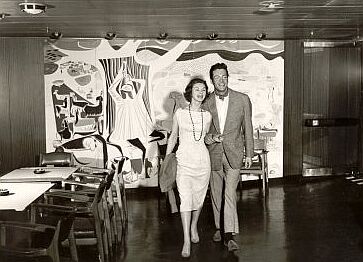 Above & below: The décor on SS Jerusalem and Theodor Herzl had that typical modern Israeli theme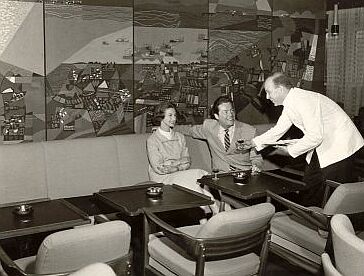 ***************************
SS Jerusalem
In 1966 SS Jerusalem (II) was chartered to P&O Steamship Florida, who and renamed her SS Miami and they operated regular Caribbean cruises. Then late in 1968 ZIM Lines decided to place her on the market and she was soon obtained by the Eastern Steamship Lines who needed to replaced their original elderly Bahama Star and they extensively rebuilt her superstructure and upgraded her accommodations and facilities to become their new cruise ship, renaming her after her forerunner, the SS New Bahama Star.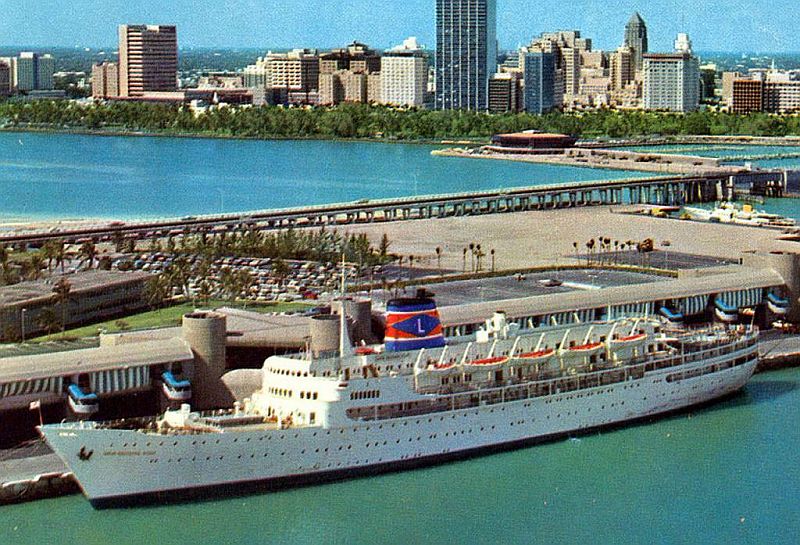 The just completed SS New Bahama Star is seen here under her new livery early in 1969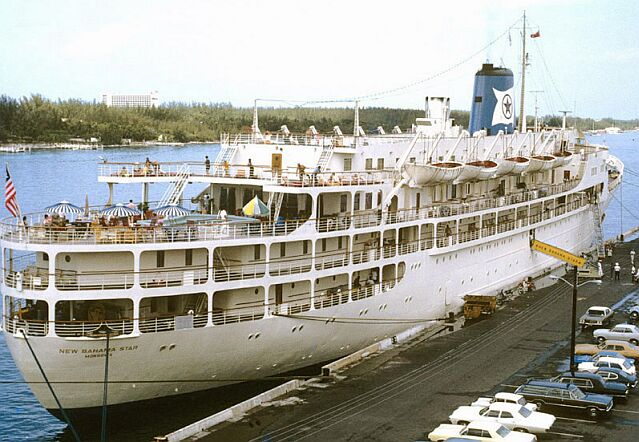 The SS New Bahama Star is seen in 1971 featuring the company's new funnel livery
As can be seen from the two photographs above and below, in her funnel livery which was updated in 1971, and in 1972 her name was shortened to SS Bahama Star. She remained a popular ship she continued to cruise the Bahamas, but the time came that the company had larger ships that were more luxurious and they were obviously gaining popularity compared to the smaller Bahama Star which in her latter yeas was suffering from mechanical problems.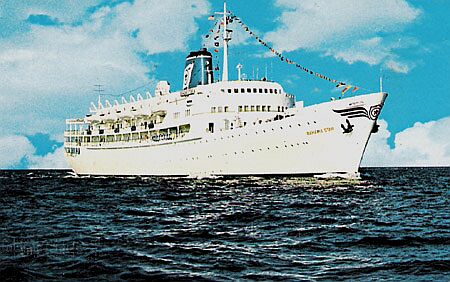 Postcard of the Eastern Steamship Lines 1972 - SS Bahama Star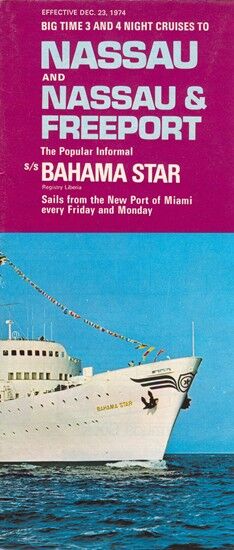 Above - Brochure: The Eastern Steamship Company produced this foldout brochure valid from December 1974 and amazingly it was released just months before she was sold and laid-up by her new owners. This brochure featured interior photographs revealing her fine walnut panelled lounges that were adorned with gold curtains, and her cabins with those "eye-popping" red colour schemes that were so popular in the late 1960s. It also contained colour-coded deck plans, rates, and itineraries. The ship was described as being "popular informal" what was certainly not mentioned was that the ship had been suffering various mechanical problems in the past twelve months.
Thus after just six years of service Eastern, they sold the delightful SS Bahama Star in 1975 to Venozolana de Cruceros del Caribe who renamed her SS Bonaire Star and she was laid up. This company also had obtained the SS Santa Rosa and renamed her Samos Sky, but neither of these ships ever sailed for them as apparently there was a long legal dispute.
The Bonaire Star remained laid up until 1979, when she was finally sold, but sadly to Taiwanese breakers. She duly departed for Kaohsiung, but, whist under tow to the breakers yards in Taiwan on October 3, 1979 she took on water and sadly foundered. Her location was - 18.30N / 154.17W.
***************************
SS Theodor Herzl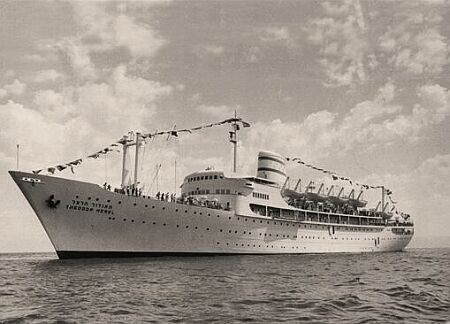 SS Theodor Herzl

SS Theodor Herzl completed her final voyage for ZIM on November, 27, 1969 and was sold to American International Service Travel Board (New Horizons Shipping Co) Monrovia renamed Carnivale. Ted Arison of Carnival was involved in this venture and it was planned for this vessel renamed SS Carnival to operate from Miami to the Caribbean, but she remained laid up and the venture never materialized.

Arison of course went on to acquire the Empress of Canada and commenced his Carnival cruise empire after all!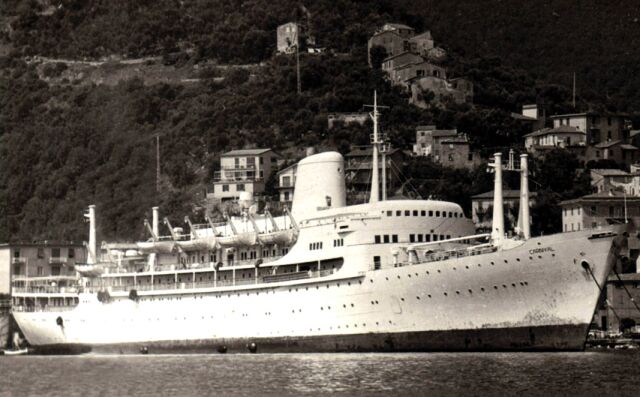 SS Carnival seen laid up
Photographer unknown – See the photo credits at the bottom of the page for details
Then in 1971 the vessel was sold to Eastern Steamship Co who renamed her Freeport I.
Finally in 1975 she was extensively rebuilt into a fulltime cruise ship, however, but in 1976 she was renamed to become the Veracruz. In 1978 Veracruz was sold to Freeport Cruises Lines of Panama and was reregistered at 10,596 GRT.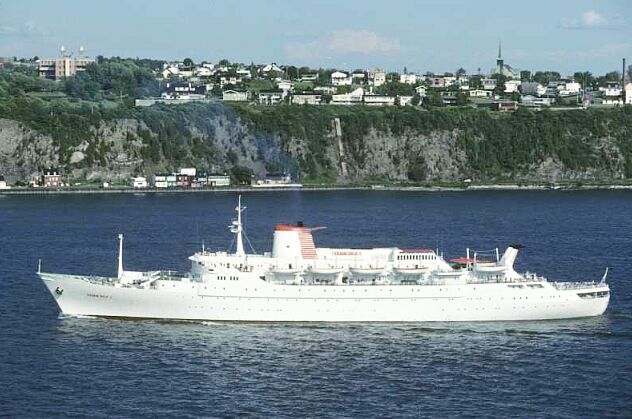 The very modern looking SS Veracruz
Photograph by Philip Mayer
Then in 1985 she was sold to Bahama Cruises Inc., of Panama, and in 1987 she was sold to Bermuda Star Line Cruises of Panama and again reregistered at 6,193 GRT. Finally in 1990 she was sold to Festival Shipping & Tourist Enterprises who renamed her Sun Ambassador. However, in 1991 whilst being refitted at Piraeus sadly she caught fire and she sunk. Andrew del Valle who emailed the author recently stated … "She was cut up underwater and brought up in 7 pieces. I know this because my father was the president of this company and she was basically my childhood home." Thank you Andrew for all your information, being the reason for my update of this feature!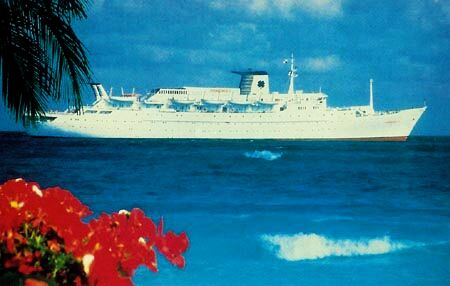 Postcard of the SS Veracruz having had a dramatic rebuild!
***************************
3… MS Moledet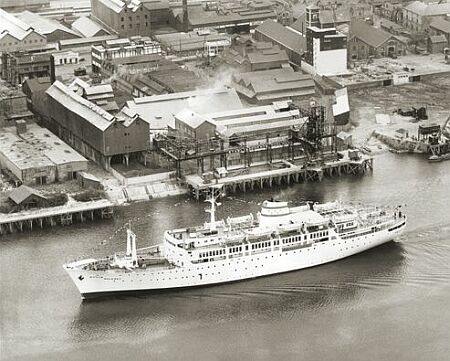 MS Moledet
The one class liner MS Moledet was launched on February 19, 1961 and was completed later that year. She was designed for the growing demand of tourist travel at that time. Accommodations were arranged over six decks. The higher graded cabins with private facilities were located on Promenade Deck, the remainder being spread on Lido, Main, Restaurant, Theatre and A Decks. Except for the upper graded accommodations, most cabins were four berth, with a small number of two berth inside cabins. In addition there were several six berth economy cabins.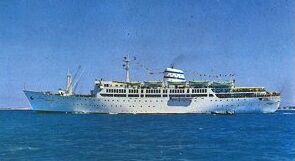 She was a much loved Israeli ship
Two large public rooms were located aft one on Promenade Deck and he other on Lido deck, overlooking the Pool. The large Dinning Room was located amidships on Restaurant Deck, with the Cinema and Synagogue located forward on Theatre Deck. Her large garage was accessed via number 1 hatch forward.
Moledet operated 4˝ day one way voyages, from Haifa to Limassol, Naples (or Genoa) to Marseilles. She would then return via the same ports. In addition she operated regular cruises.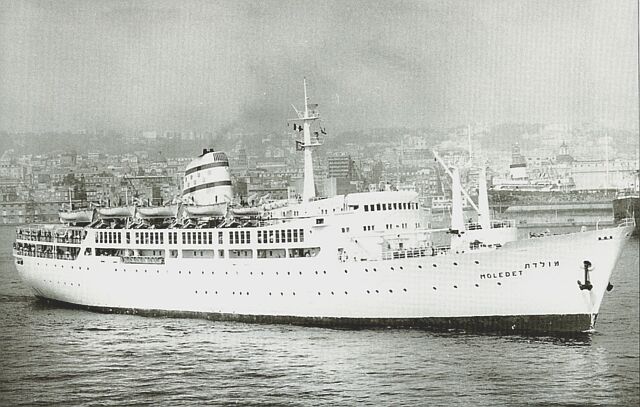 Another shot of the delightful motor ship Moledet
In spite of frequent engine troubles, the vessel enjoyed a great deal of popularity amongst her passengers. ZIM Lines took her out of service in 1969.
Specifications
Built:                                   A&C de Bretagne Nantes France
Tonnage:                              7,811 GRT
Length:                                415ft
Width:                                  65ft
Draft:                                   19.8ft
Engines:                               2 S.E.M.T.-Pielstick Diesels
Screws:                                One
Service speed"                       16 knots
Passengers:                          590 (First and Tourist Class)
                                           Fully Air-conditioned
                                           Stabilized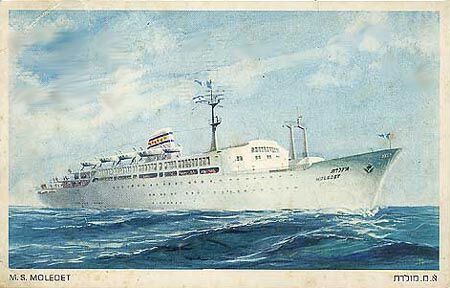 Original Postcard of the Moledet
Provided by - www.simplonpc.co.uk
With the disposition of ZIM's last passenger vessel, the Moledet, the passenger branch of the company was placed into liquidation, but ZIM's passenger ships are still fondly remembered by many.
ZIM ships were sold to various companies, with several becoming well known cruise ships, such as the Moledet and Zion as shown below.
***************************
MS Moledet - Jupiter
Moledet was sold in 1970 having made 225 voyages, to the Greek Epirotiki Line (later to become Royal Olympia Cruises). Renamed Jupiter she became a popular cruise ship and had a large following. She received only a minor exterior alteration with her Main Deck extended forward.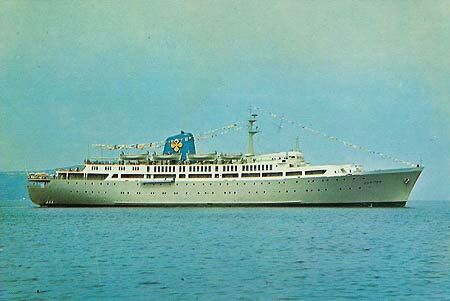 Moledet seen as the Epirotiki's MS Jupiter
***************************
SS Zion – Dolphin IV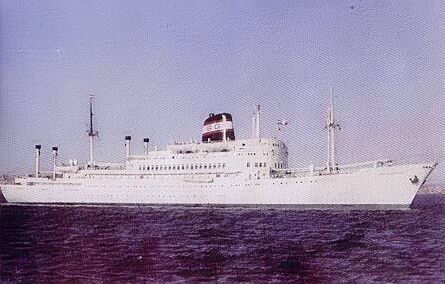 SS Amélia de Mello
SS Zion was which later served as the Portuguese Amélia de Mello. She was then sold in 1966 to the Ulysses Line who renamed her SS Ithaca. In 1979 she was transferred to the Caribbean renamed again to become the popular Dolphin IV, operating 3- and 4-day cruises to the Bahamas from Miami. Initially she ran under joint management with Paquet. In 1984, she was taken over by a new company Dolphin Cruise Line and continued a successful cruise career. As the photograph shows, she obviously received major reconstruction in her latter years.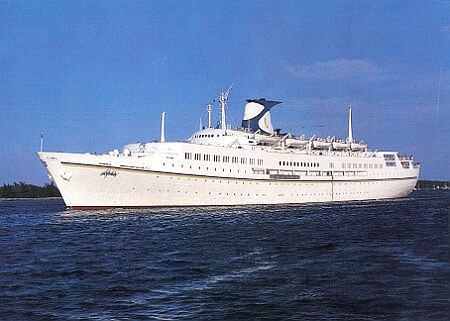 After her rebuild the ex SS Zion became an attractive cruise ship named Dolphin IV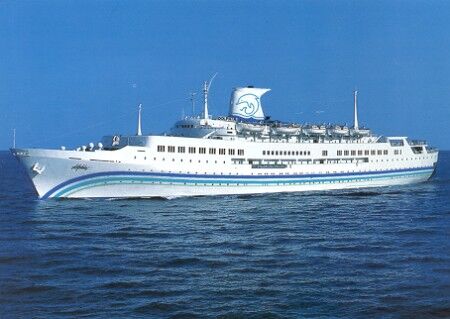 Dolphin IV seen her last livery with distinctive striping
************************
ZIM Lines INDEX
Introduction:     ZIM Lines early history & their early smaller passenger ships, such as …
                                    SS Kedmah, SS Negbah, SS Galilah & SS Artsa.
Page One:          SS Jerusalem I, ZIM's very first Trans Atlantic passenger liner.
Page Two:         SS Israel, SS Zion, SS Jerusalem (II), SS Theodor Herzl & MS Moledet – This Page
Page Three:       SS Shalom, Hanseatic, Doric, Royal Odyssey, Regal Sun, Sun – Israel's Grandest Liner!
Page Four:         SS Shalom, Mr. Edmond Wilhelm Brillant the ships naval architect and new photo's.
Page Five:          SS Shalom, Deck Plan from the official archives of Estate of Edmond Wilhelm Brillant, Naval Architect.
***********************************
Who is the Author of ssMaritime?
Commenced in the passenger Shipping Industry in May 1960
Return to the ssMaritime MAIN INDEX
ssMaritime.com & ssMaritime.net
Where the ships of the past make history & the 1914 built MV Doulos Story
Also visit these pages;
"Save The Classic Liners Campaign" & "Cruise-Australia"
Please Note that ssmaritime and all associated sites are 100% non commercial and the author seeks no funding whatsoever!
Photographs on ssmaritime and associate pages are by the author or from the author's private collection. In addition there are some images that have been provided by Shipping Companies and private photographers or collectors. Credit is given to all contributors. However, there are some photographs provided to me without details regarding the photographer/owner concerned. I hereby invite if owners of these images would be so kind to make them-selves known to me in order that due credit may be given.
This notice covers all pages, although, and I have done my best to ensure that all photographs are duly credited and that this notice is displaced on each page, that is, when a page is updated!
ssMaritime.com is owned and © Copyright by Reuben Goossens - All Rights Reserved.