Please Note: Firefox and some other search engines are not suitable – Use "Internet Explorer" for this page to load perfectly!
Click the logo above to reach the ssMaritime FrontPage for News Updates & "Ship of the Month"
With Reuben Goossens
Maritime Historian, Cruise'n'Ship Reviewer, Author & Maritime Lecturer

Page Three
Israel's Flagship - SS Shalom
Later to become the: SS Hanseatic, SS Doric, Royal Odyssey & Regent Sun
August 2013: The Shalom pages are being updated with new images and more!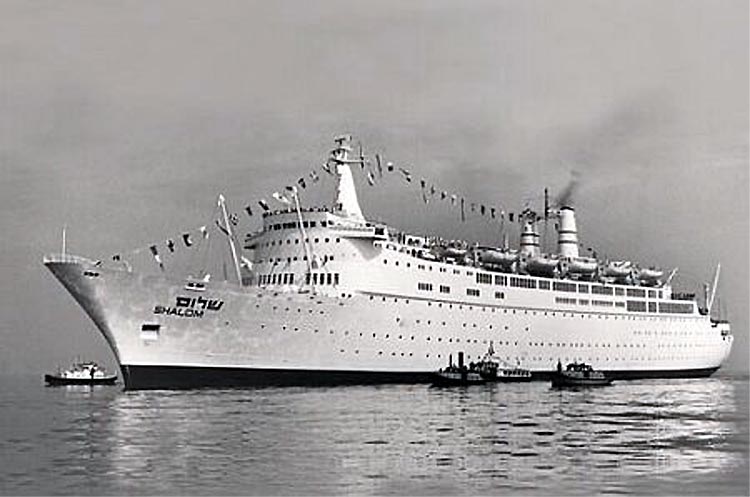 As can be seen here, SS Shalom had a unique look with her high
forward superstructure, which gently sloped back to amidships
Author's private collection
ZIM Israel Navigation Company / ZIM Lines commenced their passenger operations when their first passenger liner, the SS Kedmah arrived in Tel Aviv on July 28, 1947. Her arrival saw ZIM enter the Mediterranean and later the Trans-Atlantic market. In 1953, a stately liner the SS Jerusalem (I) (ex SS Bergensfjord) commenced what was to be a popular service across the Atlantic, although she was later renamed SS Aliya, and she remained in service until 1959.
It was in 1959 ZIM Lines placed an order with a French ship builder "Chantiers de l'Atlantique shipyard" in St. Nazaire for them to build a new liner for their Trans Atlantic service. The work would be supervised and managed by project manager Captain Rimon and the project technical superintendent was a borrowed IDF Naval officer and architect Edmond Wilhelm Brillant. ZIM had considered a number of names for their new ship and some of these included; "Shlomo-Hamelech" being Hebrew for King Solomon, and English names such as "King David" and "King Solomon," but ZIM finally decided on a name that suited the need and the times, "Shalom" being the most beautiful of all Hebrew word meaning "Peace" being the perfect name for their new flagship.
This new highly advanced 25,320 GRT liner was designed to have her engines placed aft with twin upright funnels, similar to the famed 1959 Dutch Liner SS Rotterdam, and the English P&O's 1960 SS Canberra. In design, SS Shalom was a true Trans Atlantic liner, being high sided with large sections of her passenger decks glass enclosed, protecting her passengers from the unpredictable Atlantic weather.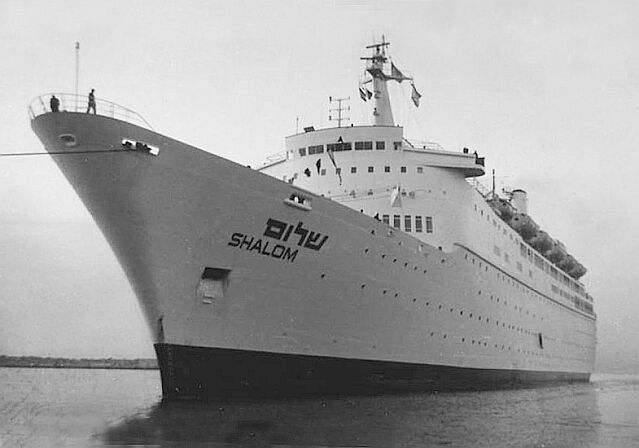 A fine bow shot of the Shalom
Photographer unknown *See the photo credit details at bottom of page
SS Shalom was built at a cost of £7.5 million and she was floated out of her building dock on November 10, 1962. Then having been fully fitting out she was dedicated by the wife of David Ben Gurion, Mrs Paula ben Gurion.
She commenced her deep-sea trials on January 24, 1964 and was she was delivered to ZIM Lines in February. She finally headed for Haifa and as she entered Israeli waters and the port of Haifa on March 3, 1964 she hosted the Israeli flag for the very first time. SS Shalom arrived to a tumultuous jubilation for Israel's grand new flagship had finally arrived as it was the beginning of a new Israeli maritime beginning.
Before commencing her Trans Atlantic duties SS Shalom first operated a number of short cruises out of Haifa, then on April 17, 1964 she departed Haifa fully booked and headed across the Atlantic for New York where she was welcomed with great fanfare!
Although she was fully booked at first, just six months later, in October she was sent to the Netherlands for a refit to make her more suitable for cruising duties as Trans Atlantic traffic had already decreased dramatically due to air travel having gained popularity and all shipping lines were suffering, but apparently cruising had become more and more popular.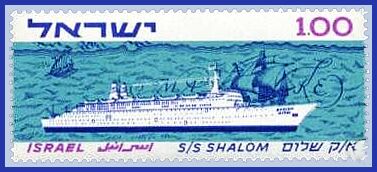 Israel issued this stamp to commemorate the maiden voyage of SS Shalom
Author's private collection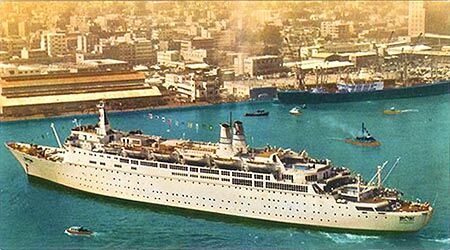 SS Shalom returns from her maiden voyage Trans-Atlantic voyage
Author's private collection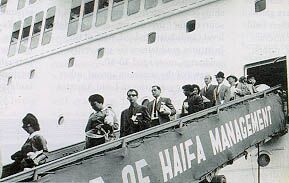 Passengers disembark in Haifa
ZIM Lines
SS Shalom had two exterior and one interior Swimming Pools. Her ten decks were named: Bridge, Lido, Olive Branch (Promenade), Rainbow, Dove, Dining, Main, A, B, and Ophir. Forward on Olive Branch Deck were all deluxe suites and the top graded First Class cabins. Amidships was the Cinema, followed by the Winter Garden and Children's facilities aft. Rainbow Deck aft had the main Tourist Class lounges, such as the Havah Nagilah Hall, and the Tavern. Amidships was the shopping centre and the Night Club, which was open to both Tourist and First Class passengers, with special aft and forward entrances. First Class lounges were located forward on Rainbow Deck. One deck down, on Dove Deck there were a further six First Class cabins located forward, as well as a block of forty four interchangeable three berth cabins amidships.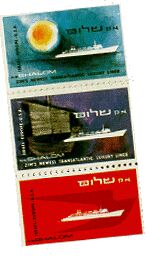 ZIM's 1964 Hebrew language brochure for Israeli's
ZIM Lines
First Class accommodations were elegant twin bedded rooms, whilst Tourist Class offered two, three or four berth cabins. All cabins had private facilities. Accommodations on SS Shalom were considered some of the best on the Atlantic. SS Shalom was regarded as a ship of outstanding beauty, with her richly coloured contemporary-style décor. Her interiors were designed by Dora Gad, a very well known Israeli interior decorator. She won an award for her work on the Shalom and several other ZIM ships. SS Shalom, as did all Israeli ships before her, served a kosher cuisine, which became quite popular with all her passengers, Jewish or otherwise.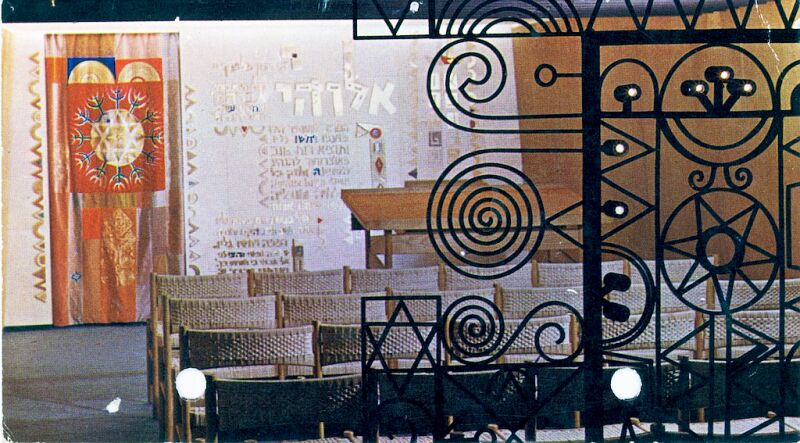 The Synagogue on the SS Shalom
Image provided by Ron Hoffmann scanned from a postcard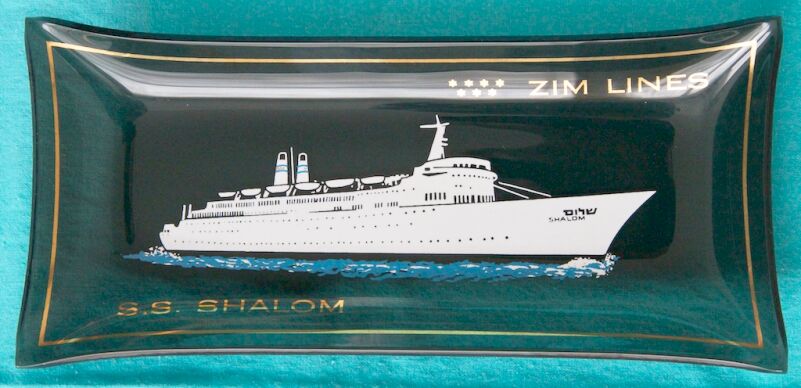 An SS Shalom glass Dish
Provided by Ron Hoffmann
As built, SS Shalom accommodated 72 First Class passengers, with 87/131 interchangeable, and 887 Tourist Class passengers. She carried a crew of 450 on Atlantic sailings, but 500 whilst cruising.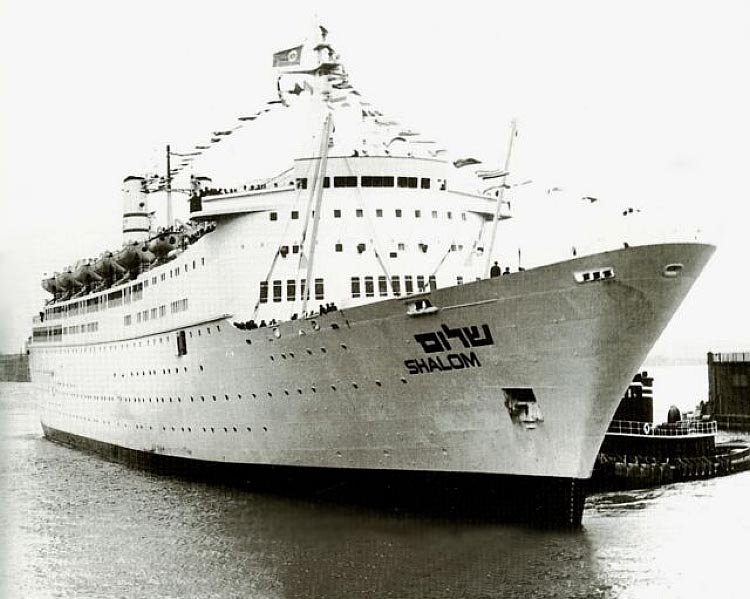 SS Shalom heads off on another cruise, then for her refit!
In October that year, her First Class accommodations were enlarged at the De Schelde Yard in Holland to 148 First Class and 864 Tourist Class. ZIM decided to do this to make her more suitable for cruise duties.
Upon completion she resumed her duties and headed across the Atlantic for New York from The Netherlands and was about to commence her cruise duties, but all too soon tragedy struck!
On a "Pea Soup" thick foggy day on November 26, 1964, the SS Shalom departed New York commencing her cruise. She was not long out to sea, being just off Point Pleasant, 28 miles southwest of the Ambrose Light, the Shalom collided with and sliced through a Norwegian tanker the Stolt Dagali.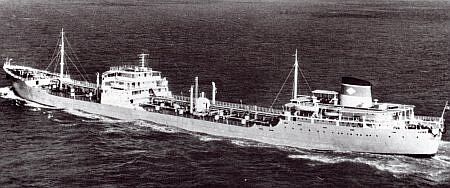 The 12,725-ton Norwegian tanker Stolt Dagali
Author's private collection
Sadly 19 crewmembers of the Stolt Dagali were lost. Her stern section sunk rapidly in some 130 ft of water, whereas her bow section remained afloat and it was salvaged. With the bow of SS Shalom badly damaged, she returned to New York where she was soon repaired. Fortunately, the Stolt Dagali carried a cargo of non-flammable vegetable oils otherwise both vessels might have been consumed in flames.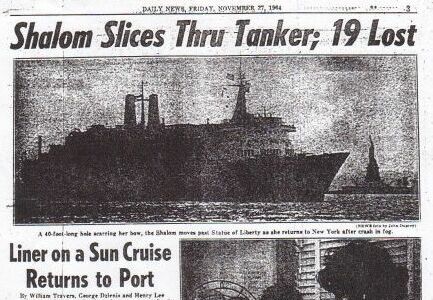 Daily News – Headlines November 27, 1964
Author's private collection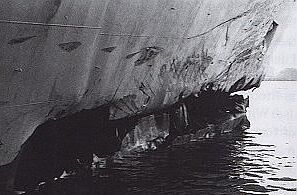 Above: The damaged bow of the Shalom
Below: The forward section of the Stolt Dagali that remained afloat
Author's private collection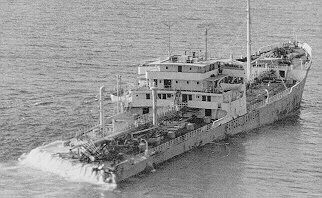 Although the Shalom was a popular ship, the sad truth is that from the very moment she entered into service in 1964, she continually suffered losses and encountered ongoing difficulties, including the collision as stated above. And considering the financial situation of ZIM Israel Passenger Line, the company was forced to start thinking of economising somehow.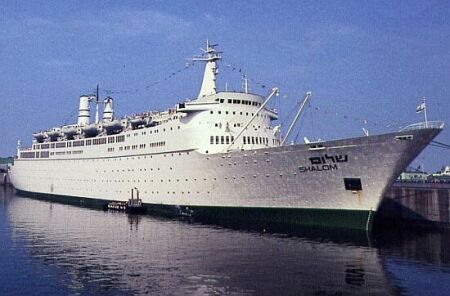 SS Shalom is seen here berthed at Montreal July 1967, just before she was sold
Postcard - Photographed by Harry Wolf
As already stated on Page Two of this ZIM feature, SS Jerusalem (II) had already been sold to the American International Service Travel Board who used her in the Caribbean as a floating hotel, she then returned to cruising as the SS Bahama Star and then the SS Bonaire, but she was sold to be broken up in 1979, but she did sink on her way to the breakers.
Her sister the wonderful SS Theodor Herzl completed the final passenger voyage for ZIM Passenger Lines on November, 27, 1969, after she was sold to the same company and was renamed SS Carnival she was also employed in the Caribbean as a luxury-floating hotel. In 1971, Carnival was sold a number of times and was named SS Veracruz and Sun Ambassador. Whilst being refitted in Greece in 1990 she caught fire and was destroyed.
When ZIM Lines sold the SS Theodore Herzl the company had come close to the end as a Passenger Line, except for the little MS Moledet, but with the Company's passenger branch being eventually liquidated in 1970, this ended a romantic chapter of the fine "Zim Israel Navigation Company's" passenger history. ZIM had laid its foundation in 1947 with one passenger ship, the SS Kedmah and during the next twenty-two years ZIM became a renowned shipping company and ZIM's passenger liners are still fondly remembered considering I receive countless email from those who have sailed on their ships, all having such fond memories! There is no doubt, they had a unique reputation for excellence in service, fine food, and that much talked about stunning décor that was found o board their ships!
But, it was sadly the very expensive SS Shalom that brought about the end of ZIM Lines and she was the second last ship to be sold, only to be outlived by Zim's very last passenger ship MS Moledet that was sold in 1970 to become the much loved cruise ship Jupiter, The SS Zion also became a magnificent cruise ship, also much loved by so many, named the Dolphin IV.
But in her very last year with Zim Lines, the great and beautiful SS Shalom made three Grand Festive cruises for the Jewish Holidays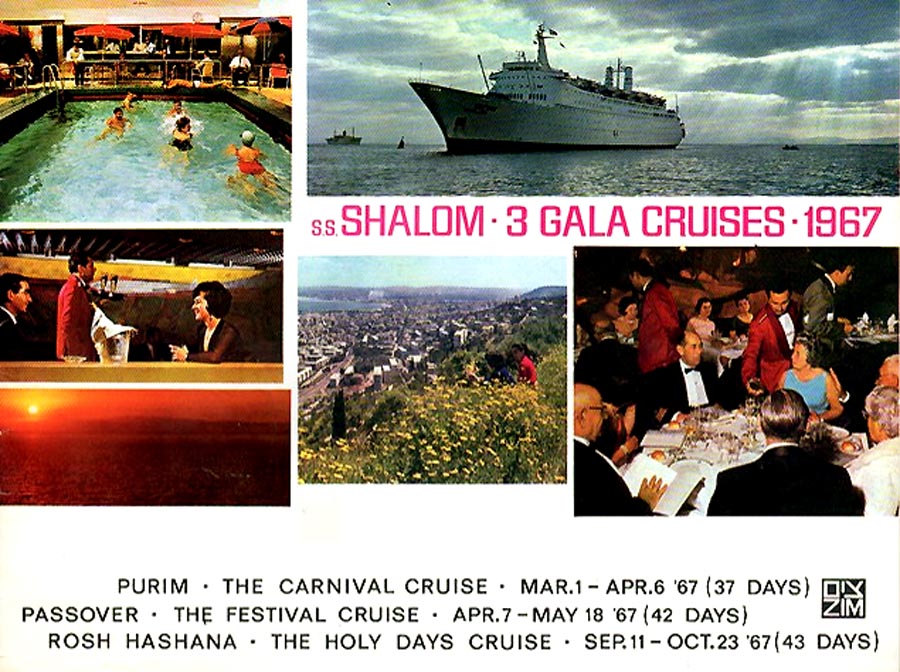 The front cover of a brochure featuring the 1967 "Yom Tovim" (Festive) Cruises
From the author's collection
SS Shalom was sold to the German Atlantic Line in 1967, just three and a half years after Israel's flagship commenced services out of Haifa.
Please read Page 4 for details of her design and building by Maritime & Naval Architect, Mr. (Commander) Edmond Wilhelm Brillant. See the INDEX at the bottom of page.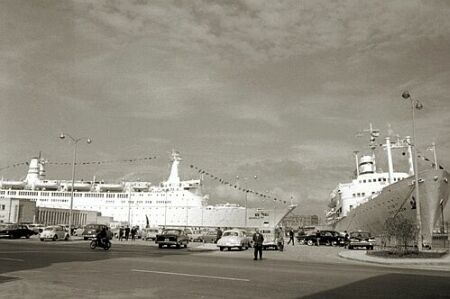 ZIM Lines SS Shalom and SS Jerusalem (II) seen berthed together
ZIM Lines photo
************************
German Atlantic Line
SS Shalom became the German Atlantic Line's liner SS Hanseatic (II). Sadly, on her bow, German Atlantic painted her name in huge letters, which simply looked hideous and detracted from was a fine looking ship! She was placed on the Hamburg New York service until 1969, when she became a full time cruise ship.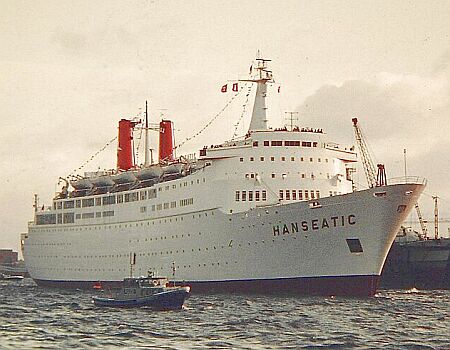 Above and below: SS Hanseatic. Cannot miss her name if you tried!
Author's private collection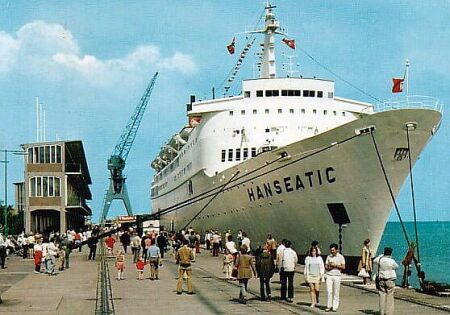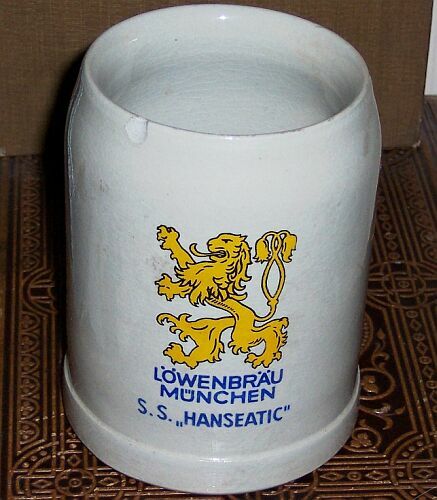 A SS Hanseatic Löwenbräw Mug
Sent in by past passenger Michael Tahirak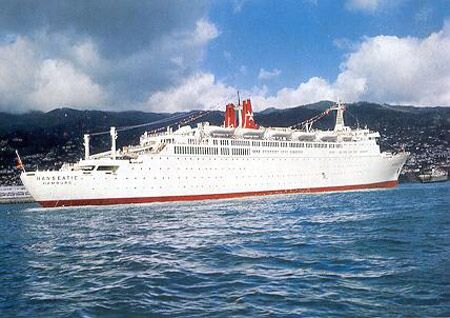 A postcard of SS Hanseatic seen on a cruise in 1972
Author's private collection
************************
Home Lines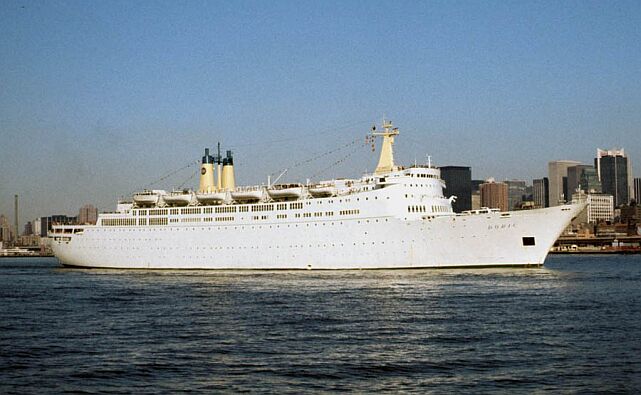 A Here is a superb photograph of the SS Doric seen departing New York in October 1975
Photograph taken by Willie Tinnemeyer - From the Rich Turnwald collection
In 1973, the German Atlantic Line went out of business and she was sold to Home Lines who renamed her SS Doric. She received an extensive refit, which saw her aft superstructure extended aft.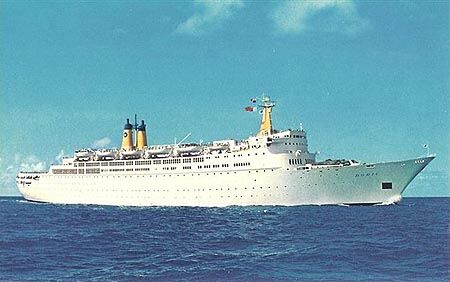 With her buff to yellow mast and funnel, SS Doric looked attractive
Author's private collection
After her refit, SS Doric now accommodated 725 one-class passengers. Over the next eight years SS Doric successfully operated cruises from Port Everglades to the West Indies from October to April, and between New York to Bermuda for the balance of the year.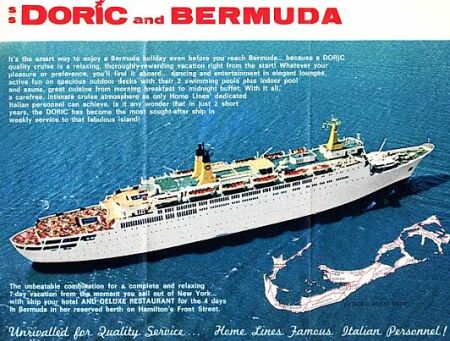 A Home Lines brochure. Note her extended aft decks
Provided by Björn Larsson - www.timetableimages.com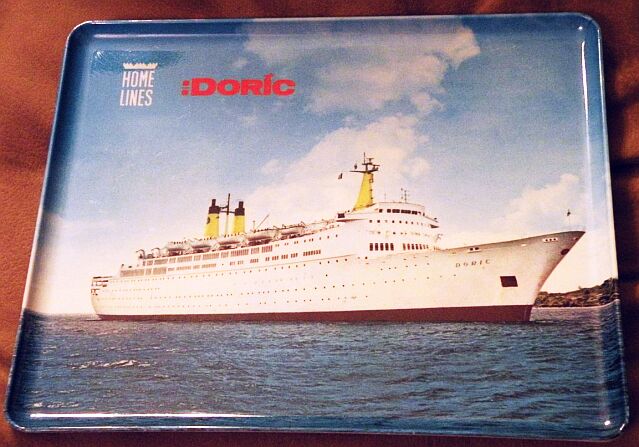 A souvenir Home Lines SS Doric food tray
Sent in by Scott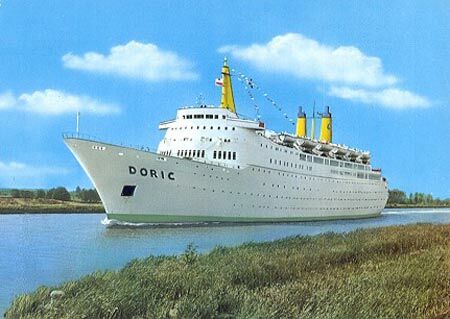 A Home Lines postcard of the Doric
Author's private collection
************************
Royal Cruise Line
As Home lines had a new ship on order, they decided to sell her in 1981 to Royal Cruise Line who renamed her SS Royal Odyssey. Under this guise she would cross the South Pacific twice, visiting Pacific Islands, New Zealand and Australia.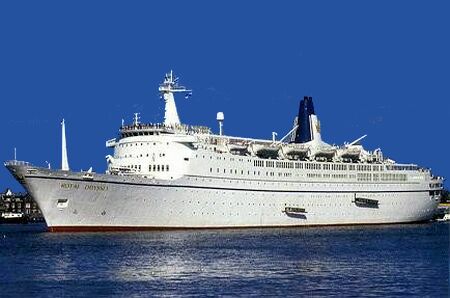 SS Royal Odyssey with her attractive new funnel
Author's private collection
Before commencing services, Royal Odyssey received an extensive four-month refit in Greece, which saw her distinctive twin funnels removed, and replaced by a single conventional, but attractive funnel. Her upper superstructure was extended from the Bridge to the funnel. Hr new look gave a fresh, modern and a pleasing profile. Her passenger capacity was increased to 814.
During the refit, Royal Cruises also made some technical alterations as well as adding a huge bulbous bow, which dramatically improved her sea-keeping abilities.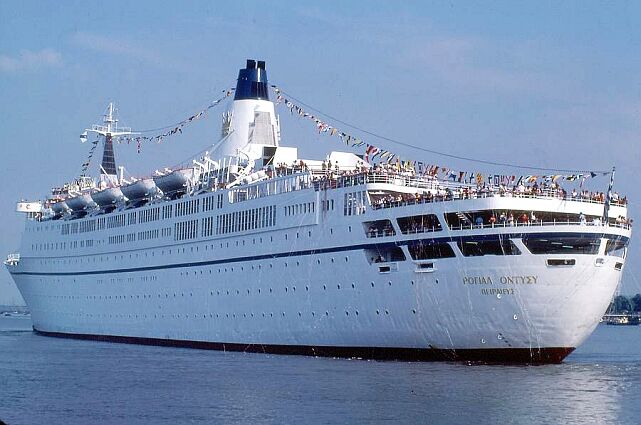 A fine stern view of the SS Royal Odyssey
Photographer unknown *See the photo credit details at bottom of page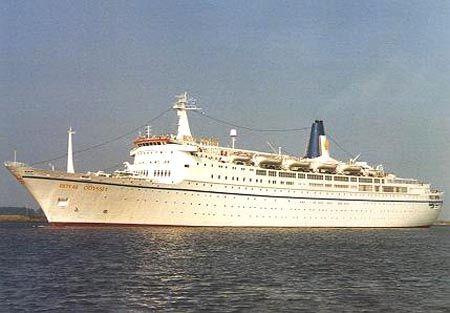 SS Royal Odyssey
Author's private collection
In 1986, Royal Odyssey crossed the Pacific arriving in Sydney on November 24, from where she operated four Pacific cruises. When completed, she departed Sydney on February 13, 1987 retuning to Los Angeles. However, due to popularity, on December 24, that year, she returned to Sydney and operated another two Pacific cruises. Then on February 19, 1988 she departed Sydney for the last time and as Royal Cruise Line was about to delivery of their new ship, Royal Odyssey was sold.
************************
Regency Cruises
Regency Cruises purchased the magnificent Royal Odyssey in 1988, and renamed her Regent Sun and commenced a popular cruise seven-year career with Regency Cruises until 1995.
Regency Cruises was formed by Greek ship owner Antonios Lelakis in 1984. The first ship was Regent Sea which was built as the 1957 Gripsholm. The Lelakis family purchased second hand tonnage at a vast rate, which eventually saw the group collapse in 1995. All ships were arrested and laid up.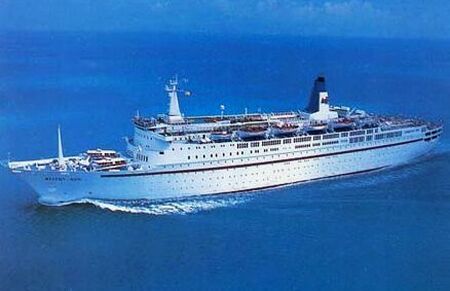 SS Regal Sun - Author's private collection
Regal Sun was laid up with the rest of the Regency fleet. At one stage there was a rumour that Royal Venture Cruises were going to purchase the Regal Sun and rename her Sun Venture and return her back to service. Sadly this project never eventuated.
Having been being laid up, in 2001, she was sold to Indian breakers who renamed her "Sun" and she departed undertow for Alang India where she was to be scrapped.
However, on Wednesday July 25, 2001, the SS Sun took on water and was listing some 30 degrees whilst off the coast of South Africa. Suddenly she keeled over and sunk at 7:05 PM local time. This was the end of a liner that some thirty-seven years earlier was welcomed into the Port of Haifa with great jubilation as the crowning glory of ZIM Lines and Israeli passenger shipping! She was the ship of the future that at least had many lives and she did give many a superb cruise vacation especially in her latter incarnations!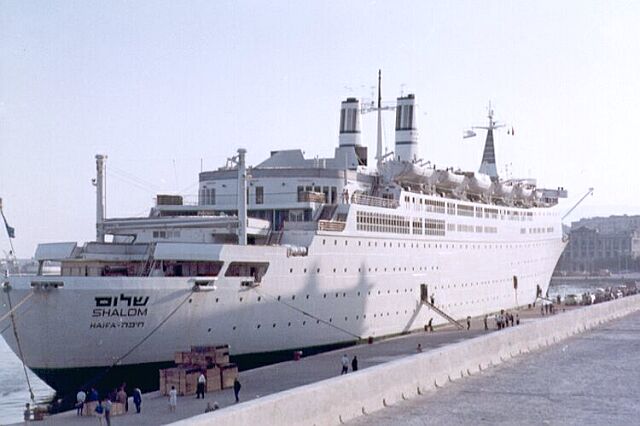 A fine stern view of Israel's pride and glory, SS Shalom – ZIM
************************
ZIM Lines INDEX
Introduction:     ZIM Lines early history & their early smaller passenger ships, such as …
                                    SS Kedmah, SS Negbah, SS Galilah & SS Artsa.
Page One:          SS Jerusalem I, ZIM's very first Trans Atlantic passenger line.
Page Two:         SS Israel, Zion, Jerusalem (II), Theodor Herzl & MS Moledet.
Page Three:       SS Shalom, Hanseatic, Doric, Royal Odyssey, Regal Sun, Sun – Israel's Grandest Liner! – This Page.
Page Four:         SS Shalom, Mr. Edmond Wilhelm Brillant the ships naval architect - with new photos.
Page Five:          SS Shalom, Deck Plans from the official archives of Estate of Edmond Wilhelm Brillant, Naval Architect.
***********************************
Who is the Author of ssMaritime?
Commenced in the passenger Shipping Industry in May 1960
Return to the ssMaritime MAIN INDEX
ssMaritime.com & ssMaritime.net
Where the ships of the past make history & the 1914 built MV Doulos Story
Also visit these pages;
"Save The Classic Liners Campaign" & "Cruise-Australia"
Please Note that ssmaritime and all associated sites are 100% non-commercial and the author seeks no funding whatsoever!
Photographs on ssmaritime and associate pages are by the author or from the author's private collection. In addition there are some images that have been provided by Shipping Companies and private photographers or collectors. Credit is given to all contributors. However, there are some photographs provided to me without details regarding the photographer/owner concerned. I hereby invite if owners of these images would be so kind to make them-selves known to me in order that due credit may be given.
This notice covers all pages, although, and I have done my best to ensure that all photographs are duly credited and that this notice is displaced on each page, that is, when a page is updated!
ssMaritime.com is owned and © Copyright by Reuben Goossens - All Rights Reserved.