Please Note: Firefox and some other search engines are not suitable – Use "Internet Explorer" for this page to load perfectly!
Click the logo above to reach the ssMaritime FrontPage for News Updates & "Ship of the Month"
With Reuben Goossens
Maritime Historian, Cruise'n'Ship Reviewer, Author & Maritime Lecturer

Page Five
Israel's Flagship - SS Shalom
Deck Plan © Copyright
© - From the official archives of Estate of Naval Architect Commander Edmond Wilhelm Brillant (1916 - 2004)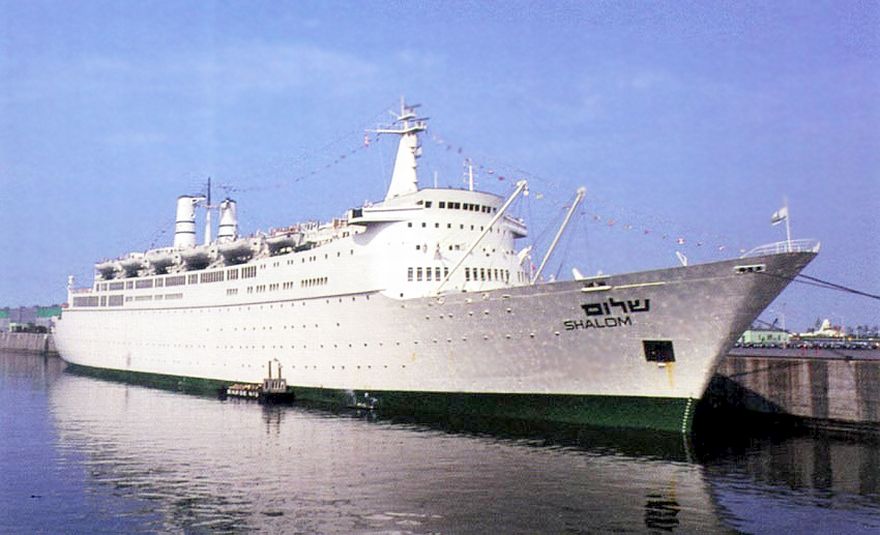 SS Shalom is seen here at Montreal in 1967 not long before she was sold to the German Atlantic Line who renamed her SS Hanseatic
Photograph by Harry Wolf – from the Author's collection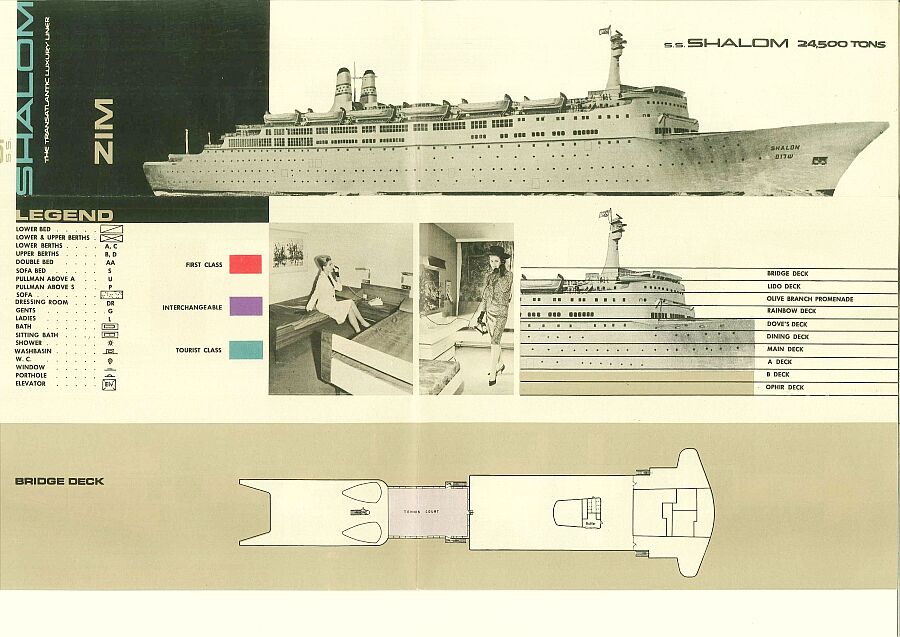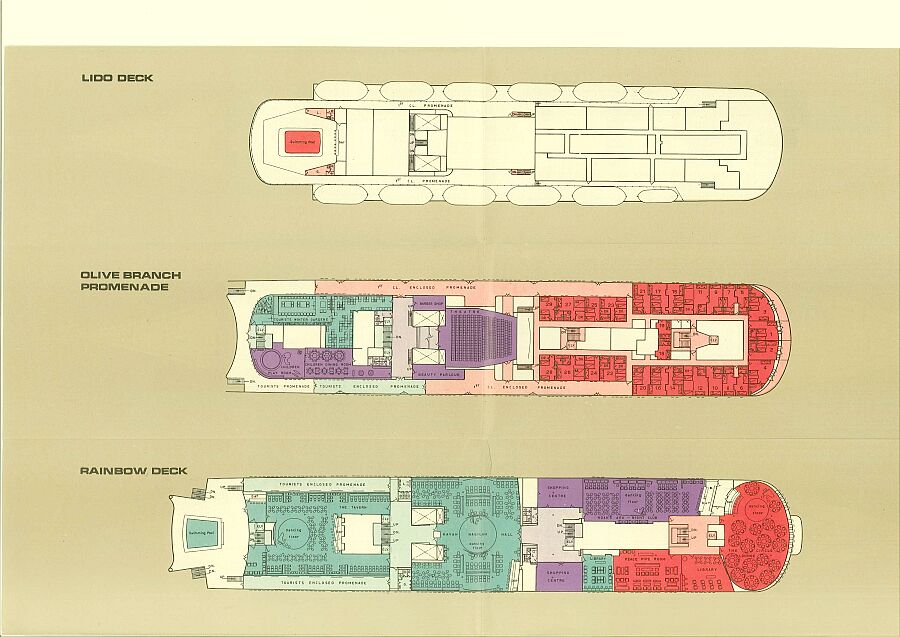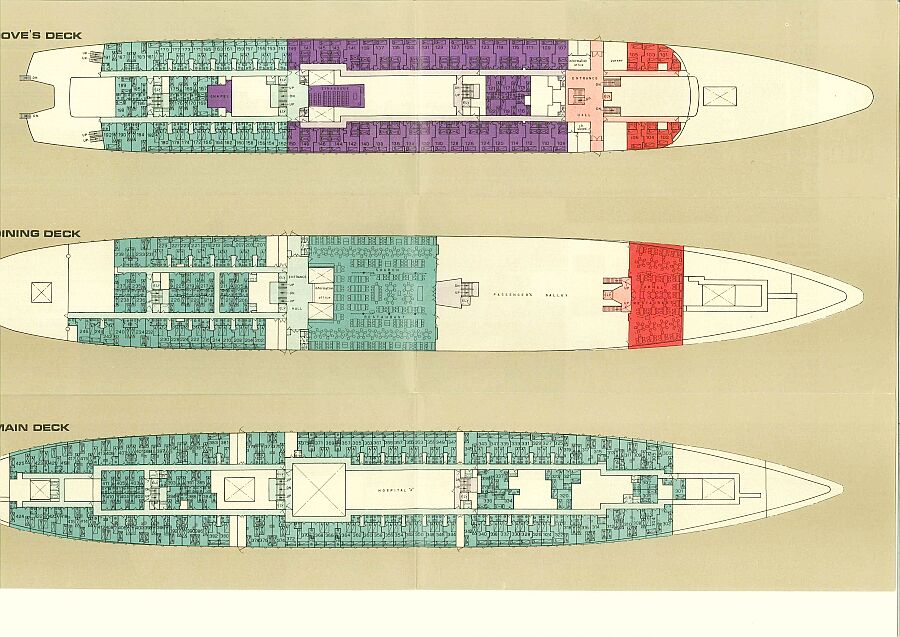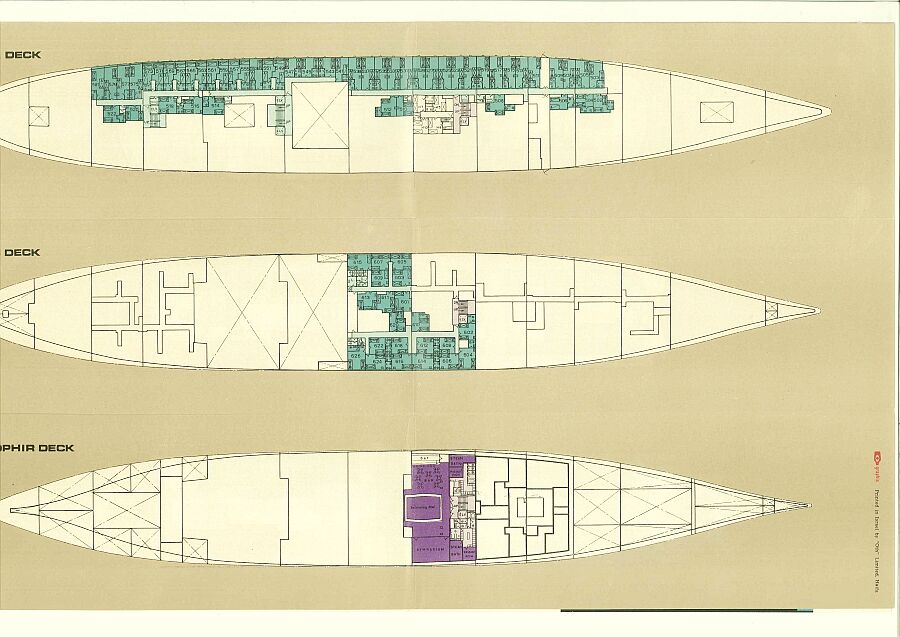 Please Note

: All images on Page 4 and 5 and the plan above, except those images marked otherwise, are from the official archives of the Estate of the late Naval Architect, Commander Edmond Wilhelm Brillant (1916 - 2004), which is now under the control of his son Mr. Avi Brillant. All of Mr Brilliant's material is protected under strict international copyright law. Please be respectful of this, in the memory of a great maritime man! The author has been given kind and exclusive permission to use these and present the story only, which has been a great privilege!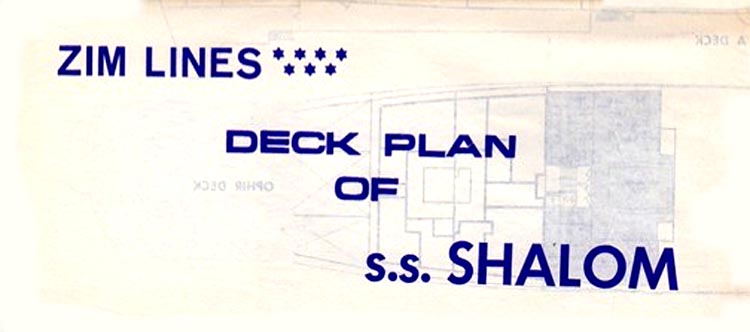 This is the front of the standard fold-up tissue version plan of the ship!
From the author's collection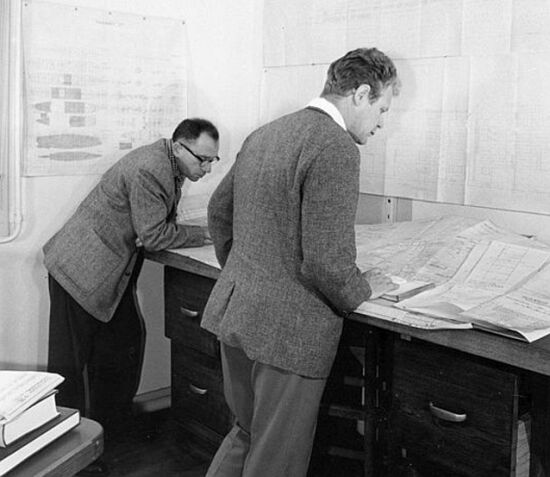 Read the amazing story of Commander Edmond Wilhelm Brillant (left), one of the designers of the Shalom on Page 4.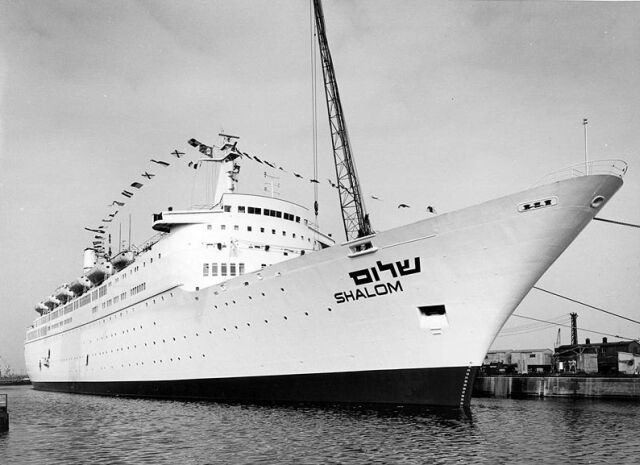 SS Shalom seen ready to depart France for Haifa where she will be stocked and manned before she commences her new life in 1964
ZIM Lines INDEX
Introduction:     ZIM Lines early history & their early smaller passenger ships, such as …
                                    SS Kedmah, SS Negbah, SS Galilah & SS Artsa.
Page One:          SS Jerusalem I, ZIM's very first Trans Atlantic passenger liner.
Page Two:         SS Israel, SS Zion, SS Jerusalem (II), SS Theodor Herzl & MS Moledet.
Page Three:       SS Shalom, Hanseatic, Doric, Royal Odyssey, Regal Sun, Sun – Israel's Grandest Liner!
Page Four:         SS Shalom, Mr. Edmond Wilhelm Brillant the ships naval architect and new photo's.
Page Five:          SS Shalom, Deck Plan from the Estate of Edmond Wilhelm Brillant, Naval Architect – This Page.
***********************************
Who is the Author of ssMaritime?
Commenced in the passenger Shipping Industry in May 1960
Return to the ssMaritime MAIN INDEX
ssMaritime.com & ssMaritime.net
Where the ships of the past make history & the 1914 built MV Doulos Story
Also visit these pages;
"Save The Classic Liners Campaign" & "Cruise-Australia"
Please Note that ssmaritime and all associated sites are 100% non-commercial and the author seeks no funding whatsoever!
Photographs on ssmaritime and associate pages are by the author or from the author's private collection. In addition there are some images that have been provided by Shipping Companies and private photographers or collectors. Credit is given to all contributors. However, there are some photographs provided to me without details regarding the photographer/owner concerned. I hereby invite if owners of these images would be so kind to make them-selves known to me in order that due credit may be given.
This notice covers all pages, although, and I have done my best to ensure that all photographs are duly credited and that this notice is displaced on each page, that is, when a page is updated!
ssMaritime.com is owned and © Copyright by Reuben Goossens - All Rights Reserved.