MS Achille Lauro 1965-94 - ex Royal Rotterdam Lloyd MS Willem Ruys
Please Note: Firefox & Google Chrome other search engines may not suitable
Please use Internet Explorer - Google for this page to load perfectly!
Click the logo above to reach ssMaritime FrontPage & "Ship of the Month"
With Reuben Goossens
Maritime Historian, Author, Cruise'n'Ship Reviewer and Maritime Lecturer
Please Note: All ssMaritime and other related maritime/cruise sites are 100% non-commercial and privately owned. Be assured that I am NOT associated with any shipping or cruise companies or any travel/cruise agencies or any other organisations! Although the author has been in the passenger shipping industry since 1960, although is now retired but having completed over 690 Classic Liners and Cargo-Passengers Ships features I trust these will continue to provide classic ship enthusiasts the information they are seeking, but above all a great deal of pleasure!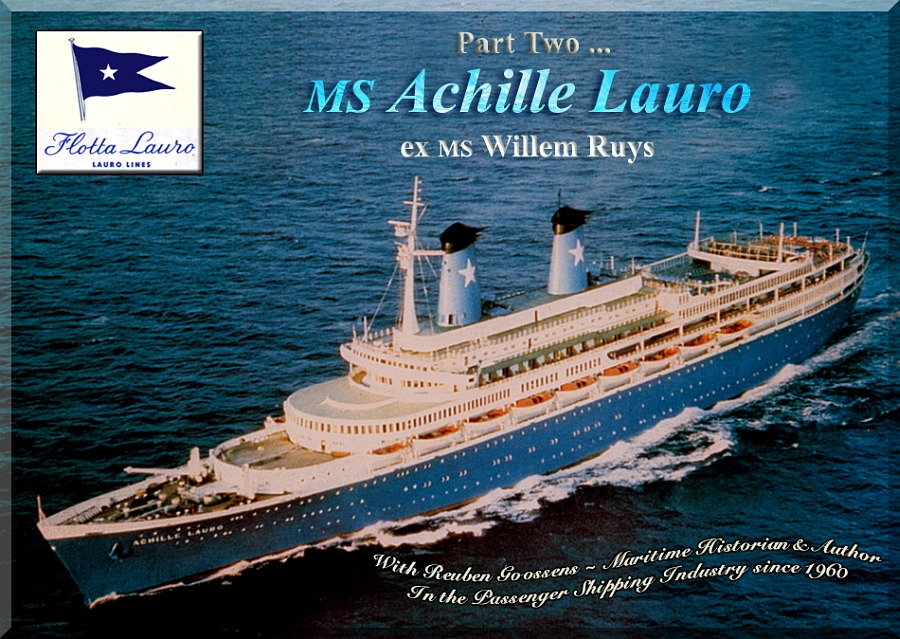 Part Two - MS Achille Lauro her Story
Sale
and Rebuilding of the Ship:
By the end of 1964, due to poor passenger loadings the once popular Dutch, Royal Rotterdam Lloyd liner MS Willem Ruys was with great sadness laid up in Rotterdam. In addition, around the same time her running mate the Netherland Line MS Oranje was also laid up in Amsterdam. These two fine rivals were placed on the market and were soon sold in January 1965 to the famed Italian Shipping Company "Lauro Lines," also known as "Flotta Lauro Line."
The Willem Ruys was officially handed over on January 6, 1965 and she was renamed Achille Lauro after the managing director of the Lauro Line, whilst she was still in Rotterdam.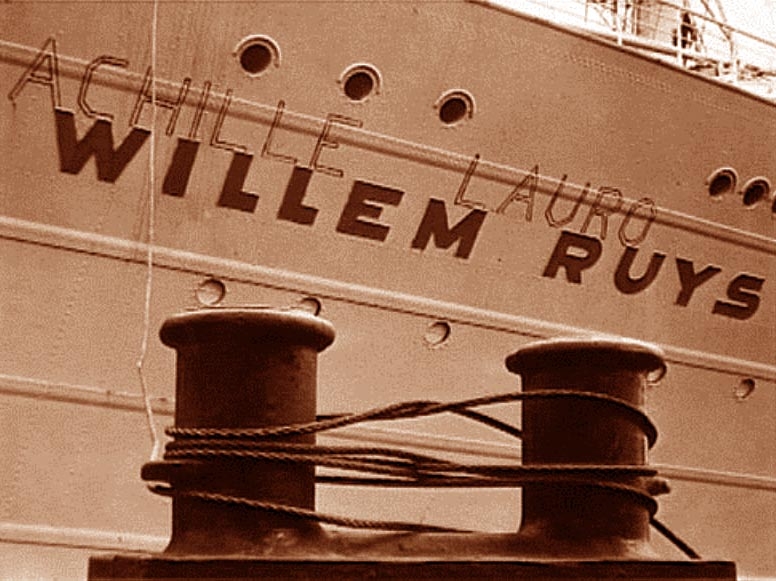 Here we see the bow of the Willem Ruys having been sold to Flotta Lauro Lines and
a stencil was used to add the name 'Achille Lauro' above the ships original name
She departed Rotterdam and headed for Palermo, Italy where she would be extensively be rebuilt into an ultramodern Liner and Cruise Ship at the "Cantieri Navali Riuniti" at their Palermo shipyards.
As reconstruction was close to completion, and they were ready to fit her newly reshaped aft funnel, but suddenly on August 29, 1965 Achille Lauro was rocked by an explosion with a raging fire braking out. Finally, when the fire was extinguished and the ship was declared safe, work continued, but obviously her completion was delayed.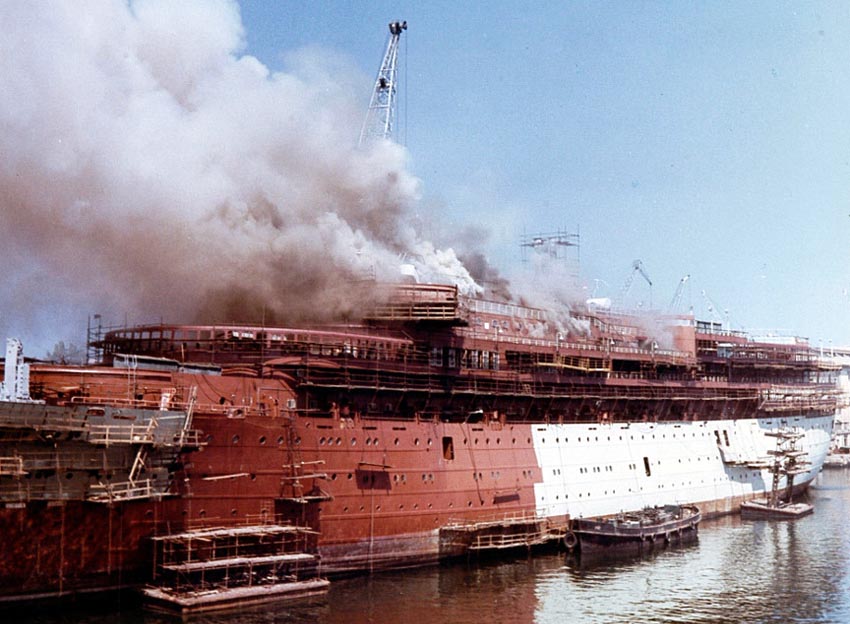 Here we see the ship still burning after the explosion on August 29, 1965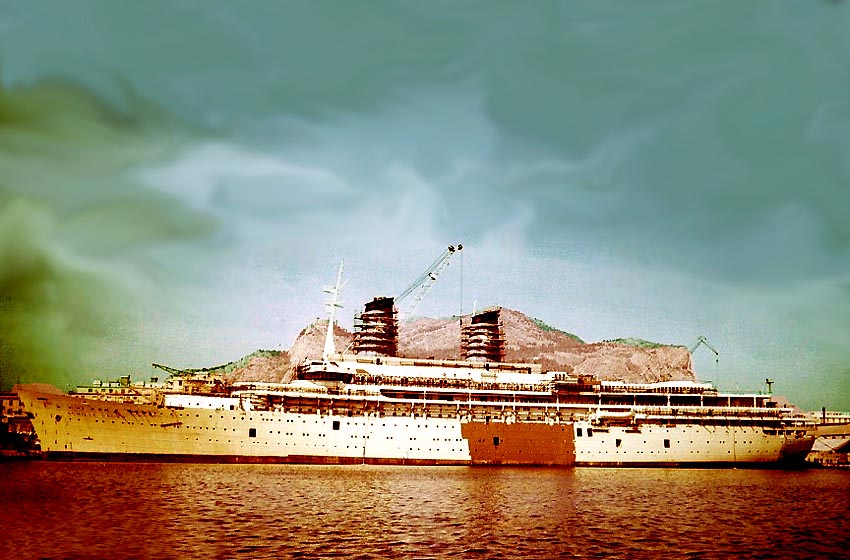 A view of the Achille Lauro later with her modernised superstructure and her new funnels fitted
Externally some significant changes made to this already beautiful ship, the most obvious being her new sharply raked bow, giving her an additional 12ft in length. Then there were her two brand new higher slim-line stylish funnels, which were topped by sloped upwards twin smoke dispersers providing the Achille Lauro a better dispersion of her diesel fumes, as well as providing her with a distinctive look. The funnels were painted blue, with a traditional Flotta Lauro logo being a white star being added and the smoke dispersers were black.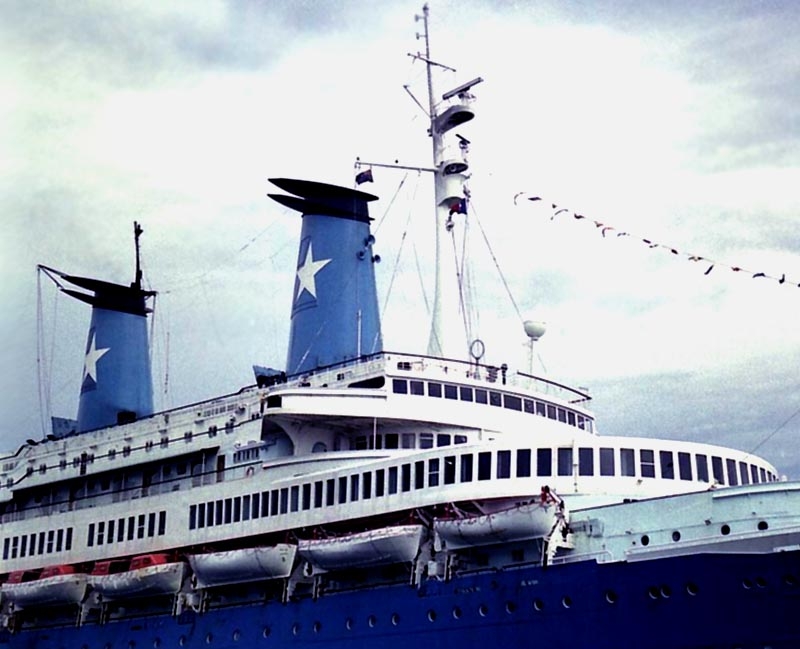 A close up of her funnels and the forward superstructure
Flotta Lauro released this postcard of the Achille Lauro prior to her completion
Apart from her new tall modern funnels with twin bladed smoke deflectors, her promenade deck was extended far forward with glazing, whilst her upper also glazed aft in order to protect the First Class swimming pool from the wind. Her hull was repainted blue with just some white on the forward top of the bow section and red boot topping. The previous forward and aft main masts were removed and a new shapely Signal and Radar mast was fitted just behind the Bridge.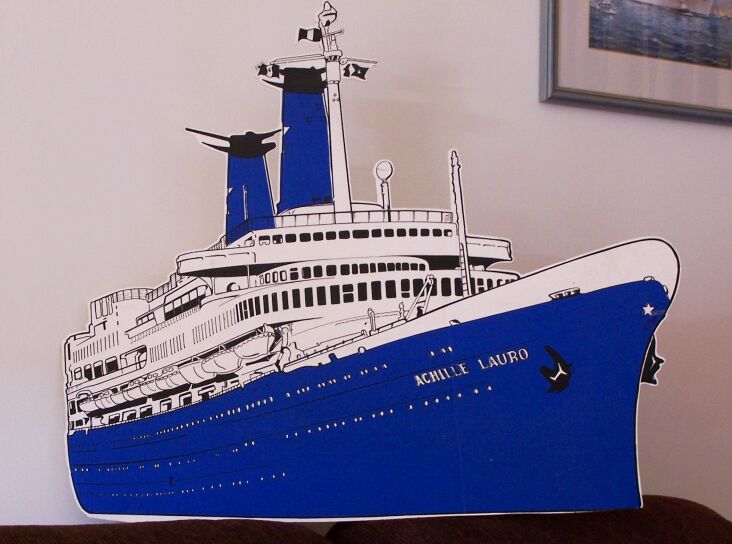 An agents publicity cardboard cut out of the Achille Lauro, I saved and retain in my small maritime museum
Undoubtedly, she was a magnificent sight, considering she was designed pre-WW2 and was ordered to be built in 1938, yet upon completion of her rebuild and refit she looked very much like a new and a modern liner. Her gross tonnage had been increased to 23,629 and her length from 631ft to 643ft, this 12ft longer than before. This was due to her shapely new raked bow! Her new passenger capacity was as follows; 270 First Class and 917 Tourist Class, although there were a good number of cabins which were interchangeable between the classes.
Maiden Voyage:
When completed Achille Lauro sailed for Rotterdam the Netherlands, being her original homeport, it had been decided to commence her duties there in honour of her proud Dutch heritage. From there she would commence her official maiden voyage as she departed Rotterdam on April 7, 1966 and sailed across the North Sea to Southampton arriving on April 8.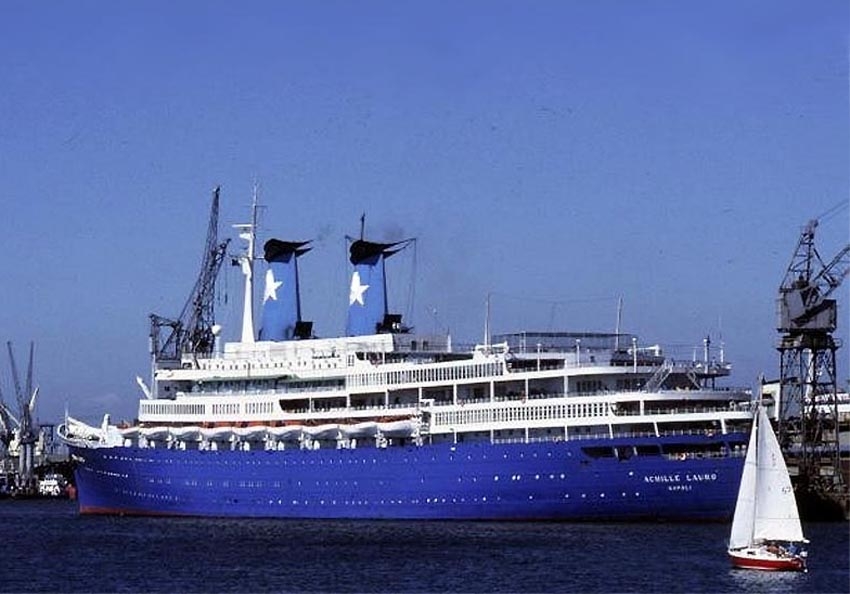 The all-new MS Achille Lauro seen in Southampton whilst on April 8, during her maiden voyage
Sent in by a supporter, but does not wish any credit, but thank you JCS
From Southampton she headed for Genoa, arriving on April 13, and continued via the Suez Canal to Fremantle (Perth) Western Australia where she arrived on May 4. She then sailed along, what can be the treacherous "Great Australian Bight or the "Southern Ocean" to Melbourne arriving on May 8 and she arrived in Sydney on May 10, 1966, where she was welcomed by a great crowd of people, as well as countless Dutch folk and Italians!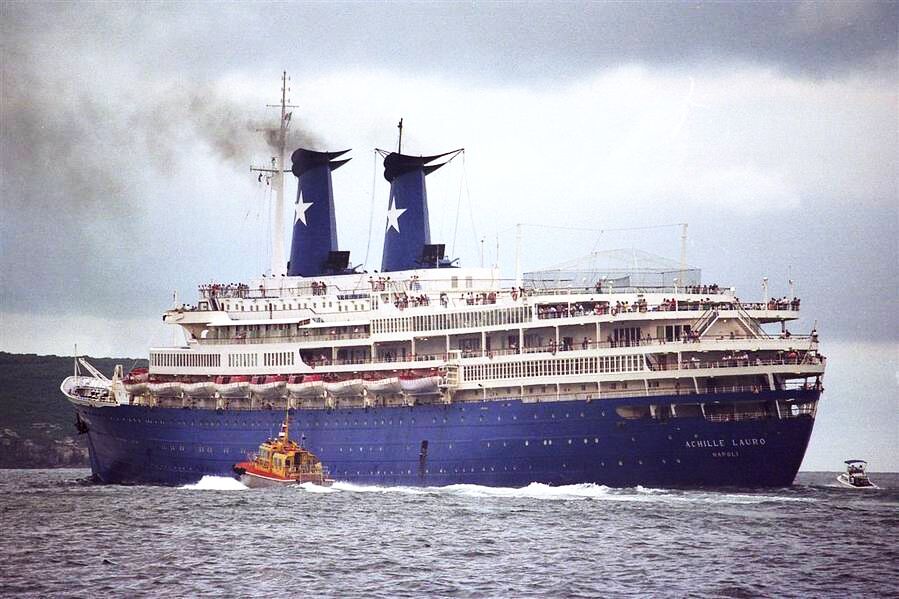 MS Achille Lauro is seen arriving in Sydney on May 10, 1966
Photograph by & ? Jeff Eastwood
From Sydney, she then made a return voyage to Wellington New Zealand, arriving on May 14, being her final destination of her maiden voyage to Australia and New Zealand. Returning to Sydney, she headed back to Rotterdam via the same ports, except making an additional port of call, to Singapore.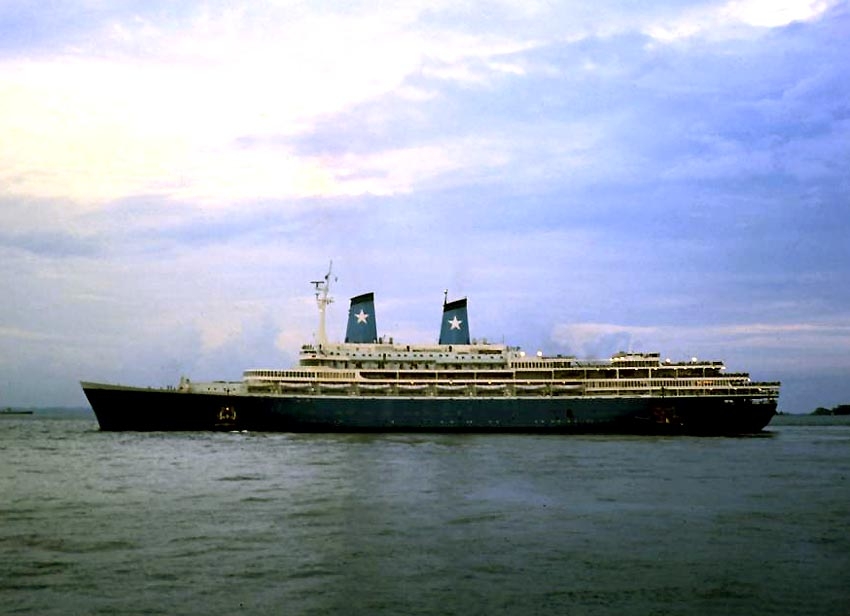 Achille Lauro seen departing Singapore on her way back to Europe
The Achille Lauro even played a special role in evacuating the families of British servicemen who were caught up in the unrest in Aden, Yemen and she made one of the very last northbound transits through the Suez Canal before it was closed during June 1967's Six Day War between Egypt and Israel. The Suez Canal was shut down by the Egyptian government and blocked on either side by mines and scuttled ships, but, thankfully it was reopened on June, 5, 1975.
Due to the closure of the Canal, both the Achille Lauro and her running mate the rebuilt Angelina Lauro, ex MS Oranje, continued on the Australia liner service into the 1970s, but like all other ships on the Australian service, she now had to sail via South Africa and many returned via the Panama Canal, thus operating a around the world service. She would make five return voyages to Australia and New Zealand each year.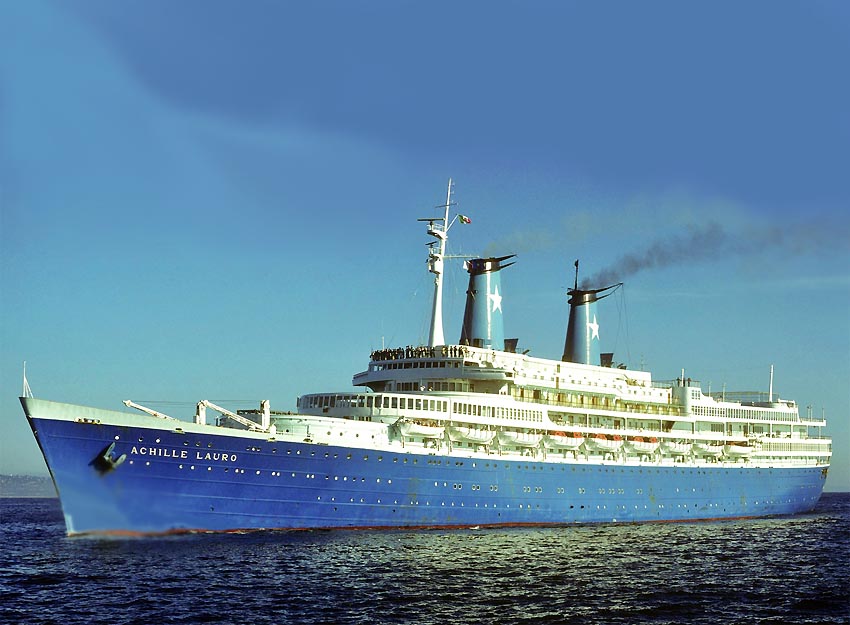 A streamlined Achille Lauro, was the ship that pioneered the first ever
low-slung aluminium lifeboats when built as the MS Willem Ruys in 1946
However, the Achille Lauro did operate a unique voyage for her return to Europe, for she departed Sydney on September 28, 1969, sailed via Wellington, Papeete, Tahiti and headed for South America including a call to Rio De Janeiro, before heading for Southampton and Rotterdam, etc. She undertook one further voyage via South Africa and returning via South America.
However, during her liner voyages, the MS Achille Lauro was also operating a few cruises out of Sydney, as well as Rotterdam, which were proving to be very popular!
Achille Lauro May 1972 to September 1985:
During the 1972 and 1985 a great deal of turmoil would happen to both the Achille Lauro and Flotta Lauro Lines, for we will see the end of the liner voyages to and from Australia and New Zealand, but not her final visit there, as she would return as a full time cruise ship later. There will be collisions, and bankruptcy, and so much more. Thus read on, it is fascinating!
In 1972 Flotta Lauro decided to give the Achille Lauro an overhaul and she headed for Genoa in May 1972. However, it seems that whenever she is in a shipyard, she appears to be a plagued ship, for whilst work was underway, her forward superstructure, right up to the bridge was swept by fire on May 19, and she suffered considerable damage, it took five months before she able return to her duties again.
By now Flotta Lauro had already decided that due to low passenger loadings, the Achille Lauro would be withdrawn from her Australian Passenger Liner service. Thus when her overhaul was completed, she again headed for Rotterdam and departed on October 13, 1972 and sailed via her usual ports of call to Sydney, from where she operated a summer season of short cruises, which proved to be very popular.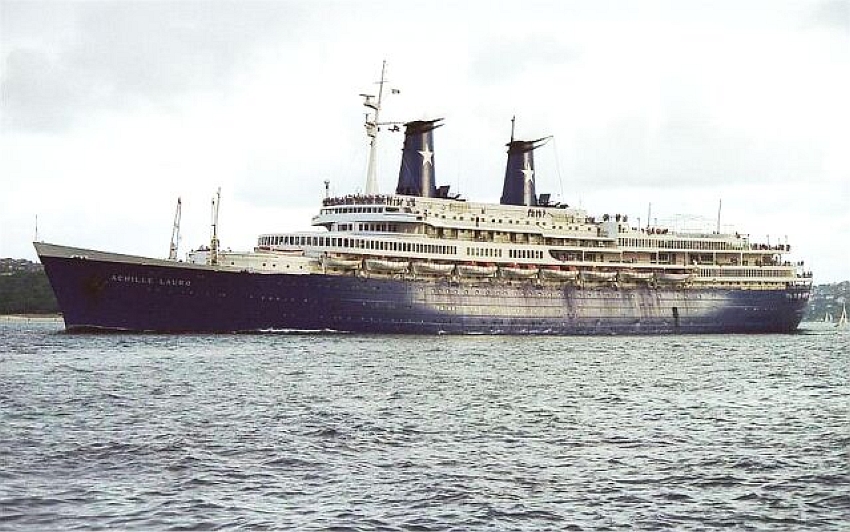 Achille Lauro operating cruises out of Sydney, she is seen here returning from a cruise
Having cruised from Australia and New Zealand waters for almost four months she departed Sydney in February 1973, for her voyage home to Genoa, sailing via the Suez, Rotterdam, and Southampton.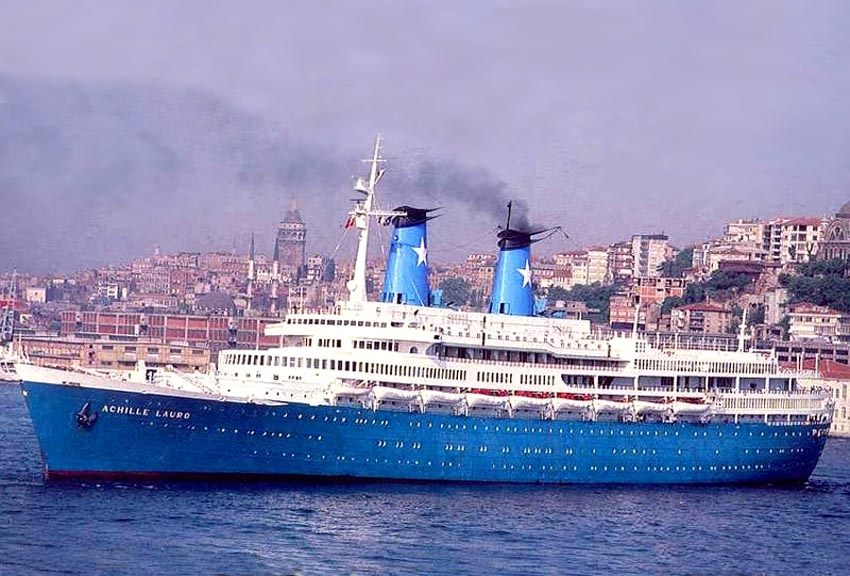 The Achille Lauro is seen in Genoa ready to depart for her very first cruise 14 night/15 day cruise of the Eastern Mediterranean
The Achille Lauro now became a full time cruise ship based in Genoa and she would operate 14 night Eastern Mediterranean cruises, always departing on a Saturday, with ports as follows; Genoa, Naples, Alexandra, Port Said, Beirut, Haifa, Istanbul, Piraeus, Capri, Genoa. 1975'76 fares commenced from £386 or September 2016 - A$679, for an inside twin bedded cabin to £642 or A$1,149, for a twin or queen sized bedded Suite with a verandah. Whilst at the end of the year she operates a special Christmas cruise, this time departing Genoa on a Tuesday December 21, 1975 visiting the same ports, which was badly planned, for it would have been better if the ship had been in Israel on, or close to Christmas day!, but it called into Haifa on the 28th.for the day. When she returned to Genoa she departed on another cruise, but then January 18, 1976 she commenced a 65 day Grand Voyage to the Far East with a fascinating list of ports of call!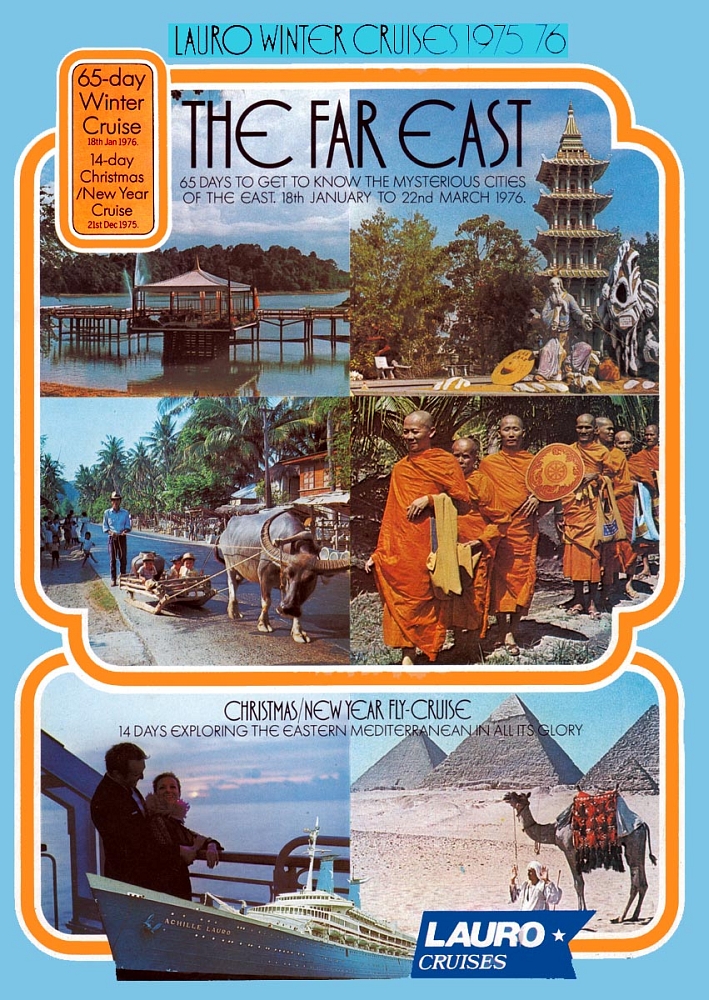 -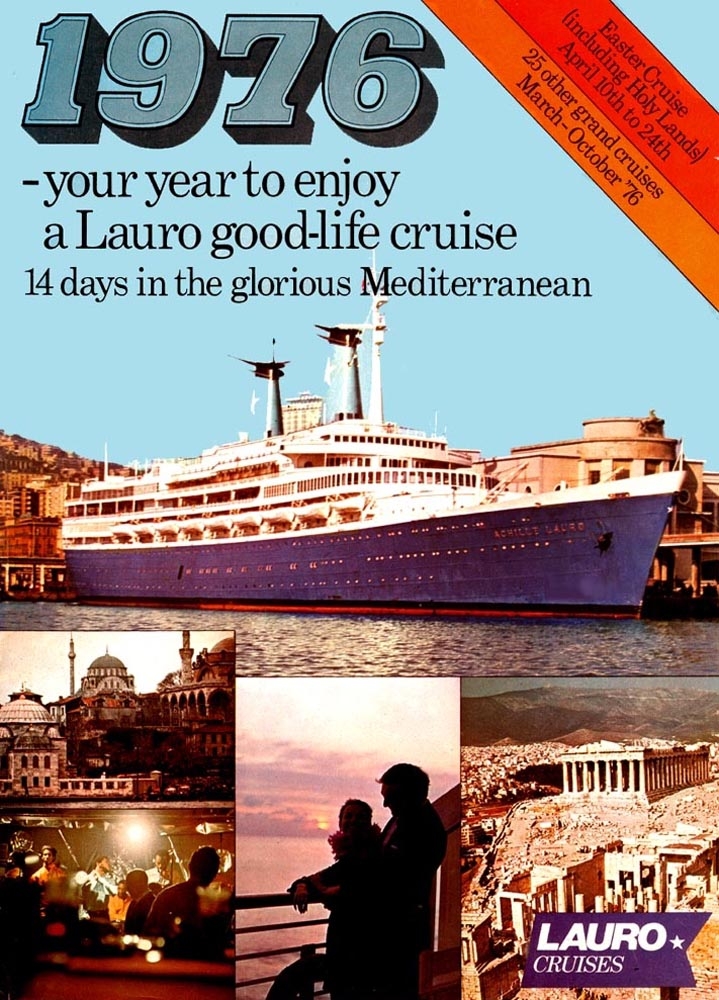 For her cruise duties her passenger numbers were extensively reduced, although her official ship plan for these cruises did still show her as being a Two Class ship, but I do believe that she operated as an 800-passenger One Class Cruise ship!
However, whilst the Achille Lauro was sailing through the Dardanelles she collided with a 497-ton Lebanese Cattle Carrier, the MS Youssef, which rapidly sank, her crew were rescued, but one of the Youssef's crewmembers died. The Achille Lauro sustained no damage of significance and therefore she was able to continue her cruise.
Charter Agreements:
The Achille Lauro being a modern looking ship both externally and internally, she was popular with the European traveller and German Tourist companies found that she was the ideal cruise ship for them and chartered her for several years. Thereafter it were the South African's who chartered her for five months from November 1979 to March 1980 and they repeated this charter for another two seasons.
However, when the Achille Lauro was on a cruise from South Africa in November 1981, a blaze broke out in the bar, but during an evacuation three passengers were killed although the fire was apparently rapidly extinguished. According to reports, a female passenger in utter fear jumped overboard and sadly drowned. And her husband upon hearing the news had a heart attack and passed away onboard, although no details is known regarding the third death. Once again she had to be taken out of service for a short time.
There was no doubt, but Achille Lauro's bad luck seemed to keep up with her, from the day she was taken over by Flotta Lauro Lines. Originally, when she was the MS Willem Ruys she had the nickname of being the "Lucky Ship" because she sat unscathed throughout WW2 in her dock partially built, despite all the bombing and the attempts to destroy her, yet the ship that should have been destroyed became a great Dutch Liner! But even whilst she was being rebuilt into the Achille Lauro she was wildly ablaze and her bad luck some how followed repeatedly and sadly this would continue to her very last day!!
Yet, I still love this amazingly beautiful ship, but sadly her trials were far from over as much more was yet to come!
Towards the end of 1981, Flotta Lauro Lines were encountering severe financial problems and already some of their cargo fleet had been impounded for non-payment of fees, etc.
When the Achille Lauro had been repaired from her fire damage, she returned to Genoa from South Africa, making a stop at Tenerife on January 23, 1982. However, upon berthing she was boarded by the authorities and immediately placed under arrest and this great ship remained detained in Tenerife for a full year. Finally on January 22, 1983 MS Achille Lauro was permitted to depart thanks to Italian Government intervention. She headed to her homeport Genoa, but upon arrival she was once again laid up on January 28, 1983.
It must have been all too much, for the company founder, Mr. Achille Lauro sadly died on November 15, 1983 a man who built a fine Shipping Company, having seen it during the days when his company was flourishing, but when these two new ships arrived into his beloved company and with the downturn of traffic in the 1960s & 70s and the ongoing disasters, his beloved company was now close to ruins!
However the Achille Lauro once again returned to her cruise duties in July 1984, making five of her regular 14-night Eastern Mediterranean cruises. However, at the end she was laid up again.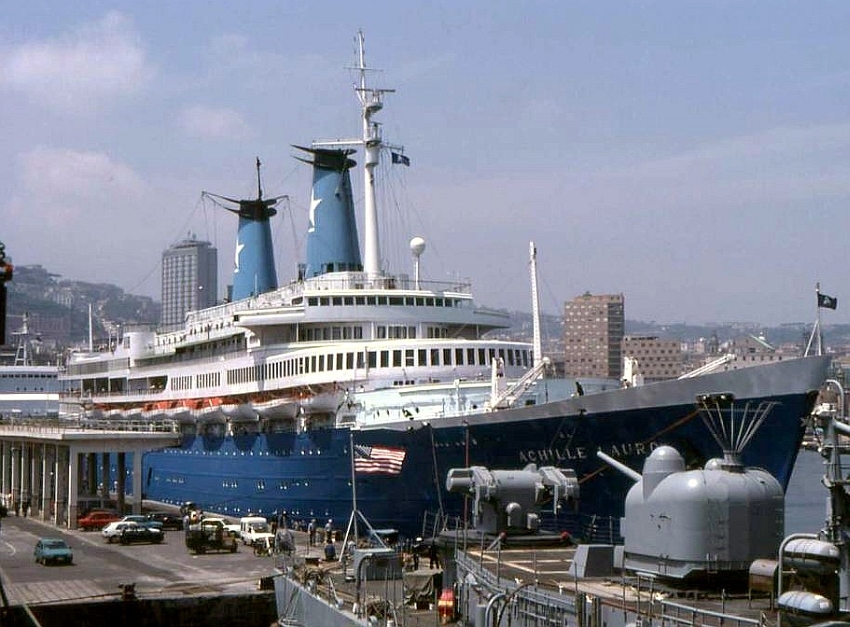 Achille Lauro seen in Naples during her short 1994 cruise season
The Greek Shipping giant, Chandris Lines came to the party in 1985, and came into an agreement with Flotta Lauro Lines making a charter agreement to operate the MS Achille Lauro from Genoa some 20 cruises each year for the next three years, commencing on March 5, 1985. Little did anyone know that it would be in 1985 that the name of the cruise ship Achille Lauro would sadly entered the history books and etched into people's memories forever that very same year!
She departed on her first cruise on March 5, 1985 and she being well marketed by Chandris, British, and American Companies, she was reasonably successful! Her cruises gained more and more popularity with the majority of passengers being from Britain, the USA, and South Africa and even as far as Australia and New Zealand.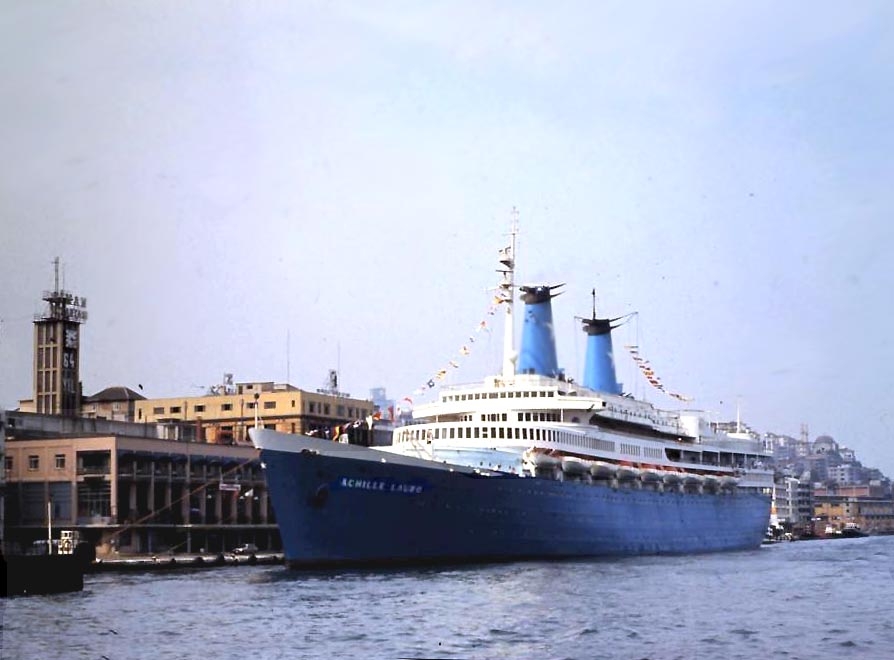 The Achille Lauro is seen during one of her cruises berthed in Istanbul
MS Achille Lauro the Infamous October Cruise in 1985:
As the first Chandris charter season was slowly coming towards an end of what had been an excellent first season, the Achille Lauro departed Genoa on October 3, 1985 for a 11-day cruise, visiting; Naples, Alexandria, Port Said, Ashdod, Limassol, Rhodes, Piraeus, Capri and then back to Genoa.
Onboard were 755 passengers and very quickly passengers onboard had settled into a happy routine of shipboard life. There were all the usual sports tournaments, of quoits, shuffleboard, and pool games, but enjoying reading a book in one of the ships many lounges, or having a lazy afternoon around the pool with a cool drink was another popular sport. In the evening there was fine dinning, followed by entertainment and dancing and of course not to forget the famed midnight buffets. Also at night polish dancers who would add a touch of class with Ballet performances. Thus there was much to keep passengers busy onboard as well as whilst visiting their first ports of call, being Naples and many undertook a tour to Pompeii.
Onboard the Achille Lauro was Leon (69 Years) and Marilyn (58 Years) Klinghoffer who had decided to celebrate their 36th wedding <![if !vml]>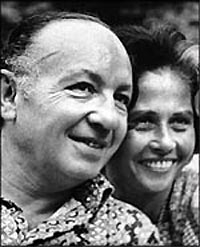 <![endif]>anniversary by taking a cruise aboard the Italian cruise ship. Mr. Klinghoffer was disabled and partially paralyzed man having had two strokes earlier and therefore he was in a wheelchair. His dear wife Marilyn also had a poor time with her health for some time, but at this time she was in remission from colon cancer. However, the couple decided to take a vacation, knowing from experience that a vacation would do them great deal of good.
Mr & Mrs Leon & Marilyn Klinghoffer.
The Achille Lauro arrived at Alexandria on October 7, and she dropped anchor, and tenders soon transported 666 passengers who left the ship in order to undertake an exciting full day excursion to Cairo, visiting the Pyramids and the Sphinx as well as shopping, but Marilyn and Leon remained aboard. Thus besides the Klinghoffer's there were just 87 other passengers still onboard, however, there were four others on the ship that had been noticed, but somehow been left to their own devices. Several passengers had noticed four Arabs (Palestinians) who had boarded the ship at Genoa as passengers, yet they kept completely to themselves and did not take part in any of the shipboard activities. One of the Achille Lauro hostesses later recalled asking the young men regarding their nationality and receiving the improbable and barely intelligible reply of "Norwegian." No one will ever understand why nothing was ever reported to the Captain and this was a major failure of the crew!
Once passengers had disembarked at Alexandria to head off for their tours, Captain Gerardo De Rosa ordered the anchor to be raised, and the Achille Lauro was heading for Port Said, at the northern approach to the Suez Canal, under a brilliant blue sky. It would be there, late that evening, she was scheduled to collect her tour passengers and then proceed to the Israeli port of Ashdod.
However, just four hours after the Achille Lauro had left Alexandria, the four Arabs, who turned out to be members of the murderous PLO Terrorist Group, armed with Soviet-made submachine guns, hand grenades, as well as explosives, and seized the ship. They were firing their weapons wildly; the terrorists used the ship's loudspeaker system to summon all passengers to the dining room. "We were getting ready for dessert," one of the American passengers, Viola Meskin of Union, New Jersey later recalled, "when suddenly we heard gunshots, and someone yelled, 'Get down on the floor!' We heard moaning and groaning. The bandits had struck men in the kitchen, we were told. Then they started to threaten us and show their power. They had hand grenades in their hands, and they would remove the pins and play with them. They constantly had their guns ready for shooting. We were all on the floor." Later on, the gunmen separated the Americans and British from the others and placed gasoline cans close to them.
On the bridge, one of the gunmen fired more shots and then ordered De Rosa to sail in a North Easterly direction toward the Syrian port of Tartus. A hijacker brandishing a submachine gun kept De Rosa under constant guard.
That night, as the ship was cruising about 30 miles north of Port Said, De Rosa made contact with Egyptian port authorities by radio and told them what had happened. The hijackers, who had identified themselves as members of the P.L.O., demanded the release of the 50 prisoners being held in Israel. Among these was Sami Kuntar a well-known terrorist who in 1979, with three others, had staged an attack on the northern Israeli town of Nahariya, killing three people. If their demands were not met, the hijackers of the Achille Lauro warned, they would blow up the ship.
At exactly what point these sadistic threats became reality is not known. But in a now familiar ritual of terrorism, the hijackers had decided to underscore their seriousness by taking a sacrifice. First they separated Mr. Leon Klinghoffer from his wife. "No," said one gunman to the wheelchair-bound passenger. "You stay. She goes." Marilyn Klinghoffer never saw her husband again. For the next 24 hours she and her friends were consumed by anxiety. When the hijacking was finally over, they looked all through the ship for him, though they expected the worst. Some passengers had noted that the trousers and shoes of one of the hijackers had been covered with blood. And besides as one recalled, "We had heard gunshots and a splash." Giovanni Migliuolo the Italian Ambassador to Egypt, later chillingly reconstructed the event: "The hijackers pushed (Klinghoffer) in his chair and dragged him to the side of the ship, where, in cold blood, they fired a shot to the forehead. Then they dumped the body into the sea, together with the wheelchair."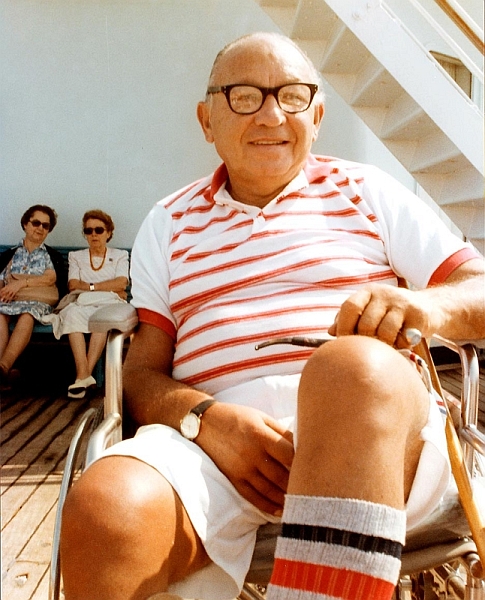 Mr. Leon Klinghoffer seen aboard the Achille Lauro prior to arrival at Alexandria
Mr. Leon Klinghoffer was the only passenger murdered aboard the Achille Lauro, and it is believed that he was singled out by these animals who had taken control of the ship because he was Jewish! Leon was brought back onboard the ship and he was sent home to be given a proper Jewish burial. Sadly Marilyn passed away just four months later on February 9, 1986 from a reoccurrence of cancer.
achillefire1; Leon and Marilyn are buried together at the "Beth David Memorial Park" Kenilworth, New Jersey, USA.
After various demands, the Egyptian authorities gave the hijackers permission to leave the ship without punishment. As they left the ship, they made a victorious lap around the harbour, soon after they departed by plane. However, the American authorities forced them down over Sicily. In the meantime, the Egyptian government retained the Achille Lauro, in retaliation. Eight days later, the Achille Lauro returned to her homeport. PS: One of the terrorists was captured by the Americans during the 2003 war in Iraq.
This terrible event had a massive impact on the cruise industry in the region, for it effectively destroyed Eastern Mediterranean cruises operated by so many cruise companies! American simply refused to cruise the region for a good number of years.
After the horrific Cruise in October on 1985 the Achille Lauro abandoned the rest of her last few cruises and remained in Genoa and she continued her regular cruise schedule in March 1986. Amazingly, just a month later on April 6, she ran aground off Alexandria, but she was refloated thankfully without any damage suffered seven hours later. But her troubled times just seemed to follow her and it seemed that a change was needed, and that would come with a takeover!
Reflagged under StarLauro & her Return to Australia & New Zealand Waters:
The Achille Lauro continued her services; although she was reflagged early in 1987 when the Flotta Lauro Line was taken over by "Mediterranean Shipping Company" who is better known these days as MSC Cruises, and the new company became known as "StarLauro."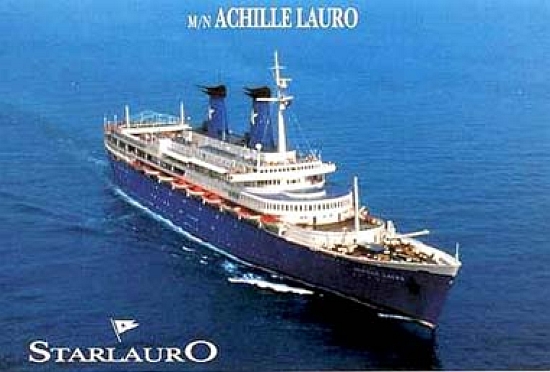 The first postcard released by StarLauro
With Achille Lauro having gained a new life she was sent to Australia. However, as she had been operating in South African waters during the latter months of 1986, she departed from there, with 600 passengers aboard of whom 382 were migrants to Australia and she arrived in Fremantle on January 14, 1987.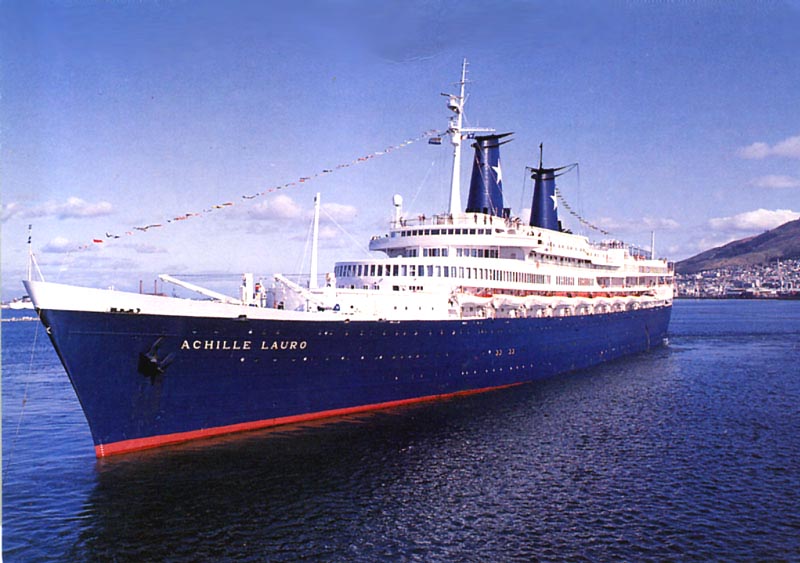 A superb postcard of the StarLauro cruise ship MS Achille Lauro in South African waters
Whilst in Fremantle (Perth) Western Australia she had been chartered by Motive Travel for a month to be used as an accommodation ship in Fremantle during the "America's Cup" races, which Australia won that year, being the very first time the USA actually lost! Whilst in Fremantle, she would make trips out, just to watch the day's races, whilst on other days, the Achille Lauro would make daylight voyages to nowhere. The news did get around that she was an amazing ship and the food and service was amazing, and all this ensured her future return to Australia. Even prior to her arrival to Fremantle, a brochure had been released for her return line voyage to the Britain and Genoa, sailing via South Africa, offering attractive fares.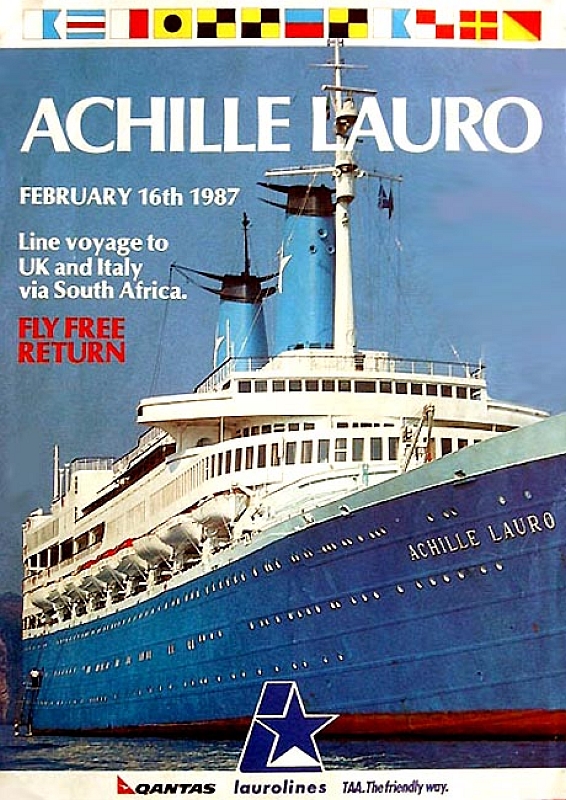 She departed Fremantle on February 16, 1987 sailing to South Africa onto Southampton and to Genoa where she resumed her regular summer Eastern Mediterranean cruise duties mid March until late October.
The good news was that Achille Lauro would head for Australia again, sailing via Fremantle and arriving in Melbourne on Friday January 26, 1990 and in Sydney, on Sunday January 28.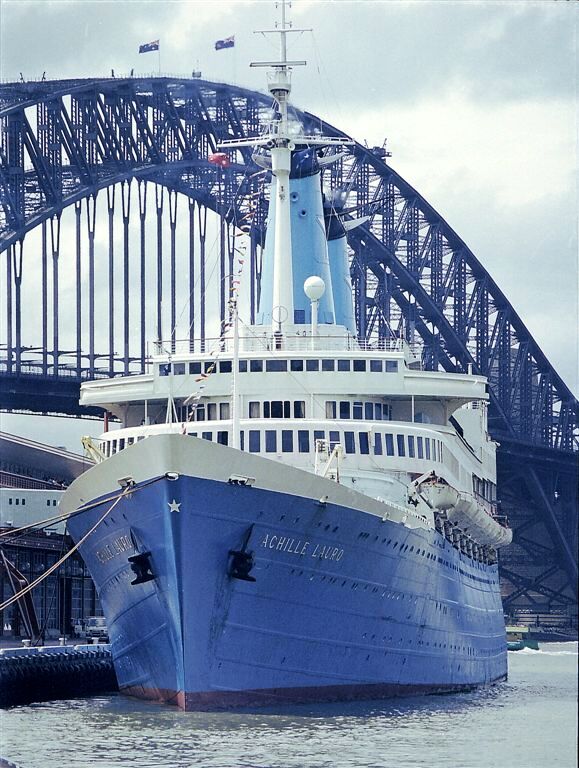 The beautiful MS Achille Lauro was finally back in Sydney after an 18-year absence!
She then made an 11 night South Pacific Cruise returning to Sydney on February 8, and that evening she departed for a line voyage to Southampton sailing via Melbourne (AU), Fremantle (AU), Port Louis (Mauritius), Durban (South Africa), Cape Town (SA), Jamestown (St Helena), Funchal (Madeira), Southampton (UK).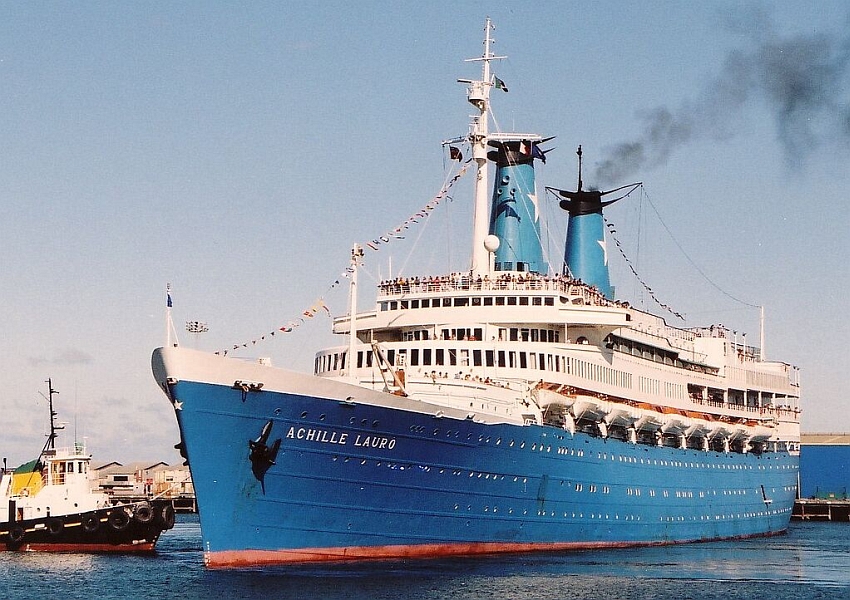 The Achille Lauro Returns to Australia and is seen departing Fremantle bound for Melbourne and Sydney in January 1991
The Achille Lauro returned in 1991 and having arrived in Sydney, she commenced operating 7 cruises of the Pacific as well as cruises around New Zealand and shorter specialty cruises. Cruises started from 3 to 19 nights and the season concluded on Friday April 26, 1991.
Accommodations: It is interesting to note that for her line voyages as well as her Australian cruises duties her accommodation changed from the European capacity of just a maximum of 800 passengers to a maximum capacity of 1,343 passengers, using all berths onboard.
StarLauro decided to make a special promotional video in 1991, which was at first released to travel agents and then was made available to whoever wished to show it. You can now view this close to 20-minute video on YouTube - To View Click HERE.
The Achille Lauro departed Sydney on April 26, 1991 for her 46-night line voyage to the United Kingdom sailing from Sydney via; Melbourne, Fremantle, Bali, Singapore, Port Louis, Durban, Cape Town, Jamestown, Georgetown (Ascension Island), Funchal, arriving in Southampton on Tuesday June 11, 1991. However StarLauro had already released its 1991/92 Achille Cruise brochure.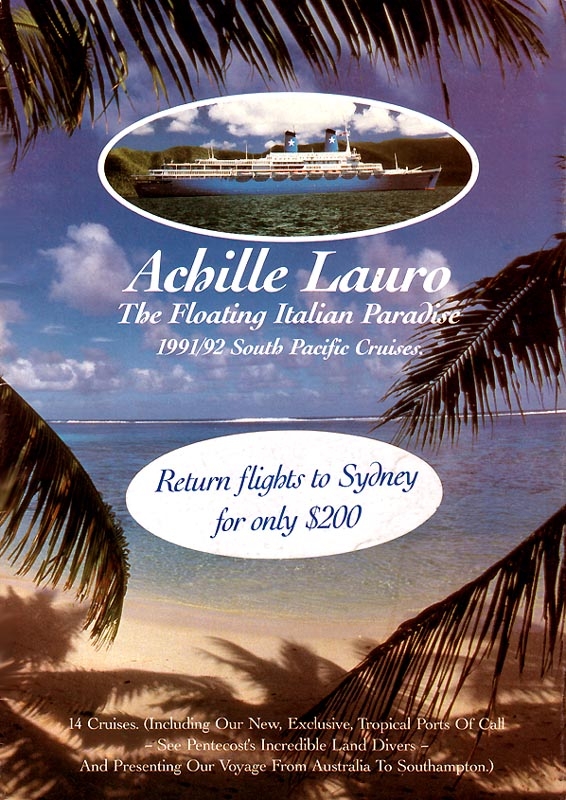 However, having operated a number of cruises out of the United Kingdom, she would depart Southampton again in November and head for Australia arriving in Sydney on Sunday December 15, 1991. This would be her most extensive season of cruises as she would operate 13 South Pacific and New Zealand cruises, including several shorter specialty cruises.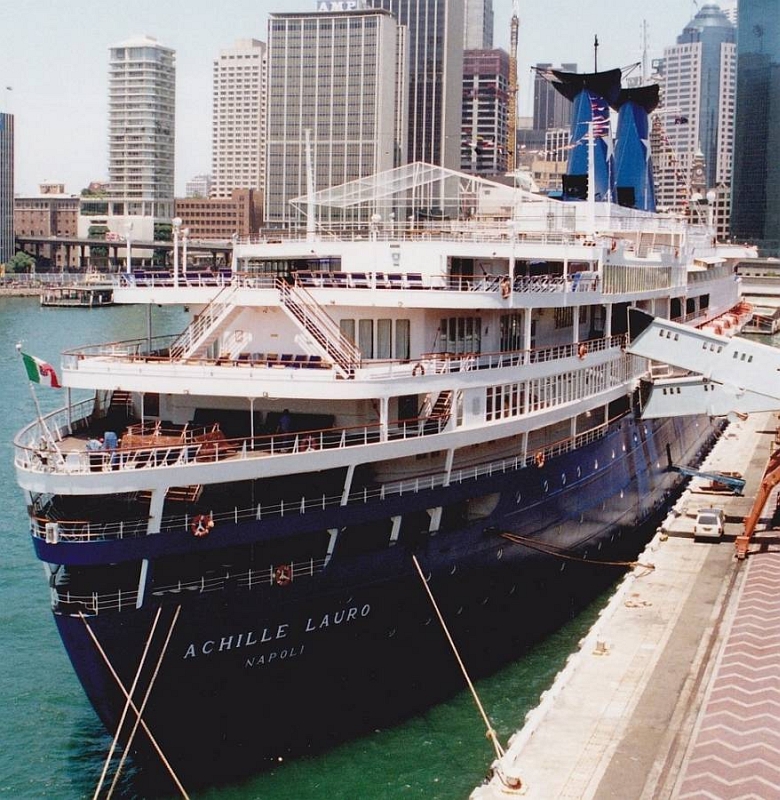 This wonderful stern photograph of the Achille Lauro was taken in Sydney on January 9, 1992 by & ? Peter Dixon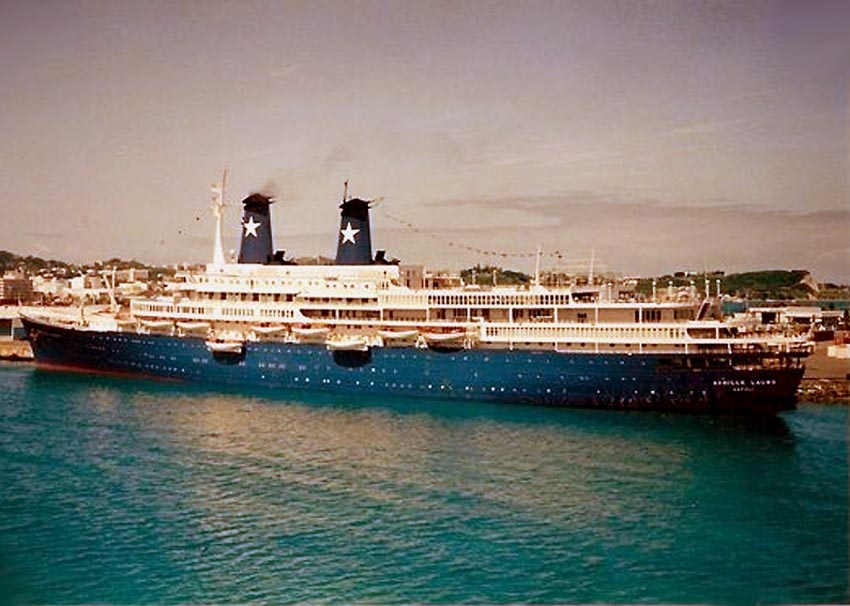 Here we see Achille Lauro at Noumea, New Caledonia on April 29, 1992
Note there is a crew lifeboat drill going on whilst the ship is in port
At the completion of Cruise number 24, on which the Achille Lauro departed Sydney on Sunday April 26, and visited Noumea April 29, Lifou (New Caledonia), Pentecost Island (Vanuatu), Abrym Volcanoes (Vanuatu), Port Vila (Vanuatu), sail through the Havannah-Boulari Passages (New Caledonia) and arrived back to Sydney on Wednesday May 6, at 6.30 AM.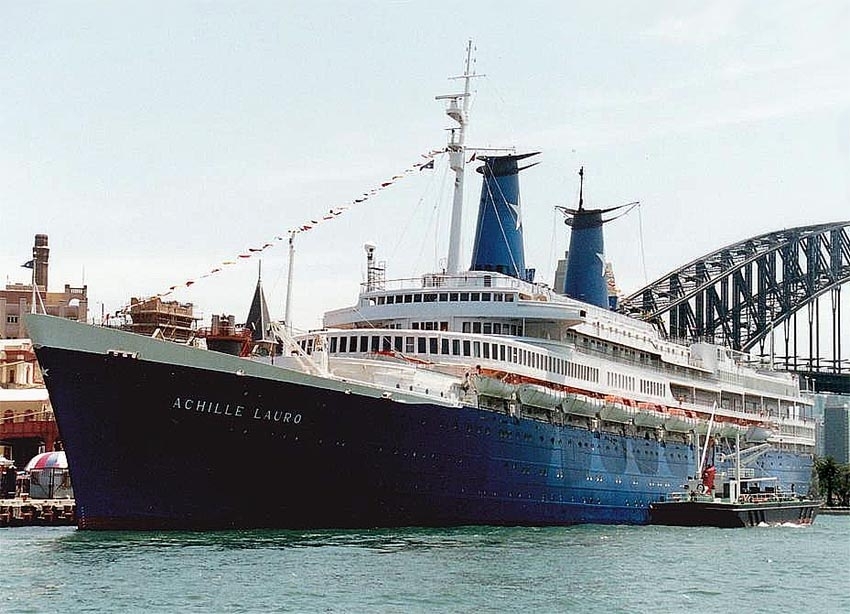 MS Achille Lauro has just concluded her 1991, 1992 cruise season and is about to depart
Sydney for the very last time and return to Southampton from Sydney on May 6, 1992
Photo sent provided by a supporter, but photographer is unknown - Please see photo notes at the bottom of the page
MS Achille Lauro final departure from Sydney was at 4 PM on Wednesday May 6, 1992 packed with passengers heading off for an adventure and many well wishers ashore, she slowly backed away from the "International Passenger Terminal" at Circular Quay and soon, with the aid of tugs her bow slowly turned towards Sydney Heads and she set sail with the blue ship looking a magnificent sight with the sun setting on her as she sailed through Sydney Heads and then she turned South and headed for Melbourne May 8, Fremantle May 13, Port Louis May 21, Durban, May 25, Cape Town May 28, Jamestown June 1, Funchal June 9, arriving in Southampton on June 13 being the conclusion of her final voyage from Down Under!
Her story continues, but sadly not for much longer: At Achille Lauro Page Four!
****************************
In closing: Remembering the Great Dutch Liner ~ MS Willem Ruys.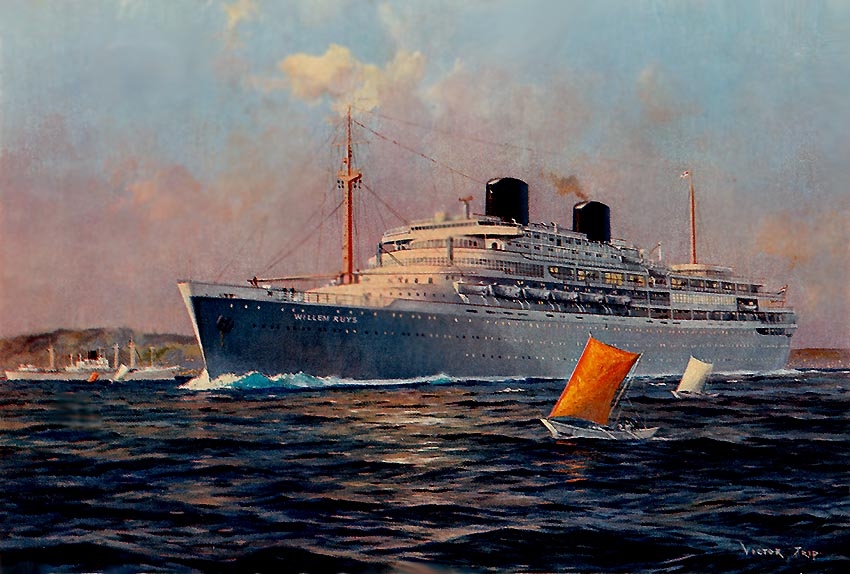 ?Royal Rotterdam Lloyd postcard originally painted by Victor Trip
****************************
MS Willem Ruys / MS Achille Lauro - INDEX:
MS Willem Ruys: ? Part One.
Photo Page One: ???? First Class.
Photo Page Two:????? Tourist Class.
Page Three:???????????? Brochures.
Achille Lauro:??????? Part Two.
Page Two:?????????????? Deck Plans.
Page Three:???????????? Brochures.
Page Four:????????????? Looking Back & to her End (November 30, 1994) Online Soon.
****************************
Also Read:???????????? MS Oranje / Angelina Lauro - Netherland Line.
.???? "????????????????????? MS Johan van Oldenbarnevelt - Netherland Line.
. ????"????????????????????? MS Sibajak - Royal Rotterdam Lloyd.
"Blue Water Liners sailing to the distant shores.
I watched them come, I watched them go and I watched them die."
****************************
ENTER OUR … ssMaritime Main INDEX
Where you will discover well over 700 Classic Passenger & Passenger-Cargo Liners!
ssMaritime.com

& ssMaritime.net
Where the ships of the past make history & the story of the 1914 built MV Doulos
If requesting Passenger or Crew Lists or Sailing Schedules, I am sorry your email will be Deleted!
I receive hundreds of requests and I simply do not have any lists or schedules available.
Please Note: ssmaritime and associated sites are 100% non-commercial and the author does not seek funding or favours and never have and never will.
Photographs on ssmaritime and associate pages are either by the author or from the author's private collection. In addition there are some images and photographs that have been provided by Shipping Companies or private photographers or collectors. Credit is given to all contributors, however, there are some photographs provided to me without details regarding the photographer or owner concerned. Therefore, I hereby invite if owners of these images would be so kind to make them-selves known to me; my email address can be only be found at www.ssmaritime.com in order that due credit may be given.
ssMaritime is owned & ? Copyright by Reuben Goossens - All Rights Reserved