Great Maritime Artists
Please Note: Firefox and some other search engines are not suitable – Use "Internet Explorer" for this page to load perfectly!

Click the logo above to reach the ssMaritime FrontPage for News Updates & "Ship of the Month"
With Reuben Goossens
Maritime Historian, Cruise'n'Ship Reviewer, Author & Maritime Lecturer
Please Note: All ssMaritime and other related maritime/cruise sites are 100% non-commercial and privately owned. Be assured that I am NOT associated with any shipping or cruise companies or any travel/cruise agencies or any other organisations! Although the author has been in the passenger shipping industry since 1960, although is now retired but having completed around 680 Classic Liners and Cargo-Passengers Ships features I trust these will continue to provide classic ship enthusiasts the information the are seeking, but above all a great deal of pleasure! Reuben Goossens.
Maritime Art
I am proud to support Maritime Artists from around the world, including four artists from The Netherlands, Australia, New Zealand and the United States. Paintings have a wonderful texture as well as a life of their own. Obviously, these fine canvases are painted by men who have a genuine love of Ocean-going passenger liners, cargo ships or tramp steamers! In the near future, I hope to add further artists to this page thus I suggest that you return often and see what's new on the ssMaritime Art Page! Over the years I have collected many painting's and they all hang proudly hang on the walls of my home, for I believe it is good to support these wonderful artists!
Remember, if you have a favourite ship you can contact any of these artists, obviously except for the late Mr. Veldhuis, and commission them to paint the ship of your choice!
Reuben Goossens - Retired.
********************
Works by Dutch Artist Hans Breeman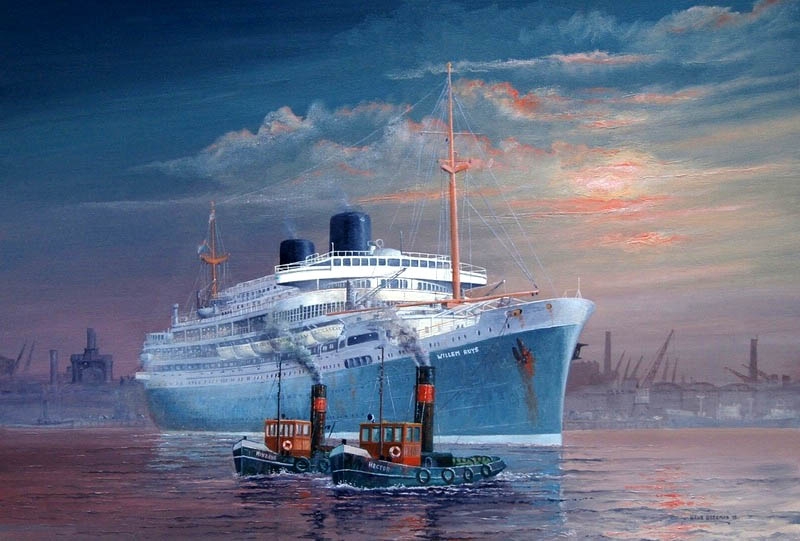 Royal Rotterdam Lloys Liner MS Willem Ruys , that was sold to become the Achille Lauro
Painted by the excellent Dutch Artist Hans Breeman - ENTER his website
********************
Maritime Art by Dutch Artist Willem Johan Hoendervanger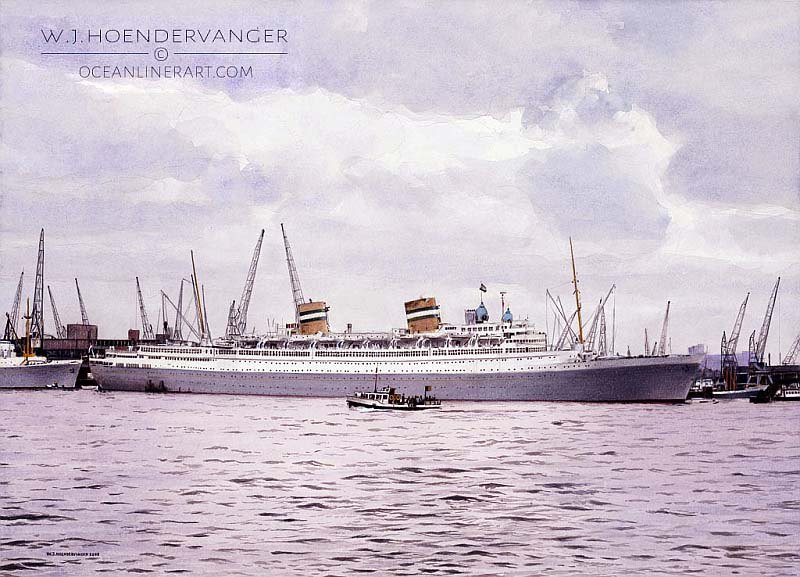 Here we see a painting of what was considered the most beautiful ship ever built the SS Nieuw Amsterdam
Willem has painted many passenger liners - you can view these on Willem's site
As a young artist, Willem Johan Hoendervanger graduated from the Academy of Art at Breda in the Netherlands in 2005. He said that "These years at college were very instructive and educational." After his graduation he decided to fully commit himself to the field of maritime art. Apart from other work interests, he paints regularly for (former) seamen, maritime companies or anyone who has a love of ships and the sea. Having that special quality and nautical touch, I decided to add him to the ssMaritime Art pages.
Is there a ship you really love? Why not commission Willem to paint it for you.
ENTER Willem's website
********************
Markant Gallery – Dutch Aritst Frans Romeijnsen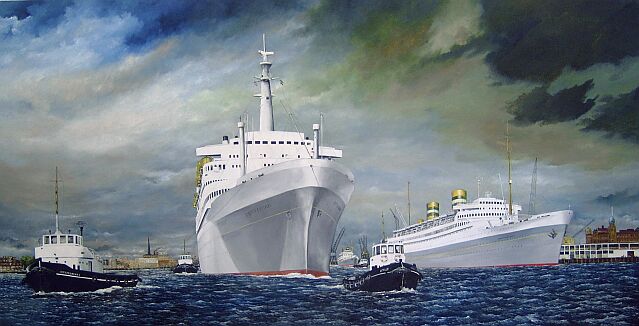 A painting of the Holland Amerika Lijn SS Rotterdam & SS Nieuw Amsterdam
Frans Daniel Romeijnsen was born in Terneuzen, The Netherlands in 1944, and his father was also an artist. As a child he started to become interested in drawing. Then, his father decided that Frans was obviously more than interested in art, thus he took him under his wing and began teaching him various techniques, pastel, pencil and aquarelle. Later in life, after military service Frans dedicated himself to painting with oils. Ever since, he has been painting portraits, landscapes, still life, but mostly sea and harbour scenes. Frans is a member of the association of the Holland America Line and his paintings of the great Dutch liners can be found on the websites of the Royal Rotterdam Lloyd Museum and the Royal Dutch Steamship Association. In addition to painting Frans teaches up to 40 students in his Gallery.
Please Note: As the site is in Dutch and could be difficult to navigate for some, I have placed an Index of pages below with ships from a variety of companies for you to visit and view. Enjoy the great work of a great artist!
ships - 1 – Various
ships - 2 - Holland West Africa Line (HWA)
ships - 3 - Holland America Line (HAL)
ships - 4 - Royal Interocean Lines (KJCPM)
ships - 5 - Royal Interocean Lines (KPM)
ships - 6 - Royal Netherlands Steamship Co (KNSM)
ships - 7 - Royal Rotterdam Lloyd (KRL)
ships - 8 - Nederland Line (NSM)
ships - 9 - (NIGOCO)
Markant Gallery Frans Romeijnsen
Kruiseind 16D. 5421 ND Gemert The Netherlands
Phone: 06-54611307
Enter Frans' website: www.galeriemarkant.nl
********************
Australia's top Maritime Artist - Don Braben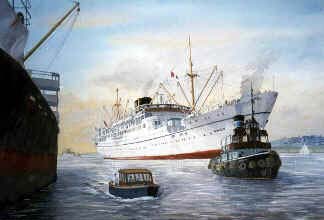 A fine painting of the Bulolo arriving in Brisbane, by Don Braben
Australian Don Braben is a long established artist and has painted many ships either for the love of it or on commission. He is highly regarded by Art Galleries here and has regular showings with great success! Don also paints by commission:
ENTER Don's website
********************
New Zealand Maritime Artist - Wallace Trickett
P&O's magnificent liner - SS Himalaya painted by Wallace Trickett
Wallace Trickett has this superb talent and loves to paint all kinds of vintage transport, but he excels in painting ships be it the great liners or the lesser known ones as well as a variety freighters. I highly recommend that you check out his work as they are simply superb. At rhe bottom of the page use the links to view the various paintings. Although most have been sold, you can commission your most loved ship and these are at reasonable rates and can be shipped worldwide. As you ciew the website you will note that he has a special love for Blue Funnel ships and he has painted dozens of them. Enjoy his work!
Reuben Goossens.
Enter Wallace's website HERE
********************
ssMaritime in association with Mr Harm Brink of the Netherlands is honoured to present one of the most magnificent collections of Maritime Art ever presented! "The Veldhuis Maritime Collection!" This wonderful features a multitude of excellent works of art covering great Dutch, British, French and other Passenger Liners as well as other fine ships of the past. I am sure that every ship lover will be delighted viewing these three pages! Enter the collection and enjoy!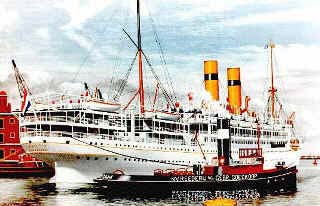 SS Gelria by the late Mr. Sjouke Jan Veldhuis 1918/1997
ENTER the Veldhuis Collection HERE

Presented by The Dutch Cruise Site
A site by Harm Brink - in Dutch and English
********************
Paintings by the Famed US Aritist - Chris Butler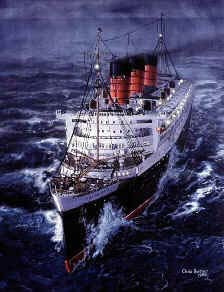 The Queen Mary

"Into the Sea"

by Chris Butler
********************
"Blue Water Liners sailing to the distant shores.
I watched them come, I watched them go and I watched them die."
****************************
Visit our ssMaritime Main INDEX
Where you will discover around 680 Classic Passenger & Passenger-Cargo Liners!
ssMaritime.com & ssMaritime.net
Where the ships of the past make history & the 1914 built MV Doulos Story
Please Note: ssmaritime and associated sites are 100% non-commercial and the author does not seek funding or favours and never have and never will.
Photographs on ssmaritime and associate pages are either by the author or from the author's private collection. In addition there are some images and photographs that have been provided by Shipping Companies or private photographers or collectors. Credit is given to all contributors, however, there are some photographs provided to me without details regarding the photographer or owner concerned. Therefore, I hereby invite if owners of these images would be so kind to make them-selves known to me (my email address can be found at the bottom of the page on www.ssmaritime.com), in order that due credit may be given.
ssMaritime is owned & © Copyright by Reuben Goossens - All Rights Reserved