MS Tahitien of 1953 becomes the MS Atalante in 1972 until 20014
Please Note: Firefox, iPhones, iPads & some other Search Engines may not be suitable
Use Internet Explorer & Google for this Web Page to load perfectly!
Click the logo above to reach the ssMaritime FrontPage for Ships of the Month & News Updates
With Reuben Goossens
Maritime Historian, Cruise'n'Ship Reviewer, Author & Lecturer
Please Note: All ssmaritime as well as my other related maritime & cruise sites are 100% non-commercial and privately owned sites. Be assured that I am NOT associated with any shipping or cruise companies or agencies or any other organisations! The author has been in the passenger shipping industry since May 1960, but although retired and unwell, I occasionally attempt to write an article now and then, in order to bring enjoyment and pleasure to ship enthusiasts past passengers and crew.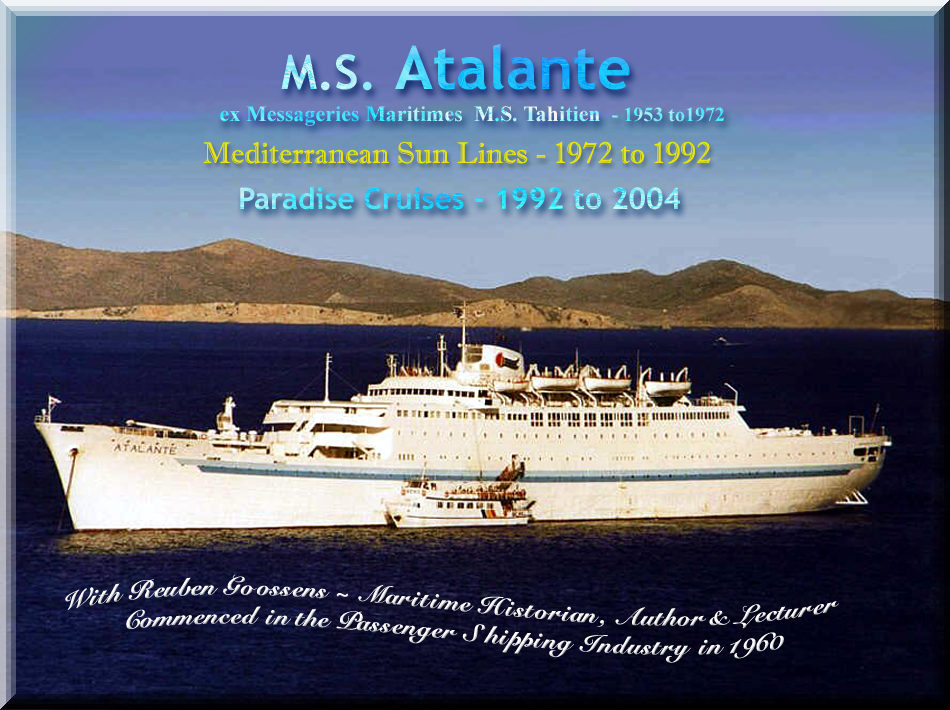 A short background of the MS Tahitien:
The famed French shipping Company "Messageries Maritimes" constructed two delightful and identical Passenger-Cargo liners, the MS Cal?donien and the Tahitien, which were completed in 1952 and 1953 respectively.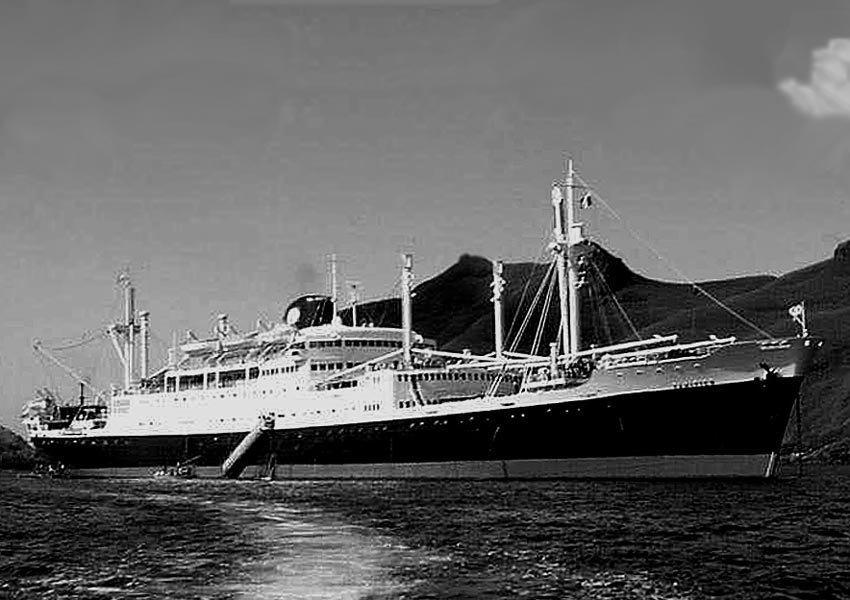 MS Tahitien seen in Tahiti around 1970
Photograph is by and ? Captain Charles-Protat; used with grateful thanks
These amazing ships were designed for comfort as they would operate regular voyages, sailing via the Atlantic, the Panama Canal the Pacific to Sydney Australia and return, and these were close to three month voyages. They remained on this service for twenty long years, and amazingly the Cal?donien and the Tahitien became the very last of the genuine working passenger-cargo liners operating this kind of long ocean voyages, until they were eventually taken over by the Jet age and we know well that by the mid 1960's most similar ships as well as many of the great passenger liners were being sold off at that time. Thus it is well-known that these two beautifully constructed ships lasted longer on these long haul services than any of the other passenger-cargo liners of their kind.
What Happened to the Cal?donien

?:
The Cal?donien was sold to a Greek Car carrier company in March 1972, and she was converted with doors in her hull and garages installed in her holds, and she was renamed "Nissos Kypros" and upon completion June 1972, she was placed on the Piraeus and Cypress service. However, a month later her owner decided to Anglicize her name and she was renamed "Island of Cyprus." But sadly she did not last very long with the company, for just two months after her name change her owners went bankrupt and he ship was arrested and laid up late September 1972. She remained laid up until 1975 when she was finally sold by the bank to a Taiwanese ship breaker, but she remained laid up until 1977, when she was finally towed to Taiwan where she was broken up.
MS Tahitien Cruised on for another 32 Years:
Without a doubt the Tahitien was by far the more fortunate ship of the two, for she was also sold to a Greek Shipping Company in 1972, but one that was a strong and a financially sound company by the name of "Aphrodite Cruises", which later became the "Mediterranean Sun Lines". She was renamed the "Atalante" and she was extensively refitted in Greece, which saw her cargo holds being filled with cabin accommodation and a car deck being added. Thankfully a great deal of her beautiful original French architecture and d?cor remained unchanged, giving her an elegant look, although her furnishings were all updated, especially all the cabin's. In addition her aft mainmast was removed as were all her kingposts and derricks, as the cargo holds were no longer in use. This provided the Atalante with a great deal of additional usable deck space, and on her aft deck she now had new larger swimming pool, thus the ship now had two swimming pools.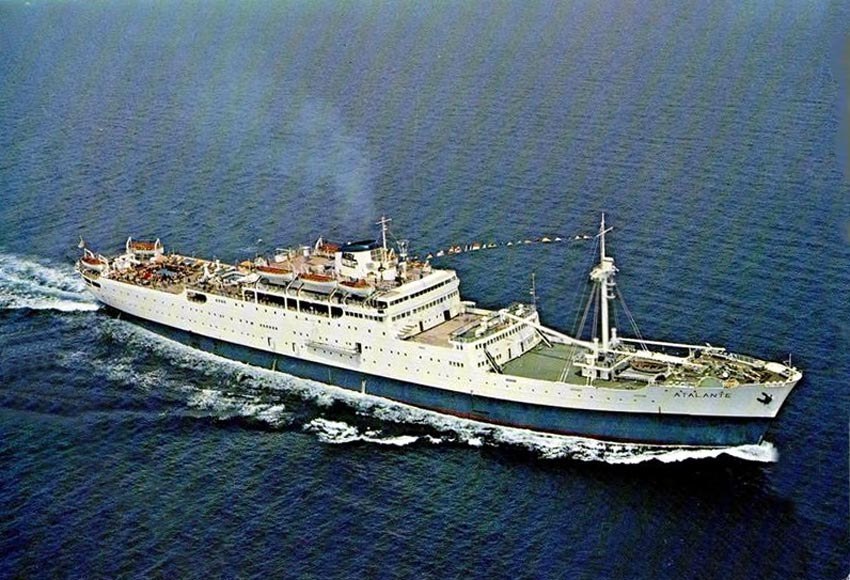 An excellent aerial postcard of the MV Atalante, note the many masts having been removedm except the forward one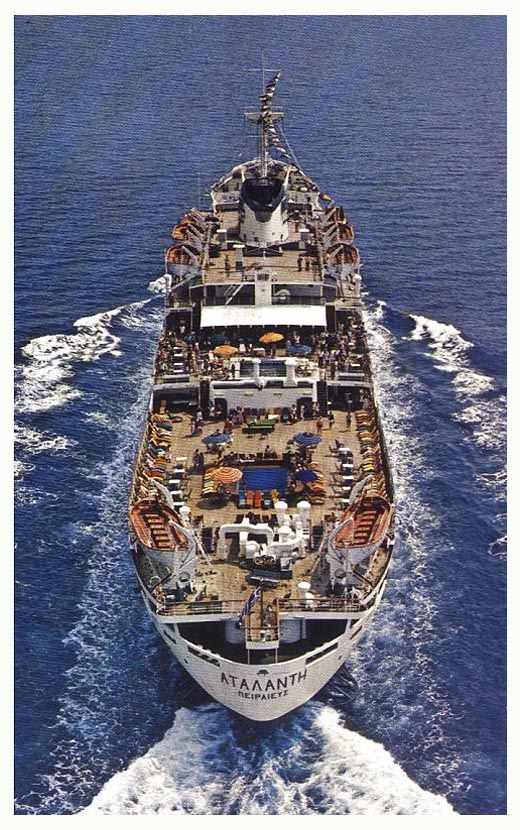 A stern view of the MS Atalante
Her new role was to be a "low fare" Mediterranean cruise ship, for which she became relatively popular for the next nineteen years.
However, she was further refitted a number of times including in 1978, allowing her facilities and accommodations to be constantly improved.
After the famed "Epirotiki Lines" MS Oceanos (also an ex "Messageries Maritimes" ship) had tragically sunk in 1991, the Atalante was chartered by Epirotiki in mid 1991, for the period of twelve months, and she would operate for them as the "Homericus."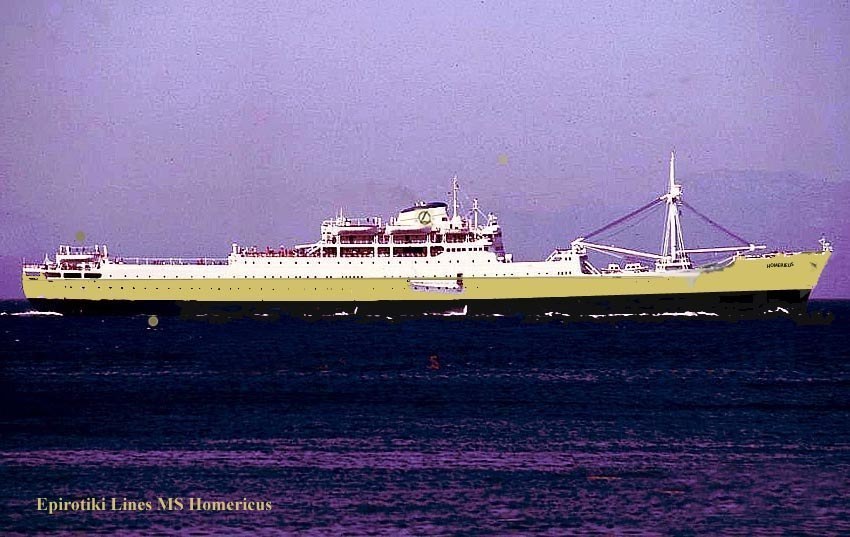 MV Atalante is seen during her Epirotiki days as the MS Homericus
This is a colourised image to show her as the Homericus
A year later she was returned and her name was reverted to Atalante in 1992, however "Mediterranean Sun Lines" decided to lay her up rather than return her to service, and they immediately placed her on the market.
A New Life for the MV Atalante:
Later in 1992, the Atalante was purchased by the Cypriot owned "Paradise Cruises" who sent her to a Greek shipyard at Perama (a port City and Suburb of Piraeus & Athens), where she was given a comprehensive rebuilding and a complete internal refit. This construction saw the Atalante's superstructure completely change as it was stretched forward and aft, this allowed additional accommodations to be installed and all original cabins were completely updated and modernised, But sadly some of her original French fixtures and panelling were lost during the refit, in addition a stunning new Show Lounge was installed. All existing cabins and suites were completely modernised and updated with new fittings, as well as all the hallways and soft furnishings, etc. At the conclusion of the refit, the MS Atalante was very much a brand new ship!
The only sad thing for those who the fine traditional fittings of the Tahitien, it was sad that most of it vanished, thankfully there were several exceptions.? The portside located "The Pub" remained mostly unchanged, except for some soft furnishing changes, but the beautiful timber work remained intact! Whilst on the opposite side (starboard) where the writing once was and it now being an intimate Casino the original timberwork still adorned the walls.
Also on original First Class Main Stairwell the large painting that has been a main feature there since 1953, thankfully survived, even though the magnificent beautiful timber work was sadly been painted over in white. Photographs of "The Pub" and the "Casino" and the rest of the ship are located in the ships Photo Album at the conclusion of her history.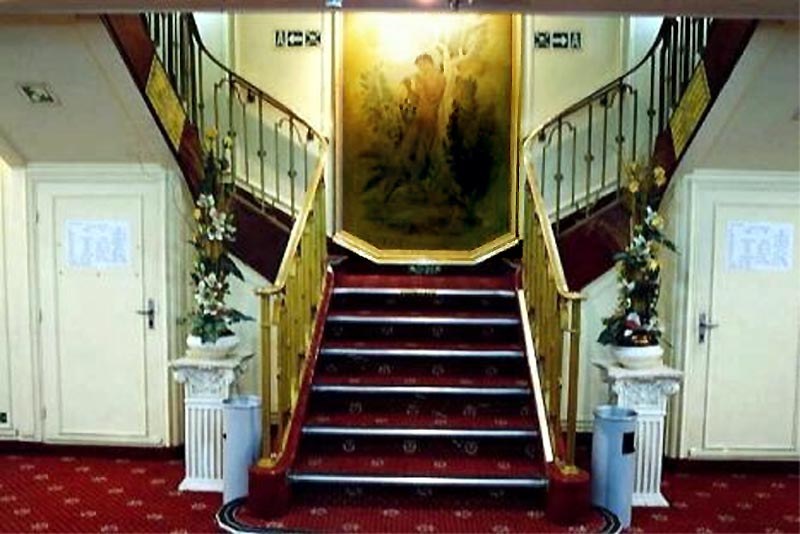 And here is the stairwell with the famed original painting from the MS Tahitien days!
But this amazing costly and massive rebuild of the Atalante ensured that this fine old ship would sail on for many successful years of cruising into the future.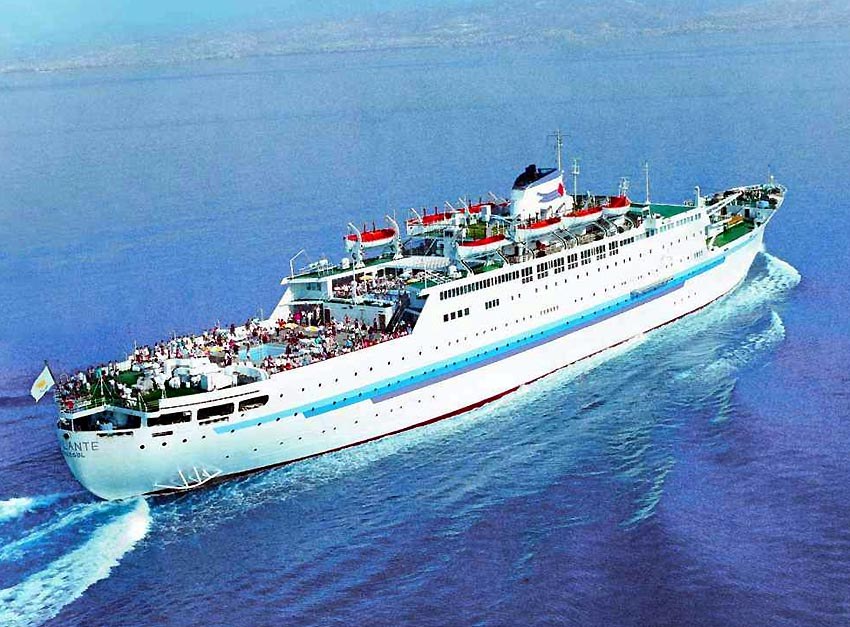 An official Paradise Cruises postcard of their new MS Atalante
Upon completion in 1993, she certainly looked more like a cruise ship and she was returned to service as a full time cruise ship, and her operation was extremely successful and continued very well financially until her very last days.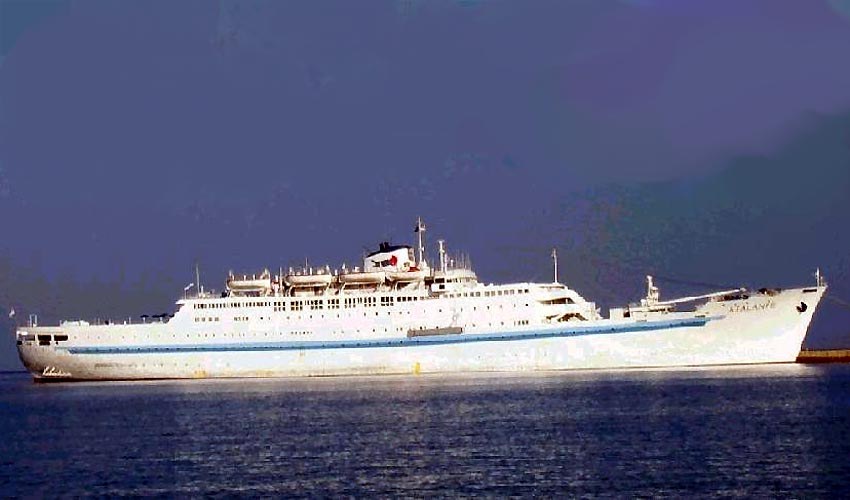 Here we see the MS Atalante as she heads off on another cruise
The Atalante remained a popular and a successful ship which was mostly thanks to her Cypriot owners who continued a special lifestyle on board as well as operating her on a low fare basis. All other ships cruising the Mediterranean were obviously superior and better equipped, and far more luxurious, but none had what the Atalante had, she was a ship that, was; 1 a genuine ship that a history, and 2 as passengers so often said, "The Atalante had Heart and Soul".
However something strange occurred in mid 2004, for scrap metal prices had suddenly skyrocketed, and with Paradise Cruises being well aware that the Atalante was aging, yet being in perfect condition, she was perfect to be sold at that time, as the price was just too good to miss out. Thus the company decided with some sadness to sell the Atalante to an Indian ship breaker and she remained laid up in Limassol for several months awaiting her departure for India.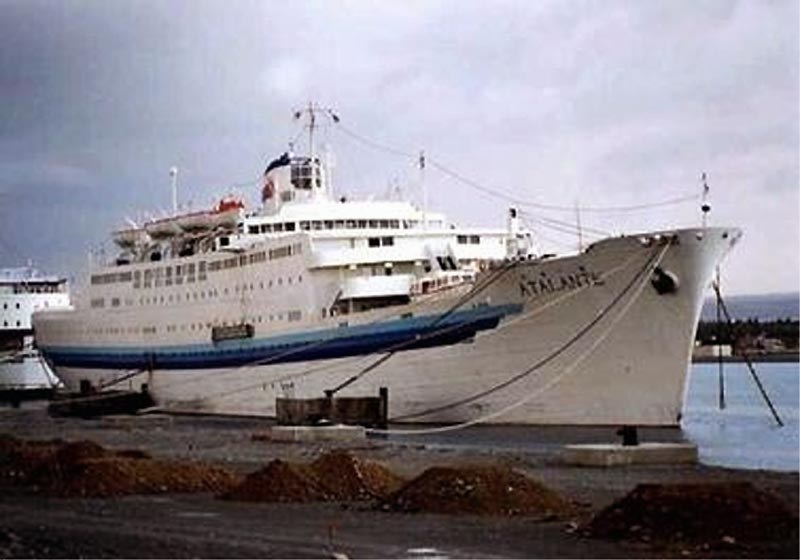 Now a lonely looking ship the Atalante is seen at Limassol late in 2004, awaiting her voyage to the Alang breakers yard in India
The Atalante finally departed for Alang in 2005, and she did so under her own power, as I said before, the ship was in perfect condition, and when she finally arrived at Alang, she was dragged up on that horrid filthy polluted beach and this magnificent ship, the MS Tahitien and Atalante was eventually broken up by around July/August 2005.
Please Note: Specifications for the Paradise Cruises MS Atalante is located at the bottom of this Page
********************************
? MS Atalante Photo Album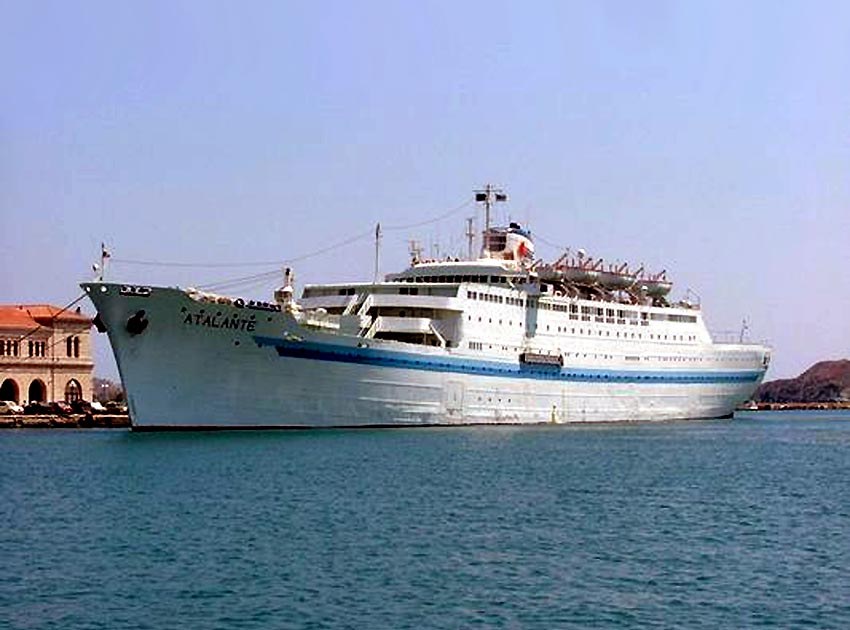 The MS Atalante is seen berthed at Naples
MS Atalante facilities include the Atalante Club & Showroom, a Nightclub & Disco, four Bars including The Pub, being part of the original MS Tahitien, a Casino and of course a Shopping Arcade and a traditional fully glass enclosed Promenade Deck. Whilst outside, there was ample deck space for the sports minded, with there being facilities for deck quoits' and deck tennis, and of course shuffle board and so much more. There were deck chairs galore as well as tables and chairs for having a drink being served from the ever nearby bar. Not to forget the two swimming pools, one was up on Aeolos Deck, the larger pol one deck down ut further aft on Apollo Deck. The MS Atalante had seven decks available to her passengers.
Boat Deck:
For passengers this deck has as a spacious promenade, and a good place to sit in a sun lounge and watch the sea go by and relax and read a book, or chat with new found friends, etc. The only other facility as passenger might call on is the Radio Room located inside. But one of the most vital parts of the ship is located far forward and that is the Bridge, and during the voyage, often passengers are invited to visit.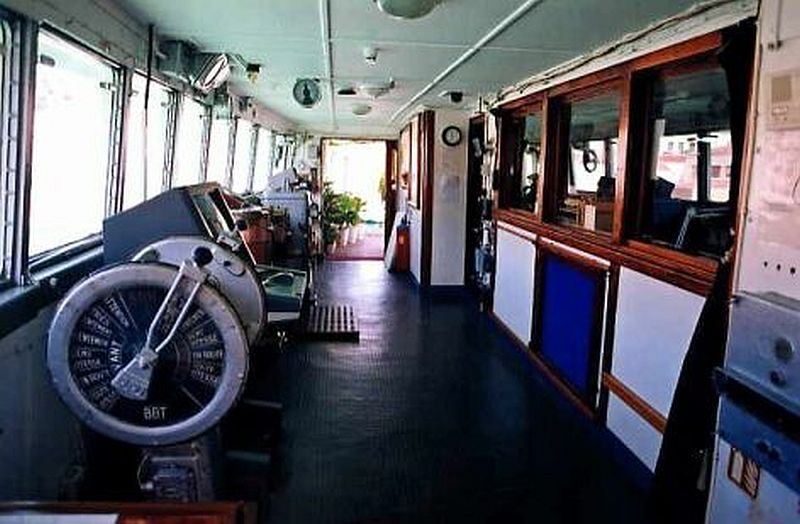 An excellent view of the Bridge sent in by a past passenger
Aeolos
Deck:
This is the Promenade Deck of the ship with the main public venues. Three of these originally existed when built, but tye new show room far forward was added when she was rebuilt in 1992/93. Aft out on deck was the original first class pool, and when the was originally ship built and it was the ships only pool, although there was a small above deck pool for third class.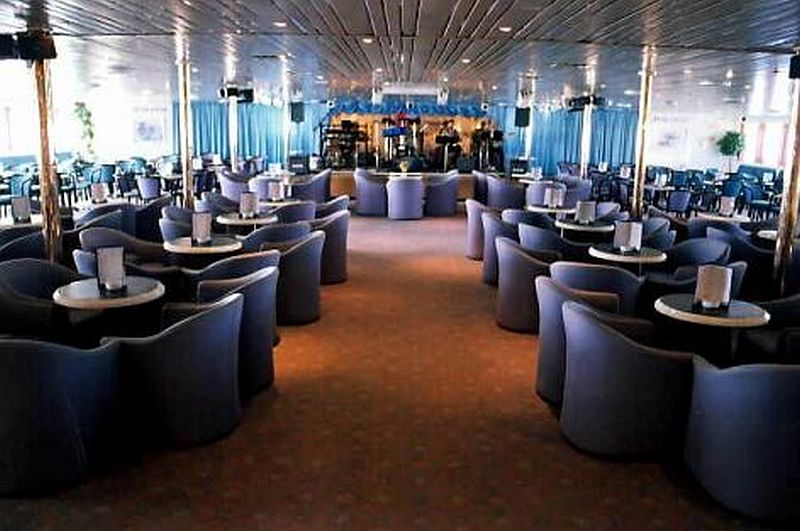 The "Atalante Club Lounge" and Showroom looking forward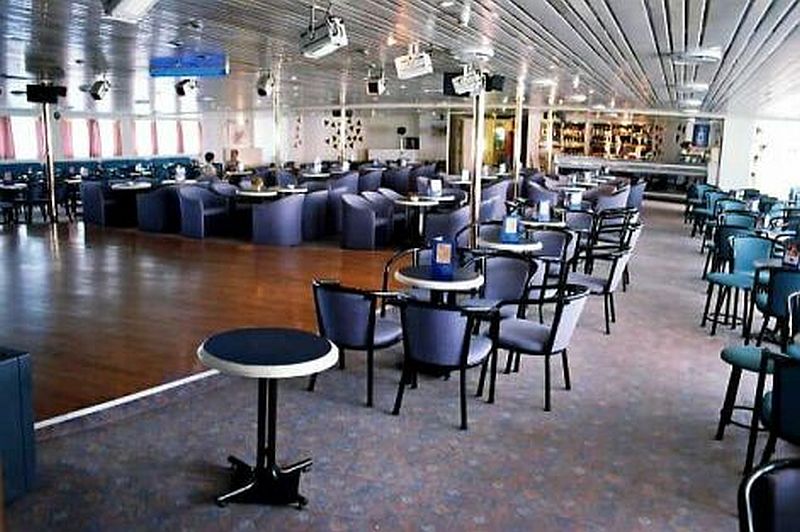 And this is a view of the "Atalante Club Lounge" looking aft with a view of the Bar???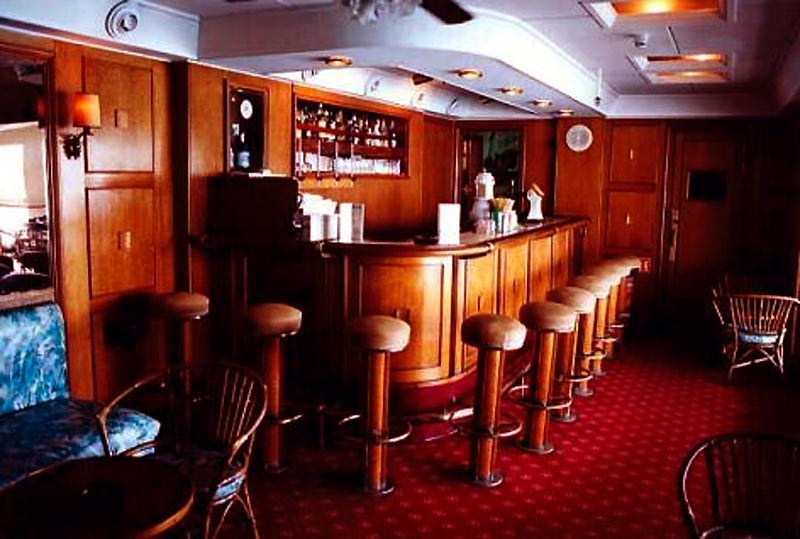 Thankfully "The Pub" retained all of MS Tahitien's original fittings, providing a look in traditional ocean travel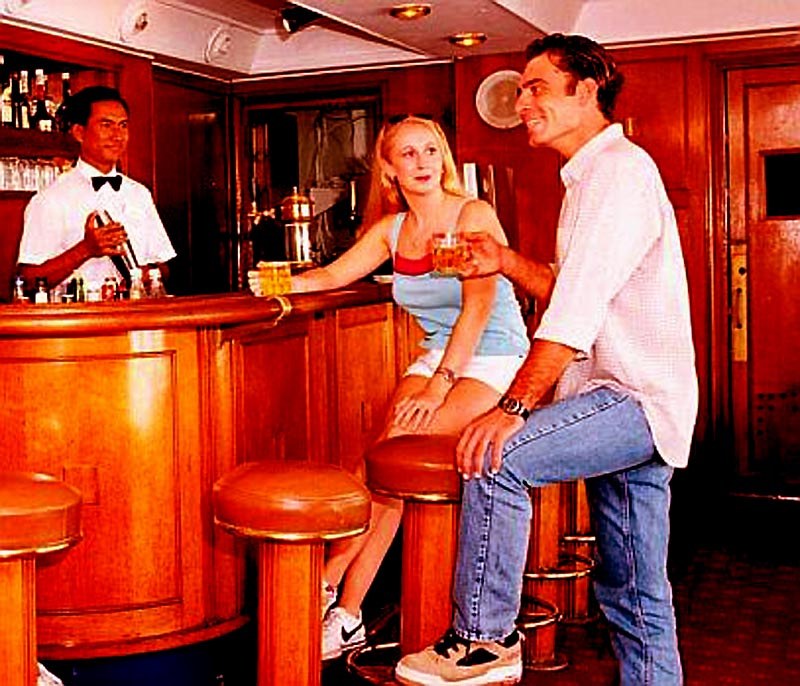 A typical promotional photograph taken in "The Pub" which was located on the portside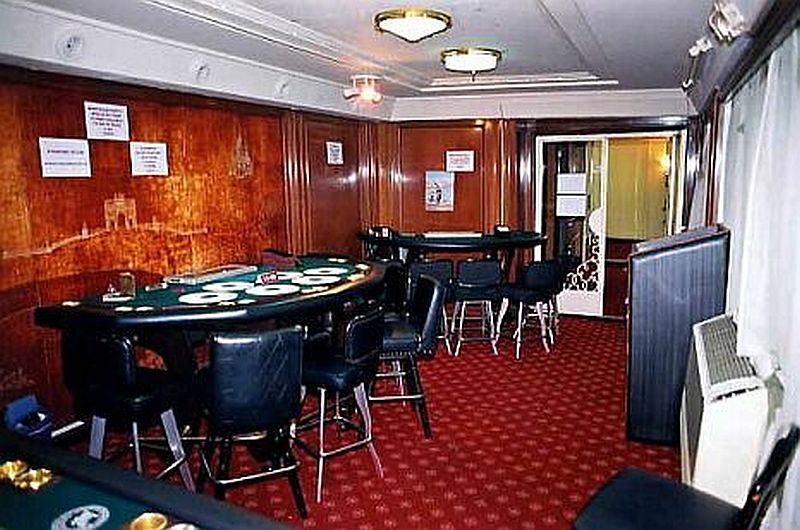 Like "The Pub", the Casino also retained the superb timber work on its walls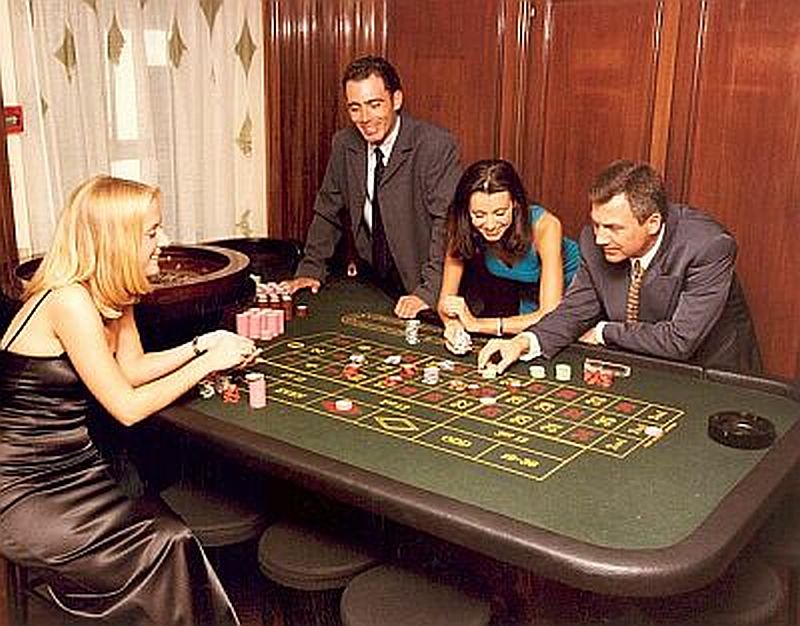 Anather promotional Photograph taken in the Casino, which was located on the starboard side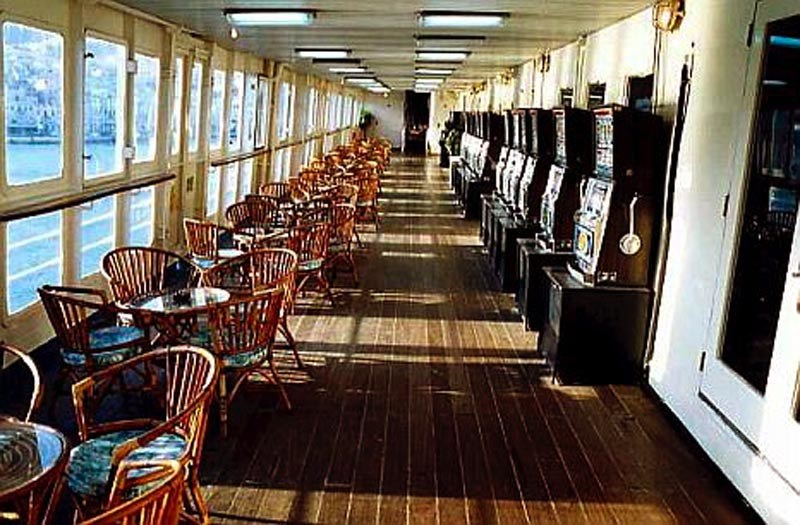 This deck had an excellent fully Glass enclosed Promenade Deck, but those horrid slots!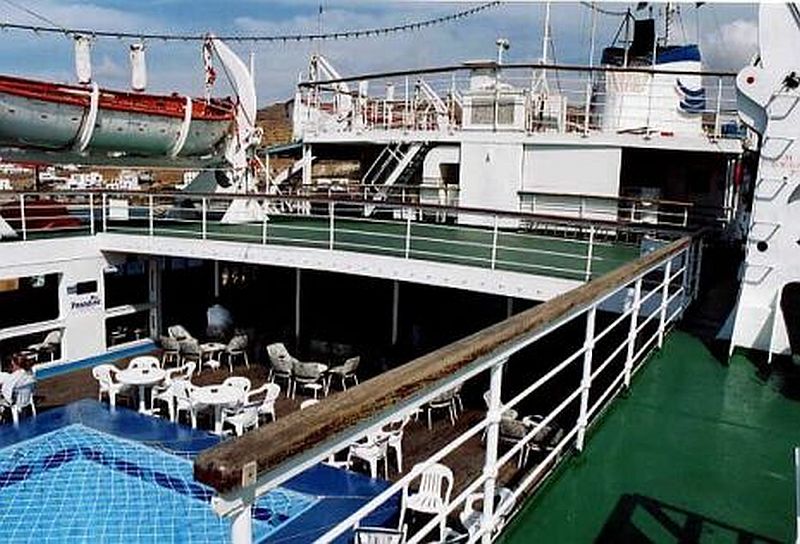 Far aft of the superstructure was the Dionysos Bar and the Swimming Pool
this photo was taken from Boat Deck and topside we can see Sun Deck
Apollo Deck:
This deck was mostly occupied with cabins, although the cruise directors' office was located on the starboard side just forward of the main stairwell and the doctor's Clinic further aft on the portside. Whilst out on the spacious aft deck is the outdoor Galaxy Bar which serviced the larger of the ships two Pool.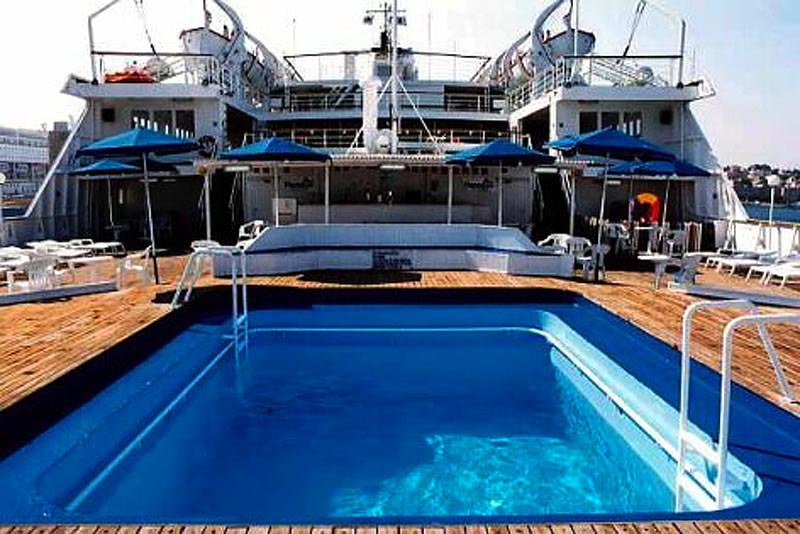 Here we see the Galaxy Bar forward and the aft Swimming Pool
Hermes

, Pegasus &
Poiseidon

Decks:

All these decks essentially contained accommodations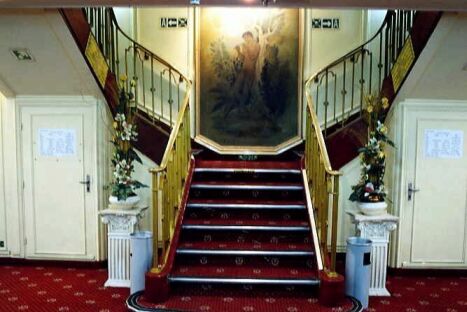 Main Lobby and Stairwell
Hermes Deck besides the accommodations was still a very busy place, as far forward on this deck was the Shopping Gallery, which included; a Jewellery, Duty Free, Clothing, Souvenir and Photo Shops. Amidships in the Main Entrance Hall and Stairwell was the Information Desk, as well as the offices for the Purser and the Chief Steward. The main venue aft was the large Venus Dining Room.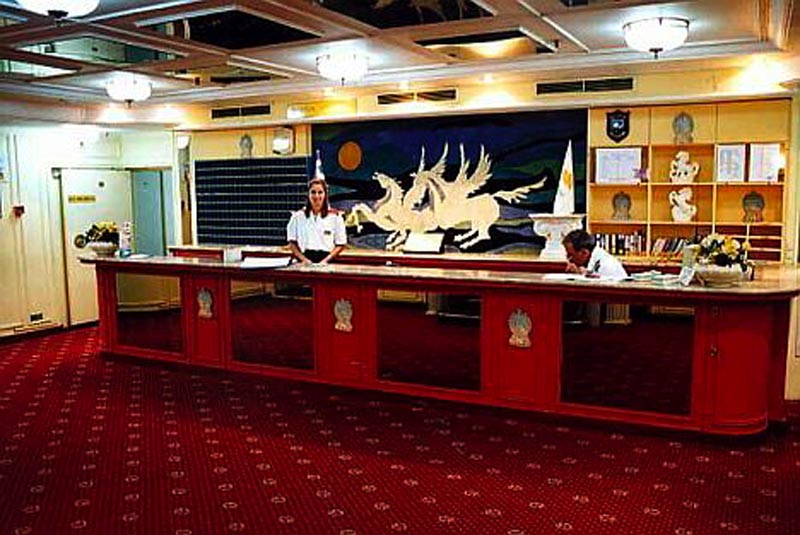 Pursers Office & Lobby
???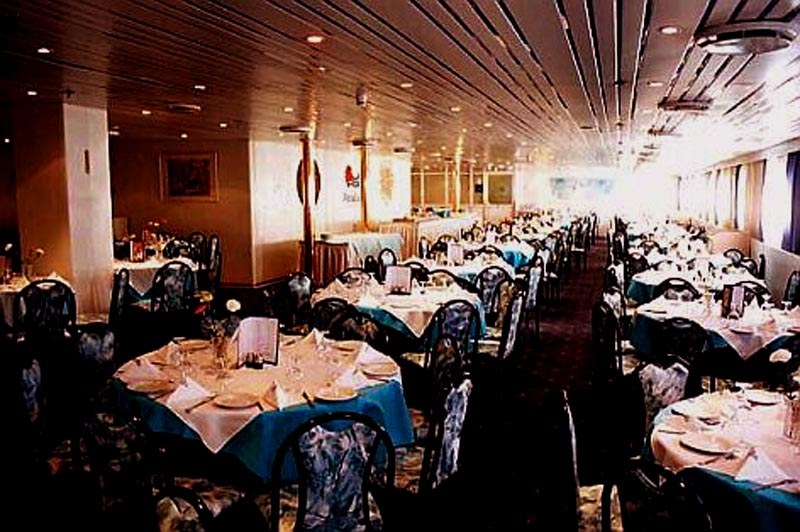 The Venus Dining Room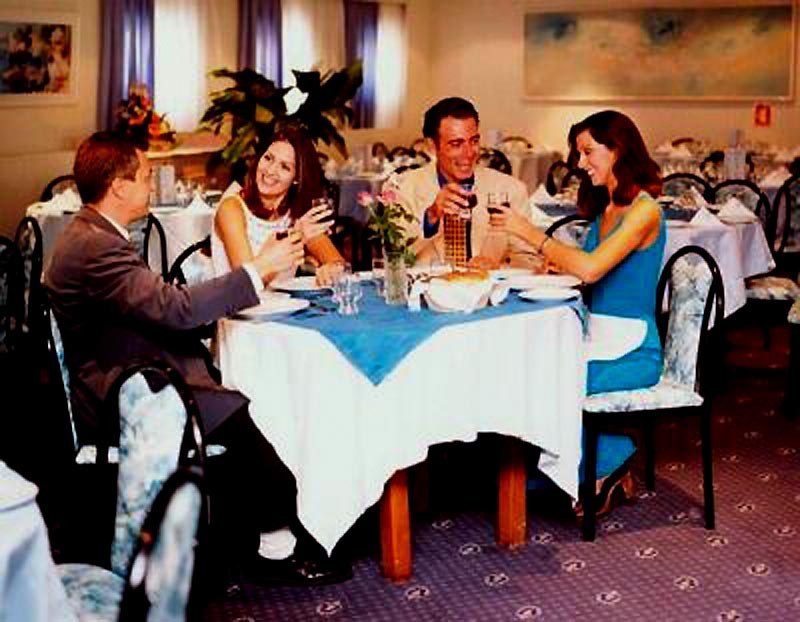 A promotional photograph of guests ready to enjoy a great meal
Accommodations:
Obviously The Atalante had a vast variety of accommodations available with three deluxe Suites located on Apollo Deck, deluxe Twin Bedded Staterooms, Outside as well as Inside Twin bedded cabins, 2 berth cabins, some having a third upper Pullman, and Outside or Inside 2, 3,or 4 berth cabins.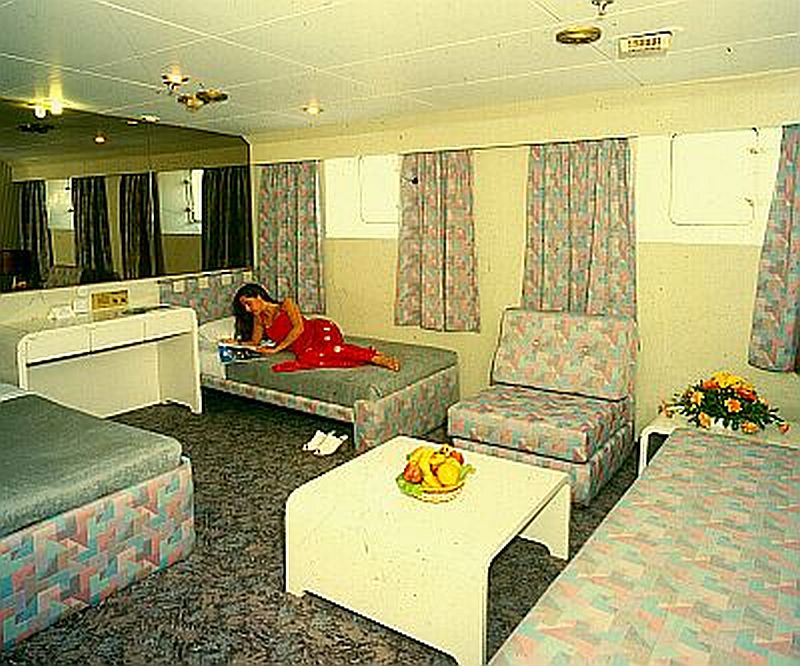 Here we see one of the three deluxe Suites located on Apollo Deck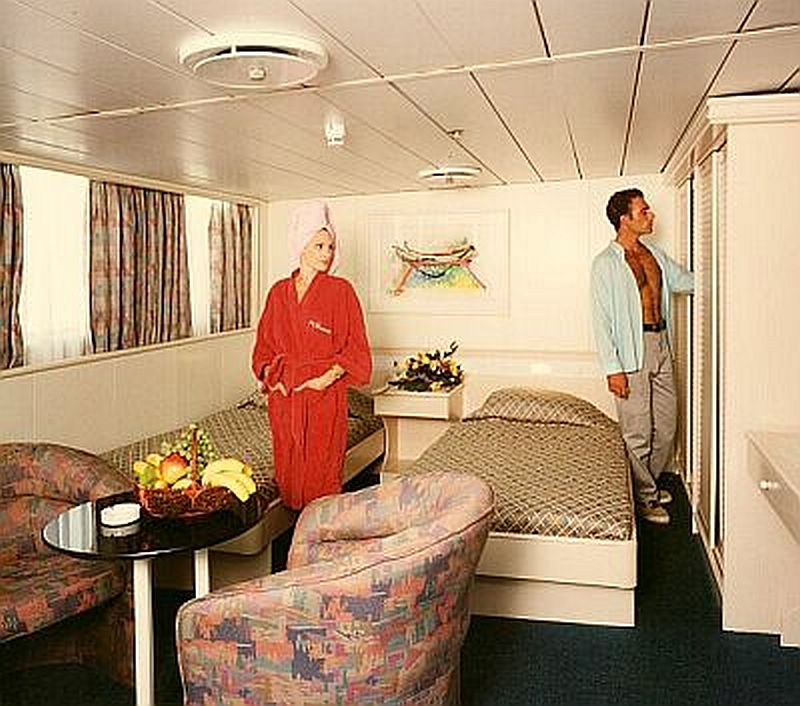 This is a Deluxe Twin Stateroom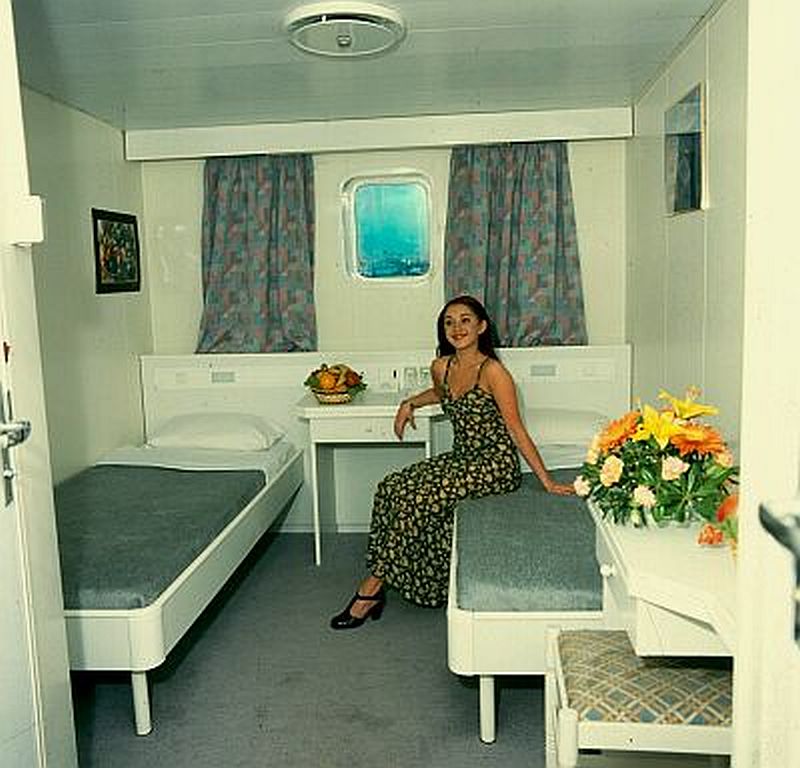 A Standard Outside Twin bedded cabin - Inside Twins are identical but instead a window there is a large mirror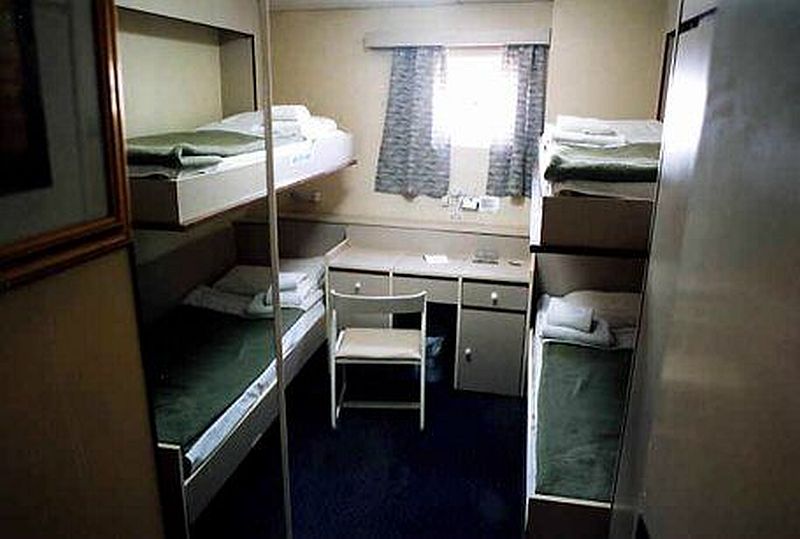 Standard Outside 2/3/4 Berth Cabin, again inside have a mirror
********************************
MS Atalante's Sad Demise:
Sadly with the ship now being over a half century old, yet with her still being not just beautiful looking, but she was in excellent condition, this made the MS Atalante worth far more that to continue operating her, and this was mostly due to the sky high scrap metal prices at that time!
Therefore in mid 2004, Paradise Cruises made a decision with great sadness to sell the Atalante to an Indian breaker. Although she remained laid up in Limassol to the end of 2004, she finally sailed to under her own power and when she arrived at Alang, she was dragged up the beach where this magnificent ship, the MS Tahitien and Atalante was eventually broken up by around July/August 2005. This was the sad end of what was once an amazing French Passenger-Cargo Liner for 20 years, and later to become a greatly loved Mediterranean Cruise ship for 31 years!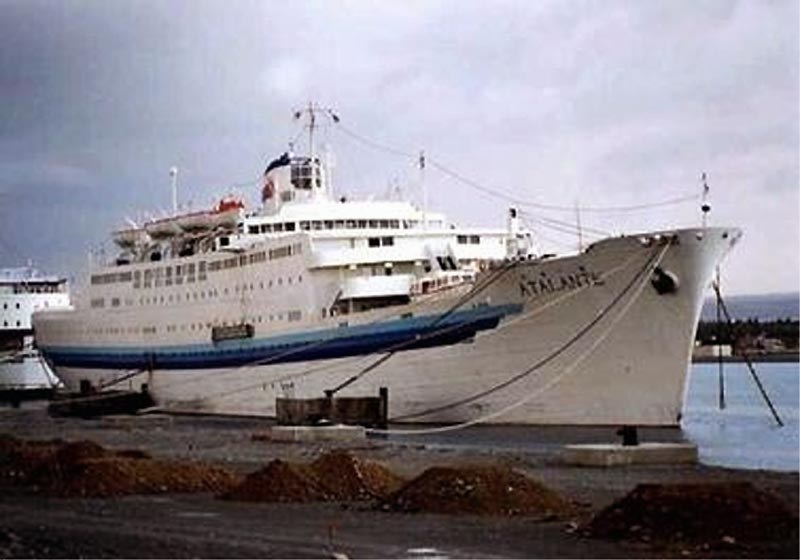 The Atalante is seen laid up at Limassol, awaiting her departure for the breakers yard in Alang India

********************************

Specifications for Atalante:

?????????????????????????????????????????????????????????????????????????????????????????????????????????????????????

Built:???????????????????????????????????? 1953 France

Rebuilt:????????????????????????????????? Piraeus 1972, 1978 & 1993

Tons:???????????????????????????????????? 13,562 GRT

Length:????????????????????????????????? 167.3m / 549ft

Width:?????????????????????????????????? 20.6m / 67.6ft

Draft:??????????????????????????????????? 7.9m / 25.9ft

Engines:???????????????????????????????? Two ten cylinder Creusot B&W diesels;

Screws:????????????????????????????????? Twin screws

Speed:?????????????????????????????????? 17 knots

Passengers:??????????????????????????? 484 twin – 635 all berths

Crew: ?????????????????????????????????? 160

Enter Page Four for Paradise Cruises - MS Atalanta's Deck Plan

********************************

Return to Page One MS Cal?donien & Tahitien complete history

??

Use the Back button on your browser or Close the Page to return to the previous page
or go to our INDEX

Also visit my …

"Save The Classic Liners Campaign"

ssMaritime.com & ssMaritime.net

Where you will discover over 1,250 Classic Liners & the 1914 built MV Doulos Feature

??? ?????????????????????????????????????????????????????????????????????????????????????????????????????????????????? ???

Photographs on ssmaritime.com, & .net and associate sites are by: 1. By the author. 2. From the author's private collection. 3. Or as provided by Shipping Companies and their Publicity Companies as well as by private photographers or collectors. Credit is given to all contributors. However, there are some photographs provided without details regarding the photographer concerned., therefore I hereby invite if owners of those images to be so kind and make them-selves known to me per email at rg@ssmaritime.com in order that due credit may be given

ssMaritime is owned and ? Copyright - Reuben Goossens - All Rights Reserved