Click the logo above to reach the ssMaritime FrontPage for News Updates & "Ship of the Month"
With Reuben Goossens
Maritime Historian, Cruise'n'Ship Reviewer & Author
Page Three
Italia Line
MS Giulio Cesare & Augustus
M/S Augustus later became the hotel ship M/S Philippines
Late News: Sadly, she was sold to an undisclosed buyer and in September 2011 she departed under tow for Alang India.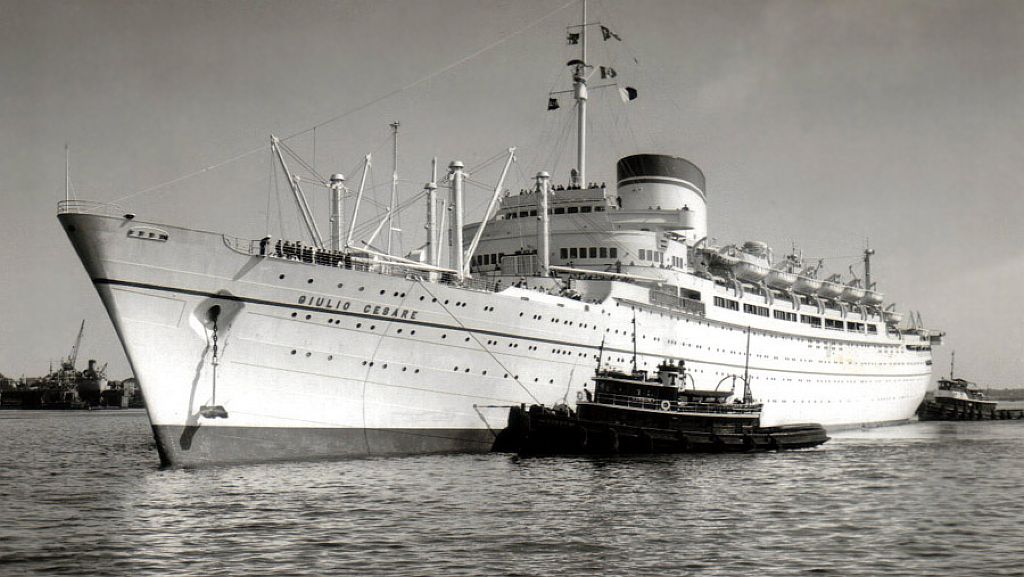 Here we see the MS Giulio Cesare whilst she was on the North American service in Boston in September 1956
Photograph taken by Don Gammon
This page covers these ships mostly from when they commenced their North American service in 1956 as this page presents a special brochure produced by Italia Lines for this service. Both ships were employed on this service to replace the sad demise of the Andrea Doria, which had an accident with the MS Stockholm, and the Italian liner had sunk, whist the Swedish liner had relatively minor damage. The MS Giulio Cesare was placed on the Genoa to New York service on June 29, 1956, and the MS Augustus followed with her first voyage from Genoa to New York on February 7, 1957. The MS Giulio Cesare returned to her South American service in 1960, whilst the MS Augustus returned to her Italy South American La Plata duties in September 1961.
For full details on both ships and MS Augustus' final incarnation as the MS Philippines, see the respective pages via the index at the bottom of the page.
Photo Album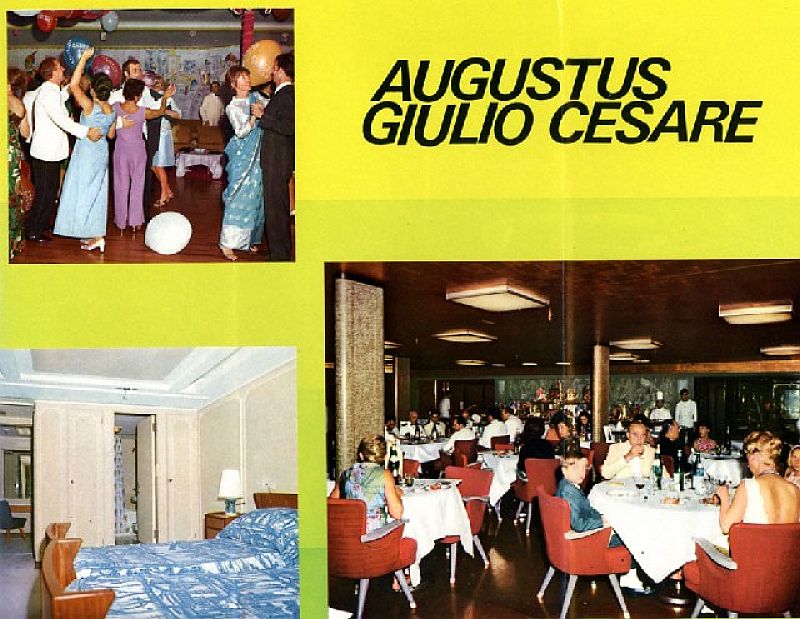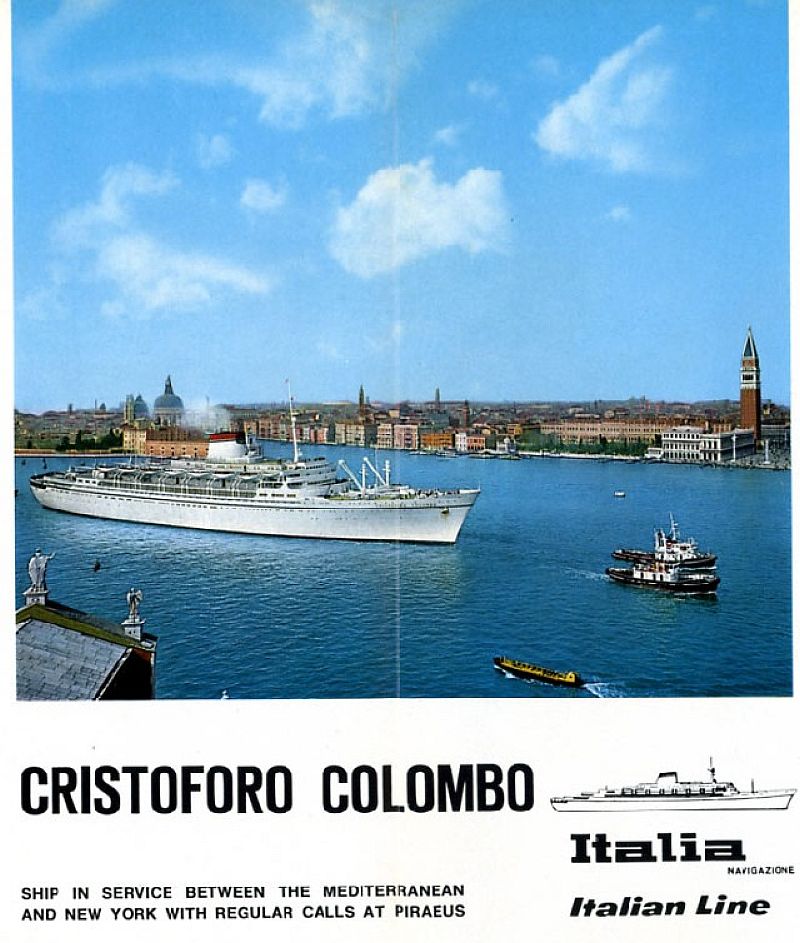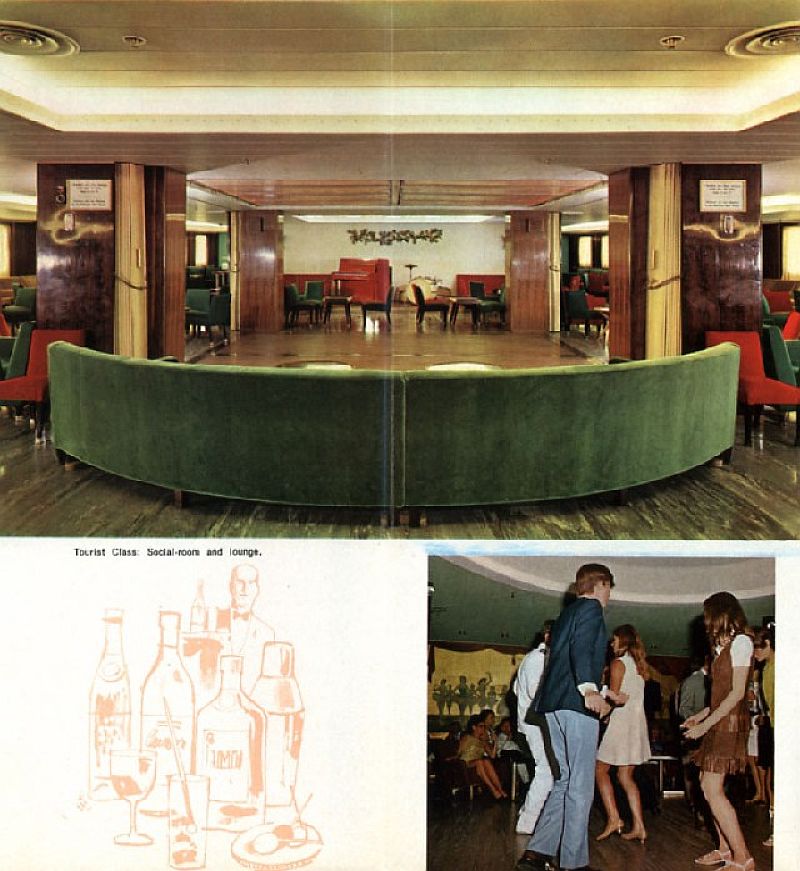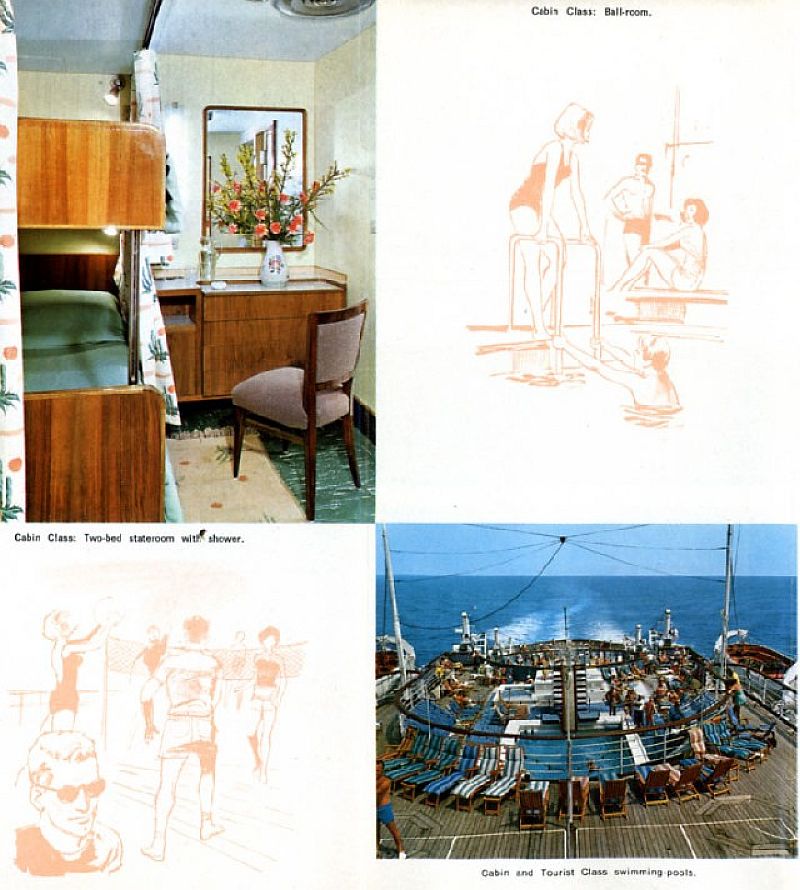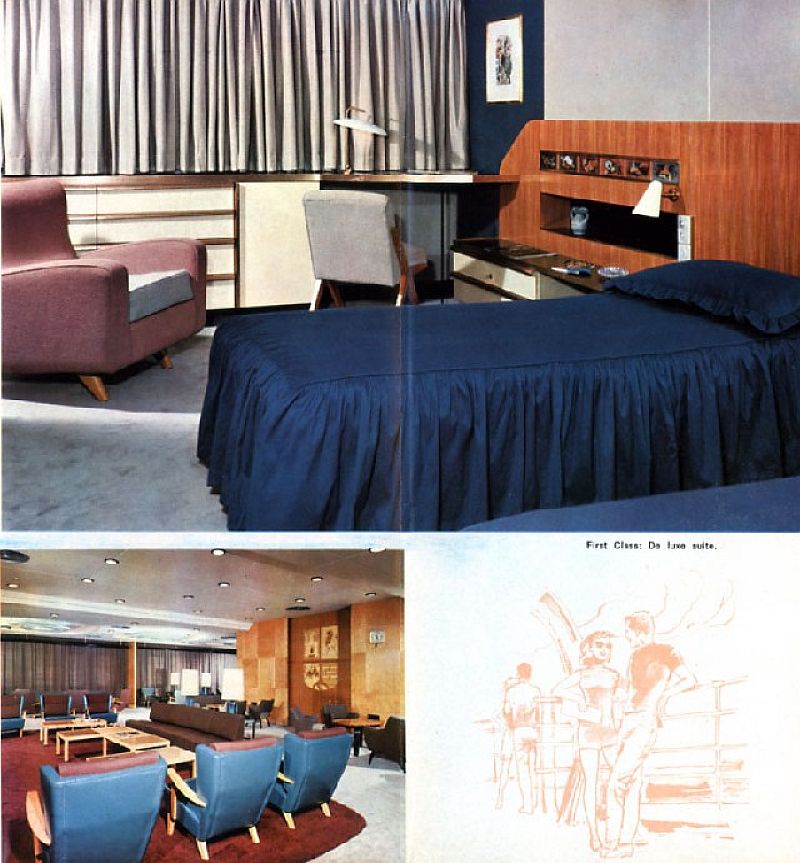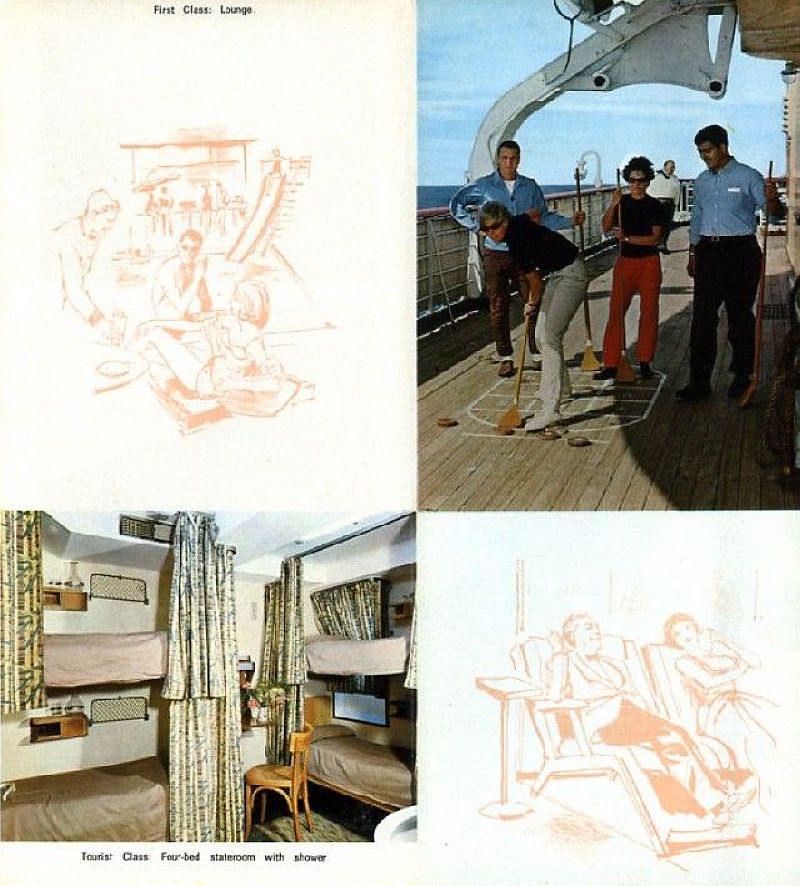 The above brochure is from the authors collection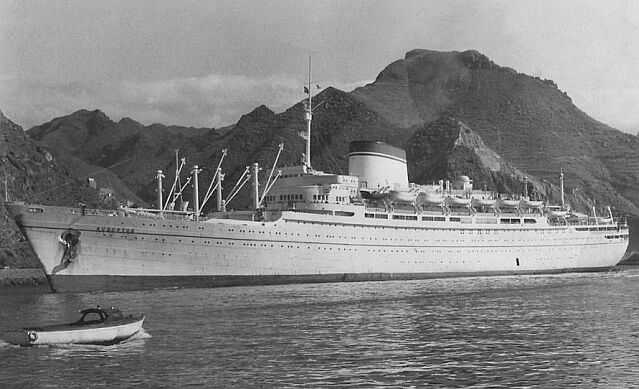 MS Augustus is seen here in Tenerife in 1966 having returned to the South American service and after her refit and now a two class ship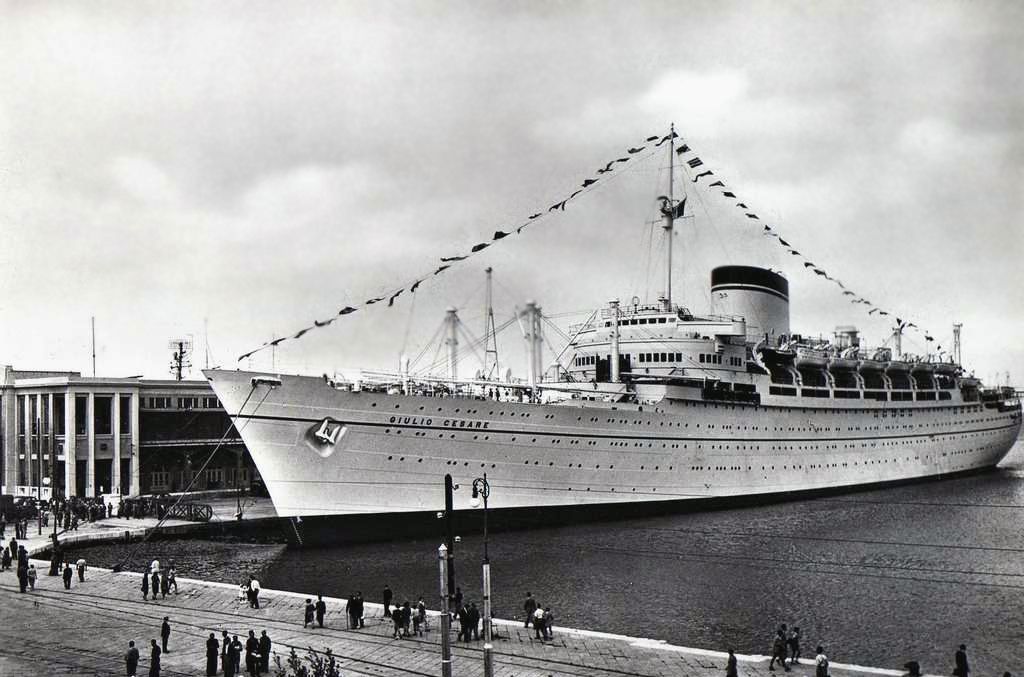 The MS Giulio Cesare is seen here in Trieste Italy
Italia Line postcard from the author's collection
I trust you have enjoyed viewing these images the brochure is very rare indeed
MS Augustus & Giulio Cesare INDEX:
MS Augustus & Giulio Cesare INDEX:
Page One …              MS Augustus
Page Two …              MS Giulio Cesare
Page Three …           MS Giulio Cesare & Augustus - Photo Album
Page Four …             M/S Philippines
Page Five …              M/S Philippines – Photographs taken whilst for sale
Also Visit …               SS Michelangelo & Raffaello Feature
**************************************************
Use the Back button on your browser or Close the Page to return to the previous page
or go to our
INDEX
Who is the Author of ssMaritime?
Commenced in the passenger Shipping Industry in May 1960
ssMaritime.com & ssMaritime.net
Where the ships of the past make history & the 1914 built MV Doulos Story
Also visit my …
"Save The Classic Liners Campaign" & "Classic Ocean Voyages" pages
Photographs on ssmaritime and associate pages are by the author or from the author's private collection. In addition there are some images that have been provided by Shipping Companies and private photographers or collectors. Credit is given to all contributors. However, there are some photographs provided to me without details regarding the photographer/owner concerned. I hereby invite if owners of these images would be so kind to make them-selves known to me (my email address may be found on www.ssmaritime.com only), in order that due credit may be given. I know what it is like, I have seen a multitude of my own photographs on other sites, yet these individuals either refuse to provide credit or remove them when asked, knowing full well that there is no legal comeback when it comes to the net. However, let us show these charlatans up and do the right thing at all times and give credit where credit is due!
This notice covers all pages, although, and I have done my best to ensure that all photographs are duly credited and that this notice is displaced on each page, that is, when a page is updated!
ssMaritime is owned and © Copyright by Reuben Goossens - All Rights Reserved