Click the logo above to reach the ssMaritime FrontPage for News Updates & "Ship of the Month"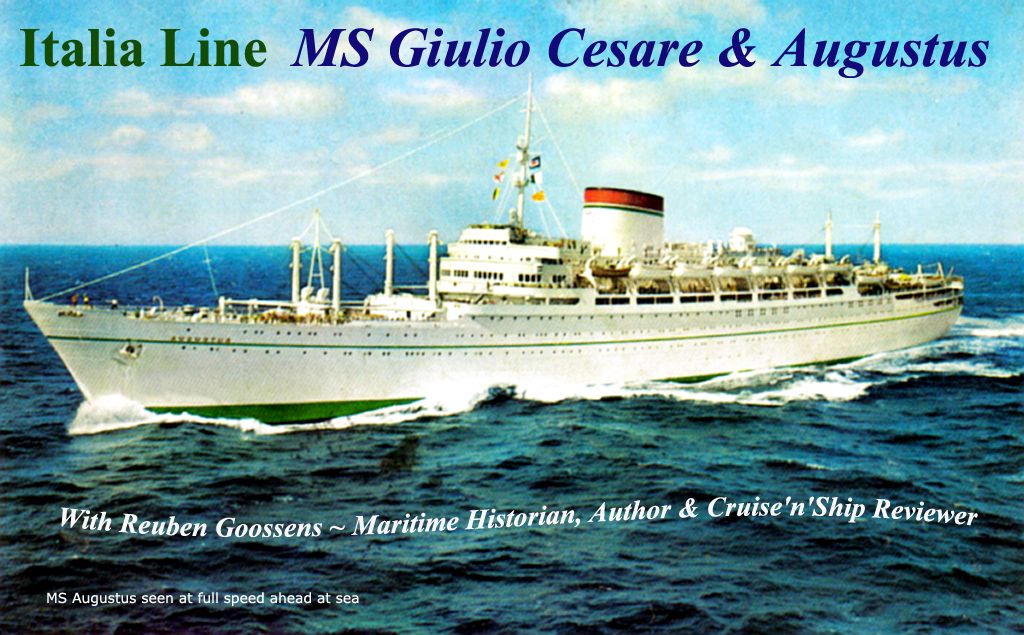 Please note: All images are from the author's private collection, unless stated otherwise.
Page One
Introduction to two Great Italian Liners.
MS Augustus is the identical sister to the MS Giulio Cesare, which were built for "Italia di Navigazione S.p.A." or as they are better known "Italia Line." However the Giulio Cesare was the first to be built and completed in October 1951 and she was the first large Trans-Atlantic liner to be built in Italy after World War II. The MS Augustus followed some seven months later in 1952.
Design wise they were revolutionary indeed, although built as three class liners, each class had their own swimming pool and they had some of the finest passenger facilities at sea of their days. It was said that Tourist Class, which was the ships third class, was as good as most Cabin Class (second class) on most Trans-Atlantic liners, if not as good as some First Class on certain ships! Some of the greatest architects and designers were used to create an ambience that was not just elegant, but besides being Italian, there were even touches of Scandinavian influences on board, and all provided an atmosphere that was a delight to the senses in every possible way! These ships were beyond beautiful and both ships offered the ultimate in Ocean going travel with the MS Augustus sailing with Italia line for twenty four years before she was sold to an Asian based Company.
This feature was originally mostly about the MS Augustus, although it did also cover her sister, but very much in a lesser role. I have now decided to completely rewrite and update these pages, which came about due to the tragic sale of the M/S Philippines, ex Augustus in September 2011, and her departure under tow bound for Alang India, thus I felt the need to rewrite this feature as well as that of her sister the MS Giulio Cesare and I believe that she should also have a far greater role, even though she had a relatively short life in comparison. I will now rectify this and you will discover that there will be a brand new page covering this excellent ship with many new interior photographs for this ship as well as the Augustus. All these images are from my personal collection and I hope that you will enjoy the new feature more than ever - for there will be so much more for you to enjoy and to relive memories for all those who have had the privilege to sail on them or even just to have had the opportunity to see them in their home ports. Enjoy!
However, I will once again commence with my beloved MS Augustus and I will commence with her beginnings!
From MS Augustus to M/S Philippines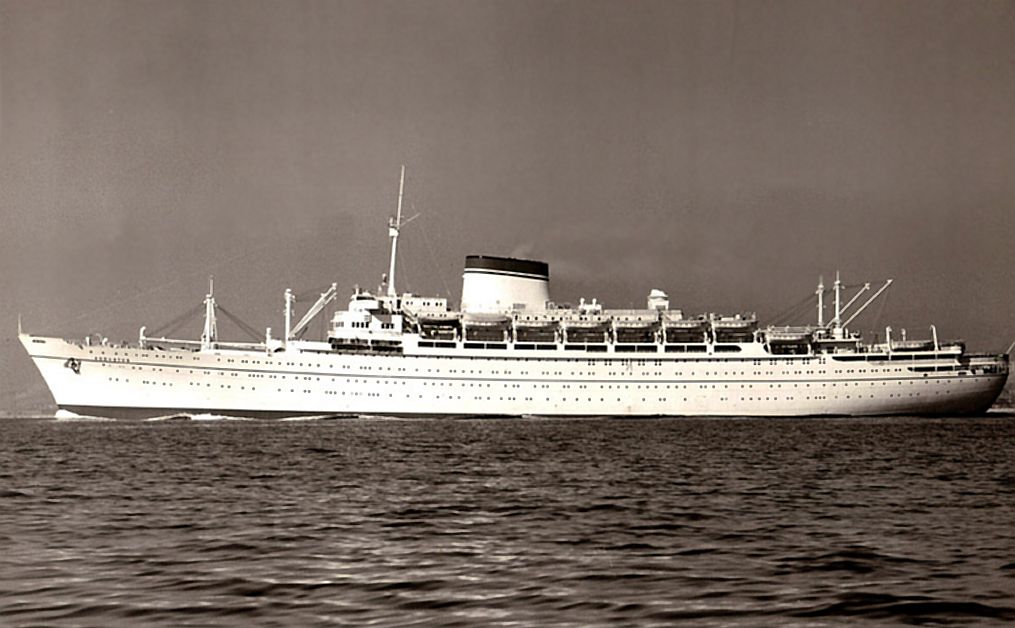 An Italia Line postcard of the MS Augustus
Design and their beginnings.
After the end of World War II, the Italian Line lost many of their fleet including their two of their finest and most luxurious liners, such as the grand 51,062 ton SS Rex and the superb 48,502 ton SS Conte di Savoia, thus the Company quickly commenced to plan to build two revolutionary new 27,000 GRT liners to replace their lost ships. The two ships designs chosen that would become the MS Giulio Cesare and Augustus were to become the impression of power and of great beauty, being ships that had superbly rounded bows, beautifully curved superstructures, no mainmasts but just six kingposts and a slender tall radar mast atop their Bridge. In addition there was a rather large stately looking funnel, and a graceful stern. Although there were also a few strange and evocative items, such as the nape the aft of the funnel base, and that strange looking tall trademark "ventilator" located further aft of the funnel, that was given the nickname "Robot" due to its strange shape and the top looked like a robot's head – see the photo above and it is quite clear.
The MS Augustus, like her sister had two 12 cylinder "FIAT" Diesel Engines, each of which had been built years earlier by "FIAT" but had been lying idle and it was reported that they were the largest of the "FIAT" type ever constructed. Each providing a service good 13,000 Horse Power (BHP), which drove her twin screws at a service speed of 21 knots. Both ships were designed to sail on the Italy-South America route, operating with three classes. Her interior was designed to have full air conditioning and as the Italia Line stated in 1954 about their new sister ships; "Our new ships have a lung of their own, hence they actually may be said to breathe. A complex system consisting of no less than forty units provides air-conditioning and this creates as it were a climatic zone of its own. Further more, a number of extractors secure a complete change of air 10/12 times an hour." I have an Italia Line brochure that uses almost same quote in it, with a slight difference here and there.
Even though a three class ship, each had their own swimming pool and a superb range of lounges and dining facilities, all of a very high standard, therefore the Augustus and her sister soon became known more known as being luxurious floating palaces and they were the ultimate symbol of modern technology at sea as they were advanced in so many ways!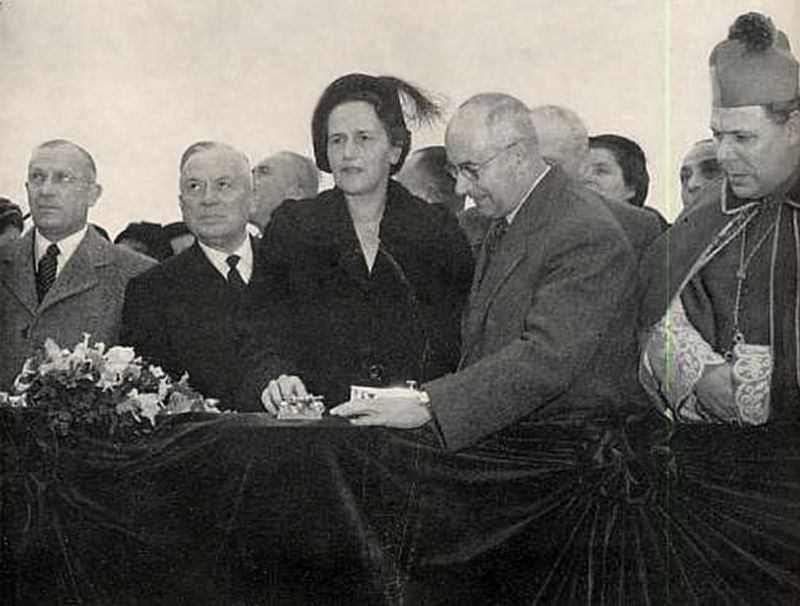 The launching ceremony taking place with Francesca De Gasperi seen in the middle
Although the MS Augustus was slightly larger than her sister at 27,090 GRT (Gross Registered Tons), she had been built by one of the great Italian ship builders - Cantieri Riuniti dell' Adriatico, at the San Marco shipyard located near Trieste, Italy in 1950 and she was officially named and launched on November 19 that year, by Mrs. Francesca De Gasperi, who was the wife of the Italian Prime Minister Mr. Alcide De Gasperi.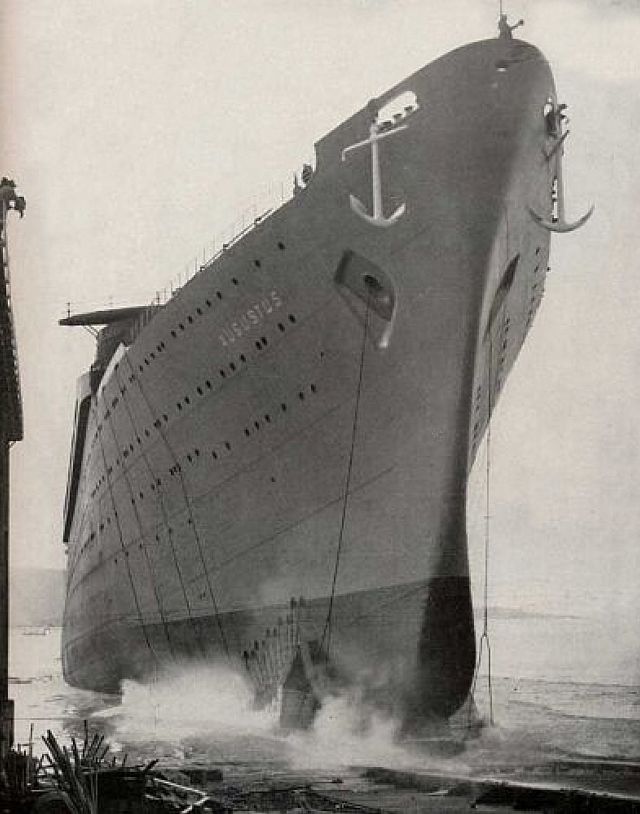 Here we see the Augustus slip into the water having just been launched
The Augustus was completed in February 1952. Then having been stocked and made ready, on March 4, 1952, the gleaming white MS Augustus filled with passengers, from the extremely wealthy, the comfortable passengers to the humble migrants bound for South America departed Genoa for Buenos Aires on her maiden voyage. Upon her return, she was placed on her normal service sailing from Genoa, visiting at Naples, Cannes, Barcelona (or Lisbon), Rio de Janeiro, Santos and Montevideo, bound for Buenos Aires and sailing homeward.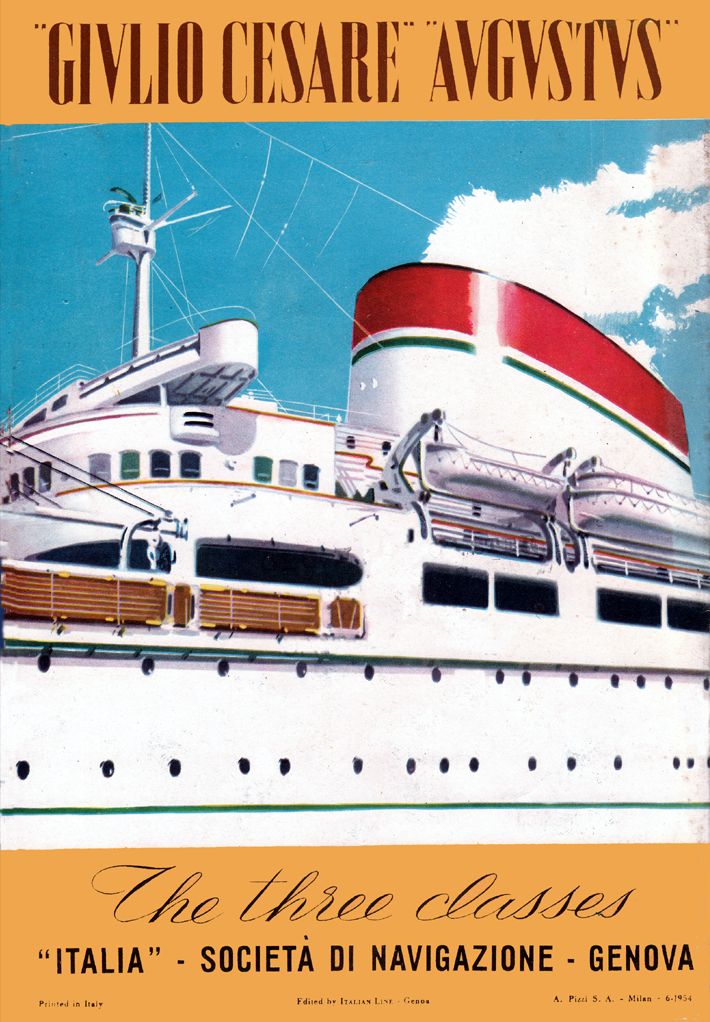 This is the back cover of a 1954 Italia Line brochure, the front cover is identical
but the back shows the date and details, thus why I used it
Interior and exterior of Augustus.
Although I have already described much of her exterior features above, however, I left out one of her features that in the early fifties was quite remarkable and these ships were pace setters in their days as they had bulbous bows and a very marked amount of tumblehome, the point of maximum beam being some 3ft below the waterline – see the launch photo above.
MS Augustus offered nine passenger decks – shown from topside and heading down: Sun Deck, Lido Deck, Boat Deck, Promenade Deck, Upper Deck, Foyer Deck, A Deck, B Deck, and C Deck. Below is a partial description of her layout.
Sun Deck, commencing forward is the Bridge followed by the chartroom, radio room, then near the funnel are the kennels as well as the famous "Robot" ventilator a little further aft. This area was all first class deck space.
Lido Deck, commences with a full-wrap around promenade, culminating aft with a delightful bar overlooking the first class swimming pool complete with changing rooms and showers. In addition there are also some officers' quarters on this deck.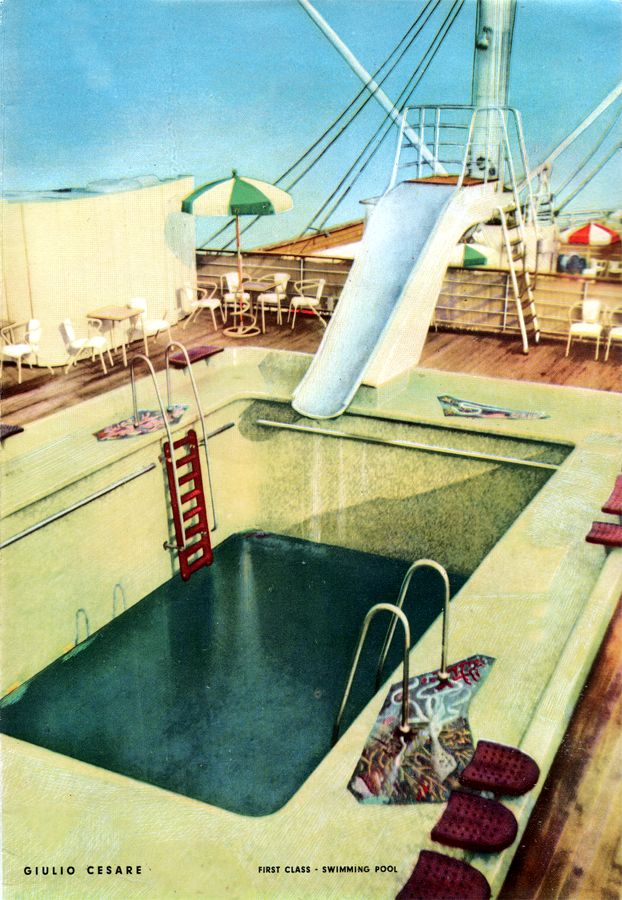 Boat Deck, here we find yet another promenade that opens into a wider expansion below the lifeboats running along both sides of the ship. Internally, forward is the First Class Belvedere Observation Lounge that was equipped with a panorama of windows overlooking the ship's bow. A reading room was continuing aft on the starboard side. This space's amidships was the first class writing room. The forward staircase's highest level was just aft with its burled panels and magnificent modern glass railings. Also, there was an elevator, linking the first class decks in this part of the ship. The deluxe suite facility started along port and aft passageways, to a small gymnasium, playroom, solarium, and message room on the starboard side.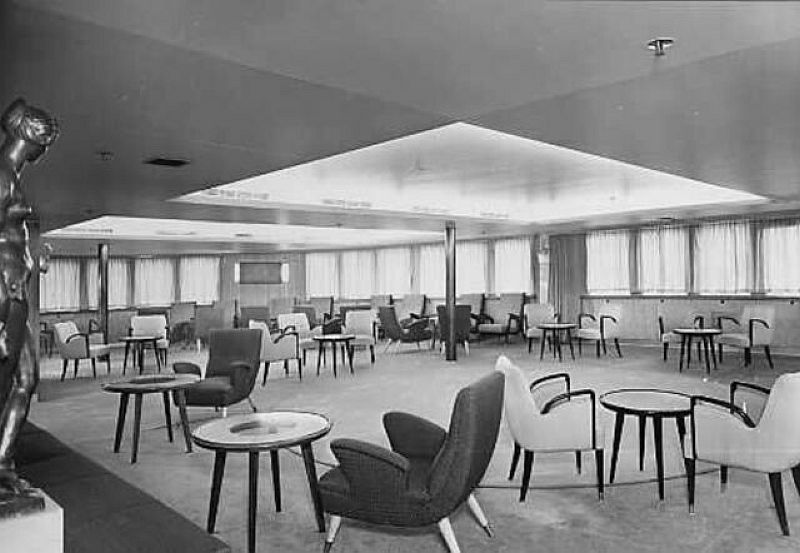 Belvedere Observation Lounge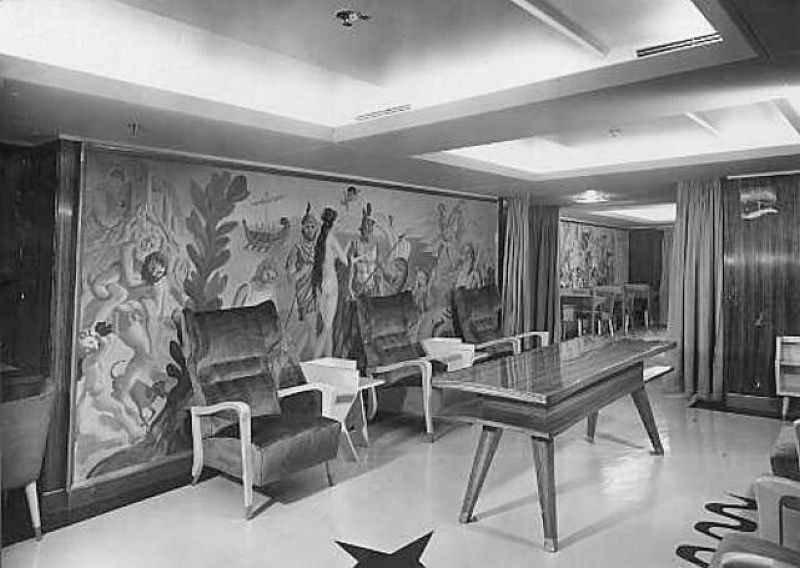 Reading room
Located on the aft part of Boat Deck was the Cabin Class' own pool, lido complete with a Bar.
Promenade Deck, commencing forward was one of the grandest of the First Class venues, but of course there is always the delightful glass enclosed First Class Promenade to look forward to. But inside, it all commenced with the magnificent and graceful Social Hall with its superbly curved panorama of windows and an aft bulkhead that highlighted sculptures and reliefs in bronze by Italian master artist "Mascherini." In this salon, the ceiling accommodated an oval recess where the lighting was designed in a zodiac fashion. The forward stairwell and its lobby were decorated with sculptures by Mascherini, who had a major influence in the Social Hall!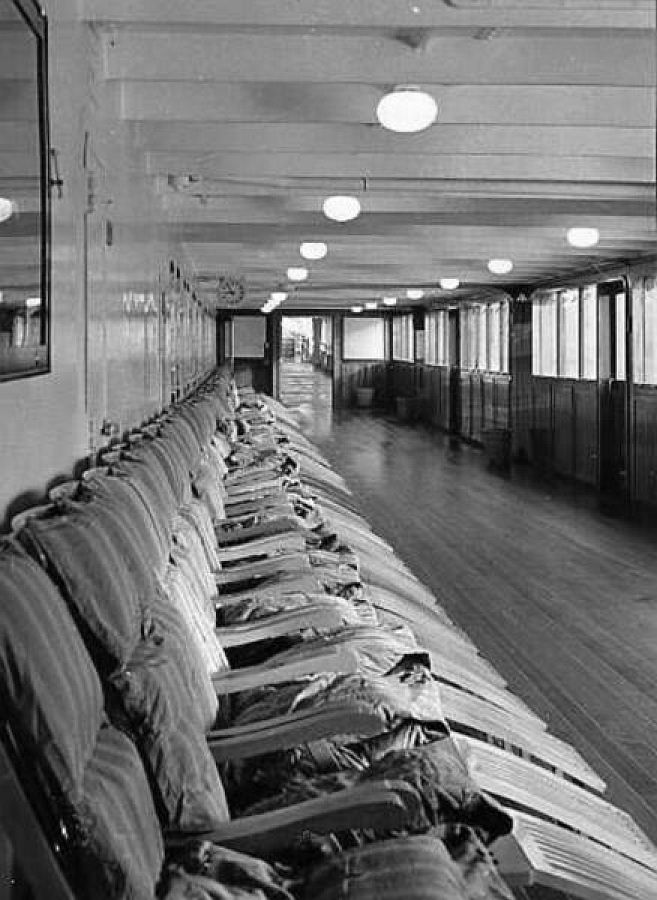 First class portside glass enclosed promenade deck looking aft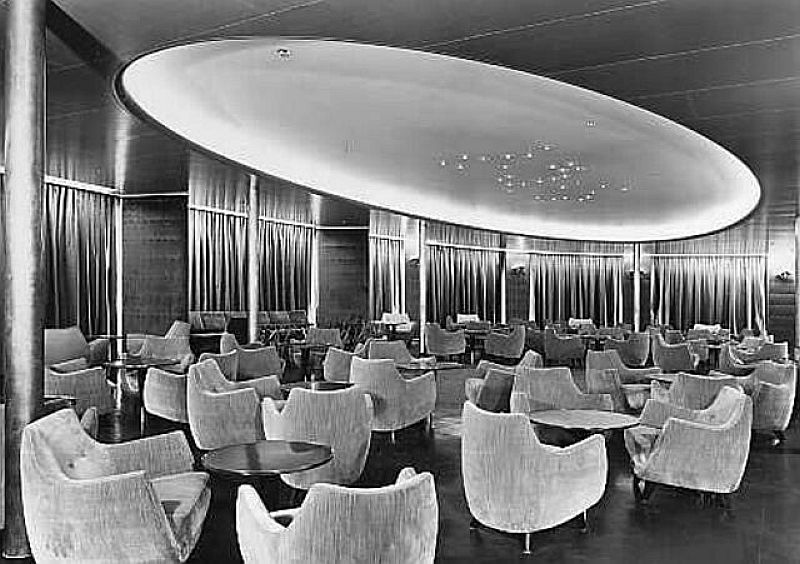 Above and below: Two views of the grand Social Hall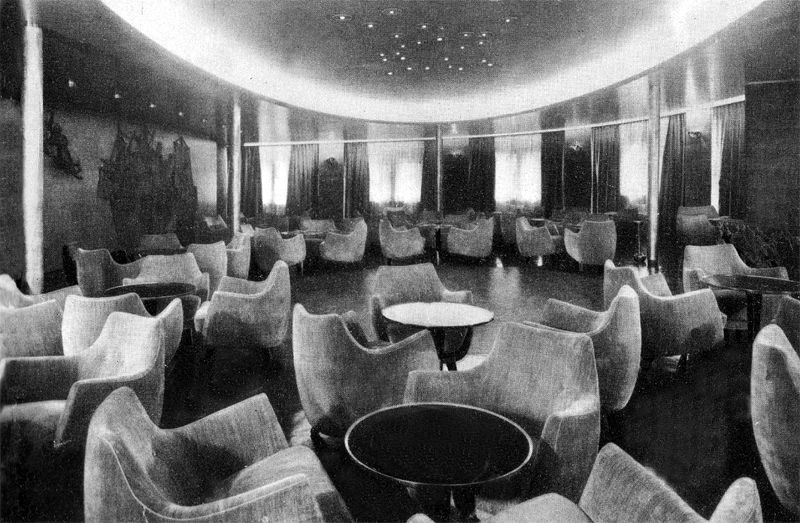 I am aware that this second image is not of a great quality, but it does provide another aspect and that is why I decided to use it anyway
When I obtained t years ago it was obviously old but also rather damaged and in a very bad state, this is the cleaned version!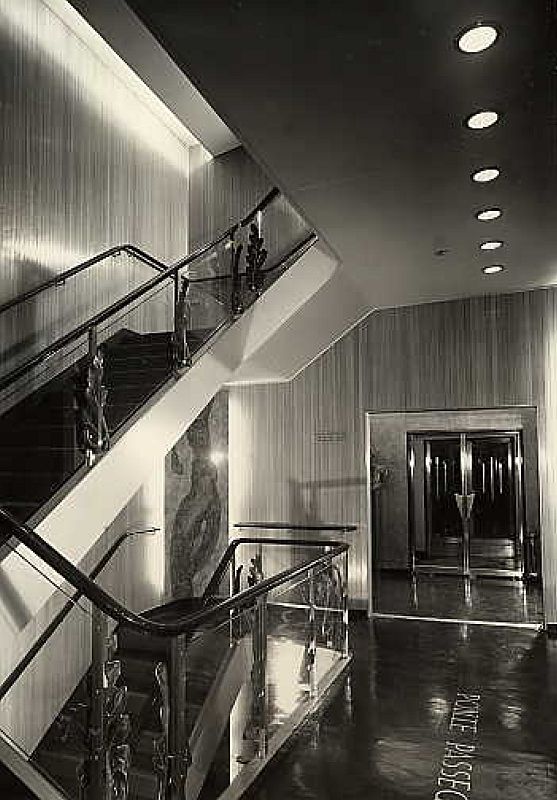 The delightful Mascherini inspired stairwell
Other interior Photographs of all Classes
First Class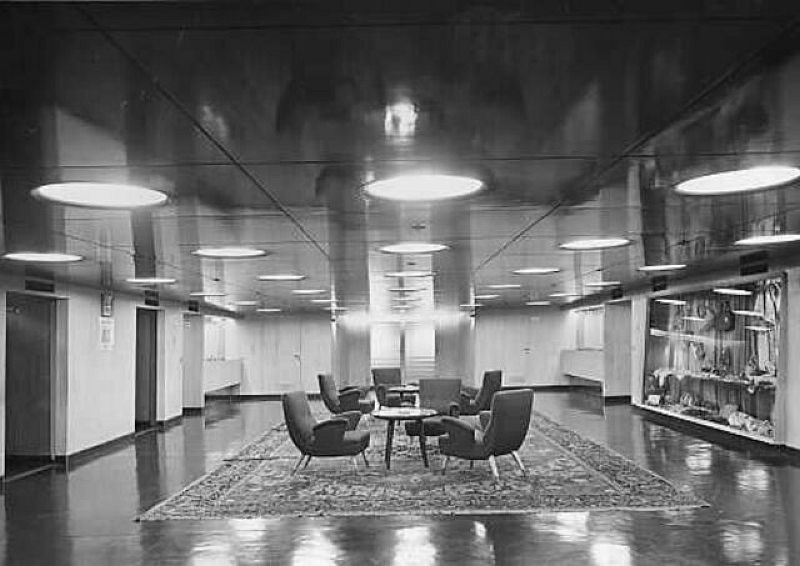 The main lobby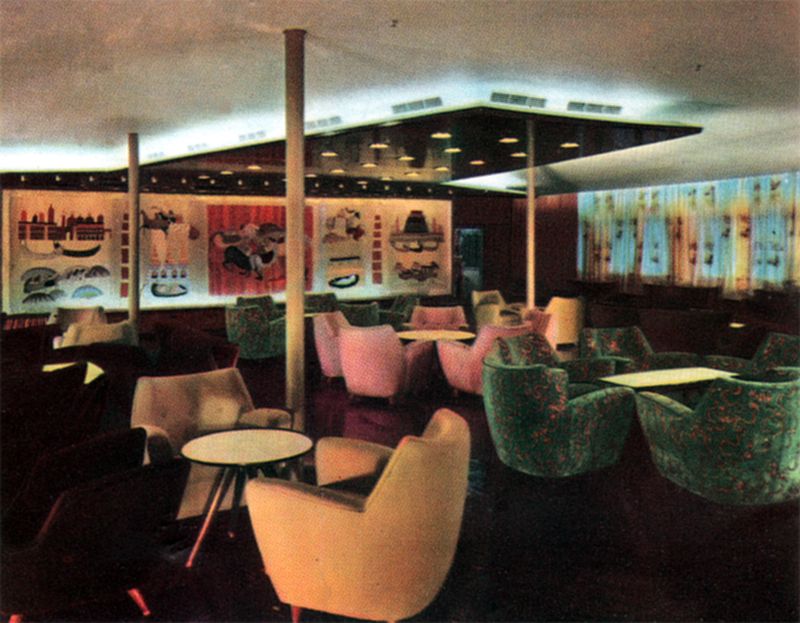 The main lounge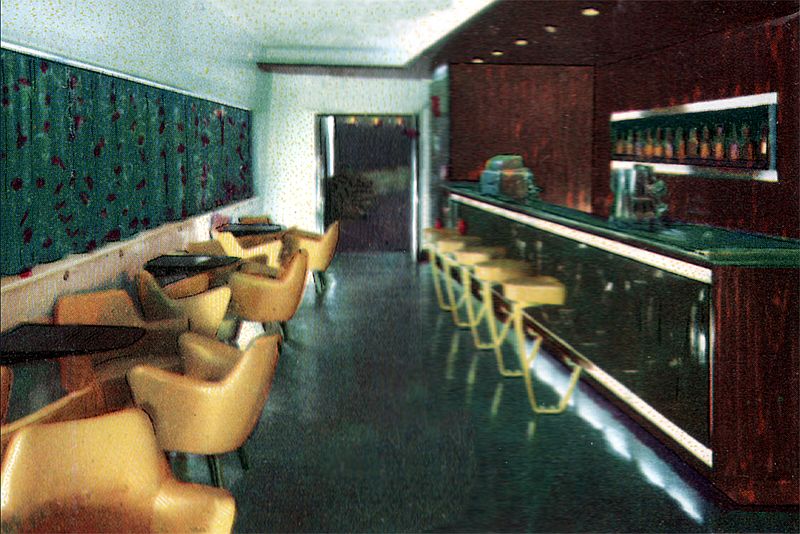 The Bar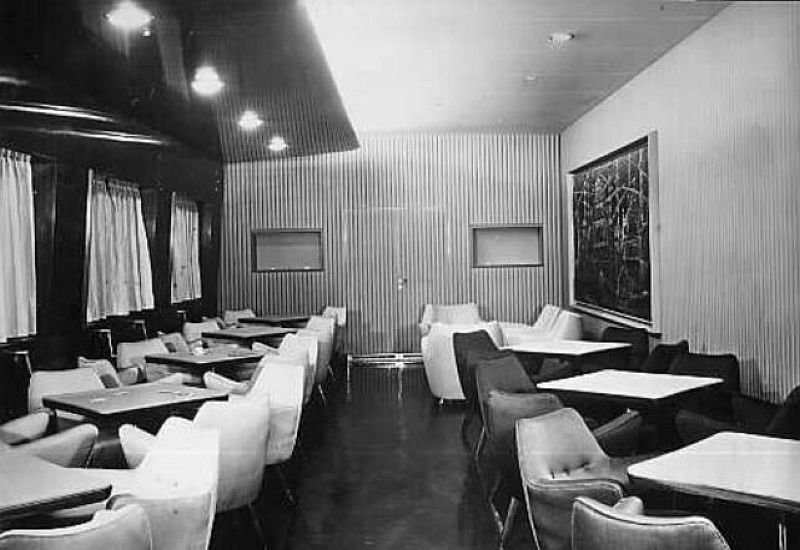 Card and Games room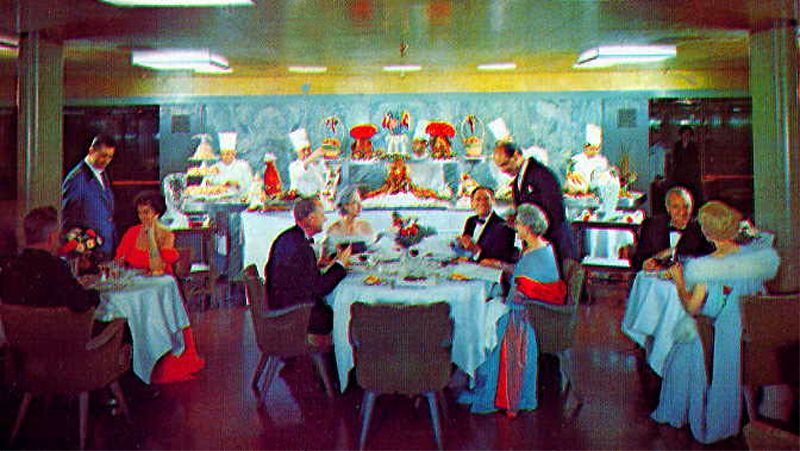 Dining room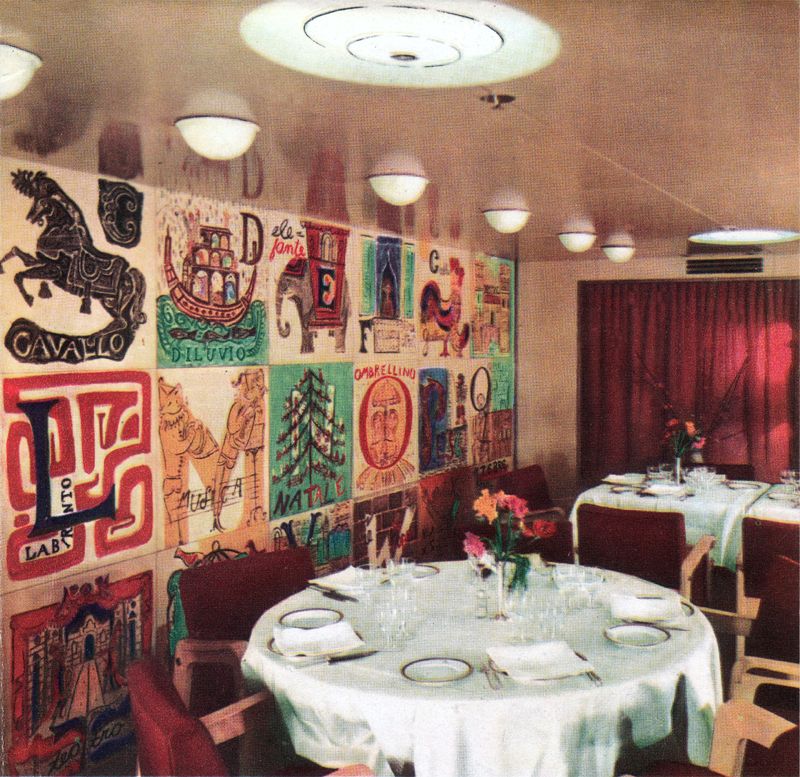 Children's dining room
Cabin Class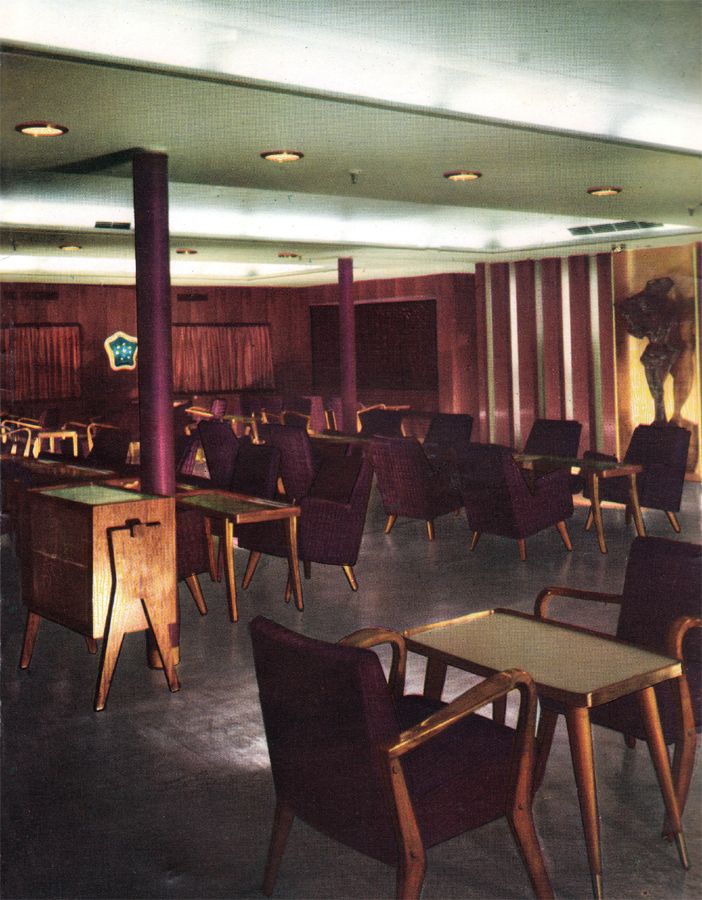 Smoking room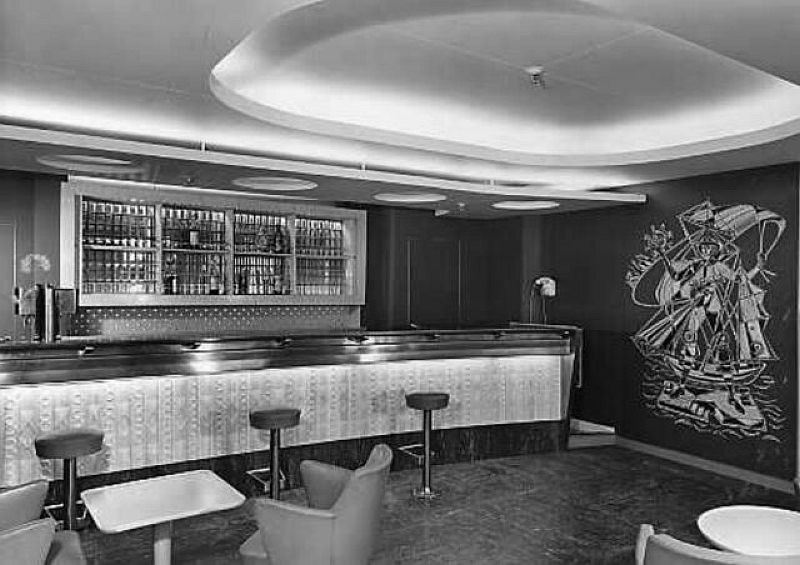 The Bar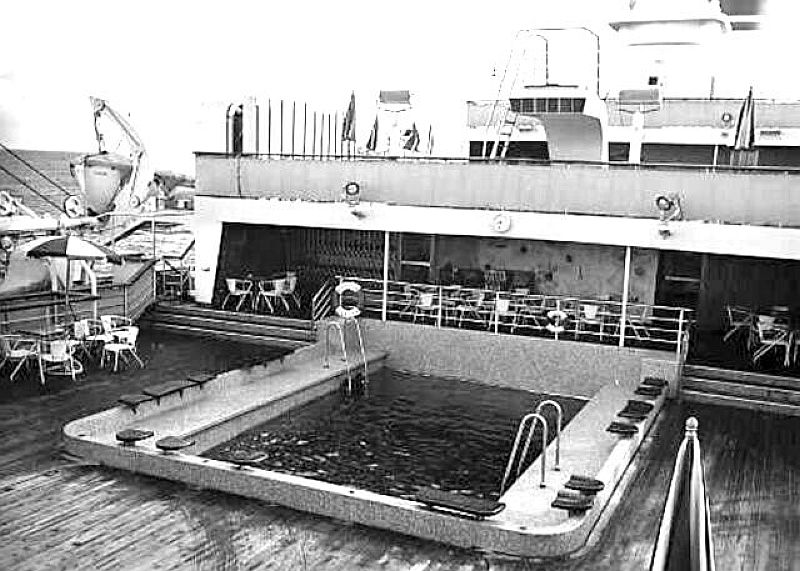 Swimming pool
Tourist Class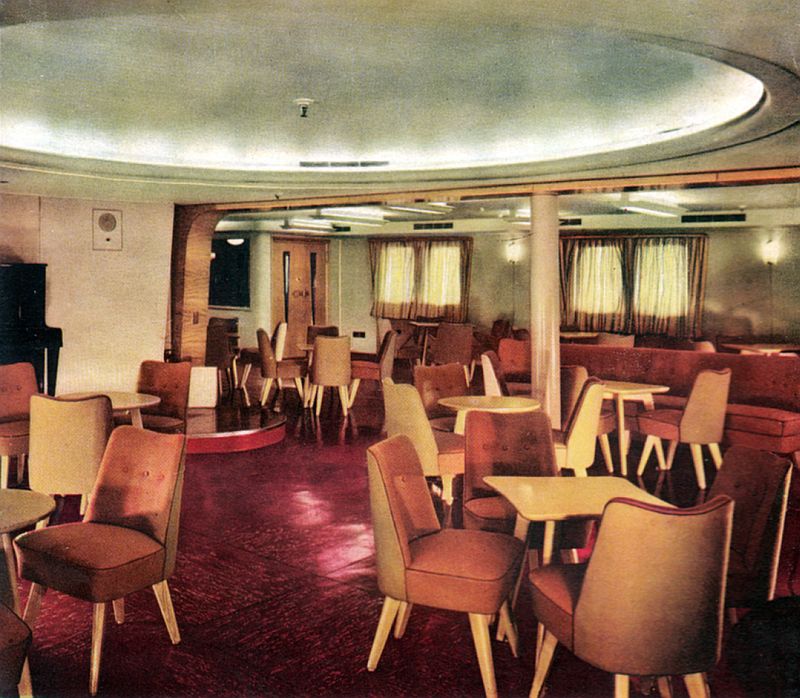 The main lounge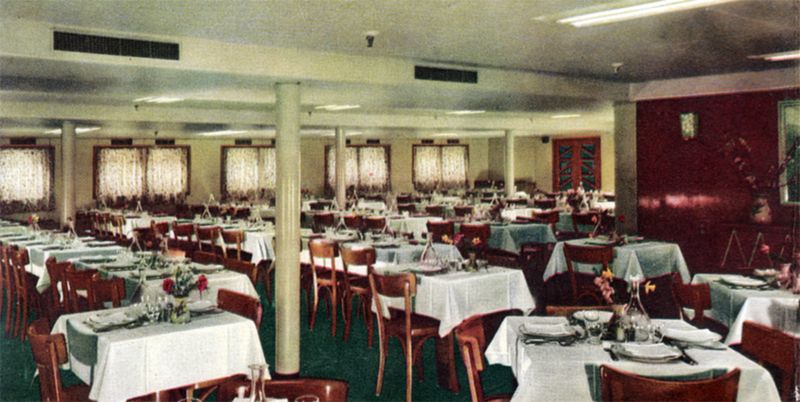 The dining room
All Classes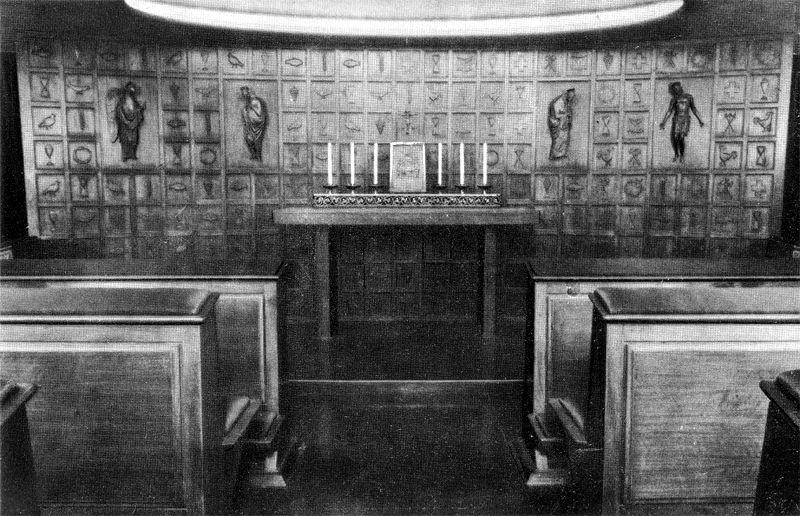 The Chapel – this venue was open to all three classes
Accommodations

:
First Class: There was a vast range of accommodations available, space obviously the optimum in First Class and the ability to provide as much space per passenger as possible was well achieved both in the ships public rooms as well as her staterooms. She offered four elegant deluxe suites complete with private lounges and spacious bathrooms and every possible comfort imaginable. Other accommodations were either single bedded rooms or two bedded all with ocean views, and with private facilities and a telephone!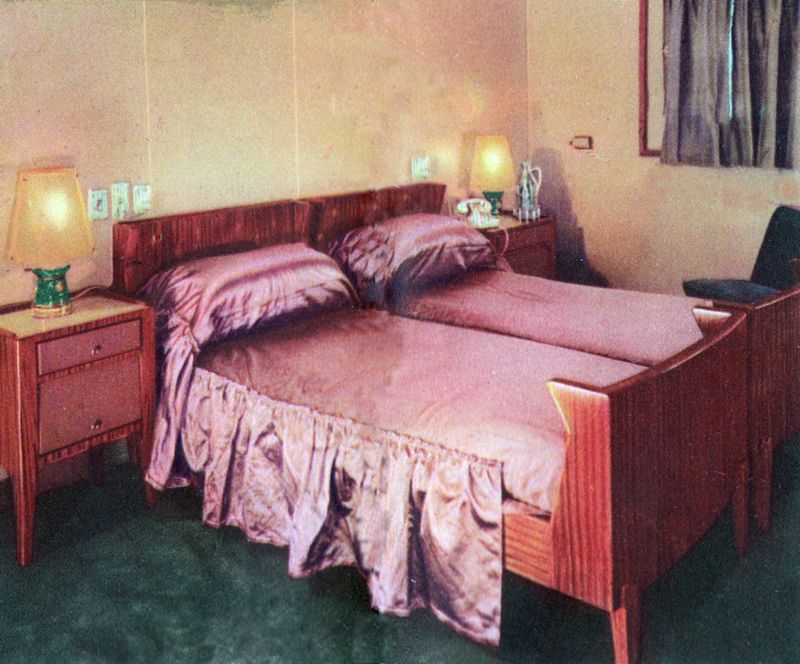 First Class two bedded Stateroom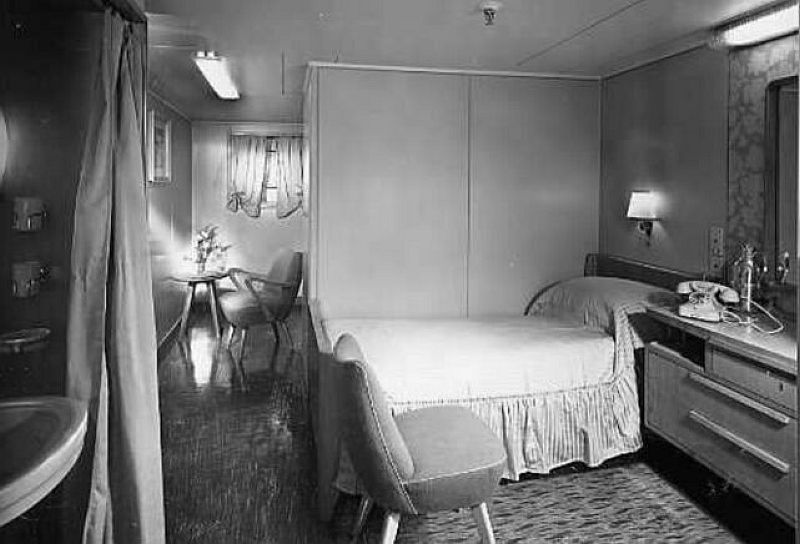 First Class single cabin
Cabin (second) Class offered from single, two bed to four berth cabins. All had private facilities as well as a telephone, and remember phones in cabins were rather new on board ships and a novelty in those days.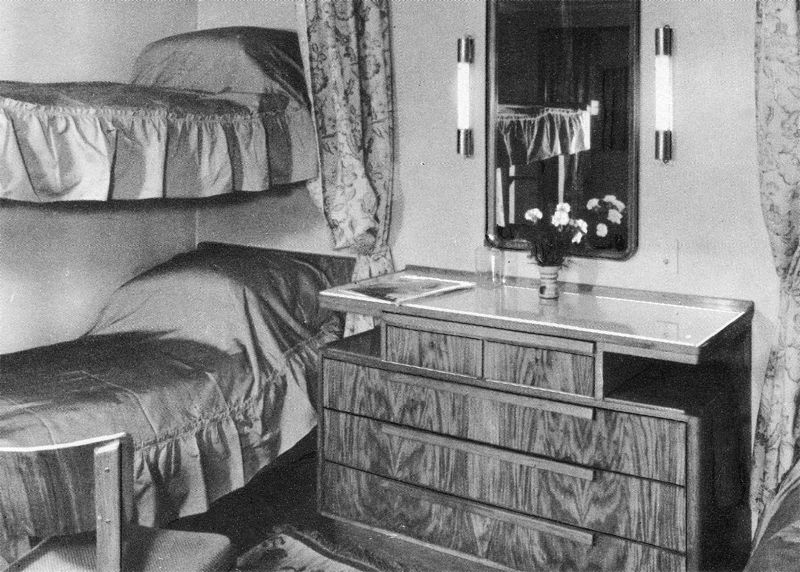 Cabin Class four berth cabin
Tourist (third) Class offered from two to four berth cabins as well as some dormitories for migrants. There were no phones in Tourist cabins and all cabins and dormitories had shared facilities.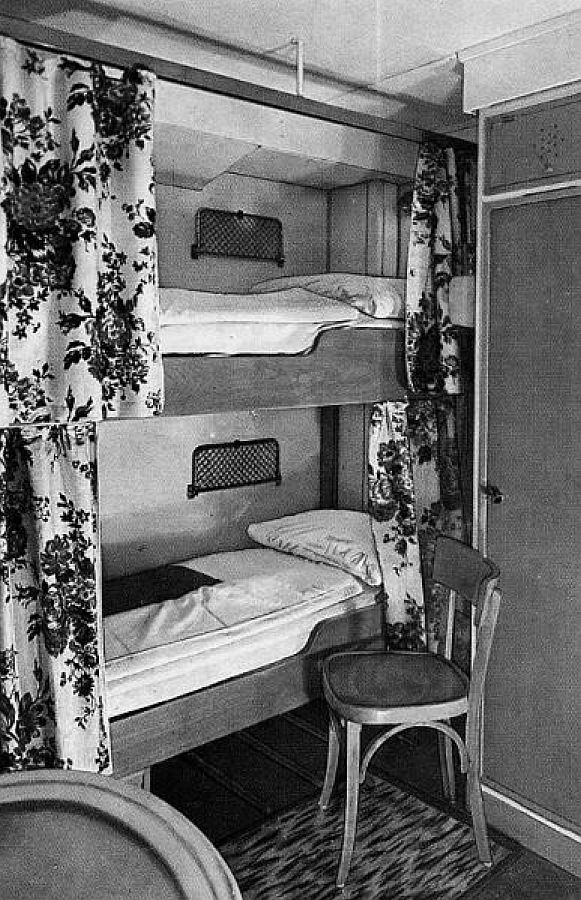 Tourist Class two berth cabin
Ongoing history

:
She continued sailing between Italia and Buenos Aires from 1952 through until early 1957, but due to the loss of the SS Andrea Doria in 1956 as she sank due to a collision with the indestructible MS Stockholm, the MS Giulio Cesare was placed on the Genoa to New York service on June 29, 1956, and the MS Augustus followed with her first voyage from Genoa to New York on February 7, 1957. The Augustus returned to her Italy South American La Plata duties in September 1961.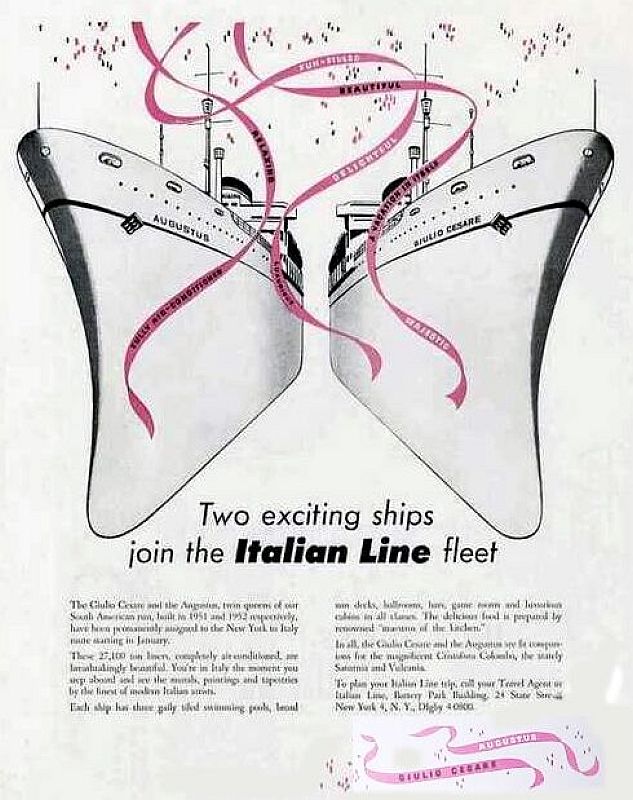 Advertisement for the New York sailings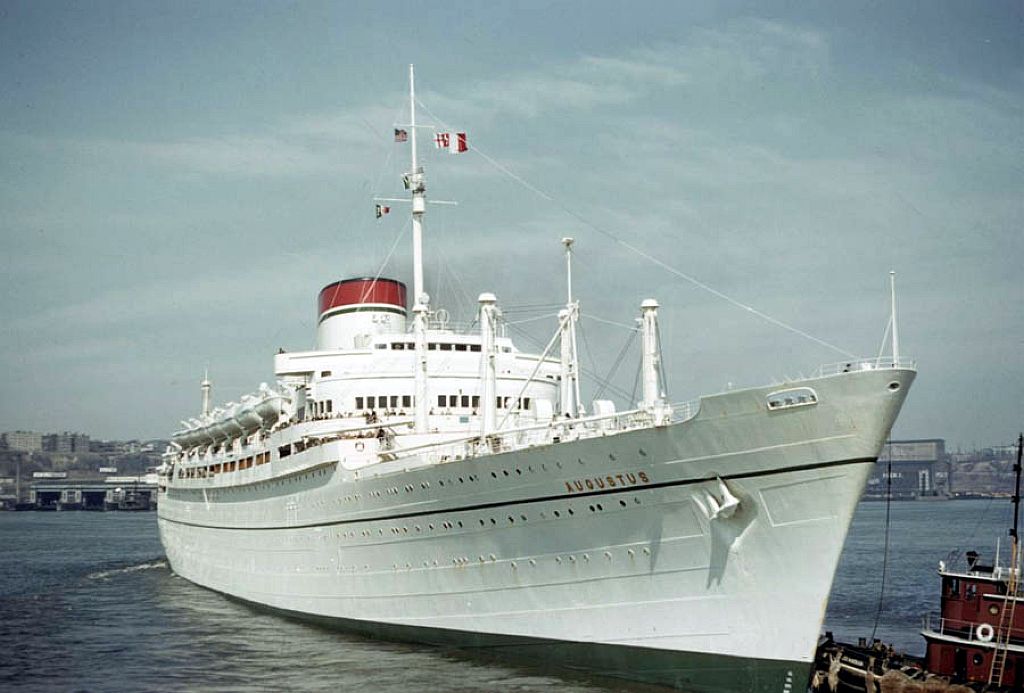 A gleaming white MS Augustus is seen here in New York, backing out of her berth in March 1959
Photograph taken by Charles Luffbarry - From the Rich Turnwald collection
By 1964 Italia Line had decided that the ship was long due for a comprehensive refit and as the trend was heading toward two classes she was to have her Cabin and Tourist classes combined into a single class to be named Tourist Class. There were extensive modernisations throughout the ship as well as the Cabin and Tourist class dining rooms being merged into one larger venue able to cater for the greater numbers. Upon completion she would operate with a new capacity of 325 First and 858 Tourist Class passengers, although many cabins were interchangeable, the size in each class could vary from sailing to sailing.
However, the sad news was that the magnificent First Class Grand Social Hall was virtually ripped out during this renovation and it became an auditorium. The only part of the original venue that survived the destruction was the elegant oval ceiling recess complete with the constellation lighting. Her cabins and other lounger were all somewhat updated and modernised and when completed she returned to her regular duties on the South American service.
Even though the MS Augustus and her sister were still superb and luxurious liners, but the problem was now that they were slowly being overshadowed by their completion on the run, ships such as the famed SS Cristoforo Colombo and SS Leonardo Da Vinci. Then there where the brand new and ultra glamorous lines T/n Michelangelo, and T/n Raffaello. The point is that the Italian fleet had become one of the world finest and certainly one of the most beautiful and luxurious. In addition the Portuguese also had began to build some superb liners, although somewhat smaller in scale, but very upmarket and they were also gaining huge popularity with the well to do! But all these ships, except for the MS Augustus, and one of the Portuguese liners of the day then SS Funchal, that later became a motor-ship, are both still afloat, and the Funchal is assured to sail on for many years yet having just had a twelve month rebuild and refit in 2011/12, but sadly the ex Augustus had now been sold to the breakers in India. But all the other ships mentioned have long been scrapped or sunk.
MS Augustus continued to sail with Italia until she was laid up in Naples on January 16 1976. Sadly her sister had already gone to the breakers three years earlier, which was due to massive problems with damage to her rudder, as well as the ever diminishing demand of ocean travel and a company that was entering a tough financial time, thus Italia Line sent her off to the local breakers at La Spezia in Italy.
However, the MS Augustus awaited her fate in Naples, no one dared to think that she would last at least another good 36 years, and that she would end up for rest of her days in relative obscurity on the other side of the world, I Asia in fact.
MS Augustus details and specifications.
Names and all owners:
1 …                                                              1952 - 1976: Augustus – Italia Line.
2 …                                                              1976 - 1980: Great Sea – Various HKG based Companies.
3 …                                                              1980 - 1983: Ocean King.
4 …                                                              1983 - 1985: Philippines.
5 …                                                              1985 - 1987: President.
6 …                                                              1987 - 1999: Asian Princess.
7 …                                                              1999 - 2011: M/S Philippines - Manila based Hotel Company.
8 …                                                              2011:          Sold to an undisclosed buyer & bound for the Indian Breakers at Alang India.
Details and Specifications:
Built at:                                                         Cantieri Riuniti dell' Adriatico, Trieste, Italy.
Yard Number:                                                 1757.
Owner:                                                          Italia Line.
Registered at:                                                Genoa Italy.
Launched:                                                     November 19, 1950.
Maiden Voyage:                                              March 4, 1952.
Tonnage:                                                       27,090 GRT.
Length:                                                         681ft - (207m).
Beam:                                                           87.2ft – (26.6m).
Draught:                                                        28ft – (8.5m).
Engines:                                                        Two 12 cylinder "Fiat" Diesels 37,000 BHP.
Screws:                                                        Twin.
Speed:                                                          Service speed 21 knots - max 23.35 knots.
Passengers:                                                   178 First Class, 288, Cabin Class, 714 Tourist Class.
From 1964:                                                    325 First Class and 858 Tourist Class.
Crew:                                                           493.
Fully Air-conditioned
Routes served:
1 …                                                              1952 – 1957 – Genoa - Buenos Aires.
2 …                                                              1957 - 1961 – Genoa - New York.
3 …                                                              1961 - 1976 – Genoa - Buenos Aires.   
Hong Kong and Philippines duties.
After the Augustus was sold to Hong Kong, she had some five named placed on her bow and stern, one name twice M/S Philippines, which also happened to be her final name.
Not long after her layup she was sold to "Great Shipping Investments Ltd," of Hong Kong who renamed her MS Great Sea and she was registered in Port Victoria Seychelles. She was taken to Hong Kong where she receive a refit and an external repaint, which saw her funnel painted all red, the green ribbon of her hull was removed, thus she now had an all white hull and the green boot topping became red.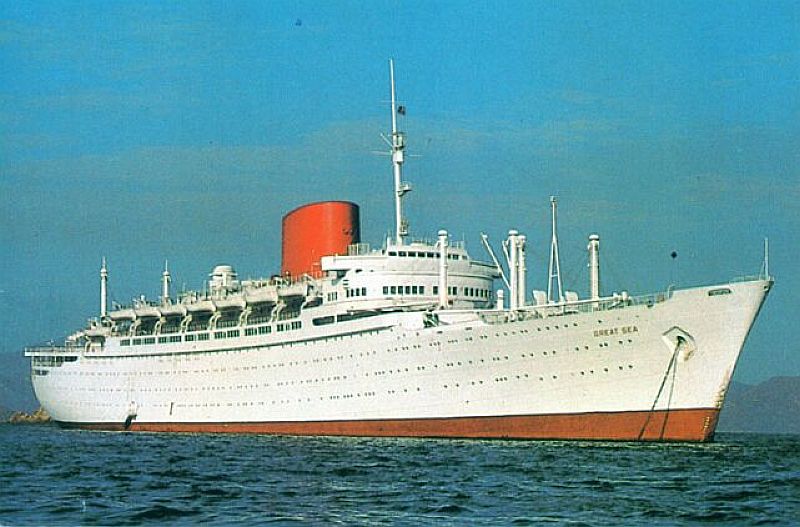 MS Great Sea
Great Sea Investments postcard – Author's personal collection
In July 1977 she was sent to Keelung for yet another refit and was under the new management of the "Great Shipping Company," Panama. But upon arrival in Hong Kong on October 17 she was laid up.
However, she finally returned to sea as a real passenger ship, be it for just a short time, for on July 3 1978, she departed for her first voyage to Kaohsiung and Keelung and continued until she returned to Hong Kong on August 21 when she was laid up once again. She was sold in 1980 to "Ocean King Navigation Company," of Manila, who renamed her Ocean King, but sadly I have no information if they ever did any work with her, but assume that again she remained in layup.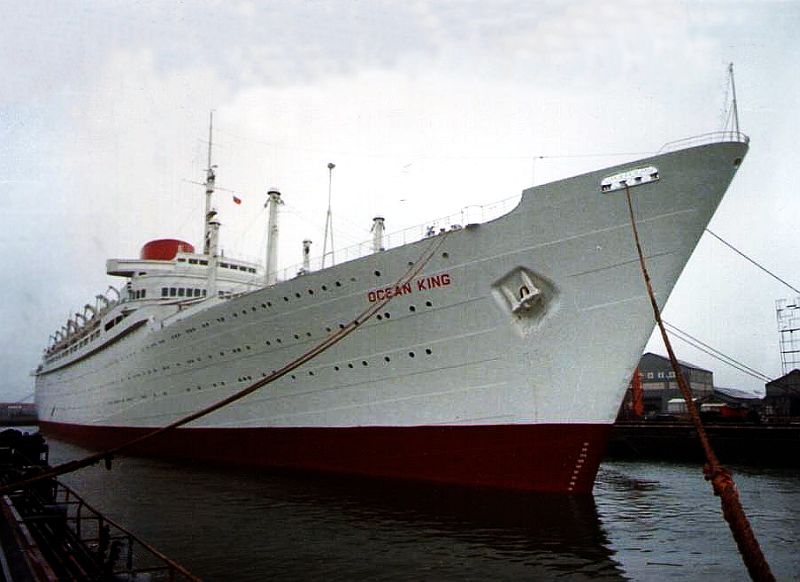 MS Ocean King is seen during her time sailing to Kaohsiung and Keelung
Unknown photographer - *See photo notes at bottom of page.
Soon this company renamed her once again, this time the MS Philippines and her duties was to be a floating hotel in Manila, but soon this operation closed also.
In 1985 she was transferred to "Philippines President Lines Inc" and she was renamed President, but was again laid up in Hong Kong. Her next mane was Asian Princess and she languished being laid up in various ports doing nothing, but apparently she was reasonably well maintained.
Then in 1997 she was finally moved to Subic Bay, where she was converted to become a cruise ship, but this venture failed to make money. Thus she was placed at anchorage just off Manila. She was dry-docked at Subic Bay in 1998, and in February 1999 she headed for Manila where she was ready to be used as a floating hotel and restaurant as was originally planned years ago. Her owners berthed the ship at Pier 15 in South Harbour Manila on October 2, 1999, having been acquired by the "Manila Hotel." On the October 12 1999 in a gala ceremony attended by President Estrada, the ship was officially renamed M/S Philippines. She was opened to the public, then early in 2000, M/S Philippines was opened as a hotel but due to the political disruption, the hotel was again closed, but was later used as an "overflow hotel" for the owner's main hotel.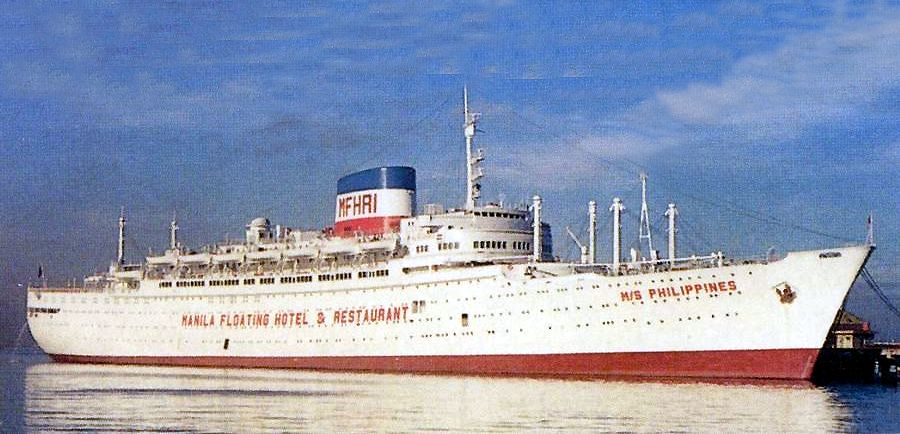 Seen in her last guise as the overflow hotel; ship M/S Philippines
Unknown photographer - *See photo notes at bottom of page.
Sadly over the past 5 years, the author has had the MS Augustus - Philippines on his books as being for sale, and there have been some excellent bids to buy the ship. However, Her owner has proven to be the world's greediest and most difficult human being to deal with. He demanded a price that was just beyond reason, like US$20 million and yet, he has now sold her for what we would call pennies, or a pittance to the breakers. The purchasers who wished to buy this ship whished to preserve her and this included the Italian Preservation Group who intended taking her back home, but this money hungry individual would rather see this ship destroyed than see her give the youth of the future an insight of what shipping used to be line.
Updates:
The M/S Philippines departed under tow bound for Alang India around 19 September 2011, however, it turns out that the tug broke down and the ship is in an undisclosed port (Colombo?) awaiting another tug to continue her journey. Whilst she was still in Manila, I have been told that her owner completely stripped her of her interiors and will most likely sell it online and believe me as he is Mr greed personified, it will be at extremely high prices as he is money hungry, thus BEWARE you will be taken for a ride and I do not a leisurely cruise either!
Final News Update: The Philippines arrived at Alang India on Friday August 14, 2011, and it is estimated that she will be beached before the end of the month.
This is how we should always remember the beautiful MS Augustus!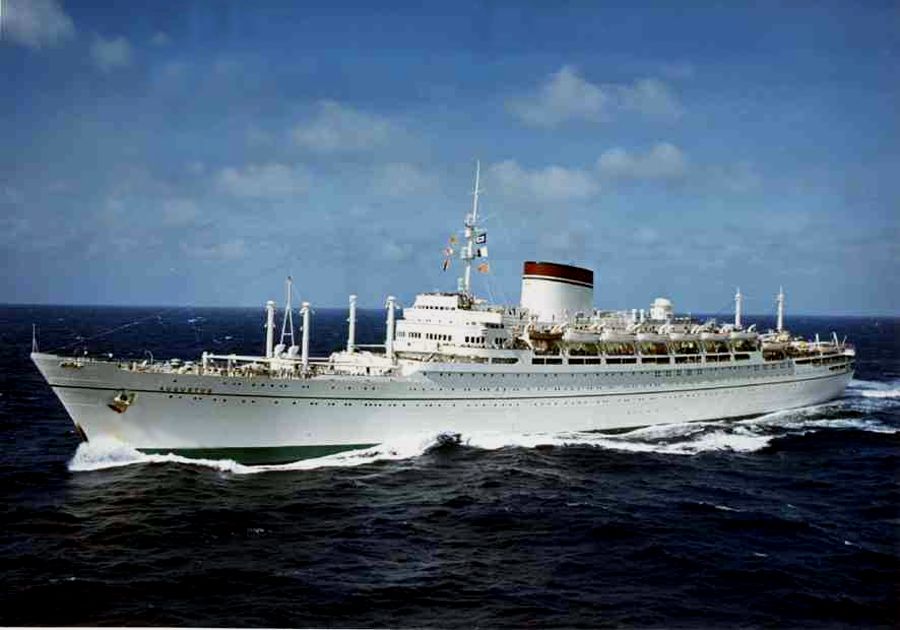 Farewell our Grand Italian Dame, you certainly have served all who have sailed on you so well!

MS Augustus & Giulio Cesare INDEX

:

Page One …              MS Augustus

Page Two …              MS Giulio Cesare

Page Three …           MS Giulio Cesare & Augustus - Photo Album

Page Four …             M/S Philippines

Page Five …              M/S Philippines – Photographs taken whilst for sale

Also Visit …               SS Michelangelo & Raffaello Feature

**************************************************

Use the Back button on your browser or Close the Page to return to the previous page
or go to our

INDEX

Who is the Author of ssMaritime?

Commenced in the passenger Shipping Industry in May 1960

ssMaritime.com & ssMaritime.net

Where the ships of the past make history & the 1914 built MV Doulos Story

Also visit my …

"Save The Classic Liners Campaign" & "Classic Ocean Voyages" pages

Photographs on ssmaritime and associate pages are by the author or from the author's private collection. In addition there are some images that have been provided by Shipping Companies and private photographers or collectors. Credit is given to all contributors. However, there are some photographs provided to me without details regarding the photographer/owner concerned. I hereby invite if owners of these images would be so kind to make them-selves known to me (my email address may be found on www.ssmaritime.com only), in order that due credit may be given. I know what it is like, I have seen a multitude of my own photographs on other sites, yet these individuals either refuse to provide credit or remove them when asked, knowing full well that there is no legal comeback when it comes to the net. However, let us show these charlatans up and do the right thing at all times and give credit where credit is due!

This notice covers all pages, although, and I have done my best to ensure that all photographs are duly credited and that this notice is displaced on each page, that is, when a page is updated!

ssMaritime is owned and © Copyright by Reuben Goossens - All Rights Reserved