Cogedar Line MS Aurelia and the; Jacoba Ris-Török Story
Please Note: Firefox and Google Chrome search engines are not suitable - Use "Internet Explorer" for this page to load perfectly!

Click the logo above to reach the ssMaritime FrontPage for News Updates & "Ship of the Month"
With Reuben Goossens
Maritime Historian, Cruise'n'Ship Reviewer, Author & Maritime Lecturer
Please Note: All ssMaritime and other related maritime/cruise sites are 100% non-commercial and privately owned. Be assured that I am NOT associated with any shipping or cruise companies or any travel/cruise agencies or any other organisations! Although the author has been in the passenger shipping industry since 1960, although is now retired but having completed over 700 Classic Liners and Cargo-Passengers Ships features I trust these will continue to provide classic ship enthusiasts the information the are seeking, but above all a great deal of pleasure! Reuben Goossens.
Cogedar Line
MS Aurelia
The Jacoba (Terry) Ris-Török Story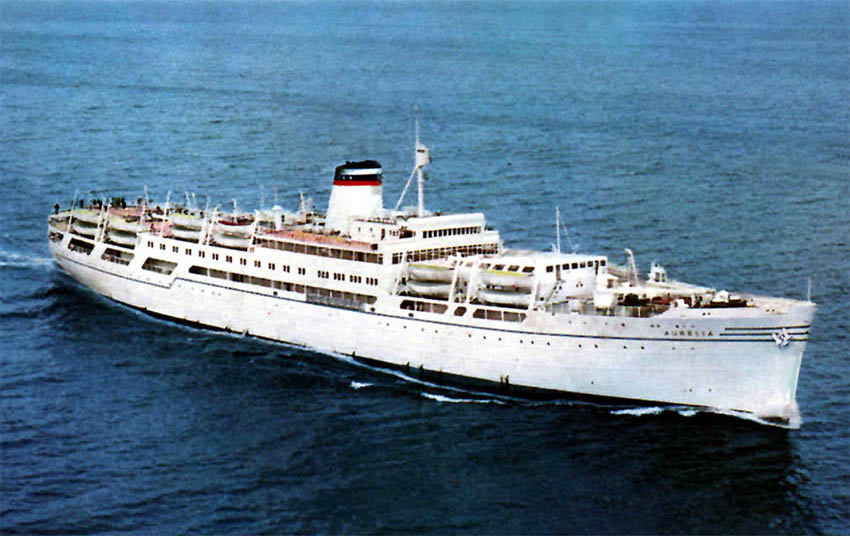 MS Aurelia is seen around the 1960
This photograph is from the author's private collection
Please note: All personal photographs on this page are the property off and © copyright 2007 by Yvette Meijer, daughter of the late Jacoba Meijer, nee Ris. These are NOT to be copied by any means or for any purpose and legal action will be considered. These are used by ssMaritime with permission. Photographs of the ship are from the author's collection or other sources. Other images are as noted!
Note by the author of ssmaritime. Usually I receive stories by those who have sailed on various migrant ships and I often rewrite them slightly. However, this time I have decided to let the daughter of the passenger concerned do the telling, as she did such a fine job and I feel it makes for interesting reading and it is a story that touches the heart in so many ways and I know that there are those that will be able to identify with it!
The Story Begins as
Yvette
tells it:
Introduction …
"Jacoba Ris was born in Schiedam The Netherlands on May 23 1936. In the fifties she met Lajos Török who was an engineer at the famed Wilton Feyenoord Schiedam Ship Yard. He had come to The Netherlands along with many of his countrymen as a refugee from the political situation in Hungary in the 1950's. After they got married they decided to emigrate and try for a new life in Australia. Yvette, Jacoba's daughter says that she was 'sure that it was Lajos' idea, as my mum was probably not that adventurous.'
In September 1960 mum resigned from her job at De Kuyper, distillery in Schiedam, and from the dates at the back of the pictures I believe they embarked on the MS Aurelia sometime in October 1960, and it seems that they arrived in Sydney in November 1960."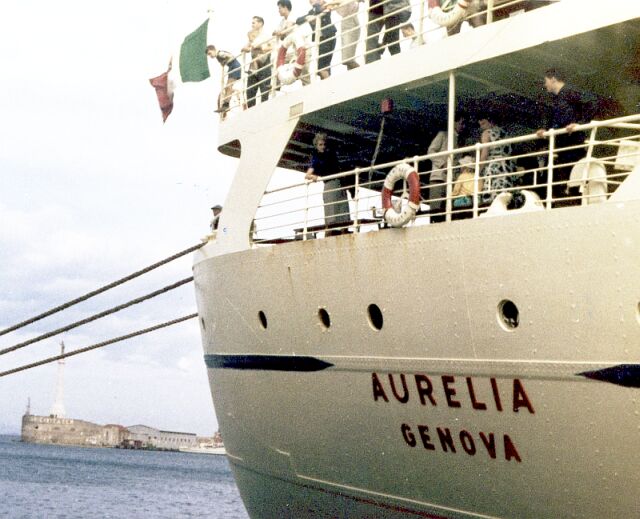 The blond Jacoba Ris-Török is seen standing at the railing astern of the ship in a long grey skirt and dark top
"Some of the ports of call were Bremen, Naples, Messina, Malta, I recall telling me how the Gulf of Biscay was so rough and how most passengers were seasick. Obviously then there was Egypt and the Suez Canal and the Red Sea as well as the Indian Ocean sailing to Australia calling into Fremantle and Melbourne on the way to Sydney."
Voyage Photo Album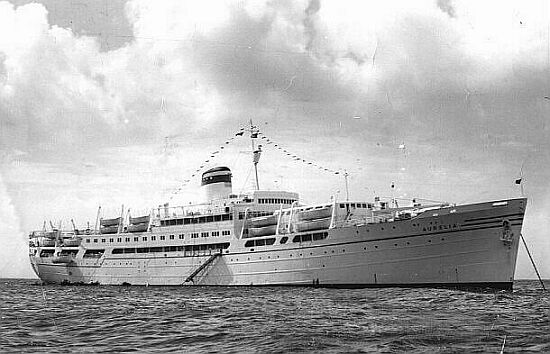 MS Aurelia - from the author's private collection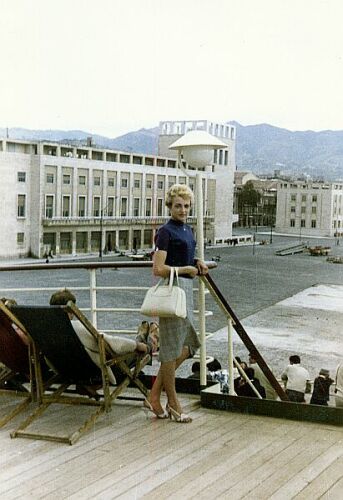 Above & Below: Aurelia spends the day in Messina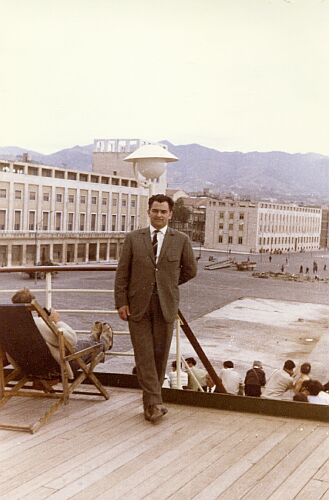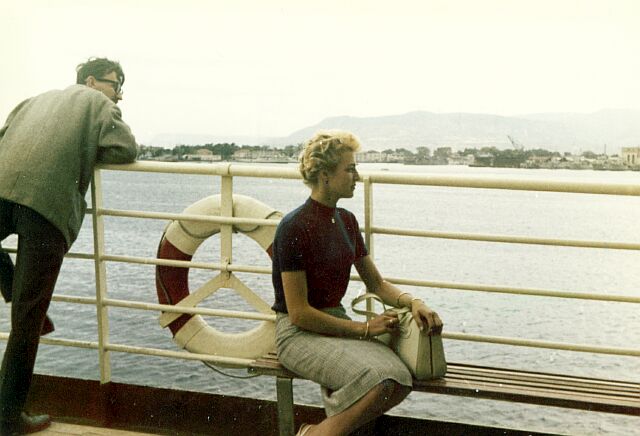 Jacoba awaits Aurelia's departure from Messina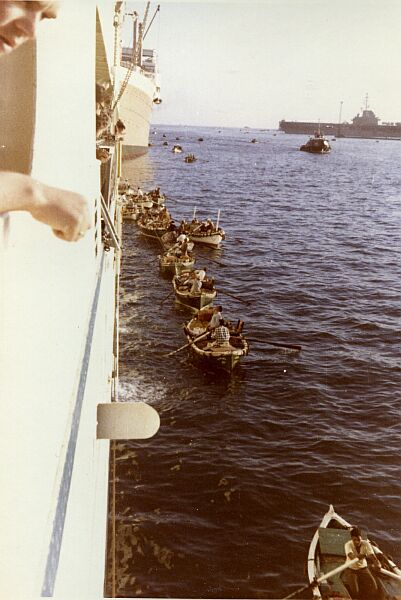 Typical scene along side the ship at Port Said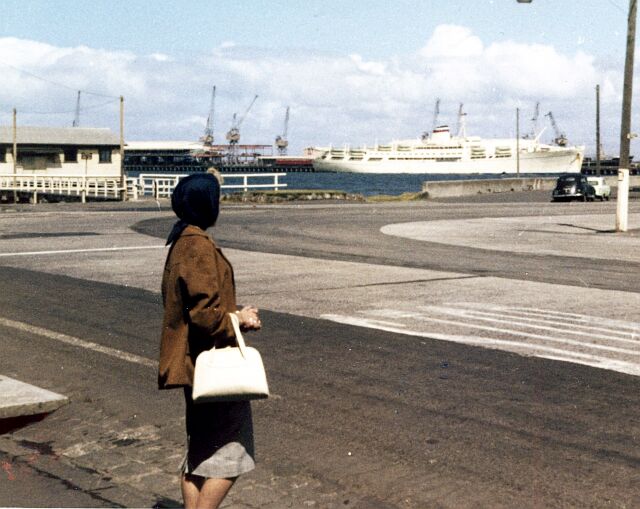 Jacoba looks at the ship that has brought her half way around the world, but she would join Aurelia again two years later
Sydney 1960 - 1962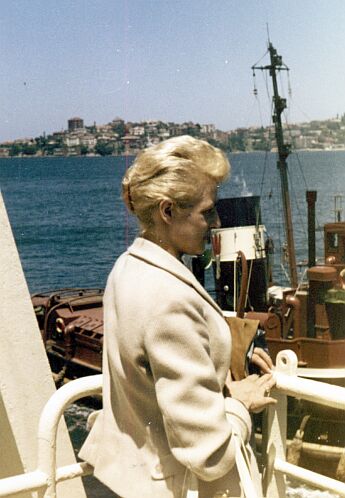 Jacoba anxiously looks on as she arrives in Sydney and must be wondering about her future
having a new husband and now being in a strange new far away country
"Upon arrival, Lajos and my mum managed to find accommodation in Rosebay, Sydney and my mum started working on November 17, 1960 for David Jones as Accounting Machinist and Clerical Assistant in the Budget Account department."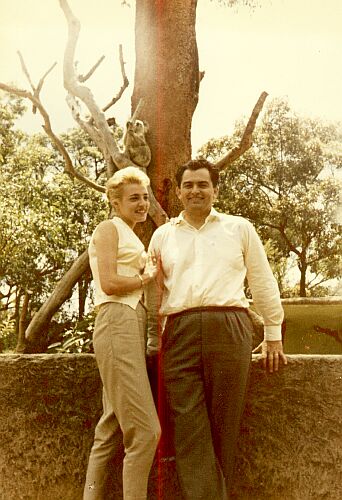 This happy shot was taken at Taronga Park Zoo, Sydney
"Unfortunately the marriage did not last very long and my mum decided, that now she was on her own, it was best for her to go back home to be with her family, thus she saved for a year to be able to buy a return ticket. Whilst in Sydney mum did make a very good friend, Betty, who would become what you would call a lifelong friend! She resigned from David Jones in November 1962 and embarked on Aurelia once again that month to go home. Lajos decided to stay in Australia, but, we have no idea what became of him."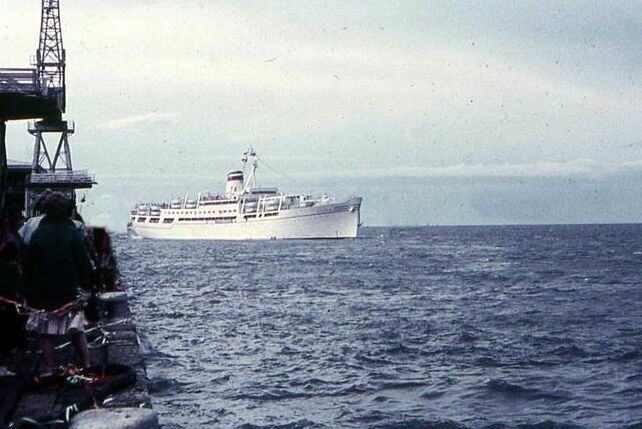 MS Aurelia is seen departing Melbourne on November 18, 1962
"Here is a funny story, on one of the photo's you will see mum dancing with a blond gentleman who still owes her money. She used to tell the story until the day she died. Apparently he had run into some misfortune and my mum, being rather naďve and not too well off herself, bought the story and when he asked for it she lend him the money. He promised that he would return it once they were back ashore. I have no idea what his name or nationality is, but, these days a woman may not fall for his kind of story as quickly as mum did, or would we?"
Voyage Photo Album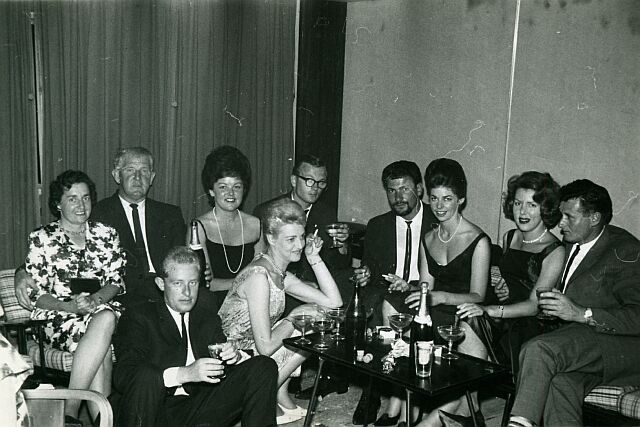 A typical shipboard lounge scene, all dressed up and, off course - champagne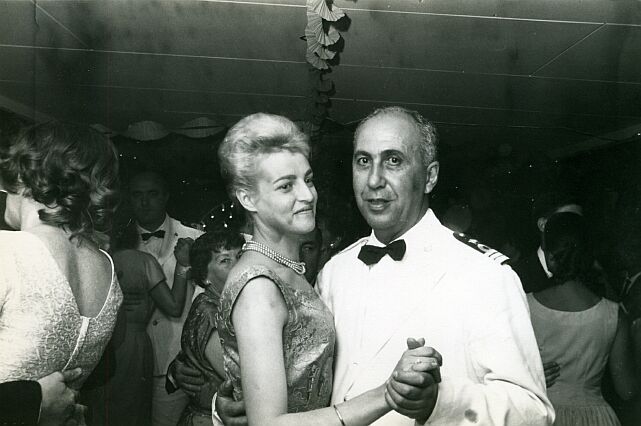 The perfect gentleman and a charming lady enjoying the ball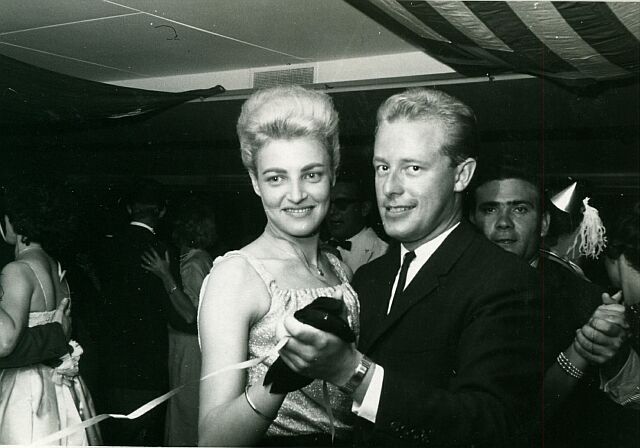 He looks such a nice guy, but was obviously a conman who was more than willing to take Jacoba's money and run!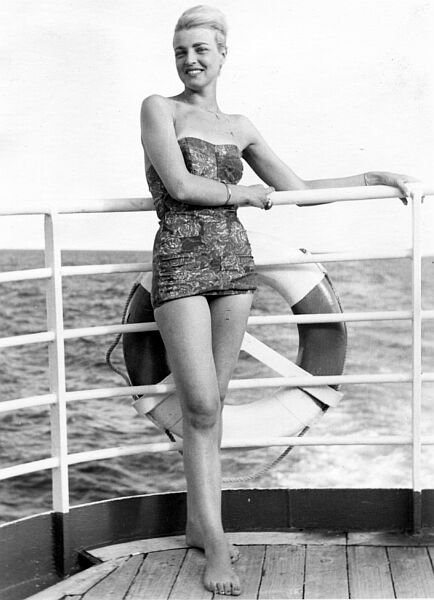 Fun in the sun!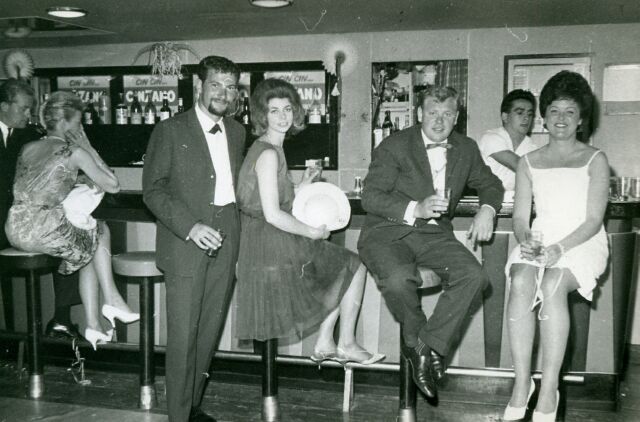 Jacoba is seen at the left
"My mum returned to her normal way of life in The Netherlands obtaining a good job with "PALM" a marketing company. She met my dad Adriaan Meijer and she re-married in August 1964. I was born, in Schiedam, in March 1966. Unfortunately my father died in May 1971, so my mum and I stayed behind, she, as a young window just 35 years old and I, just 5 years old. You can imagine mum and I were very close.
I visited Australia in May 1992 and I had a wonderful time meeting my mum's good friend in Sydney, Betty Rappel and her husband Ted. Whilst in Australia I tried to make contact with Lajos Török, but was not able to locate him."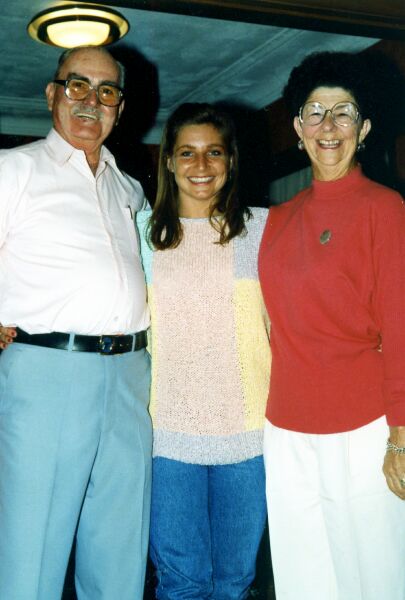 Betty and Ted Rappel, with the then 26 year old Yvette Meijer in the middle
"Unfortunately my mum passed away 2 years ago on July 30, 2005. I have tried to get to make contact with Lajos Török once when I visited Sydney in 1992, but was not able to locate him. Also, I tried to send letters to all the Török's in Australia after my mum passed away to inform him or his siblings about her death. But I am not even sure if he is still alive or if he remained in Australia. It is possible that he returned to Hungary or moved somewhere else."
Yvette Meijer,
Daughter of the late Mrs. Jacoba Meijer.
MS Aurelia & Cogedar Line INDEX:
Page One:      MS Aurelia – history page - This page.
Page Two:      The Bulthuis Family Story.
Page Three:    MS Aurelia - Photo Page.
Page Four:      Jacoba Ris-Török Story.
Also read:     Other Cogedar Line ships …
                     MS Flaminia - The Old Cogedar Liner.
                     RMS Media / SS Flavia - The last of the Cogedar Ships.
"Blue Water Liners sailing to the distant shores.
I watched them come, I watched them go and I watched them die."
****************************
Visit our ssMaritime Main INDEX
Where you will discover over 700 Classic Passenger & Passenger-Cargo Liners!
ssMaritime.com & ssMaritime.net
Where the ships of the past make history & the 1914 built MV Doulos Story
Please Note: ssmaritime and associated sites are 100% non-commercial and the author does not seek funding or favours and never have and never will.
Photographs on ssmaritime and associate pages are either by the author or from the author's private collection. In addition there are some images and photographs that have been provided by Shipping Companies or private photographers or collectors. Credit is given to all contributors, however, there are some photographs provided to me without details regarding the photographer or owner concerned. Therefore, I hereby invite if owners of these images would be so kind to make them-selves known to me (my email address can be found at the bottom of the page on www.ssmaritime.com), in order that due credit may be given.
ssMaritime is owned & © Copyright by Reuben Goossens - All Rights Reserved