Cogedar Line MS Aurelia previously the MS Huascaran & Beaverbrae later Chandris Cruises MS Romanza & New Ambassador Cruises Romantica
Please Note: Firefox, iPhones, iPads & some other Search Engines may not be suitable
Use Internet Explorer & Google Chrome for this Web Page load perfectly!

Click the logo above to reach the ssMaritime FrontPage for News Updates
With Reuben Goossens
Maritime Historian, Cruise'n'Ship Reviewer, Author & Lecturer
Please Note: All ssmaritime and my other related ssmaritime sites are 100% non-commercial and privately owned sites. Be assured that I am NOT associated with any cruise or shipping companies or travel/cruise agencies or any other organisations! The author has been in the passenger shipping industry since May 1960 and is now semi-retired, but continues to write article on classic liners and cruise ships in order to better to inform cruise and ship enthusiasts for their pleasure!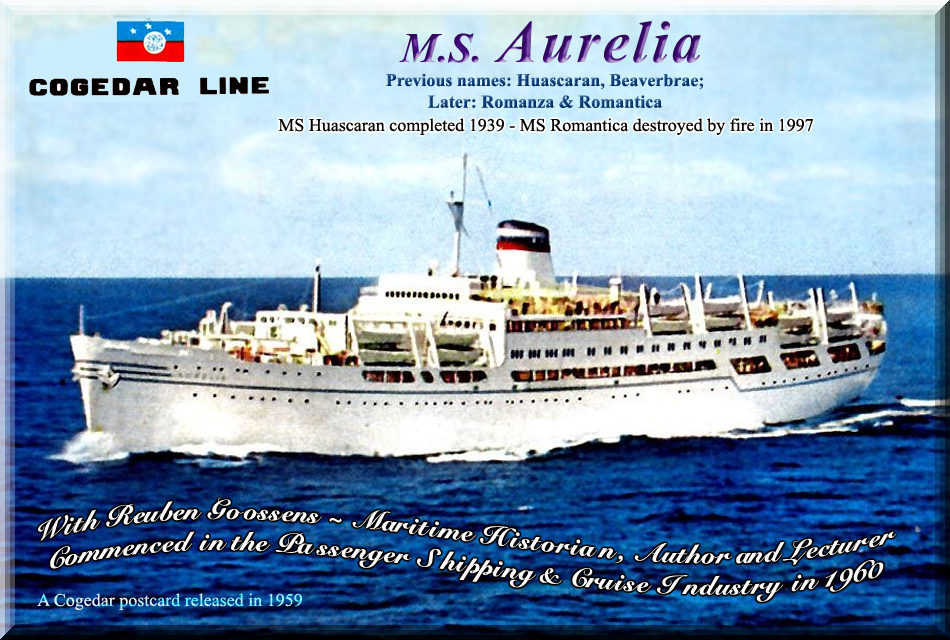 Photographs on these pages are from the author's private collection, unless stated otherwise!
The Ship as Built - MS Huascaran:
MS Aurelia was originally built as the 6,951 GRT (Gross Registered Ton), fine looking Hamburg America Line, Passenger-Cargo Ship the MS Huascaran. She was launched on December 15, 1938 at the Blohm & Voss shipyards in Hamburg. When completed and having undertaken her sea trails she was delivered to her owners on April 27, 1939. As built she offered accommodations for 58 First Class passengers in her luxuriously appointed amidships superstructure. The Huascaran departed on her maiden voyage on April 29, 1939 from Hamburg to Genoa. Upon her return to Hamburg she commenced the service she was built for, the Hamburg to the West Coast of South America service and continued on this service together with her sister the MS Orsono and did so until 1940, but of course the WW2 would change everything!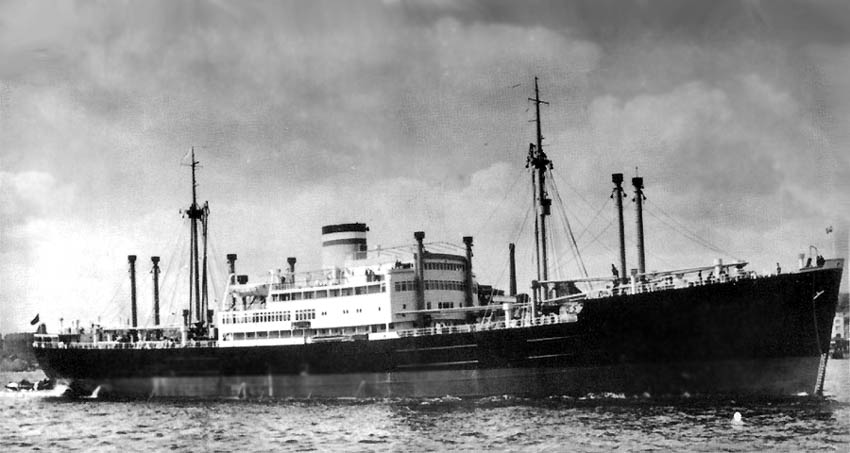 The MS Huascaran seen as built in 1939
In 1940 she was taken over by the German Navy and converted into a submarine/U-Boat depot and later during the war she became a Submarine repair ship, spending the majority of her time in Norway where she was finally captured by the British in 1945, a fully unscathed ship as she had been in protected waters. She was taken to Liverpool in April 1945 where she was given a refit.
Then, in June 1945 she sailed for Montreal as part of Canada's war reparations and was allocated to the Canadian Government and she entered into service as a cargo ship under the management of Park Steamship Company until September 1947.
MS Beaverbrae:
On September 2, 1947, the MS Huascaran was sold to the Canadian Pacific Line and she was comprehensively refitted at Sorel, Quebec, Canada. When she was completed her superstructure saw little to no change, whilst above on Boat Deck there were now a total of ten lifeboats as well as eight lifeboats far aft on her "Poop Deck," all but two lifeboats, were double stacked. In addition, her yellow funnel now proudly featured the Canadian Pacific logo.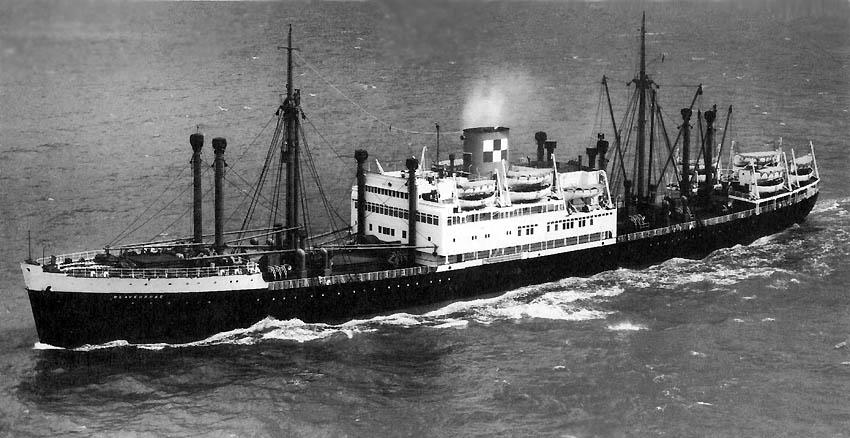 Canadian Pacific Line 9,034-ton MS Beaverbrae
Her new accommodations were as follows; she now offered new upgraded cabin accommodations for 74 passengers, however she also had dormitory accommodations for up to 699 persons. On February 8, 1948 she departed on her maiden voyage as the MS Beaverbrae, sailing from St John, New Brunswick Canada laden with cargo bound for Tilbury and she then continued to Bremerhaven where she would collect her first passengers most of whom would be displaced persons and other migrants.
Therefore, Canadian Pacific Line intended at all times to use this ship to transport cargo from Canada to Europe and for the return voyage she would carry passengers as well as some cargo, from Germany and other designated ports to Canada. When returning to Canada, one of her holds would be completely converted and transformed into a number of dormitories and when in Canada, these were removed to be used as a hold again for her voyage eastward to Europe.
In due course, there was a decline in the passenger's trade that suited this ship, thus the MS Beaverbrae as no longer required and she made her last migrant voyage when she departed Bremerhaven on July 28, 1954. Amazingly, this well built ship that already had two lives had made a good 51 voyages and carried over 38,000 displaced persons migrants and full fare passengers to Canada.
From Cargo Ship to the fine Passenger Liner MS Aurelia: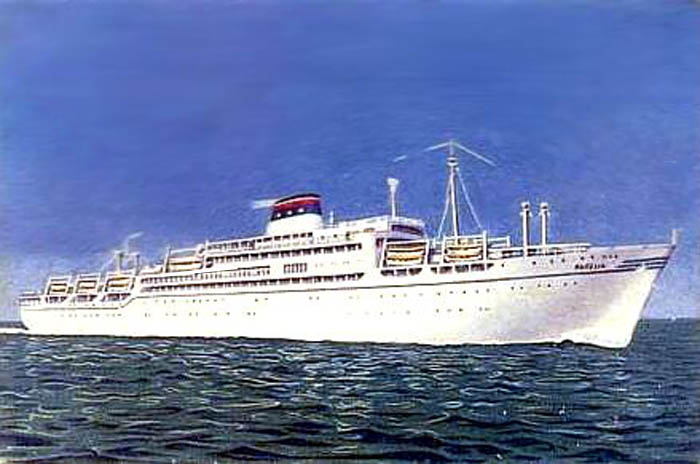 The very first Cogedar postcard of the MS Aurelia
The Beaverbrae was purchased on November 1, 1954 by the well-known Italian shipping Company, "Cia, Genovese do Armamento," or as the company is better known, "Cogedar Line". Having taken delivery they renamed her "Aurelia" and they took her to Monfalcone, Trieste in order to extensively rebuild her as a major passenger liner to be operated mostly on the profitable Italy to Australia service.
Her superstructure was stretched forward and aft providing additional interior spaces and she looked more like a passenger liner. Topside far forward on Sports Deck there was a glass enclosed deck space offering views over the forward decks of the ship. Along the sides there were covered decks leading to a sports deck. One deck down on Lido Deck, or Lounge Deck, there were still some cabins far forward and lounges aft, but these were spread the full width of the ship. Aft of there was the outdoor pool and further deck space. The next deck down was Promenade Deck, generally called Shelter Deck, and besides the main Lobby forward, aft was the main Dining Room.
She accommodated 1,124 passengers in cabins raging from 2 to 8 berth cabins. Forward on Lido Deck in the new added superstructure located between the eight lifeboats contained some 12 outside cabins that had a private toilet, with their own or shared shower facilities between two cabins. There was also 1 outside cabin that had use the shared facilities with the 4 inside cabins. The shared facilities were located close by. Air-Conditioning had been installed throughout the ship and she was registered in Genoa and as being 10,022 GRT.

Here we see her after her first refit into a passenger liner in 1954/55
On May 13, 1955 Aurelia departed Trieste bound for Sydney for her first voyage and joined her fleet mate the MS Flaminia that had departed only one month earlier, however Aurelia's homeport would soon become Genoa and she departed from there for her first Genoa to Australia and New Zealand voyage on November 15.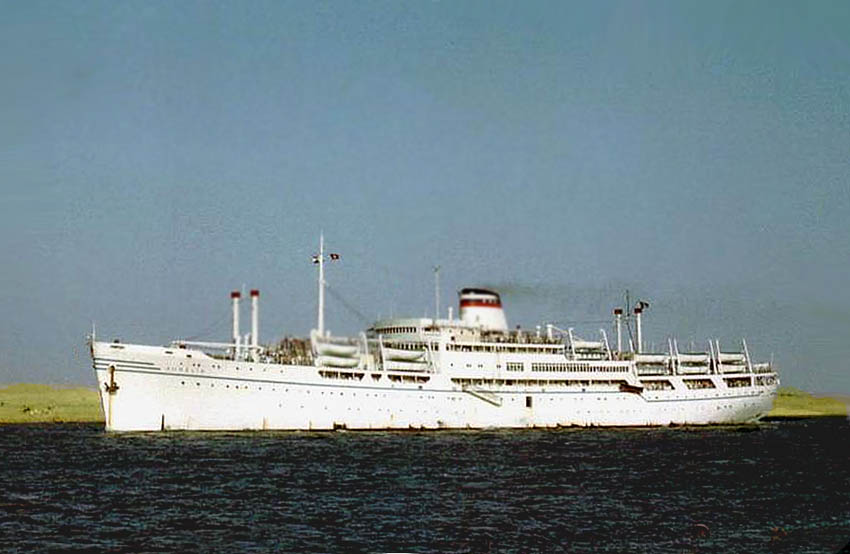 The Aurelia is seen transiting the Suez Canal in 1958
Amazingly, Cogedar decided during the European winter months of 1958/59 that it was worthwhile to replace her original Man Diesels with a brand new pair of the same type. In addition she was given a comprehensive refit that saw some alterations take place throughout her interiors as well as to her exterior, which saw her profile further enhanced.
Forward of her main superstructure, above the accommodations between the forward lifeboats, up on the Sports Deck area, an open-air glass enclosed Solarium deck and children's pool was added. At a later date this section was partially covered and much later still, after her Chandris Cogedar days, this deck was completely rebuilt to contain cabins.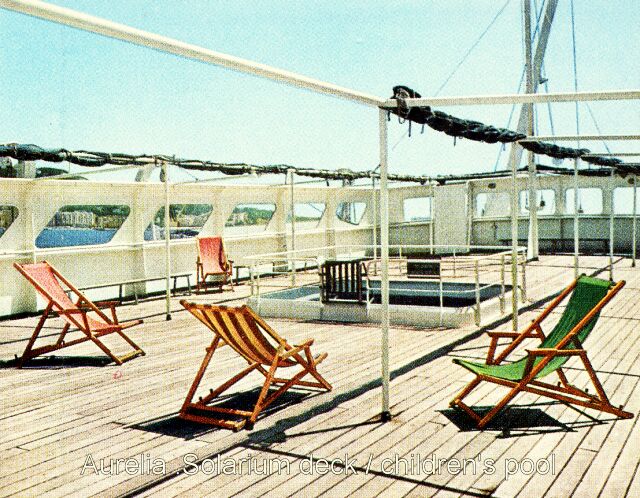 Forward, but below the bridge was the new Solarium deck and children's pool
Directly below and aft of the cabins on Lido Deck was the main Lounge section of the ship with six wonderful Lounges and Bars as well as the Swimming Pool and ample Deck space located aft. Above the Swimming Pool there was an oval opening to Sports Deck where there was also a spacious deck space!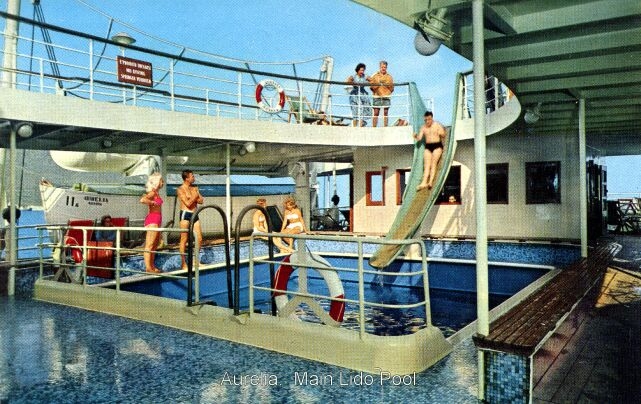 Lido Pool with slippery slide was located aft of the main lounges, however we do see the very popular Lido Bar
It is in the Lido Bar were I spent considerable time during my voyage later in 1965 where I first met and befriended the famous New Zealand singing Star the brilliantly talented Miss Dinah Lee and she still is a great talent!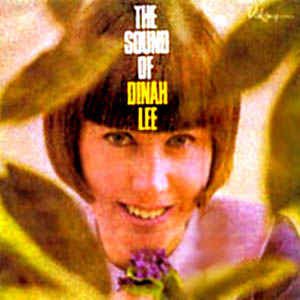 This is her original Album cover, and it remains in my collection, which I obtained in New Zealand, before meeting Dinah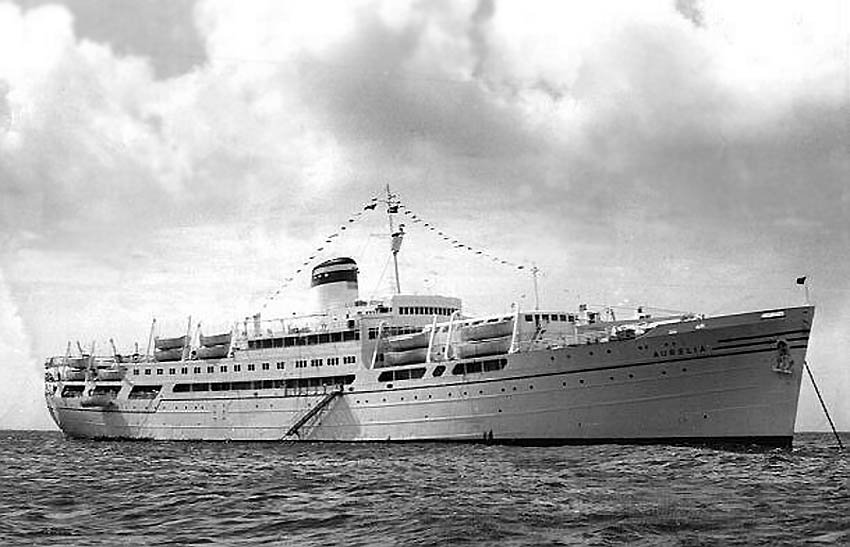 A fine photograph of the MS Aurelia seen during a cruise from Australia
This shows the forward sports deck sections with cabins below
There was no doubt that the Aurelia's appearance had vastly improved and she did become a popular ship indeed! Upon completion, she was listed as being 10,480 GRT, but amazingly her passenger capacity remained the same.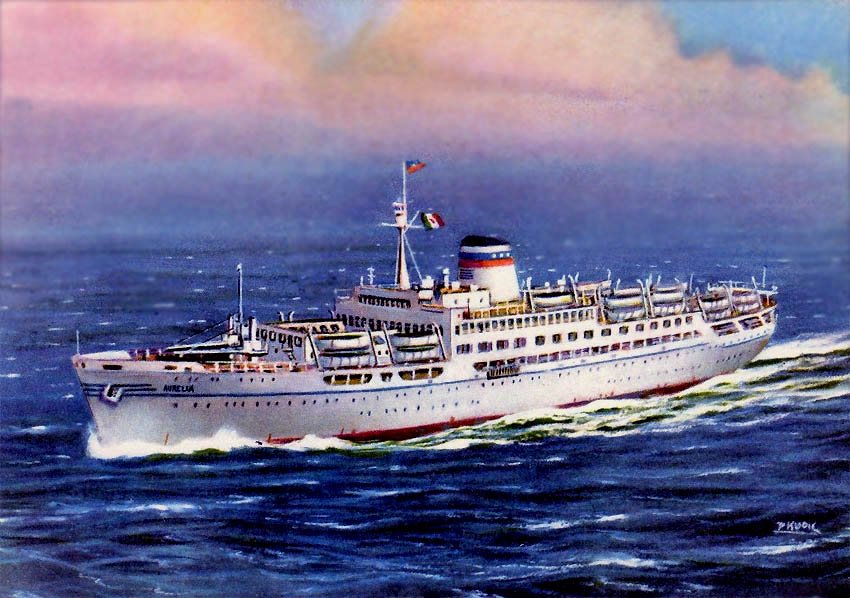 A postcard with an artist impression of the new 1959 MS Aurelia
Aurelia had now been transferred to operate from Bremerhaven and Northern European Ports. She departed from Bremerhaven on June 12, 1959 for Sydney and she continued on the Australian service.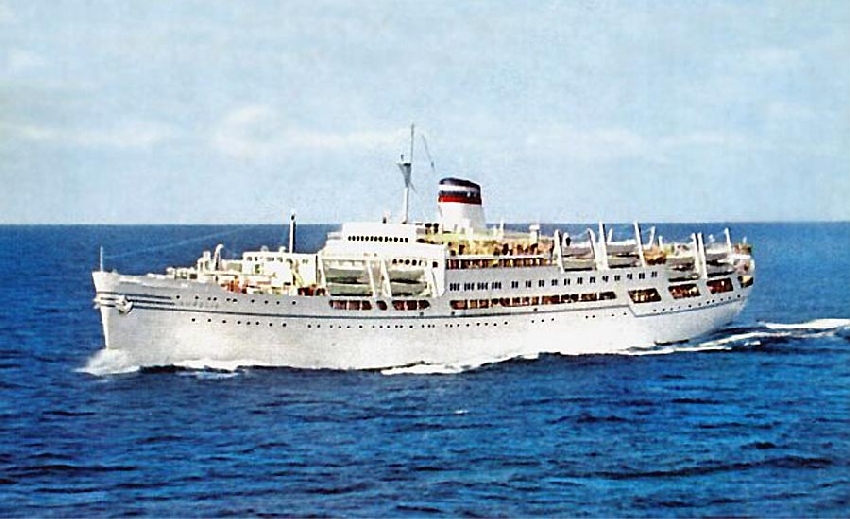 Above & below: these postcards clearly show the forward Solarium without any covering
Whilst in the postcard below we can clearly see that the forward section is now partially covered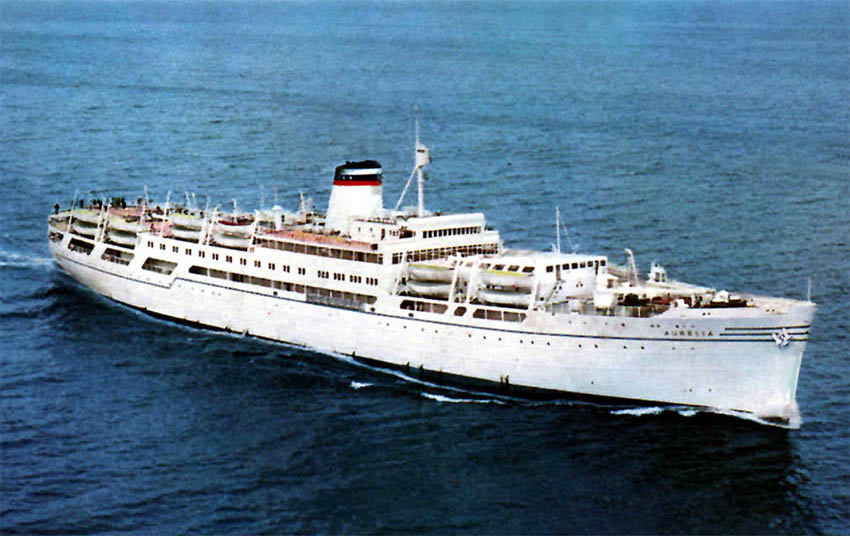 However, the Aurelia was chartered by the Council of Student Travel for a single round Trans-Atlantic voyage from Bremen to New York, arriving June 27, 1960. This experiment was very successful and it was repeated in 1961 in 1962 and 1963 and she made a good number of Trans-Atlantic voyages whilst she was with Cogedar!
During 1964 the Aurelia had commenced to call into Rotterdam and there she collected many Dutch passengers, she would then head to Bremerhaven, continue her voyage to England and on Australia. However, on December 9 1964, the Aurelia departed from Rotterdam on the first of three around the world voyages sailing via the Panama to New Zealand and Australia and then returning via the Suez Canal. Thereafter she returned to her regular return voyages via the Suez Canal.
Trans-Atlantic Student Voyages:
In addition throughout her years she would be chartered to operate Trans-Atlantic student voyages from Channel ports always sailing to New York.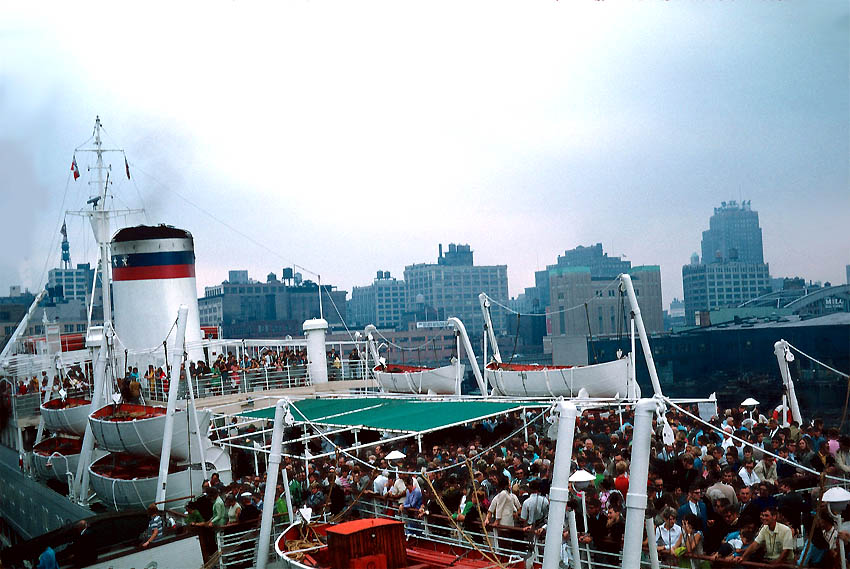 Above & below: we see the Aurelia in New York during one of the Council of Student Travel voyages
These images were sent in by a supporter without any details - Please see Photo Notes at the bottom of this page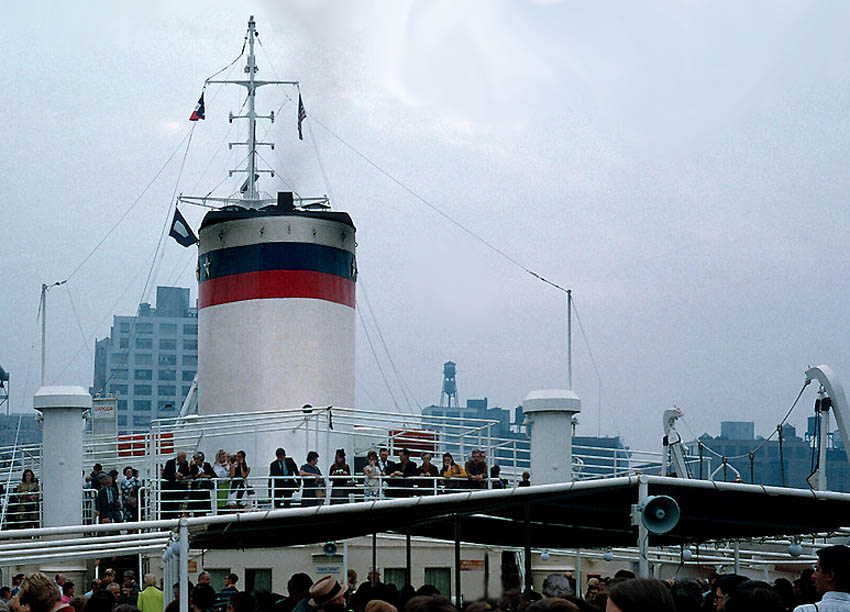 SS

Flavia
:
In the meantime, Cogedar had obtained the Cunard passenger-cargo ship the RMS Media, which was completely rebuilt.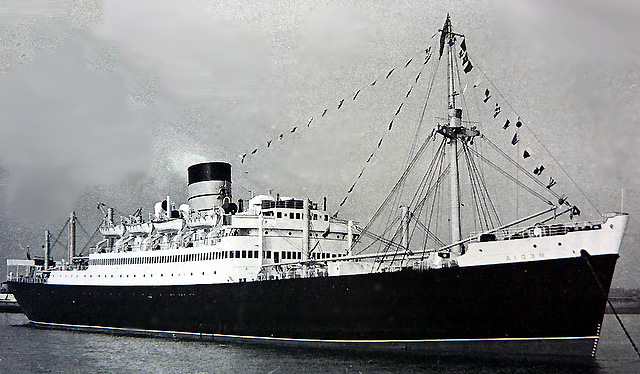 The RMS Media is seen at Anchor in the Mersey
There is no doubt that this ship has famous as being one of the finest rebuilding and design of any ship in history, for the original ship was internally an all First Class luxury liner, but externally she was not exactly the finest looking ship. Whilst the newly rebuilt SS Flavia as you can see for yourself in the photograph below looks, as has been claimed by countless maritime designers as being; "A Beautiful, Graceful, and a Sleek White Swan!" And I agree. I was fortunate to have sailed on this beautiful ship from Rotterdam to Auckland New Zealand in 1965 having been on a European vacation, having sailed on the second voyage of the TSS Fairstar from Melbourne to Naples. The reason I disembarked in Auckland was that I became ill, but I continued as I stated earlier on the Aurelia later. From Auckland and sailed to Melbourne via Sydney.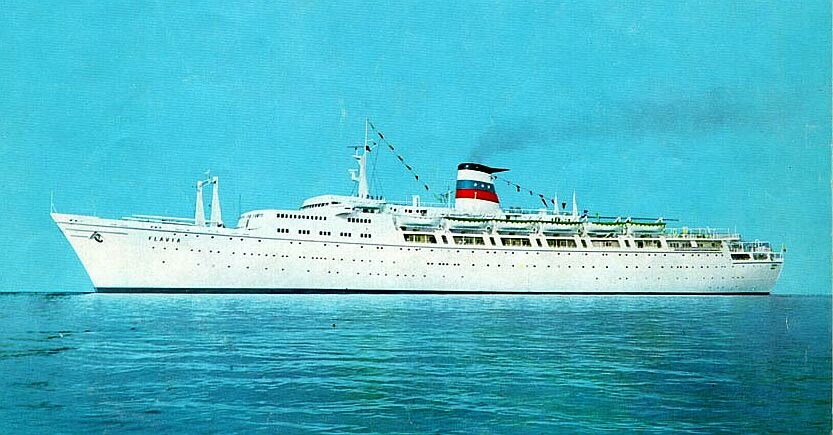 Here we see the streamlined SS Flavia, being Aurelia's modern running mate
The Flavia joined the Aurelia on October 2, 1962 and they continued on the Australian service. Both ships sailed on with considerable success for the next five years, although in due course there was change coming that would have an effect on both ships.
Changes in the late 60s:
The first blow to all shipping was the closure of the Suez Canal in 1967, meaning that all ships had to sail around South Africa, which made it not only a longer voyage, but also a much more costly one. But then around the same time there was also a huge decline of the migrant trade travelling by sea, as well as passenger numbers returning to Europe on their return voyages, which was a major part of these ships income. And why was all this happening, well mostly due to the popularity of air travel combined with the airlines having commenced charter flights with exceptionally cheap fares! Then there were even special super cheap flights from Singapore to London or Europe, and certain ships operated "Fly/Cruises" from Australian ports at excellent fares, offering an all inclusive ocean voyage combined with return airfares and these proved the salvation for a few ships, but this also did not last very long! Although neither of the Cogedar ships operated on these Fly/Cruise operations.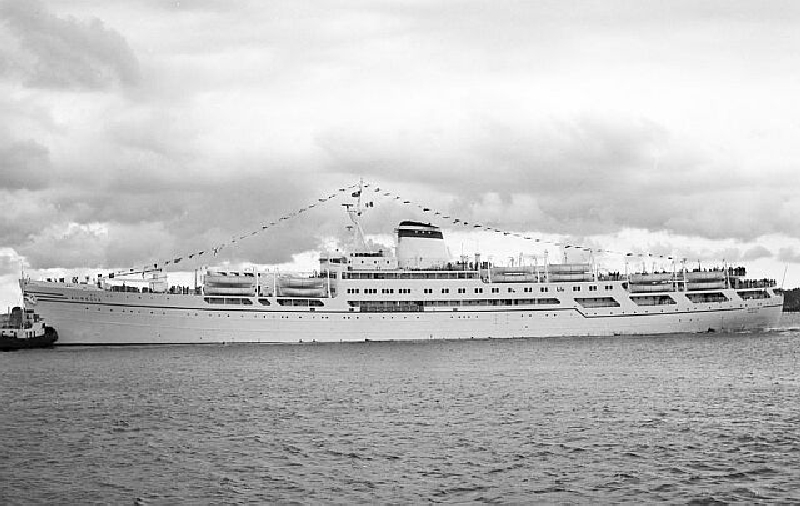 MS Aurelia seen arriving in port from another voyage
Photographer unknown - *Please see photo notes at bottom of page
Thus with air travel and the slowing of the migrant trade by sea it would in due course bring about an end to a well established relationship between the Italian Cogedar Line that had operated its and Australia and New Zealand services, for sadly Cogedar were about to cancel its line voyages, but before leaving our shores, Cogedar did operate a number of cruises and they did so with moderate success. The author joined one of these cruises on the Aurelia and had a wonderful time on her. However, the end for the Aurelia was sadly in sight.
The Aurelia departed Rotterdam bound for Australia on September 23, 1968 and she would sail via Cape Town in both directions. Sadly for many, the Aurelia departed Sydney for the final time on October 29, 1968. The wonderful Flavia concluded about the same time, but she would have a condidrable lif as a cruise ship thereafter.
MS Aurelia the Cruise Ship:
Upon her return in Europe she was extensively refitted to become a full time cruise ship. Upon completion, her accommodations were somewhat reduced. The Aurelia departed Southampton on February 5, 1969 for her first cruise to Madeira, but due to lengthy delays during the refit, her original first three cruises had been cancelled, and her cruises somehow did not prove popular or the public had simply lost trust in the company. The cruise series was cancelled in May.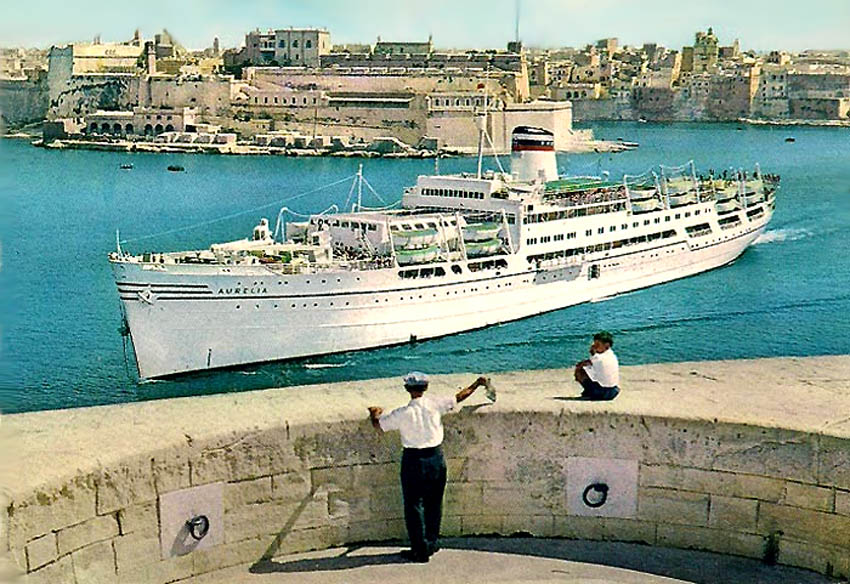 The Aurelia seen in Valletta during her very short cruise season
The Aurelia was chartered in 1969 to operate a series of Trans-Atlantic sailings once again having been chartered; by "Council on International Educational Exchange" and her schedule was as follows:
Southampton (June 1), Le Havre (June 1), New York (June 10) - New York (June 11), Southampton (June 19), Le Havre (June 20).
Le Havre. (June 21), Southampton (June 21), New York (June 30) - New York (June 30), Southampton (July 8), Le Havre. July 9).
Le Havre (July 21), Southampton (July 21), New York (July 30), Rotterdam (Aug 9), Le Havre. (Aug 10), Southampton (Aug 10) New York (Aug 19) - New York (Aug 20), Southampton (Aug 28), Le Havre. (Aug 29). Le Havre. (Aug 30), Southampton (Aug 30), New York (Sept 8) - New York (Sept 9), Le Havre (Sept 18), Southampton (Sept 18).
I wish to thank Mr. Charles Addington for providing the schedule above.
MS Aurelia made 34 Trans-Atlantic voyages during her career, but upon her return voyage from New York on September 18, 1969 she had been sold.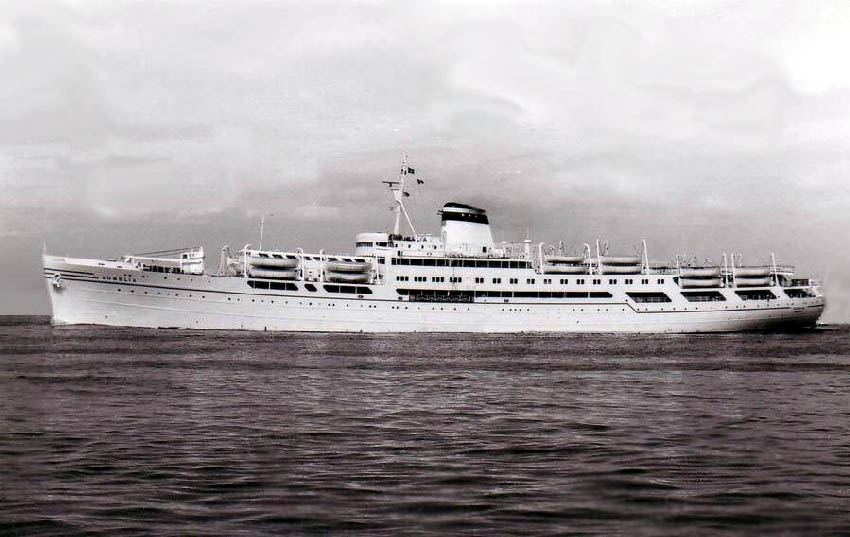 The wonderful MS Aurelia is seen here during her final voyage to Australia in September/October 1968
A New Direction - Chandris Cruises - MS Romanza: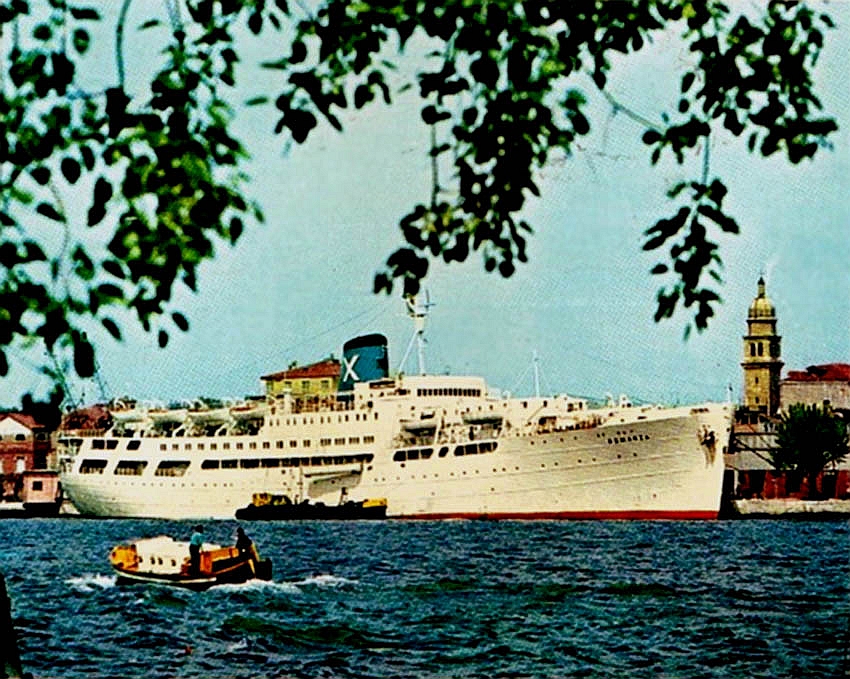 A wonderful old slide from my collection of the MS Romanza, just after refit
Chandris Lines/Cruises had purchased her in September 1970, and renamed her Romanza. As soon as Chandris took possession of the ship they took her to her to Piraeus, Greece where she would be extensively refitted at to become a full time cruise ship. Internally she received 238 new cabins the majority of cabins having Private Facilities the previous children's deck and paddling pool area was fully enclosed and became filled with new accommodations. All her lounges and Bars and Dining Facilities were remodelled. As she now accommodated 650 passengers, thus she no longer required those 24 Double-Decker lifeboats, thus they were halved to just 12 in total.
When fully completed she had been internally beautifully appointed, as well as looking externally like a fresh new looking ship! MS Romanza departed Venice on her official first cruise on April 1, 1971 and she became a popular Mediterranean cruise ship over the next years!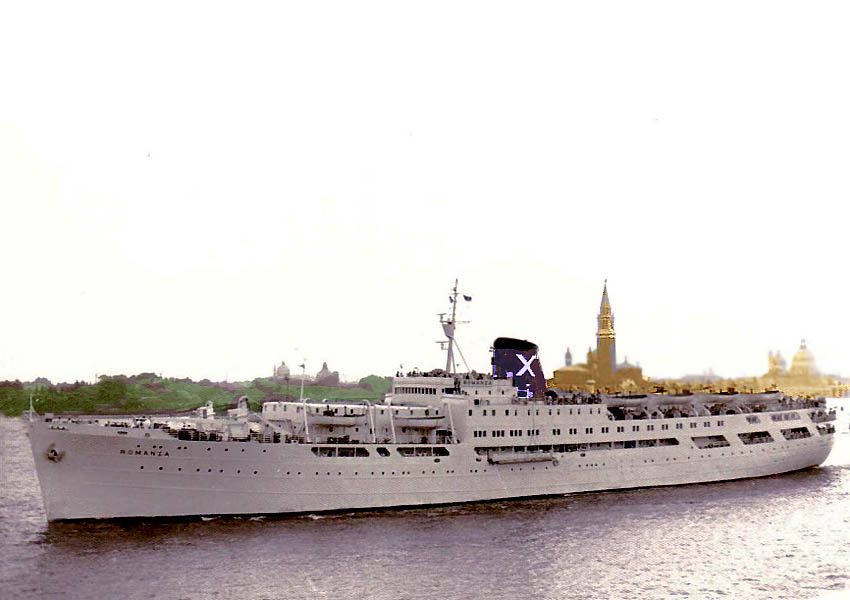 Chandris Cruises MS Romanza is seen departing Venice on her first cruise
Under Chandris she was listed as being 8,891 GRT, and proved to be a huge success in the Mediterranean. Although she also proved to be the perfect ship for Cruise & Travel Operators who would charter her for period of time. But late in 1976 Crown Cruises who chartered the Romanza suddenly wend bankrupt and the ship was returned to Chandris and they chartered her to another company who operated her out of Brazil. Later she would cruise the Mediterranean from April to October and the Indian Ocean regions from South Africa between November to March.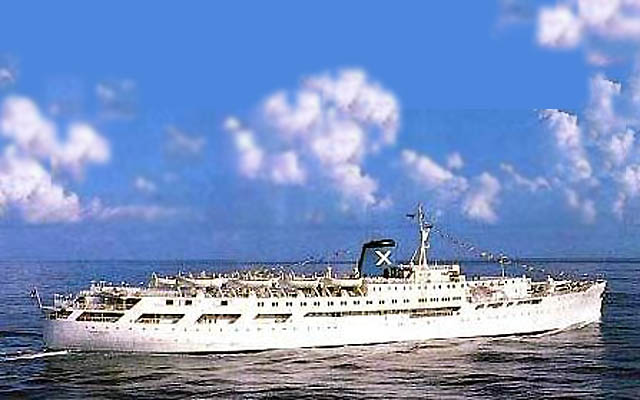 The delightful

Chandris Cruises MS Romanza

However, later in her career she did have a number of mishaps, the first occurred on October 17, 1979 when The Romanza ran aground on Dhenousa Island during an Aegean cruise, and she suffered substantial hull damage, passengers were transferred to another Chandris cruise ship that happened to be close by being the beautiful MV The Victoria. Considering that she had sunk at the bow, two days later she was raised and the Romanza was taken undertow and taken to Syros where she would be made safe to travel further. Later she departed for the long tow home to Piraeus for where she was fully repaired.

When completed she returned to her Chandris Cruises weekly summer Mediterranean circuit as well as being operated by other charters whenever they arose during the offseason, and she was operated in South America or the Caribbean. Right through 1997 this fine old ship was always kept quite busy, apart from the short lay-ups at Piraeus for several months during the offseason.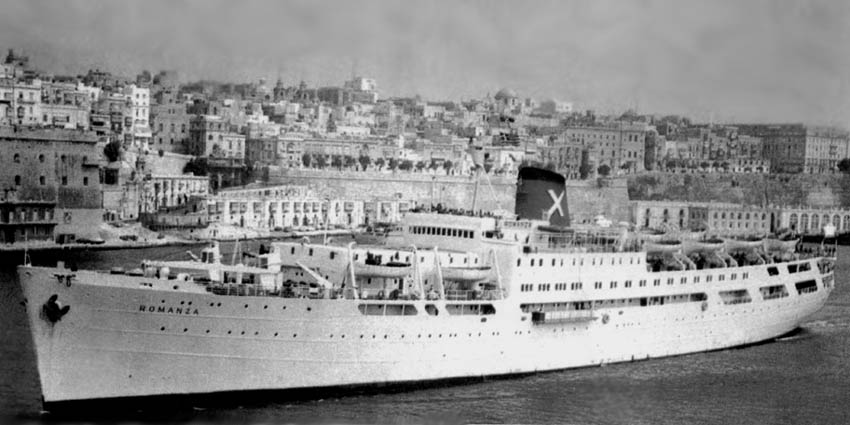 The Romanza is seen at Valetta, Malta
Lloyd

Brasileiro
Cruises Brasil:
In 1983 the MS Romanza was chartered to Companhia de Navegacao, or Lloyd Brasileiro being Brazil's state-owned shipping Company who gave her another refit which saw her new accommodation 707 passengers.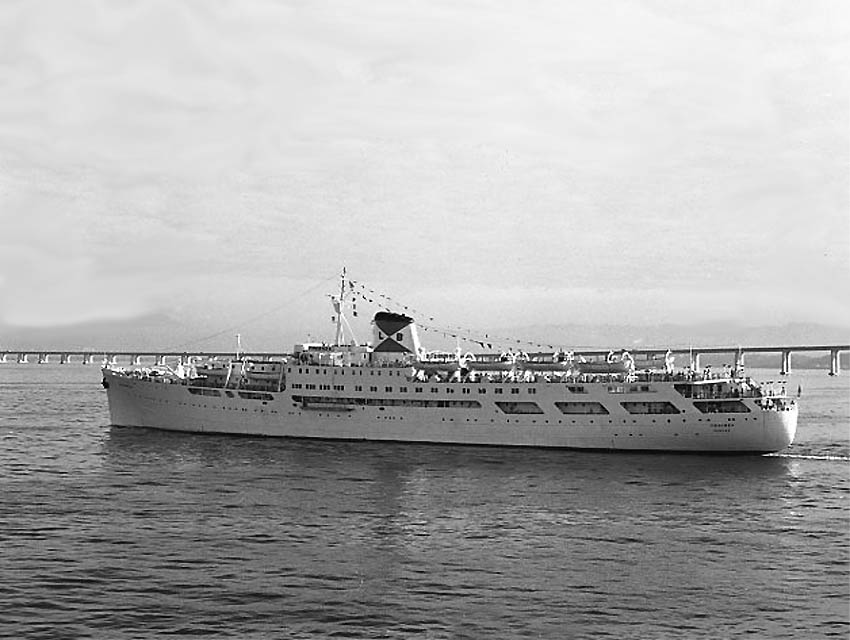 MS Romanza is seen arriving at Rio de Janeiro whilst she was chartered to Lloyd Brasileiro Cruises
Whilst the MS Romanza was in service with Lloyd Brasileiro Cruises she proved to be a successful, as well as a profitable ship for the company and she remained with them for a good eight years to 1991, for the company decided to look for new and larger tonnage that had come available!
During her career right up to 1991 the Aurelia, Romanza had proved to be and excellent and a most reliable ship, considering she was now aged a good 37 years, from when she rebuilt from a humble cargo ship into a full scale Passenger Liner, the MS Aurelia, or 52 years since the ship was originally built as the German MS Huascaran! At all times she had remained in excellent condition, for she was meticulously maintained throughout her days and she had been constantly updated with the latest safety and navigation equipment, facilities and officers and crew received ongoing training. MS Romanza was classified as being A1 by Lloyds of London and all her certifications were up to date. There is a very good reason I mention this at this stage, the reason is that things are about to change for this amazing ship as she was about to leave the Chandris stable as she was sold to a new owner in 1991!
New Ambassador Leisure Cruises:
In 1991, she was sold to 'New Ambassador Leisure Cruises' of Cyprus who renamed her, Romantica and she was to operate on the company's new Limassol-based short cruise program to Egypt and Israel. At first the Romantica was a resounding success, but then a new Cypriot based Company came on the scene they with an aggressive programme simply overtook New Ambassador Cruises as Louis Cruise Line offered considerable competition. In addition, Louis Cruises had also obtained the luxurious ex Chandris ship The Victoria and renamed her; Princesa Victoria. Thus, just four years after the Romanza was purchased by New Ambassador Cruises, they went bankrupt in 1995, and MS Romantica was taken over by Amnesty Shipping Company, Limassol and she was laid up at Piraeus, where she sadly remained for almost two years.
Paradise
Cruises and the End of a Fine Ship:
However, the Romantica was sold early in 1997 to the Cyprus-based 'Paradise Cruises,' and she was once again refurbished. The company owned the very popular cruise ship, being the rather budged style MS Atalante and they intended that both she and the better class MS Romantica would operate their popular two and five day Mediterranean cruises that could be combined and taken as a seven-day cruise.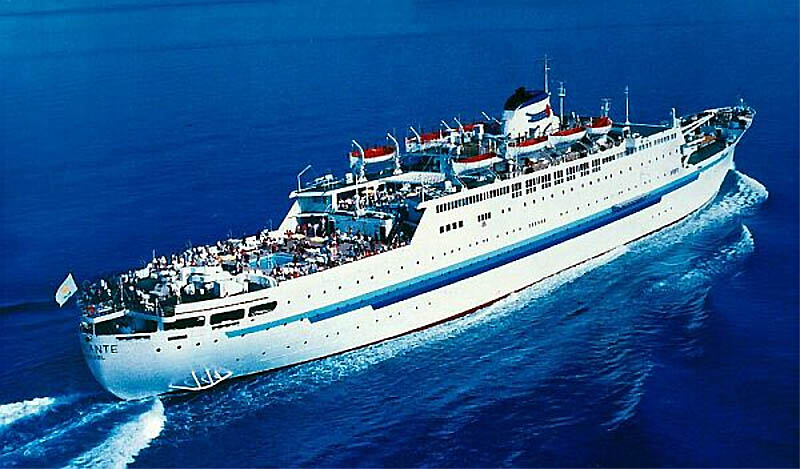 'Paradise Cruises' MS Atalante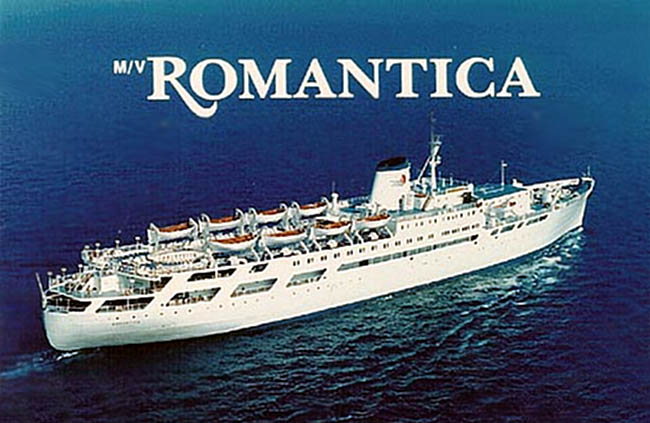 This is a postcard of the 'Paradise Cruises' MS Romantica
Fire:
I wish to thank Alexandros Papayannis, Athens Greece, for some of the information contained below!
However, tragically the Romantica would have a very short life with Paradise Cruises, because for her passengers, one particular cruise was not going to be Paradise Cruise at all, but more like a horror cruise. It was during one of her early cruises, early in the morning of October 4, 1997, around 60 miles from Limassol Cyprus that a fire broke out in the engine room and it rapidly spread over whole ship.
The ships 482 passengers and her 182 crewmembers rapidly headed for and took to the lifeboats, although some were taken by two British military helicopters from the burning ship. And thankfully there were no deaths. Very soon, it would be MS Romantica's ex Chandris fleet mate the MV The Victoria that came to her aid and rescued the vast majority of her passengers and crewmembers.
At first, the fire could not be contained, but soon she began to list 20 degrees to starboard, and thus water was pumped into her tanks from the exterior to keep her level in order for her not to capsize! Finally, this massive fire was contained on October 8, and with this wonderful old ship being completely burned out and gutted, this once proud liner was officially declared a … "total constructive loss."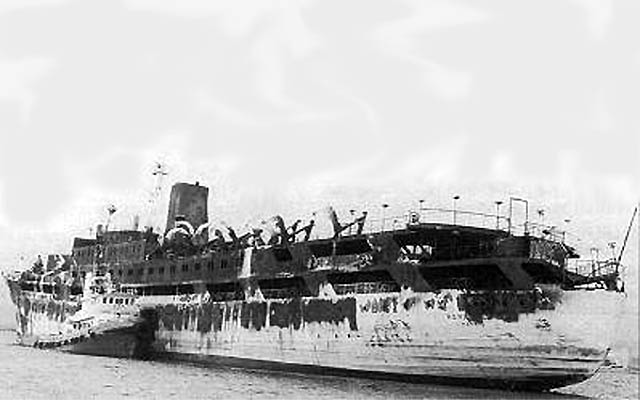 A tragic sight of the fire ravaged MS Romantica
The burnt out hulk of the MS Romantica was towed to Limassol, Cyprus some days later in October. Then in April 1999, the ex MS Huascaran, Beaverbrae, Aurelia, Romanza & Romantica was towed to Alexandria, Egypt where she was broken up.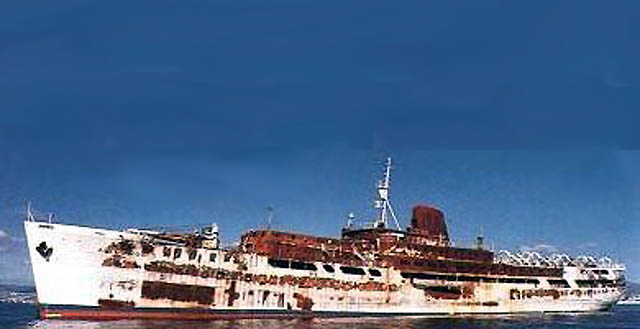 Here we see burned out Romantica as she is ready to be towed to Egypt where she was broken up!
Specifications:
Built:                                        Blohm & Voss Hamburg
Yard #:                                     518
Launched:                                  December 15, 1938
Hamburg-America Line:               April 27, 1939
Tonnage:                                   10,480 GRT - Aurelia
Length:                                     148.7m - 487 feet
Width:                                       18.4m - 60 feet
Draft:                                        6.7m – 21 feet
Engine:                                     Diesel-electric (3 MAN type diesels)
Screw:                                      Single
Speed:                                      17 knots
Passengers:                                32 First Class
Passengers:                                1,124
Crew Aurelia:                             28
                                                Fully air-conditioned
Three photographs of Aurelia & Romanza in her better days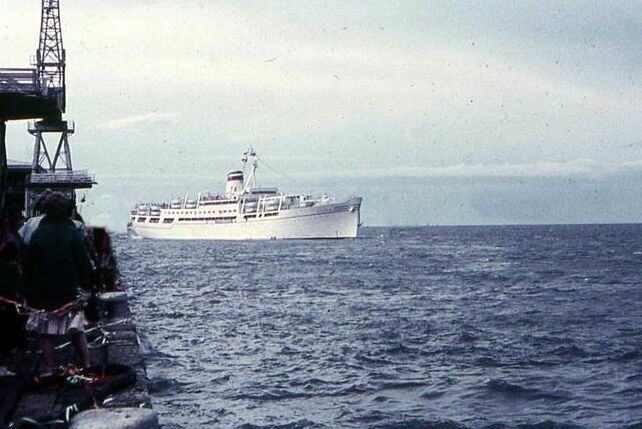 MS Aurelia seen arriving at Station Pier Melbourne on November 18, 1962
Photograph was kindly provided by Yvette Meijer, daughter of the late Jacoba Meijer, nee Ris & is © Copyright.
Read Jacoba's story on her own page via the link below!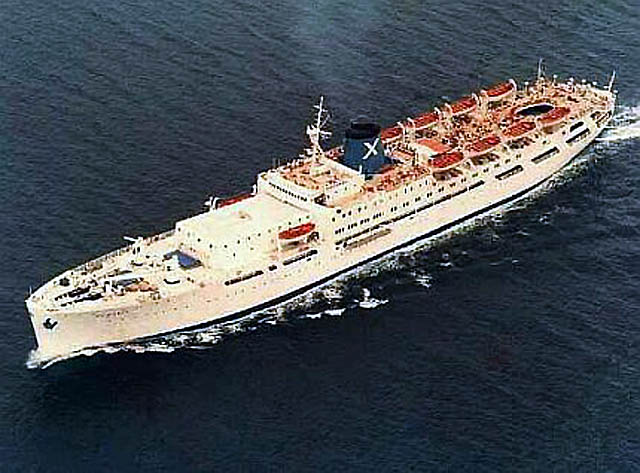 A fine aerial photograph of the Chandris cruise ship MS Romanza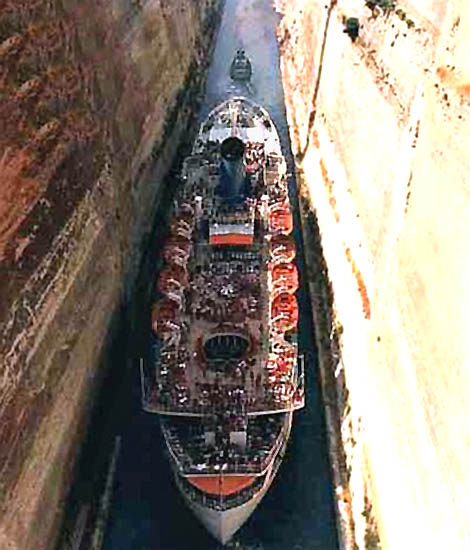 MS Romanza passing through the Corinth Canal

MS Aurelia & Cogedar Line INDEX:

Page One:                               

MS Aurelia – history page - This page.

Page Two:

                                The Bulthuis Family Story.

Page Three:                            

MS Aurelia - Photo Page.

Page Four:                              

Jacoba Ris-Török Story.

Also read:                                Other Cogedar Line ships …

.                                               MS Flaminia - The Old Cogedar Liner.

.                                               RMS Media / SS Flavia - The last Cogedar Liner.

********************

"Blue Water Liners sailing to the distant shores.
I watched them come, I watched them go and I watched them die."

****************************

Visit our ssMaritime Main INDEX

Where you will discover over 1,350 Classic Passenger & Passenger-Cargo Liners!

ssMaritime.com & ssMaritime.net

Where the ships of the past make history & the 1914 built MV Doulos Story

The Author has been in Passenger Shipping & the Cruise Industry for some 60 years!

Please Note: ssmaritime and associated sites are 100% non-commercial and the author does not seek funding or favours and never have and never will.

Photographs on ssmaritime and associate pages are either by the author or from the author's private collection. In addition there are some images and photographs that have been provided by Shipping Companies or private photographers or collectors. Credit is given to all contributors, however, there are some photographs provided to me without details regarding the photographer or owner concerned. Therefore, I hereby invite if owners of these images would be so kind to make them-selves known to me (my email address can be found at the bottom of the page on www.ssmaritime.com), in order that due credit may be given.

ssMaritime is owned & © Copyright by Reuben Goossens - All Rights Reserved