Cogedar Line MS Aurelia – The Family Bulthuis voyage from Fremantle to Rotterdam in 1960
Please Note: Firefox, iPhones, iPads & some other Search Engines may not be suitable
Use Internet Explorer & Google Chrome for this Web Page load perfectly!

Click the logo above to reach the ssMaritime FrontPage for News Updates
With Reuben Goossens
Maritime Historian, Cruise'n'Ship Reviewer, Author & Lecturer
Please Note: All ssmaritime and my other related ssmaritime sites are 100% non-commercial and privately owned sites. Be assured that I am NOT associated with any cruise or shipping companies or travel/cruise agencies or any other organisations! The author has been in the passenger shipping industry since May 1960 and is now semi-retired, but continues to write article on classic liners and cruise ships in order to better to inform cruise and ship enthusiasts for their pleasure!
Cogedar Line
MS Aurelia
The Family Bulthuis Story, by Harry Bulthuis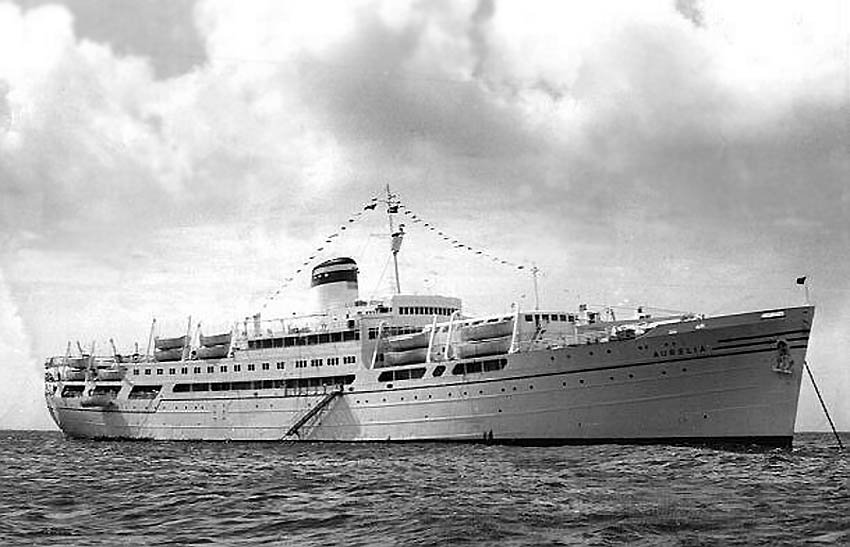 A fine photograph of the MS Aurelia seen during a voyage from Australia
From the Author's private Collection
Photographs have been provided by Bulthuis, unless stated otherwise
My elders were on board of the MS Johan van Oldenbarnevelt in 1952 and they sailed from Rotterdam to Fremantle. Their arrival Date February 22, 1952. They travelled with their three children, Margriet, Ella and Ria.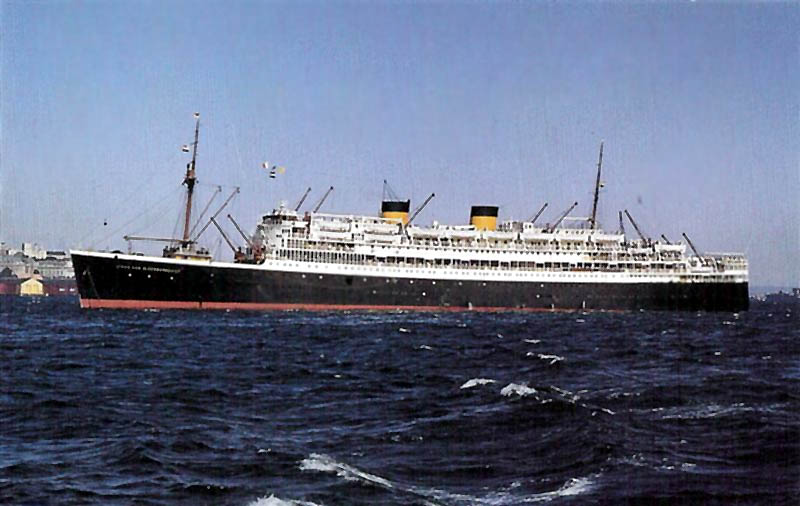 The Netherland Line Johan van Oldenbarnevelt
From the Author's private Collection
When we arrived in Fremantle (Western Australia) there was a strike, thus, it took a long time before we could get our luggage off the ship.
We moved to and lived in Byford, where my parents they bought a bakery, the "Byford Bakery." They remained in Australia for eight years until 1960. But due to my father having health problems my parents decided it would be better to go back to Holland.
Whilst living in Australia Mum has two more children, being my sister Annemarie and last but not least myself, Harry. They booked a voyage on the Cogedar Line MS Aurelia and boarded her in Fremantle in November 1960 and we sailed to Rotterdam, Holland.
Photographs of Aurelia Getting ready to depart from Fremantle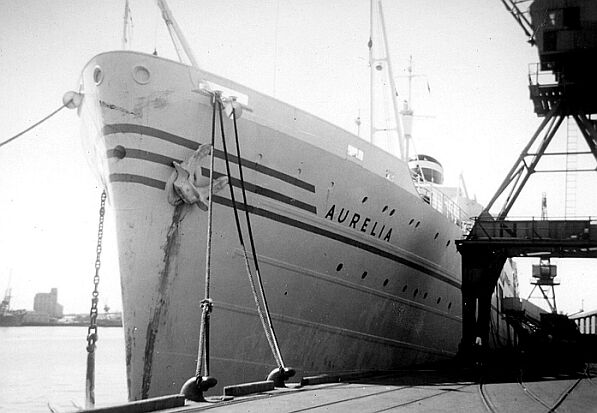 Aurelia berthed in Fremantle (Perth Western Australia November 1960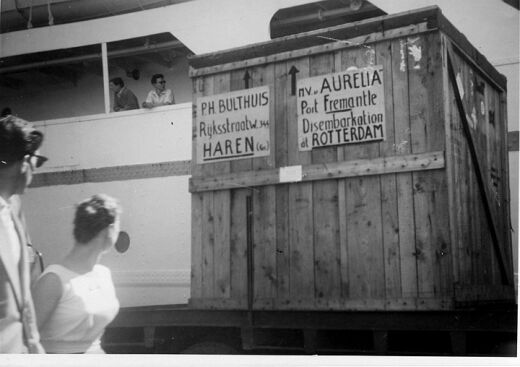 The Bulthuis crate with their belongings about to go on board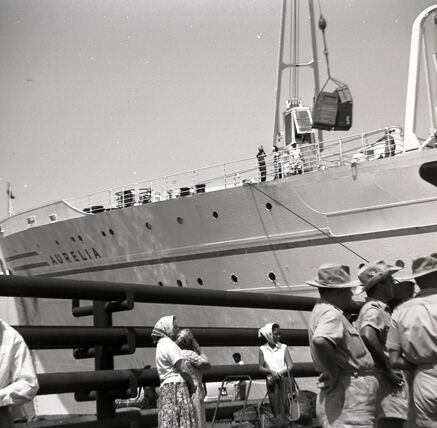 The crate is almost on board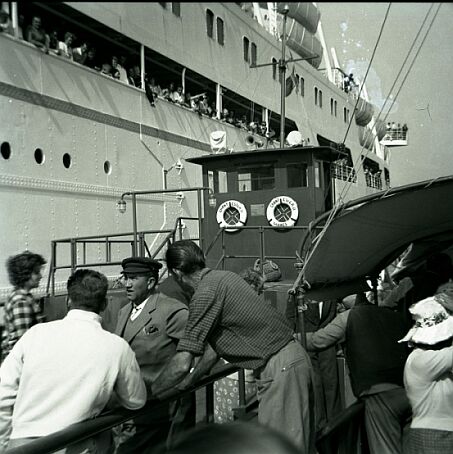 Passengers waiting for Aurelia's departure from Fremantle

During our voyage was now without incident for whilst crossing the "Great Ocean" there was a tanker that had a man on board who had fallen and he had badly injured himself. As the tanker had suitable medical facilities and the Aurelia just happened to be close by, they requested for Aurelia to take him on board and admit him to the ships hospital and have our doctors take care of him. As soon as we reached the tanker, the Aurelia stopped all engines, which gave me as a child, just 6 years old at the time, a little scary feeling as the engines were always noisy when at sea. A lifeboat was sent out and brought the wounded man to Aurelia and he came onboard via a small stairway on the side of the ship. Obviously the Aurelia had a small hospital board, but it was well equipped for all situations. From this incident I have two pictures. Note: But these 'two pictures" were not supplied with Hans Bulthuis' story, no idea why?

Harry Bulthuis.

MS Aurelia & Cogedar Line INDEX:

Page One:???????????????????????????????

MS Aurelia – history page.

Page Two:

??? ??????????????????????????? The Bulthuis Family Story - This page.

Page Three:????????????????????????????

MS Aurelia - Photo Page.

Page Four:? ????????????????????????????

Jacoba Ris-T?r?k Story.

Also read:??????????????????????????????? Other Cogedar Line ships …

.?????????????????????????????????????????????? MS Flaminia - The Old Cogedar Liner.

.?????????????????????????????????????????????? RMS Media / SS Flavia - The last Cogedar Liner.

********************

"Blue Water Liners sailing to the distant shores.
I watched them come, I watched them go and I watched them die."

****************************

Visit our ssMaritime Main INDEX

Where you will discover over 1,350 Classic Passenger & Passenger-Cargo Liners!

ssMaritime.com & ssMaritime.net

Where the ships of the past make history & the 1914 built MV Doulos Story

The Author has been in Passenger Shipping & the Cruise Industry for some 60 years!

Please Note: ssmaritime and associated sites are 100% non-commercial and the author does not seek funding or favours and never have and never will.

Photographs on ssmaritime and associate pages are either by the author or from the author's private collection. In addition there are some images and photographs that have been provided by Shipping Companies or private photographers or collectors. Credit is given to all contributors, however, there are some photographs provided to me without details regarding the photographer or owner concerned. Therefore, I hereby invite if owners of these images would be so kind to make them-selves known to me (my email address can be found at the bottom of the page on www.ssmaritime.com), in order that due credit may be given.

ssMaritime is owned & ? Copyright by Reuben Goossens - All Rights Reserved