Please Note: Firefox, iPhones, iPads & some other Search Engines may not be suitable
Use Internet Explorer & Google Chrome for this Web Page load perfectly!

Click the logo above to reach the ssMaritime FrontPage for News Updates
With Reuben Goossens
Maritime Historian, Cruise'n'Ship Reviewer, Author & Lecturer
Please Note: All ssmaritime and my other related ssmaritime sites are 100% non-commercial and privately owned sites. Be assured that I am NOT associated with any cruise or shipping companies or travel/cruise agencies or any other organisations! The author has been in the passenger shipping industry since May 1960 and is now semi-retired, but continues to write article on classic liners and cruise ships in order to better to inform cruise and ship enthusiasts for their pleasure!
Cogedar Line
MS Aurelia - Photo Page
Previous names: Huascaran, Beaverbrae – Later named: Romanza, Romantica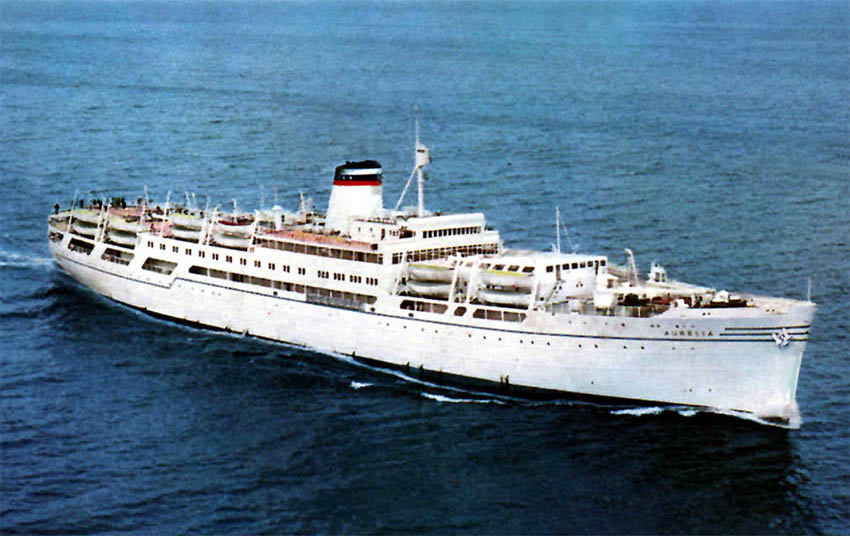 MS Aurelia is seen during her later days as a Cogedar liner

Photographs on these pages are from the author's private collection, unless otherwise stated!

The interior and deck images

on this page, except for the one above and at the very bottom of the ship itself, were provided by Stan Evans from Newcastle Australia, who scanned them from a brochure. I am most grateful to him for providing these to me, for it provides a far better insight to this remarkable ship. Stan Evans is a staunch supporter of ssMaritime and has contributed to many of its pages and provided countless images and photographs that he has personally taken. Thank you once again Stan!

However at the bottom of the page there are a number of black & White photographs taken by the Author when I sailed on her in 1965.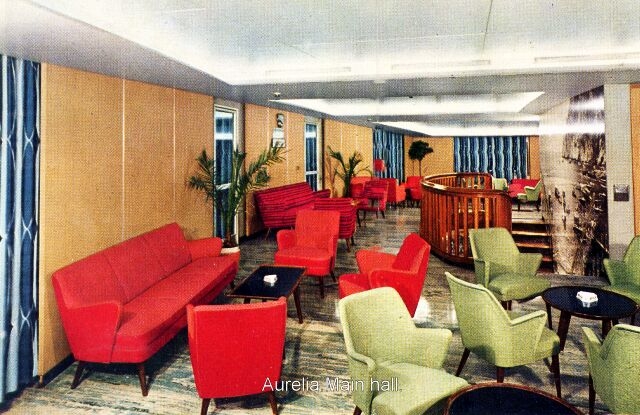 Far forward on Promenade Deck is the Main Hall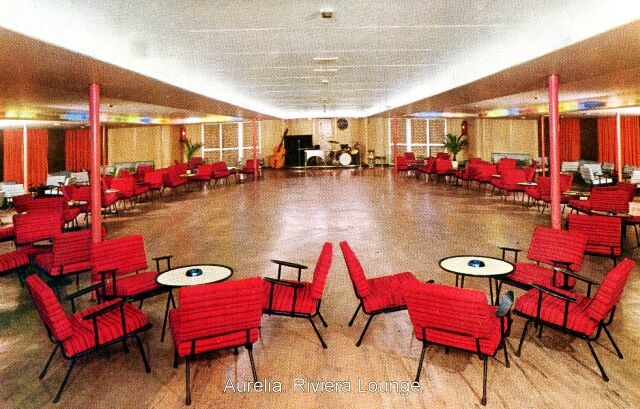 This is the main ballroom and entertainment venue, the Riviera Lounge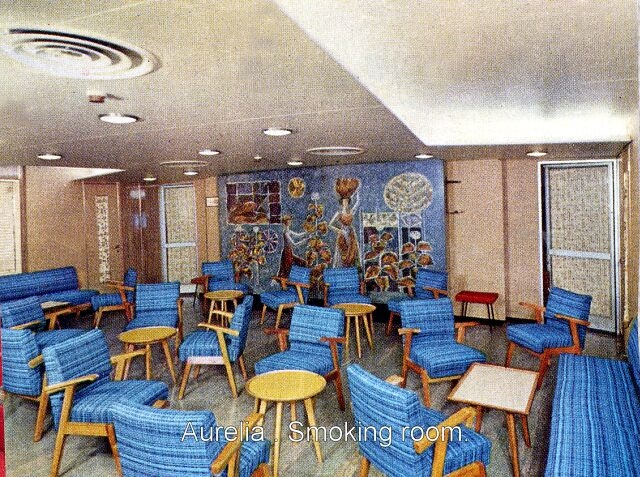 The intimate yet colourful Smoking Room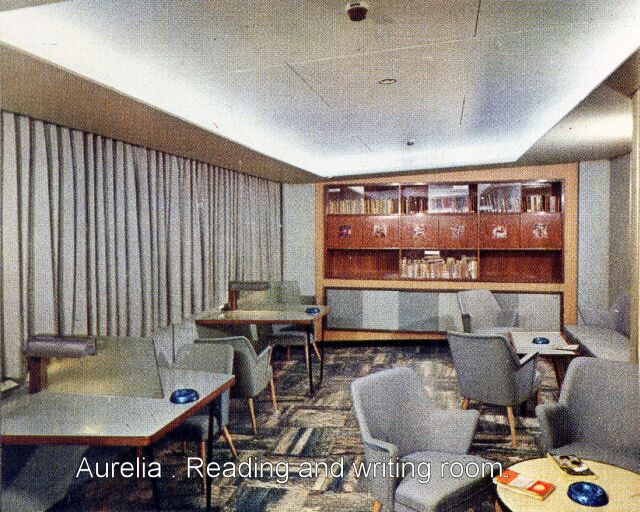 The reading and writing room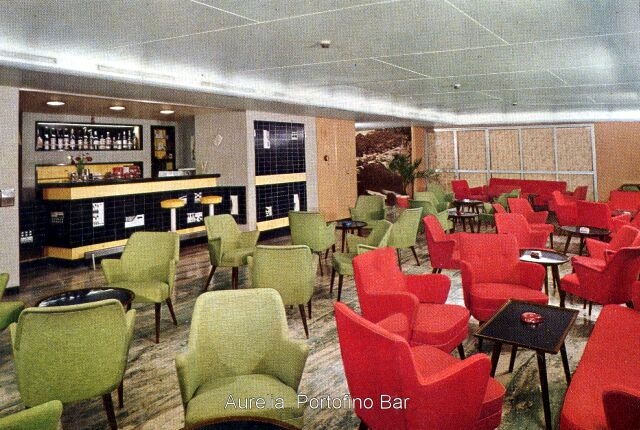 The ever popular Portofino Bar, a place this author spent quite some time with then
friend Diana Lee who was a well know New Zealand & Australia pop star!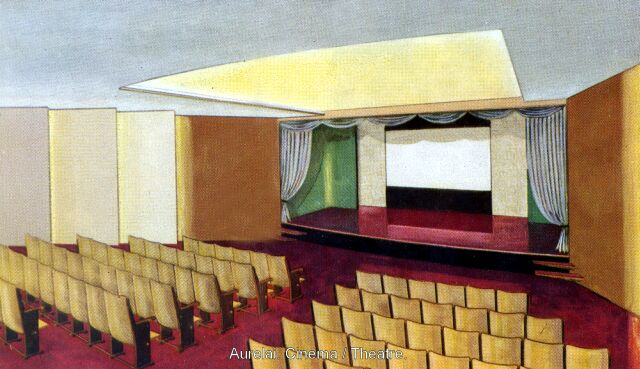 The Cinema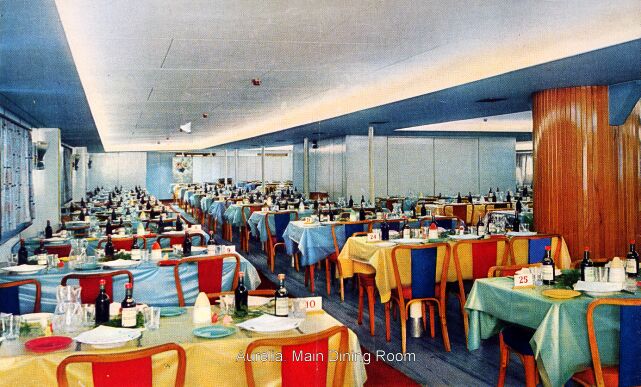 Main Dining Room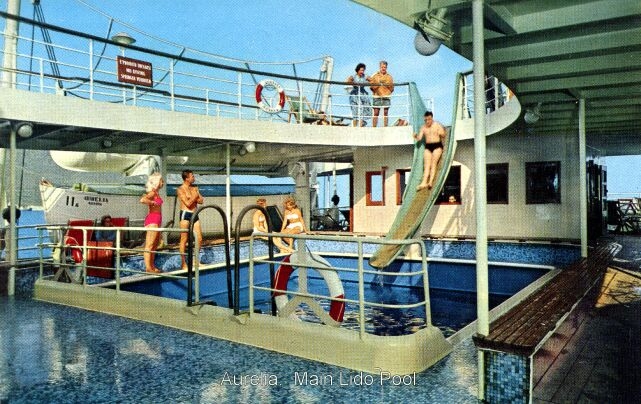 Lido Pool with slippery slide, located aft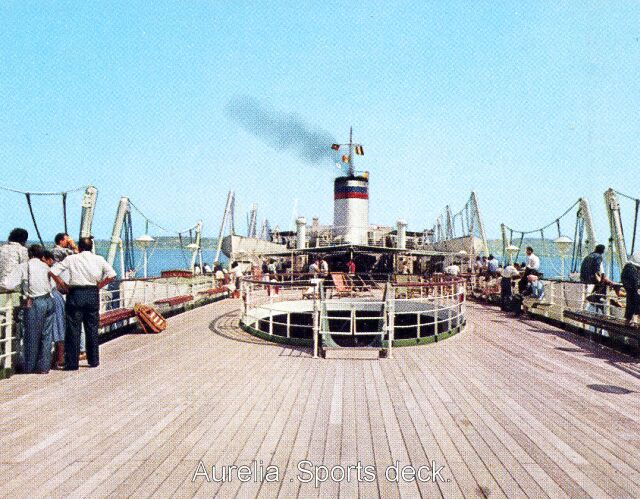 Sports Deck, with the entrance to the Lido pool slippery slide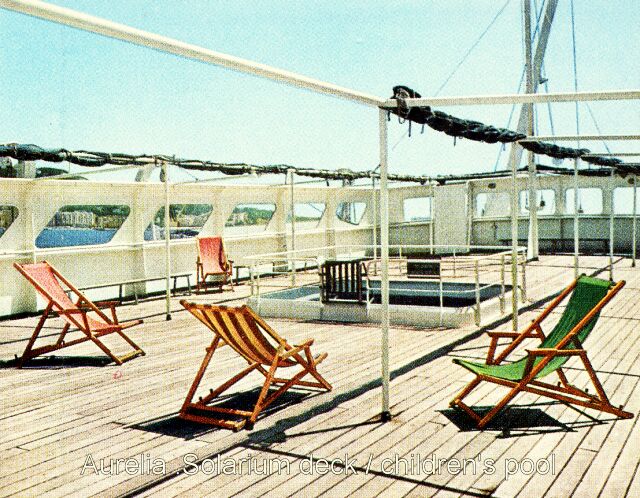 Forward, but below the bridge was the Solarium deck and children's pool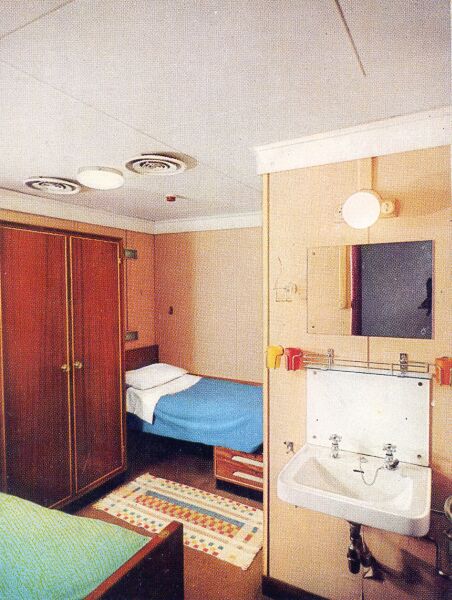 An inside two bedded cabin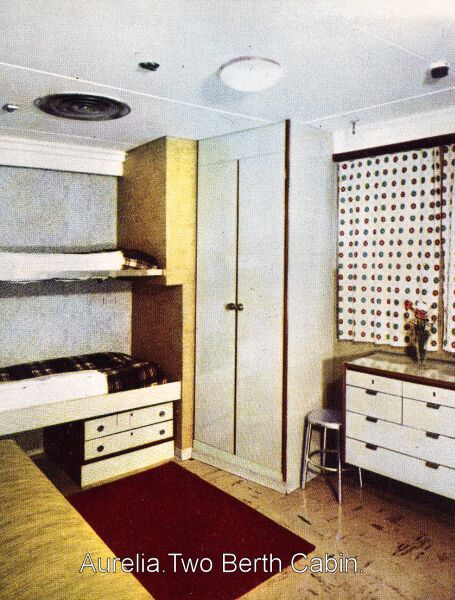 An outside two berth cabin with a sofa, suitable as a child's berth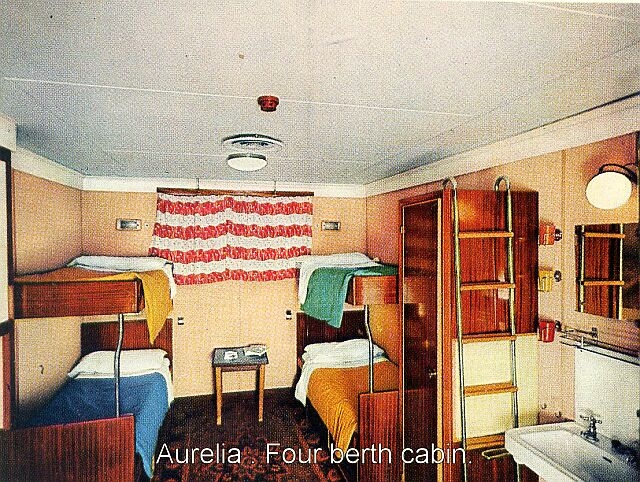 A typical of the original four berth cabins, although there were many of newer cabins
which were all white and rather bland to say the least!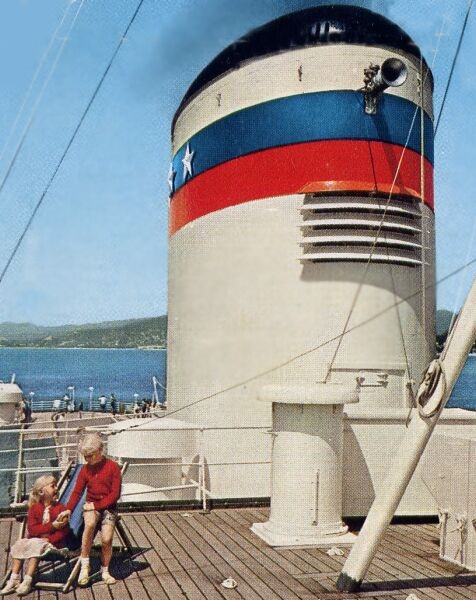 Topside and the ships funnel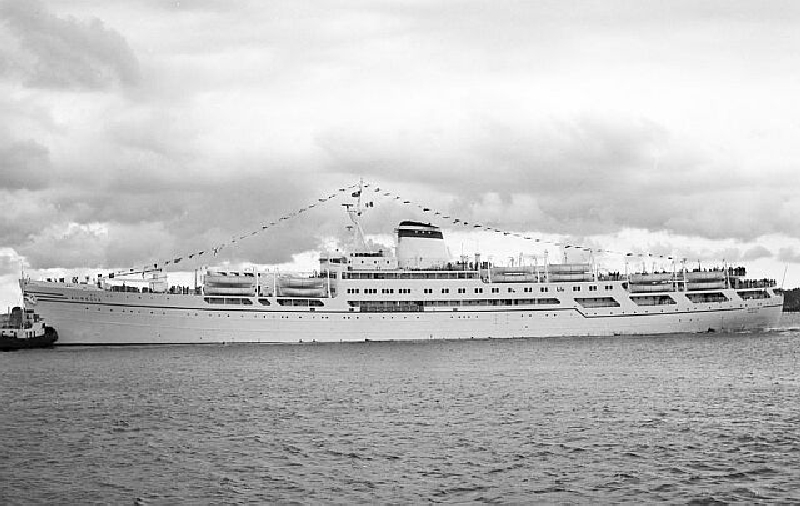 MS Aurelia seen arriving in port from another voyage
Photographer unknown - *Please see photo notes at bottom of page
Photographs Taken by the Author during a Voyage in 1965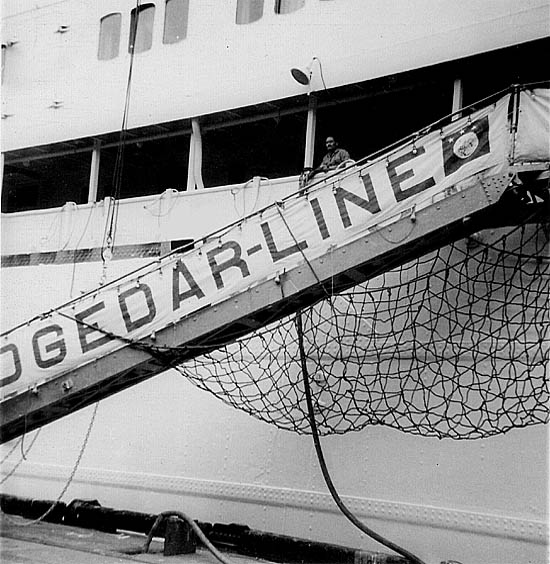 -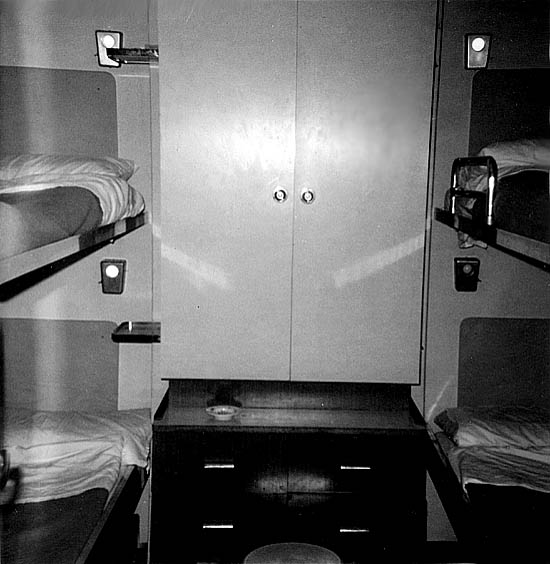 MS Aurelia's gangplank - I travelled in a humble inside 4BC, berth A, the lower berth on the left, although I had paid for a much higher grade for the voyage from Rotterdam to Melbourne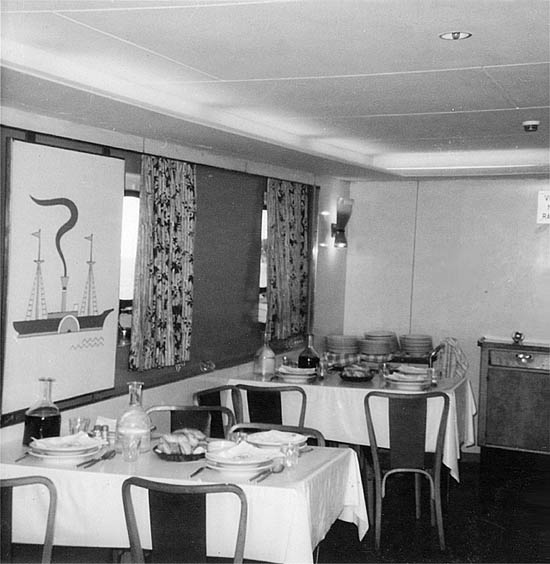 A corner of the Dining Room, I sat on the chair closest to the camera on the table next to the old steamer picture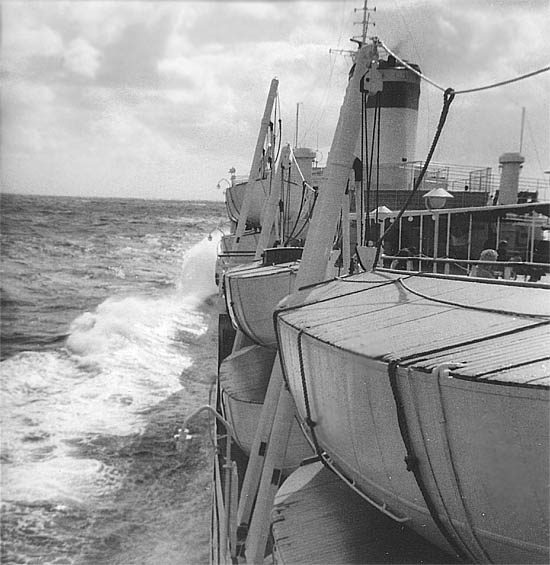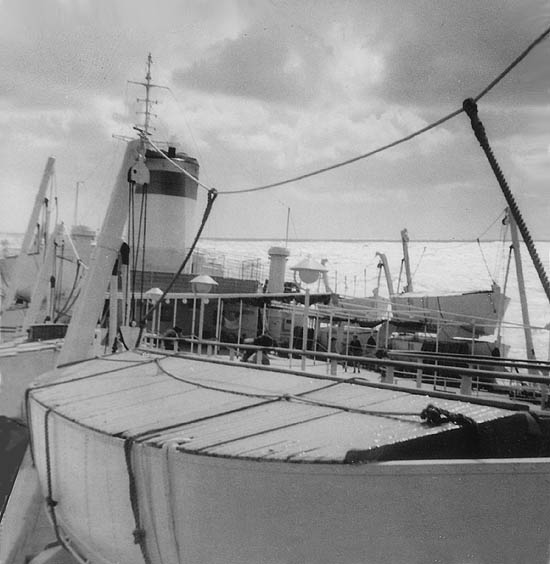 Two views taken from the aft portside wing looking forward providing a great view of the ship as she gently pitched and rolled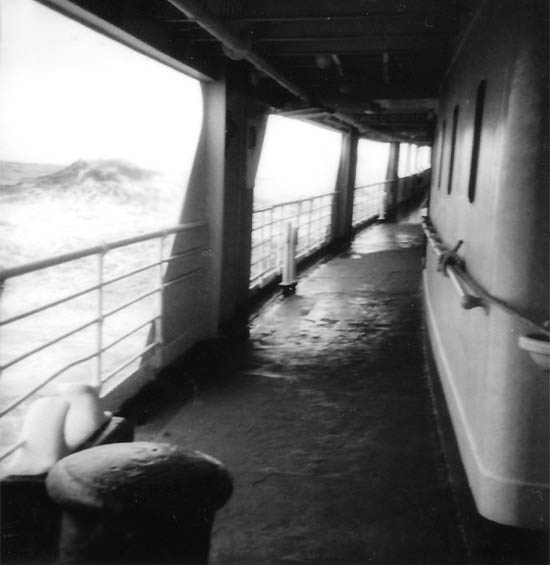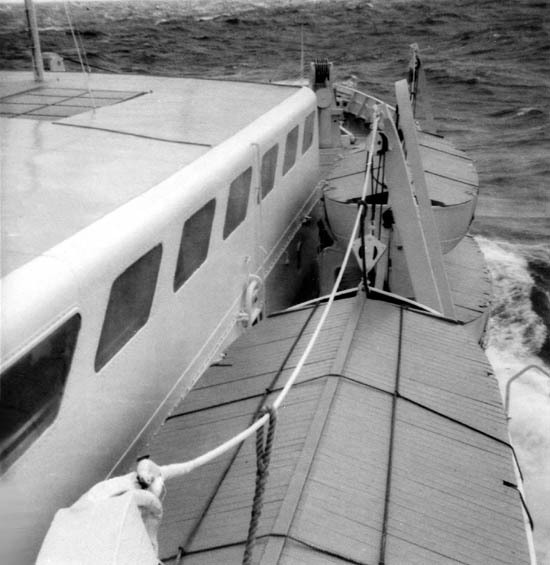 Left: Here we see the portside Promenade Deck looking forward on a day with some very rough seas
Right: Overlooking the partially covered Solarium Deck that also has a Children's pool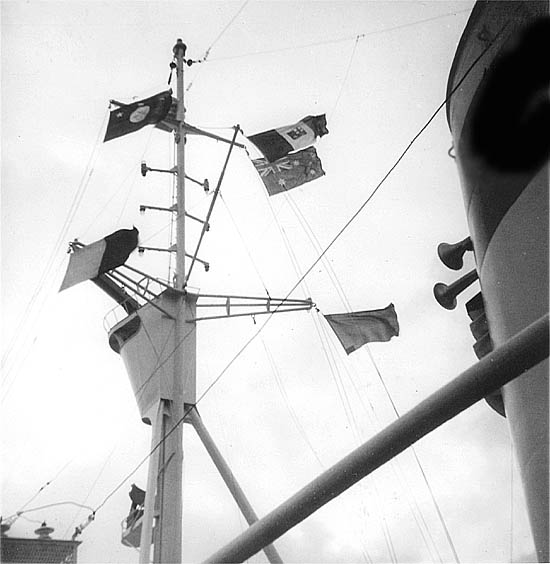 The ships Radar Mast and Funnel, her flags clearly show that we are arriving in Australia
Sydney in fact, although I am continuing to Melbourne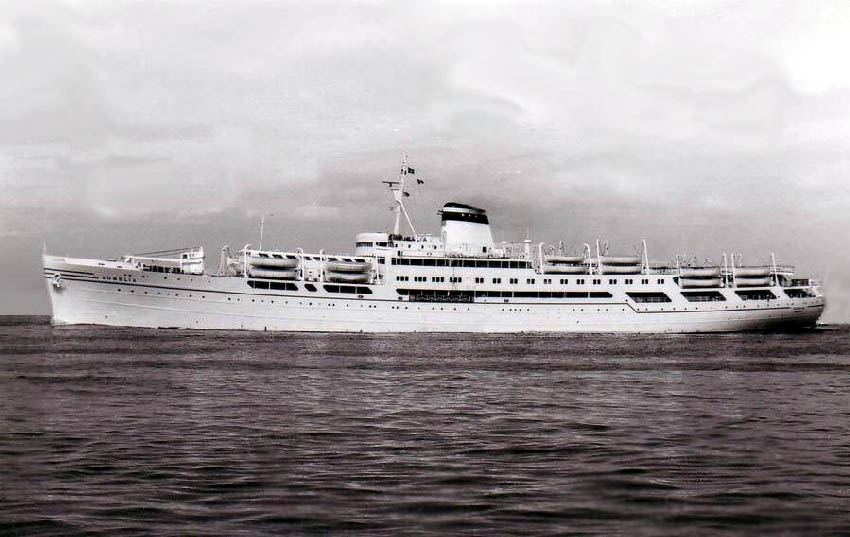 MS Aurelia & Cogedar Line INDEX:

Page One:                 

MS Aurelia – history page.

Page Two:                 

The Bulthuis Family Story.

Page Three:               

MS Aurelia - Photo Page.

Page Four:                 

Jacoba Ris-Török Story.

Also read:                  Other Cogedar Line ships …

.                                MS Flaminia - The Old Cogedar Liner.

.                                RMS Media / SS Flavia - The last Cogedar Liner.

********************

"Blue Water Liners sailing to the distant shores.
I watched them come, I watched them go and I watched them die."

****************************

Visit our ssMaritime Main INDEX

Where you will discover over 1,350 Classic Passenger & Passenger-Cargo Liners!

ssMaritime.com & ssMaritime.net

Where the ships of the past make history & the 1914 built MV Doulos Story

The Author has been in Passenger Shipping & the Cruise Industry for some 60 years!

Please Note: ssmaritime and associated sites are 100% non-commercial and the author does not seek funding or favours and never have and never will.

Photographs on ssmaritime and associate pages are either by the author or from the author's private collection. In addition there are some images and photographs that have been provided by Shipping Companies or private photographers or collectors. Credit is given to all contributors, however, there are some photographs provided to me without details regarding the photographer or owner concerned. Therefore, I hereby invite if owners of these images would be so kind to make them-selves known to me (my email address can be found at the bottom of the page on www.ssmaritime.com), in order that due credit may be given.

ssMaritime is owned & © Copyright by Reuben Goossens - All Rights Reserved