Please Note: Firefox and some other search engines are not suitable – Use "Internet Explorer" for this page to load perfectly!

Click the logo above to reach the ssMaritime FrontPage for News Updates & "Ship of the Month"
With Reuben Goossens
Maritime Historian, Cruise'n'Ship Reviewer & Author
Please Note: All ssMaritime and other related maritime/cruise sites are 100% non-commercial and privately owned. Be assured that I am NOT associated with any shipping or cruise companies or any travel/cruise agencies or any other organisations! Although the author has been in the passenger shipping industry since 1960, although is now retired but having completed around 680 Classic Liners and Cargo-Passengers Ships features I trust these will continue to provide classic ship enthusiasts the information the are seeking, but above all a great deal of pleasure! Reuben Goossens.
---SS Ausonia---
In 2005 she was renamed "Ivory" and in 2007 "Aegean two"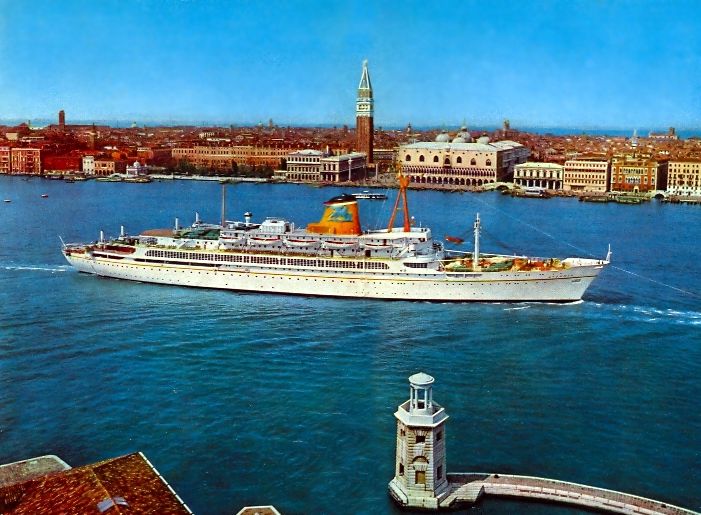 The elegant SS Ausonia seen in Venice
From the author's private collection
After fifty years sailing the seas a great little Italian liner continues to ply the seas giving so much enjoyment to countless thousands of holiday makers from around the world. What attracts many to this ship is the fact that she is a true vintage cruise ship that provides that something special that only a classic ship can, yet she has all the modern facilities that are available on other newer cruise ships. This is the story of a remarkable ship, the Ausonia.
The 11,879 GRT (Gross Registered Ton) SS Ausonia was built especially for Adriatica Lines Trieste-Egypt-Lebanon service by Cantieri Riuniti dell' Adriatico, Monfalcone. She was launched on August 5, 1956 and delivered to Adriatica Lines on September 23, 1957, and commenced her duties early the next month. Her regular ports of call were as follows; Trieste, Venice, Brindisi, Alexandria, Beirut, Alexandria (Piraeus), Bari, Venice, and Trieste.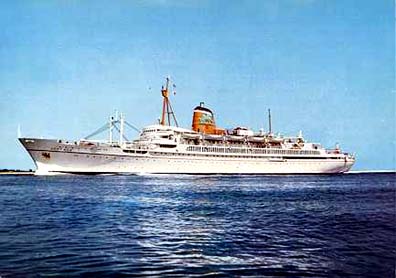 An official Adriatica Postcard
From the author's private collection
Ausonia measures 522 x 70ft with a draught of 21ft 5 inches. Engines: Steam DR geared Turbines 22,000 SHP, twin screw with a service speed of 21 knots, maximum speed of 25 knots. She accommodated 181 first, 118 second, 230 tourist class passengers and had a crew of 215.
When built it was said that she was a "ship of advanced design featuring a contemporary style of accommodation and furnishings. She was the largest and fastest liner operating in the Mediterranean at that time.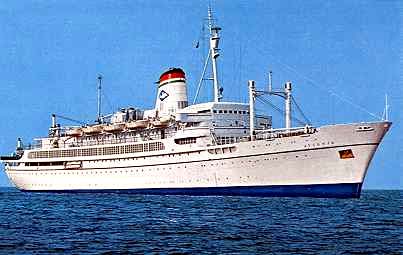 Ausonia seen in her new role as a cruise ship, but prior to her being rebuilt
From the author's private collection
In 1978/79, Ausonia was refitted by Arsenale Triestino, San Marco, made ready for cruising the Mediterranean for Italia Crociere Internazionali. Her passenger capacity increased to 690 passengers.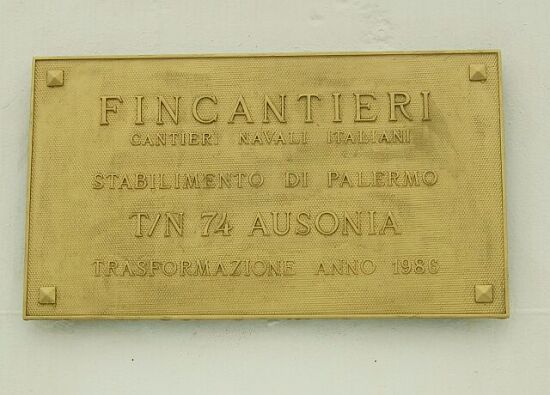 Fincantieri Builders plate for her rebuilding programme in 1986
Photograph by & © 2007 George Zachariadis
In 1983, she was registered under the ownership of Ausonia Crociere of Naples, part of the Grimaldi-SIOSA group. In 1986, her forward superstructure and aft decks were extended providing new lounges and increasing her passenger capacity to 750. The new alterations certainly did not enhance her former beauty, but her interior beauty remained to the very end!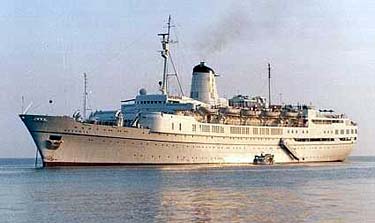 Above & Below: Seen with her new forward & aft extensions
From the author's private collection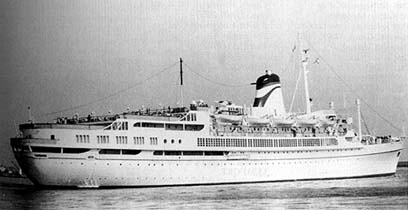 In May 1998, Louis Cruise Lines of Cyprus purchased her and operated mostly mini cruises to Lebanon and Egypt. She was chartered to the British cruise operator First Choice. The following photographs show her with the colourful First Choice livery.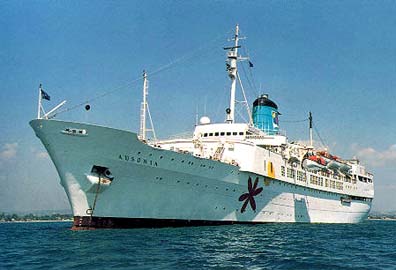 Louis Lines chartered Ausonia to First Choice Cruises
Above, and the two photographs below were taken in Southampton in 2002
Photograph by & © Clive Harvey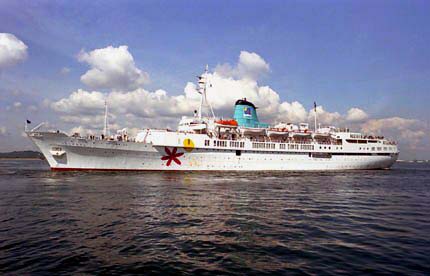 Courtesy of the Seapix collection, NZ - © all rights reserved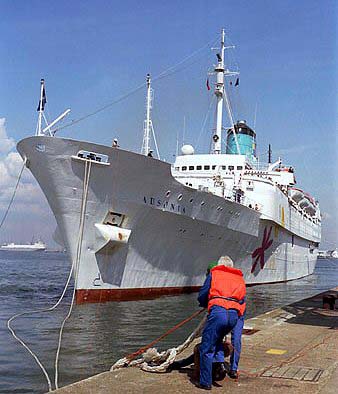 Courtesy of the Seapix collection, NZ - © all rights reserved
A passenger, who sailed on Ausonia in 1999, whilst she was operated by First Choice, had the following to say about this delightful ship … "I sailed on her Ausonia in 2001 and she was in fantastic condition, having been extensively refurbished for First Choice holidays. She would make an amazing ship for the UK cruising market, which she served before with First Choice and was very popular in that role."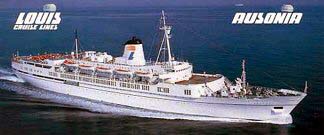 Seen in her Louis Cruises livery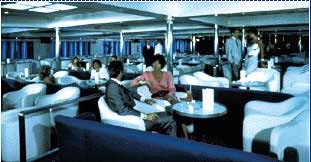 Venezia Piano Lounge & Bar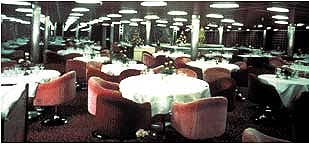 Faraone Restaurant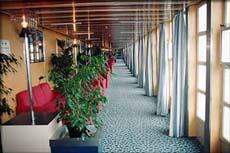 Starboard glass enclosed Promenade Deck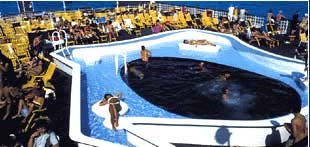 Pool & lido deck
A current photo album is located at bottom of the page

2005 Refurbishment
During a 45 night cruise on P&O's MV Oriana from Australia to England, we visited Piraeus on March 22, 2005 and I was able to photograph the SS Ausonia whilst there considering she was undergoing a general overhaul.
The following three photographs were taken in Piraeus by & are © 2005 Reuben Goossens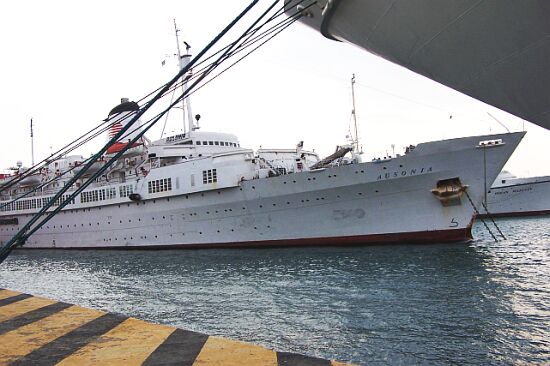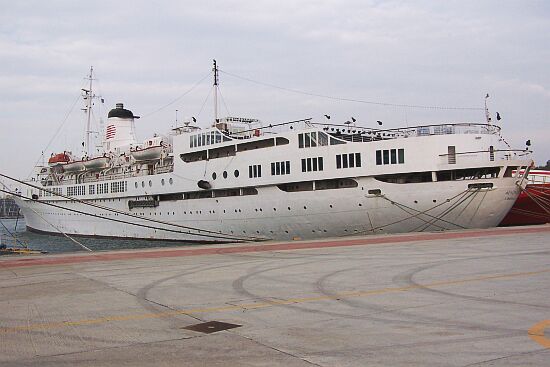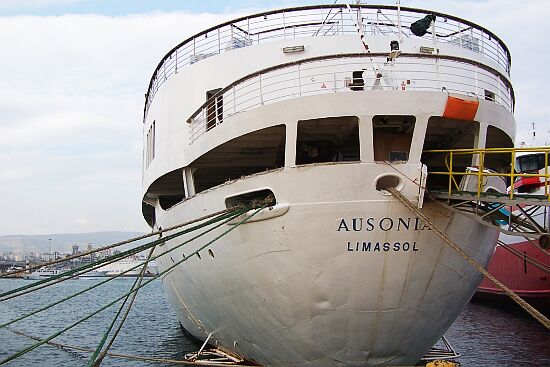 Prior to departure she will be painted gleaming white again
SS Ivory
In 2005 Louis Cruise Line transferred her to Iona Maritime Co Ltd, Piraeus, Greece and she was renamed Ivory and commenced cruising out of Greece. This was my only regret that Louis Cruises decided to change the historic name which she carried faithfully for 48 years. Only one other liner that continues to sail on the earth continues to do so under its original name, and this is the ex Italian liner the SS Oceanic that now sails for the Japanese Peace Boat Organisation. She continues to sail in 2011!
However this venture was short lived and just over a year or so later, in 2007 she transferred to yet another Greek Company "Golden Star Cruises" and given another new name.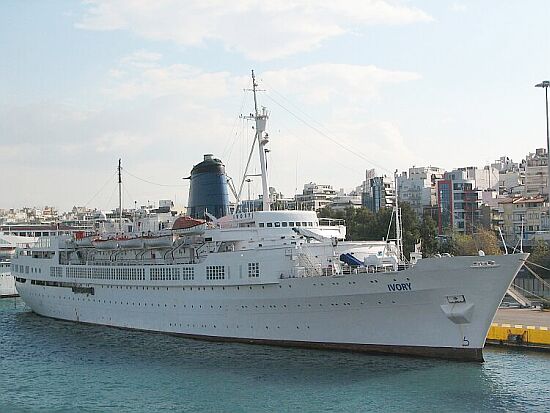 Ausonia seen with her new name and what is a rather drab blue funnel
Photo by & © 2006 George Koutsoukis
SS Aegean Two
Golden Star Cruises gave the ex Ausonia an external new modern look with her bow section receiving a large pained feature, whilst her interiors were given a comprehensive makeover. Golden Star Cruises then renamed this fine classic ship SS Aegean two and she was placed on regular three and four night Aegean Sea cruises sailing out of Piraeus, visiting all the popular Greek Islands as well as Kusadasi in Turkey between March and November. These cruises were very popular as fly/cruise options from the UK, USA and South African market. Happily, this delightful classic ex Italian liner sailed on for several years, but sadly as most ship lovers will be aware of SOLAS 2010 was on the horizon and this would spell the end for this superb ship, which was still in a pristine condition!.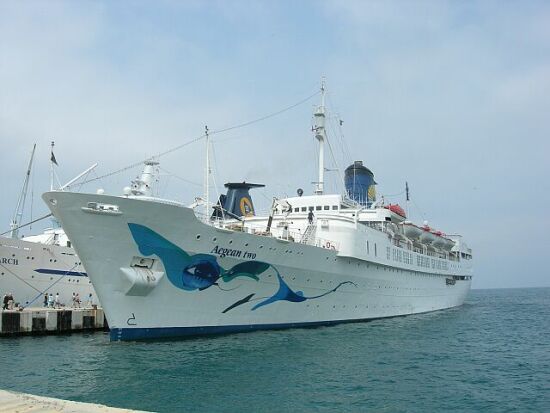 This fine 50 year old ship has been magnificently maintained by Louis Cruise Lines
Photograph by & © 2007 George

Zachariadis
"Aegean two" Photo Album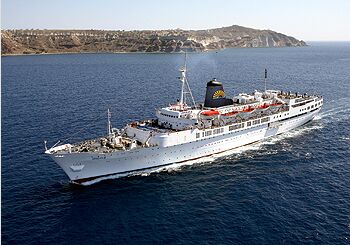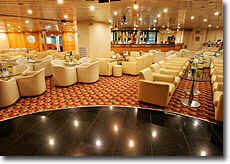 Voyager Lounge-Night Club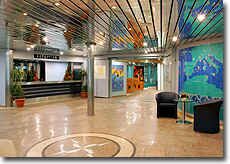 Reception Hall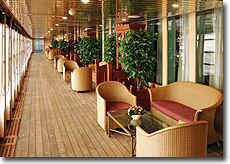 Glass enclosed Promenade named the "Orangery" it also has a Library and games facility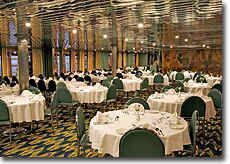 Pharaoh's Restaurant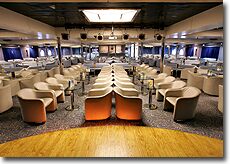 Discovery Show Lounge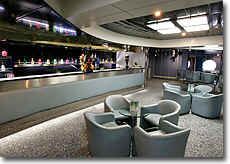 Discovery Bar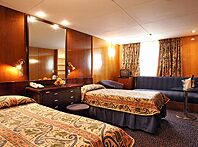 A deluxe suite
Accommodations range, from deluxe suites, staterooms, outside twin bedded, and economical twin or two berth inside cabins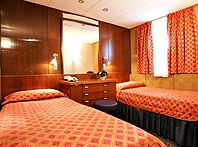 Outside deluxe room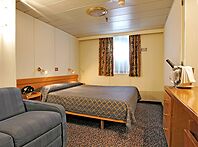 Superior outside twin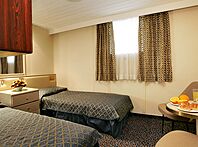 Outside twin with a window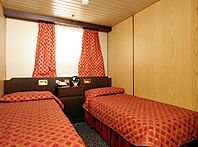 Outside standard twin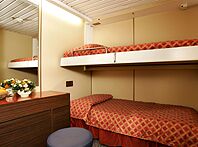 Inside two berth cabin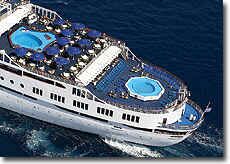 Aft a new oversized Jacuzzi has been added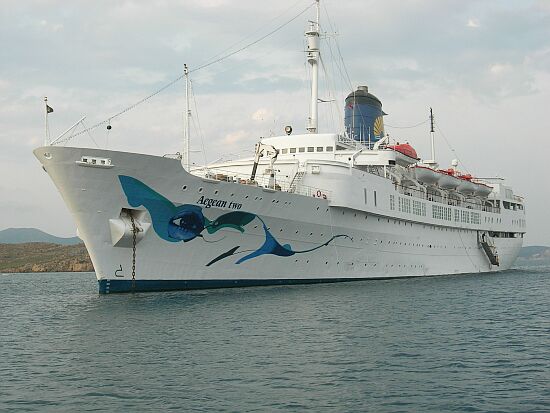 Aegean two seen at anchor
Photograph by & © 2007 George Zachariadis
Enter the: Aegean two Deck Plan
Farewell Ausonia!
It had already been rumoured in 2008 that she was to be decommissioned, which was a sad thought for obviously she was in perfrct condition in every sense of the word, and I personally know many who sailed on her and they raved about her condition.
However, the sad fact is that her owners, Louis Cruise line decided to lay her up at Eleusis Bay in Greece and was eventually sold to Indian breakers who took her to Alang where she arrived on March 3, 2010 where she was broken up.
Farewell Ausonia, you were indeed a wonderful ship and I am well aware that countless thousands of past passengers and all ship lovers from around the world will never forget your sheer beauty and the delights you have given so many, for you were one of the few last real ships left in the world!
 "Blue Water Liners sailing to the distant shores.
I watched them come, I watched them go and I watched them die."
****************************
Visit our ssMaritime Main INDEX
Where you will discover around 680 Classic Passenger & Passenger-Cargo Liners!
ssMaritime.com & ssMaritime.net
Where the ships of the past make history & the 1914 built MV Doulos Story
Please Note: ssmaritime and associated sites are 100% non-commercial and the author does not seek funding or favours and never have and never will.
Photographs on ssmaritime and associate pages are either by the author or from the author's private collection. In addition there are some images and photographs that have been provided by Shipping Companies or private photographers or collectors. Credit is given to all contributors, however, there are some photographs provided to me without details regarding the photographer or owner concerned. Therefore, I hereby invite if owners of these images would be so kind to make them-selves known to me (my email address can be found at the bottom of the page on www.ssmaritime.com), in order that due credit may be given.
ssMaritime is owned & © Copyright by Reuben Goossens - All Rights Reserved