S.S. Eugenio C & Big Red Boat II
Please Note: Firefox & some other search engines may not suitable
Please use Google Chrome for this page to load perfectly!

Click the logo above to reach the ssMaritime FrontPage for News Updates & "Ship of the Month"
With Reuben Goossens
Maritime Historian, Cruise'n'Ship Reviewer & Author
Please Note: All ssMaritime and other related maritime/cruise sites are 100% non-commercial and privately owned. Be assured that I am NOT associated with any shipping or cruise companies or any travel/cruise agencies or any other organisations! Although the author has been in the passenger shipping industry since 1960, although is now retired but having written on well over 700 Classic Liners, humble Migrant Liners and Cargo-Passengers Ships I trust these will continue to provide classic ship enthusiasts the information they are seeking, but above all a great deal of pleasure!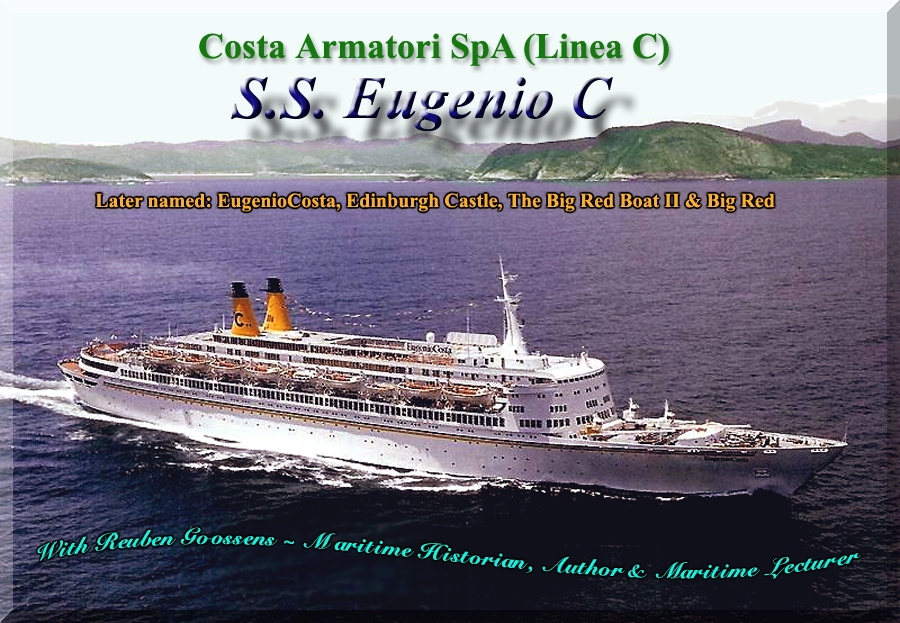 Photographs on these pages are from the author's private collection, unless otherwise stated
Costa Armatori SpA (Linea C) Genoa ordered a new ship for the South American service. Not only would this ship be new, but she was going to be revolutionary. This magnificent liner was built by Cantieri Riuniti Dell Adriatico in Monfalcone, Italy and her keel was laid down on January 4, 1964.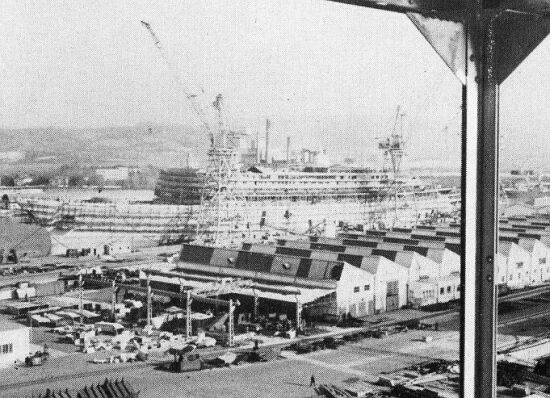 SS Eugenio C seen during her construction
From the Paolo Baldazzi collection
This fine liner was launched on November 21 1964 and was delivered to Linea C on August 22, 1966 and duly departed for her maiden Trans-Atlantic voyage from Genoa to Buenos Aires. Her twin turbines gave her a remarkable speed of 27 knots, shortening crossing the Atlantic considerably. She accommodated 178 first class passengers, 356 second class and 1102 tourist class. With her many modern features in all classes, she became a popular luxury liner, much was sought after by the rich and famous. For the next ten years Eugenio C operated a full time Trans Atlantic service from Genoa to South America, however, with passenger loadings dropping rapidly in the late seventies, she undertook more and more cruises. However, by 1983 a Trans Atlantic voyage would be a twice yearly positioning voyage as she cruised year round from Europe or the Americas.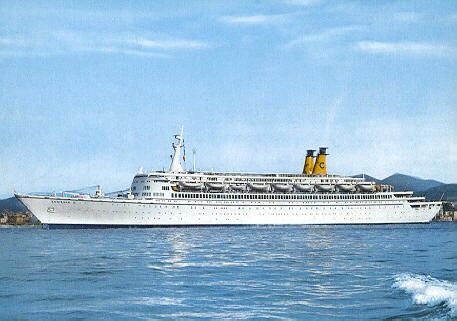 An early Linea Lines post card of SS Eugenio C
Specifications:
Length:                               713ft – 217.39 Meters.
Breadth:                             96.1ft – 29.39 Meters.
Draught:                             28.3ft – 8.63 Meters.
Gross Registered Tonnage:    32.753 Tons.
Main Engines:                      De Laval Twin Cross compounded turbines in two cylinders 55,000 SHP.
Boilers:                              3 Babcock and Wilcox selectable superheat boilers of integral furnace design.
Propellers:                          2.
Speed:                               27 knots / 28.4 maximum.
Passengers:                         178 First – 356 Cabin – 1,102 Tourist.
Crew:                                 424.
                                         Two sets of stabilizers / Fully air-conditioned.
SS EugenioCosta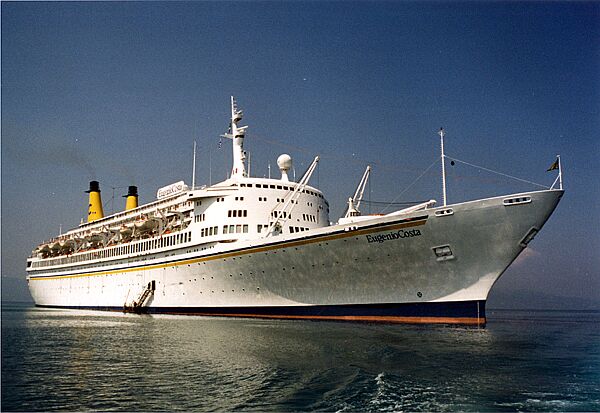 In 1984 SS Eugenio C was renamed EugenioCosta
It was decided in 1984 to rename Eugenio C and give her an extensive conversion. She was renamed EugenioCosta. In 1994 it was planned to transfer her to "American Family Cruises" (part of the Costa Group) and rename her American Adventure, however, this venture was never realised. EugenioCosta completed her last cruise in November 1996.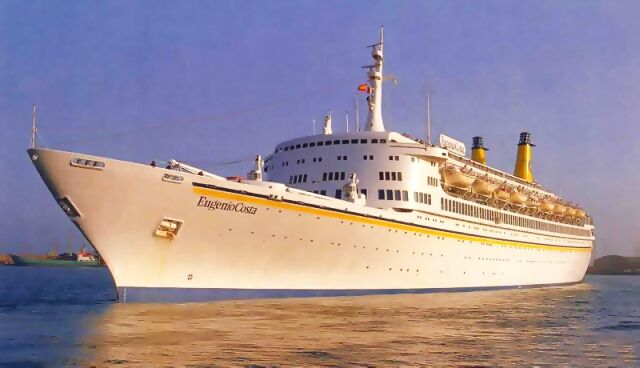 The elegant lines of the well built SS Eugenio, but she is seen here with the livery when she was named the EugenioCosta
SS Edinburgh Castle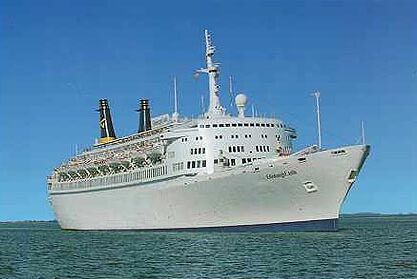 SS Edinburgh Castle
EugenioCosta was sold to the Bremen Vulkan shipyard in part exchange for the Costa Victoria. The British company, Lowline Shipping acquired her in 1998, and chartered her to Direct Cruises, who operated budget cruises, which were marketed through telephone sales to the UK. Renamed Edinburgh Castle, she received a US$12 million refit and commenced her new cruise service with Direct Cruises. Sadly, the ship was plagued with mechanical problems, which saw her owners go into liquidation in 1999. Lowline Shipping filed for bankruptcy. Ownership passed to their main creditor, being Cammell Laird.
SS Big Red Boat II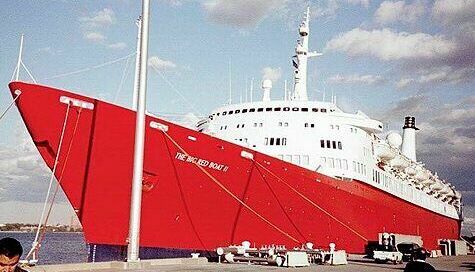 It was hard to miss the SS The Big Red Boat II with her bright red hull
Photographed by Bill Donall
Edinburgh Castle now part of the Cammell Laird stable, was chartered to Premier Cruises. She received a 10 month US$25 million overhaul and refit, which saw her hull painted bright red, like the other Premier ships. She was renamed "The Big Red Boat II" and commenced service in 2000.
Sadly, The Big Red Boat II did not have a long cruising life with Premier Cruises as the company also went into liquidation in September 2000. Still owned by Cammell Laird, Big Red Boat II was placed on a short based charter to the U.S. government after which she was laid up at Freeport where most of her fleet mates had already been laid up. She was laid up alongside the magnificent SS Rembrandt, ex Rotterdam, which has since been completely refurbished and is now open in Rotterdam Holland as the successful SS Rotterdam Hotel and Tourist centre.
The Big Red Boat II was placed on the market along with all other ships of her fleet. Although her interiors were in excellent shape it was her mechanical reputation that remained the biggest drawback for finding new owners, as she required major repairs to her boilers. The Big Red Boat II was sold to Argo Ship Management in 2003, who sadly allowed her condition to deteriorate. However, she continued on the market, but it became obvious that cruise companies were not willing to take a gamble on this once fine liner. In addition being a steam ship means that operational costs would be considerable compared to a motor ship, this being another reason why she languished in Freeport for five long lonely years.

SS Big Red bunkering in the Azores on April 15
Photo © 2005 www.shipinfo.org.uk
Not being able to find a buyer - be it for active duties or even as a hotel, for which she would have been perfect, in 2005 this magnificent ship was sold to Indian breakers. She departed Freeport for India under her own power and she was seen with huge plumes of black smoke flowing behind her with the name Big Red on her bow and stern. She was seen bunkering in the Azores on April 15, before heading for Alang.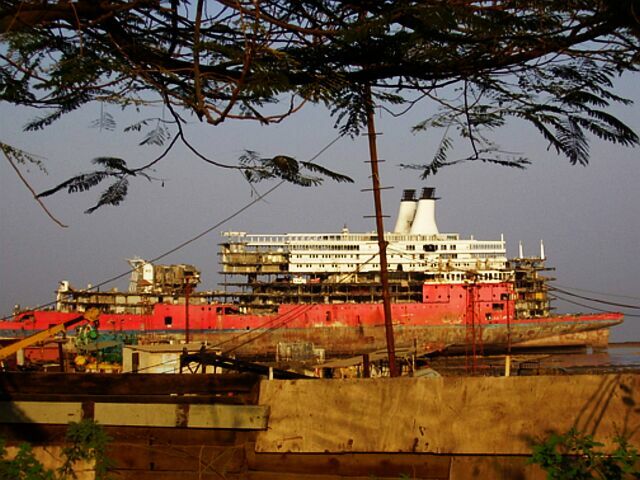 This once great liner is coming to the end of her life, a sad sight indeed!
Photograph by & © Kaushal Trivedi
SS Big Red She arrived in Alang on Sunday June 5, 2000 and was beached on the 7th.the day after the arrival of the Margarita L, ex Windsor Castle. Two fine and much loved liners have gone forever, one of Italian heritage and the other very British that ended its day more like a Greek tycoon's private yacht.
SS Eugino C - Big Red Boat II – INDEX:
Page One …        The SS Eugenio C history.
Page Two …       Photo Album.
Page Three …     Big Red Boat II – Photo album - laid up in Freeport by Klaas Krijnen.
Page One …        The S.S. Frederico C of 1958.
********************
"Blue Water Liners sailing to the distant shores.
I watched them come, I watched them go and I watched them die."
****************************
Visit our ssMaritime Main INDEX
Featuring over 1,358 Classic Passenger Liners, Passenger-Cargo Liners & Classic Cruise Ships!
ssMaritime.com & ssMaritime.net
Where the ships of the past make history & the 1914 built MV Doulos Story
Please Note: ssmaritime and associated sites are 100% non-commercial and the author does not seek funding or favours and never have and never will.
Photographs on ssmaritime and associate pages are either by the author or from the author's private collection. In addition there are some images and photographs that have been provided by Shipping Companies or private photographers or collectors. Credit is given to all contributors, however, there are some photographs provided to me without details regarding the photographer or owner concerned.
ssMaritime is owned & © Copyright by Reuben Goossens - All Rights Reserved