S.S. Eugenio C & Big Red Boat II
Please Note: Firefox & some other search engines may not suitable
Please use Google Chrome for this page to load perfectly!

Click the logo above to reach the ssMaritime FrontPage for News Updates & "Ship of the Month"
With Reuben Goossens
Maritime Historian, Cruise'n'Ship Reviewer & Author
Please Note: All ssMaritime and other related maritime/cruise sites are 100% non-commercial and privately owned. Be assured that I am NOT associated with any shipping or cruise companies or any travel/cruise agencies or any other organisations! Although the author has been in the passenger shipping industry since 1960, although is now retired but having written on well over 700 Classic Liners, humble Migrant Liners and Cargo-Passengers Ships I trust these will continue to provide classic ship enthusiasts the information they are seeking, but above all a great deal of pleasure!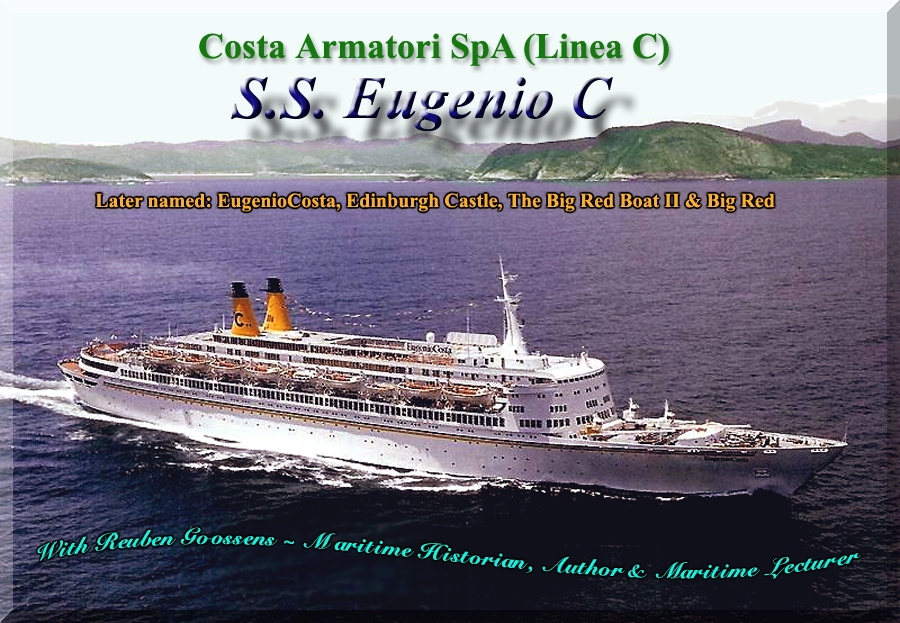 Photographs taken in Freeport
By Klaas Krijnen
Photographs on this page were taken by & are © Mr. Klaas Krijnen of the Netherlands, except marked otherwise
These may not be copied or reproduced by any means of media - permission MUST be sought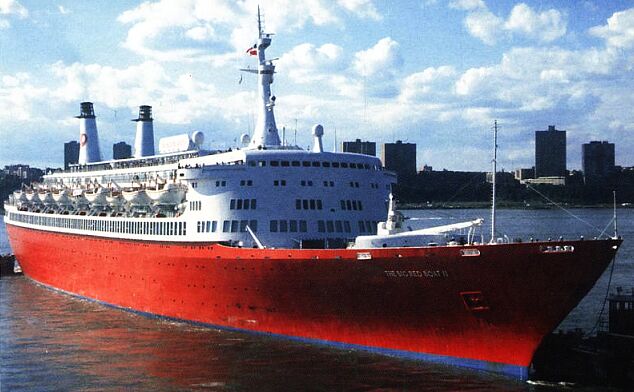 Premier Cruises postcard of SS The Big Red Boat II
Authors private collection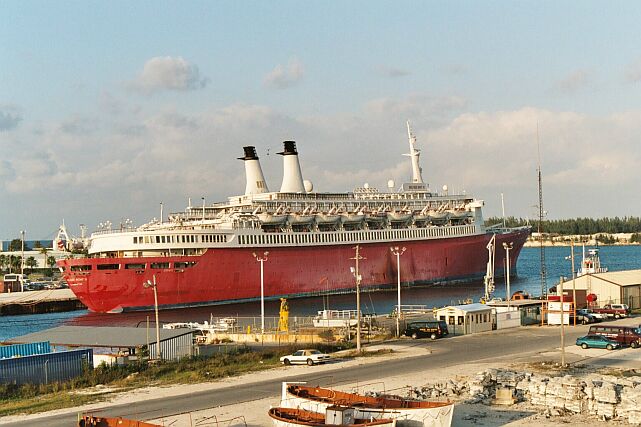 Although her red hull looking rather faded, internally she was in excellent condition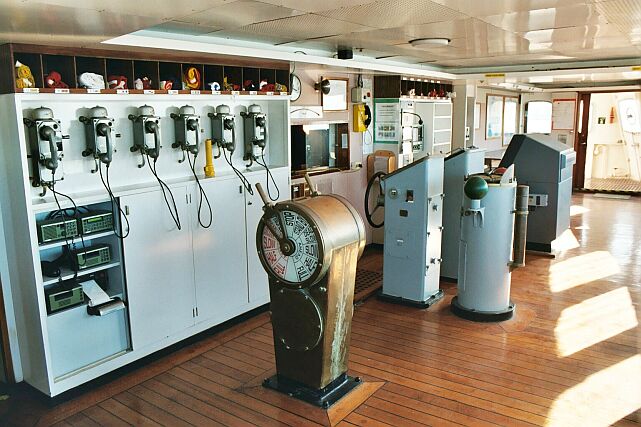 With the Bridge looking so spotless and well maintained it looked like she was ready to sail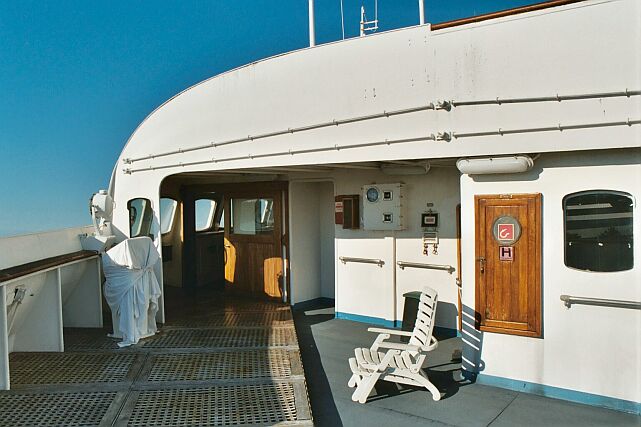 Looking toward the Bridge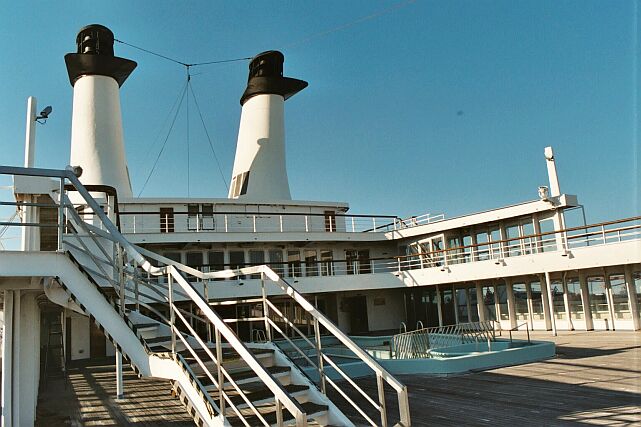 Aft decks and pool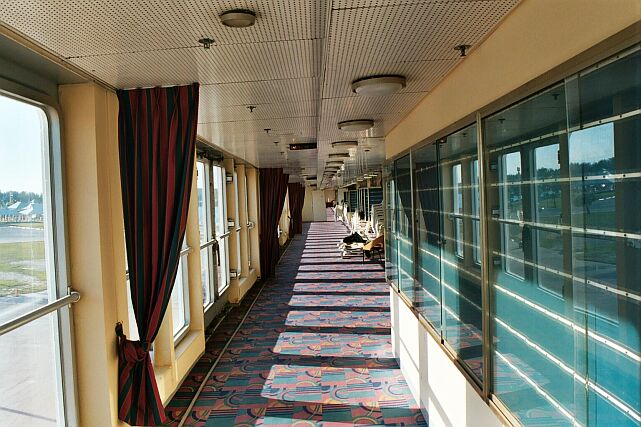 Promenade deck looked like it was awaiting passengers to board, but they never came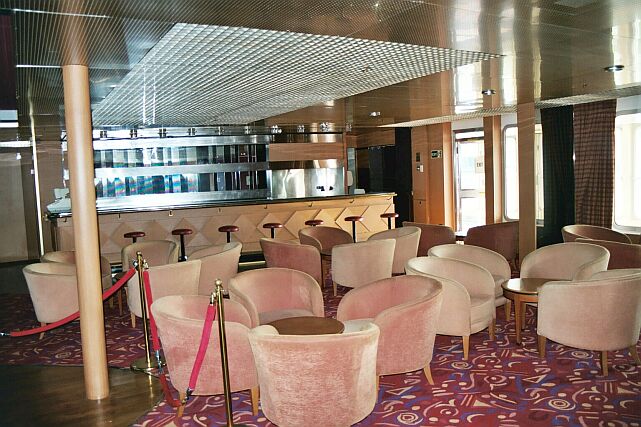 Looking at her internal photographs whilst she was in Freeport it would
make you cry knowing that her next stop was a toxic laden beach in India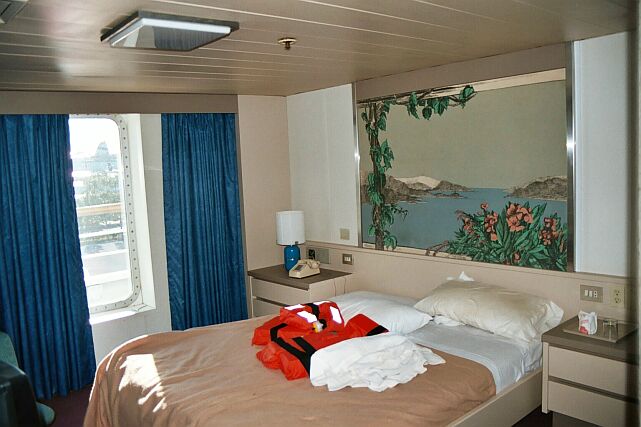 One of her excellent cabins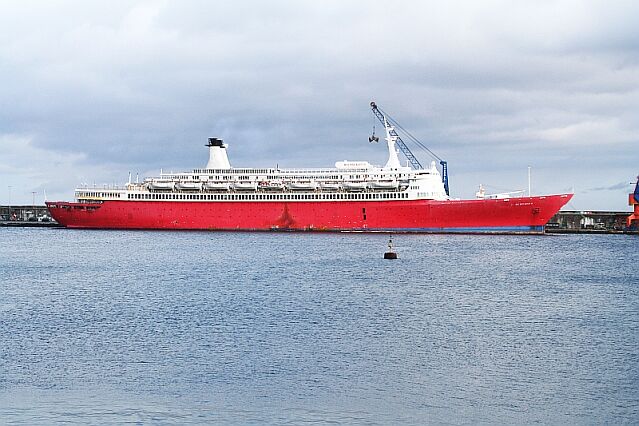 Now named SS Big Red, she is seen bunkering in the Azores on April 15
(Photo © 2005 www.shipinfo.org.uk)
Photographs on this page (except where marked otherwise) were taken by & are © Klaas Krijnen of The Netherlands
These may not be copied or reproduced by any means of media – permission MUST be sought
SS Eugino C - Big Red Boat II – INDEX:
Page One …        The SS Eugenio C history.
Page Two …       Photo Album.
Page Three …     Big Red Boat II – Photo album - laid up in Freeport by Klaas Krijnen.
Page One …        The S.S. Frederico C of 1958.
********************
"Blue Water Liners sailing to the distant shores.
I watched them come, I watched them go and I watched them die."
****************************
Visit our ssMaritime Main INDEX
Featuring over 1,358 Classic Passenger Liners, Passenger-Cargo Liners & Classic Cruise Ships
ssMaritime.com & ssMaritime.net
Where the ships of the past make history & the 1914 built MV Doulos Story
Please Note: ssmaritime and associated sites are 100% non-commercial and the author does not seek funding or favours and never have and never will.
Photographs on ssmaritime and associate pages are either by the author or from the author's private collection. In addition there are some images and photographs that have been provided by Shipping Companies or private photographers or collectors. Credit is given to all contributors, however, there are some photographs provided to me without details regarding the photographer or owner concerned.
ssMaritime is owned & © Copyright by Reuben Goossens - All Rights Reserved