ssMaritime.com & ssMaritime.net
With Reuben Goossens
Maritime Historian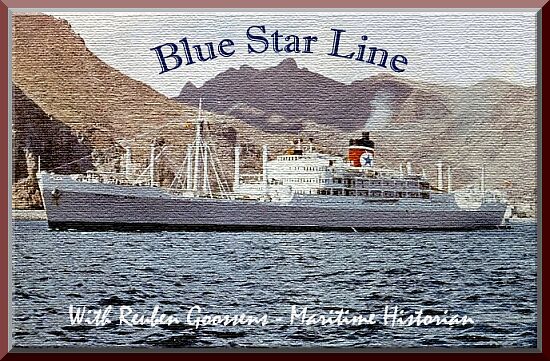 Featuring
SS Argentina Star, SS Brasil Star, SS Uruguay Star & SS Paraguay Star
*This page was updated on 18 March 2010 with a new story and images
Blue Star Line has a long and interesting history. It hails back to the Vestey family who were butchers in Liverpool. Having large cattle ranches in Argentina they were one of the first to transport beef in refrigerated ships from South America to the United Kingdom. For this purpose, the Vestey family officially registered Blue Star Line on July 28, 1911. Soon Blue Star also operated ships between the UK and China, carrying eggs and other perishable goods. The Blue Star fleet grew to twelve ships by World War I, each starting with the name "Brod," such as the 1894 built Brodness.
Star Ships
In 1920, it was decided that their future ships would include "Star" in the name of all their future ships, the first being the 7,920 GRT SS Albion Star, which was built in 1919 by Workman Clarke & Co. Ltd., in Belfast. She was joined by four sister ships - Fresno Star, Pacific Star, Royal Star & Tacoma Star.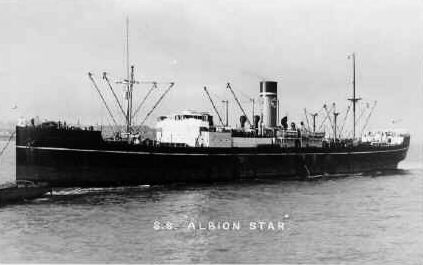 The first "Star" – SS Albion Star
In 1926 a new series of combination-passenger ships joined the company, ships that became known as the "Luxury Five" The first of the series was the 12,848 GRT Almeda ("Star" added in 1926), built in 1926 by Cammell Laird & Company Ltd., Birkenhead. Almeda Star and Andalucia Star accommodated 108 first class passengers, whilst the Arandora Star, Avelona Star and Avila Star accommodated 164 first class passengers.
SS Almeda Star & her Sisters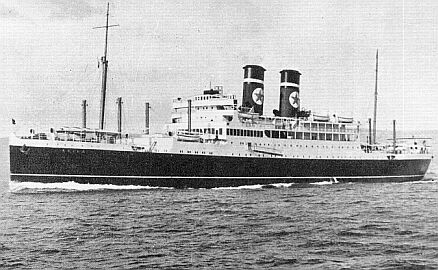 These ships were known as the "Luxury Five"
On the outbreak of WWII, the majority of the Blue star ships were taken over by the British Government and used in various capacities for the war effort.
Post War Liners
After WWII the Blue Star Line commenced to rebuild their much depleted fleet, having lost many ships during the war. The most famous series were the 10,700 GRT Refrigerated cargo/passenger liners, SS Argentina Star, Brasil Star, Uruguay Star & Paraguay Star. Each accommodated 51/53 passengers in luxurious all first class surroundings. These four ships, the four Ellerman and four Holland Africa Line combination-passenger liners that operated the South Africa run. All offered were much like superb all first class accommodation and personalised service. These style of ships were much desired by the discerning traveller between the late forties and sixties, after which these types of ships slowly vanished, which was mostly due to air travel.
These four fine Star ships sailed from London and sailed via Southampton, Lisbon, Las Palmas, Rio de Janeiro, Santos, Montevideo to Buenos Aires. Many passengers would take the entire round trip as an extended cruise, especially with those who preferred to escape the European winter.
Each ship had six refrigerated holds. On the outbound voyage the ships were loaded with general cargo and perishable foods, whilst on the return, she carried chilled beef in Buenos Aires to the UK. Sadly, due to declining passenger numbers, these fine ships, like the Ellerman and Holland-Africa Cargo/Passenger Liners, were disposed off in the early seventies.
Ship Descriptions
(The descriptions below cover all four ships)
Topside, on Boat Deck there was a vast amount of deck space for sun-lounging and sports. The officer's accommodations was located forward, followed by the children's playroom. Aft of the funnel was the 'Alcove,' a partially enclosed Verandah, featuring traditional cane furnishings.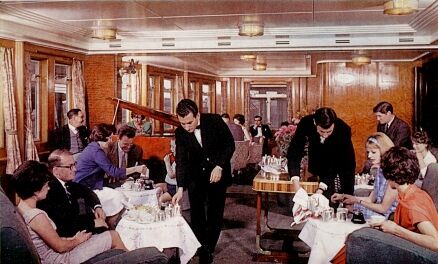 Traditional English Tea is served in the main lounge
The intimate, beautifully timbered Main Lounge was located forward on Upper Bridge (B) Deck. This room featured a grand piano and had large windows overlooking the bow. Just aft of the Lounge was the Hairdressing Salon. Apart for a promenade deck, twenty one cabins occupied the rest of Upper Bridge (B) Deck. All cabins onboard had either one or two beds, some having upper Pullmans for those travelling with children. Most cabins had private bathrooms.
Aft on Bridge (A) Deck was the Smoke Room, which featured a traditional fireplace and had large windows facing aft. The Dinning Room was located forward, having a view of the ships swimming pool.  Portside, just aft of the Dining Room was the Chief Stewards Desk, come pursers office. Between the Dinning Room and Smoke Room were fourteen cabins, and like the deck above, Bridge (A) Deck had another spacious promenade deck.
These ships were notable, due to being the first British ships to have their engines so far aft.
SS Argentina Star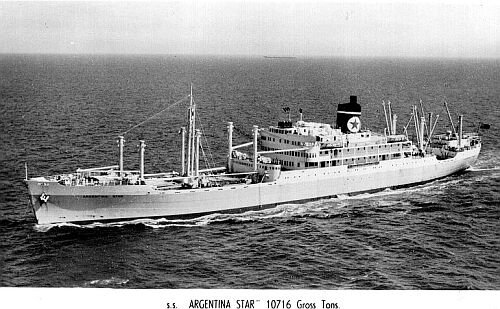 Post Card

SS Argentina Star after receiving a funnel top hat and new hull colour

SS Argentina Star was the first of the four new refrigerated cargo/passenger liners to be built by Cammell Laird & Company Ltd., Birkenhead, between 1946 and 1948. She was launched on September 26, 1946 and completed in June the next year. She departed London for her maiden voyage to Buenos Aires on June 14, 1947.

Built with a black hull, she later received a refit which saw a top hat fitted to her funnel for efficient smoke dispersion. In addition her hull was painted grey. In 1970 her gross tonnage was listed as 10,498. In 1972 she was sold to the Japanese Nissho-Iwai Company for demolition, however, they resold her to Taiwanese breakers, Yi Ho Steel & Iron Works. She arrived in Kaohsiung on October 19, to be demolished.

Specifications:

Builder:                             Cammell Laird & Company Ltd., Birkenhead

Tonnage:                          10,716 GRT / 10,498 GRT in 1970

Length:                             503ft – 153.3m

Width:                              68.2ft – 20.8m

Draft:                                31ft

Engines:                           Shipbuilders triple Parsons Geared Steam Turbines – 8,700 SHP

Propellers:                         One

Speed:                              16 knots

Passengers:                       51 - First Class

Passenger decks:               Three

Livery:                              Black hull/red boot topping – later, grey hull/blue boot topping

New Images provided by ex Engineer of the SS Argentina Star

- Malcolm Smith.

"I was an Engineer on the SS Argentina Star for a number of voyages to South America during 1971 and 1972. I am happy to forward a photograph of the ships Engineers that was taken on board whilst we were in Buenos Aires and I believe it was taken in July 1972, during the ships final voyage to South America.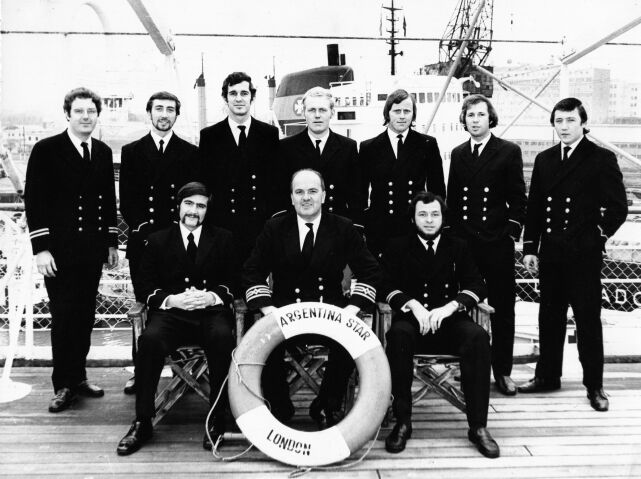 SS Argentina Star's Engineers on deck whilst in Buenos Aires July 1972. Fifth Engineer Malcolm Smith is seen standing in the back row far right a few weeks short of his 22nd Birthday. Seated in the middle is the Chief Engineer Ray Taylor. This photograph was provided by Malcolm Smith.
I do remember a few of their first names, such as Howard, Cyril, and Wayne. But sadly the rest of the names have long been forgotten, however I do remember the Chief Engineers' name, it was Ray Taylor."
The good news is that Malcolm will be sending some further photographs of the ships engine room in the near future. Thus be sure to return for an updated page!
SS Brasil Star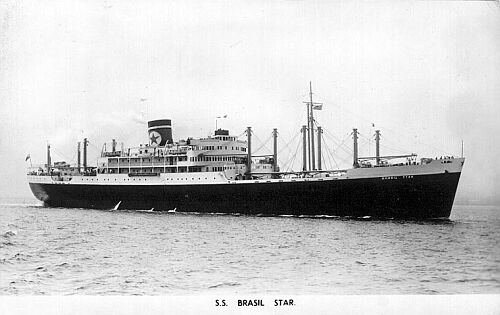 SS Brasil Star the second of the series was built by

Cammell Laird & Company Ltd., Birkenhead, in 1947. She was launched on March 6, 1947. She departed London for her maiden voyage to Buenos Aires in October that year. Brasil Star, like her two sisters, later received a refit and a saw shorter funnel extension than that on the Argentina Star, at the same time her hull was painted grey. In 1970 she was listed at 10,499 GRT.

In 1972 she was sold to Taiwanese breakers, Tung Seng Steel & Iron Works. She arrived in Kaohsiung on October 10 to be demolished.

Specifications:

Builder:                             Cammell Laird & Company Ltd., Birkenhead

Tonnage:                          10,716 GRT / 10,499 GRT in 1970

Length:                             503ft – 153.3m

Width:                              68.2ft – 20.8m

Draft:                                31ft

Engines:                           Shipbuilders triple Parsons Geared Steam Turbines – 8,700 SHP

Propellers:                         One

Speed:                              16 knots

Passengers:                       53 - First Class

Passenger decks:               Three

Livery:                              Black hull/red boot topping – later, grey hull/blue boot topping

SS Uruguay Star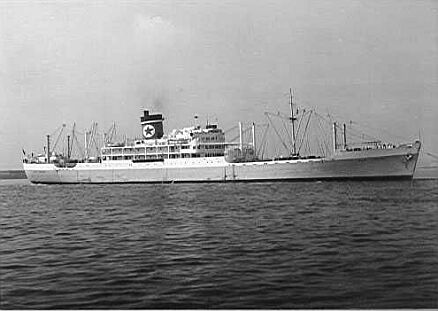 SS Uruguay Star

was launched on October 15, 1947, and completed in May 1948. She departed Liverpool for her maiden voyage to Buenos Aires on May 22. Upon her return to the UK, she sailed from London. She, like her sisters, Uruguay Star, received a refit at a later date and was given extended pipe atop her funnel and had her hull painted grey. In 1970 she was listed at 19,506 GRT.

In 1972 she was sold to Taiwanese breakers, Nan Feng Steel Enterprise, arriving in Kaohsiung on August 25, to be demolished.

Specifications

:

Builder:                             Cammell Laird & Company Ltd., Birkenhead

Tonnage:                          10,7723 GRT / 10,506 GRT in 1970

Length:                             503ft – 153.3m

Width:                              68.2ft – 20.8m

Draft:                                31ft

Engines:                           Shipbuilders triple Parsons Geared Steam Turbines – 8,700 SHP

Propellers:                         One

Speed:                              16 knots

Passengers:                       53 - First Class

Passenger decks:               Three

Livery:                              Black hull/red boot topping – later, grey hull/blue boot topping

SS Paraguay Star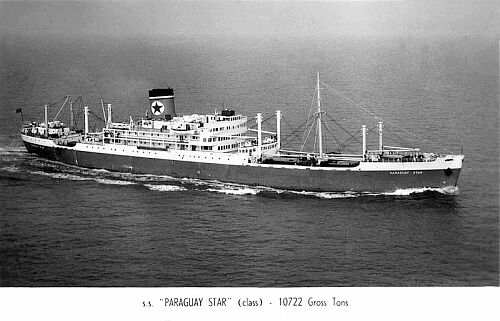 SS Paraguay Star, the fourth and final ship of the class. She was launched on April 23, 1948, and departed on her maiden voyage from London to

Buenos Aires in October. Unlike her sisters her career was cut short due to a fire in her engine room and the adjacent refrigeration chambers, whilst discharging cargo in Royal Victoria Docks, London in September 1969. She was declared a total loss and was towed to Hamburg Germany, where she arrived on September, 19 and was broken up by Echardt & Company.

Specifications

:

Builder:                             Cammell Laird & Company Ltd., Birkenhead

Tonnage:                          10,722 GRT

Length:                             503ft – 153.3m

Width:                              68.2ft – 20.8m

Draft:                                31ft

Engines:                           Shipbuilders triple Parsons Geared Steam Turbines – 8,700 SHP

Propellers:                         One

Speed:                              16 knots

Passengers:                       53 - First Class

Passenger decks:               Three

Livery:                              Black hull/red boot topping

***************************************************

Use the Back button on your browser or Close the Page to return to the previous page
or go to our INDEX

***********************************

Who is the Author of ssMaritime?

Commenced in the passenger Shipping Industry in May 1960

ssMaritime.com & ssMaritime.net

Where the ships of the past make history & the 1914 built MV Doulos Story

Also visit my …

"Save The Classic Liners Campaign" & "Classic Ocean Voyages" pages

Photographs on ssmaritime and associate pages are by the author or from the author's private collection. In addition there are some images that have been provided by Shipping Companies and private photographers or collectors. Credit is given to all contributors. However, there are some photographs provided to me without details regarding the photographer/owner concerned. I hereby invite if owners of these images would be so kind to make them-selves known to me (my email address may be found on www.ssmaritime.com only), in order that due credit may be given. I know what it is like, I have seen a multitude of my own photographs on other sites, yet these individuals either refuse to provide credit or remove them when asked, knowing full well that there is no legal comeback when it comes to the net. However, let us show these charlatans up and do the right thing at all times and give credit where credit is due!

This notice covers all pages, although, and I have done my best to ensure that all photographs are duly credited and that this notice is displaced on each page, that is, when a page is updated!

ssMaritime is owned and © Copyright 2010/12 - by Reuben Goossens - All Rights Reserved