From Matson Lines SS Monterey to Chandris Lines RHMS Britanis
Please Note: Firefox and some other search engines are not suitable – Use "Internet Explorer" for this page to load perfectly!

Click the logo above to reach the ssMaritime FrontPage for News Updates & "Ship of the Month"
With Reuben Goossens
Maritime Historian, Cruise'n'Ship Reviewer, Author & Lecturer
Please Note: All ssMaritime and my other related ssMaritime sites are 100% non-commercial and privately owned sites. Be assured that my sites have never been associated with any cruise or shipping companies or travel/cruise agencies or any other organisations! The author commenced working in the Passenger Shipping Industry back in 1960 but is now very much retired and I hope that the well over 625 articles on classic liners and cruise ships that I have written will continue to inform and also bring much joy to ship enthusiasts for many more years to come!
Matson / Chandris Lines
SS Monterey
/ RHMS
Britanis
Other names: Matsonia & Lurline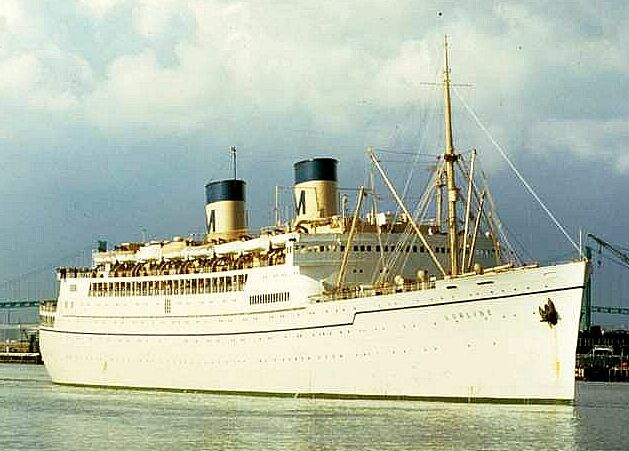 SS Lurline, ex Matsonia, Monterey one of three graceful Matson sisters seen in the late 60's
Matson Lines commenced sailing from San Francisco to Australia, due to the takeover of the Oceanic Steamship Company in larger tonnage. In 1871, a number of smaller ships crossed the pacific, until it was decided to build a fleet of 1928 "Mariposa Class Matson decided to build a trio of liners for the Australian service. This series became known as the "Matson Liners"
1 … SS Mariposa was launched July 18 1931. In 1954 she became the Homes Line cruise ship Homeric. After a major fire in July 1973 she was declared a total loss and was scrapped in Japan in January 1974.
2 … SS Monterey was also launched in January 1931, but was renamed Matsonia in May 1957, then in 1963 renamed Lurline. In May 1970, she was sold and became the successful Chandris passenger liner RHMS Britanis. She was sold in 1998, to become the ill-fated Belofin.
3 … SS Lurline was launched on July 18 1932, and was sold to Chandris Lines in 1963 to become the RHMS Ellinis. Her story may be found on another page. See the link at the bottom of the page.
Part One – SS Monterey
SS Monterey was, as seen above, the second of a trio of successful liners. She was followed by the Lurline and joined the Mariposa on Matson Line's Pacific services. Designed by William Francis Gibbs, the Monterey was launched by Mrs. E. Faxton Bishop, who was the wife of a Matson Line director on October10, 1931.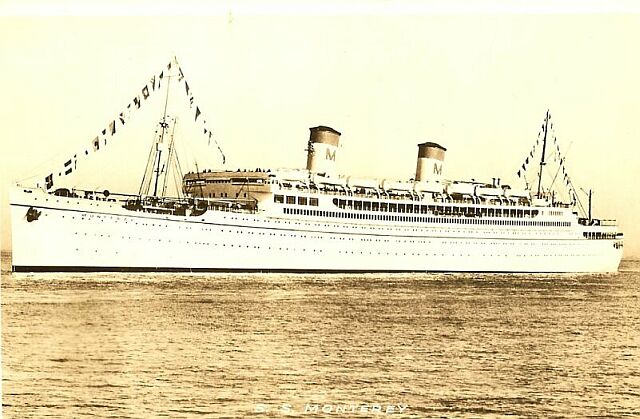 SS Monterey seen in the 1930's
Monterey departed with a complement of just 83 lucky passengers for a positioning voyage from New York to San Francisco on May 12, 1932. Whilst in San Francisco she was made ready for her duties being fully stocked up and finally departed San Francisco for her maiden voyage on June 3, 1932, for Australia visiting Los Angeles, Honolulu, Auckland, Pago Pago, Suva, Sydney and Melbourne. Monterey was able to shorten the voyage time by almost third due to her speed and efficiency, and she scored great praise for the standard of service and superb accommodation that had been introduced on this fine liner on this service.
SS Monterey Photo Gallery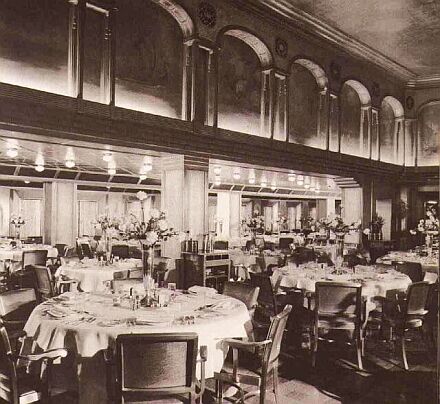 First Class Dinning Room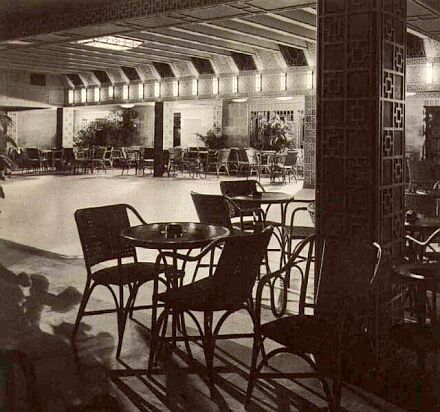 First Class Veranda Cafe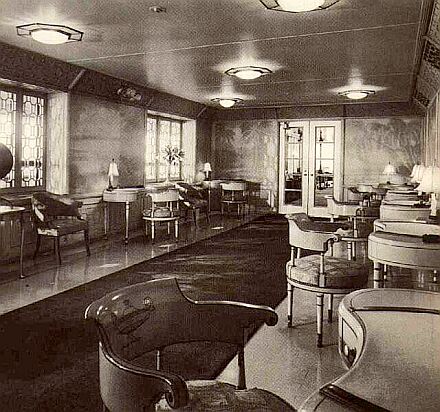 First Class Library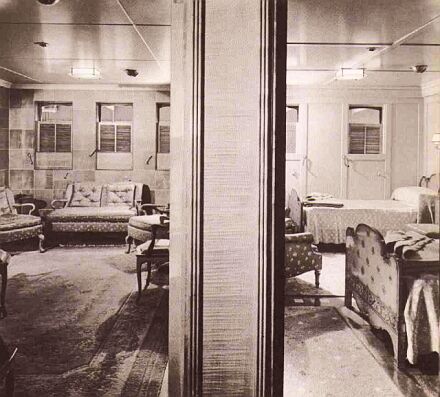 First Class Deluxe Suite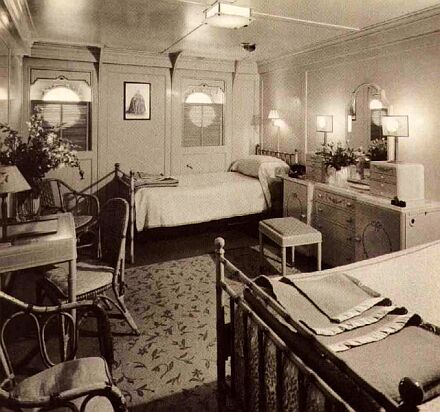 First Class Twin bedded Stateroom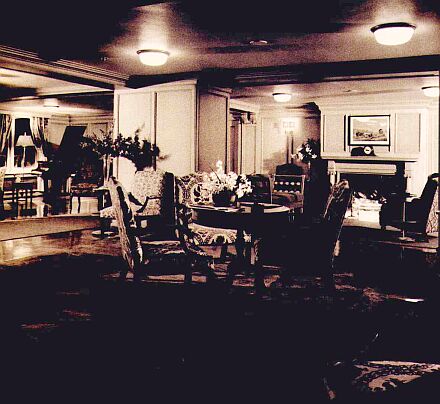 Cabin Class Lounge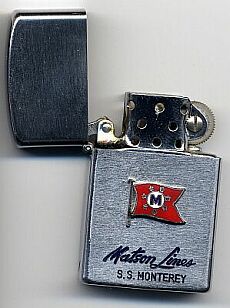 SS Monterey lighter - an item of memorabilia in my collection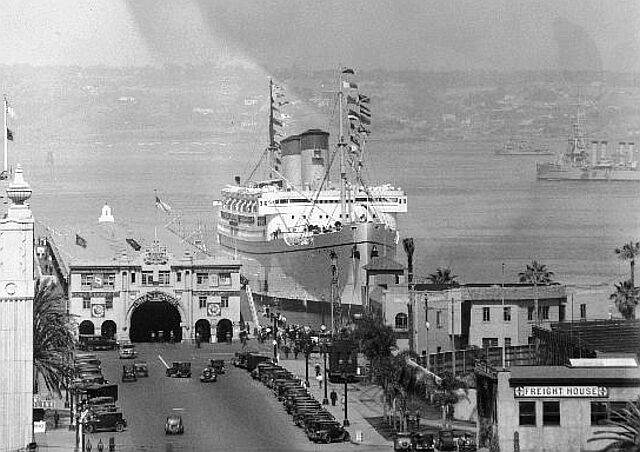 SS Monterey seen at San Diego
Dimensions as Built
Built by:

??

Bethlehem Shipyard at Quincy, Mass, USA.
Yard:?????????????????????????????????? 1441.
Tonnage:????????????????????????????? 18,017 GRT – In 1957: 18,655.
Length:??????????????????????????????? 192.9 m / 632 ft – in 1957: 195.5 m after bow lengthening.
Beam:????????????????????????????????? 24.2 m / 79 ft.
Propulsion:?????????????????????????? Geared Turbines.
Screw:???????????????????????????????? twin – 28,000 SHP.
Speed:???????????????????????????????? 22.26 knots.
Passengers:????????????????????????? 472 First Class & 229 Cabin Class.
.????????????????????????????????????????? In 1957 761 First Class only.
Crew:?????????????????????????????????? 359.
Then came World War II and she was inducted into the US Marine Corps in 1941 to rescue refugees from China, Japan, as well as Korea. She collected some 150 missionaries and stranded US citizens and transported them home to San Francisco. Shortly thereafter, she was converted to a troop ship, which saw her stripped from all of her luxurious appointments and she was fitted with additional bunks, hammocks and facilities to accommodate up to 3,500 troops. One of her highlights was the rescue of 1,675 men from the torpedoed Santa Elena off Italy in 1943.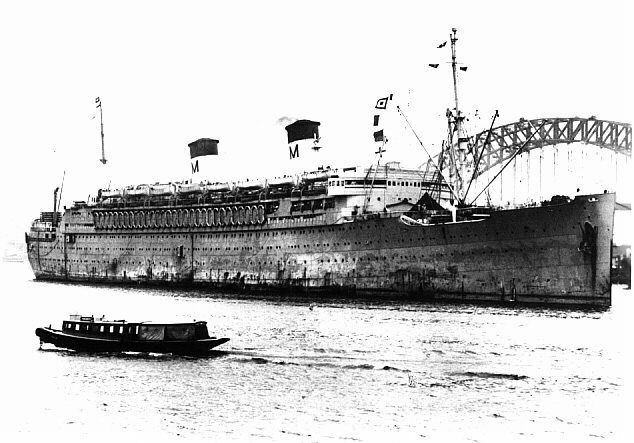 USS Monterey in Sydney Australia
She served faithfully throughout the war until 1946 when Monterey was returned to the USA to be restored for regular passenger duties in September. She was delivered to the United Engineering Shipyards at Alameda and work commenced, however, due to the bad financial problems at the time work was brought to a swift end and she was laid in San Francisco on July 11, 1947. After nine years of lay up, on August 6, 1952 she was sold to the US Government and she was laid up again at Suisun Bay, near San Francisco. By April 1948 only the Matson liner SS Lurline had been returned to full time duties on the San Francisco, Los Angeles, and Honolulu service.
Part Two – SS Matsonia
Having been laid up since 1947, nine years later, on February 3, 1956, Matson Line repurchased the Monterey for $2,556,000 decided that the Bethlehem Shipyards, her original builders would refit her back as a ultra luxury Liner. However, during her long lay-up, her name had been given to another of the companies ships a former C4 cargo vessel the SS Free State Mariner, which Matson rebuilt for its deluxe South Pacific passenger service. This ship and its sister would become the new SS Monterey and SS Mariposa that operated on the US, Pacific New Zealand & Australia service and they became two of the most loved ships from 1957 to 1978!
However Matson Line brought her back with an refit that was reported to have given her a brand new look, with new and exciting interiors as well as the new name the SS Matsonia. A foldout pre-maiden voyage brochure was released measuring 16 inches by 18 inches revealing her new interiors and exteriors interiors.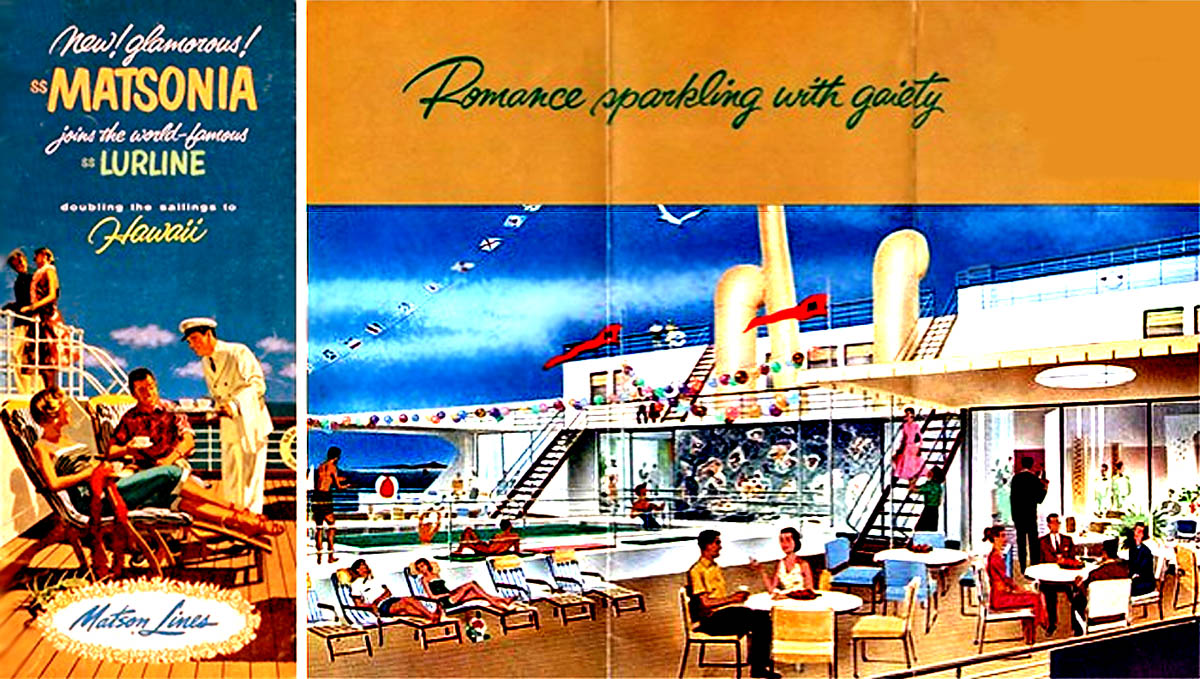 Here we see the Pre-Maiden voyage promotional brochure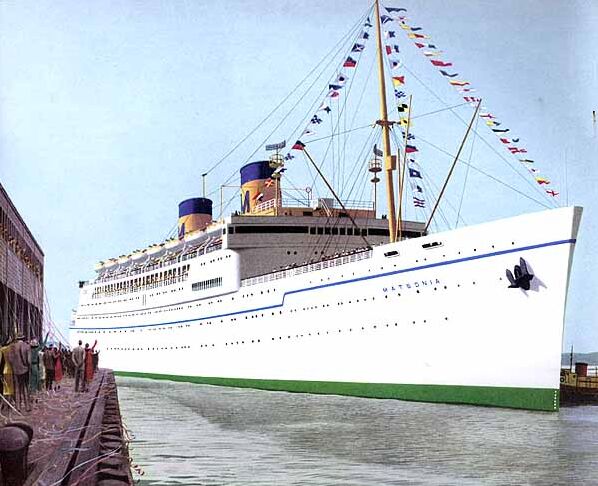 A superb artist impression of the new and re named SS Matsonia
The ex SS Monterey was officially renamed Matsonia by Mrs. Neal Blaisdell the wife of the mayor of Honolulu in June 1956. After her refit was completed she was registered at being 18,655 GRT (Gross Registered Tons). She now featured not only a new raked bow, but also a stylish Hawaiian themed accommodations for 761 all first class passengers. This tropical theme was carried throughout the ship and gave her a new style, one that would become very popular. Her first voyage was re repositioning voyage, departing New York on May 22, 1957 bound for San Francisco to join her sister the Lurline.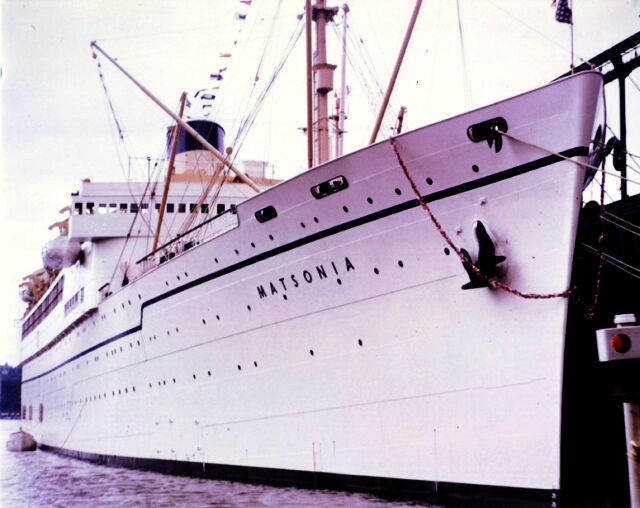 Her new raked bow is shown off well in this photograph!
Photograph taken by Victor Scrivens - From the Rich Turnwald collection
Above: SS Matsonia is seen in New York on May 22, 1957 about to depart for her delivery voyage to San Francisco having been fully refitted and therefore she has a large Hawaiian Lei draped around her bow
She departed on her official maiden voyage as the Matsonia from the San Francisco via Los Angeles to Honolulu service on June 11, 1956 and this service regained much popularity for the next few years. Her new Lanai Suite midships was a popular pick by those who could afford the best and many of high society set sailed on her to and from Hawaii! However, as we all know travel by air was also gaining great popularity and more than that, you could get to Honolulu in hours rather than days.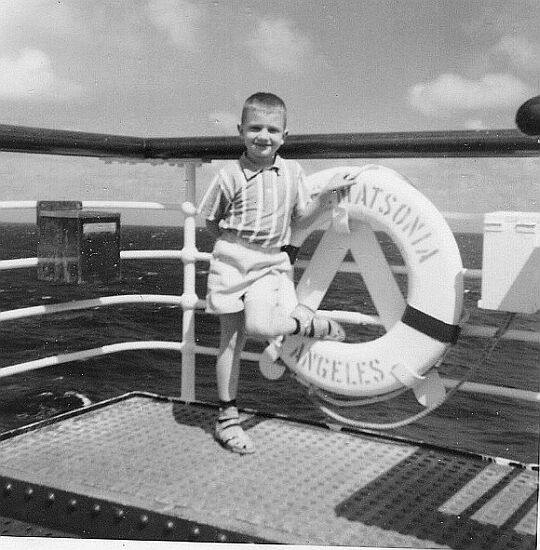 Young Jim Woodward and family is enjoying a cruise on the Matsonia
Photograph provided by Jim Woodward
By 1961 it had become obvious that passenger occupancy had begun to decline. Then on September 5, 1962 the Matsonia was laid up in San Francisco. An announcement was made in September 1963 that her sister SS Lurline had been sold to the Greek Chandris Lines to operate on their Europe/UK Australian migrant service and that she would be renamed the RHMS Ellinis. Amongst many who loved these American liners there was a loud public outcry, but to no avail, and soon she departed the USA for Piraeus to be modernised and have an increased capacity of 1,688 passengers.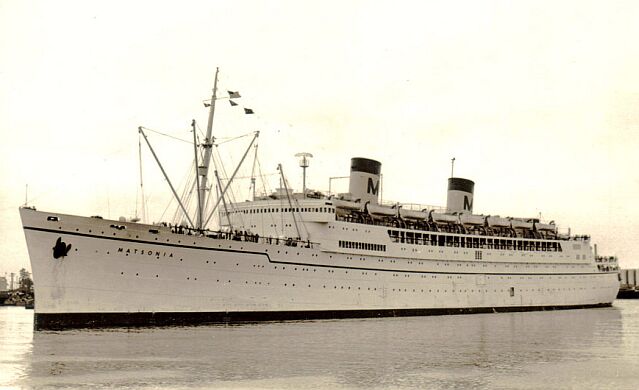 A last look at her as the Matsonia
Part Three - SS Lurline
Due to the sale of the Lurline to Chandris, this revived the Matsonia and after being laid up for twelve months, she was to be returned to service. However, to confuse the issue, she would take on her sister's name - SS Lurline, being her third name and she commenced duties in 1966.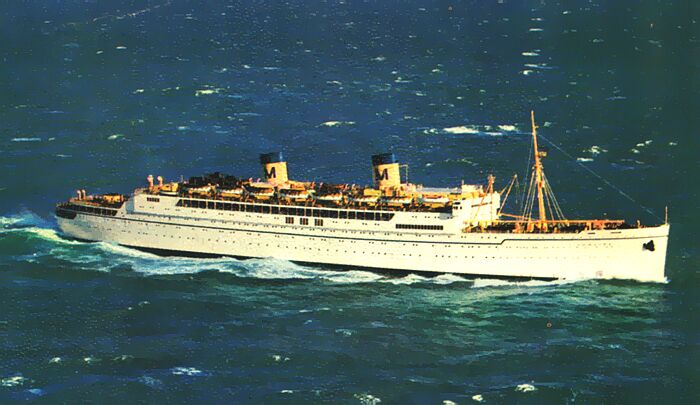 A postcard of the renamed SS Lurline seen steaming at full speed ahead
She commenced the Hawaiian schedules including a service to San Francisco and Los Angeles and in March 1969 she operated a cruise to the Caribbean whilst early in 1970 she operated a cruise to South America. However, having operated at a loss for a considerable time, she was taken out of service in May 1970 and the Lurline was also sold to Chandris Line to join her sister RHMS Ellinis whilst the Lurline would be renamed RHMS Britanis. Tag Heuer Replica Watches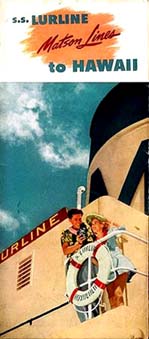 A Lurline brochure from the late 60's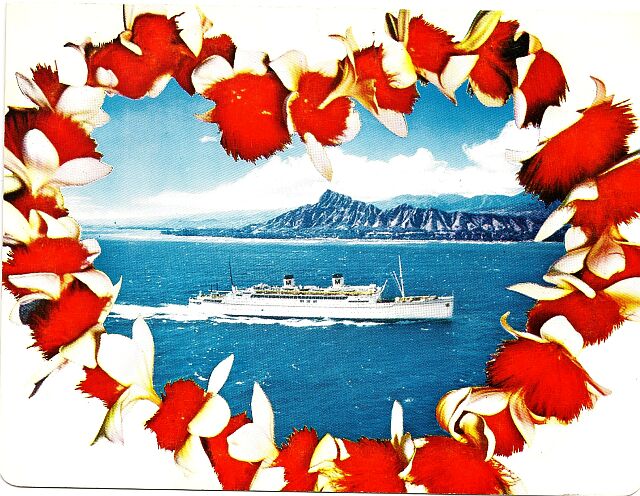 Above and below: This is an attractive Photo Folder that comes with photographs obtained from the ships photographer
Kindly provided by 1967 passenger - Cathy Murphy - Castorani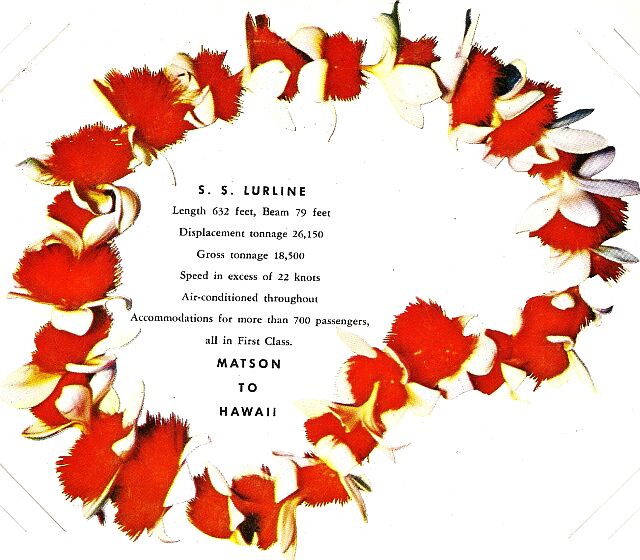 Part Four - RHMS Britanis
She headed to Greece to be refitted and modernised at Piraeus. There her passenger capacity increased to 1,655 by converting her cargo holds to cabins, as well as dividing some of her large cabins into smaller ones. In addition her superstructure was extended a short distance forward on Upper Deck with just eight - floor to ceiling windows on either side of the ship. Her funnels were given new and streamlined casings, and her mainmast was removed replaced with a more modern derrick system. Atop the Bridge was a new streamlined mast and the overall look of the ship was quite a pleasant one, although personally I feel the Ellinis looked better with her forward Upper Deck having been extended further forward and having many floor to ceiling windows, including a forward glazed deck space.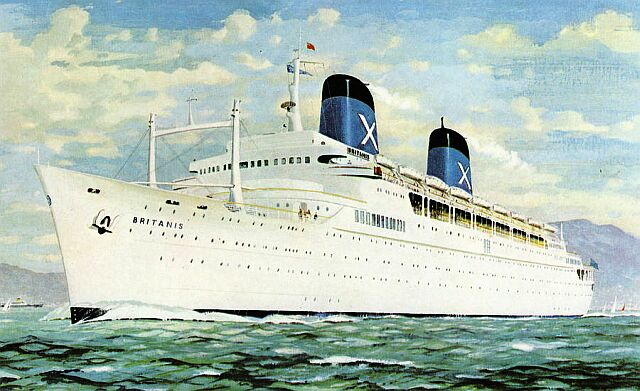 Original Chandris postcard of their new liner RHMS Britanis – In reality she did not look that good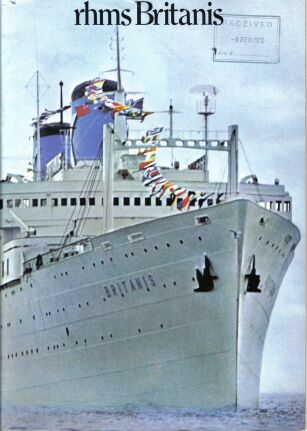 The first brochure released
Her maiden round the world voyage departed Southampton on February 21, 1971. Onboard would be UK and European migrants as well as full fare passengers travelling the world, most of which were from New Zealand or Australia, or from the UK going to visit relatives Downunder. She remained on the Southampton to Sydney service until 1974, after which she commence cruising during the northern hemisphere winter months in the Caribbean and summer cruising in Europe.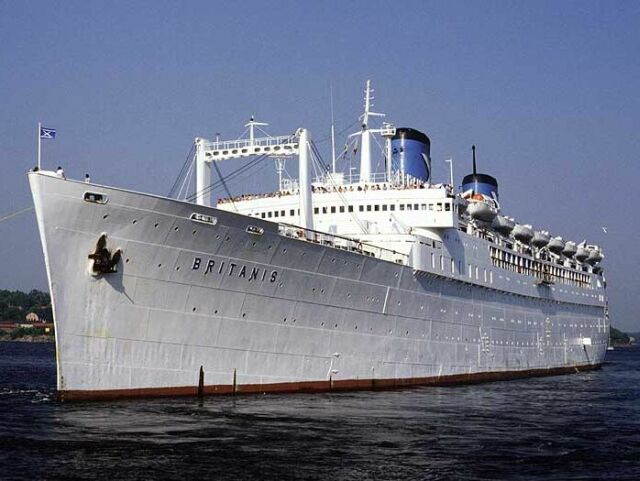 This photograph shows her true transformation, which was modest if compared with her sister the RHMS Ellinis
Then in May 1982 she was transferred to the Chandris subsidiary, Fantasy Cruises and she commenced cruising between New York and Bermuda. In 1986 she received a major refit which extended her life. During the refit, she received parts from the Ellinis which had been sold to be broken up, and the Homeric had been scrapped in 1974 but parts had been retained just in case they might be needed. This revived the Britanis and she was able to continue like a new ship! Audemars Piguet Replica Watches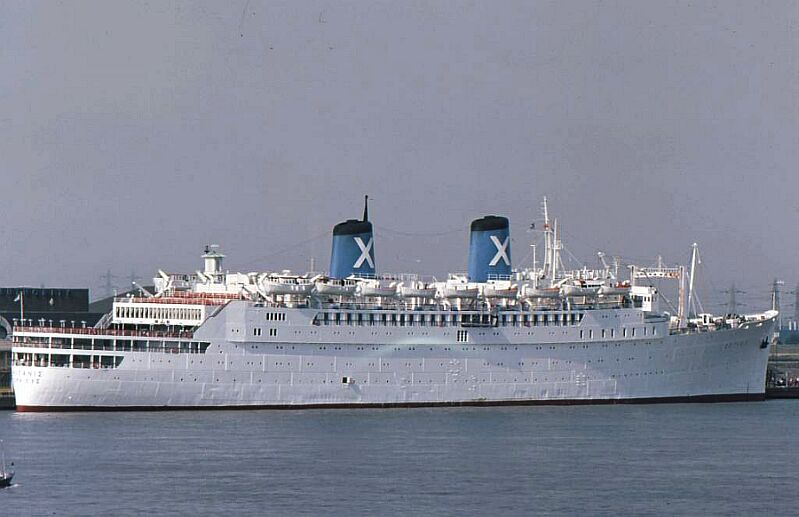 Britanis seen at Tilbury (London) in the mid 1970's
Photographs of her final days cruising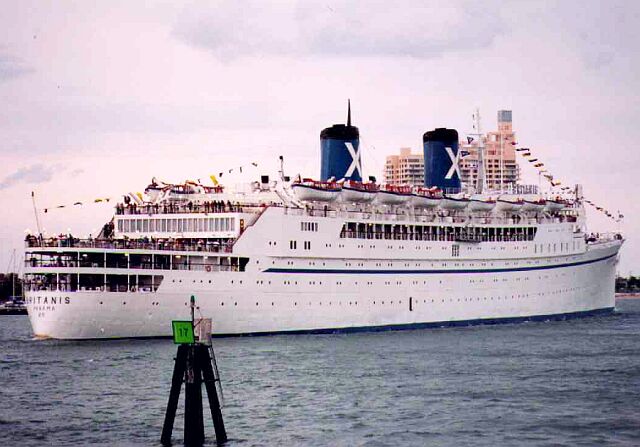 A fine stern view of Britanis during her final cruising years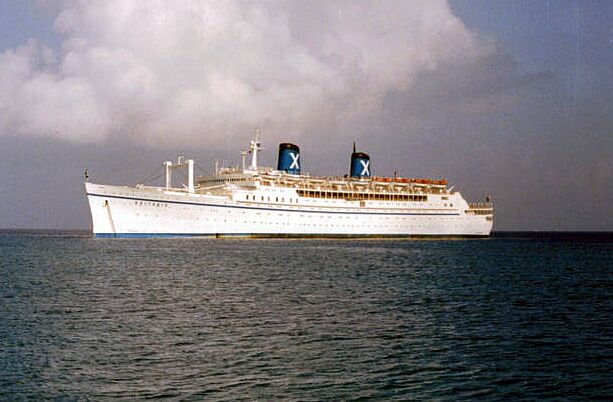 This gracious lady is still cruising aged 60; she is seen here off the coast of Mexico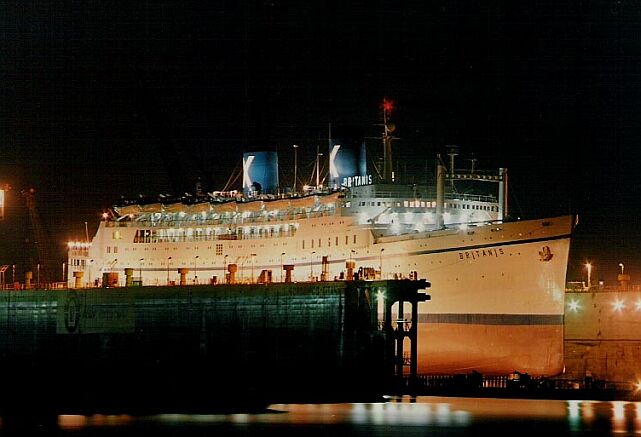 A delightful night time view of the Britanis
Photograph by & ? Nikos-Tzerefos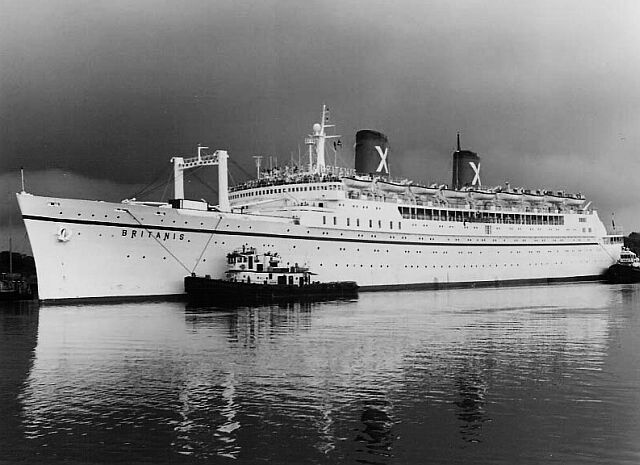 It is close to the end, but she still looks grand!
Photograph by & ? Nikos-Tzerefos
The past would catch up with her as she was again chartered by the US Government 1994, but this time she was used as an accommodation vessel for military personnel at Guantanamo Bay in Cuba. Whilst in Cuba there was am electrical that fire damaged a number of cabins, but Captain Varsamis acted quickly and his fire-fighting crew managed to take control quickly. She departed in 1995 and although she was still under charter she was fully repaired and was then laid up at Tampa, Florida in November of 1996.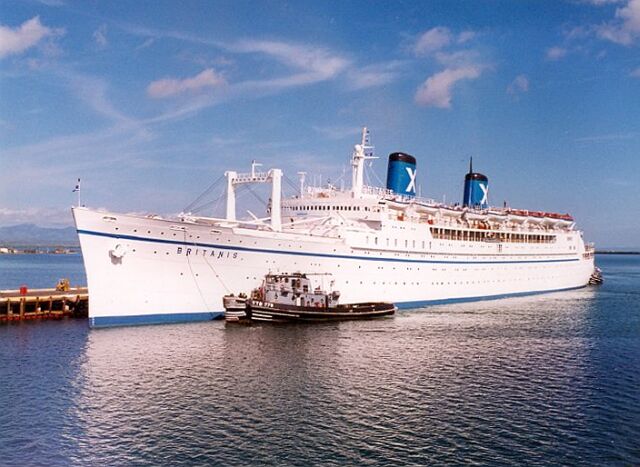 SS Britanis seen departing Guantanamo Bay Cuba
Part Five – Belofin - 1
Eventually the end would catch up with her, for on January 24, 1998, Chandris sold the still immaculate Britanis to A.G. Belofin Investments of Lichtenstein. Her new owners were to deliver the historic liner to breakers either in Alang India or Chittagong Pakistan, but due to a down turn in steel prices their plans were placed on hold and she was laid up at Tampa Florida. There were a number of unsuccessful plans to refit her as a floating hotel and an attraction in San Francisco, however this did not eventuate.
AG Belofin Investments decided to rename SS Britanis as Belofin-1 and decided to take her on her final voyage under tow to the breakers. It would be a voyage that would end off the South African coast.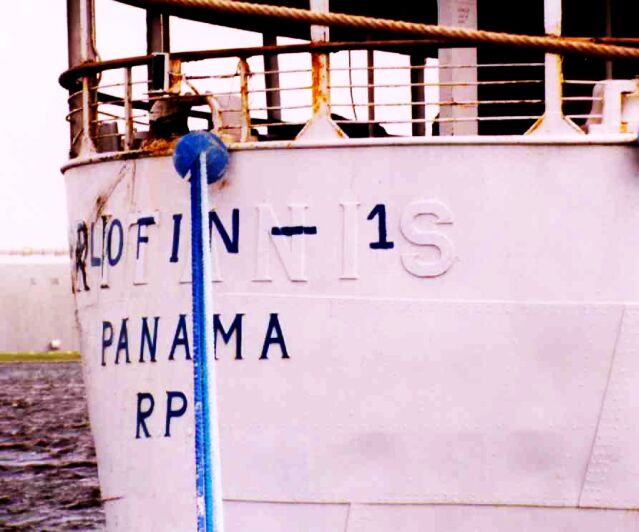 The stern of the renamed Belofin – 1, ex RHMS Britanis, SS Lurline, Matsonia, Monterey
Photograph was taken by and is copyright ? Peter Knego
Belofin-1 departed Tampa on July 3, 2000 under tow by the Ukrainian tug Irbis and headed for an estimated 100 day voyage to a breakers yard in India or Pakistan. Apparently she started to take on water in her aft section not long her departure from the East Coast of the United States. It was decided to have temporary repairs made at Salvador in Brazil and then continue the voyage. However, it soon became apparent that the leak worsened during the Atlantic crossing. The captain of the Irbis decided to head for Cape Town where better repairs could be carried out, but sadly as Belofin-1 neared the African coast she developed a bad list, and when this eventually became too acute when they were about 50 miles off Cape Town, it became obvious that Belofin-1 was not going to make it. Then the grand old lady listed to port and slipped silently beneath the waters a few minutes after 7 PM on Saturday October 21, 2000. It is almost like the once great SS Monterey, Matsonia, Lurline, Britanis had decided that it was better to enter the dark deep blue sea rather than have countless men climbing all over her, after having been rammed up on a beach and then cut up into pieces with blow torches!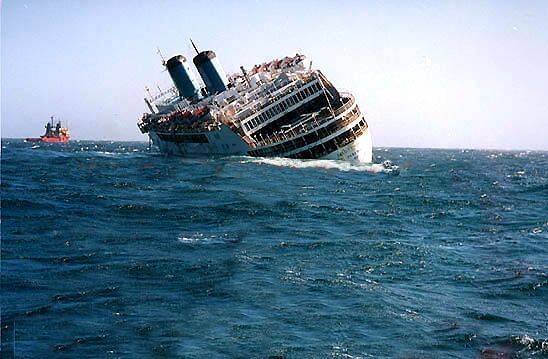 A photograph taken hours before the Belofin-1 sank on the 21st of October
South African Media release
May she rest in peace and may we remember the wonderful years she has given all those who have sailed on her or beheld her sheer beauty from afar or the sea on a passing ship for a good 69 years of her life!
Page Two: My Cruise on the Britanis with Francois Tremblay
Also visit the following Chandris liners …
SS Patris - SS Ellinis - SS Australis
Use the Back button on your browser or Close the Page to return to the previous page
or go to our INDEX
****************************
Visit our ssMaritime Main INDEX
Where you will discover more than 627 Classic Passenger & Passenger-Cargo Liners!
ssMaritime.com & ssMaritime.net
Where the ships of the past make history & the 1914 built MV Doulos Story
Also visit my
"Save The Classic Liners Campaign"
Please Note: ssmaritime and associated sites are 100% non-commercial and the author seeks no funding or favours of any shape or form, never have and never will!
Photographs on ssmaritime and associate pages are by the author or from the author's private collection. In addition there are some images that have been provided by Shipping Companies and private photographers or collectors. Credit is given to all contributors. However, there are some photographs provided to me without details regarding the photographer/owner concerned. I hereby invite if owners of these images would be so kind to make them-selves known to me (my email address may be found on www.ssmaritime.com only), in order that due credit may be given.
ssMaritime is owned & ? Copyright by Reuben Goossens - All Rights Reserved