Building the SS Oriana, the very last Orient Liner to be built!
Please Note: Firefox and some other search engines may not suitable
Please use Google Chrome for this page to load perfectly!

Click the logo above to reach the ssMaritime FrontPage for News Updates
With Reuben Goossens
Maritime Historian, Cruise'n'Ship Reviewer, Author & Lecturer
Please Note: All ssmaritime and my other related ssmaritime sites are 100% non-commercial and privately owned sites. Be assured that I am NOT associated with any cruise or shipping companies or travel/cruise agencies or any other organisations! The author has been in the passenger shipping industry since May 1960 and is now semi-retired, but continues to write article on classic liners and cruise ships in order to better to inform cruise and ship enthusiasts for their pleasure!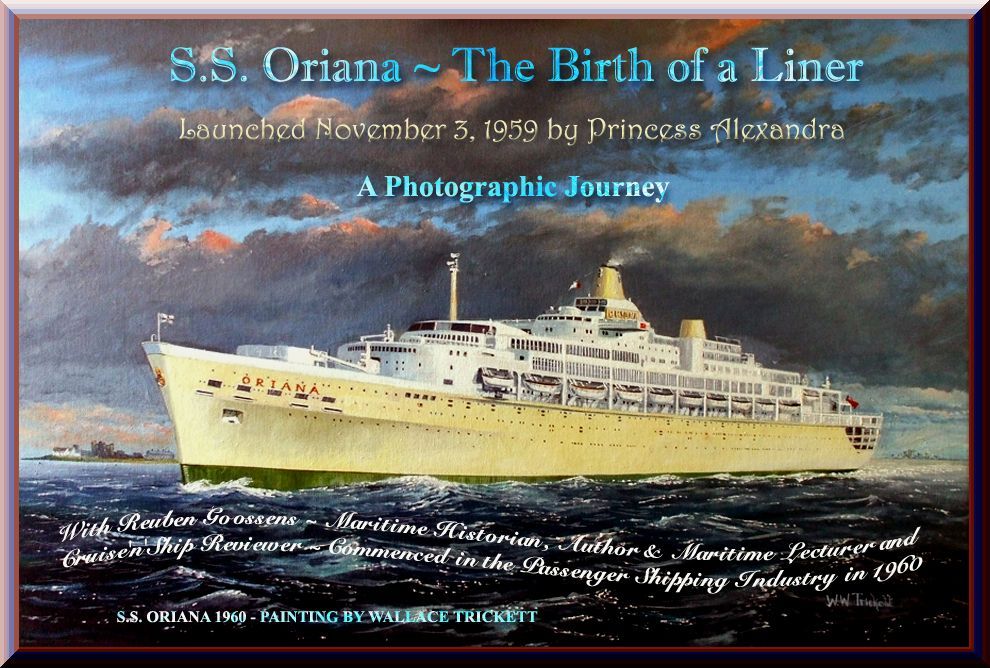 Page One
Building SS Oriana
Updated August 2018
Introduction:
<![if !vml]>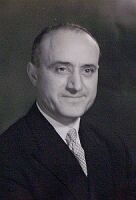 <![endif]>I created the following three pages for those who fondly remember SS Oriana, the very last Orient Line liner to be built. In addition, I trust it will stimulate interest in the younger generation to look back at the days when the building, launching and a maiden voyage of a grand ocean-liner really meant something to the world. These great ships made the news worldwide! Sadly, at the time of compiling these pages (November 14, 2005) SS Oriana is slowly being demolished in China, thus I felt that you might like to look back at the following events: her birth, her launching, her sea trials and her handover to Orient Line, concluding with her maiden voyage to Australia and New Zealand.
Mr. Charles F. Morris Orient Line Naval Architect one of the designers of the SS Oriana.
For those who have sailed on SS Oriana, I trust that these pages will have you reliving your voyage be it as a passenger or as a crewmember. I am also aware that there are many who admired this fine ship as she sailed around the world, and whilst she was in port. I hope you will also gain much as you begin reading this special SS Oriana feature. A complete INDEX is located at the bottom of the page. For me she is very special having sailed on her a good number of times, and the memories will always be with me!
Please Note:
"Building SS Oriana" and the majority of photographs on this very special feature were provided to myself to be used on ssMaritime.com by Mrs. Pauline Wakefield (UK). Mrs. Wakefield is the wife of the late Mr. Charles F. Morris, who was one of the well known and long standing Orient Line Naval Architect's, who designed the last great Orient Liner ever to be built, the SS Oriana. Many may well remember Mr. Morris' magnificent book, "Origins, Orient and Oriana."
I sincerely thank Mrs. Wakefield for her valuable contribution to this feature and  for her husband, private collection of photographs, many of which have never been seen before, thus many photographs featured are extremely rare, and they were made only available for the use & © to ssMaritime.com.
Reuben Goossens - Retired.
Commenced in the Passenger Shipping Industry in 1960.
***************************
Part One: Building SS Oriana:
The contract for the £14 million the ship that would become the SS Oriana being placed on May 12, 1954 and she would be built by Vickers-Armstrong Shipbuilders at Barrow-in-Furness, Cumbria, England. However, work on the ship did not commence until September 18, 1957. The first plate for her keel was numbered, 1061, which many jokingly claimed as being her "Maiden Name." Just over two year later, on November 3, 1959, Princess Alexandra officiated at her launching. She was then towed to her fit-out berth to be completed. Another twelve months later she commenced her sea trials and she was officially handed over to Orient Line on November 15, 1960 for her to commence her wonderful career!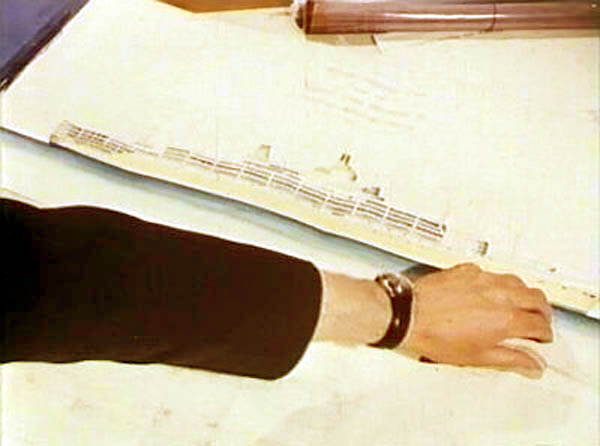 Orient Line Naval Architects studying their plans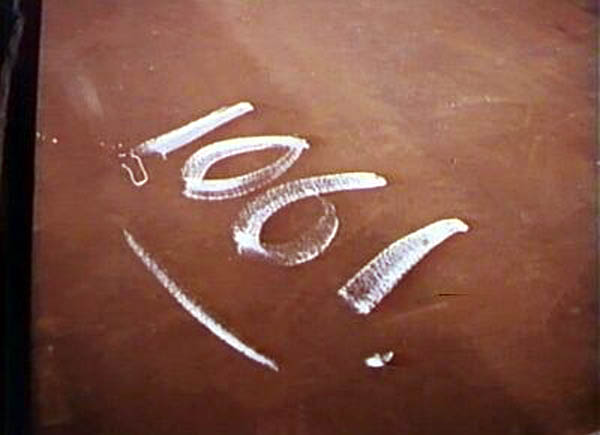 Here we see the actual "number 1061", being Oriana's very first steel plate used for the official "laying of the keel"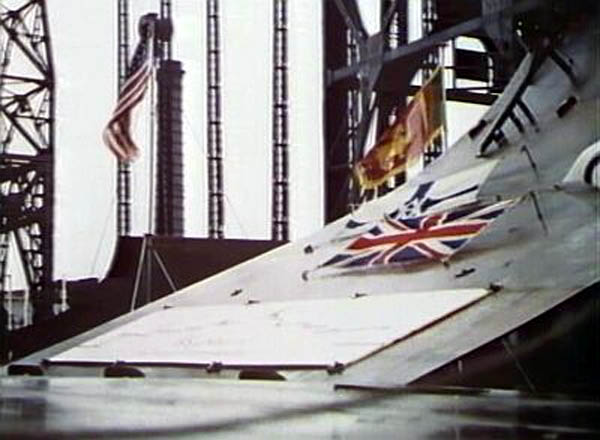 A proud moment as she her keel is being laid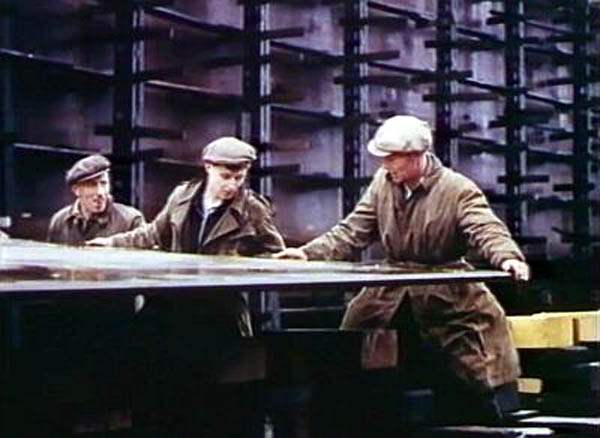 It those days many steel plates were still moved manually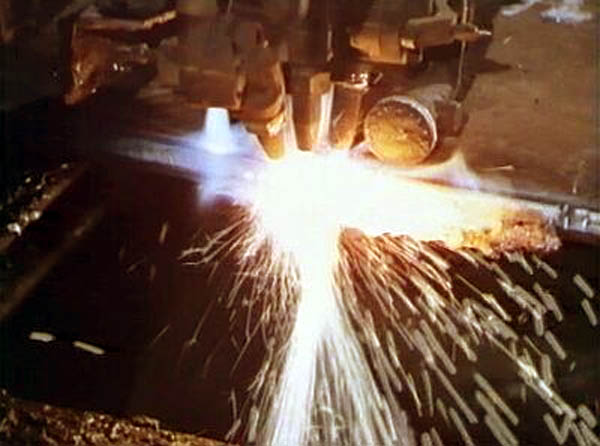 The quality welding on Oriana certainly stood the test of time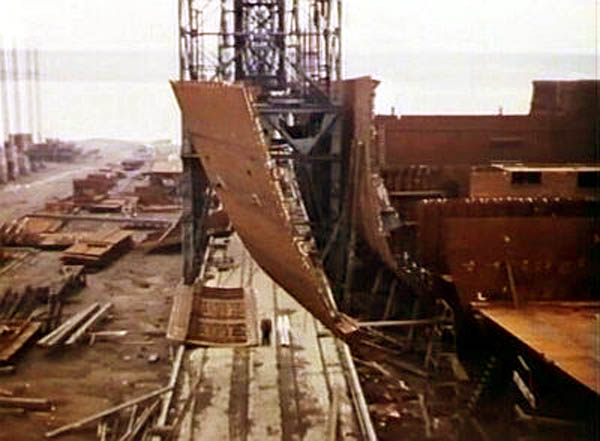 One of the massive hull sections is being lowered in its place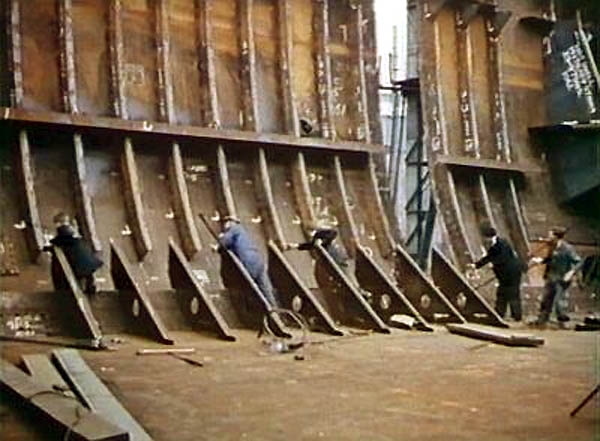 Slowly the hull is coming together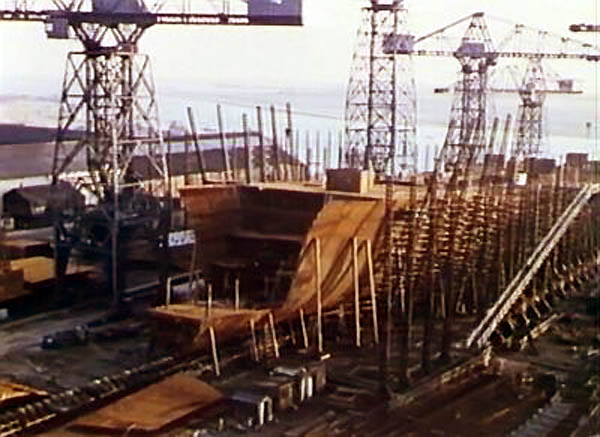 She is beginning to look like an ocean liner, all that is now needed is a bow!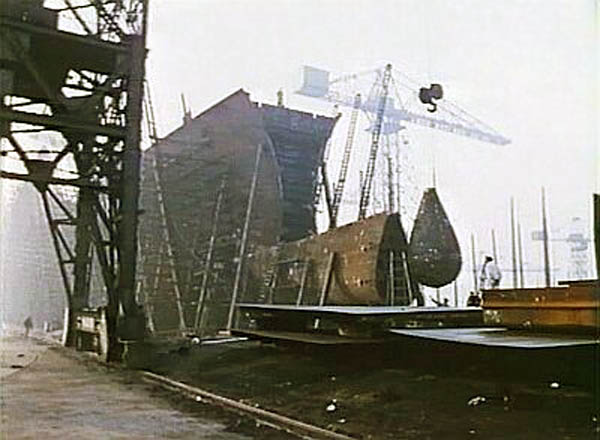 Above and below: It is time to fit Oriana's Bulbous bow cone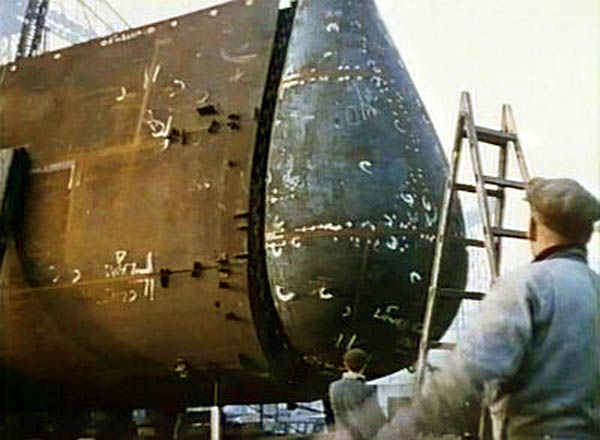 Amazingly, the Oriana was the very first British liner to be fitted with a bulbous bow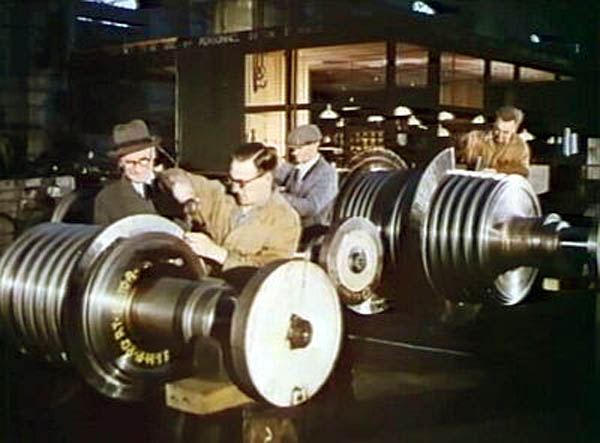 Here we see some exacting work done, under the eye of an inspector, on the ships turbines
The twin screws of SS Oriana were driven through double-reduction gearing by two sets of steam turbines (above) HP, IP, and LP, of Parmetrada design, which provided a total shaft (below) horsepower of 65,000 at 147 revolutions per minute of the propellers.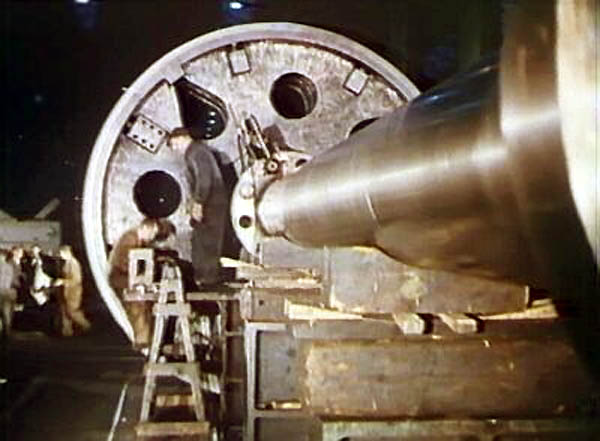 A fine photo of one of the shaft's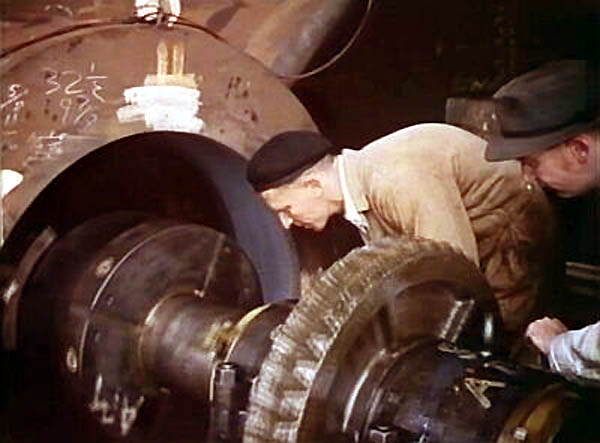 Here we see the grinding of the propeller shaft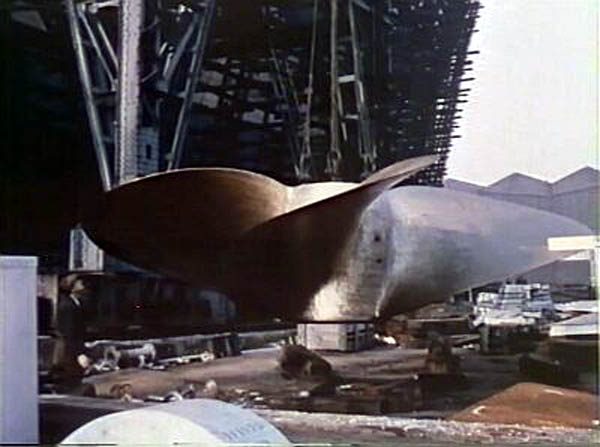 The propellers were each made from single solid castings of 20ft in diameter, and were made of nickel-aluminium bronze. Each propeller weighed around 29 tons.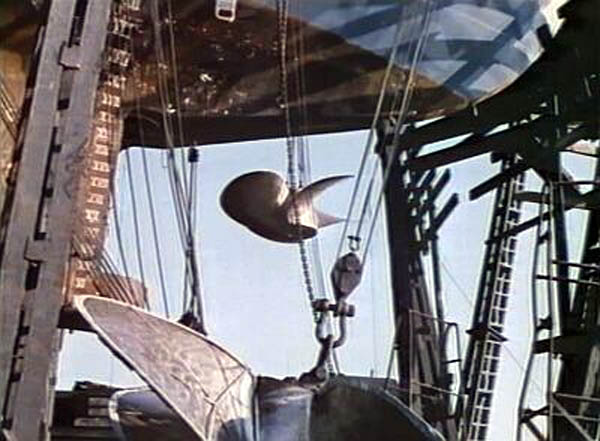 Fitting the propellers was a slow and a precise job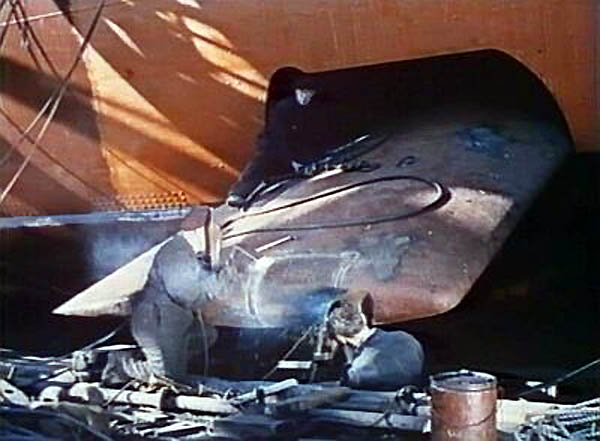 SS Oriana had one set of stabilizer fins, each were a good 120sq feet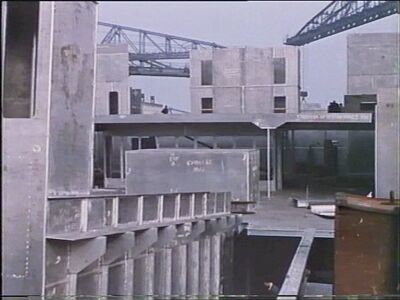 Above and below: Fitting parts of Oriana's aluminium upper superstructure
Part of her advanced design called for an all aluminium alloy superstructure, which saved a great deal of weight. The steel weight of Oriana was 13,650 tons, whilst her aluminium superstructure was just 1,040 tons.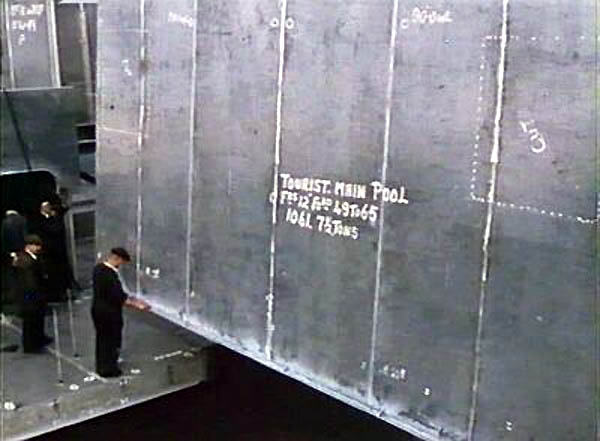 Here we see the Tourist Class swimming pool being lowered into its place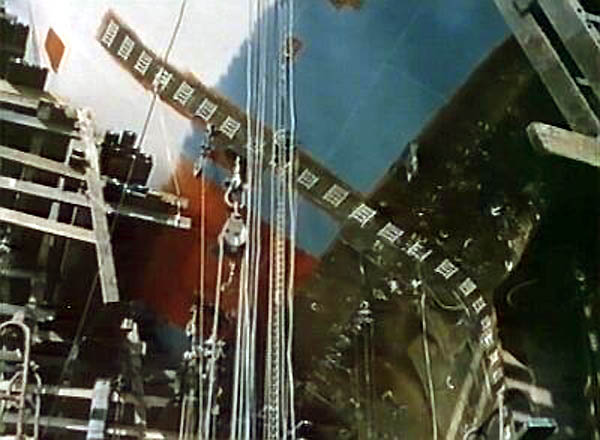 As the hull has been completed, now comes the task of painting all of the ships hull

           

***********************************

SS Oriana - Main Index

:

PART ONE …

Designing & Building the Oriana - ONLY available to ssmaritime.com:

Images from the naval architect & designer of the SS Oriana:

Page 1:                      The building of SS Oriana

Page 2:                      The launching and fitting out of SS Oriana

Page 3:                      Sea trials and Oriana's maiden voyage

Page 4:                      Deck Plan, Rare Photographs and other Images

Page 5:                      Countless Specifications & Oriana Facts (NEW)

   

PART TWO …     

Oriana's General History Pages:

Page 1:                      History and Images of the Oriana

Page 2:                      Oriana Postcards issued in 1960

Page 3:                      Oriana Photo Album - Page 1

Page 4:                      Oriana Photo Album - Page 2

Page 5:                      Oriana "Lady of the Sea" by Neil Whitmore

Page 6:                      The Paul Oliver & Colin Pursehouse Collection

Page 6b:                    Paul Oliver Story

Page 7:                      Dalian - See the sad photographs of SS Oriana damaged during a storm

Page 7b:                    Oriana at Zhangiagang shipyard in China - Taken 29 July & 9 September 2005, the demolition of a liner

***********************************

How I miss those great days when ships like the SS Orcades, Oronsay or P&O's Himalaya and Iberia made you feel like you lived on a real Castle at Sea. I hope and pray that you will enjoy this very special detailed feature on the great SS Oriana and that you will be able to relive some wonderful memories, be it from a voyage or the joy of watching this great Liner whilst she was in port!

Reuben Goossens.

Also Visit my Features on these Orient Lines & P&O Ships

Orient Lines: RMS Orcades - SS Oronsay - SS Oriana - RMS Orion

P&O: RMS Kaisar-i-Hind - RMS Strathaird - SS Iberia - SS Canberra

This is recommended reading!

"Orient Line – A Fleet History"

Is available from "Ships in Focus"

Email: sales@shipsinfocus.co.uk

***************************

Return to the ssMaritime MAIN INDEX

ssMaritime.com & ssMaritime.net

Where you will discover over 1,358 Classic Liners & the 1914 built MV Doulos Feature

                                 

Photographs on ssmaritime.com, & .net and associate sites are: 1. By the author. 2. From the author's private collection. 3. Or as provided by Shipping Companies and their Publicity Companies as well as by private photographers or collectors. Credit is given to all contributors whenever possible.

ssMaritime is owned and © Copyright - Reuben Goossens - All Rights Reserved