Building the SS Oriana - Her Sea Trials, Her Fit-Out & Oriana's Maiden Voyage!
Please Note: Firefox and some other search engines may not suitable
Please use Google Chrome for this page to load perfectly!

Click the logo above to reach the ssMaritime FrontPage for News Updates
With Reuben Goossens
Maritime Historian, Cruise'n'Ship Reviewer, Author & Lecturer
Please Note: All ssmaritime and my other related ssmaritime sites are 100% non-commercial and privately owned sites. Be assured that I am NOT associated with any cruise or shipping companies or travel/cruise agencies or any other organisations! The author has been in the passenger shipping industry since May 1960 and is now semi-retired, but continues to write article on classic liners and cruise ships in order to better to inform cruise and ship enthusiasts for their pleasure!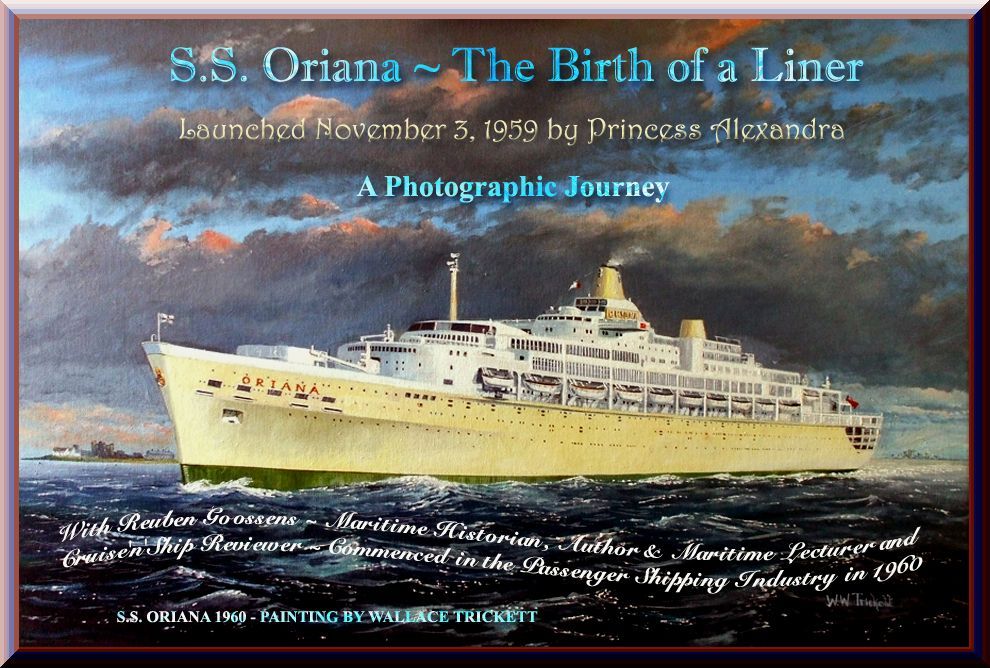 Page Three
Building SS Oriana
Part One: First Sea Trials - November 13, 1960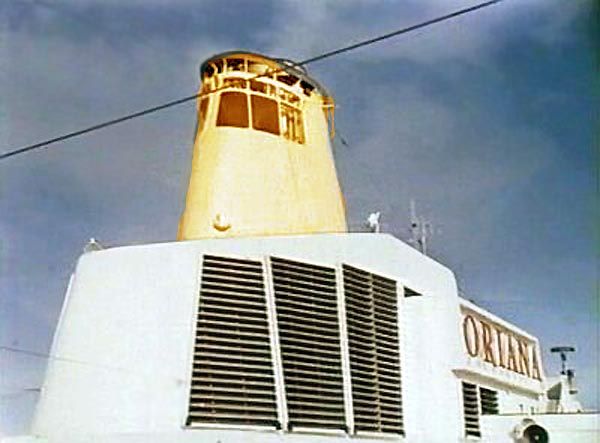 Above and below:
Photographs of Oriana's funnel were taken just prior to departing for her sea trails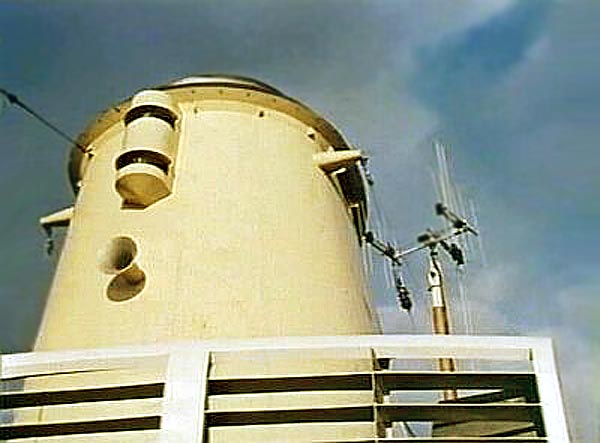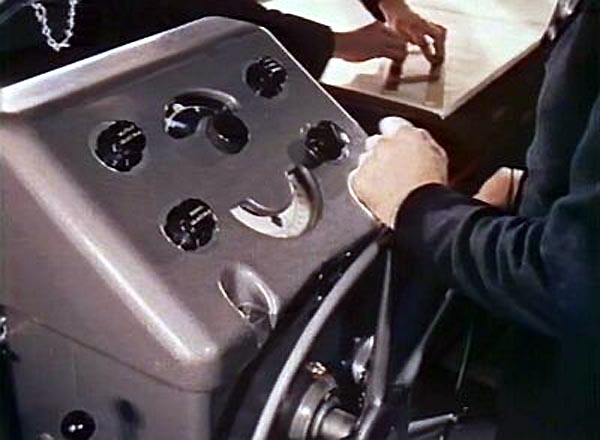 SS Oriana commences her first sea trials on November 13, 1960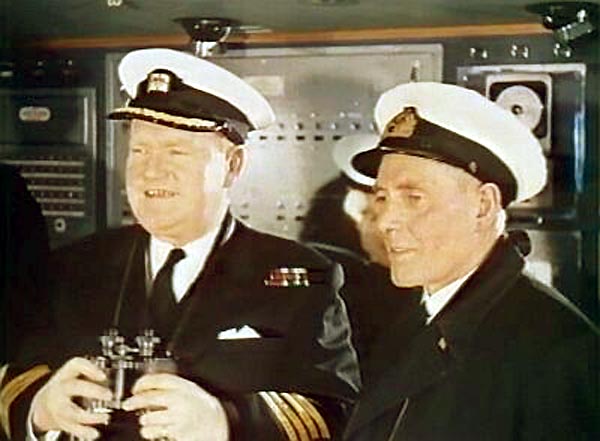 The two Captains, the Pilot (right) and Oriana's Captain, Clifford Edgecombe having just departed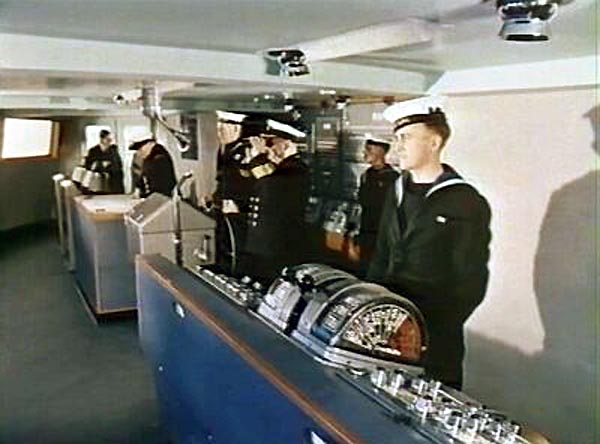 November 13, 1960 - SS Oriana has reached the sea for her trials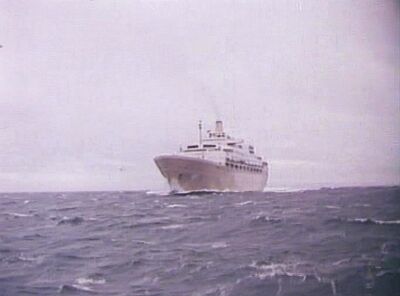 During this run the sea was rather choppy and they were unable to check her speed trails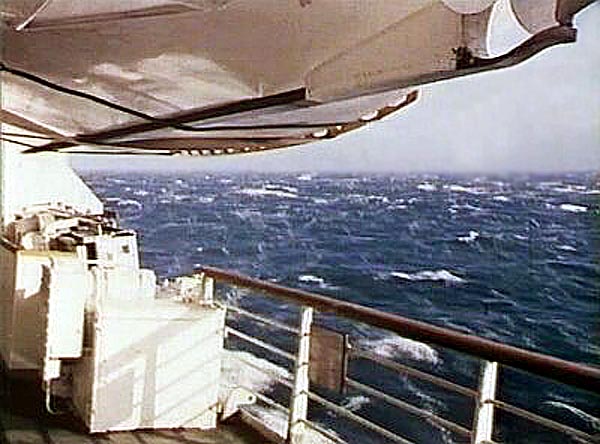 From Promenade Deck

the seas look bad, but it did prove the ships excellent capabilities!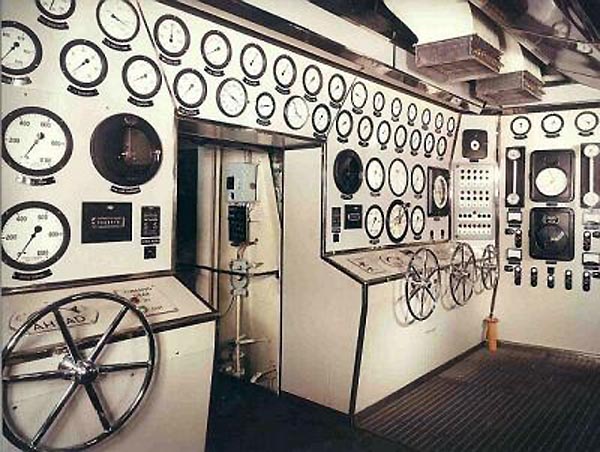 Here we see the main machinery control console in the Engine Room prior dreparture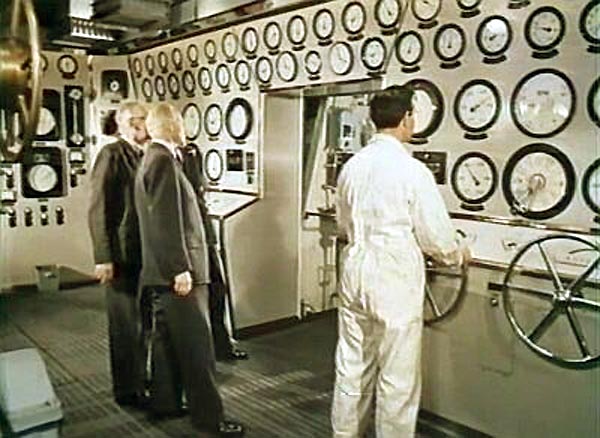 Orient Line and Vickers Armstrong executives inspect the Engine Room

during Oriana's trials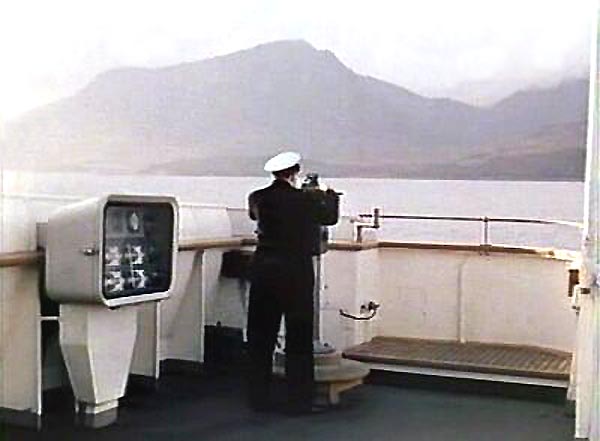 Heading back to port, and Captain Edgecombe is taking a few headings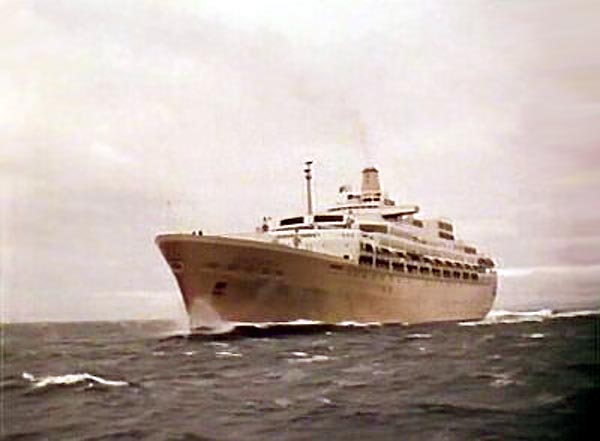 Above & below: The Oriana seen on her trails on November 13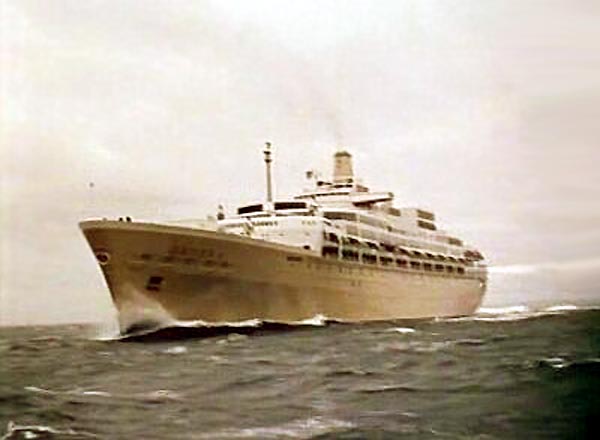 ****************************************
Part Two: Second Sea Trails Two - November 16, 1960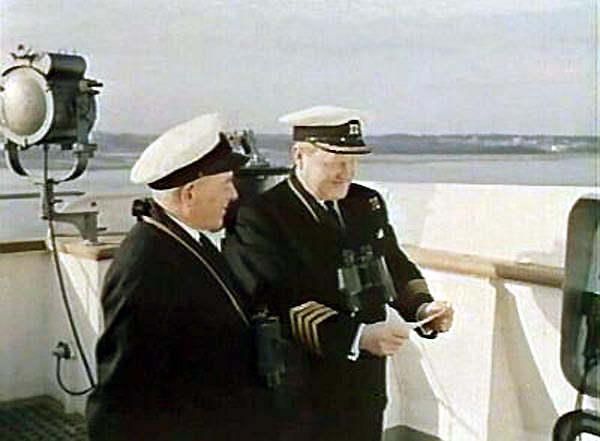 The Pilot and Captain Edgecombe are checking the trails schedule, ensuring they are getting it right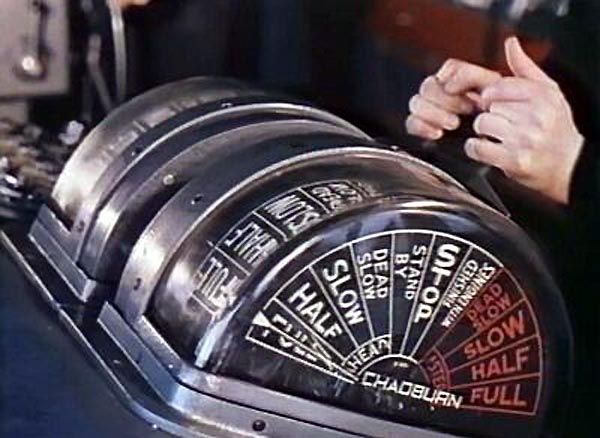 Let us check her maximum speed – "Full Steam Ahead"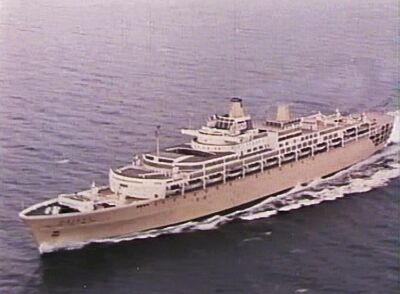 SS Oriana reached an excellent maximum speed of 30.64 knots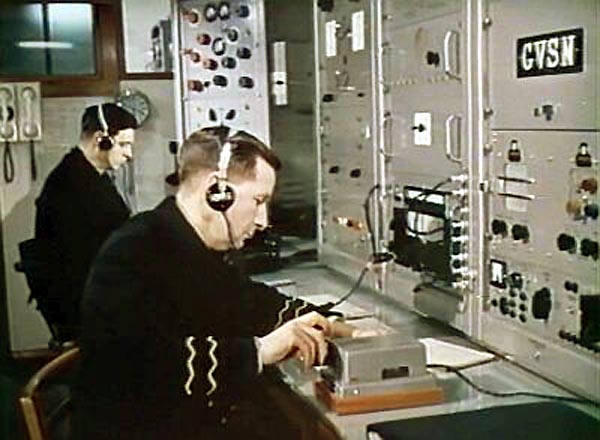 Radio Rooms keeps Orient Lines Head Office informed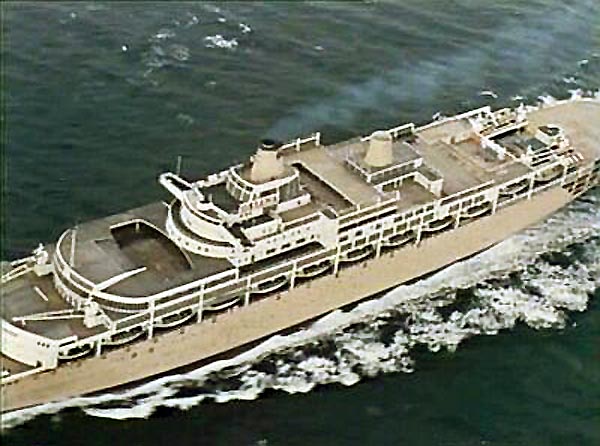 Above & below: Two further photographs of SS Oriana during her November 16, Trails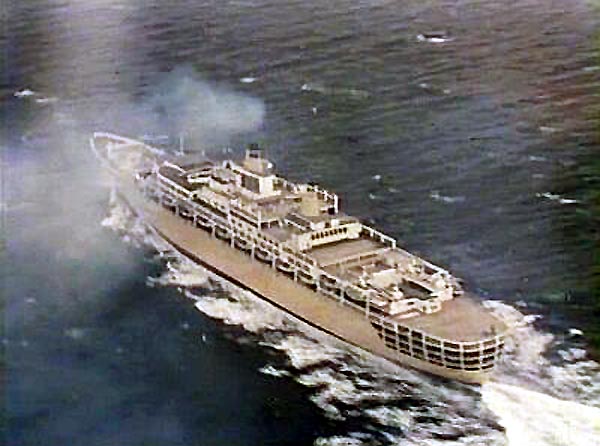 Part Three: Vickers-Armstrong officially hands over the SS Oriana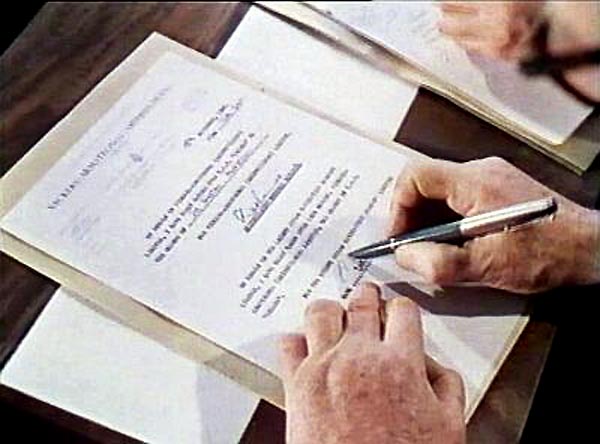 Sir Austin Anderson signs the official handover documents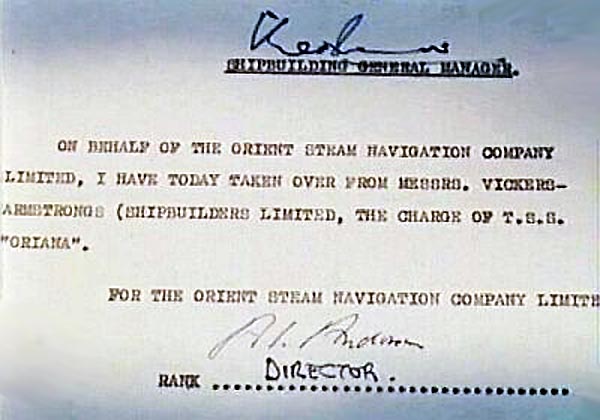 Part Four: Oriana's Maiden Voyage
SS Oriana departed on her maiden voyage from Southampton to Sydney on December 3, 1960 returning to Southampton via New Zealand and the US. Oriana was without a doubt the fastest liner on the England to Australia service, for she was able to sail from Southampton to Sydney via the Suez Canal in only 21 days!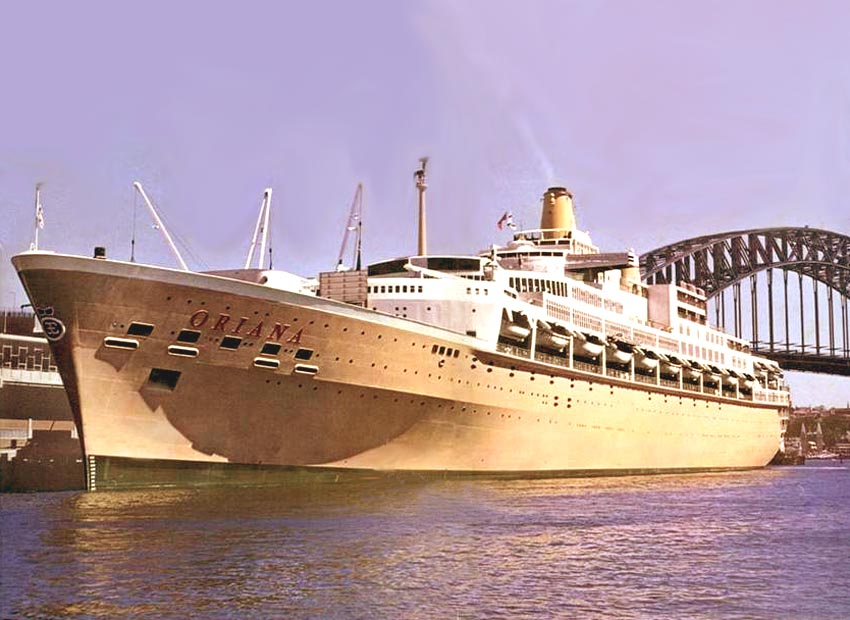 SS Oriana has completed her record making voyage to Sydney arriving on December 30, 1960
on her maiden voyage! She is seen berthed at the International Passenger Terminal at Circular Quay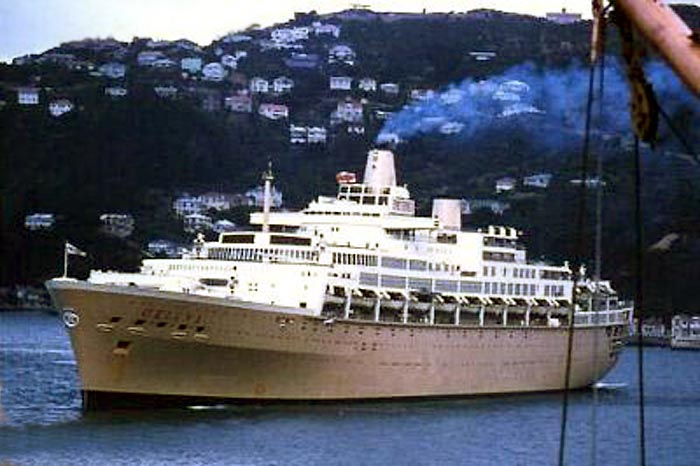 SS Oriana seen arriving in Wellington New Zealand and the author was present at the arrival
A Special Moment in History Recorded by Robert Lloyd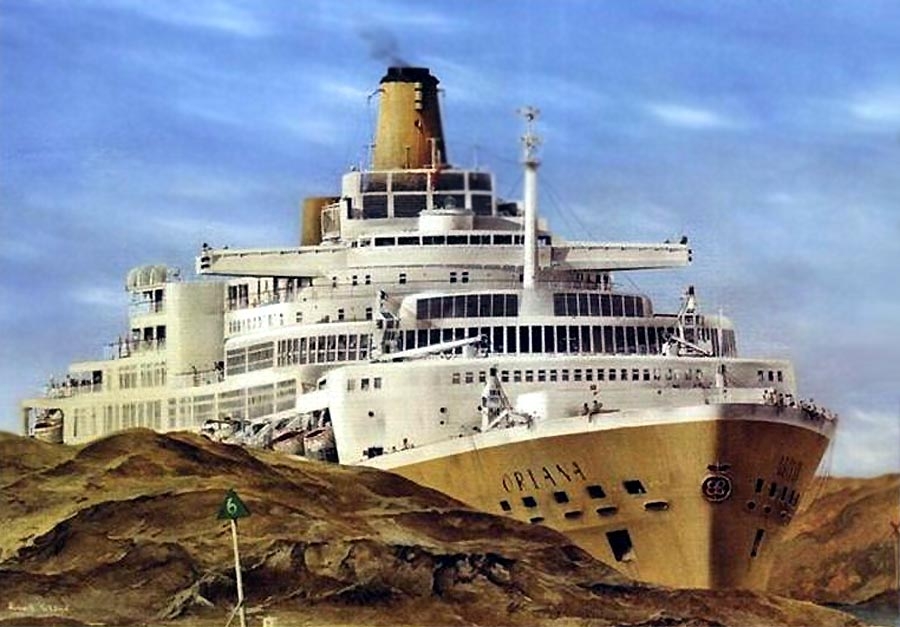 Here is a superb painting of the SS Oriana sailing through the Suez Canal during her maiden voyage
By & © Robert Lloyd - Thank you David Brooks UK for sending it
Go to - Deck Plan, Rare Photographs and other Images
***********************************
SS Oriana - Main Index:
PART ONE …
Designing & Building the Oriana - ONLY available to ssmaritime.com:
Images from the naval architect & designer of the SS Oriana:
Page 1:                      The building of SS Oriana
Page 2:                      The launching and fitting out of SS Oriana
Page 3:                      Sea trials and Oriana's maiden voyage
Page 4:                      Deck Plan, Rare Photographs and other Images
Page 5:                      Countless Specifications & Oriana Facts (NEW)
PART TWO …              
Oriana's General History Pages:
Page 1:                      History and Images of the Oriana
Page 2:                      Oriana Postcards issued in 1960
Page 3:                      Oriana Photo Album - Page 1
Page 4:                      Oriana Photo Album - Page 2
Page 5:                      Oriana "Lady of the Sea" by Neil Whitmore
Page 6:                      The Paul Oliver & Colin Pursehouse Collection
Page 6b:                    Paul Oliver Story
Page 7:                      Dalian - See the sad photographs of SS Oriana damaged during a storm
Page 7b:                    Oriana at Zhangiagang shipyard in China - Taken 29 July & 9 September 2005, the demolition of a liner
***********************************
This is recommended reading!
"Orient Line – A Fleet History"
Is available for £23.50 plus p&p from "Ships in Focus"
email: sales@shipsinfocus.co.uk
***********************************
Also Visit our Features on the following Orient Lines/P&O Ships
Orient Lines: RMS Orcades – SS Oronsay - SS Oriana - RMS Orion
P&O: RMS Strathaird - SS Iberia - SS Canberra
********************************
Use the Back button on your browser or Close the Page to return to the previous page
or go to our INDEX
ssMaritime.com & ssMaritime.net
Where you will discover over 1,358 Classic Liners & the 1914 built MV Doulos Feature
Photographs on ssmaritime.com, & .net and associate sites are: 1. By the author. 2. From the author's private collection. 3. Or as provided by Shipping Companies and their Publicity Companies as well as by private photographers or collectors. Credit is given to all contributors whenever possible.
ssMaritime is owned and © Copyright - Reuben Goossens - All Rights Reserved