Building the SS Oriana; Deck Plan, Rare Photographs and Many other Images!
Please Note: Firefox and some other search engines may not suitable
Please use Google Chrome for this page to load perfectly!

Click the logo above to reach the ssMaritime FrontPage for News Updates
With Reuben Goossens
Maritime Historian, Cruise'n'Ship Reviewer, Author & Lecturer
Please Note: All ssmaritime and my other related ssmaritime sites are 100% non-commercial and privately owned sites. Be assured that I am NOT associated with any cruise or shipping companies or travel/cruise agencies or any other organisations! The author has been in the passenger shipping industry since May 1960 and is now semi-retired, but continues to write article on classic liners and cruise ships in order to better to inform cruise and ship enthusiasts for their pleasure!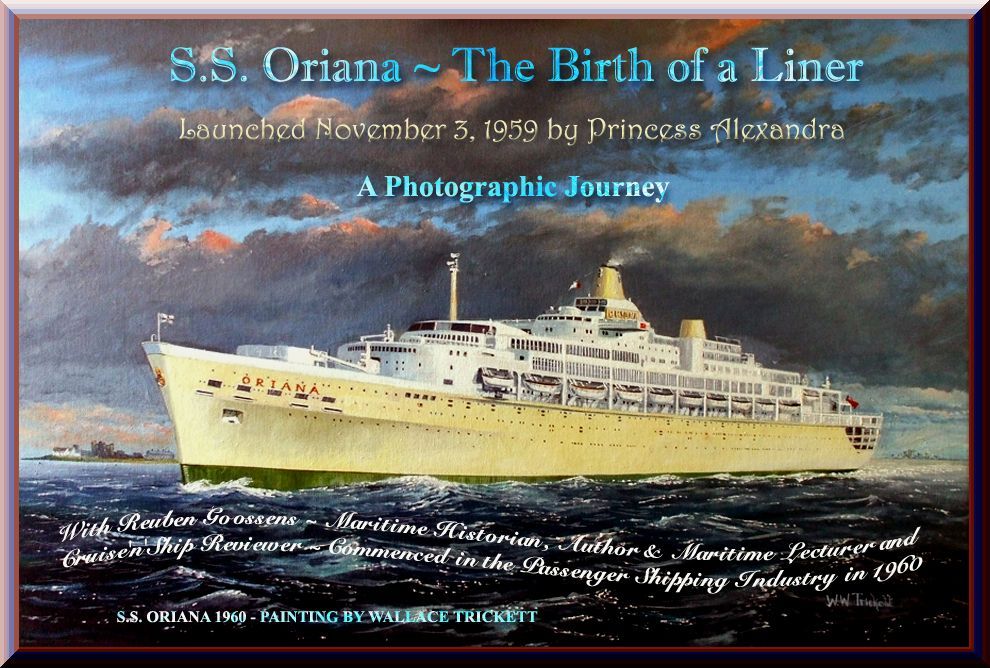 Page Four
Building SS Oriana
Updated August 2018
Deck Plan, Rare Photographs and Many other Images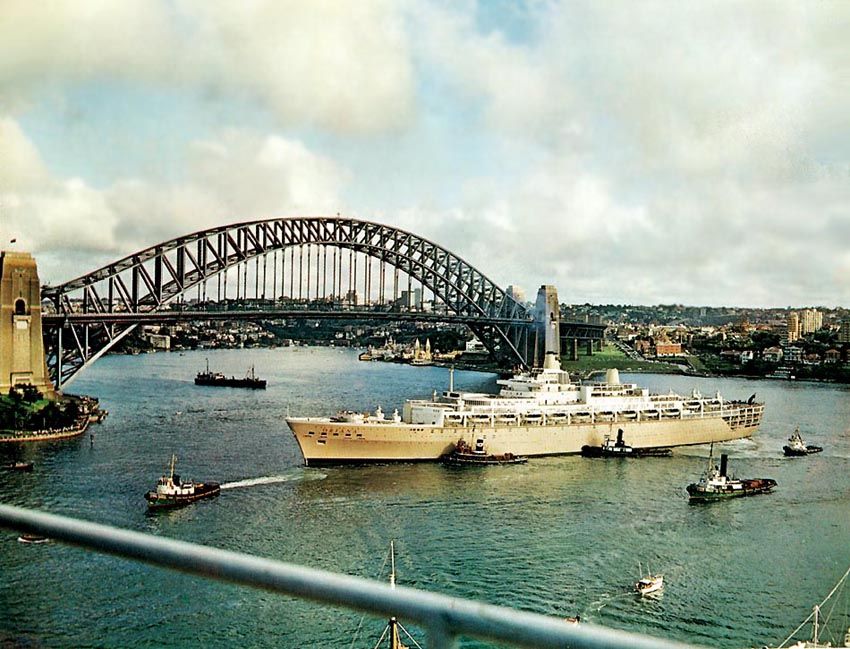 Once more we see an excellent photograph of Oriana's triumphant maiden arrival in Sydney on December 30, 1960

This Page has four separate parts, commencing with Oriana's Deck Plan, followed by the ships interior designer's impressions of the various venues and decks. Then, there is a section with some black and white photographs taken prior to her Sea Trails in November 1960, and finally some coloured postcards of her venues.

The black and white photographs mentioned were kindly provided to the author by Mrs. Pauline Wakefield (UK). This wonderful lady was the wife of the late

Charles F. Morris who was one of the great Orient Line Naval Architect's, who designed the SS Oriana. Photographs and images from other sources will be marked accordingly.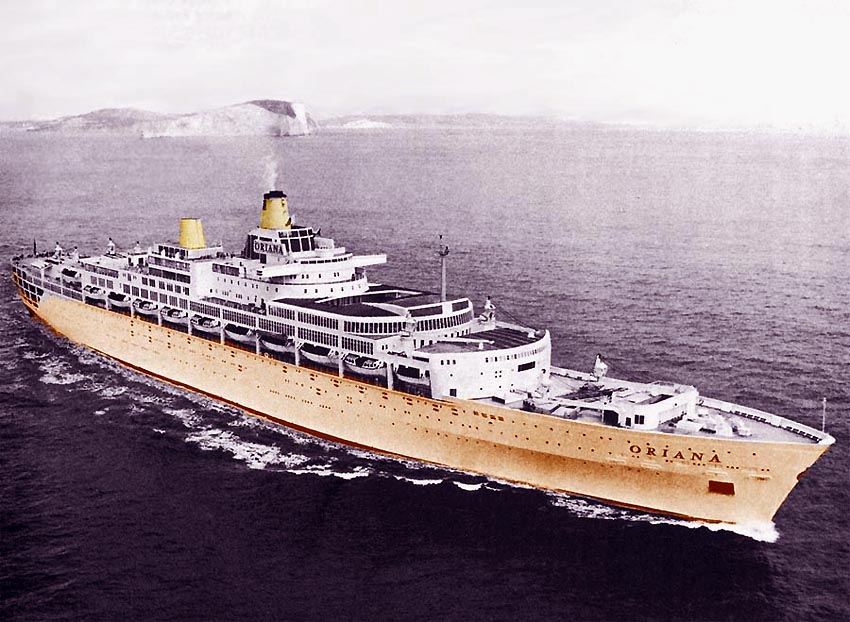 P&O publicity photograph, part of the Author's private collection

Photograph Above: Here we see the SS Oriana having just sailed past the "The Needles" very early in her career. The Needles are a row of three distinctive stacks of chalk that rise high out of the ocean just off the western extremity of the Isle of Wight, in the UK.

Part One: Her pre-Launch Deck Plan

Please Note

: If you would like to see a larger version of this Deck Plan, click on each section the plans below (or the link below them) and a new page will have the full sized version. Although it usually opens with a smaller version, just click on it and it will enlarge to its full size!

For this plan you can use the link shown, or copy & paste it: www.ssmaritime.com/SS-Oriana-1960-Plans-1-lge.jpg for a large version

"C Deck" reveals the very first ever "Court Cabins" enabling four-inside court cabins to be slightly staggered and have slender windows, thus a view and light! SS Canberra (1961) took this idea somewhat further and placed these on several decks as well as far forward of the ship!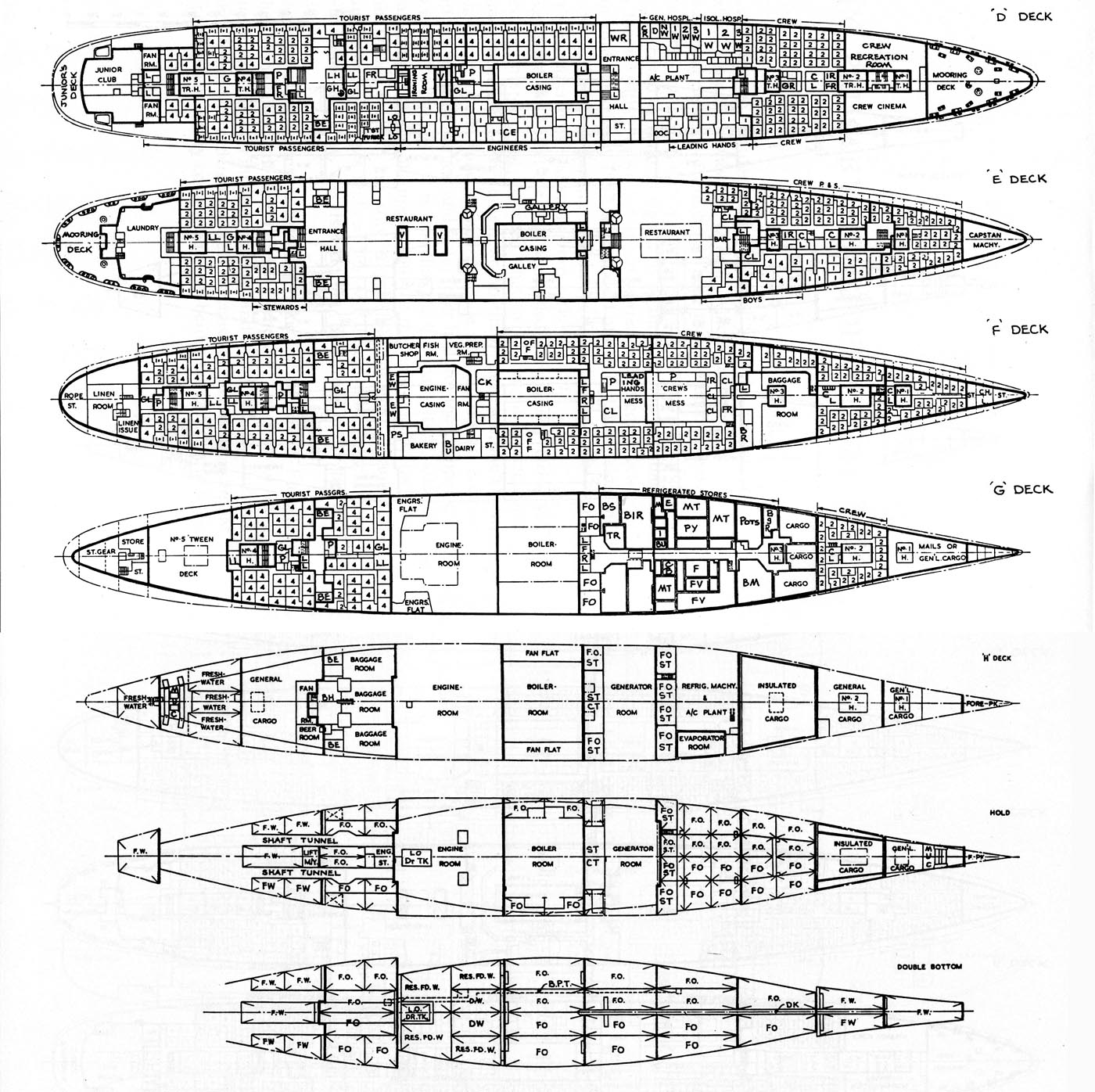 You can either click the Plan or copy and paste the link, or click it: www.ssmaritime.com/SS-Oriana-1960-Plans-2-lge.jpg
A Starboard - Side View of her Layout

You can either click the Plan or copy and paste the link, or click it: www.ssmaritime.com/SS-Oriana-1960-Layout-Lge.jpg
Part Two: Designer Drawings of Interiors & Exteriors
The artist impressions are from my personal collection, which has been in my possession since the Oriana was designed, launched and departed on her maiden voyage! Now I am delighted to show just a few of these here for your enjoyment!
FIRST CLASS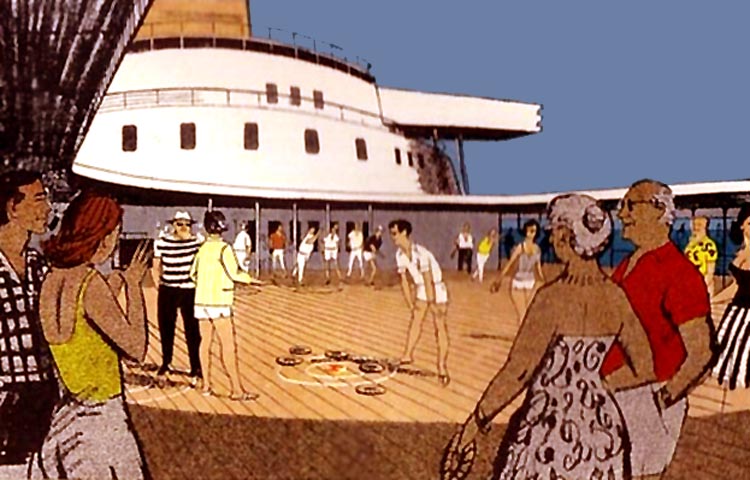 The Stadium Games Deck, looking aft towards the Central located Bridge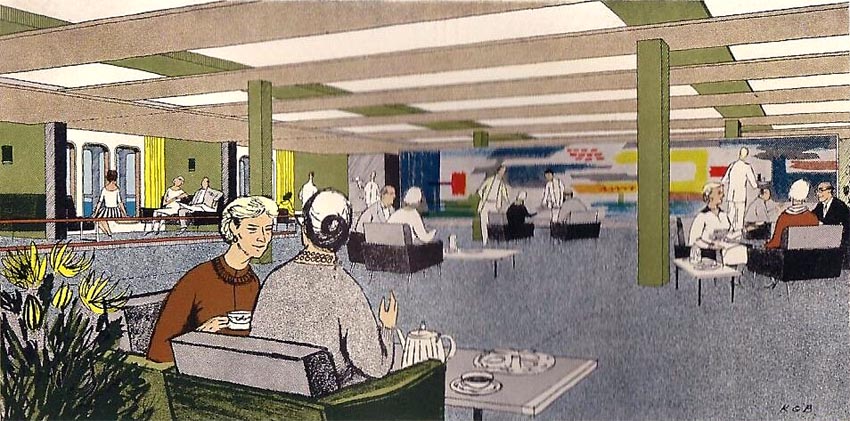 The delightful Princess Room as the designers saw it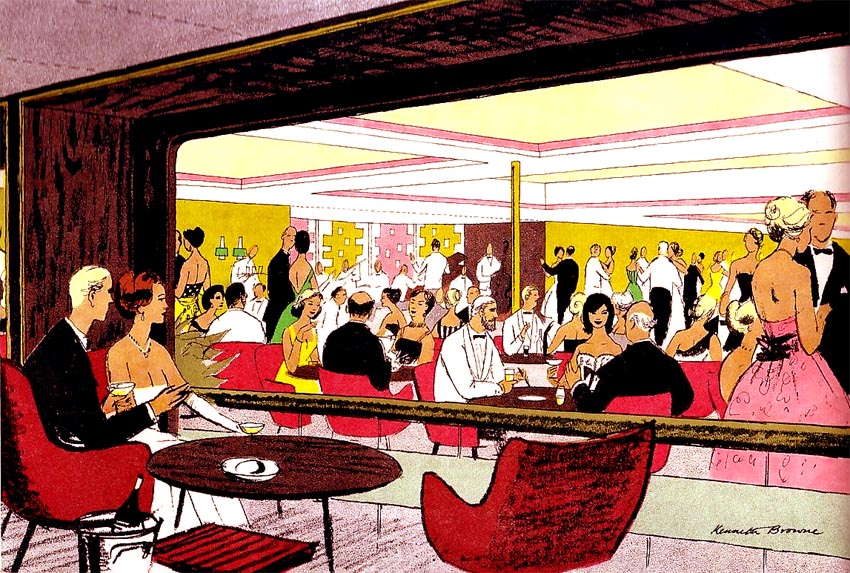 The Ballroom was a wonderful venue and the author certainly spent a great deal of time here!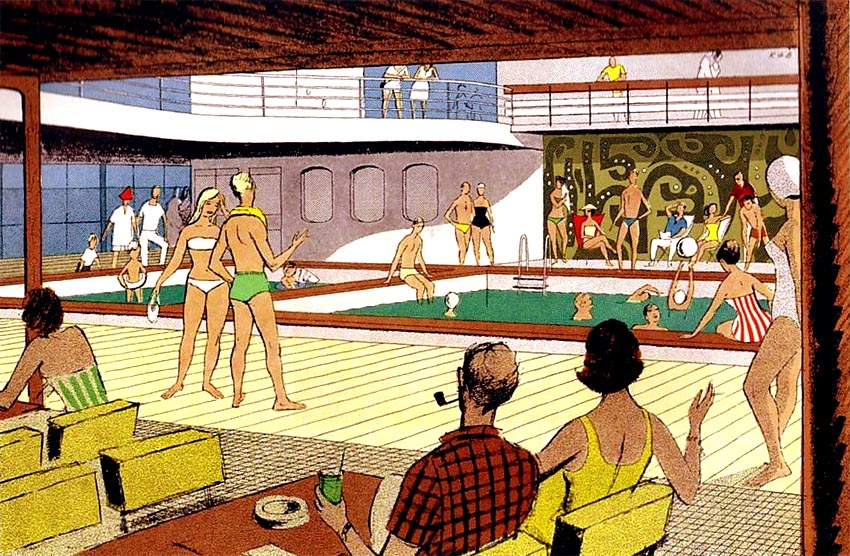 The wonderful First Class Pool had that excellent mural!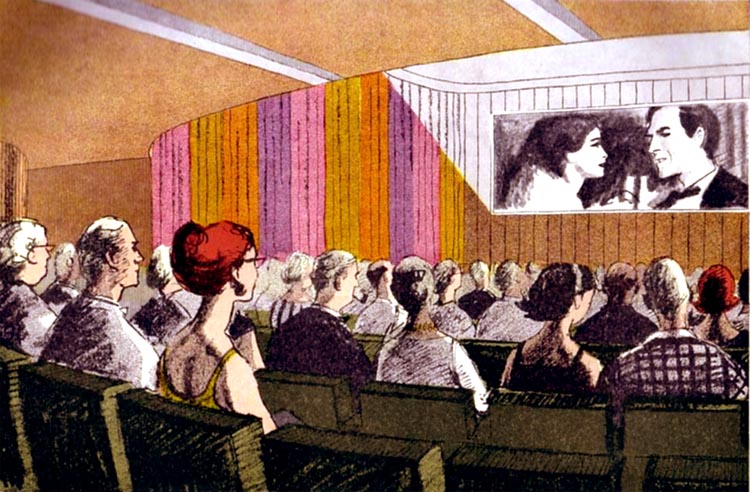 The Cinema lower level was for Tourist Class and the Balcony for First Class
TOURIST CLASS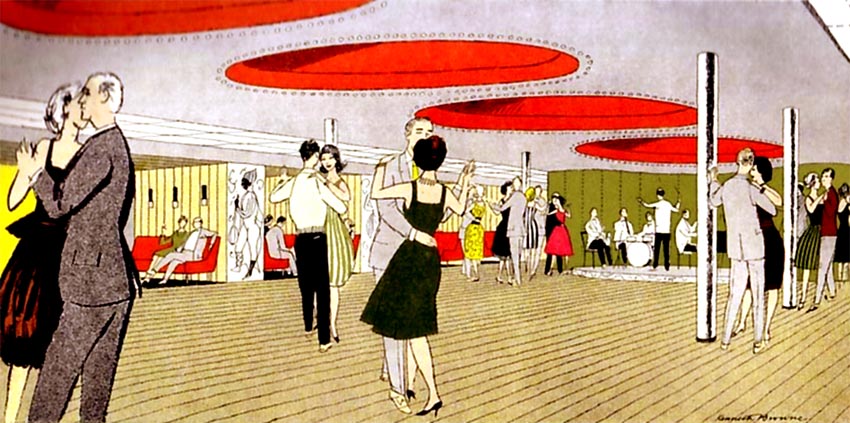 The Tourist Class Ballroom was in fact far better than this drawing suggests!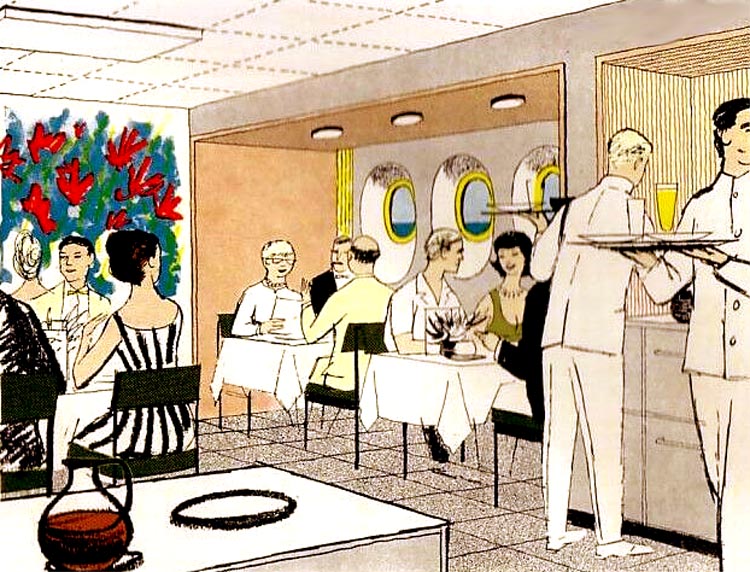 The Tourist Class Restaurant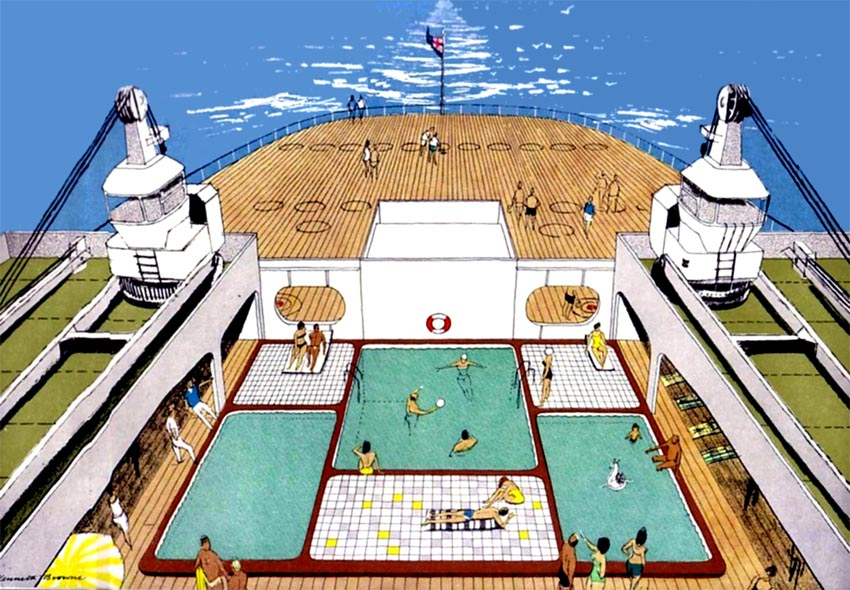 The Tourist Class Swimming Pool and the huge aft Poop Deck
Part Three: Pre Departure Photographs
The black and white photographs below were taken just prior her first sea trails on November 13, 1960. You will quickly discover that they will cover a vast range of subjects; both interiors and exteriors of the passenger accommodations and their glamorous lounges and deck spaces, but also the ships crew quarters, from their accommodations and their leisure and dinning venues.
Just for interest, there is one image of the "First Class Stadium Games Deck," which was actually taken during the first leg of her maiden voyage, and it shows passengers enjoying a game.
However, I am also delighted to be able to present some "Behind the Scenes" photographs, such as the propeller shaft as well as a number of other interesting machinery spaces!
It should remembered that all these photographs were kindly provided to the author by Mrs. Pauline Wakefield (UK). This wonderful lady was, as I have already stated earlier, the wife of the late Charles F. Morris the great Orient Line Naval Architect, who designed the Oriana!
I am sure that you will enjoy these photographs, for although they are black and white, but some of these images are rarely seen!
Reuben Goossens.
Passenger Facilities and Cabins
FIRST CLASS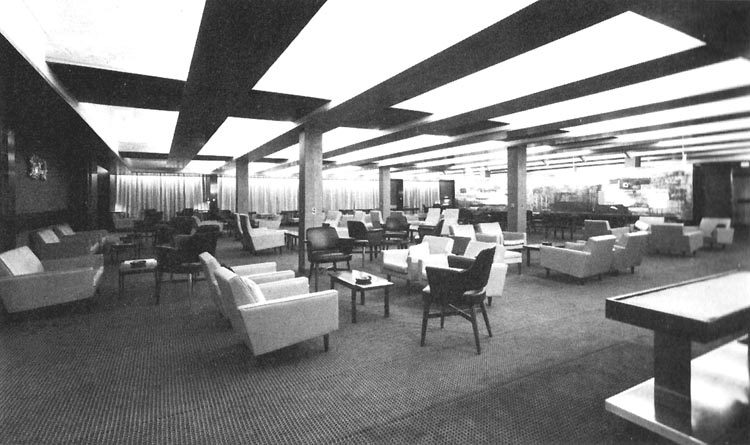 Here we see the magnificent Princess Room, awaiting her passengers!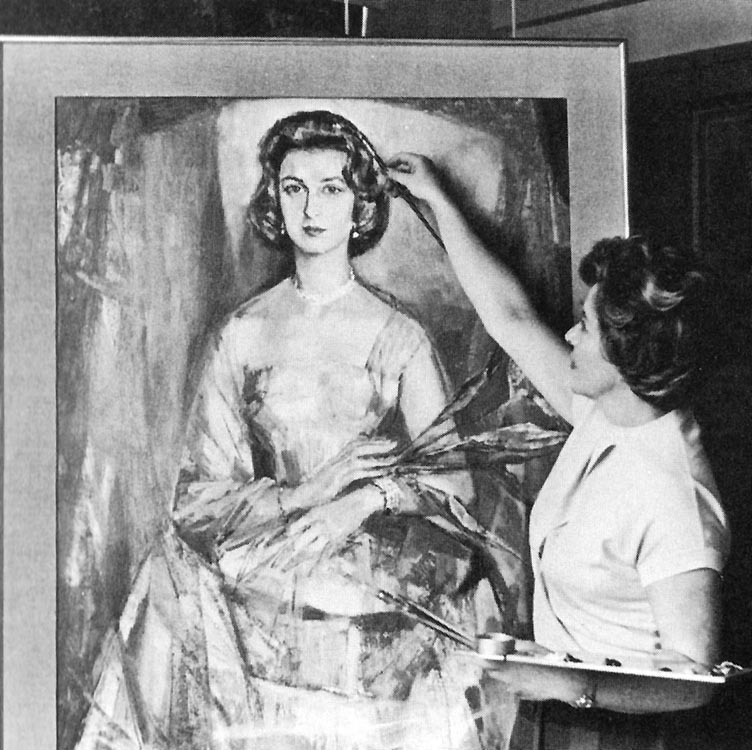 Painter Judy Cassah is putting her finishing touches to the Princess Alexandra painting that will hang onboard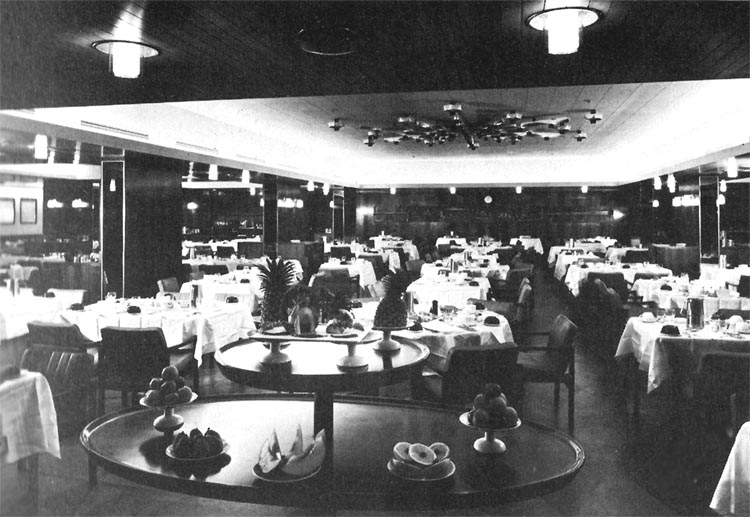 The very elegant First Class Restaurant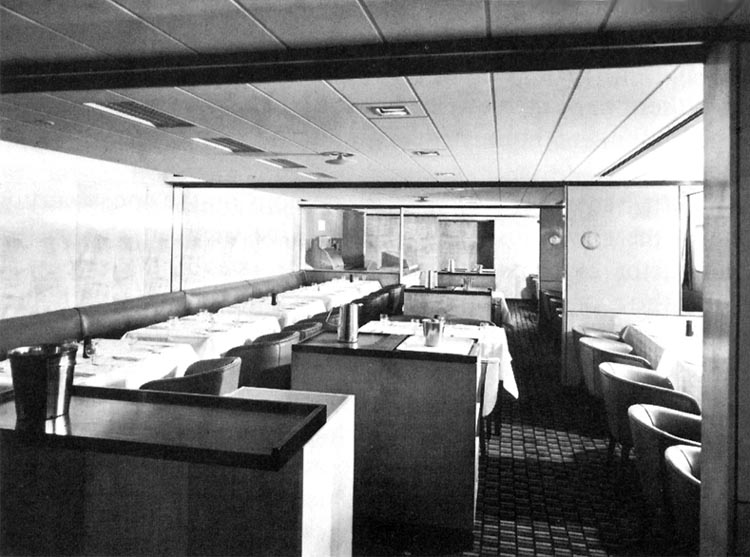 The Silver Grill is awaiting its very first dinner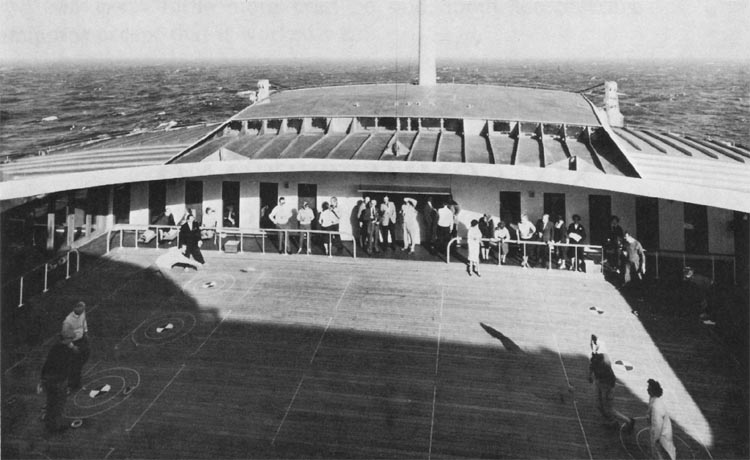 Passengers enjoy some games up on Stadium Deck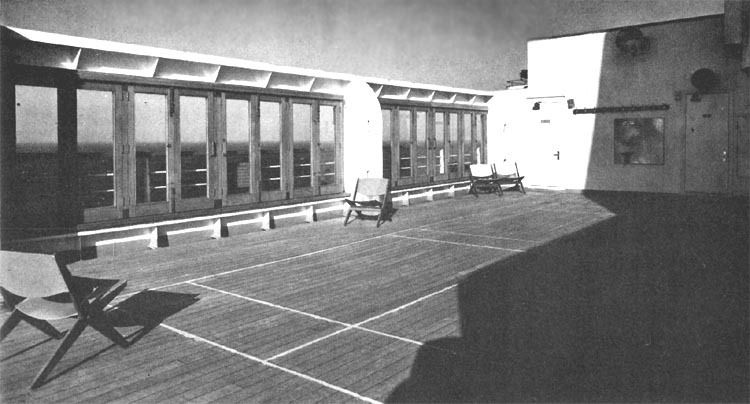 Further aft is Tennis Deck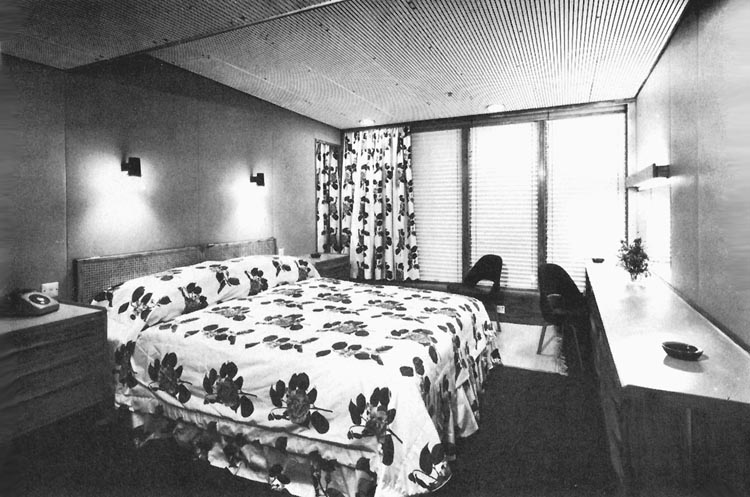 High up on the starboard side of Stadium Deck is this luxurious Suite that has this double bedroom
A separate lounge and a dining room and a spacious well-fitted bathroom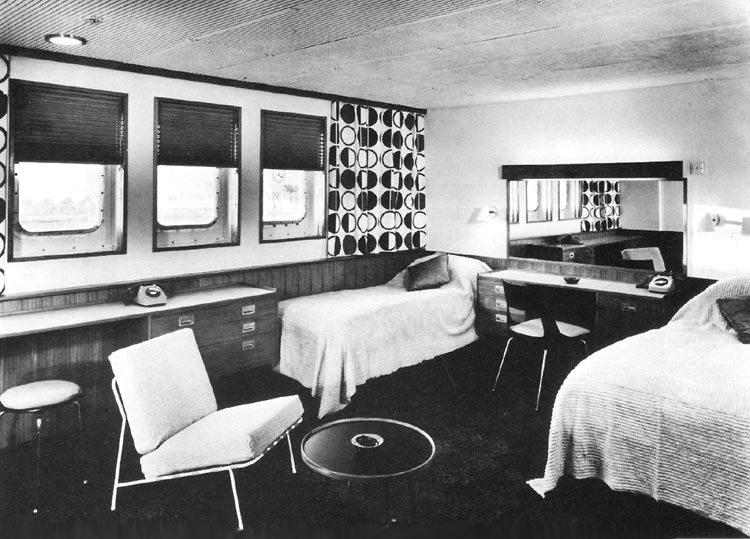 These suites were very popular and quite spacious having all the luxurious facilities expected of a Suite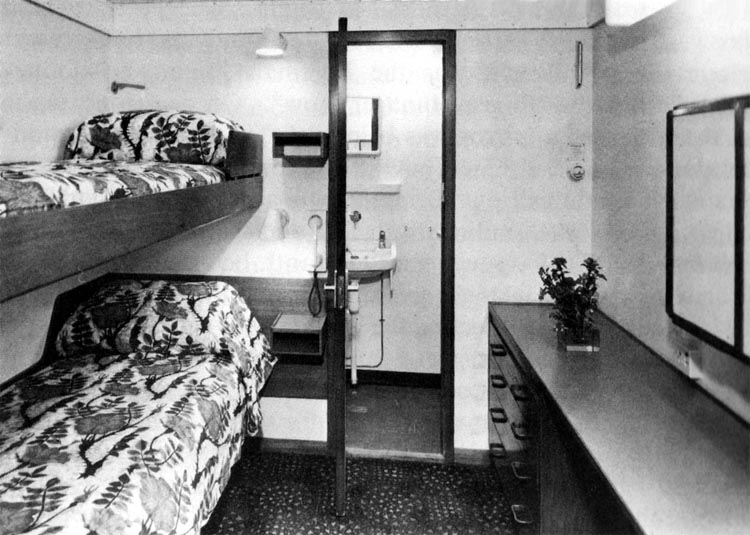 This two berth cabin could be an outside, or an inside cabin, but it can also be one of the "Court Cabins"
In fact, my wife and I occupied this type of cabin on a court. It was portside second court aft
from the First Class main lobby & the 3rd.cabin in on the aft side, thus we had a tall long
narrow window with blinds that overlooked the court and out towards the ocean!
TOURIST CLASS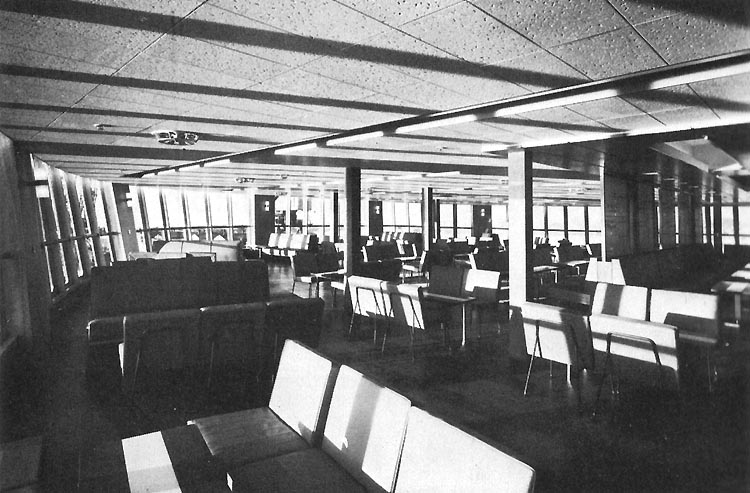 The huge Stern Gallery and Bar – also see the colour postcard below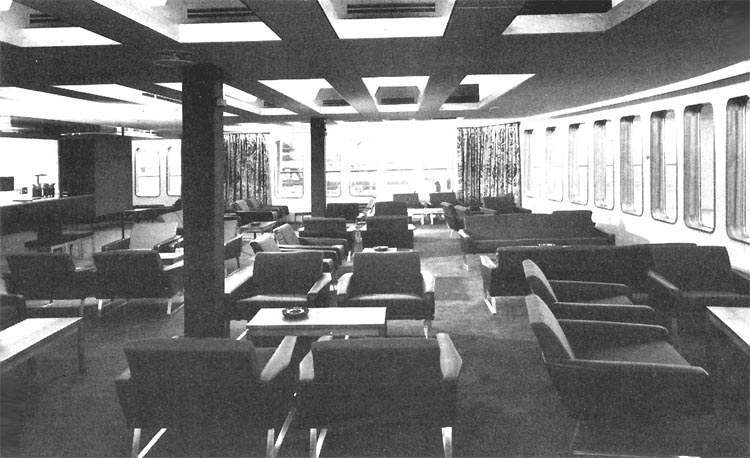 The Library was a beautiful and a relaxing place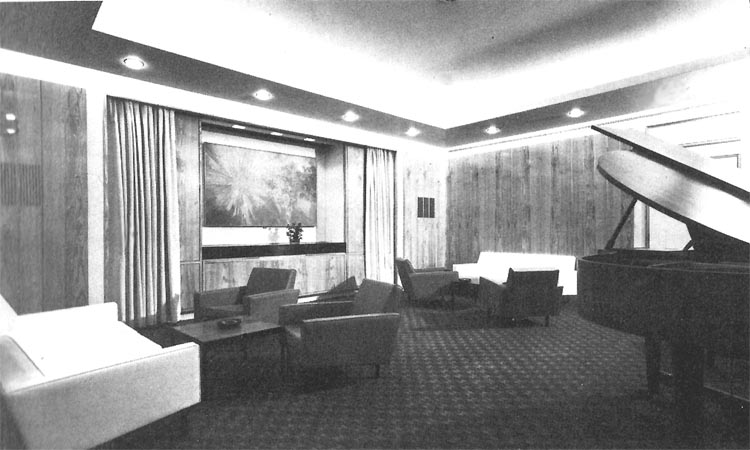 The Red Carpet Room was up on A Deck just aft of the Pursers Office and the Cinema
and it could be hired for private parties or functions or used for meetings
thus it was an interchangeable venue for both First and Tourist classes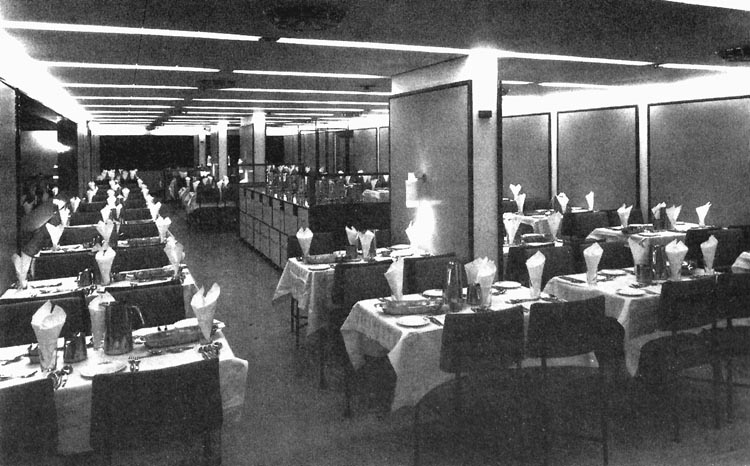 The Tourist Class Restaurant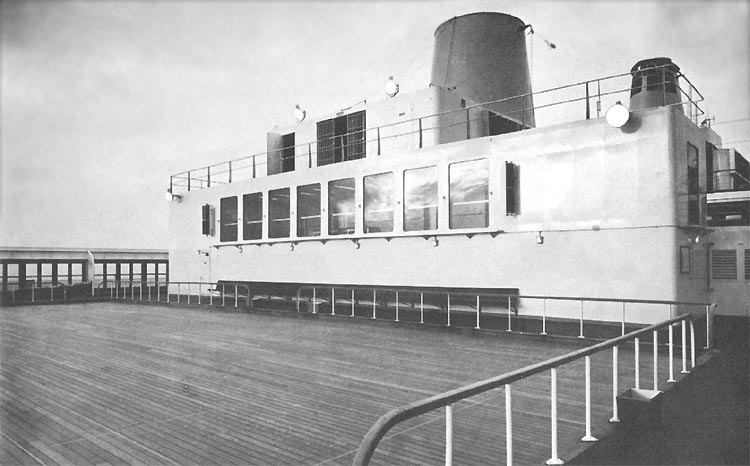 Tourist Class also had a spacious Games Deck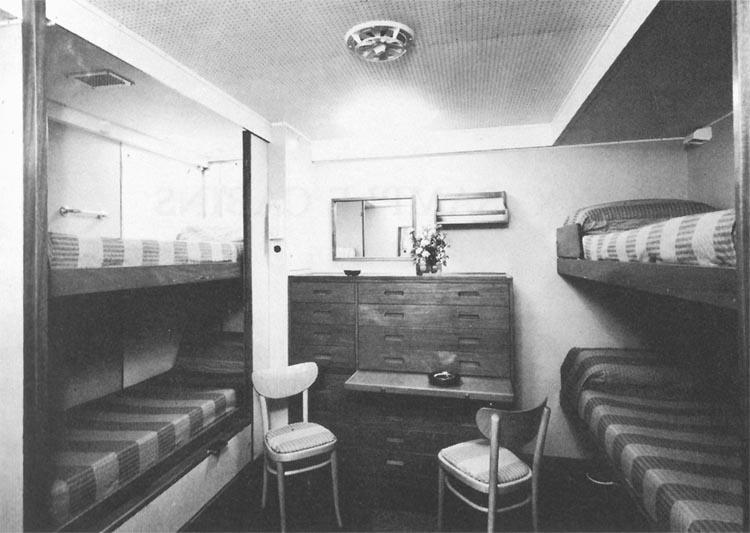 This cabin could be sold as a twin bedded room, or as a three or four berth cabin
It can be either an inside or an outside cabin, thus with a window or a porthole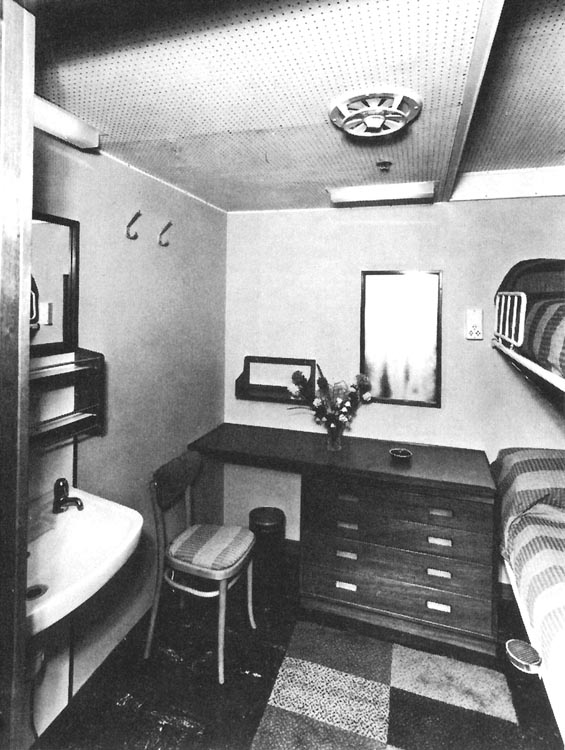 A two berth cabin, it may be an inside or an outside cabin, with a window or a porthole
Officer and Crew Accommodations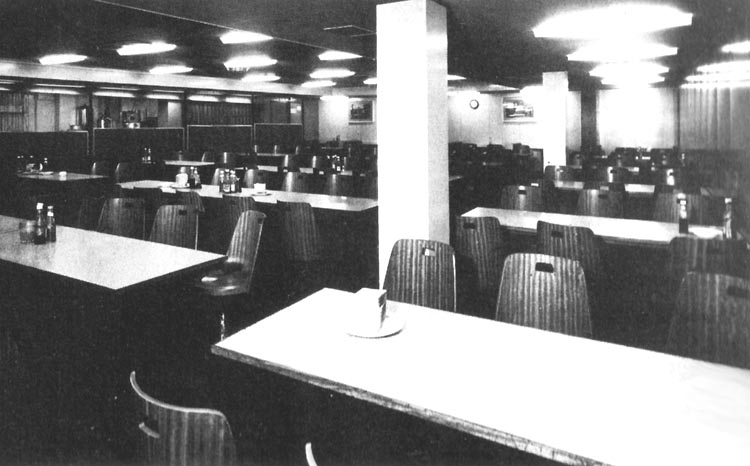 This is the crew's mess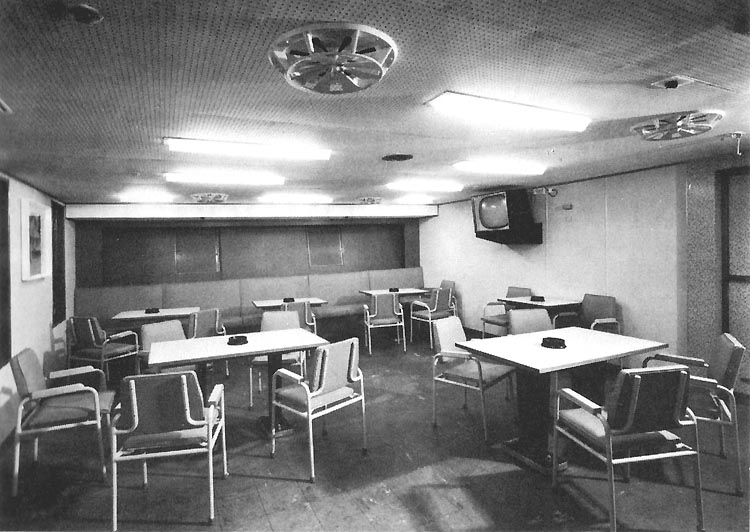 Here we see the Leading Hands Smoke Room, complete with special smoke extractors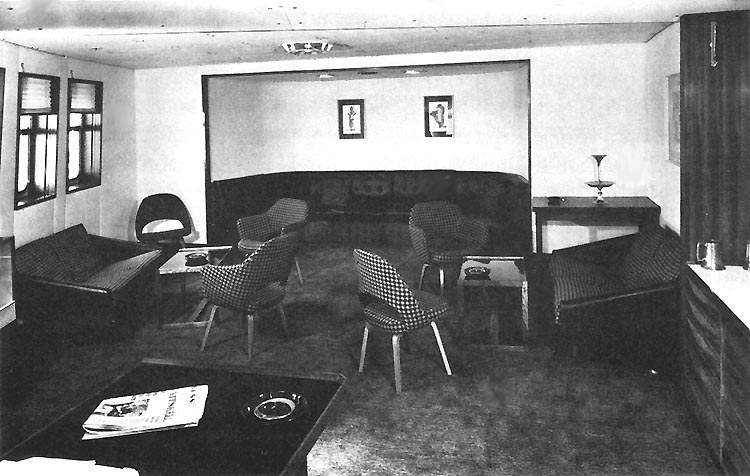 Captains Day Room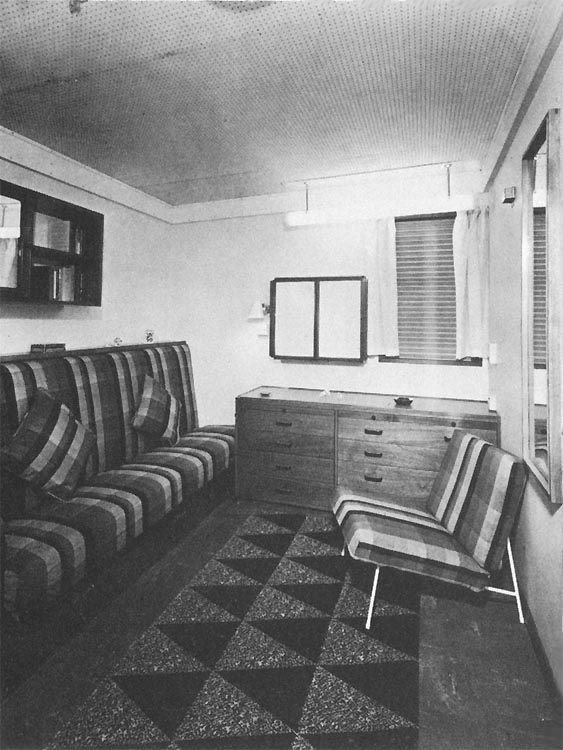 A senior female officer's cabin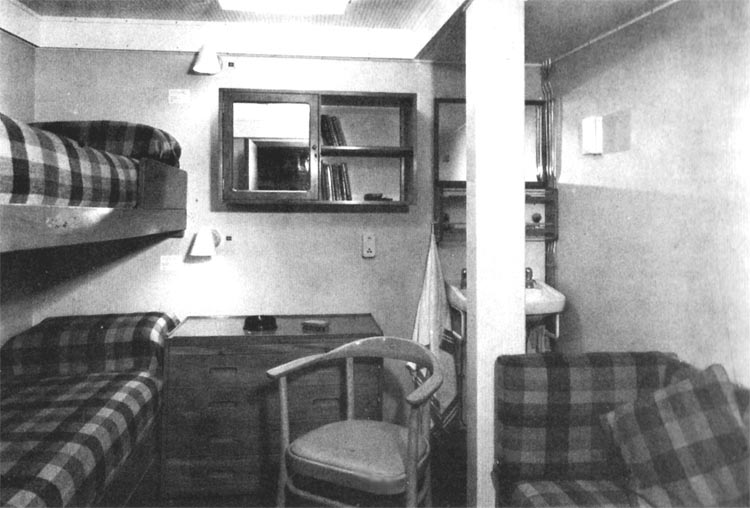 A two-berth cabin for "leading hands"
BEHIND THE SCENES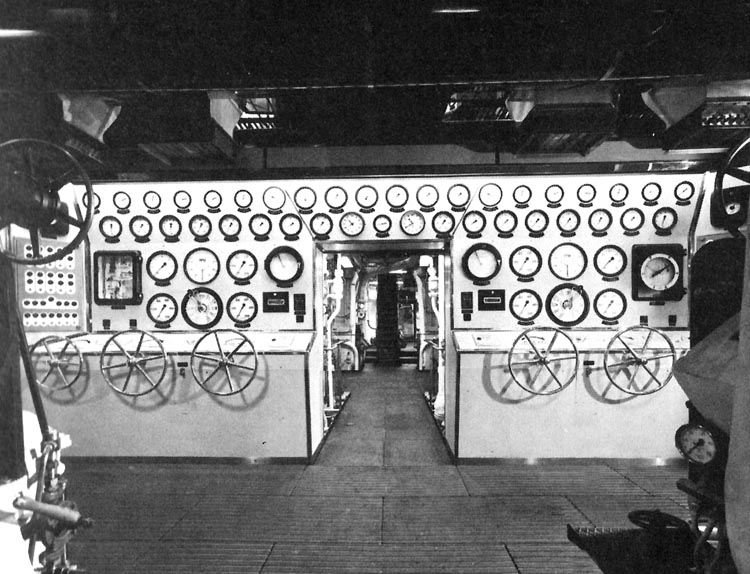 Here we see the huge console controlling the Main-Engine Room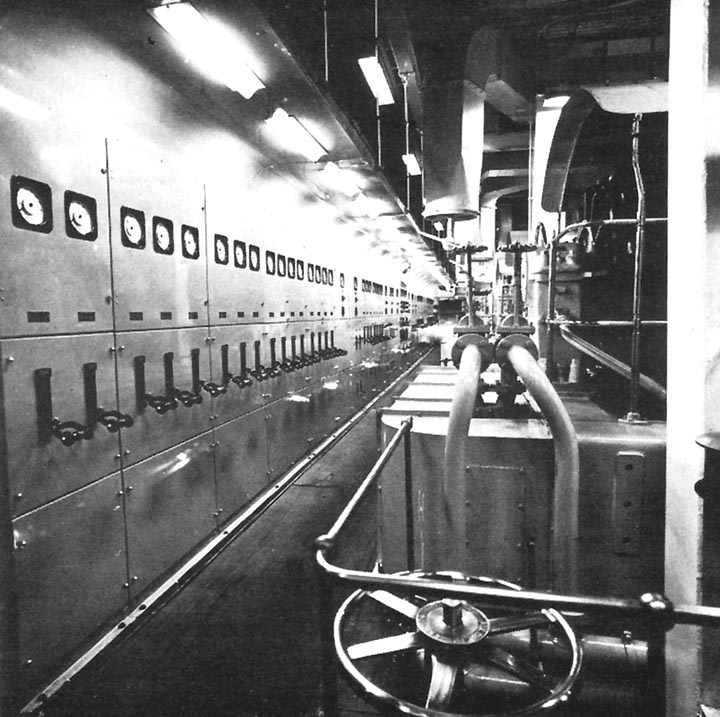 The Main Switch board as we can see is huge!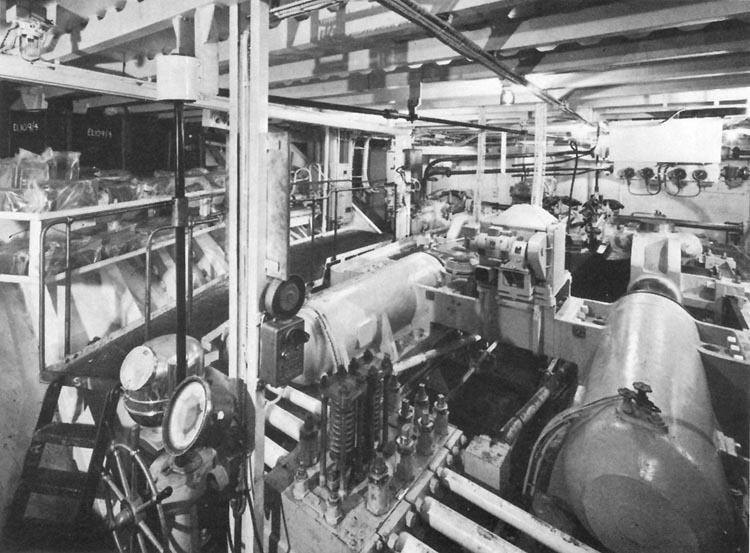 Believe it or not, but this is the Electro Hydromantic Steering Gear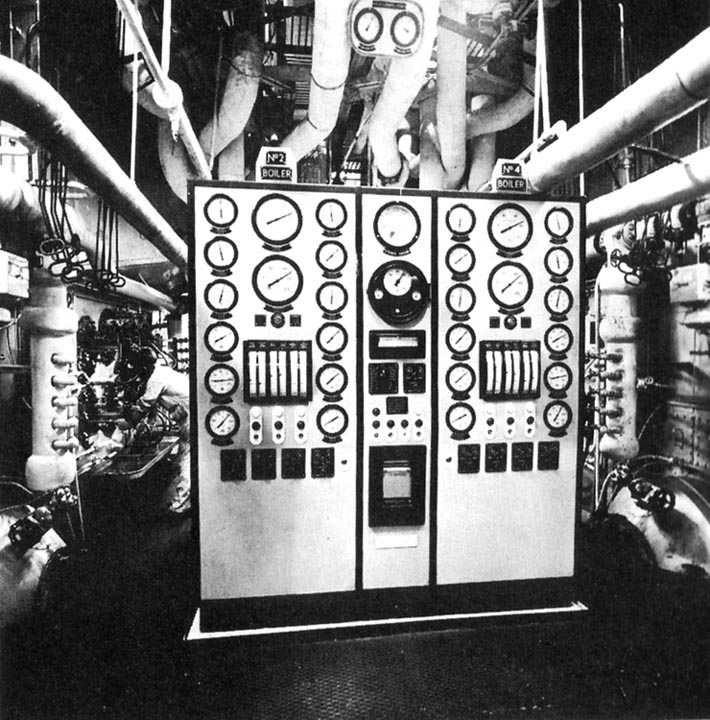 The Auto-Combustion controls for the two Starboard boilers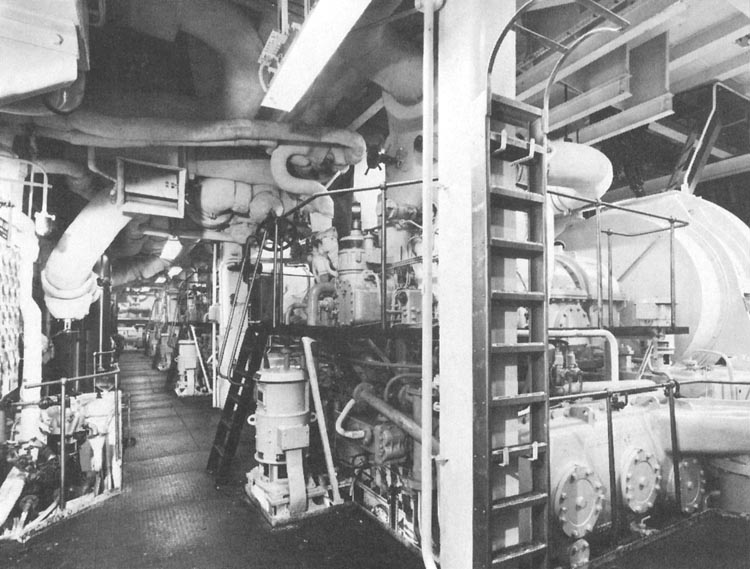 Main Generator Room looking to Port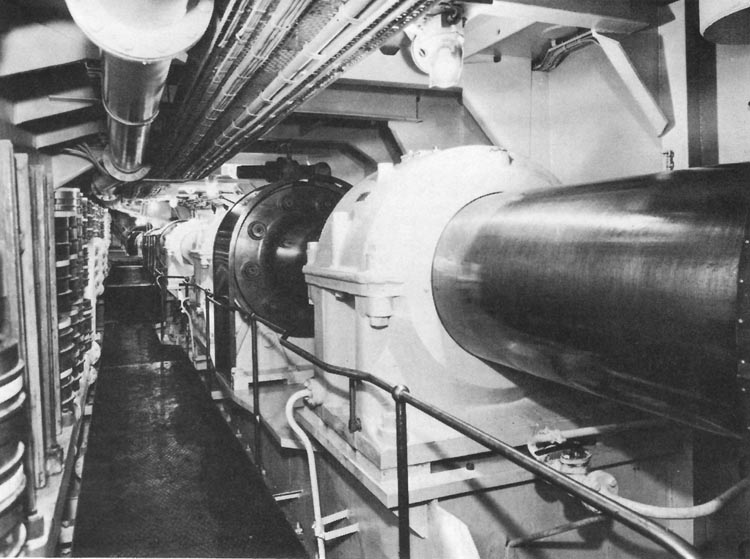 Here we are looking along the huge Portside Propeller Shaft Tunnel
Part Four: Colour Postcard from my personal collection
Below I offer just six postcards I have retained from the very early days of the SS Oriana that reveal her delightful venues in colour, and they will provide a far better idea of her internal beauty, especially when we compare them with the black and white images that were taken before her trails in November 1960 as seen above. There was no doubts that she was a beautiful and a grand Passenger Liner and later a superb Cruise Ship filled with wonderful colours and a great deal of art scattered around her public areas!
FIRST CLASS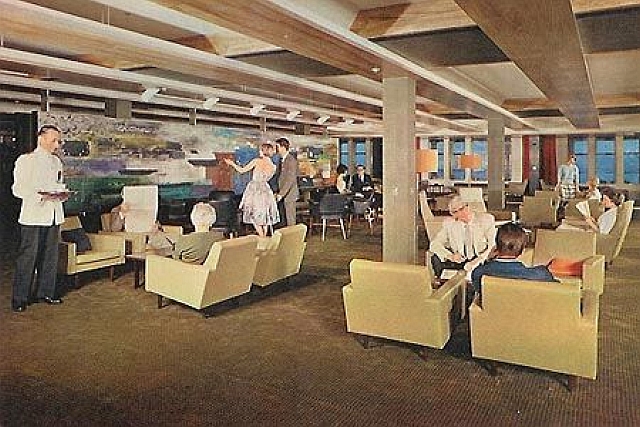 As we can see, the Princess Room was indeed a beautiful and a restful Lounge!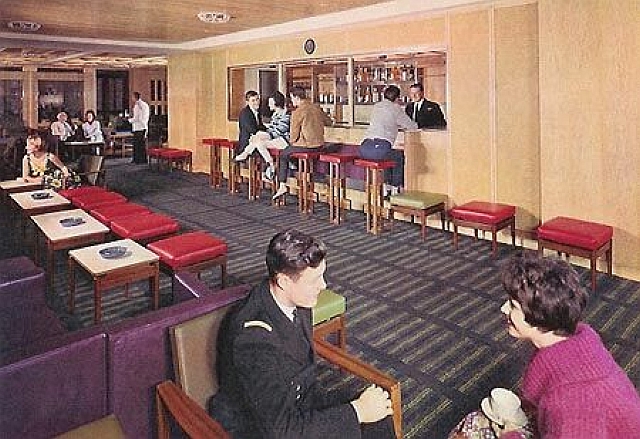 The Monkey Bar was indeed the most popular bars on the ship and the most remembered by many to this day!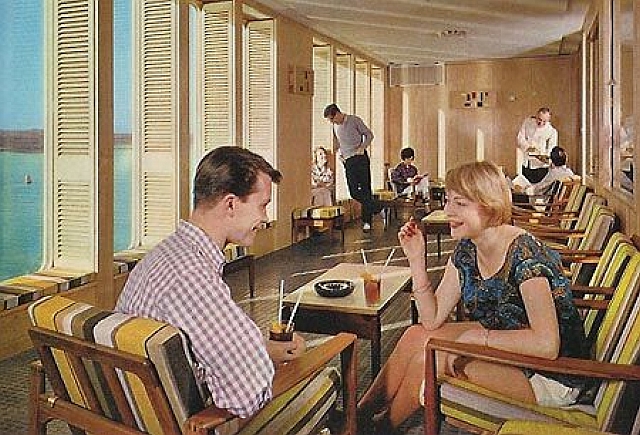 The delightful Monkey Bar Verandah was a popular place for meeting friends and have a drink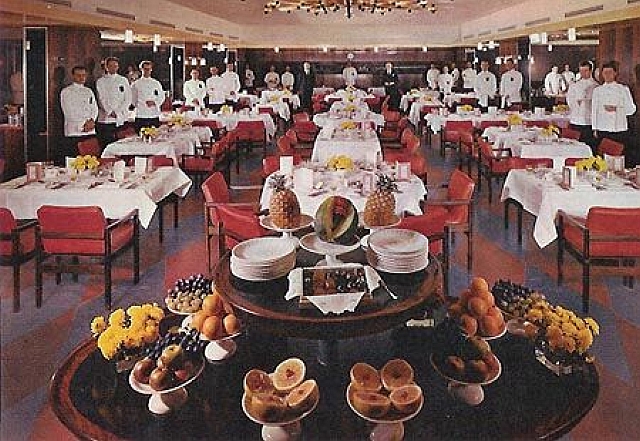 The superb Restaurant with some of the finest food at sea!
TOURIST CLASS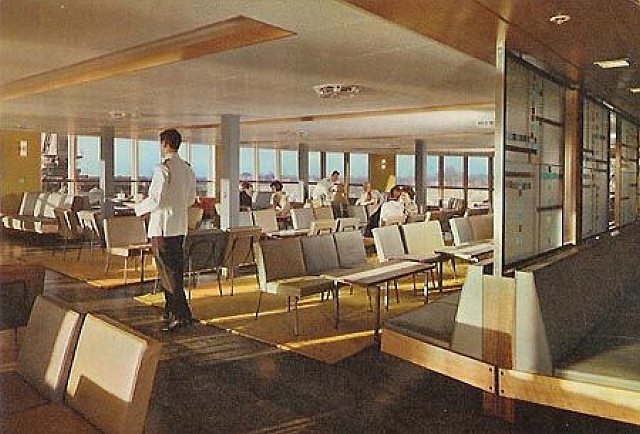 The massive Stern Gallery with its pastel colours, but one of the most popular venues aboard
Why? It had the best view of the ocean as well as when arriving and departing ports, there was a unique view!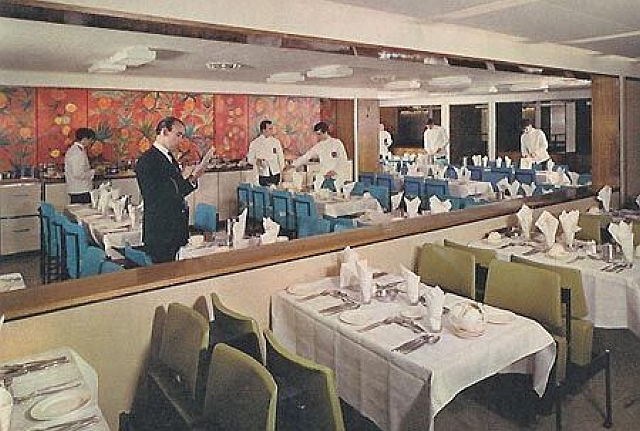 The Tourist Class Restaurant was also a delight with cuisine to match!
Remembering a Great Ship now Long Gone!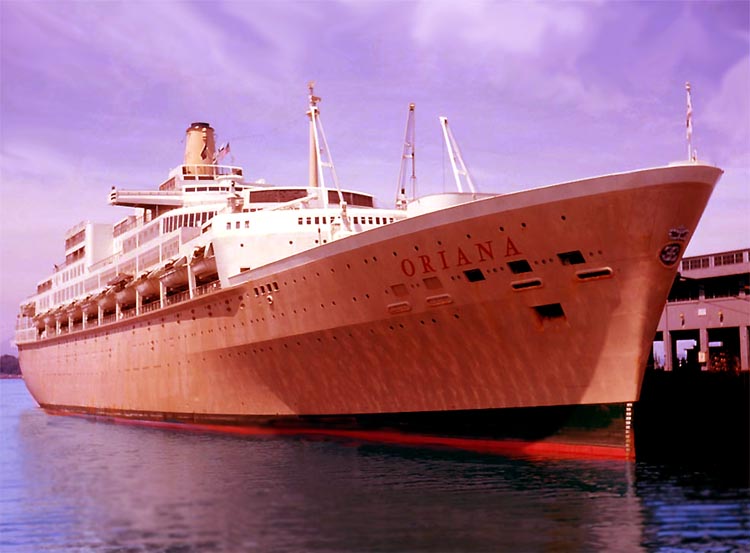 Here is another view of the great SS Oriana, the very last Orient Liner ever built!

***********************************

Part One

- Page Five contains - Countless Specifications & Oriana Facts (NEW)

Or Go to Part Two - Page One and the - "Ships History and Images of the Oriana"

***********************************

SS Oriana - Main Index:

PART ONE …

Designing & Building the Oriana - ONLY available to ssmaritime.com:

Images from the naval architect & designer of the SS Oriana:

Page 1:                      The building of SS Oriana

Page 2:                      The launching and fitting out of SS Oriana

Page 3:                      Sea trials and Oriana's maiden voyage

Page 4:                      Deck Plan, Rare Photographs and other Images

Page 5:                      Countless Specifications & Oriana Facts (NEW)

PART TWO …            

Oriana's General History Pages:

Page 1:                      History and Images of the Oriana

Page 2:                      Oriana Postcards issued in 1960

Page 3:                      Oriana Photo Album - Page 1

Page 4:                      Oriana Photo Album - Page 2

Page 5:                      Oriana "Lady of the Sea" by Neil Whitmore

Page 6:                      The Paul Oliver & Colin Pursehouse Collection

Page 6b:                    Paul Oliver Story

Page 7:                      Dalian - See the sad photographs of SS Oriana damaged during a storm

Page 7b:                    Oriana at Zhangiagang shipyard in China - Taken 29 July & 9 September 2005, the demolition of a liner

***********************************

Also Visit my Features on these Orient Lines & P&O Ships

Orient Lines: RMS Orcades - SS Oronsay - SS Oriana - RMS Orion

P&O: RMS Kaisar-i-Hind - RMS Strathaird - SS Iberia - SS Canberra

This is recommended reading!

"Orient Line – A Fleet History"

Is available from "Ships in Focus"

Email: sales@shipsinfocus.co.uk

***************************

Return to the ssMaritime MAIN INDEX

ssMaritime.com & ssMaritime.net

Where you will discover over 1,358 Classic Liners & the 1914 built MV Doulos Feature

Photographs on ssmaritime.com, & .net and associate sites are

: 1. By the author. 2. From the author's private collection. 3. Or as provided by Shipping Companies and their Publicity Companies as well as by private photographers or collectors. Credit is given to all contributors whenever possible.

ssMaritime is owned and © Copyright - Reuben Goossens - All Rights Reserved