Please Note: Firefox and some other search engines are not suitable - Use "Internet Explorer" for this page to load perfectly!

Click the logo above to reach the ssMaritime FrontPage for News Updates & "Ship of the Month"
With Reuben Goossens
Maritime Historian, Cruise'n'Ship Reviewer, Author & Maritime Lecturer
Please Note: All ssMaritime and other related maritime/cruise sites are 100% non-commercial and privately owned. Be assured that I am NOT associated with any shipping or cruise companies or any travel/cruise agencies or any other organisations! Although the author has been in the passenger shipping industry since 1960, although is now retired but having completed around 680 Classic Liners and Cargo-Passengers Ships features I trust these will continue to provide classic ship enthusiasts the information the are seeking, but above all a great deal of pleasure! Reuben Goossens.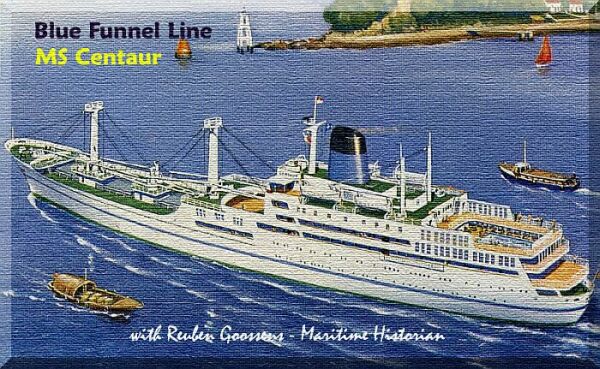 Please Note: Photographs are from the author's private collection, unless otherwise noted!
To understand the beginnings of Blue Funnel Lines we need to start at the beginning, for it started with in 1865 when two brothers, Alfred and Philip Holt of Liverpool, commenced the "Ocean Steamship Company." This would evolve into a number of companies, however, one of its subsidiaries was the famous shipping company, Blue Funnel Line the owner of the ship in question MS Centaur (3).
In the early sixties, Alfred Holt & Co placed an order with John Brown & Co to build the third ship to be named Centaur for their Australia / Singapore service. Centaur would replace two popular ships that operated on that service at the time, being the 3,633 GRT (Gross Registered Tons) MS Gorgon (2) built 1933 and she was sold and scrapped in 1964, and the 3,703 GRT MS Charon (2) built in 1936, which was also scrapped in 1964.
Looking back, the very first Centaur was just 1,900 GRT and she was built in 1895, but was sold four year later (1899) to North German Lloyd and was renamed "Korat." I have no further details regarding her since that time.
MS Centaur II
The second MS Centaur (2) was ordered for the Ocean Steamship Co, of course later known as the Blue Funnel Line and she was built in 1924, but she had a tragic end, after she had been converted to become the Australian Hospital Ship (AHS) Centaur in Sydney to serve during World War II.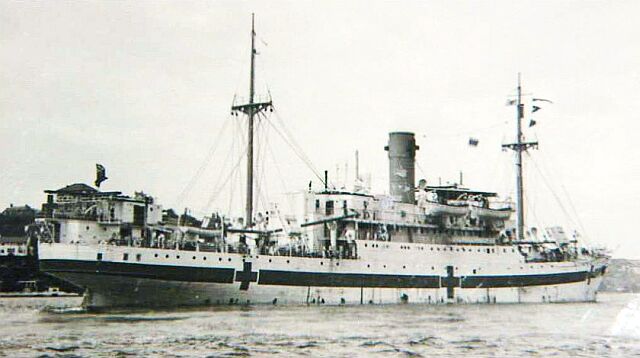 Australian Hospital Ship (AHS) Centaur built in 1924
From a subscribers private collection
Early one morning she was brutally torpedoed near Moreton Island Brisbane by a Japanese submarine at (approx) 0410 on May 14 1943 and apparently the AHS Centaur sank within minutes with the tragic loss of 268 lives, but thankfully there were at least 64 survivors rescued. This act was nothing short of murder at sea by the Japanese, for the ship was clearly marked as being a hospital ship and not a naval vessel, a ship of war!
Please Note: The MS Centaur II story will be online soon and a LINK will then be located at the bottom of this page as well as on the Main Index.
2009/2010 – AHS Centaur News Updates
December 20, 2009. The Director for the Search for the AHS Centaur, Mr. David L. Mearns, who also located HMAS Sydney off the West Coast of Australia, this morning confirmed that the location of the Centaur has been now been confirmed. Thus, after 66 years the mystery has finally ended! The Centaur is located approximately 30 nautical miles due east of the southern tip of Moreton Island off Brisbane (27 deg 16.98 South, 153 deg 59.22 East) at a depth of 2,059 metres
January 10, 2010. During the night Mr. David Mearns and his associates sent down their remote controlled submarine to take the first ever footage of the wreck of this Australian hospital ship. What happened next was nothing short of a miracle, especially for the surviving families of those who perished. Excellent images were taken of the Centaur starting from 2.50 AM and she is seen lying on a sandy ocean floor at a depth of about 2059 meters and listing some 25 degrees to the port side. Amazingly her paintwork is in reasonably good order, her white hull is clearly visible considering the time she has been on the seabed, as are the Red Crosses on her sides denoting that it was a hospital ship, for they are clearly visible, as is her thick green band painted around the ship. On her bow, the distinctive star could also be seen on the bow's company crest (which had been painted over during the war) along with the corroded identification number 47 on the front sides of the bow.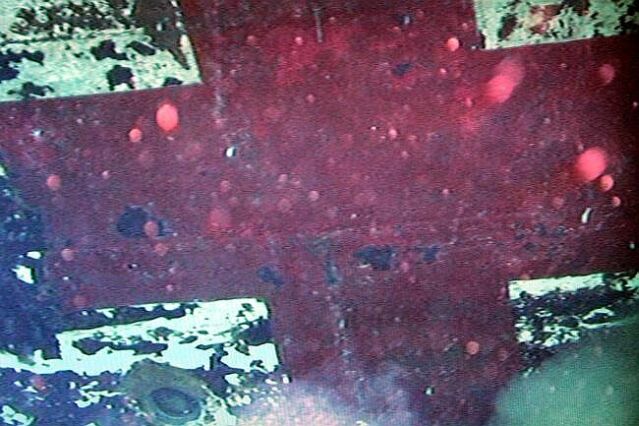 The Red Cross seen on the side of the AHS Centaur on January 10, 2010
Photograph AAP Bruce Long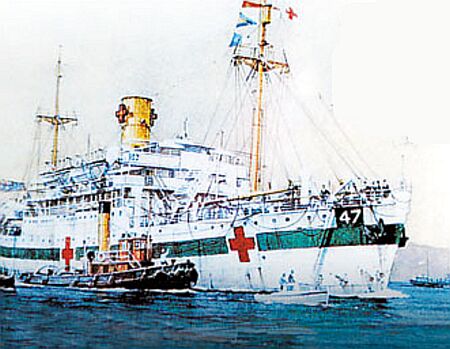 A full colour artists impression of the Australian Hospital Ship Centaur
Artist unknown – *See photo and credit details at bottom of the page
--------------------------------------------
Other Blue Funnel Ships
MS Gorgon and Charon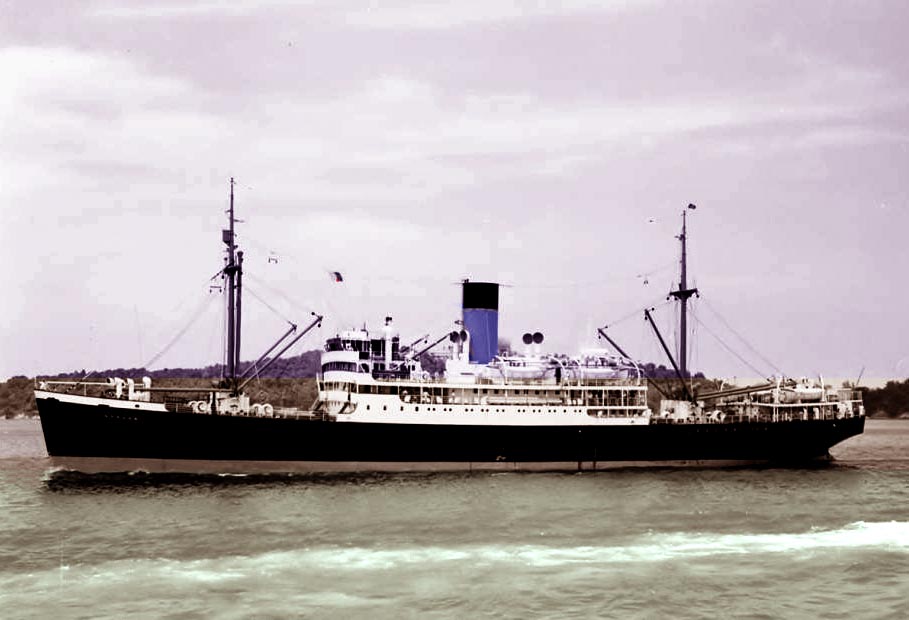 MS Gorgon
Although there were the older sister ships in service such as the MS Gorgon and Charon, which had been operating a successful service, but now a newer and a more modern ship was required to operate from the East Coast of Australia and thus superior passenger facilities were required and the modern MS Centaur (3) would fill this need perfectly!
There was no doubt that she proved to be one of the most attractive passenger-cargo liners to be built. In the past, all combination liners before her, they were built in a "three island configuration," however the Centaur featured an extended and a long forward freighter section with a high aft superstructure that was used for her passenger accommodations. This, combined with her tall streamlined funnel gave her an unusual, but a most attractive profile.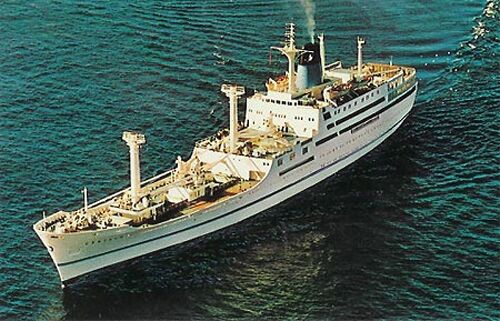 Note the vitiated air discharge outlets on the two forward masts
Centaur had many unique features, whilst having excellent passenger accommodations; she also carried general, refrigerated and liquid cargoes. In addition, Centaur, like the ships she replaced, carried up to 700 head of cattle or some 4,500 sheep in her 'tween decks. Livestock was loaded both in Broome or Derby. Both these ports had operational difficulties as they have extreme tidal ranges, for this reason Centaur was built with a strengthened hull in order to cope having to sit on the bottom at an even keel at low tide. Another unusual item was that vitiated air was discharged through mast tops, as the image above clearly shows.
Built for £1½ million sterling, MS Centaur was launched on June 20, 1963 by Mrs. Brand, the wife of the Western Australian Premier. After her official handover in January 1964, she departed for Liverpool, where she loaded cargo for Australia. On January 20, 1964, Centaur departed Liverpool for her delivery voyage to Australia, sailing via the Suez Canal to Singapore, after which she headed for Sydney where she arrived on February 23. Her first voyage out of Australia was under charter by the Australian Department of Commerce as a floating trade exhibition to the Far East and Japan. The charter concluded in April and finally Centaur headed for her Australian homeport Fremantle (Perth). She departed on her first official voyage on May 27, 1964 for Singapore, Port Klang (Kuala Lumpur) and George Town (Penang).
Originally Centaur was registered under the ownership of Ocean Steamship Co. Ltd, part of the Alfred Holt Group. She was then transferred to another Alfred Holt subsidiary, the China Mutual Steam Navigation Co. In 1973 she was re-registered in Singapore, becoming part of the Eastern Fleets Ltd. It was not until 1978 that she was officially transferred to Blue Funnel Line, another Alfred Holt subsidiary. However, interestingly enough, from the day she was launched her funnel was painted in traditional Blue Funnel Line colours, although she was the first of the fleet to have a white hull.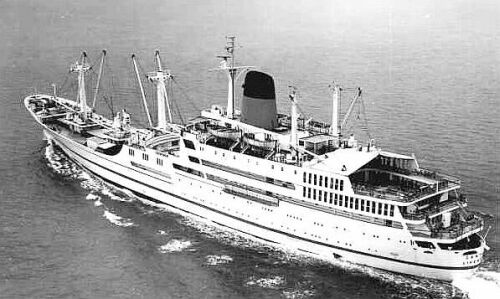 Centaur was blessed with spacious decks, both aft and on the forward superstructure
Centaur offered excellent accommodation for 196 one-class passengers. Promenade (A) Deck had two luxury suites with private facilities located forward flanking the library. Amidships were ten twin cabins with private facilities. Aft was a spacious lounge overlooking Lido Deck and the ships pool. B and C Decks had seventy-seven 1-2-4 bedded/berth cabins, of which twenty-three 1 and 2 bedded cabins on B Deck had private facilities. B Deck also facilitated the Children's facilities and a paddle pool, whereas the Dinning Room, Cinema and the Music Room were located on C deck.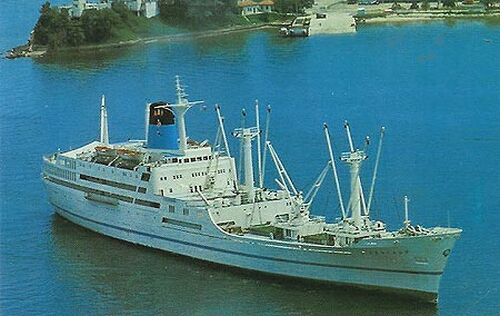 Centaur was designed to offer her passengers a cruise-like voyage, rather than a liner service between Fremantle and Singapore, a voyage of five days. She became a popular ship, with round trip passengers, and those travelling on her one way, be it from Fremantle or Singapore, returning by air. Soon, Centaur became so popular; many of her passengers travelled thousands of kilometres across Australia to join one of her voyages.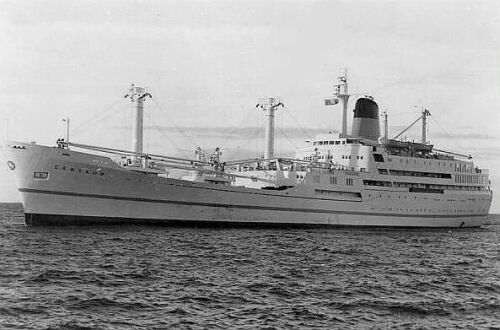 In 1979, Blue Funnel Line placed her on a new service, a 25 day circle voyage from Fremantle to Singapore, Hong Kong and Manila, returning via Singapore to Fremantle. She remained on this service for the next three years, but as passenger numbers between Australia and Asia were rapidly declining, Centaur was taken out of service in 1982. On September 15, 1982, on a wet and windy day, Centaur departed Fremantle for her final official voyage to Singapore. This departure is recorded in Australian maritime history as the last ever liner departure out of Australia. All future ships based in Australia were round voyage cruise ships. Sadly, Blue Funnel Line concluded all their services from Australia at the same time.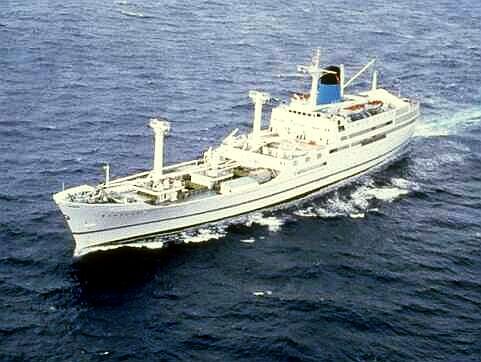 After her arrival in Singapore, Centaur was chartered to the St Helena Shipping Company for one year. She headed for Cape Town with her funnel repainted in their colours. On November 5, 1982, she departed Cape Town for her first voyage to St Helena, continuing to Bristol England. She maintained this 24 day round voyages until the end of the twelve month charter contract in November 1983. Blue Funnel had hoped that St Helena Shipping Company would take up the purchase option, but this was not the case, and she was handed back to her owners. On her voyage back to Singapore she made one more call to Fremantle where she arrived on December 3. After three days in Fremantle, Centaur departed Australia on November 6, 1983, for the last time, arriving in Singapore on the 12th. Whilst laid up, she remained idle until 1985, when she was sold to the China Ocean Shipping Co, who renamed her MS Hai Long, and placed her on the Hong Kong Shanghai service.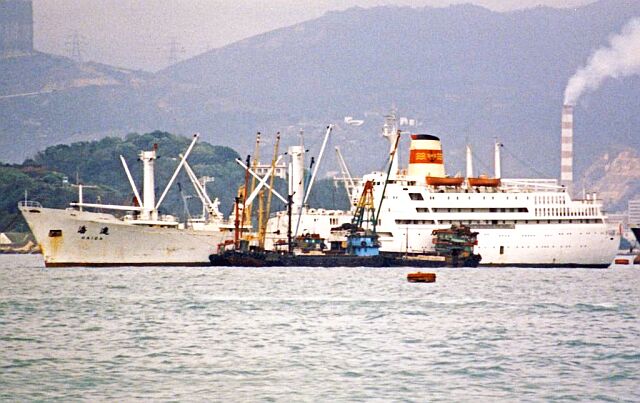 MS Hai Da seen around April/May 1986
Photographer unknown – see photo notes at bottom of page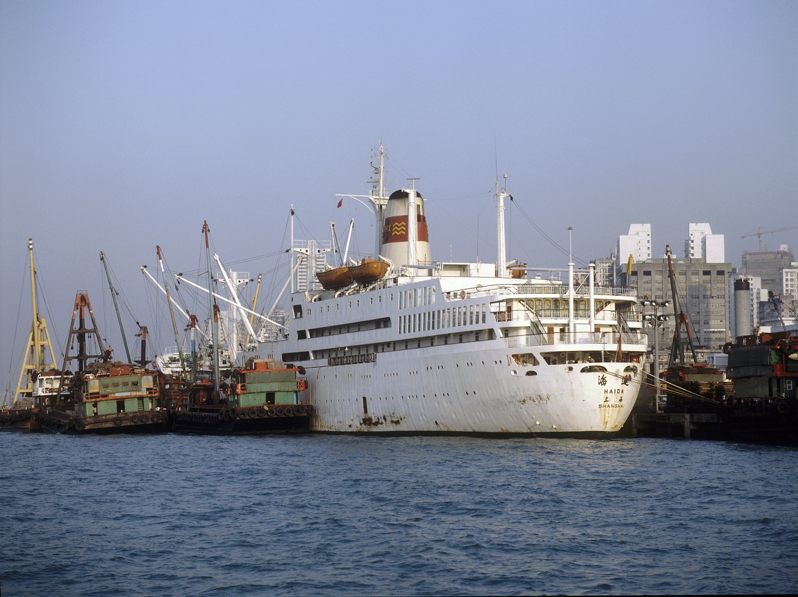 The MS Hai Da is seen here in Hong Kong region in 2005 the fine ship was sadly sold to be broken up within six months
Photographer unknown – see photo notes at bottom of page
In 1986 she was renamed Hai Da and continued service, In February 2006 MS Hai Da was finally sold to ship breakers at Guangdong, China and was duly broken up.
Specifications
Built by:                               John Brown & Co., Glasgow.
Launched:                             June 20, 1963.
Inaugural voyage:                  January 20, 1964 - Liverpool to Fremantle.
Tonnage:                              8,262 GRT (Gross registered tons).
Length:                                146.6m - 481ft.
Width:                                  20.1m - 66ft.
Draught:                               7m - 23ft..
Engines:                               2 B&W diesels - 16,500 BHP
Screws:                                Two.
Service speed:                       20 knots.
Passengers:                          196.
Passenger decks:                   6.
Crew:                                   109.
Livery:                                 All white hull and superstructure and a blue and black funnel.
Enter our Centaur Photo & Cabin Plan Page
With images & Cabin Plan kindly provided by Mr Stan Evans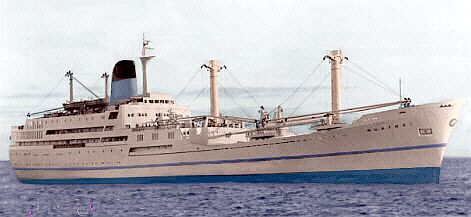 Many Australians will have fond memories of this unusual passenger-cargo liner
"Blue Water Liners sailing to the distant shores.
I watched them come, I watched them go and I watched them die."
****************************
Visit our ssMaritime Main INDEX
Where you will discover around 680 Classic Passenger & Passenger-Cargo Liners!
ssMaritime.com & ssMaritime.net
Where the ships of the past make history & the 1914 built MV Doulos Story
Please Note: ssmaritime and associated sites are 100% non-commercial and the author does not seek funding or favours and never have and never will.
Photographs on ssmaritime and associate pages are either by the author or from the author's private collection. In addition there are some images and photographs that have been provided by Shipping Companies or private photographers or collectors. Credit is given to all contributors, however, there are some photographs provided to me without details regarding the photographer or owner concerned. Therefore, I hereby invite if owners of these images would be so kind to make them-selves known to me (my email address can be found at the bottom of the page on www.ssmaritime.com), in order that due credit may be given.
ssMaritime is owned & © Copyright by Reuben Goossens - All Rights Reserved