ssMaritime.com & ssMaritime.net
With Reuben Goossens
Maritime Historian
Shaw Savill & Albion Line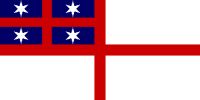 The Corinthic Class Liners
SS Corinthic, Athenic, Ceramic & Gothic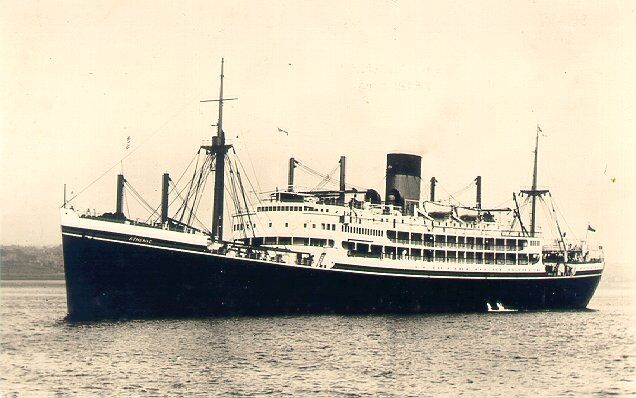 SS Athenic - Note the two large scoop air ventilators in front of the funnel
In 1946 Saw Savill & Albion ordered four new passenger cargo liners that would join their much larger sister QSMV Dominion Monarch on the UK - New Zealand service. Each would be around 15,000 GRT (Gross registered tons) and accommodated 85 first class passengers. Being passenger cargo ships each had 6 large holds, with space for 668,000 cubic feet of cargo, of which 510,000 was for refrigerated goods.
PLEASE NOTE: All photographs, unless marked otherwise, are by the author, or from the author's private collection. There are some from unknown sources. *Please read the special note at the bottom of the page in regard to these photographs.
Details in order of completion
SS Corinthic
SS Corinthic (2), built by Cammell Laird & Co Birkenhead (yard 1175), was the first of the series. She was launched on May 30, 1946, completed in April 1947 and departed on her maiden voyage from Liverpool to Sydney on April 12, 1947.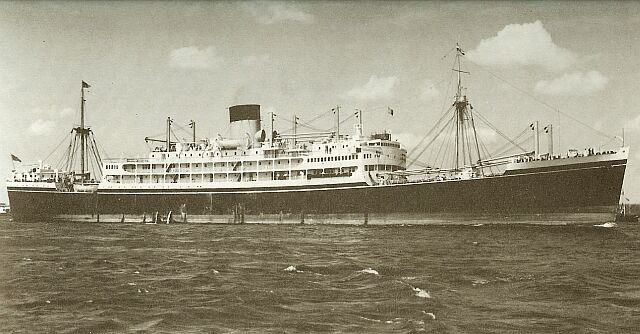 SS Corinthic
*****************************
SS Athenic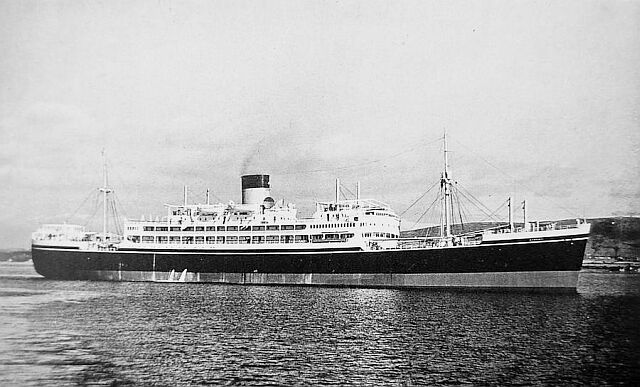 SS Athenic
The Corinthic was followed by SS Athenic (2), built by Harland and Wolff, Ltd, Belfast (yard 1326), was launched on November 26, 1946, completed in July 1947 and departed on her maiden voyage London to Auckland on August 1, 1947.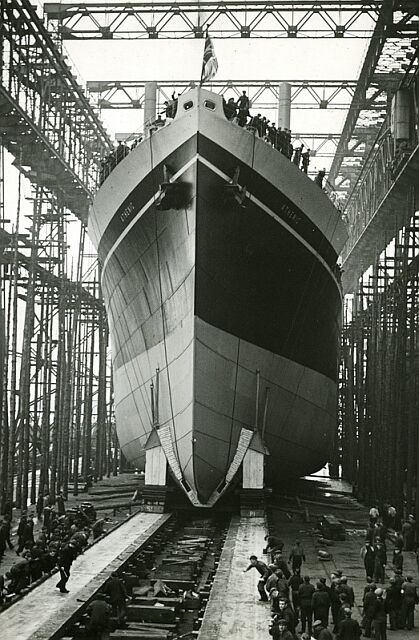 Athenic - launching on November 26, 1946
From the Harland and Wolff Archives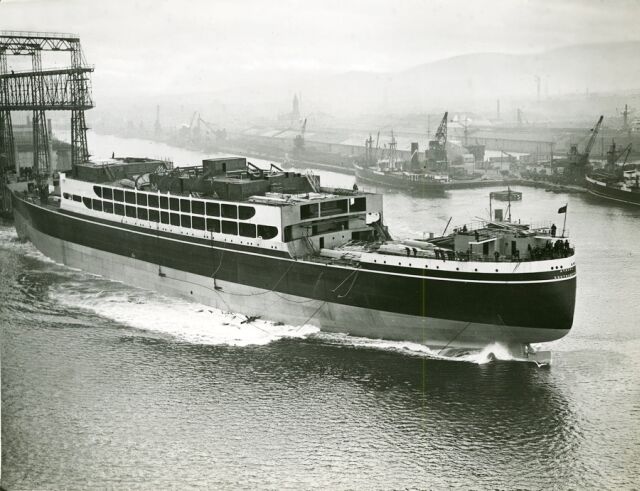 SS Athenic enters the water for the first time and will head for her fit-out berth
From the Harland and Wolff Archives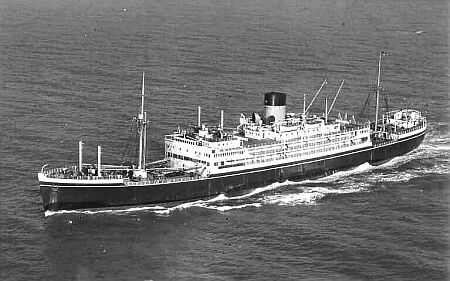 SS Athenic
*****************************
SS Ceramic
The second set was the SS ceramic (2), also built Cammell Laird (yard 1185), was launched December 30, 1947, completed in October 1948 and departed on her maiden voyage on November 6, 1948, from Liverpool to Auckland.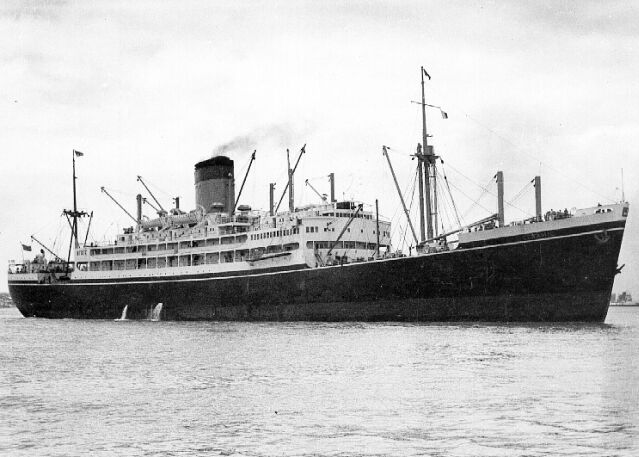 SS Ceramic in Auckland New Zealand
Note the new mushroom style ventilators forward and aft of the funnel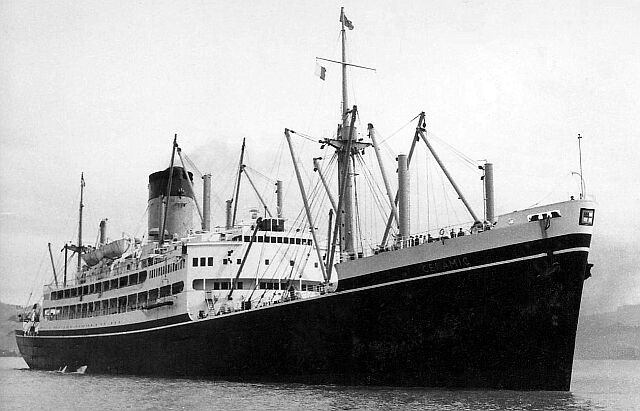 Ceramic arriving in Lyttelton (Christchurch) in the South Island of New Zealand on September 23, 1961
Photograph by and © Dave Edge - New Zealand
*****************************
SS Gothic
The fourth, the SS Gothic (2), built by Swan Hunter, Wallsend-on-Tyne (yard 1759), would become the most famed of the quartet as she would become the Royal Yacht in 1952-53. She was launched on December 12, 1947, completed in December 1948, and departed on her maiden voyage on December 23, 1948, sailing from Liverpool to Sydney.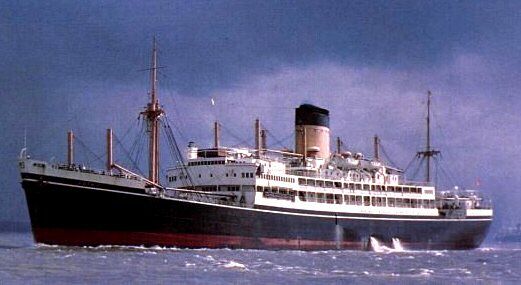 SS Gothic seen as built with the "Thorneycroft" funnel
Differences between the first & second sets of ships
The hulls on both the Ceramic and Gothic varied somewhat from their earlier sisters, having "rolled" bows and mushroom style deck ventilators, whilst their older sisters having "razor" style bows and scoop ventilators, however, their superstructures were the same. In 1951 Ceramic and Gothic were given "Thorneycroft" smoke-deflecting funnel tops. These proved such a success they were also fitted to P&O's Himalaya and Chusan in 1953.
Accommodations
Like their famed running mate QSMV Dominion Monarch, their appointments were luxurious with walls clad in fine timbers, Persian rugs adorning the floors, as well as a host of tapestries, murals and fine paintings. Accommodating just 85, passengers obviously lived in considerable comfort! For the number of passengers, their superstructures were quite large. Each featured two wide covered promenade decks and spacious sports decks above.

The stately QSMV Dominion Monarch
A photo of a model of the ship - sent in by J. Thurston
Public rooms: Promenade deck aft featured the elegant Smoke Room, followed by the light and airy Verandah Café. The Dinning Room and Main Lounge was located forward on Bridge (Main) deck.
All "Premium" cabins were located on boat deck, with other cabins being situated forward on Promenade deck, and aft on Main deck. Each had 53 cabins, consisting of suites, twin and single bedded cabins, most having private facilities. The standard and style of accommodation was in line with the luxurious Dominion Monarch.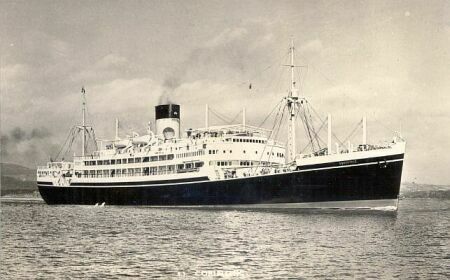 Their main rivals on the Panama route to New Zealand were the New Zealand Shipping Company's much larger Rangitoto and Rangitane. Yet many preferred the intimacy of the Corinthic Class Passenger-Cargo Liners.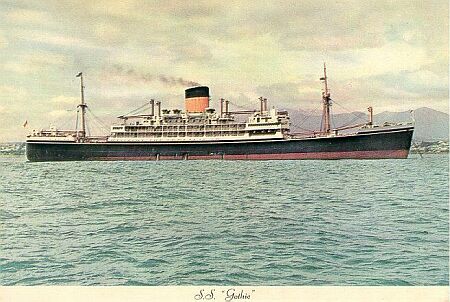 SS Gothic
Schedules were varied: As example From May to December in 1954 both the SS Athenic and Ceramic sailed from London, via Tenerife or Las Palmas, Cape Town, to Fremantle, Adelaide, Melbourne, Sydney, Brisbane, and then to New Zealand ports and homeward. Both Gothic and Corinthic operated on the London, Curacao, Cristobal/Balboa, New Zealand service. Later in the sixties all four ships operated on this service, but did alternate Curacao with Trinidad in July-Oct/Nov 1962/63. Thereafter from 1964 to 1966 they operated on a round the world service sailing from the UK via the Panama Canal and returning via South Africa. This information was gleaned from schedules dated - 1954, 1962/63 and 1994 to 1966. Please note: I have no actual departure dates only the information given above as I obtained details from the front cover of these schedules I found online.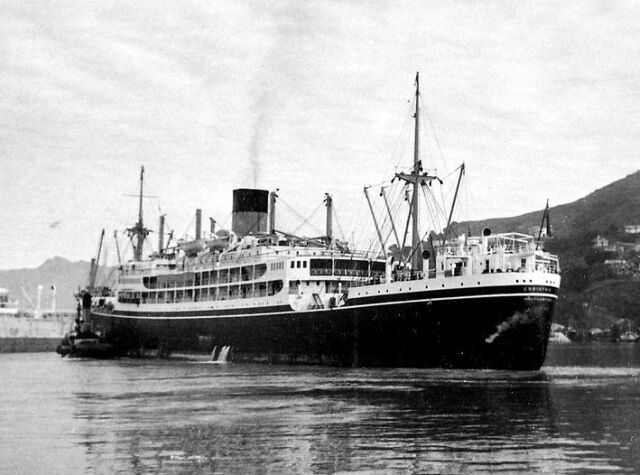 SS Corinthic seen at Lyttleton New Zealand on 13 May 1962
Photograph © Dave Edge – New Zealand
Specifications
Tonnage:                           Corinthic -15,682 (14,285 - 1965)
                                       Athenic – 15,187 (14,248 - 1965)
                                       Ceramic – 15,869
                                       Gothic – 15,902
Length - Beam:                   Corinthic – 560ft x 71.2ft
                                       Athenic – 564ft x 71.2ft
                                       Ceramic – 564ft x 72.2ft
                                       Gothic – 561ft x 72.2ft
Draught:                            All - 29.7ft
Engines:                            Geared steam turbines from builders
SHP:                                 14,000
Screws:                             Twin
Service speed:                    17 knots
Passenger decks:                Four
Passengers:                       85 first class
Crew:                                95
Also read: The Rob Wilson Story - 9th.Engineer on SS Corinthic 1961/62
*****************************
Royal Yacht – SS Gothic
Gothic was sent to Cammell Laird shipyards in 1951 to be refitted to become the Royal Yacht for a tour of Australia and New Zealand. However, due to the death of King George the tour was cancelled. Although considerable work had already been done, she was returned in 1953 to complete the refit. During this refit her hull painted white, which looked quite attractive.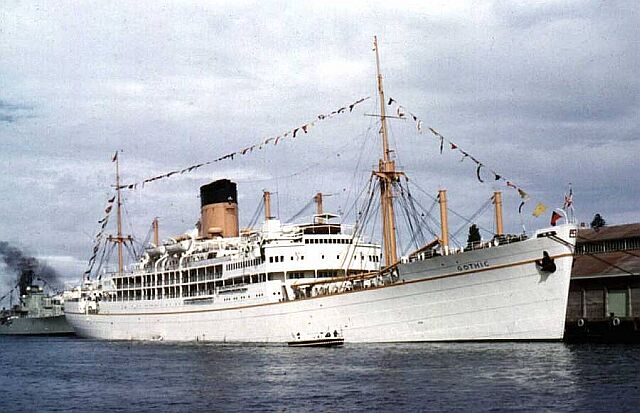 SS Gothic the Royal Yacht in Hobart in February 1954
*Photographer unknown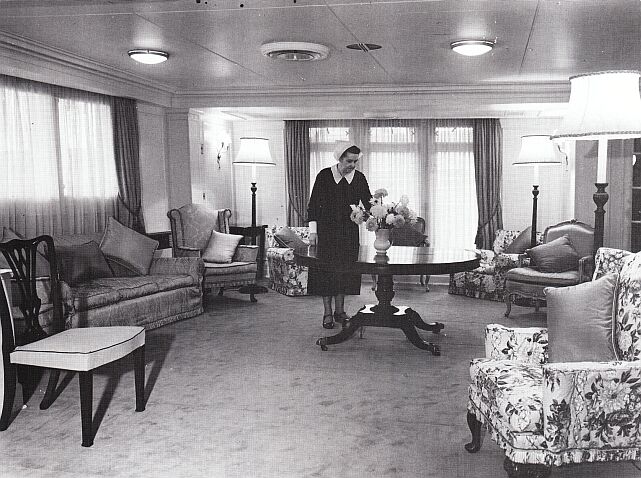 This passenger lounge was converted to be the Queens private lounge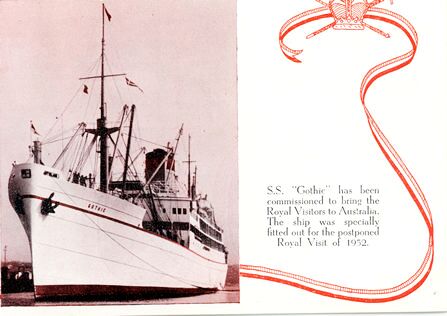 This commemorative postcard was issued for New Zealand and Australia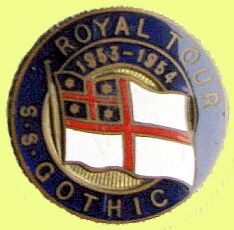 The SS Gothic 1953/54 – Souvenir Royal Tour Badge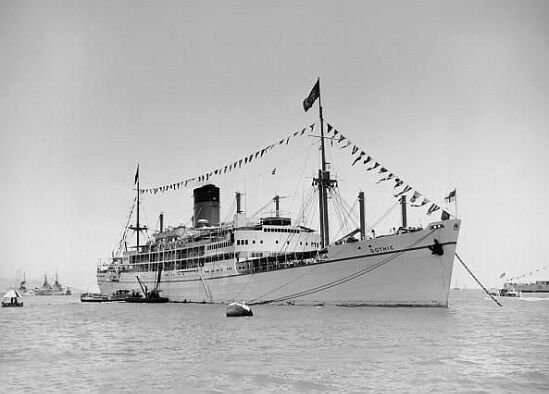 A superb shot of the Royal Yacht
*Photographer unknown
She carried HRH Queen Elizabeth and the Duke of Edinburgh to the Caribbean and later across the pacific for the Royal visit to Australia and New Zealand.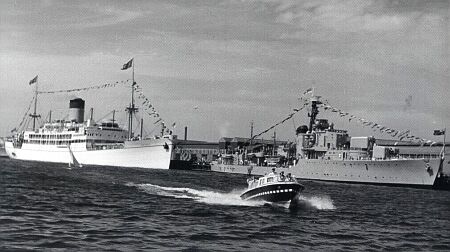 SS Gothic seen in Fremantle, note the Royal standard on the forward mast
Port of Fremantle
*****************************
The Final Years of the Gothic
After her Royal duties, her hull was repainted black again and returned to her regular duties sailing from London to New Zealand. Both Gothic and Ceramic remained full time passenger-cargo liners, sailing between Britain and New Zealand, whereas in 1965 Corinthic was sent to Schiedam in the Netherlands and Athenic to Newcastle to have all passenger accommodations removed and were converted as full time cargo ships.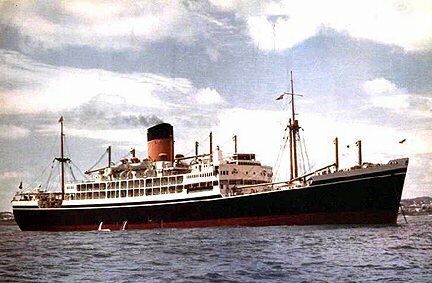 Repainted in her original livery, the Gothic returned to regular passenger's services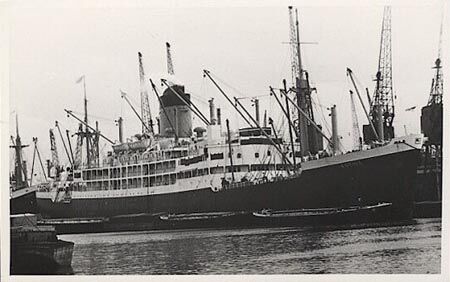 Seen with her new funnel extension after her Royal Yacht days
*Photographer unknown
On August 2, 1968, having left New Zealand several days earlier, Gothic suffered a devastating fire onboard. The crew were valiant and extinguished fire. Sadly seven lives were lost and the ship suffered considerable damage. She had to make it back to Wellington in bad weather conditions and the following photograph was carried in the Wellington Evening Post when she finally arrived.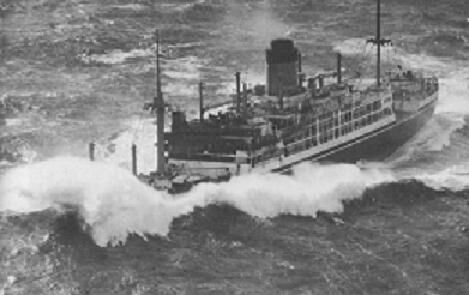 The Gothic encounters stormy seas as she approaches Wellington
Wellington Evening Post
Whilst in New Zealand the structural damage was temporary repaired, then upon her departure for Liverpool, she was listed as 15,109 GRT. Having returned to Britain the fire damage was never fully repaired. After an extended stay in Liverpool she made only one more return voyage to New Zealand after which was sold to Taiwanese breakers. Having been such a successful and a beautiful combination liner for 21 years, her days ended when she arrived at Kaohsiung on August 13, 1969. I know that I will never forget her!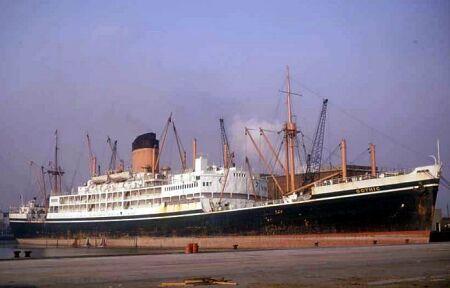 SS Gothic seen after the partial fire repairs
Forward windows were sealed and cabins remained closed after the fire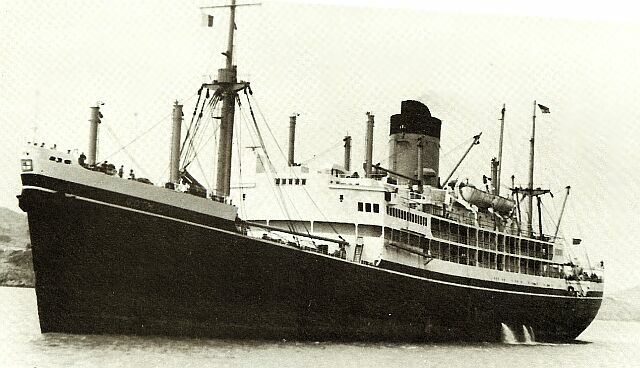 One of the last photographs taken of the Gothic
*Photographer unknown
*****************************
The end of the SS Corinthic and Athenic
Sadly the demise of her two sisters SS Corinthic and the Athenic followed all too soon after as they were sold to Taiwanese breakers. They arrived in Kaohsiung just two days apart, on October 23 and October 25, 1969, respectively and were duly broken up. However the third of the series would live on for a while yet and thrill ship lovers in the UK and in New Zealand for a while longer!
*****************************
The last ship of the Series – SS Ceramic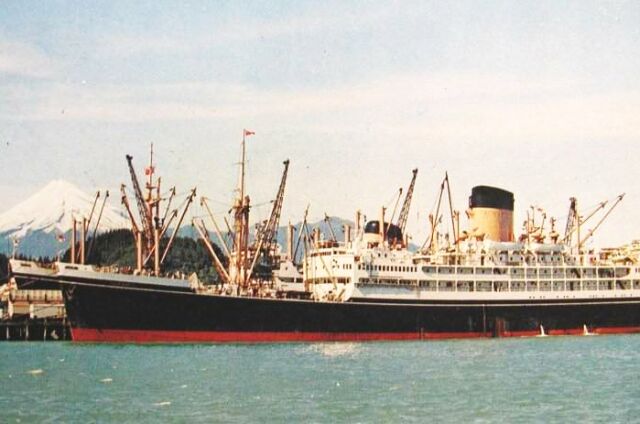 The wonderful SS Ceramic sailed on as the longest serving passenger-cargo ship of the series
*Photographer unknown
SS Ceramic served for another three years, serving a total of 24 years, as a full time passenger-cargo liner. However early 1972 she was sold to Belgium breakers and she arrived at the Boel & Fils breakers yard at Tamise on June 13, 1972.
*****************************
The Author's Memories
Whilst working in the passenger shipping industry first in Wellington, and later in Auckland, I had the opportunity to visit each ship many times. I came to love these ships and the passengers always spoke of their happy experiences, especially the fine service onboard and the wonderful meals enjoyed. *Yes, many would tell me that "in rough seas they were not the most stable ships at sea," yet few complained. For some reason the Gothic made the greatest impression on me, I do not know why, but although all four ships were very similar, in fact almost identical, she had a special and a unique atmosphere, and I enjoyed my many visits on her. Sadly, I never had the opportunity to sail on these fine ships.
*Recently I received an interesting email from Dick Goodey who was the Second Engineer on both Corinthic and Athenic he wrote in response to the above statement "in rough seas they were not the most stable ships at sea." I would like to place his most informative email below as it contains some interesting information.
"Dear Reuben,
For many years I have enjoyed your entertaining writing on real ships, and agree with the majority of your views. However, I must take issue with your; " in rough seas they were not the most stable ships at sea," The statement itself is true, but gives the impression that these ships were uncomfortable in rough weather.  Even when fully loaded with several thousand tons of butter in their holds, these ships had a small meta-centric height and thus technically were not the most stable ships at sea. However, this gave them a very nice slow and even rolling motion, far more comfortable than the unnatural, stiff, stabilized motion of the larger modern vessels. There were no better ships to take a far south great circle route across the Pacific.
On the subject of great circle routes, you will be interested in the method of steering the Athenic. Frank White who was the Chief Engineer for almost 20 years, ordered one screw to turn slightly faster in order to keep the rudder amidships as much as possible. Outward, the port screw was faster homeward it was starboard's turn. The system worked, the Athenic used less fuel than the Corinthic!
I sailed as Second Engineer on both Corinthic and Athenic, undoubtedly the high water mark of my sea-going career."
I thank Dick Goodey for this insight of the running of the ships!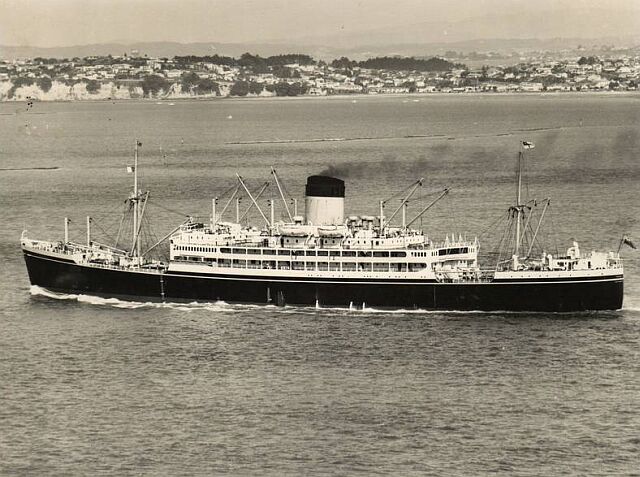 Ceramic arriving in Auckland New Zealand in the mid sixties
*Photographer unknown
Also read: The Rob Wilson Story - 9th.Engineer on SS Corinthic 1961/62
The following are all my Shaw Savill features on ssMaritime.com
1... SS Athenic Class Ships – These three fine liners built in 1902/03 introduced two of the names on this page
2… QSMV Dominion Monarch – Shaw Savill's Grandest Dame ever built!
3… SS Corinthic Class Liners – Four fine ships built in 1947/48.
4… SS Southern Cross – A 23 webpage feature on a revolutionary passenger liner!
**************************************************
Use the Back button on your browser or Close the Page to return to the previous page
or go to our INDEX
***********************************
Who is the Author of ssMaritime?
Commenced in the passenger Shipping Industry in May 1960
ssMaritime.com & ssMaritime.net
Where the ships of the past make history & the 1914 built MV Doulos Story
Also visit: Cruise-Australia and
"Save The Classic Liners Campaign" & "Classic Ocean Voyages" pages
Photographs on ssmaritime and associate pages are by the author or from the author's private collection. In addition there are some images that have been provided by Shipping Companies and private photographers or collectors. Credit is given to all contributors. However, there are some photographs provided to me without details regarding the photographer/owner concerned. I hereby invite if owners of these images would be so kind to make them-selves known to me (my email address may be found on www.ssmaritime.com only), in order that due credit may be given. I know what it is like, I have seen a multitude of my own photographs on other sites, yet these individuals either refuse to provide credit or remove them when asked, knowing full well that there is no legal comeback when it comes to the net. However, let us show these charlatans up and do the right thing at all times and give credit where credit is due!
This notice covers all pages, although, and I have done my best to ensure that all photographs are duly credited and that this notice is displaced on each page, that is, when a page is updated!
ssMaritime is owned and © Copyright 2010/12 - by Reuben Goossens - All Rights Reserved