ssMaritime.com & ssMaritime.net
With Reuben Goossens
Maritime Historian
China Sea
Discovery
Ex Fair Princess, Fairsea, Fairland, built 1955 as RMS Carinthia
China Sea Discovery now broken up
See 4 new photographs at bottom of page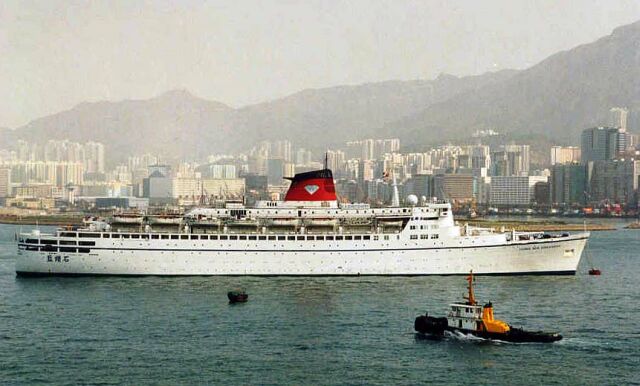 China Sea Discovery in Hong Kong Harbour
(Photograph ? 2001 Kiwi Marine Consultants Ltd, Hong Kong)
China Sea Discovery had a long successful career as a Cunard Liner, a cruise ship with Sitmar Cruises, Princess Cruises and P&O Cruises Australia. In her latter years, whilst in Australia she became a popular and a successful cruise ship, however with the planned relocation of P&O Princess Cruises' Sky Princess (built as the Sitmar Fairsky) to Australia in 2000, P&O Cruises Australia announced late in 1999, that Fair Princess would be relocated to New Zealand on 10 November 2000, and commence cruising out of Auckland. A brochure was released in November 1999, and with cruises selling well in advance, Fair Princess was heading as a successful New Zealand based cruise ship.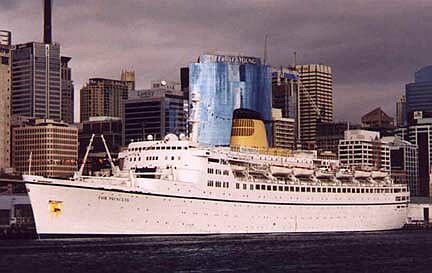 The Popular TSS Fair Princess was soon to become the China Sea Discovery
P&O released a special New Zealand brochure, as seen below, which was aimed at the Australian market to be takes as fly/cruise packages to New Zealand to cruise the Pacific out of Auckland. The feature being that Fair Princess would be able to visit port further away normally not visited from Australian ports, such as Samoa and Tonga, etc.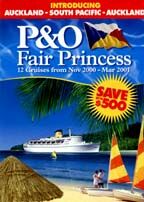 However without warning, mid 2000 P&O announced that Fair Princess had been sold to an Asian - Canadian consortium of Charles Ming and Associates and Casino Canada for a staggering US$15 million. After a refit, she would be based in Hong operating as casino cruise ship.
After the sale, P&O Australia's Managing Director stated, "The Company could not refuse such an attractive offer" However the New Zealand clientele had been let down badly. Prior Fair Princess was transferred to her new owners; P&O undertook various repairs, which had been part of the agreement with her new owners.
In December 2000, under the command of Captain Anders Andersson she was delivered to Hong Kong, where she was refitted as a casino ship. She received a US$7 million refurbishment to become, as the company stated, "a luxury 5 star casino ship"
With China Sea Discovery having cost a total of $22 million she became the most expensive classic cruise ship afloat, which would have an effect on the future of the company, a company that had no experience with shipping whatsoever and that alone would soon see this venture collapse miserably as our feature the China Sea Saga will reveal. (Link to this story at the bottom of the page).

TSS China Sea Discovery – an early promotional image
During her conversion from December 2000 to January 2001, several lounges on promenade deck were gutted, and were replaced with casino facilities, seeing some her beautiful art-deco lounges disappear.
During the conversion, blue asbestos was found onboard thus, the owner hired local workers to remove it. However, these men were not professional asbestos removers, as the ship manager soon found out, and the work was stopped. The owners were informed about the regulations concerning the handling of asbestos and it was agreed that a qualified company from the UK would come to complete the job cleaning her up. This same company had worked on her earlier and knew the location of the asbestos on board.
China Sea Discovery's problems were only just beginning, for on the day of her departure, with pilot onboard, tugs with lines attached, the ship was ordered to a halt by the shipyard, as they had not received their payments. Mr. Ming soon came to an agreement and the China Sea Discovery was released.
The once proud Cunard Liner was to operate the same itinerary as the luxury 5 Star Mega liner SuperStar Leo, being 4 day (3 night) cruises to Haikou, Hainan Island, then to Halong Bay in Vietnam. However, her future was doomed very early into her new career.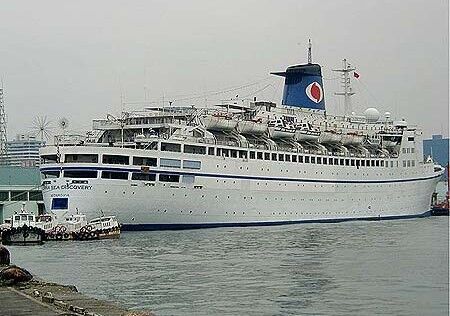 An excellent stern view of the China Sea Discovery
(Photograph ? Chung Yu Tse)
Now finally on her way she headed for Haikou, her first port of call. The channel into Haikou is quite narrow and the current come from the side. The entrance also has two bends. At this stage all was well and China Sea Discovery came alongside as planned.
Being a steam ship with twin screws, but no thrusters, and just one rudder, China Sea Discovery had a reputation for being difficult to manoeuvre in some cases. As she sailed out of the port, the leading lights are hidden behind the funnel, and with only the channel buoys to rely on, the ship ran aground, not once, but twice, even though she was inside the channel. On both times she was freed. She finally passed the shallow channel and was back in deeper waters. Captain Anders Andersson informed the company that he would not enter Haikou harbour again. Upon the ship's return, great pressure was placed on the Master to enter the port once again, but he reused and the ship was laid at anchor and tenders took passengers ashore.
The story of her short career is certainly an interesting one. It is called the "China Sea Discovery Saga"
PLEASE NOTE: The remarkable story above and that on the page linked above was provided by one of the MOST senior officer's on board China Sea Discovery. We take no responsibility for its accuracy; however, we have done everything in our power to check the details, before deciding to use it as part of our feature on Carinthia / Fairsea / Fairland / Fair Princess / China Sea Discovery.
China Sea Discovery returned to Hong Kong and commenced overnight gambling cruises, which was a failure, considering she was in direct competition with seven other ships, most of which were in far better condition, operating the same type of overnight gambling cruises. She was consequently relocated to Keelung Taiwan.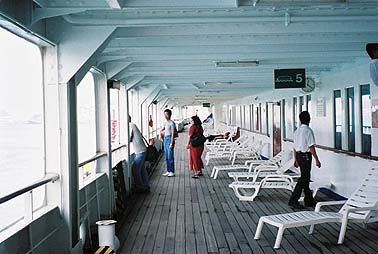 It is obvious from this photograph the ship suffered greatly from poor loadings.
China Sea Discovery lost vast amounts of money and was finally laid up in Kaohsiung on May 21, 2003.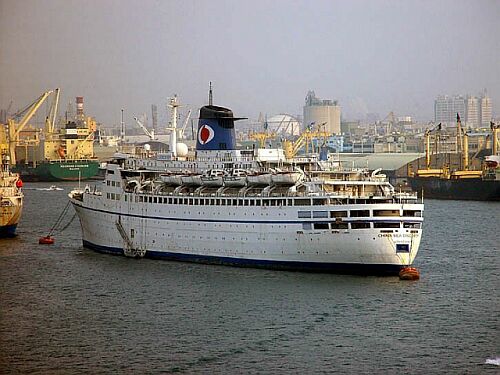 (Photograph ? 2005 Adam Fedorowicz)
Above and below China Sea Discovery Laid up in Kaohsiung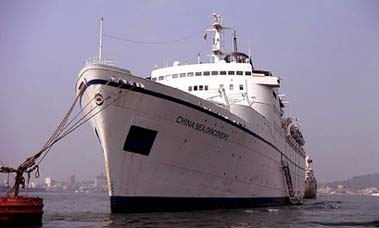 ?(Photograph ? 2001 Kiwi Marine Consultants Ltd, Hong Kong)
China Sea Discovery is one of four sister ships built for the Cunard Line Britain to Canada service. The author has written their story in "The Saxonia Class Liners." The four sisters are as follows.
Ship ????????????????? Gross Tons??? Launched ??? Renamed
1. Saxonia????????? 21,637 GT???? 17 Feb'54 ???? Carmania / Leonid Sobinov (scrapped 1999)
2. Ivernia?????????? 21,717 GT???? 14 Dec'54 ???? Franconia / Fedor Shalyapin (scrapped 2003)
3. Carinthia??????? 21,947 GT???? 14 Dec'55 ???? Fairland / Fairsea / Fair Princess / China Sea Discovery (sold to be scrapped)
4. Sylvania???????? 21,989 GT???? 22 Nov'56 ??? Fairwind / Dawn Princess / Albatros (scrapped 2004)
The first of the four Saxonia class sisters to be scrapped was Leonid Sobinov, ex Carmania, Saxonia in 1999. Followed by her sister, Fedor Shalyapin ex Ivernia, Franconia was sold, beached and broken up in 2003. Albatros, ex Dawn Princess, Fairwind, Sylvania, was sold for scrap in November 2003 and has been broken up.
News Update
12 August 2005: China Sea Discovery was sold today (the third attempt to auction her) for US$4.2 million to Indian scrappers. Currently she is berthed at a locked facility, a customs wharf in Kaohsiung. Although it is expected that she will depart for Alang India in the near future. Sadly, she is the last of the famous four "Saxonia Class Liners" has been lost. She lasted longer that the others and she touched countless thousand of holiday makers, who enjoyed a cruise on a real ship that still felt like a ship!
Sadly this great ship has now been broken up, as has all her sisters. She was indeed the last of the Saxonia Class Liners!
The four photographs below were taken on 3 & 4 September 2005 by Mr Jan de Vries
? Copyright 2005 Jan de Vries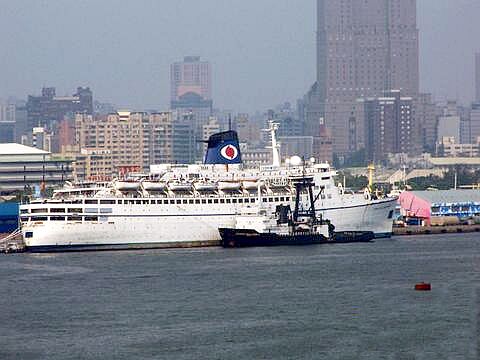 China Sea Discovery berthed at the Customs Wharf in Kaohsiung
? Copyright 2005 Jan de Vries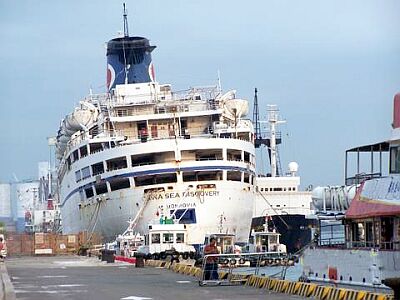 ? Copyright 2005 Jan de Vries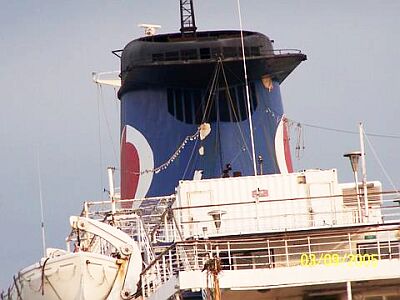 ? Copyright 2005 Jan de Vries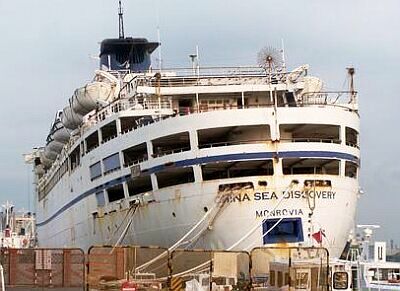 ? Copyright 2005 Jan de Vries
Index
Page 1
– Foreword – Construction
Page 2 – Sitmar buys Carinthia and Ivernia – Sisters go Russian
Page 3
- Fairwind / Fairsea – Sitmar sold to P&O Princess Cruises
Page 4 – The Fairstar the Australian connection
Page 5 – Fair Princess becomes an Aussie
Page 6 – Passenger list images
Page 7 – Albatros ex Dawn Princess / Fairwind / Sylvania / Ivernia /
Saxonia – Passenger list images
Fair Princess Photo Album – Exteriors
Fair Princess Photo Album - Interiors
Fedor Shalyapin - ex Franconia / Ivernia
China Sea Discovery – ex Fair Princess / Fairsea / Fairland / Carinthia
China Sea Discovery Photo Album
**************************************
Use the Back button on your browser or Close the Page to return to the previous page
or go to our INDEX
***********************************
Who is the Author of ssMaritime?
Commenced in the passenger Shipping Industry in May 1960
ssMaritime.com & ssMaritime.net
Where the ships of the past make history & the 1914 built MV Doulos Story
Also visit my …
"Save The Classic Liners Campaign" & "Classic Ocean Voyages" pages
Photographs on ssmaritime and associate pages are by the author or from the author's private collection. In addition there are some images that have been provided by Shipping Companies and private photographers or collectors. Credit is given to all contributors. However, there are some photographs provided to me without details regarding the photographer/owner concerned. I hereby invite if owners of these images would be so kind to make them-selves known to me (my email address may be found on www.ssmaritime.com only), in order that due credit may be given. I know what it is like, I have seen a multitude of my own photographs on other sites, yet these individuals either refuse to provide credit or remove them when asked, knowing full well that there is no legal comeback when it comes to the net. However, let us show these charlatans up and do the right thing at all times and give credit where credit is due!
This notice covers all pages, although, and I have done my best to ensure that all photographs are duly credited and that this notice is displaced on each page, that is, when a page is updated!best replica watches
ssMaritime is owned and ? Copyright 2010/12 - by Reuben Goossens - All Rights Reserved