Please Note: Firefox and some other search engines are not suitable – Use "Internet Explorer" for this page to load perfectly!
Click the logo above to reach the ssMaritime FrontPage for News Updates & "Ship of the Month"
With Reuben Goossens
Maritime Historian, Cruise'n'Ship Reviewer, Author & Maritime Lecturer
Please Note: All ssMaritime and other related maritime/cruise sites are 100% non-commercial and privately owned. Be assured that I am NOT associated with any shipping or cruise companies or any travel/cruise agencies or any other organisations! Although the author has been in the passenger shipping industry since 1960, although is now retired but having completed around 680 Classic Liners and Cargo-Passengers Ships features I trust these will continue to provide classic ship enthusiasts the information the are seeking, but above all a great deal of pleasure! Reuben Goossens
Louis Cruise Line
---MV Princesa Victoria --
Page Ten
This Page Includes all her Technical Details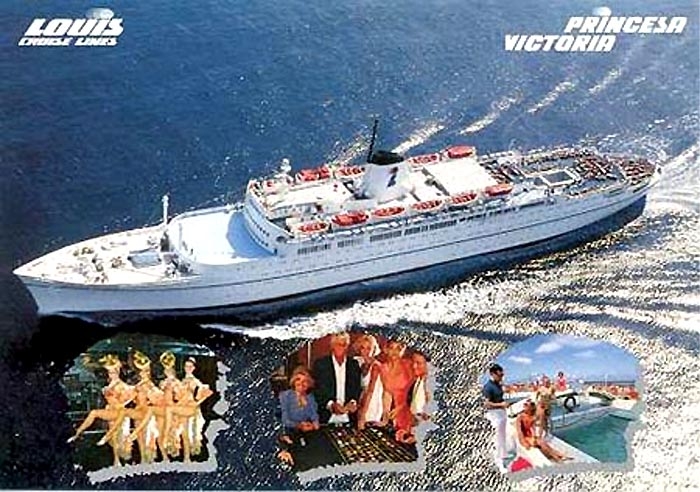 A Louis Cruise Lines Postcard of their new Ship, the MV Princesa Victoria
Author's private collection
In January 1993 that Chandris Cruises sold MV The Victoria for US$10 million to "Interorient Navigation Co" Limassol, Cyprus and they renamed her "Princesa Victoria" and she was registered in Limassol. However, she would be soon be transferred to Louis Cruise Lines, a company that had operated Mediterranean cruises from Cyprus for a considerable time!
Having taken delivery, she was given a comprehensive refurbishment with upgrades to new carpets and soft furnishings as well as some slight re arrangements to the casino areas, such as the ex Card Room, come slot machine room became part of the shopping Centre along with the Gallery, whilst the Casino was now located along the Starboard side aft of the Galleon Bar. In addition four new motorised covered Tenders were installed as Princesa Victoria would be placed at anchor at a good number of ports of call, and these tenders would not only speed up the process, but also make the transfers far more comfortable for the passengers!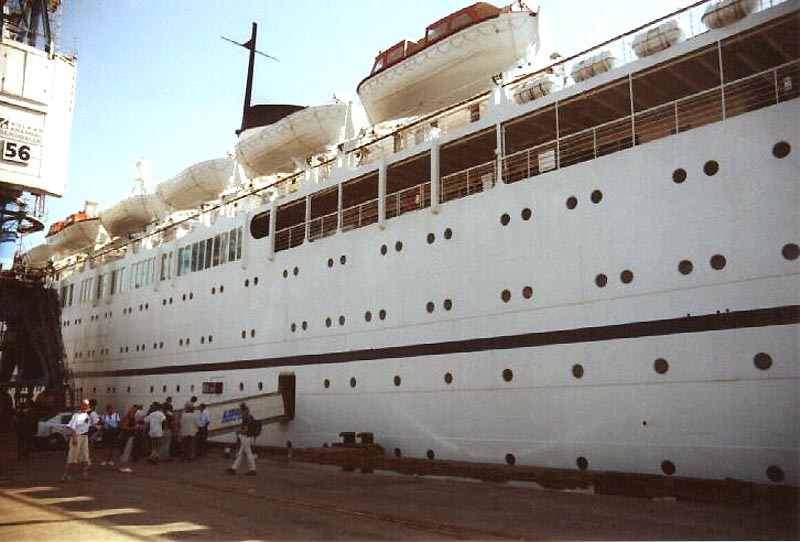 MV Princesa Victoria seen berthed, note the two new tenders
Louis Cruise Lines would be the last owner of this great ship, and the MV Princesa Victoria was used on the popular Cyprus-based 2 and 3-day cruises to Israel and Egypt departing from Limassol as well as a 2-day cruise to Rhodes. Many passengers would book these three cruises as a 7 day cruise thus visiting Israel, Egypt and Rhodes, making it an interesting cruise as well as spending a wonderful time on this fine ship!
Service on Princesa Victoria was excellent and never a complaint was received, the menus were excellent with the cuisine being of an excellent standard. It would never be like the days of Incres Lines, but then again that was First Class super Deluxe, and Princesa Victoria was One Class - Tourist! For interest like most of the smaller ships of the fleet, she underwent her annual winter lay-ups in Perama.
Photo Album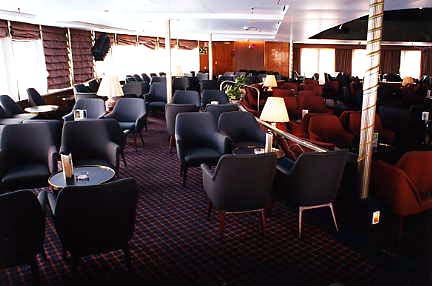 El Patio (Main) Lounge
<![if !vml]>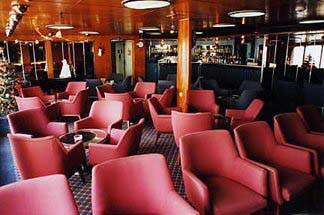 <![endif]><![if !vml]>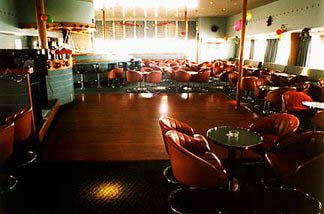 <![endif]>
Galleon Lounge & Bar                                                                                               Riviera Club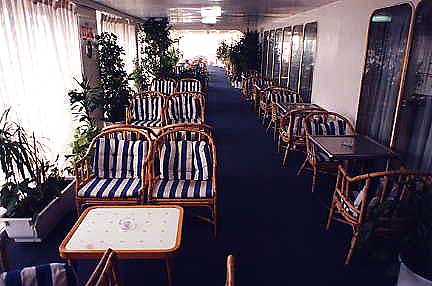 The popular Wintergarden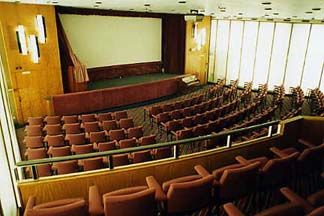 The Cinema seen from the balcony
<![if !vml]>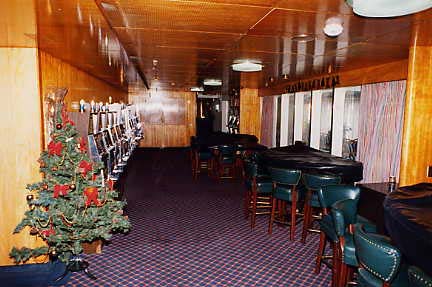 <![endif]>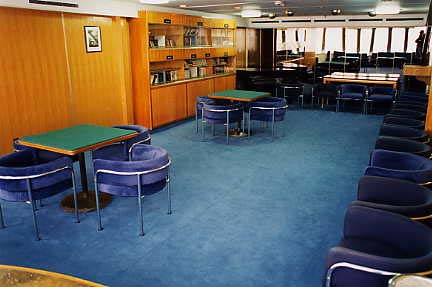 The Casino                                                                                                 Library and Card Room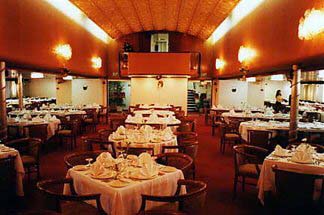 The magnificent and spacious Roman Restaurant looking aft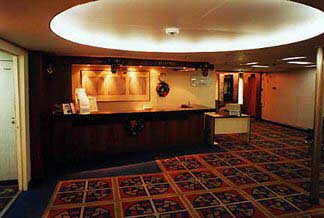 The Pursers Office on Sapphire deck
<![if !vml]>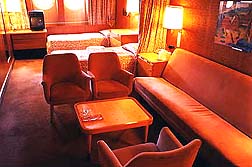 <![endif]><![if !vml]>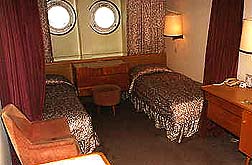 <![endif]>
The spacious accommodations is fully air-conditioned, offering comfort and private facilities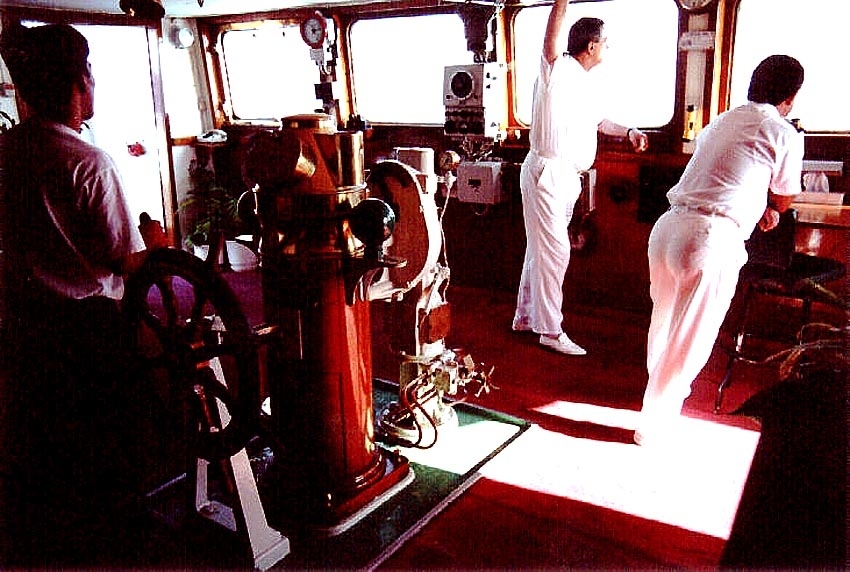 Officers on the Bridge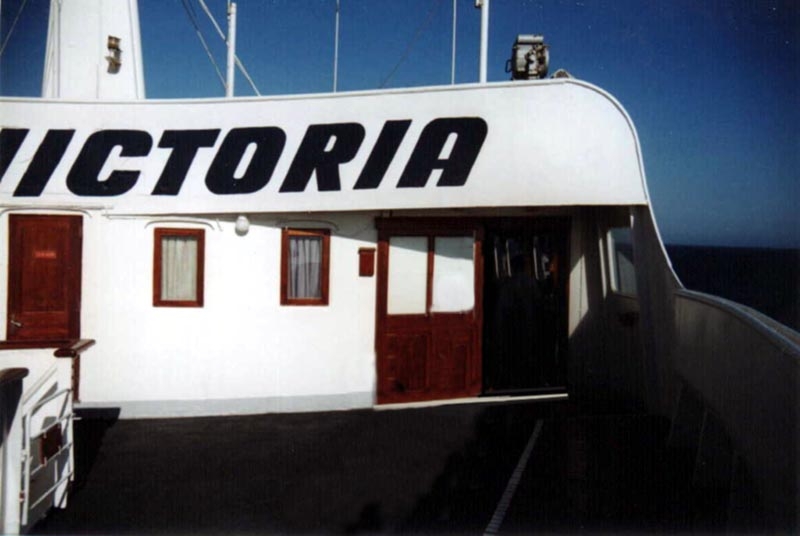 Princesa Victoria's starboard wing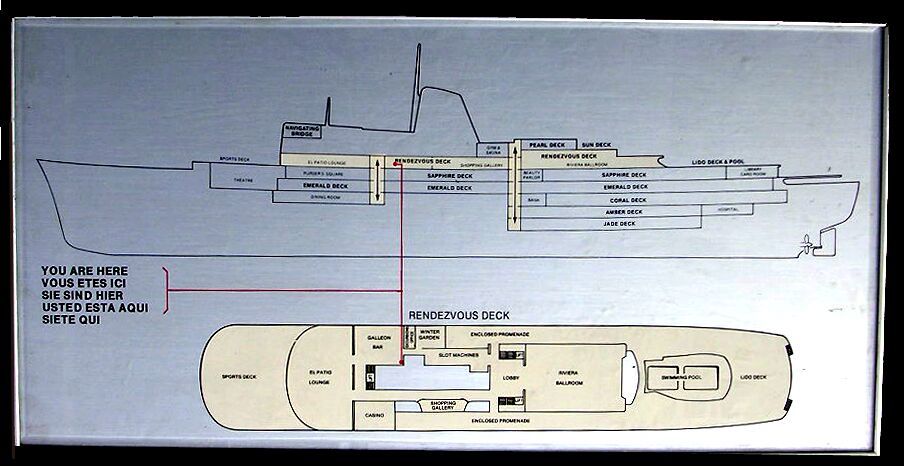 The authors piece of actual memorabilia, on of the Rendezvous Deck sign
This came from the forward lobby and the starboard side attached to the Galleon Bar wall
Note, that later, Louis Cruises had reinstated the Casino in the ex Card Room!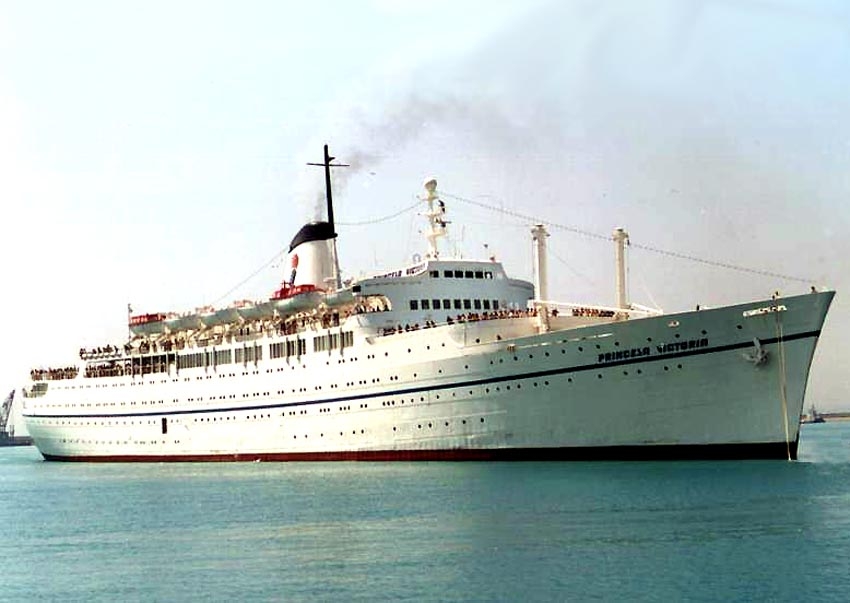 A fine view of the Princesa Victoria
A series of images from a brochure
From the Author's private collection
<![if !vml]>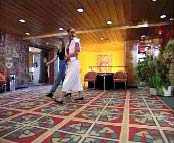 <![endif]><![if !vml]>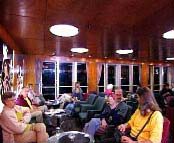 <![endif]>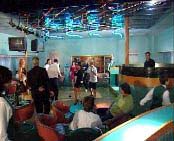 Left to Right: Galleon Lounge - Riviera Club Disco - Foyer Promenade Deck aft
<![if !vml]>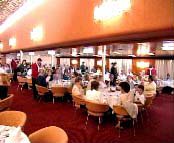 <![endif]><![if !vml]>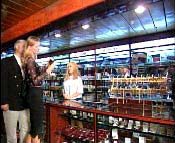 <![endif]>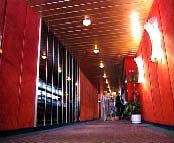 Left to Right: Duty Free Shop - Shopping Gallery - Restaurant
<![if !vml]>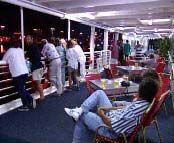 <![endif]><![if !vml]>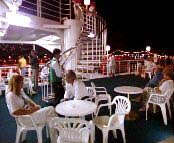 <![endif]>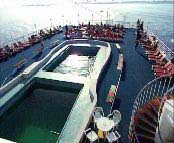 She has two large pools and ample deck space including an enclosed Promenade Deck
On October 4, 1997 the Princesa Victoria went to the rescue of one of the Pacific cruises ships nearby, which had caught fire. She rescued 487 passengers and 186 crew members from the fiercely burning MV Romantica. However, she sadly was burnt out and was declared constructive total loss. The Romantica was towed and beached at Limassol. The delightful MV Romantica was previously better known as the Cogedar Lines MS Aurelia and she did operate with "The Victoria" when she sailed with Chandris Lines. On April 15, 1998 she was towed to Alexandria, Egypt where she was duly broken up.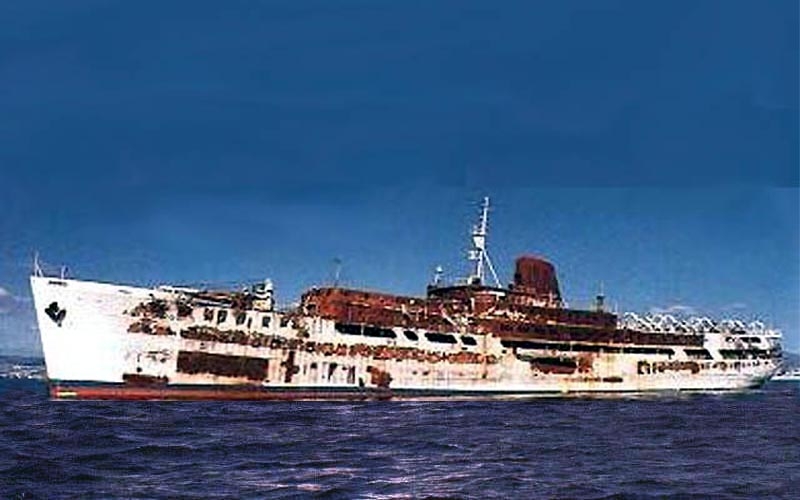 The sad looking MV Romantica having been completely burnt out is ready to be towed to Limassol
However, the MV Princesa Victoria continued her cruise duties various short cruises with her annual winter lay ups. However, she also was chartered for a good number of special occasions, such as the following:
From May to August 1998 she served as a Hotel ship in Lisbon for Expo'98.
From December 29, 1999 to January 2, 2000 she operated a special 4 Day Millennium-cruise to Israel and Egypt.
During July 2001 she served as Hotel Ship for the G8 Summit at Genoa.
The Princesa Victoria continued to cruise operating her short cruise series until 2002, with her annual winter lay up. However late in 2002 she was laid up at Eleusis Greece and although there were attempts to return her to service or to find a buyer and save her for we knew that this could well be the end of the road for her, but she remained in lay up until to 2004.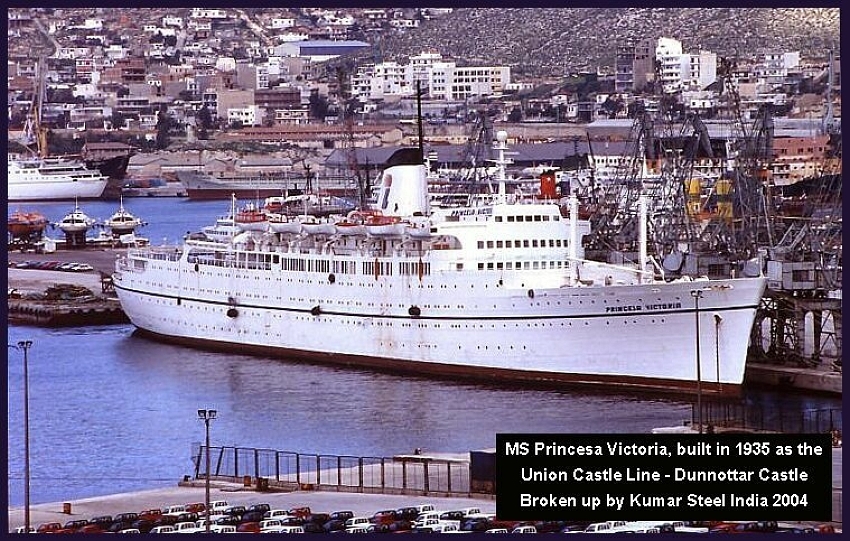 Princesa Victoria seen in her final days of cruising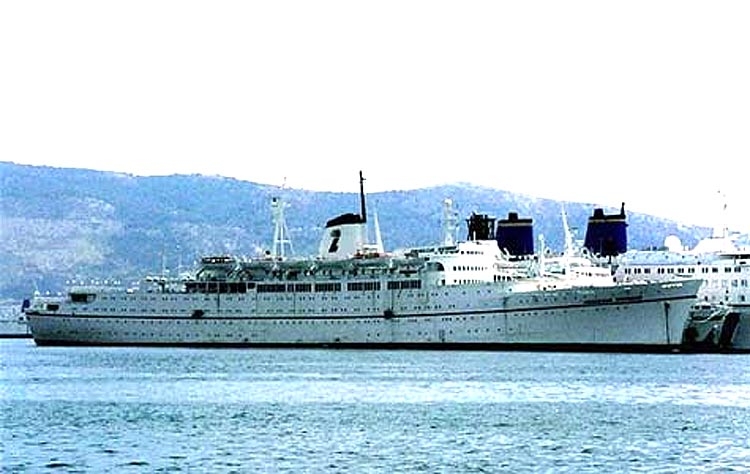 Princesa Victoria moored alongside Princesa Cypria and Ocean Explorer
Photograph by the late Captain Yiorgos Graikos - June 2003
MV Princesa Victoria Technical Details and other Information:
Built:                                        Harland And Wolff, Belfast 1936.
Flag:                                         Cyprus.
Class:                                        Lloyds Register +100a1 +Lmc, Lr No 5379717.
.                                               Complies With Solas 74 And Later Amendments as Existing Ship.
.                                               Passing Latest Solas And Marpol Requirements.
Length:                                     174.53m - 572ft.
Beam:                                       21.92m - 72ft.
Draught:                                    8.05m - 26.4ft.
Tonnage:                                   14583 GRT (Gross Registered Tons).
Motors:                                     2 X 7 Cylinder FIAT diesels, 10, 450 kW.
Propellers:                                 Twin Screw Fixed Pitch 14,000 BHP.
Speed:                                      Cruising 15 Knots.
Passenger Decks:                        7
Last Renovation:                         1998.
Acommodations:                         714 Passengers in One Class.
Number of Cabins:                      287 all with private Facilities.
Outside Cabins:                          216.
Inside Cabins:                            71
Ships Facilities:                          Fully Air Conditioned & Stabilised.
.                                               2 Level Cinema/Conference Room - 240 Persons.
.                                               Roman Restaurant - 340 Persons.
.                                               El Patio Lounge - 260 Persons.
.                                               Riviera Club - 180 Persons.
.                                               Galleon Bar - 44 Persons.
.                                               Winter Garden: 44 Persons
.                                               Card Room / Library: 30 Persons
Additional Facilities:                    Photoshop, Casino, Bank, Beauty Salon, Hospital, Library,
.                                               Laundry, 2 Swimming Pools, Board Games, Health Club/Gym Room/Sauna
.                                               Satellite Telephone, Mail Services, Gift Shop, Jogging Track, Table Tennis,
.                                               Shuffle Board, Duty Free Shops, Mini Golf, Children's Play Room.
.                                               3 Elevators.
My beloved MV Princesa Victoria, The Victoria and MS Victoria was sold to Kumar Steel recycling yard at Alang India and she departed renamed, just for the voyage Victoria I from Eleusis Greece on May 4, 2004 for India, where she arrived and was beached not until August 2, 2004.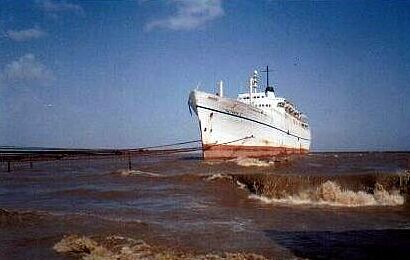 Victoria I beached (on the rocks) at the Kumar Steel recycling yard
Photo by Rajesh Shah © 2004 Kumar Steel
The Ship with 68 Years at Sea - INDEX
Union Castle Line:         One of the great Shipping Lines of the past!
Page One …                    RMS Dunnottar 1936 to 1958, also her identical sister the Dunvegan Castle.
Incres Lines:                  One of the finest luxury cruise companies in history!
Page Two …                   MS Victoria 1958 to 1975.
Page Three …                 Brochure Page 1.
Page Four …                   Brochure Page 2.
Page Five …                    Brochure Page 3.
Page Six …                     Brochure Page 4.
Page Seven …                Deck Plan and Menus.
Chandris Cruises:           An excellent budget cruise line.
Page Eight …                  MV The Victoria. 1975 to 1993.
Page Nine …                   Deck Plan and Menus.
Louis Cruise Line:          Maltese Company a good basic cruise operation.
Page Ten …                    MV Princesa Victoria 1993 to 2004.
Page Eleven …                Photographs by Stephen William Storey.
Page Twelve …               Deck plan.
Page Thirteen …             MV Victoria I - 2004 - Sad scenes of her beached and being scrapped.
*************************************
 "Blue Water Liners sailing to the distant shores.
I watched them come, I watched them go and I watched them die."
****************************
Visit our ssMaritime Main INDEX
Where you will discover around 690 Classic Passenger & Passenger-Cargo Liners!
ssMaritime.com & ssMaritime.net
Where the ships of the past make history & the 1914 built MV Doulos Story
Please Note: ssmaritime and associated sites are 100% non-commercial and the author does not seek funding or favours and never have and never will.
Photographs on ssmaritime and associate pages are either by the author or from the author's private collection. In addition there are some images and photographs that have been provided by Shipping Companies or private photographers or collectors. Credit is given to all contributors, however, there are some photographs provided to me without details regarding the photographer or owner concerned. Therefore, I hereby invite if owners of these images would be so kind to make them-selves known to me (my email address can be found at the bottom of the page on www.ssmaritime.com), in order that due credit may be given.
ssMaritime is owned & © Copyright by Reuben Goossens - All Rights Reserved