Chandris Cruises MV The Victoria
Please Note: Firefox and some other search engines are not suitable – Use "Internet Explorer" for this page to load perfectly!

Click the logo above to reach the ssMaritime FrontPage for News Updates & "Ship of the Month"
With Reuben Goossens
Maritime Historian, Cruise'n'Ship Reviewer, Author & Maritime Lecturer
Please Note: All ssMaritime and other related maritime/cruise sites are 100% non-commercial and privately owned. Be assured that I am NOT associated with any shipping or cruise companies or any travel/cruise agencies or any other organisations! Although the author has been in the passenger shipping industry since 1960, although is now retired but having completed around 680 Classic Liners and Cargo-Passengers Ships features I trust these will continue to provide classic ship enthusiasts the information the are seeking, but above all a great deal of pleasure! Reuben Goossens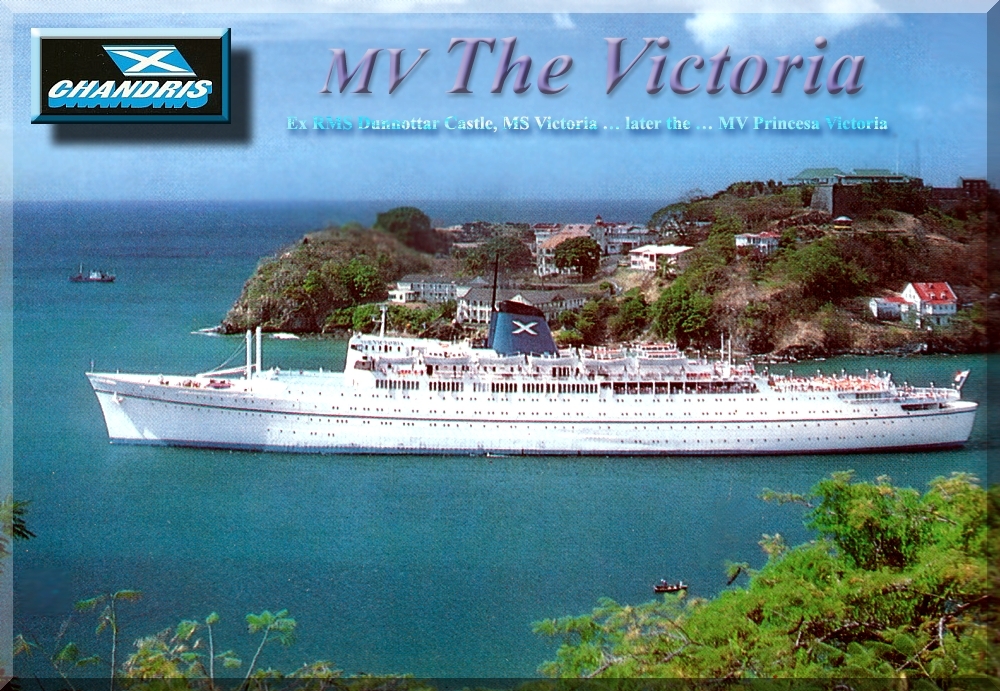 Page Eight
Following the collapse of MS Victoria owners, the superbly maintained ship was laid up and placed on the market and she soon sold to Victoria Shipping SA, Piraeus, subsidiary of Chandris Group in November 1975. She was taken undertow by the tug Heidi Moran and she arrived in Piraeus on December 11.
What we need to understand is that Chandris at first obtained her in order that, what is known as to "cannibalize" her and use her fittings for some of the other Chandris Cruises ships. However, the overall ship and her accommodations where of such a high standard, Chandris decided keep her in service after a slight refurbishment.
After her refit, she retained the name "Victoria," although het inaugural brochure used the name "Victoria" on the cover, but within the brochure the name "The Victoria" also appeared at times.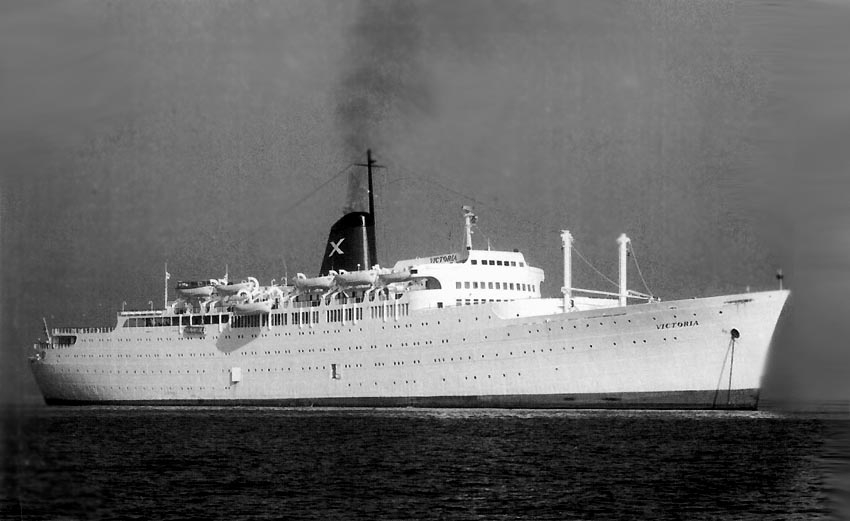 Here we see a rare photograph of the Chandris MV Victoria during her very first series of cruises, for soon she would be renamed
Sent in by a supporter photographer is unknown - Please see photo notes at bottom of page
MV Victoria commenced her first Mediterranean cruise from her new home port; Venice on July 31, 1976 and these were 15 day cruises to Greece, the Greek Isles, Egypt, Israel and Turkey, or a cruise to Greece, the Greek Isles, Rumania, Russian Turkey and the Dalmatian Coast.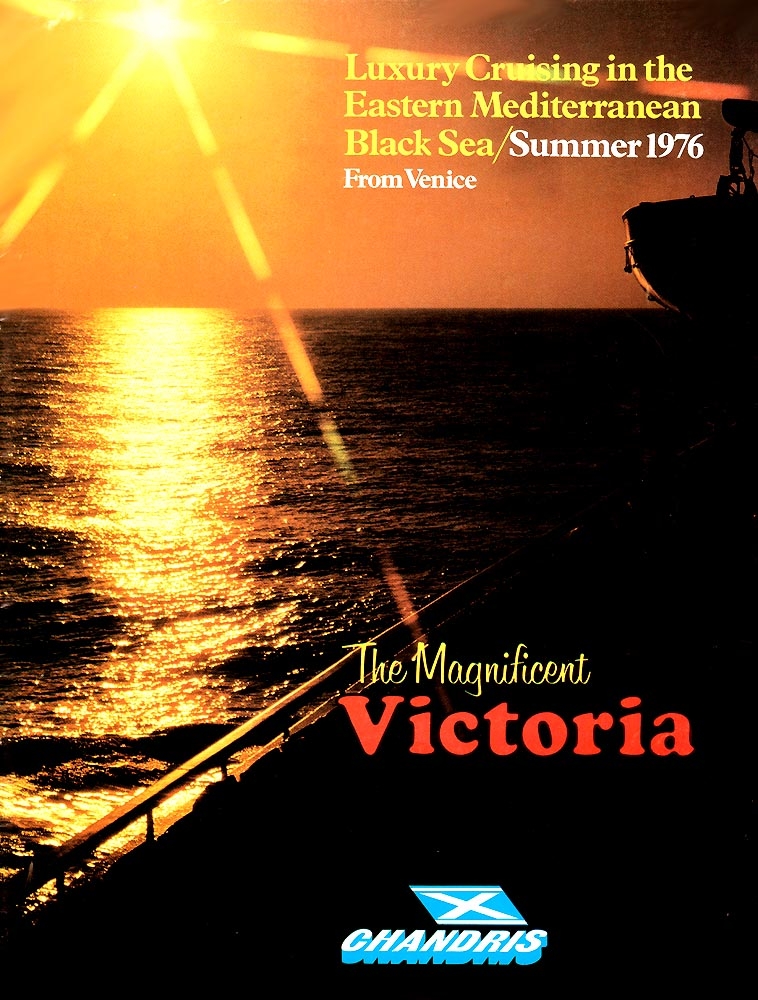 Her Inaugural 1976 Brochure covering the cruises mentioned above
She would conclude her series of cruises on November 1, and she would operate a Trans-Atlantic cruise to San Juan, Puerto Rico from where she would operate 13 day Cruise and Stay" Programmes. These gave a vacation in San Juan as well a one of three different 7 Day Cruise options. These were sold mostly in, Great Britain as Fly-Cruise vacations and they proved be very popular indeed as fares were excellent!
When Victoria returned to Europe in the spring of 1977 she was transferred to Phaidon Navigation Company (as I said before a part of the Chandris group) she was finally renamed "The Victoria" and she continued cruising. In 1978, she was officially registered as being 11,886 GRT.
In 1981, she was transferred to Victoria Maritime Co Piraeus (Chandris Cruises) and she continued cruising around Europe as well as the Caribbean.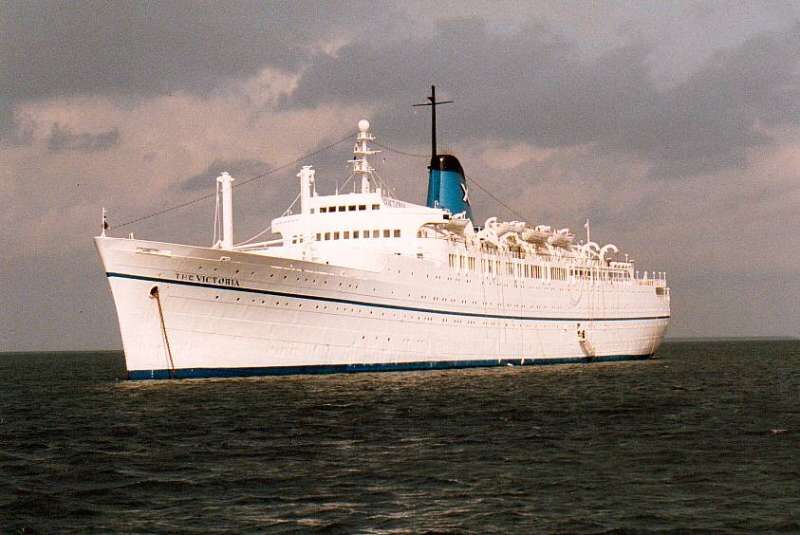 A stunning photograph of the MV The Victoria whilst she was at anchor
In 1984 MV The Victoria was again transferred again to Phaidon Navigation SA (Chandris), and was registered in Panama. She received a refit as well as a new aft lower deck of cabins named Jade Deck. This deck added an additional 38 Cabins, all of which were considered as being inside cabins, for they were too close to the waterline and if there was a porthole, the cover could not be removed. Also 6 cabins had been added on the starboard side far aft of Amber Deck.
Other changes made was the complete removal of the Bamboo Club aft on Sapphire Deck, on port and starboard sides 7 new cabins were added and in the middle was a new long Library and Card Room with windows looking out aft. Up on Rendezvous Deck the previous magnificent Card Room had become a Casino, whilst the port side Gallery come writing Room was still a walkway but the exterior along the port wall there was now a Shop. Directly aft of the Galleon Bar, aft of the Promenade Deck which was glassed in became the new yellow themed Wintergarden, the perfect place to relax in a comfortable chair and enjoy a coffee of a drink and read a good book or meet friends. Whilst far aft on this deck the Riviera Club was completely built in.
However, up on Pearly Deck a Sauna was installed as well as a new Children's Play Room and of course the Gym remained!
MV The Victoria Photo Album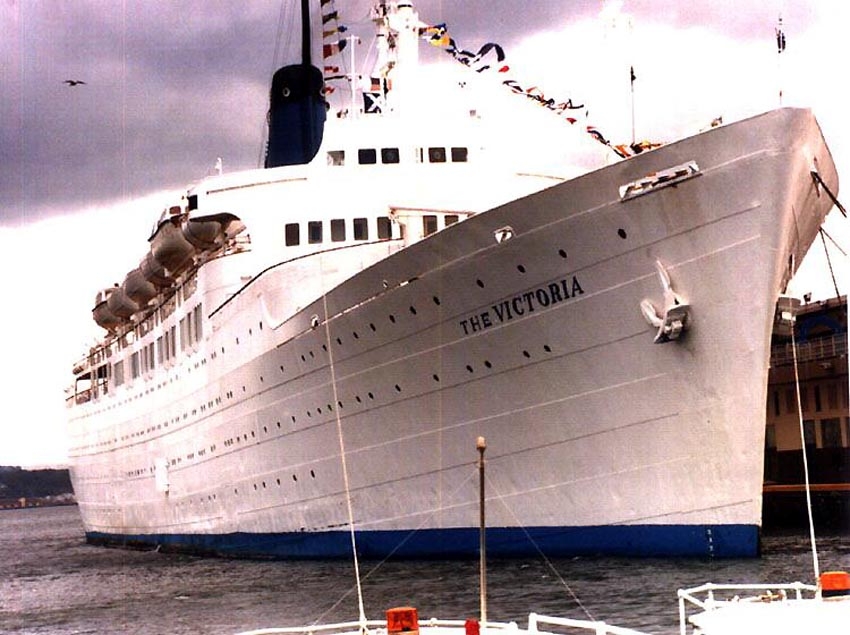 This is one of my favourite photographs of MV The Victoria as it reveals her magnificent hull plates
that date back to the ship originally built, the RMS Dunnottar Castle, launched on January 25, 1936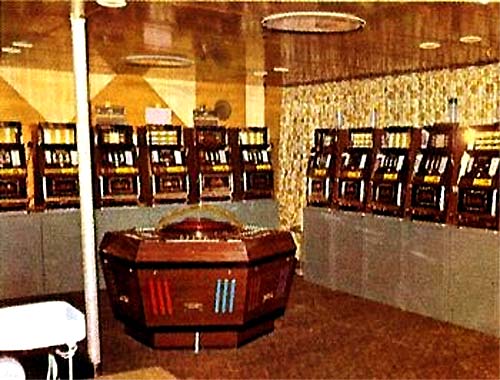 Here we what has become of what used to be the magnificent Card Room, I call this Tragic!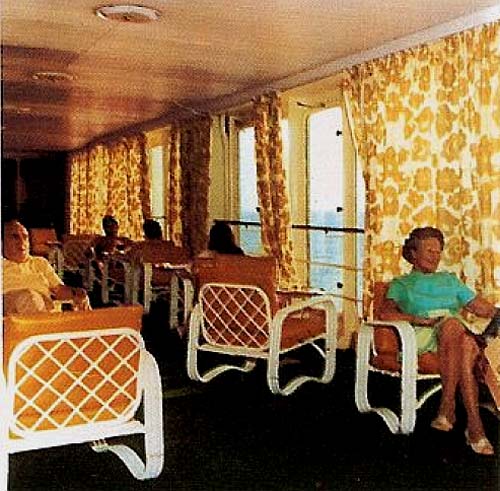 The newly installed Wintergarden on Rendezvous Deck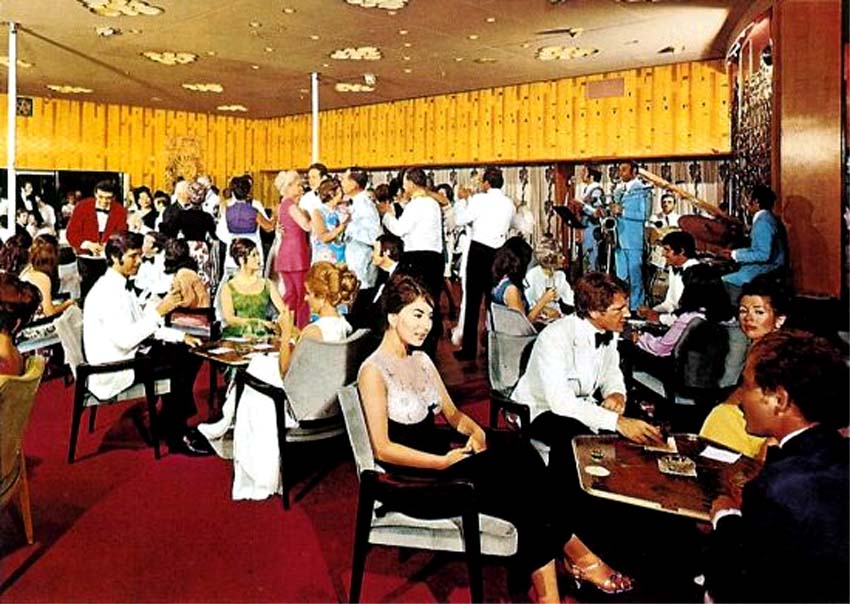 Above & below: The most popular venue on board the spacious Riviera Ballroom, which remained mostly unchanged
Please note, this is the original photograph from the Incres days as I have not located one from the Chandris time!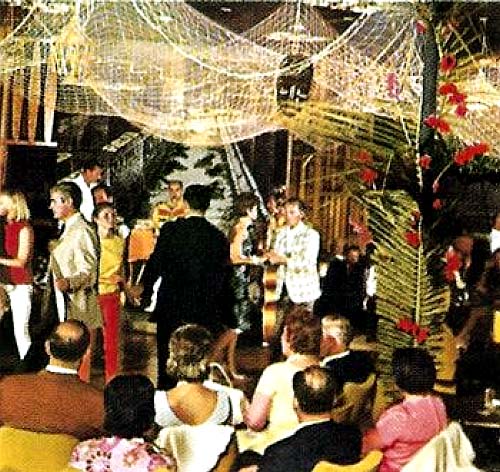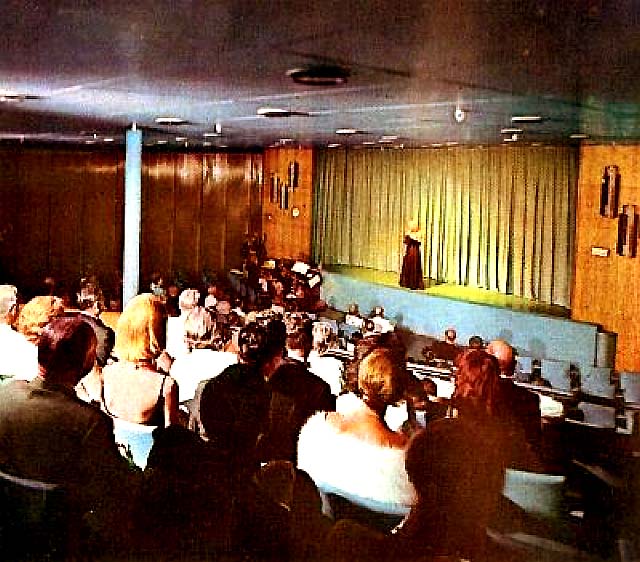 There were a few minor colour changes in the Theatre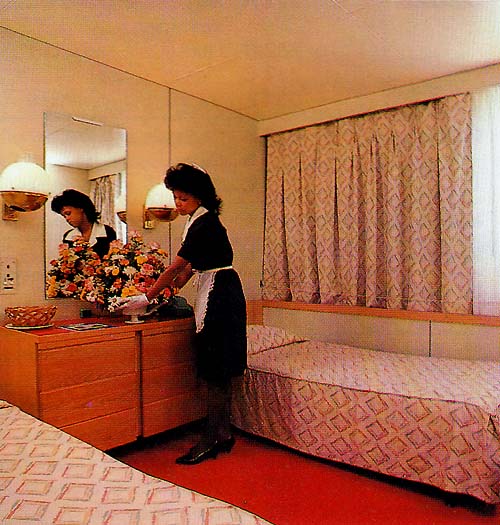 Cabins and Suites all received a comprehensive refurbishing with new soft furnishings and other new facilities!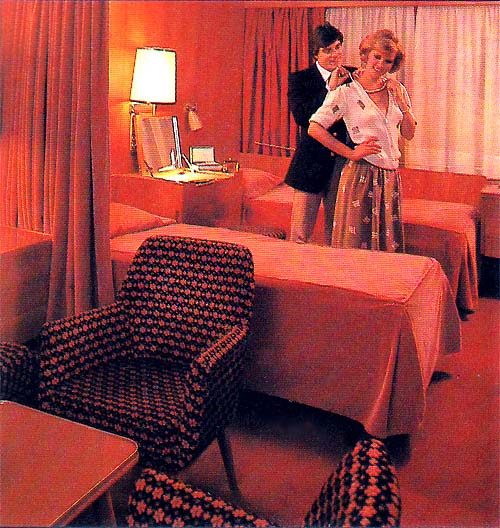 Upon completion, her Gross Registered tonnage was now registered at 14,541 GRT, and her accommodation had increased to 696 Passengers, and she returned to her cruise duties.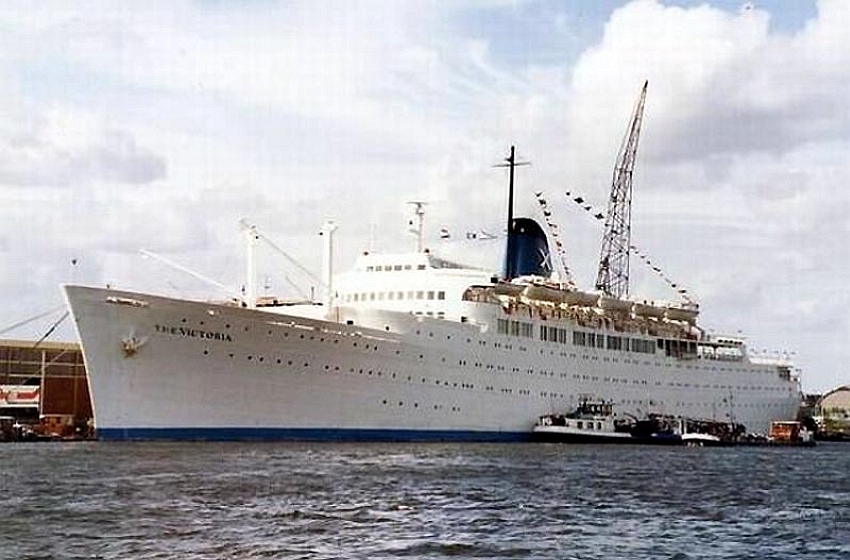 The Victoria is seen in Amsterdam bunkering getting ready for her Trans-Atlantic voyage to San Juan
Photograph by & © Philip English
The Victoria headed across the Atlantic for San Juan and recommenced the popular 13 Day Cruise and Stay" Programme. However, these proved to be so popular in England that these were extended by request to 15 Days in duration. These now commenced on Day 1, a Sunday with a flight from the UK via Miami to San Juan and stay overnight at the Dupont Plaza Hotel situated on Condado Beach. All rooms had private facilities, a balcony, there were restaurants a nightclub and a casino. For those who were sport minded there was a swimming pool as well as ample water sports facilities and tennis courts.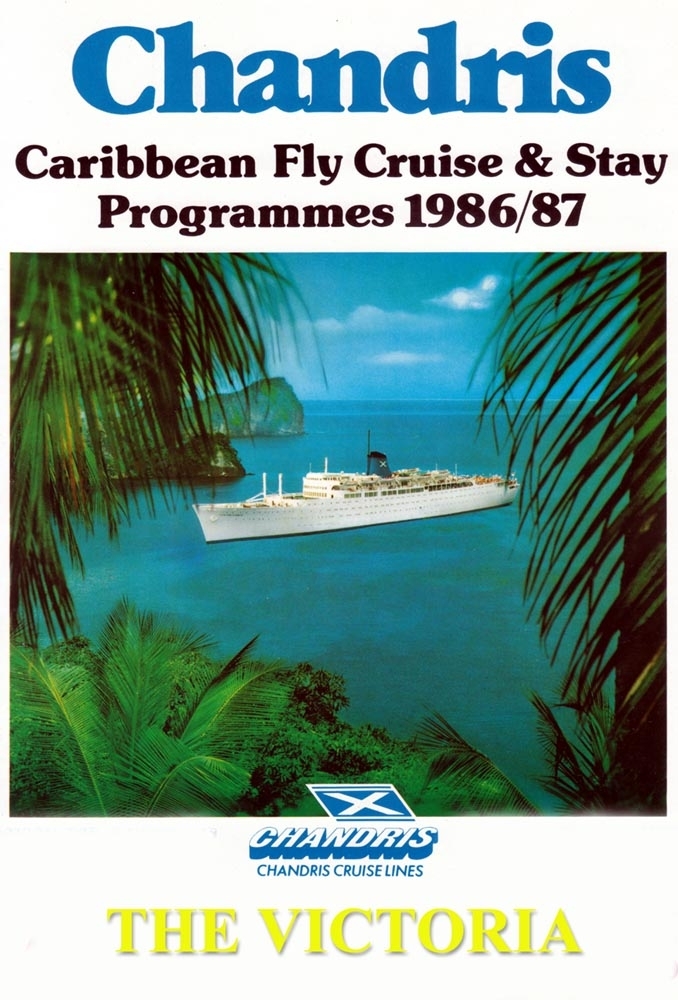 Containing MV The Victoria 15 Day "Fly and Cruise Programmes"
The next day, Day 2, a Monday all guests would board MV The Victoria for a cruise visiting, Day 3, St Thomas, Day 4, Martinique, Day 5, Grenada, Day 6, La Guaira, Day 7, Curacao, Day 8, at Sea, and on Day 9, a Monday 8 AM return to San Juan and return to the hotel. Then have almost all of Day 9 and Days 10 to 13 in this wonderful holiday location! Return to the UK would be by air on Day 14, a Saturday arriving home on Day 15, a Sunday!
The first of the 15 Day Cruise and Stay" Programmes" commenced on February 2, 1986 and they very much continued to the end of 1987 proving the immense popularity of the ship and the Programme in the UK!
At the conclusion of this series she returned to Europe and she operated a series of Mediterranean and Northern European Cruises and she was always filled with mostly British passengers who loved this wonderful and superbly beautiful ship!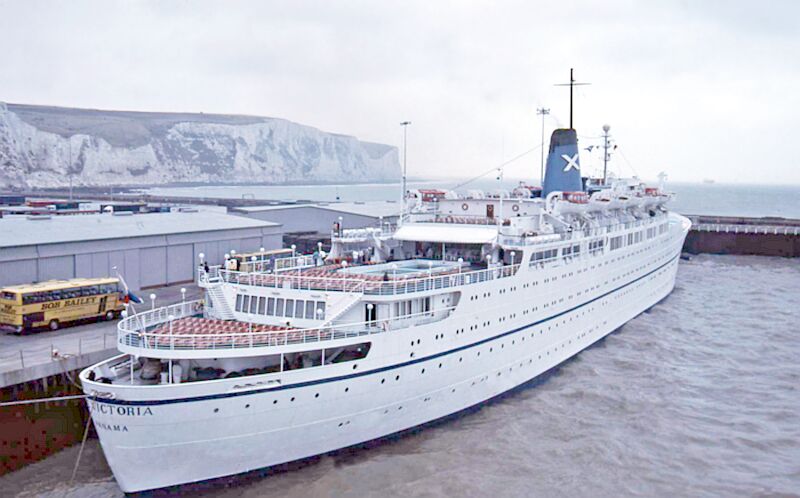 MS The Victoria is seen in Dover
However, soon MV The Victoria would return to the region where she had become such a huge hit with the people of Great Britain and once again the "Cruise and Stay" itinerary and extended it by another day. Thus now it was a 16 Day Cruise and Fly vacation
These commenced on May 1, 1989 and continued throughout the years, with the usual occasional Cruises to Europe and back, fro Miami and or New York with an extensive itinerary, thus making her accessible to the American market, for she had already long come to the notice of that market and a good number had joined her seven day cruises!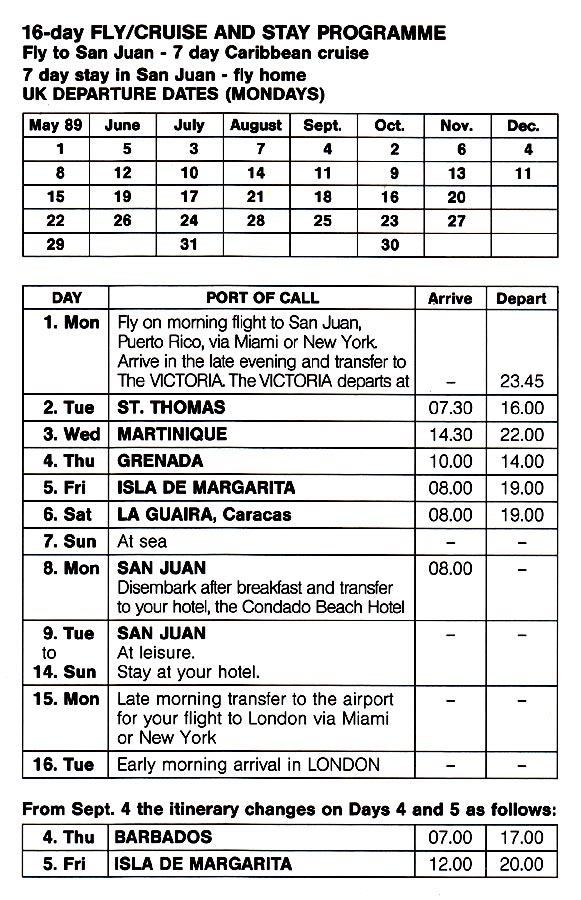 The "Cruise and Stay" details for 1989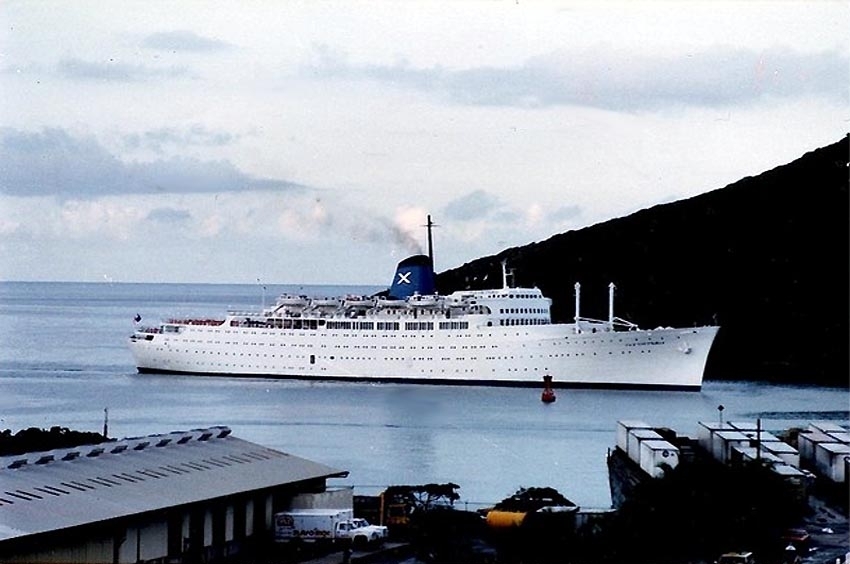 MV The Victoria arrives into a port somewhere in the Caribbean
Having completed the December 11, 1989 cruise, MV The Victoria was due to return to Europe as she was due to commence a series of cruises there. When ready she commence five 14 Day cruises from Amsterdam to the Baltic Sea. After those five cruises she would undertake two 13 Day and another two 15 Day cruises to the North Cape all of which proved to be popular! When these were completed, she made a repositioning cruise from Amsterdam to Genoa as she would operate a number of 12 day cruises to various popular Atlantic Islands.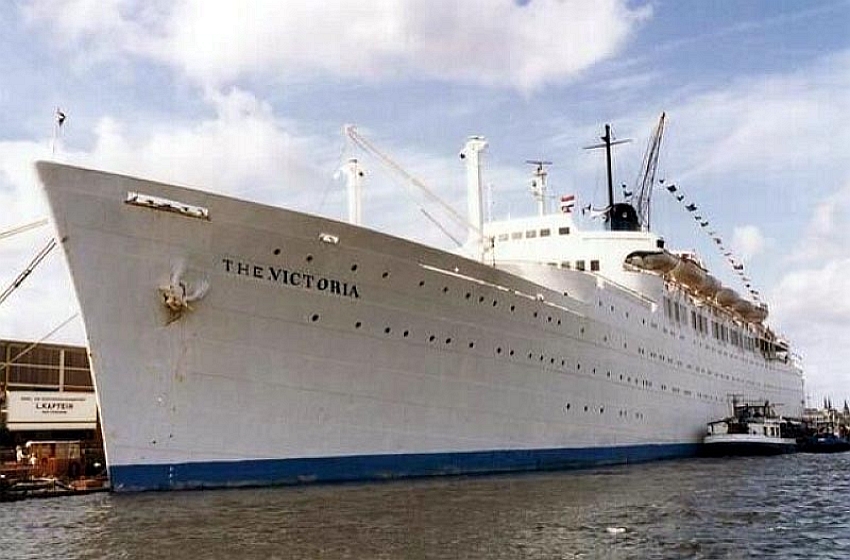 MV The Victoria seen in Amsterdam in 1990 making ready for a cruise to the Baltic, North Cape or to Genoa
Photograph by & © Philip English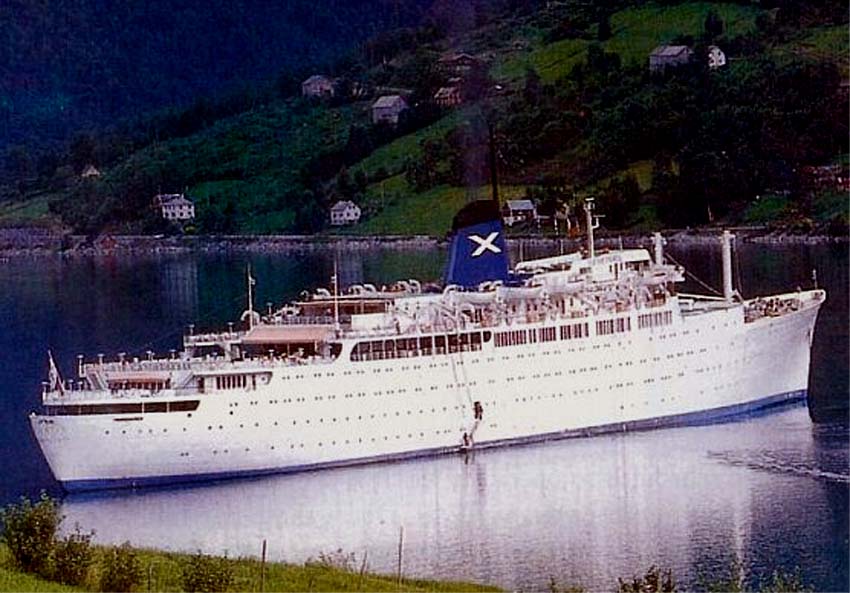 A sparkling MS The Victoria is seen here at anchor in one of the Norwegian Fjords

Having completed her European cruises, she made her Trans-Atlantic repositioning cruise to San Juan and recommenced her regular "Fly and Cruise Programme."

After an excellent career with Chandris for 18 years, the sad fact for The Victoria was that Chandris was about to enter into a brand new venture and that was a 6 Star Super Luxury Cruise Line with larger and grander ships and the new company was to be named "Celebrity Cruises" a name created by this author in the early 1980s, but that is another story! Therefore, Chandris Cruises were slowly selling their fleet of ships, including the beautifully maintained, and let me say a ship in perfect condition, MV The Victoria!

Early January 1993 she was laid up in Piraeus and was placed on the market, but she was very quickly sold, for in the same month Chandris sold the MV The Victoria for US$10 million to "Interorient Navigation Co" Limassol, Cyprus and they renamed her "Princesa Victoria" and she was registered in Limassol. However, she would be soon be transferred to Louis Cruise Lines, a company that had operated Mediterranean cruises from Cyprus for a considerable time!

The Ship with 68 Years at Sea -

INDEX

Union Castle Line: One of the great Shipping Lines of the past!

Page One … RMS Dunnottar 1936 to 1958, also her identical sister the Dunvegan Castle.

Incres Lines: One of the finest luxury cruise companies in history!

Page Two … MS Victoria 1958 to 1975.

Page Three … Brochure Page 1.

Page Four … Brochure Page 2.

Page Five … Brochure Page 3.

Page Six … Brochure Page 4.

Page Seven … Deck Plan and Menus.

Chandris Cruises: An excellent budget cruise line.

Page Eight … MV The Victoria 1975 to 1993.

Page Nine … Deck Plan and Menus.

Louis Cruise Line: Maltese Company a good basic cruise operation.

Page Ten … MV Princesa Victoria 1993 to 2004.

Page Eleven … Photographs by Stephen William Storey.

Page Twelve … Deck plan.

Page Thirteen … MV Victoria I - 2004 - Sad scenes of her beached and being scrapped.

*************************************

"Blue Water Liners sailing to the distant shores.
I watched them come, I watched them go and I watched them die."

****************************

Visit our ssMaritime Main INDEX

Where you will discover around 690 Classic Passenger & Passenger-Cargo Liners!

ssMaritime.com & ssMaritime.net

Where the ships of the past make history & the 1914 built MV Doulos Story

Please Note: ssmaritime and associated sites are 100% non-commercial and the author does not seek funding or favours and never have and never will.

Photographs on ssmaritime and associate pages are either by the author or from the author's private collection. In addition there are some images and photographs that have been provided by Shipping Companies or private photographers or collectors. Credit is given to all contributors, however, there are some photographs provided to me without details regarding the photographer or owner concerned. Therefore, I hereby invite if owners of these images would be so kind to make them-selves known to me (my email address can be found at the bottom of the page on www.ssmaritime.com), in order that due credit may be given.

ssMaritime is owned & © Copyright by Reuben Goossens - All Rights Reserved