The streamlined, super luxury Incres Lines MS Victoria
Please Note: Firefox and some other search engines are not suitable – Use "Internet Explorer" for this page to load perfectly!
Click the logo above to reach the ssMaritime FrontPage for News Updates & "Ship of the Month"
With Reuben Goossens
Maritime Historian, Cruise'n'Ship Reviewer, Author & Maritime Lecturer
Please Note: All ssMaritime and other related maritime/cruise sites are 100% non-commercial and privately owned. Be assured that I am NOT associated with any shipping or cruise companies or any travel/cruise agencies or any other organisations! Although the author has been in the passenger shipping industry since 1960, although is now retired but having completed around 680 Classic Liners and Cargo-Passengers Ships features I trust these will continue to provide classic ship enthusiasts the information the are seeking, but above all a great deal of pleasure! Reuben Goossens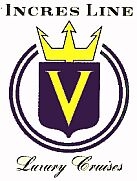 ---ms Victoria ---
Page Five
Brochure – Page Three
Brochures from the 1970s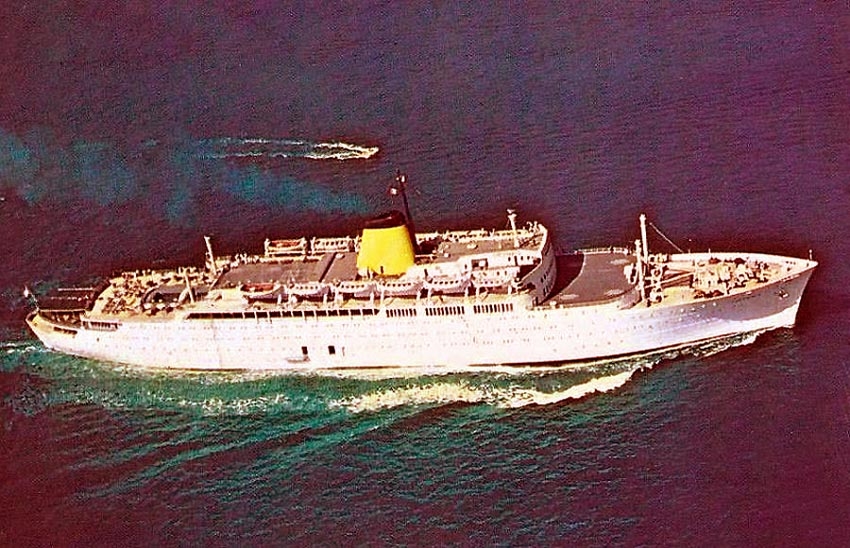 A great view of the MS Victoria from the air!
Here are some further brochures promoting the World's Newest Cruise Liner." She was promoted as being "a truly luxury class ship," which she was for her time. She featured some of the most spacious accommodations found on any ship, with the majority being outside ones. Tiese brochure also contains a Deck Plan, but due to its delicate condition, I have decided not to copy the interiors. Beside a side on drawing it also has pencil drawings of her public rooms and cabins.
All images on this page were culled from brochures which are part of the author's vast private maritime collection. All images are © Copyright 2006, and may not be copied for the use on any media, except with the author's permission.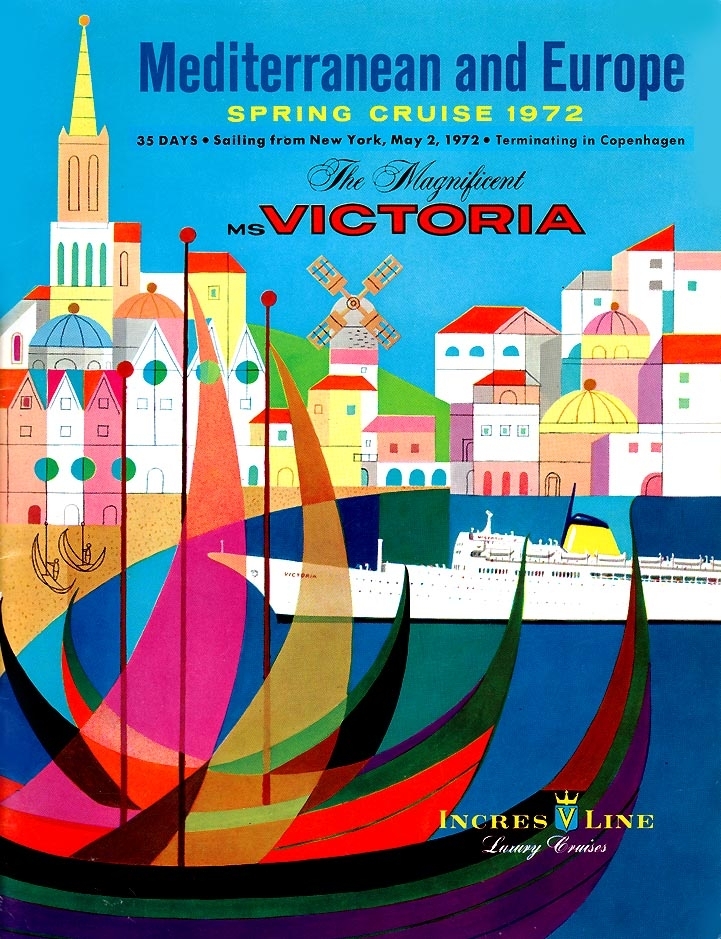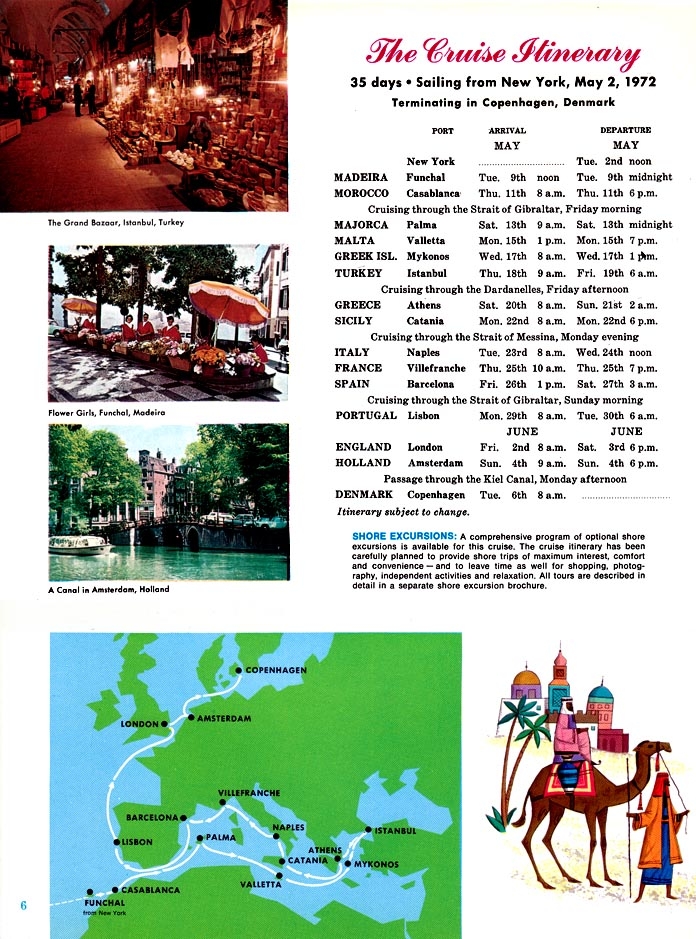 This is the brochure that shows her 35 day cruise from New York to Copenhagen
It also contains the MS Victoria's Deck Plan shown on her "Deck Plan" - Page Seven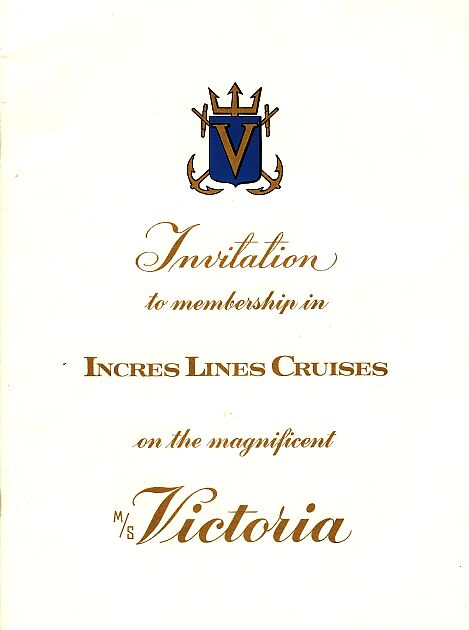 A high gloss brochure cover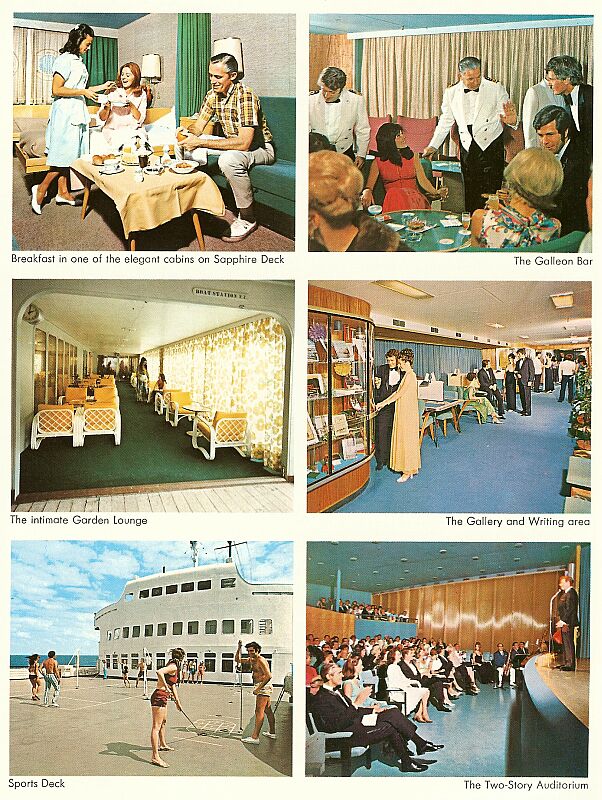 A page containing images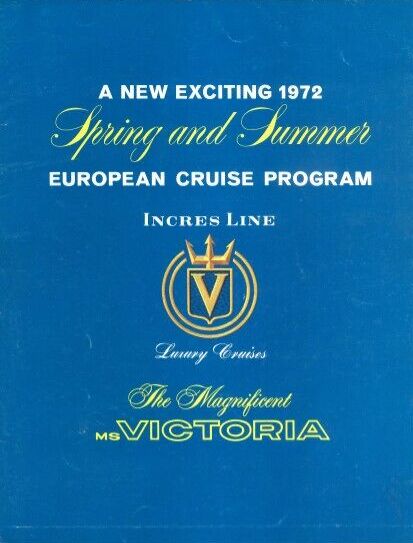 Another front cover
Two delightful Posters from 1971 for the MS Victoria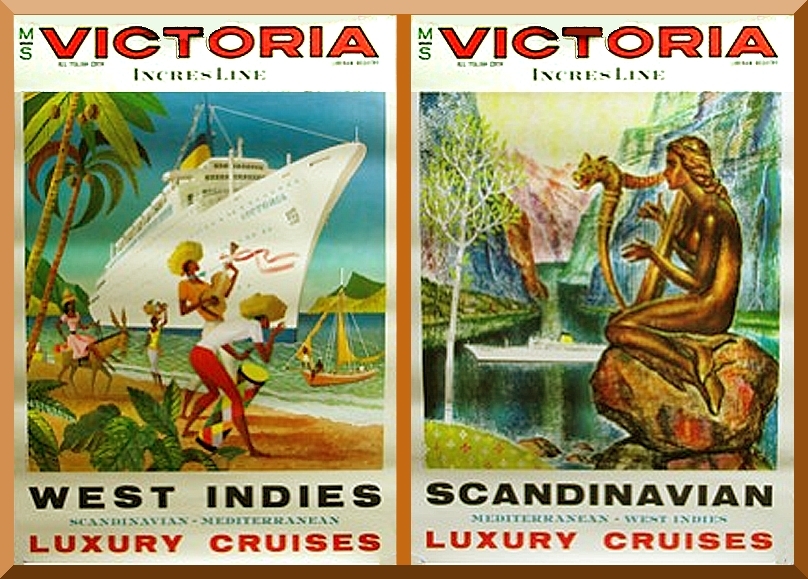 *************************************
The Ship with 68 Years at Sea – INDEX
Union Castle Line: One of the great Shipping Lines of the past!
Page One … RMS Dunnottar 1936 to 1958, also her identical sister the Dunvegan Castle.
Incres Lines: One of the finest luxury cruise companies in history!
Page Two … MS Victoria 1958 to 1975.
Page Three … Brochure Page 1.
Page Four … Brochure Page 2.
Page Five … Brochure Page 3.
Page Six … Brochure Page 4.
Page Seven … Deck Plan and Menus.
Chandris Cruises: An excellent budget cruise line.
Page Eight … MV The Victoria 1975 to 1993.
Page Nine … Deck Plan and Menus.
Louis Cruise Line: Maltese Company a good basic cruise operation.
Page Ten … MV Princesa Victoria 1993 to 2004.
Page Eleven … Photographs by Stephen William Storey.
Page Twelve … Deck plan.
Page Thirteen … MV Victoria I - 2004 - Sad scenes of her beached and being scrapped.
"Blue Water Liners sailing to the distant shores.
I watched them come, I watched them go and I watched them die."
****************************
Visit our ssMaritime Main INDEX
Where you will discover around 690 Classic Passenger & Passenger-Cargo Liners!
ssMaritime.com & ssMaritime.net
Where the ships of the past make history & the 1914 built MV Doulos Story
Please Note: ssmaritime and associated sites are 100% non-commercial and the author does not seek funding or favours and never have and never will.
Photographs on ssmaritime and associate pages are either by the author or from the author's private collection. In addition there are some images and photographs that have been provided by Shipping Companies or private photographers or collectors. Credit is given to all contributors, however, there are some photographs provided to me without details regarding the photographer or owner concerned. Therefore, I hereby invite if owners of these images would be so kind to make them-selves known to me (my email address can be found at the bottom of the page on www.ssmaritime.com), in order that due credit may be given.
ssMaritime is owned & © Copyright by Reuben Goossens - All Rights Reserved