1-D-CASTLE-BW-LGEFrom a boxy Dunnottar Castle to the streamlined, super luxury Incres Lines MS Victoria
Please Note: Firefox, iPhones, iPads & some other Search Engines may not be suitable
Please use Google Chrome or another Suitable Browser for this Web Page to load perfectly!
Click the logo above to reach the ssMaritime FrontPage for News Updates & "Ship of the Month"
With Reuben Goossens
Maritime Historian, Cruise'n'Ship Reviewer, Author & Maritime Lecturer
Please Note: All ssMaritime and other related maritime/cruise sites are 100% non-commercial and privately owned. Be assured that I am NOT associated with any shipping or cruise companies or any travel/cruise agencies or any other organisations! Although the author has been in the passenger shipping industry since 1960, although is now retired but having completed around 680 Classic Liners and Cargo-Passengers Ships features I trust these will continue to provide classic ship enthusiasts the information the are seeking, but above all a great deal of pleasure! Reuben Goossens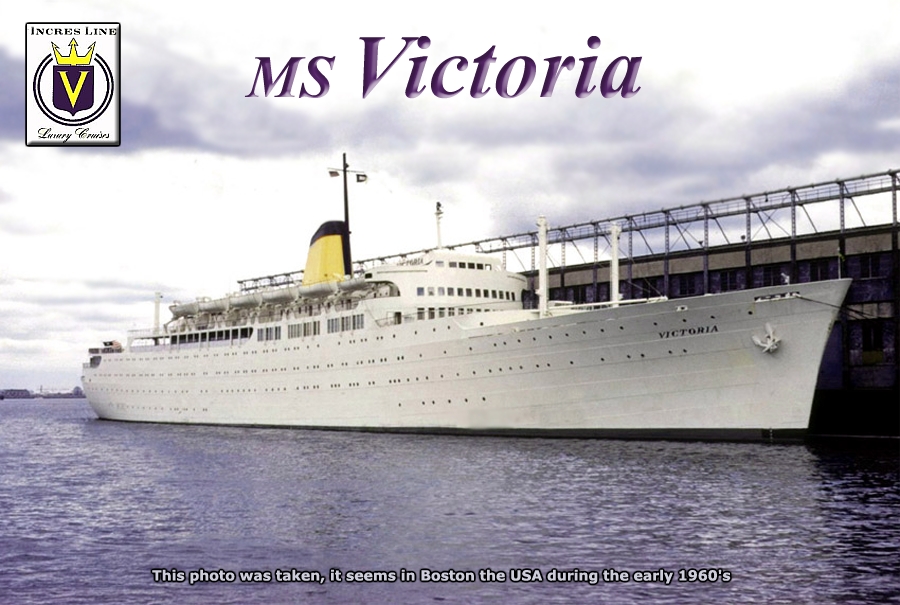 The sublimely elegant white Yacht of the Incres Lines, the Luxurious MS Victoria became one of the most popular cruise ships! Yet, it is so difficult to believe that this sleek looking ship above ever looked like the rather staid looking Dunnottar Castle below!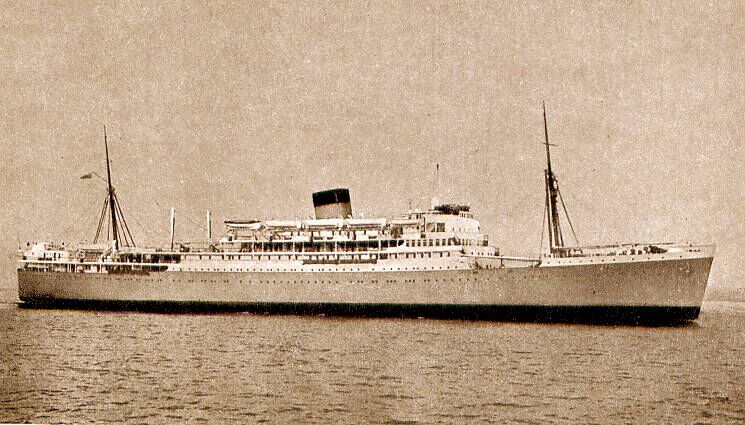 Page Two
The MS Victoria Story:
In 1958 with the RMS Dunnottar Castle having given a splendid twenty-two year service with the Union Castle Line as well as having served with distinction during the war, she was sold to Incres Steam Ship Co, Ltd of Monrovia who renamed her "Victoria."
Then January 16, 1959 her new owners had her towed to The Netherlands to have her completely rebuilt into a luxury cruise ship, which was undertaken by the famed Wilton-Fijenoord shipyards at Schiedam at Rotterdam. However prior to commencing the actual rebuilding program she was first fitted with a more powerful Fiat turbo charged diesel engines providing her with an increased 16,800 BHP enabling her to sail at a service speed of 18 knots, but she did manage a maximum speed of 21 knots during her sea trails.
Her overall design would see a dramatic change from what was a rather staid boxy looking passenger-cargo liner and she transformed into a streamlined and a lengthened ship by a good 12ft, which was due to her new beautifully reshaped bow, thus new her length was be 174.4m - 572.2ft.

An early artist impression of the rebuilt MS Victoria
Note: The sports deck located forward of Rendezvous (Promenade) deck
was in fact extended much further forward when she was completed
During the rebuild all the old Dunnottar Castle all her original accommodations and cargo spaces were completely removed and were replaced with new spacious cabins and passenger venues. All cabins had private facilities, either with a bath with an overhead shower, or a shower. In addition each Suite, Stateroom and cabin had individually controlled air-conditioning, which was a new feature for the day, but also every room had Private Facilities, with wither a bath or a shower!
Her superb décor was created by leading Italian designer Gustavo Pulitzer who gave the MS Victoria a whole new quality and style for a modern cruise ship in the early sixties. She was regarded as one of the most beautiful and spacious cruise ships of her day, as she accommodated just 600 First-Class passengers in the ultimate of luxury! All her lounges were simply stunning for it was the famed Italian designer Gustavo Pulitzer who created a new style of cruise ship for that time, and she was very special.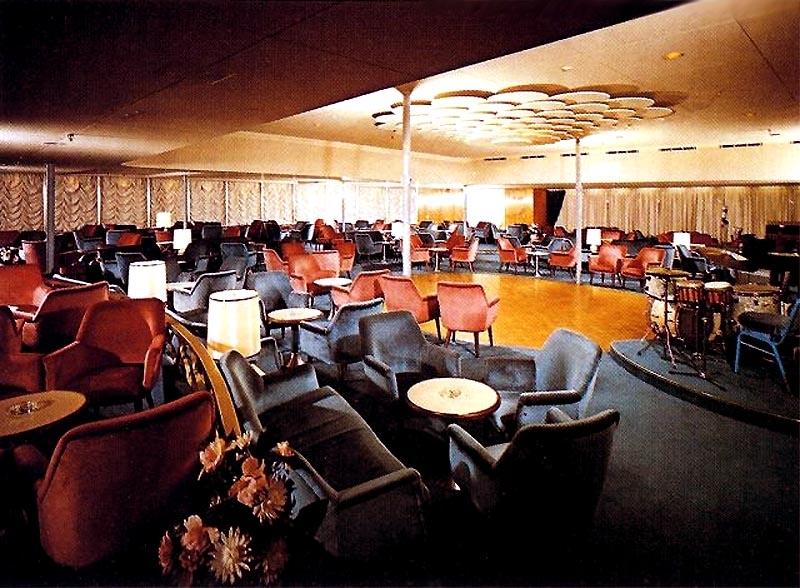 The delightful El Patio Lounge

On Coral Deck was the superbly domed Roman Restaurant

and this was one of the grandest venues aboard. It had a bandstand located on the aft wall high up, and the venue was superbly timbered. This grand venue offered special lighting features that gave the Roman Restaurant that spectacular style and lighting could be changed to fit the mood of the event and the meal! The forward timber wall had a huge ceramic sculpture that soared high up the two levels.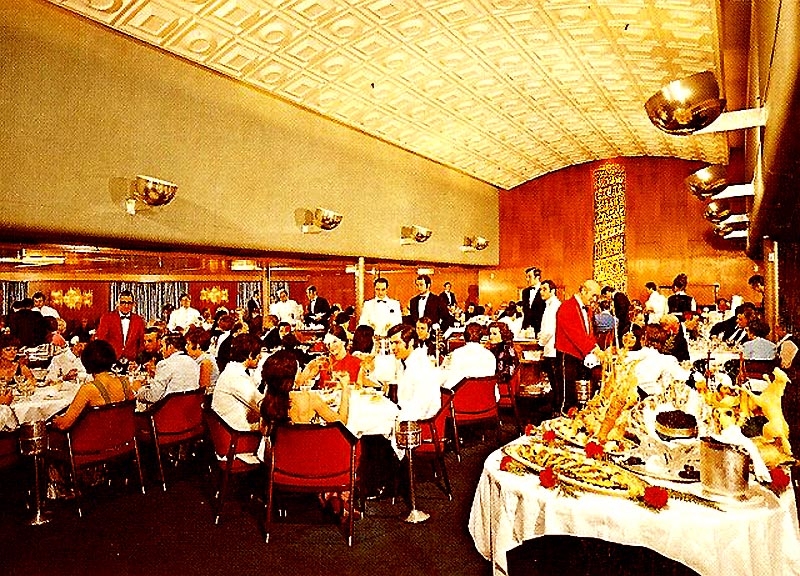 Roman Restaurant on Coral Deck
Thankfully the vast majority of by Gustavo Pulitzer's creation and amazing style remained untouched until this wonderful ship came to her very end of days in 2004 when she was finally broken up on a beach at Alang India.
The end result was certainly extremely pleasing for now she was a modern looking all white ship with her beautifully shaped tall yellow blue capped funnel complete with its own mast that was attached to the forward part of the funnel. In addition her forward mast had been removed and replaced by two derricks on the foredeck. Upon completion she was registered at being 14.917 GRT.
There is no doubt that the old RMS Dunnottar Castle had become one of the most beautiful looking ships of her day and she remained a unique and a most remarkable rebuilding's until the Cunard Lines RMS Media that was also rebuilt in 1962 into a streamlined liner that would operate on the New Zealand and Australia service accommodating 1,224 migrants for Cogedar Line and she was the remarkable SS Flavia.
MS Victoria's Maiden Voyage:
MS Victoria was completed in December 1959 and having undertaken her deep sea Trails which proved that she was capable of a good 21 knots, she was delivered to her owners and she undertook her first Mediterranean cruise on December 14, which was followed by a European cruise. She then departed on January 14, 1960 on a crossing from Rotterdam to Southampton from where she undertook her maiden Mediterranean cruise. Upon her return, she departed Southampton on January 8, 1960 and sailed on a positioning voyage to New York, but made a call at Le Havre on the way.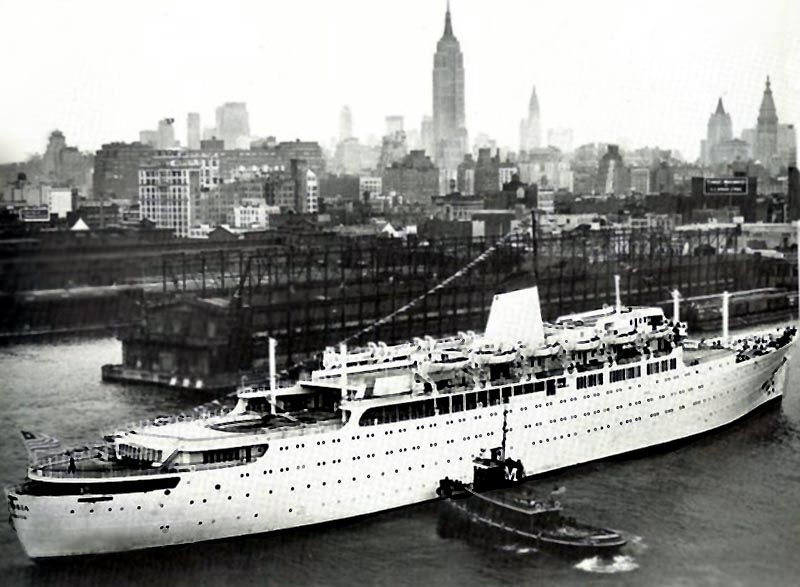 The MS Victoria is seen arriving in New York on her maiden arrival, January 1960
Once the MS Victoria had arrived in New York she would spend most of her time there until 1972, as she would operate cruises to the West Indies. However, at the conclusion of her season in 1961 in February 1962, the Victoria returned to Europe for the summer as she would operate Mediterranean cruises and occasionally Northern Europe cruises. Of course, she also operates regular positioning Trans-Atlantic cruises to and from New York from late 1961 to 1972 in order for her to operate her popular New York based Caribbean cruises.
Having arrived at New York the MS Victoria made her home there as she commence a series of cruises from New York to the West Indies, which became extremely popular, for the Americans were not used to a ship of such a high standard and superb cuisine and service, she was indeed an "All First Class Luxury Ship with Class" and the American passenger would say!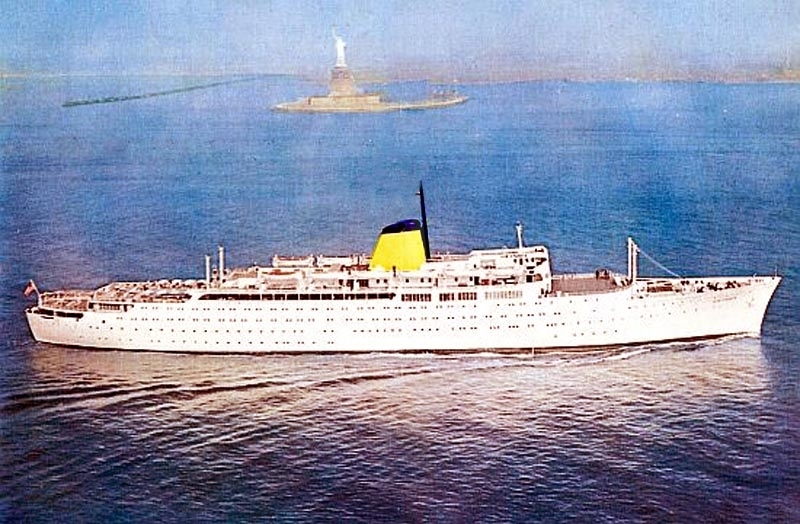 MS Victoria is seen returning to New York from another successful Caribbean Cruise
The Victoria became a much sought after cruise ship by Americans, due to her superb facilities, as well as her outstanding service and excellent cuisine. At the conclusion of her season in 1961 she returned to Europe for the summer and operated regular Trans-Atlantic cruises to and from New York from late 1961 to 1964 to operate her popular New York based Caribbean cruises.
In April 1964, Incres Line sold her to the Victoria Steamship Co, Ltd, Monrovia, being an associate company of Rederi A.B Clipper, of Malmo in Sweden, the owners of the famed and superb MY Stella Polaris.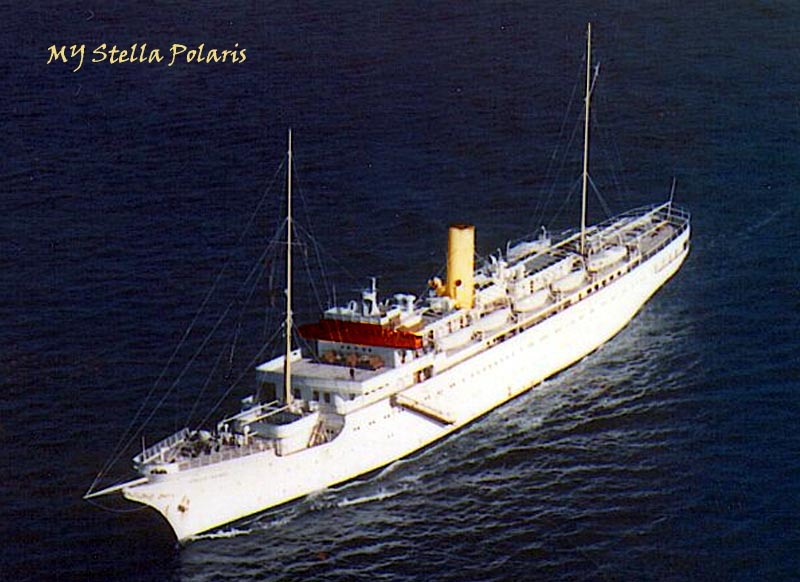 The luxury 200 passenger, 5,250-ton MY Stella Polaris built in 1927, sadly and she while heading to Chinese breakers in 2006
MS Victoria was officially delivered to her new owners in October 1964, yet she continued to be marketed and operated by Incres Lines who remained to be her official agents. MS Victoria continued her West Indies cruise operations, as well as operating her Trans-Atlantic summer cruises to Europe, with itineraries to Scandinavia, Black Sea ports, as well as her ever popular Mediterranean cruises. The MS Victoria operated a very similar schedule as the Motor Yacht (MY) Stella Polaris.
During 1970 she was given a refit, which included some work to her superstructure on Boat Deck. In fact the area directly behind the Gym and the Ping Pong room was extended aft making room for eight new spacious twin bedded Staterooms all with private facilities of course. When completed, this deck was renamed "Pearl Deck and the eight staterooms (#P1 to P8) were listed as the new "JJ grade."
The very first time, I have an official record of this new work having ben completed is that these new Pearl Deck staterooms are first shown "MS Victoria 1970-71 Schedule and Rates - West Indies Cruises." The first of these cruises was to depart on November 6, 1970 for a 13 day Veteran's Day Cruise. Thereafter she would operate another twenty five cruises, before returning to Europe On September 1971 for a Mediterranean and Black Sea Cruise! However, she would have departed Europe for America late in October from Genoa and operated a 28 day cruise to New York and it stands to reason that she already had the new Pearl deck and the JJ Staterooms!
In 1972 she began to spend more time cruising around Europe and fly/cruises were introduced to American public as well to other international passengers and these proved to be quite popular as the Victoria had such a wide following. This continued until MS Victoria laid up mid 1975 and sold to Greek Interests in November that, and she was renamed "The Victoria." There will be more on her on Page Eight. See the Index at the bottom of the page!
Deck-by-Deck Description:
Let us go on board and see what she had to offer her privileged passengers, as well do a deck by deck tour of the ship! I will commence topside at "Sports Deck" and slowly head down to "Amber Deck."
Please Note NEW Online: I have just added a complete Passenger Deck Plan. A link is located on the Index at the bottom of the page!
Boat Deck and Sun Deck: This was a traditional full walk around deck with a glass enclosed area far forward, the large centred aft section was an elevated area and it was named "Sun Deck." This section was raised to facilitate additional ceiling height in the Riviera Ballroom directly below on Rendezvous Deck. Although it did have a net for gamed forward and four areas to play deck quoits, etc!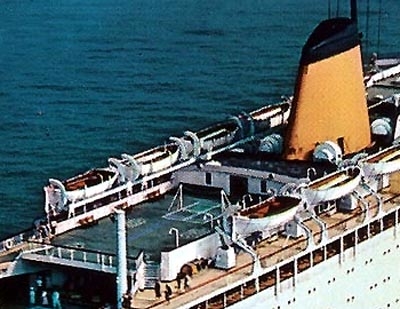 Here we see an overhead view of Boat and the somewhat raised Sun Deck above the Riviera Ballroom
although passengers did sun bake up there, but it was also used for sports. In the Deckhouse aft
of the funnel was the stairwell, facilities, Ping Pong Room on the starboard side and a Gym Portside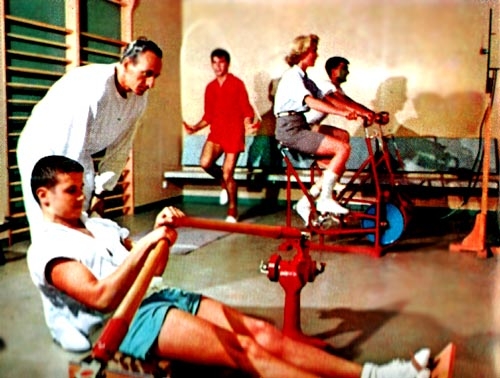 The Gym
However, as I have already indicated earlier some eight new cabins were added just aft of the Ping Pong room and Gym. Once the refit had been completed this deck was renamed Pearl Deck and sadly there was a greatly reduced Sun Deck section just aft as the plan will show on the "MS Victoria Deck Plan" Page.
Rendezvous Deck: this deck is commonly known as Promenade Deck, but on the luxury Victoria it was given a name that had a special meaning, for it was indeed "a meeting place" being the actual meaning of Rendezvous. As we arrive via the ships forward magnificent U shaped stairwell that featured superb items of copper art works, such as is shown below! The Lobby was also serviced by a single Lift (Elevator).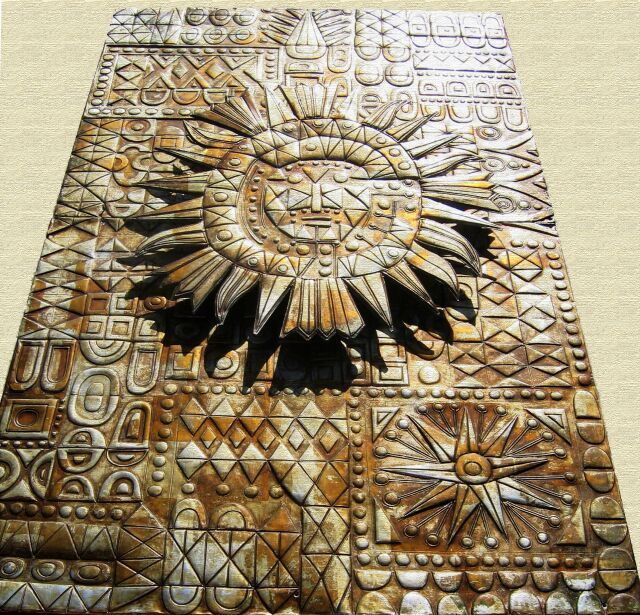 This wonderful ship was filled with high quality art!
Far forward was a spacious open-air sports deck that was provided with facilities to play deck quoits as well as well as space for shuffleboard and other sports, besides that which was available up on Boat and Sun Deck. There was two ways of reaching this forward deck, one was via the internal staircases from Boat Deck down and then through a steel door, or through two glass doors on either side of the Grand El Patio Lounge and a small hall and then the steel doors when the deck was open to the public.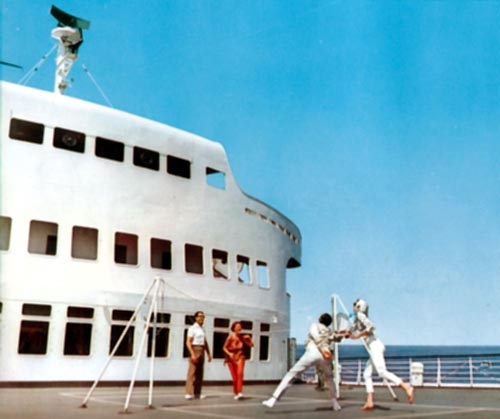 Above & below: here we see the forward Sports Deck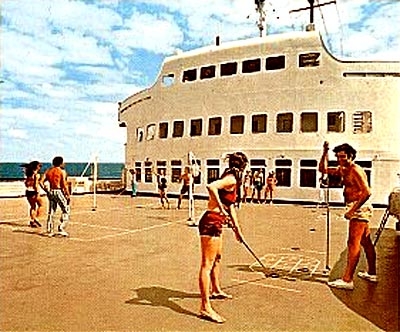 The magnificent full width El Patio Lounge was located forward of Rendezvous Deck. There was a bandstand and a dance floor and in the afternoon and evenings it was a popular dance venue. Aft on the starboard side there was a direct entry into the ever-popular Galleon Bar which also served the El Patio Lounge. From the Galleon you would walk directly into the Library.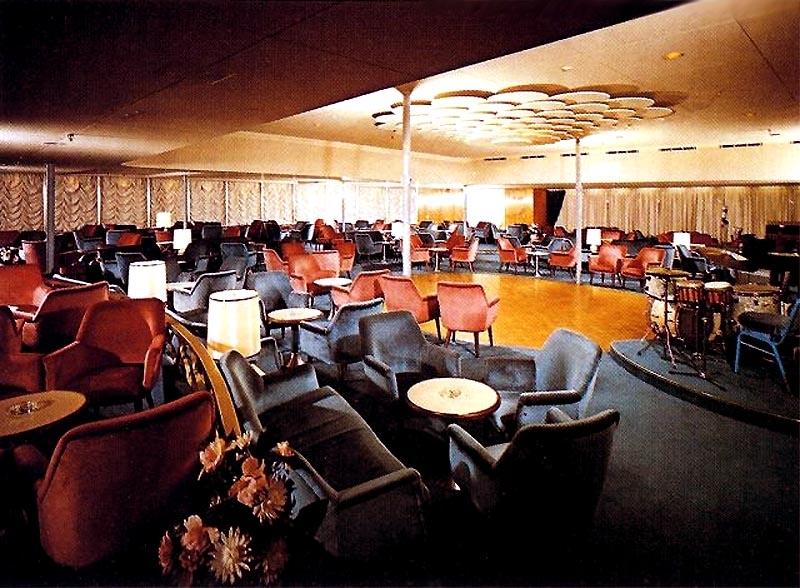 The delightful El Patio Lounge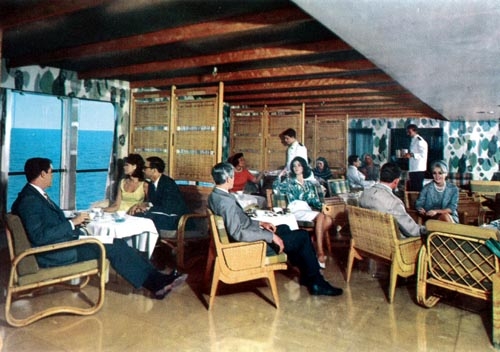 This is a casual section along the starboard side in the El Patio Lounge, which was changed at a later date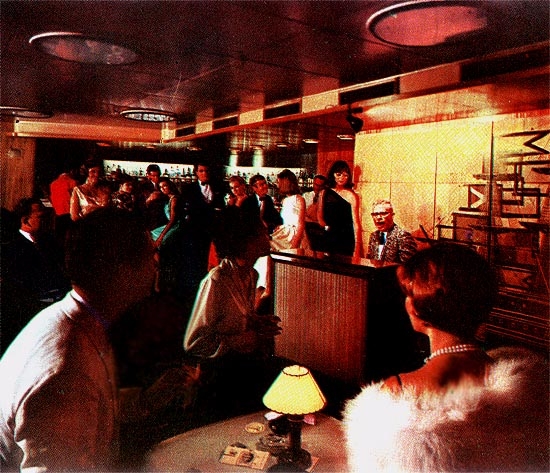 Galleon Bar
From the Lobby you could enter the comfortable Card Room on the portside having for square tables with four chairs and two round tables with five chairs; this venue was able to seat twenty six passengers. Heading aft of the Lobby you entered the Gallery, which as also the writing Room and at both ends along the window side there were two very large showcases displaying goods from the ships Boutique and the Gift shop.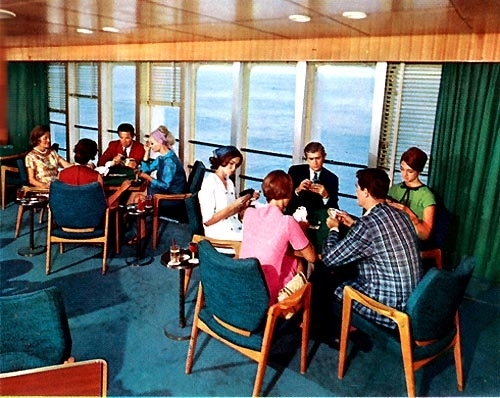 The Card Room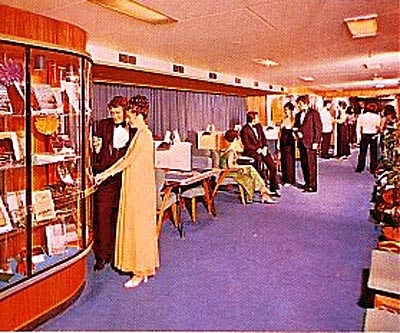 The Gallery
Next came the amidships spacious Lobby, which were flanked by two elegantly U shaped stairwells on each side of the ship, again featuring fine copper art works. In addition here were two further lifts on either side of the lobby, making a total of three lifts (elevators) for the MS Victoria.
The last Lounge on this Deck aft of this Lobby was the grand Riviera Ballroom with a large oval dance floor in the middle with the bandstand aft offside to starboard. A large curved Bar was located far aft starboard.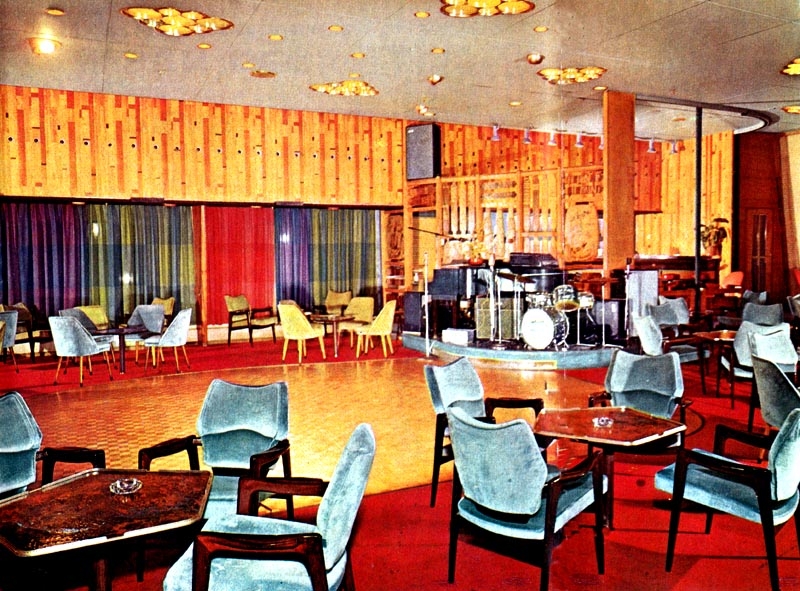 Above & below: Here we see the Riviera Ballroom and Nightclub during the day and at night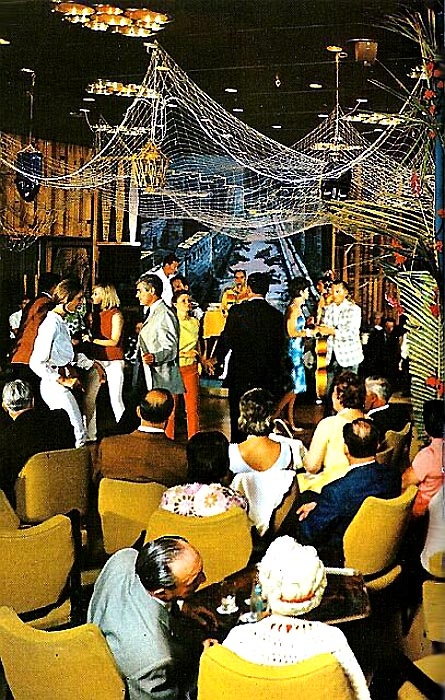 Again aft was the delightful Café Terrace followed by an expansive sun deck and two swimming pools joined in the middle and having a narrow bridge crossing the two pools.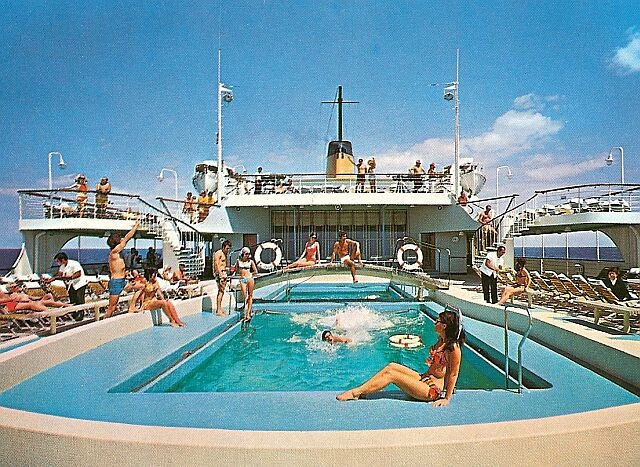 Above & below: Two views of her two delightful aft pools on Rendezvous Deck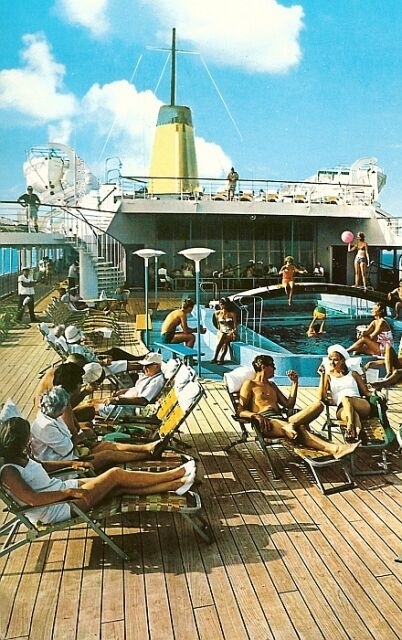 For interest, although in later years there would be a number of changes made on Rendezvous Deck, but thankfully, the El Patio Lounge, Galleon Bar and Riviera Ballroom thankfully survived until the very end, as well as having retained their original names!
Sapphire Deck: When Dunnottar Castle was rebuilt, her new superstructure was stretched forward covering her second hold, which created the Sports Deck above, as well as space for the superb two Deck Auditorium/Cinema. The extra wide stage was located forward of the ship and the movie screen was so large it was able to show full Cinemascope productions complete with a full stereophonic sound facility that was provided by the finest three speakers placed on each of the port and starboard side, thus each of the six speakers having within them a multiple of separate sound cones that provided the absolute perfect sound and tone, for it became well known in the industry that the MS Victoria had the finest theatres ever seen at sea! The truth is, that in these modern days on board the ultra modern giant cruise ships their indoor theatres are no more than small glorified oversized TV Screens, with a fancy surround sound system, then some ship will have their outdoor giant screens, which are overbearing and tend to play the same thing day and night and are more of a burden than entertainment!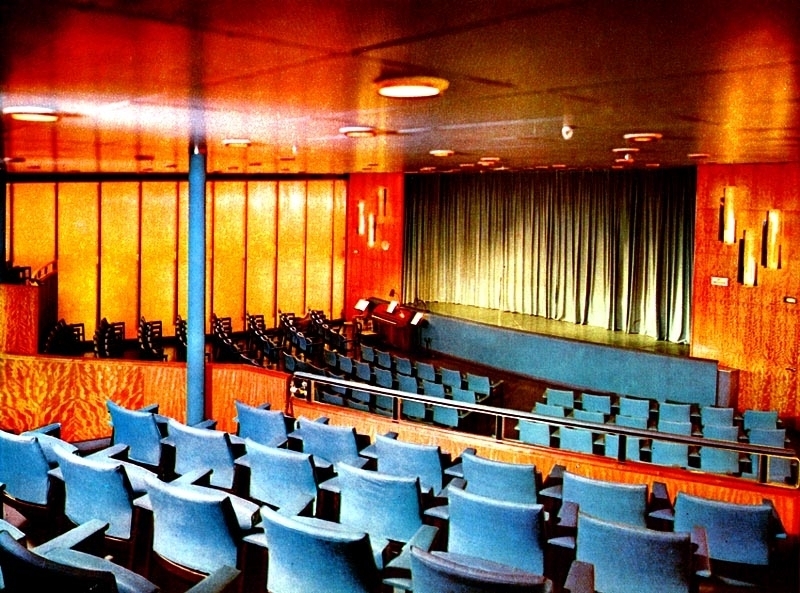 A view from the Balcony on Sapphire Deck of the grand Auditorium down on Emerald Deck
This great Auditorium was indeed at the time the largest theatre afloat
Thus Sapphire Deck contained the balcony (upper) level of the Auditorium, but directly aft of it there were four magnificent suites, there were two massive double sized interconnecting Super Deluxe Suites that hat had two bedrooms as well as two lounges and two bathrooms, named Andros & Inagua (starboard) and Abaco and Eleuthera (Portside). Both Andros and Abaco had just a single bed in the bed room, and a lounge, but the sofa could be converted into a sofa bed if required. And they were somewhat smaller that the main suite for the owners, who would reside in Inagua or Eleuthera whilst In addition, there were two regular Suites that were spacious, having twin bedded bedroom and a separate lounge and a large bathroom. These were the Antigua (starboard) and Bimini "Portside).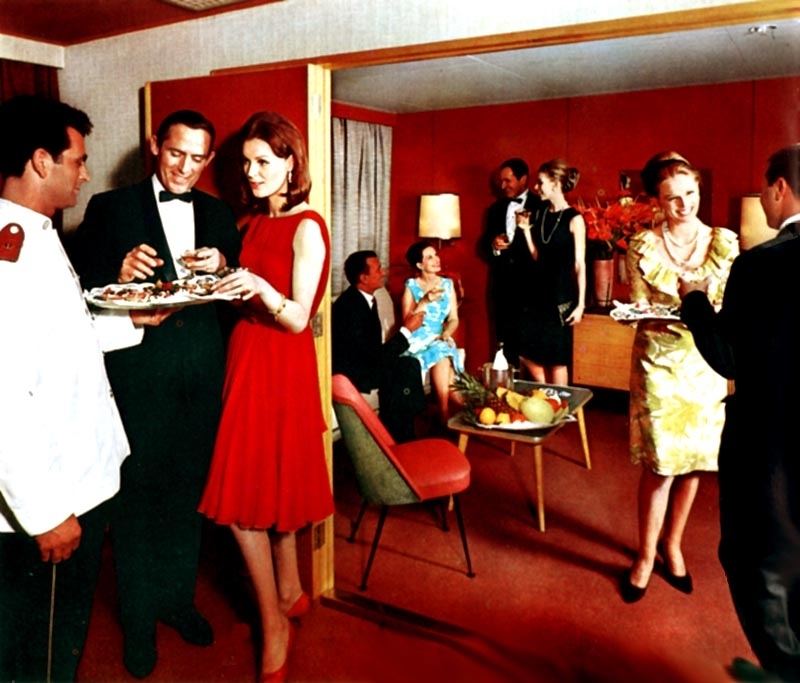 Here we see the glamour of one of these grand Deluxe Suites
This was followed by the ships Main Lobby containing the Pursers Office forward portside of the hallway from the Auditorium. Directly opposite on the starboard side was the ships Gift Shop. Heading aft on Sapphire Deck there were Forty Eight outside Staterooms, like all room on-board having private facilities, 16 having a full bath, the rest having a shower, in addition there were two Inside Cabins. Located aft of the amidships lobby there was the Beauty Parlour and Barber Shop. Far aft of this deck was the intimate Bamboo Club with a bandstand forward center and a large square dance floor. The cocktail Bar was located forward on the starboard side of the ship. Just aft was further covered and outdoor deck space.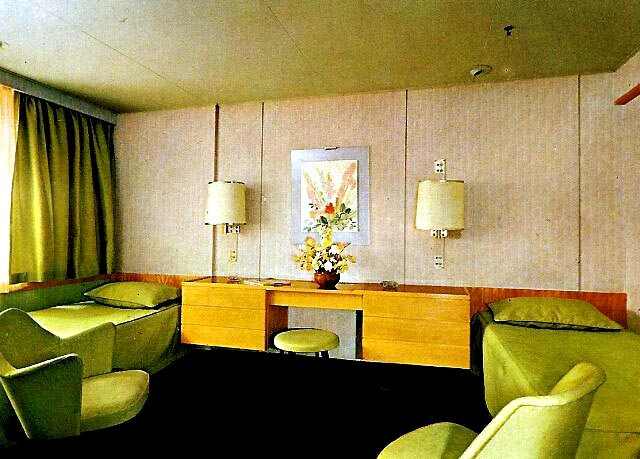 A typical outside twin bedded Stateroom on Sapphire and Emerald Decks, the majority had two portholes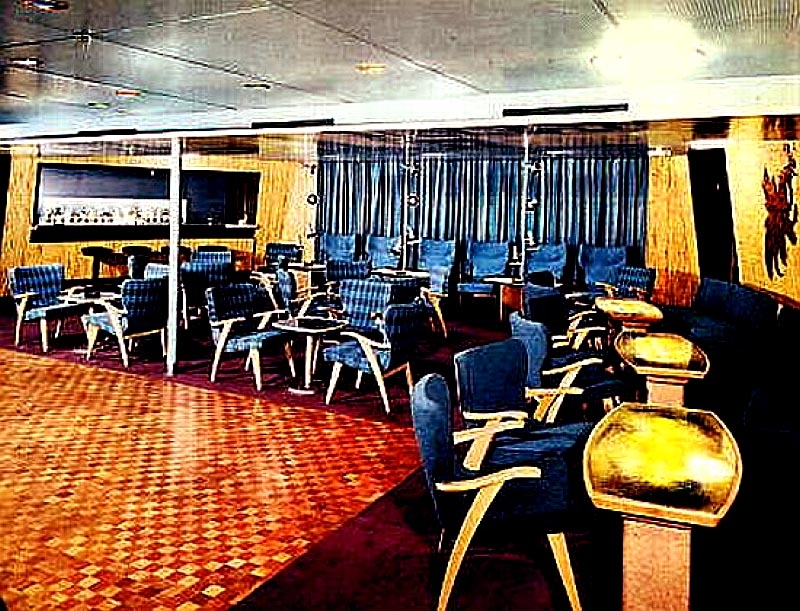 Here we see the very popular Bamboo Club located aft of Sapphire Deck that also had a separate outside "Miramar Deck"
This was a wonderful lounge and bat by day, but Party central by night that would stay open as long as you would be awake!
Emerald Deck: Far forward was the lower level of the Auditorium/Cinema. The balance of the deck was dedicated to accommodations; Beside the Amidships Lobby were there was also a Barber shop, on port and starboard sides, two Deluxe Suites having interconnection rooms. From the amidships lobby, there were fifteen inside cabins whilst the rest of the Staterooms on this deck were all outside.
Coral Deck: This Restaurant could only be accessed via the forward lobby and the Lift. This was a venue on a Grand scale with the forward, aft and side walls beautiful clad in warm timbers and this was combined that amazing two deck high barrel domed ceiling that on its own was so stunning! However, what really stood out was the forward wall where was a tall bronze sculpture that was simply an amazing piece of art!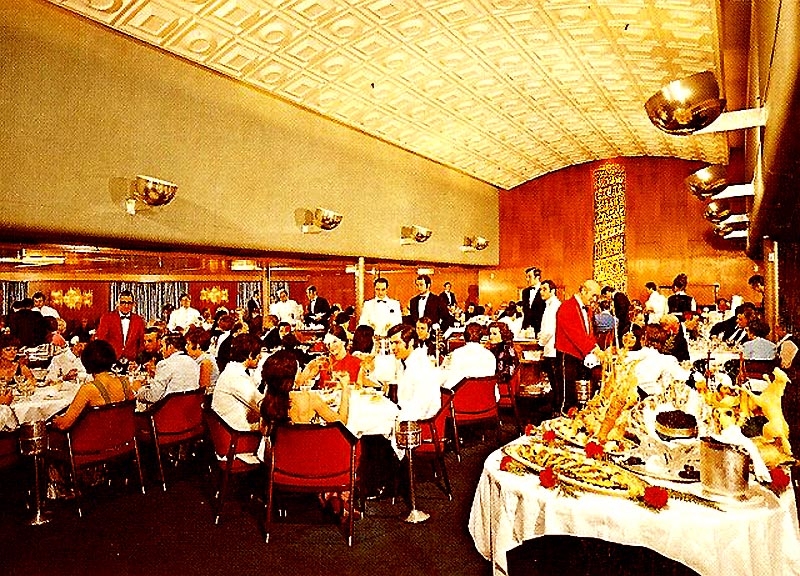 Above & below: Here we see the magnificent two deck high barrel domed Roman Restaurant and it superb art work on its forward wall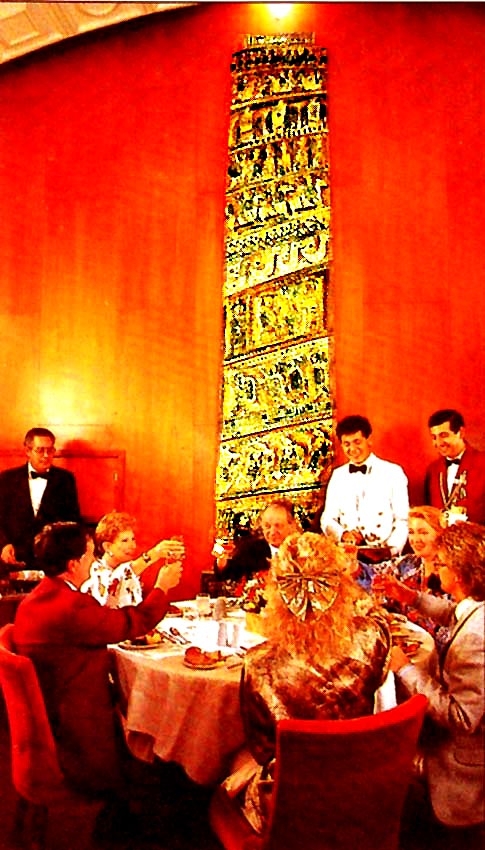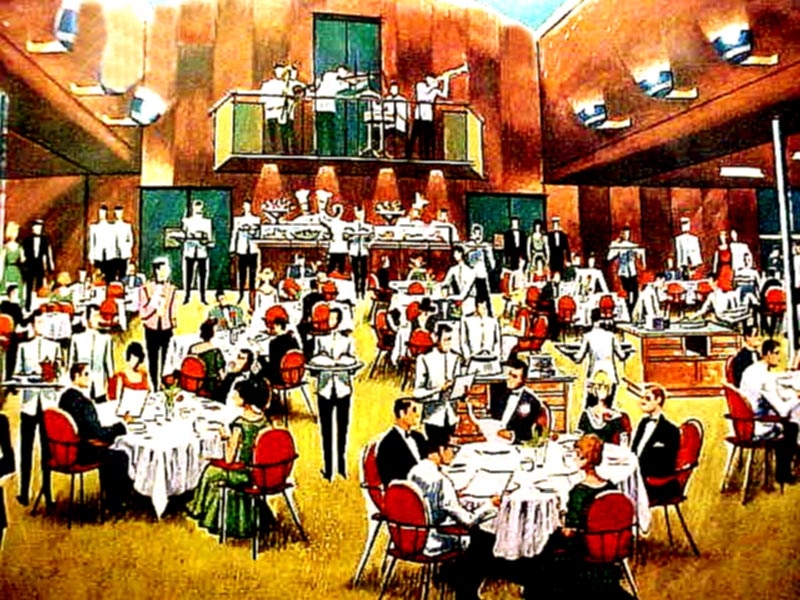 Here we see an artist impression of the Roman Restaurant looking to aft and the Band Balcony located high up
Directly aft of the magnificent Roman Restaurant was the very large Galley, for the meals on board the Victoria were second to none, the cuisine was famed everywhere, for only the finest Beluga Caviar would be served and the highest grade meat and fish and the Salmon would be the finest Alaskan that would be flown in, the finest truffles cheeses and olives, etc, etc, would be at hand to create meals that would be spoken about for years to come!
Aft of the Galley on Coral Deck there was the amidships lobby with its two Lifts and the Pursers Office, followed by just four inside cabins and then rest being outside staterooms.
Amber Deck: This is the lower deck and located aft and could be reached via the amidships Lobby Stairs or the two Lifts, in addition there were also two other stairs spaced as you went aft. This deck contained mostly accommodations six of which were inside cabin, the rest outside staterooms. Located port side far aft was the ships doctor, consulting rooms and the surgery.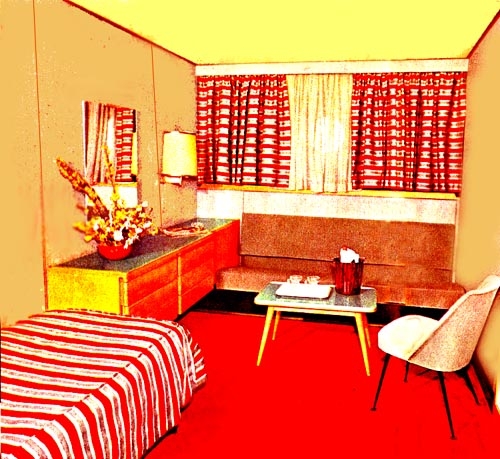 Cabin A21 starboard side on Amber Deck, being an outside single bed cabin, with a
Sofa-bed in the lounge, thus could be used as a two bedded cabin if required.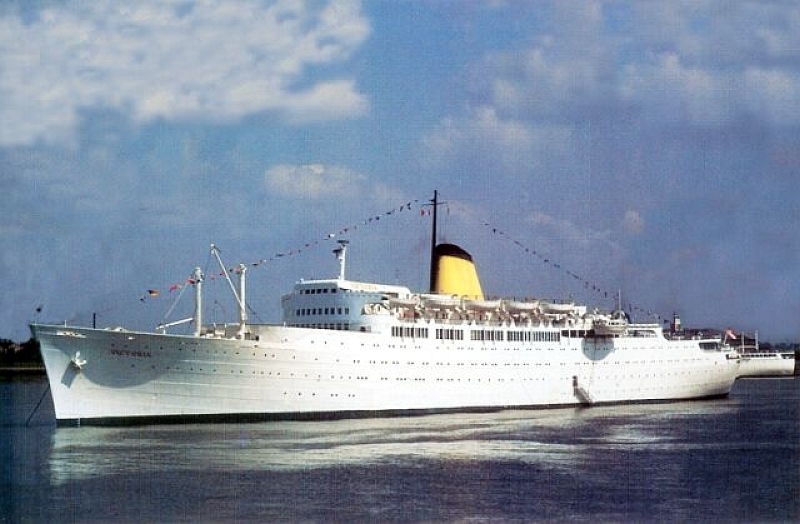 A delightful bow photo of the MS Victoria
In Conclusion:
However in due course, as time passed new and larger far more modern ships were being built and there were those that were placed in direct competition with what seemed to be now a rather small MS Victoria. Thus as slowly passenger numbers began to decline somewhat, it obviously became more and more difficult for her owners. However, it came to the point that mid 1975 her owners sadly was placed into bankruptcy, which was mostly due because of the high price of oil and operating costs at that time, as well as the declining passenger numbers.
Thus the superbly maintained MS Victoria was laid up in Brooklyn and she was placed on the market. Being such a magnificent ship, a great friend of the author, took just one look at her and decided that she was just perfect. This was Mr. Chandris the great shipping magnate who created Chandris Lines, which operated a considerable fleet of large ex American Liners and a British Liners, which he all completely refitted to his high standards and now with the migrant trade close to finished, his Chandris Cruises also had a large fleet of smaller ships, except the 24,000-ton RHMS Britanis.
This the MS Victoria was obtained in November 1975 by Victoria Shipping SA, Piraeus, a subsidiary of Chandris Cruises and a whole new life was about to commence for this unique 39 year old ex Liner and ultra luxury cruise ship, having been renamed MV "The Victoria"! She had served Incres Lines faithfully for a good 17 years, but this great classic ship would continue serving and giving countless passengers great joy for another 29 years!
We need to remember that many ships in those days would be sold to be broken up when they were between 20 to 25 years of age, yet this well built Harland and Wolff ship, and rebuilt by Wilton-Fijenoord in Rotterdam in the Netherlands, being two of the world's greatest ship builders, she had a profitable life of 68 years, with only the last two of being laid up during the winter months, and that, believe me, is an amazing feat.
The only other ship that has outlasted her and remained afloat was the world oldest passenger ship the 1914 built MV Doulos, which was finally retired from service in December 2010 and she is now a Hotel, come Tourist attraction on an Indonesian Island, but she was just 6,882-tons! But the Victoria remains the longest ship in history over 10,000-tons to last 68 year, for no other ship has reached that feat as yet!
The story continues via the pages per the Index Below!
The Ship with 68 Years at Sea – INDEX
Union Castle Line: One of the great Shipping Lines of the past!
Page One … RMS Dunnottar 1936 to 1958, also her identical sister the Dunvegan Castle.
Incres Lines: One of the finest luxury cruise companies in history!
Page Two … MS Victoria Incres Lines - 1958 to 1975.
Page Three … Brochure Page 1.
Page Four … Brochure Page 2.
Page Five … Brochure Page 3.
Page Six … Brochure Page 4.
Page Seven … Deck Plan.
Chandris Cruises: An excellent budget cruise line.
Page Eight … MV The Victoria Chandris Cruises - 1975 to 1993.
Page Nine … Deck Plan & Menus.
Louis Cruise Line: Maltese Company a good basic cruise operation.
Page Ten … MV Princesa Victoria 1993 to 2004.
Page Eleven … Photographs by Stephen William Storey.
Page Twelve … Deck plan.
Page Thirteen … MV Victoria I - 2004 - Sad scenes of her beached and being scrapped.
*************************************
"Blue Water Liners sailing to the distant shores.
I watched them come, I watched them go and I watched them die."
****************************
Visit our ssMaritime Main INDEX
Where you will discover over 1,350 Classic Passenger & Passenger-Cargo Liners!
ssMaritime.com & ssMaritime.net
Where the ships of the past make history & the 1914 built MV Doulos Story
Please Note: ssmaritime and associated sites are 100% non-commercial and the author does not seek funding or favours and never have and never will.
Photographs on ssmaritime and associate pages are either by the author or from the author's private collection. In addition there are some images and photographs that have been provided by Shipping Companies or private photographers or collectors. Credit is given to all contributors, however, there are some photographs provided to me without details regarding the photographer or owner concerned. Therefore, I hereby invite if owners of these images would be so kind to make them-selves known to me (my email address can be found at the bottom of the page on www.ssmaritime.com), in order that due credit may be given.
ssMaritime is owned & ? Copyright by Reuben Goossens - All Rights Reserved