MS Victoria renamed Princesa Victoria at Kumar Steel Alang Breakers Yard India Victoria I
Please Note: Firefox and some other search engines are not suitable – Use "Internet Explorer" for this page to load perfectly!
Click the logo above to reach the ssMaritime FrontPage for News Updates & "Ship of the Month"
With Reuben Goossens
Maritime Historian, Cruise'n'Ship Reviewer, Author & Maritime Lecturer
Please Note: All ssMaritime and other related maritime/cruise sites are 100% non-commercial and privately owned. Be assured that I am NOT associated with any shipping or cruise companies or any travel/cruise agencies or any other organisations! Although the author has been in the passenger shipping industry since 1960, although is now retired but having completed around 680 Classic Liners and Cargo-Passengers Ships features I trust these will continue to provide classic ship enthusiasts the information the are seeking, but above all a great deal of pleasure! Reuben Goossens
---ms Victoria I---
ex Princesa Victoria, The Victoria, Victoria, Dunnottar Castle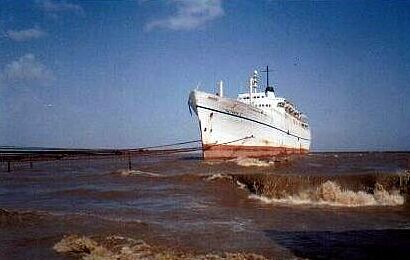 Victoria I beached (on the rocks) at the Kumar Steel recycling yard, number 115
© 2004 Kumar Steel
Page Fourteen
Please Note: Photographs of Princesa Victoria at Alang were taken and provided to me by Mr. Rajesh Shah. All images on this page are © Copyright. Except for one at the bottom of the page, which was taken and provided by Mr. Stephan Giesen.
The following is a report by Mr. Rajesh Shah of Kumar Steel, dated August 31.
"Victoria 1 was beached on 2 August 2004 at the evening tide some 2,800 feet from the shore at the Kumar Steel recycling yard, number 115 at Sosiya India. The crew arrived ashore at 2.00 am (3 August), having to walk on the muddy beach as life boats were not in working order. The ship was finally secured by rope by 04.00 am. On the 3rd and 4th of August the vessel was pulled 350ft (closer) in front of the yard. On 17th it came about 1100ft (closer) and on 18th and 19th about 600ft (closer). On the 29th about another 300ft closer, then the next day yet another 125ft closer, and all this with 5 mooring winches with full load!
The wood on deck has been removed almost 50%, and the carpets of all decks have been removed and collected in the disco room near the swimming pool. Beds & pillows have also been collected from Sapphire/Coral/Jade deck and also kept in the disco room. The ship is now on rock and will be pulled for the last time today (31 August) with the tide."
Having spent almost one year in an attempt to find a new owner for this historic ship, it is obvious that this page is a sad one for all who admire classic liners. She was built by Harland & Wolff in Belfast - Yard no: 959, in 1936-36 as the RMS Dunnottar Castle for the London (Tilbury) to Cape Town service for Union Castle Line. She was launched on January 25, 1936, and was completed in June that year. She departed on her maiden voyage to Cape Town in July. Upon her return to the UK, she commenced her regular service from Tilbury (London) round Africa.
In 1958, Dunnottar Castle was sold to Incres SS Co, Monrovia, and was renamed MS Victoria. She was rebuilt at the Schiedam ship-building yards in (Rotterdam) the Netherlands, were she received one of the most elaborate reconstruction. New engine were installed and she was fitted with a fine raked bow. Upon completion in 1960, she became an all first class luxury cruise ship and headed across the Atlantic to New York where she was mostly based. She served Incres Lines well until 1975, when she was sold to Chandris Cruises. She was again sold in 1993 to Louis Cruise lines and remained in service for another ten years. Late in 2003 she was sold and sailed under the name of Victoria I to for India, where she was beached at the Kumar Steel Yards to be broken up.
This page contains a series of sad photographs of her on the beach, as well as the bridge, engine room and furnishings stacked in the Ballroom/Nightclub ready to be removed from the ship. I have not added many comments, only were it is required, for the sad story seems to tell itself!
Victoria I seen Beached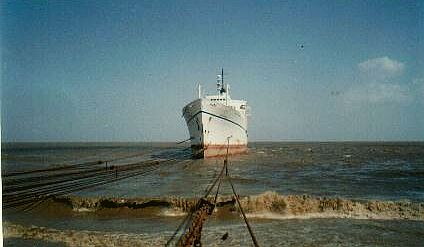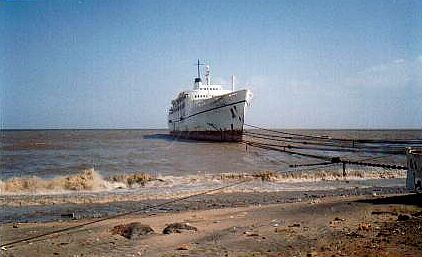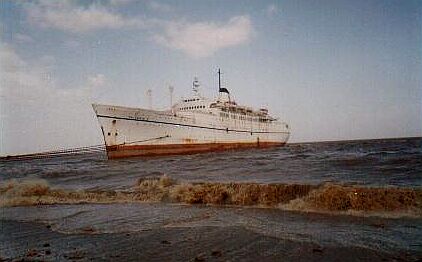 Views on Deck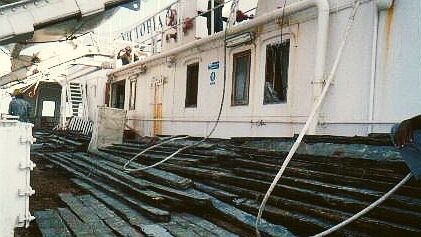 Pearl Deck – Port looking forward
As we look at the above photo, apart of the ship resting on the beach, I feel that this was the most depressing of all photographs, seeing her once perfectly beautifully maintained teak planking ripped up and rotting. This deck and its teak planking was once perfection!
The Bridge
<![if !vml]>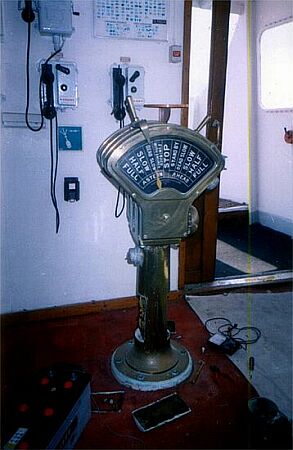 <![endif]>
<![if !vml]>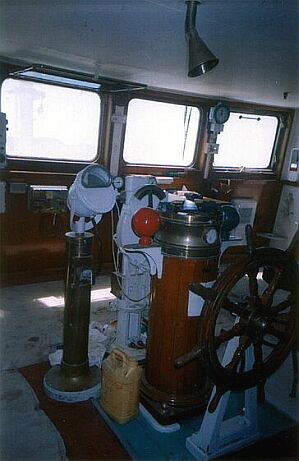 <![endif]>
<![if !vml]>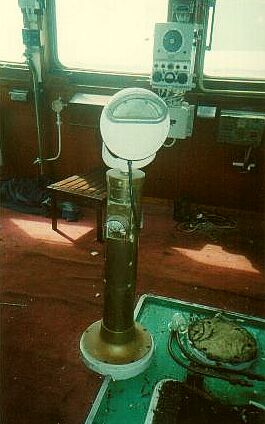 <![endif]><![if !vml]>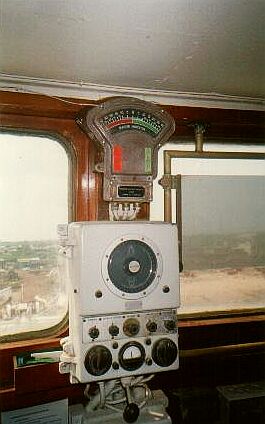 <![endif]>
<![if !vml]>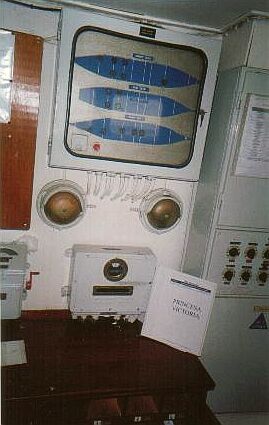 <![endif]><![if !vml]>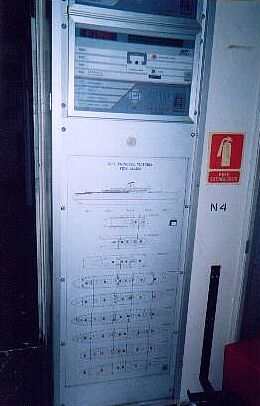 <![endif]>
<![if !vml]>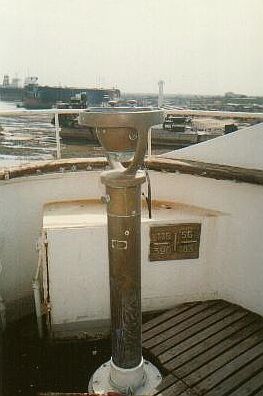 <![endif]>
<![if !vml]>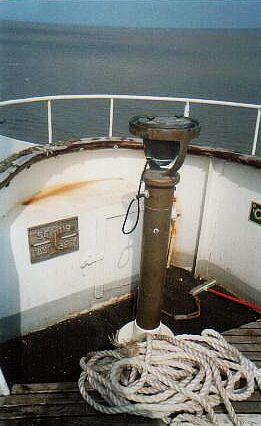 <![endif]>
Engine Room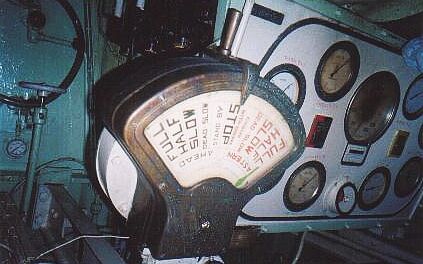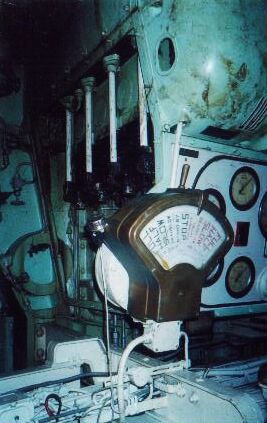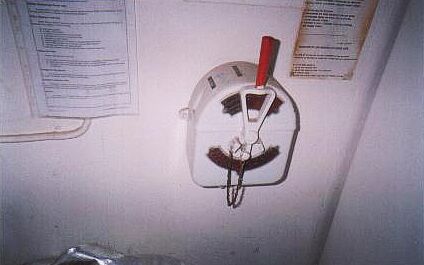 Furnishings and fittings in the process of being removed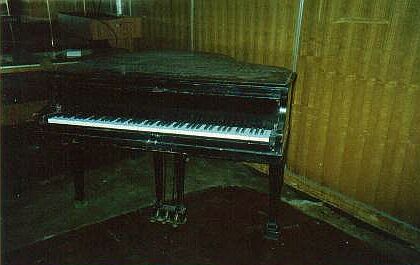 The Baby Grand in the Riviera Ballroom waits to be taken off the ship and sold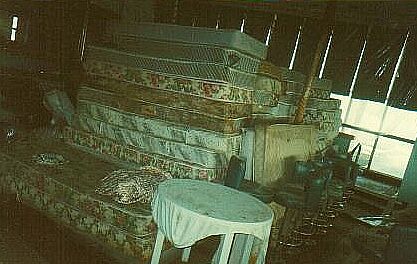 Bedding and barstools are stacked and placed in the El Patio Lounge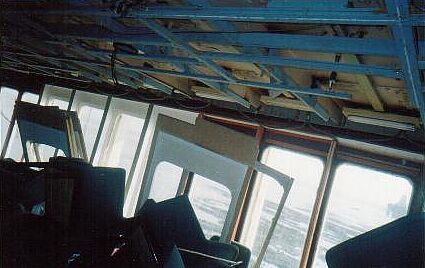 Ceilings and curtains are removed from the El Patio Lounge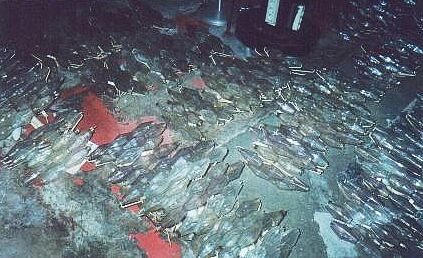 Above: All carpets in good condition are removed to be sold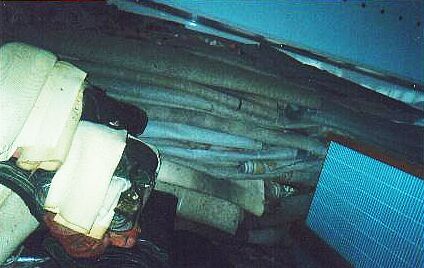 The Death of an ex Liner and a Luxury Cruise Ship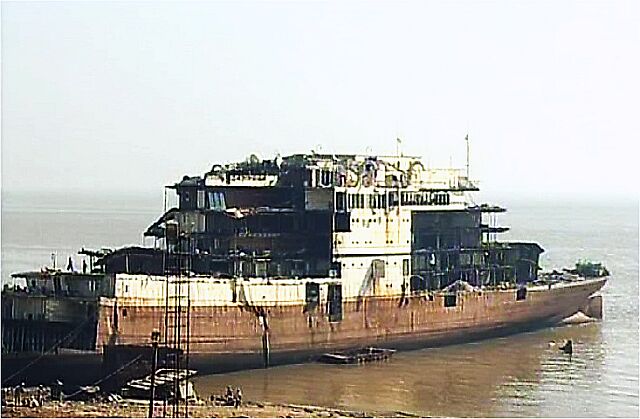 Here we see the ex MV Princesa Victoria, MV The Victoria, MS Victoria & RMS Dunnottar Castle
being so close to her end, it is such a tragic sight for she was an amazing 68 year old ship!
This tragic Photograph was taken by and is © Copyright 2005 Stephan Giesen
Memories of What the Luxurious ms Victoria Was!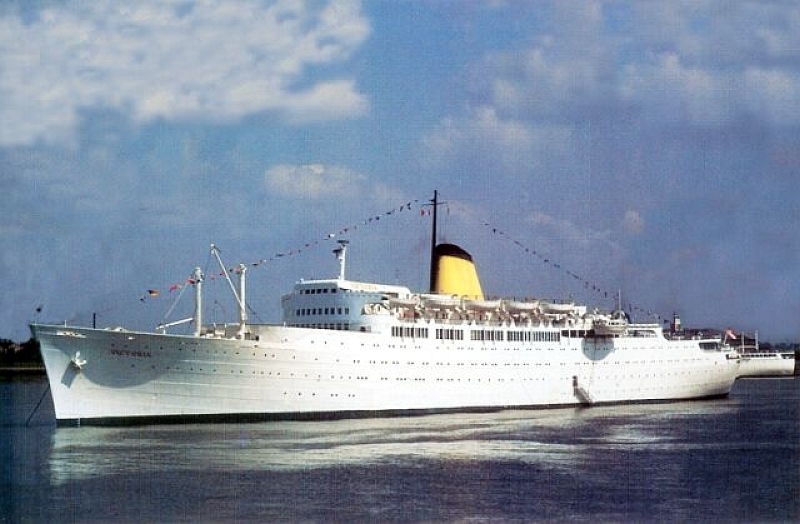 I will always remember her as the sublimely elegant & luxurious Incres Lines' MS Victoria
From the Author's private collection
The Ship with 68 Years at Sea –
INDEX
Union Castle Line:         One of the great Shipping Lines of the past!
Page One …                    RMS Dunnottar 1936 to 1958, also her identical sister the Dunvegan Castle.
Incres Lines:                  One of the finest luxury cruise companies in history!
Page Two …                   MS Victoria 1958 to 1975.
Page Three …                 Brochure Page 1.
Page Four …                   Brochure Page 2.
Page Five …                    Brochure Page 3.
Page Six …                     Brochure Page 4.
Page Seven …                Deck Plan and Menus.
Chandris Cruises:           An excellent budget cruise line.
Page Eight …                  MV The Victoria 1975 to 1993.
Page Nine …                   Deck Plan and Menus.
Louis Cruise Line:          Maltese Company a good basic cruise operation.
Page Ten …                    MV Princesa Victoria 1993 to 2004.
Page Eleven …                Photographs by Stephen William Storey.
Page Twelve …               Deck plan.
Page Thirteen …             MV Victoria I - 2004 - Sad scenes of her beached and being scrapped.
*************************************
 "Blue Water Liners sailing to the distant shores.
I watched them come, I watched them go and I watched them die."
****************************
Visit our ssMaritime Main INDEX
Where you will discover around 690 Classic Passenger & Passenger-Cargo Liners!
ssMaritime.com & ssMaritime.net
Where the ships of the past make history & the 1914 built MV Doulos Story
Please Note: ssmaritime and associated sites are 100% non-commercial and the author does not seek funding or favours and never have and never will.
Photographs on ssmaritime and associate pages are either by the author or from the author's private collection. In addition there are some images and photographs that have been provided by Shipping Companies or private photographers or collectors. Credit is given to all contributors, however, there are some photographs provided to me without details regarding the photographer or owner concerned. Therefore, I hereby invite if owners of these images would be so kind to make them-selves known to me (my email address can be found at the bottom of the page on www.ssmaritime.com), in order that due credit may be given.
ssMaritime is owned & © Copyright by Reuben Goossens - All Rights Reserved