SS Diemerdyk - SS Dinteldyk
Please Note: Firefox and some other search engines are not suitable – Use "Internet Explorer" for this page to load perfectly!

Click the logo above to reach the ssMaritime FrontPage for News Updates & "Ship of the Month"
With Reuben Goossens
Maritime Historian, Cruise'n'Ship Reviewer, Author & Maritime Lecturer
Please Note: All ssMaritime and other related maritime/cruise sites are 100% non-commercial and privately owned. Be assured that I am NOT associated with any shipping or cruise companies or any travel/cruise agencies or any other organisations! Although the author has been in the passenger shipping industry since 1960, although is now retired but having completed around 680 Classic Liners and Cargo-Passengers Ships features I trust these will continue to provide classic ship enthusiasts the information the are seeking, but above all a great deal of pleasure! Reuben Goossens.
N.A.S.M
Holland America Line
SS Diemerdyk & SS Dinteldyk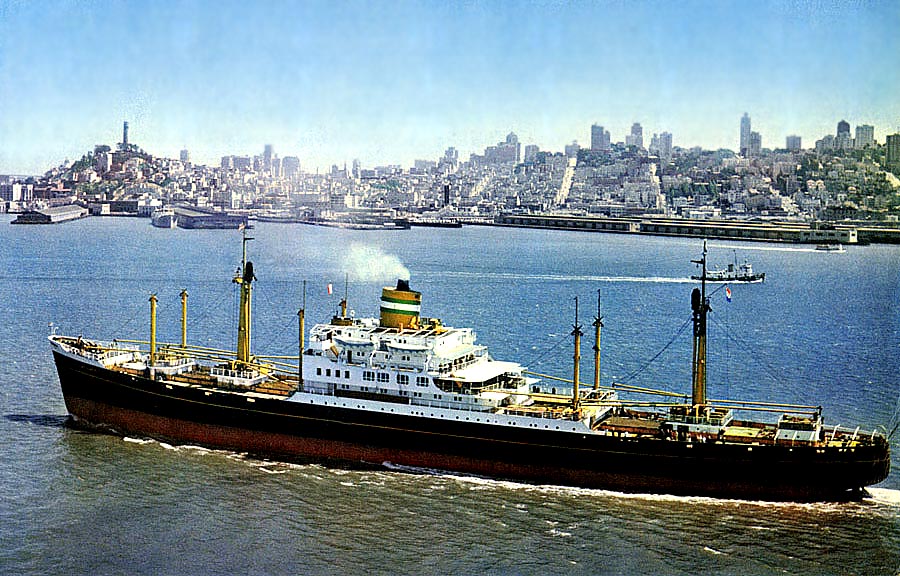 A delightful photograph of the SS Diemerdyk arriving in San Francisco USA after hr long voyage from Rotterdam!
Please Note: Photographs are from the Author's private collection, unless otherwise noted.
I hereby wish to thank Roel Zwama (http://surf.to/shiplover) and Willem van Voorst (www.arendnet.com) of The Netherlands who provided additional information and a number of photographs as marked. Thank you for your kind assistance.
SS Diemerdyk would be the first Holland America Line ship to be built after the war. Built by Wilton Fijenoord in Schiedam, her keel was laid on January 4, 1949, and was launched on December 17, 1949. She undertook sea trails from June 13 to 17, 1950, and was delivered to Holland America on June 23, 1950.
Construction on her sister, Dinteldyk commenced in 1950, however, it was soon decided to redesign her into Trans-Atlantic liner with 861 passengers and was given the name Ryndam, who with her sister Maasdam set a new standard in Tourist Class service yet both offered 39 passengers a penthouse style First Class section up on Boat deck.
With the building of the Ryndam, the building of Diemerdyk's sister the Dinteldyk was put on hold for a further five years. Wilton Fijenoord finally laid down the keel for the Dinteldyk on August 3, 1955, and was launched unnamed on June 9, 1956. She was christened on 20 February, 1957, and departed the next day for her sea trails. She was delivered on February 27, 1957.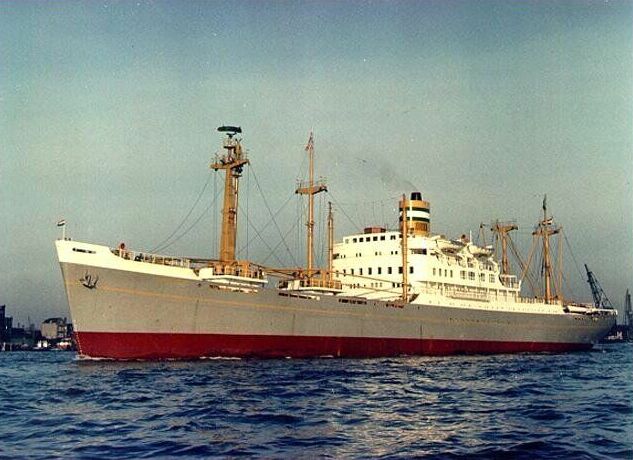 SS Dinteldyk the second of a pair of passenger/cargo liners
She was given the then new HAL livery of a grey hull with a gold ribbon
Diemerdyk departed on her maiden voyage on June 24, 1950, sailing from Rotterdam to New York, thereafter her, and in 1957 the Dinteldyk, schedule would be: Rotterdam, London, Bermuda, Curacao, Cristobal, Los Angeles, San Francisco, Portland, Seattle, Victoria, and Vancouver, returning via Bremen, Hamburg and Antwerp to Rotterdam. Dinteldyk departed on her maiden Trans-Atlantic voyage on March 2, 1957.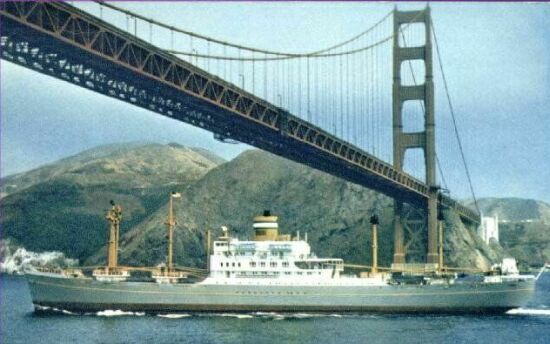 SS Dinteldyk passes under the Golden Gate
Although these ships varied a little in length and tonnage, they were almost identical. Diemerdyk accommodated 61 passengers and Dinteldyk 60. Each ship offered single, twins bedded cabins and several having three berths. All cabins were outside and had private facilities. Promenade Deck featured several excellent lounges, with the Dining Room located down on C deck. The centrally located superstructure offered ample open and sheltered deck space on Boat and Promenade Deck, which was partially glass enclosed and having an aft section overlooking the stern of the ship, and A Deck aft offered ample sports facilities. The Dining Room and all cabins were air-conditioned. Within their six holds there were both cooled and refrigerated facilities for the transport of fruits from the West Coast of the US to Europe.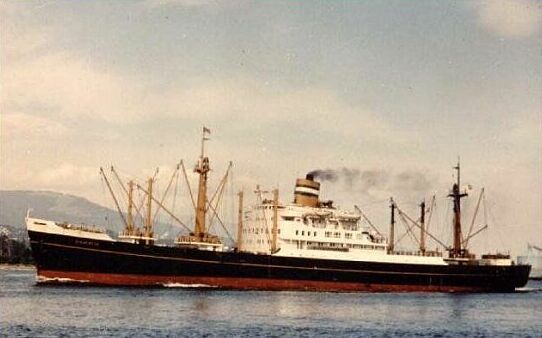 SS Diemerdyk
Specifications:
Built by:                               Wilton Fijenoord Schiedam.
Tonnage:                              Diemerdyk – 11,195 – call sign PDPT.
                                           Dinteldyk – 11,366 – call sign PDQG.
Length:                                Diemerdyk – 498ft / 151,86m.
                                           Dinteldyk – 504ft / 153,62m.
Width:                                  69ft / 21.3m.
Draught:                               30.1ft / 9.15m.
Engines:                               Diemerdyk – Steam, Gen Elec Turbines - 8,500 BHP – Victory class surplus.
                                           Dinteldyk Steam, Pametrade Geared Turbines – 9,350 BHP.
Screws:                                Single.
Service speed:                       16.5 knots.
Passengers:                          61 / 60 One class.
Crew:                                   70.
*****************************************
SS Diemerdyk sold to become Oriental Amiga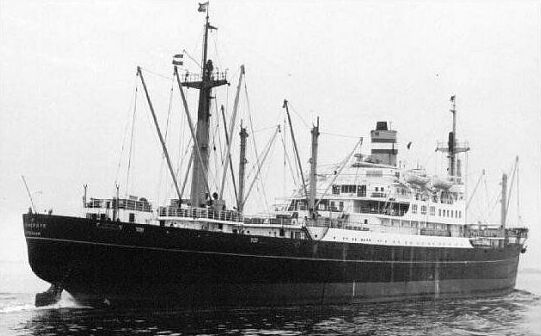 Diemerdyk seen towards the end of her Holland America career
Diemerdyk operated her Trans-Atlantic service until 1968, but was sold on December 3 to the one of the C.Y. Tung companies, "Orient Africa Line" (Liberia) and was renamed her Oriental Amiga, and continued duties as a cargo ship. Although her hull painted grey, contained the name of the sister company "Orient Overseas Line." Her funnel featured the traditional C.Y. Tung emblem.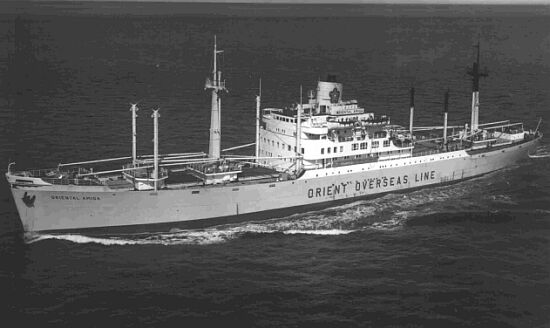 Oriental Amiga - Photo provided by Roel Zwama
Two years later she was converted as a containership and recommenced service. In 1974 she was sold to another C.Y. Tung affiliate company "Orient Overseas Line" and she continued to operate under the same name. The only livery change was that her hull was painted black.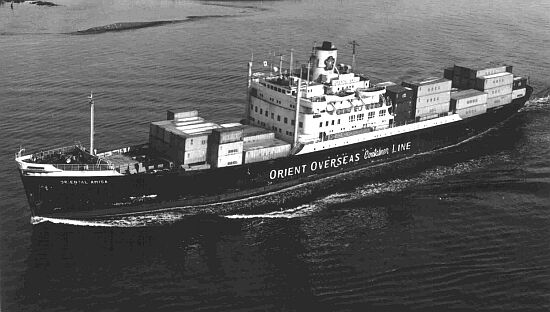 Oriental Amiga - Photo provided by Roel Zwama
Oriental Amiga was sold to be broken up late in 1977 and arrived in Kaohsiung Taiwan on January 7, 1978 and was duly laid up. Chi Shung Hwa Steel Enterprise Co Ltd commenced scrapping her on August 7.
*****************************************
SS Dinteldyk sold to become Oriental Fantasia / Hong Kong Success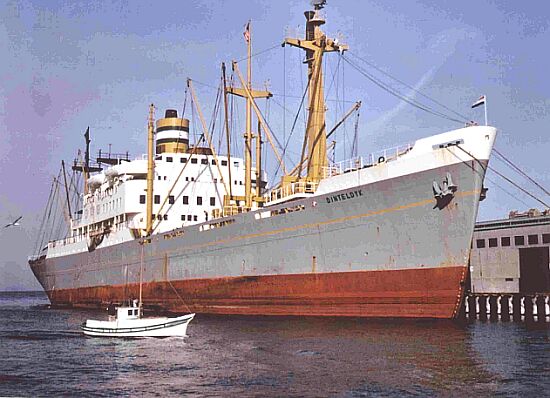 Dinteldyk - Photo provided by Roel Zwama
Dinteldyk was sold in June 1970 to C.Y. Tung's Oriental Central America Lines, Monrovia and was renamed Oriental Fantasia and like her sister she was rebuilt as a container ship. Her hull also contained the name of the sister company "Orient Overseas Line," with her funnel pained with the C.Y. Tung emblem.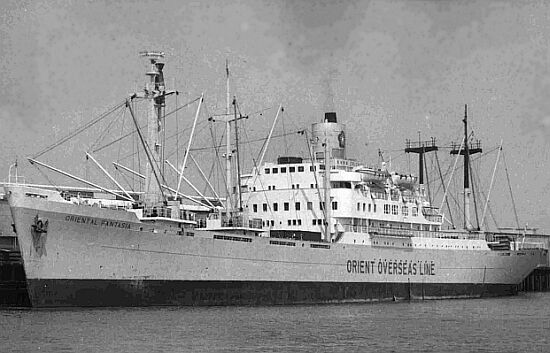 Oriental Fantasia - Photo provided by Roel Zwama
In 1972 she was sold to another C.Y. Tung company, Pacific Union Lines Ltd., Hong Kong and was renamed Hong Kong Success. In 1976 she was transferred to Oriental Central America Lines Inc., Liberia, but sailed under the same name and livery.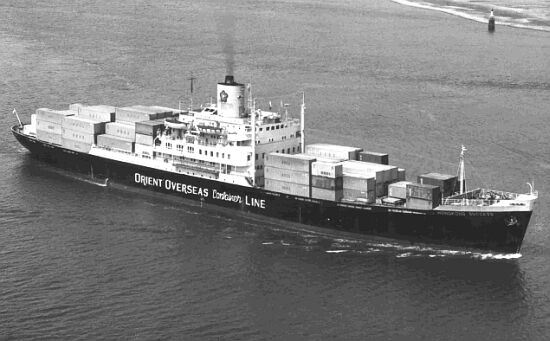 Hong Kong Success - Photo provided by Roel Zwama
Hong Kong Success was sold late 1978 to broken up and arrived at the Chen Tai Iron Works shipyards at Kaohsiung Taiwan on January 1, 1979, and breaking up commenced on February 10.
There was no doubt about it, but originally these were superb passenger cargo liners that offered excellent service from Europe to the West Coast of America and many ex passengers to this day continue to speak very highly about them, as these two ships were greatly loved. Thus, many who will read this feature will be able relive their days on these delightful and intimate small ships!
Remembering a Great pair of Holland America Line
Passenger - Cargo Liners!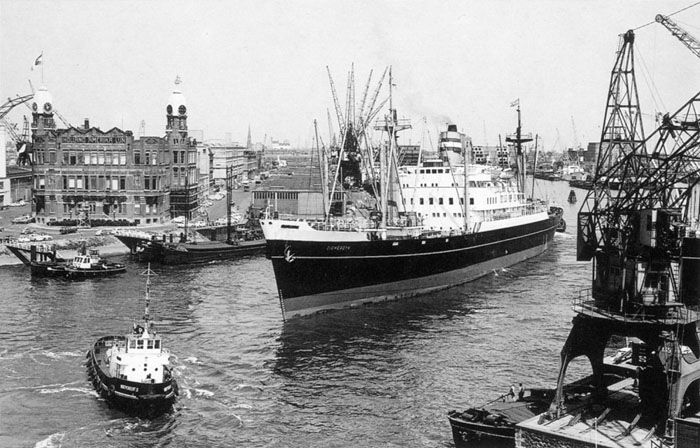 Above: The SS Diemerdyk is seen departing the busy port of Rotterdam and is heading across the Atlantic bound for the east coast of America, then she will sail through the Panama Canal and conclude her voyage to San Francisco. For interest, the Holland America Line Head Office can be seen on the left and the building with those beautiful towers is today a 5 Star luxury hotel. The SS Diemerdyk is seen here in her original HAL livery, with a black hull, a white ribbon, red boot topping and an all white superstructure. The funnel being; yellow with the green and white bars. - The Photograph provided by Willem van Voorst.
INDEX:
Page One:                 The history of two fine passenger cargo ships.
Page Two:                Photographs of the ships.
Page Three:              The Reijnouw Nunnink's voyage on the SS Dinteldyk.
Also Visit … M.V. Dalerdijk, M.V. Delfdijk & S.S. Duivendijk:
Page One -                The Ships History & Photo Page.
Page Two -               Their Deck Plans.
And the MS Noordam & MS Westerdam & their Two ill-fated sisters!
Feature 2  -              The MS Noordam & MS Westerdam.
"Blue Water Liners sailing to the distant shores.
I watched them come, I watched them go and I watched them die."
****************************
Visit our ssMaritime Main INDEX
Where you will discover around 680 Classic Passenger & Passenger-Cargo Liners!
ssMaritime.com & ssMaritime.net
Where the ships of the past make history & the 1914 built MV Doulos Story
Please Note: ssmaritime and associated sites are 100% non-commercial and the author does not seek funding or favours and never have and never will.
Photographs on ssmaritime and associate pages are either by the author or from the author's private collection. In addition there are some images and photographs that have been provided by Shipping Companies or private photographers or collectors. Credit is given to all contributors, however, there are some photographs provided to me without details regarding the photographer or owner concerned. Therefore, I hereby invite if owners of these images would be so kind to make them-selves known to me (my email address can be found at the bottom of the page on www.ssmaritime.com), in order that due credit may be given.
ssMaritime is owned & © Copyright by Reuben Goossens - All Rights Reserved