Please Note: Firefox and some other search engines are not suitable – Use "Internet Explorer" for this page to load perfectly!

Click the logo above to reach the ssMaritime FrontPage for News Updates & "Ship of the Month"
With Reuben Goossens
Maritime Historian, Cruise'n'Ship Reviewer, Author & Maritime Lecturer
Please Note: All ssMaritime and other related maritime/cruise sites are 100% non-commercial and privately owned. Be assured that I am NOT associated with any shipping or cruise companies or any travel/cruise agencies or any other organisations! Although the author has been in the passenger shipping industry since 1960, although is now retired but having completed around 680 Classic Liners and Cargo-Passengers Ships features I trust these will continue to provide classic ship enthusiasts the information the are seeking, but above all a great deal of pleasure! Reuben Goossens.
Dominion Line
(H.C. Sleigh)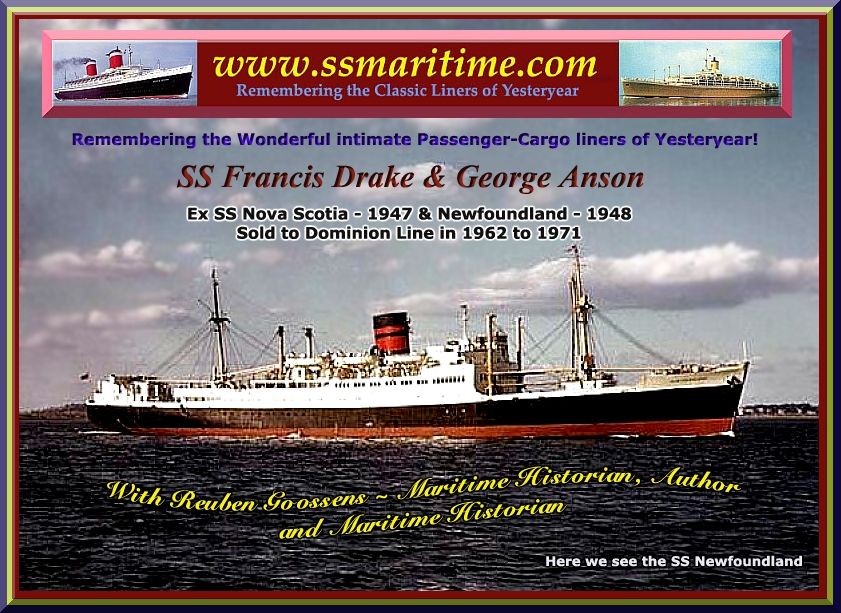 Page One – History Page
Please Note: All images on this page are from the author's private collection, unless otherwise noted.
The SS Francis Drake and SS George Anson were two fine small combination passenger cargo liners, which were owned by Dominion Navigation Co. Ltd, Nassau Bahamas, but managed in Australia by H.C. Sleigh Ltd.
This page contains their story from birth as the SS Nova Scotia and SS Newfoundland to their final days at the breakers yards.
Part One – Furness Warren Line
SS Francis Drake and SS George Anson were built as the Nova Scotia (1947) and Newfoundland (1948) respectively for the Furness Warren Line who operated them between Liverpool, St John's N.F, Halifax and Boston.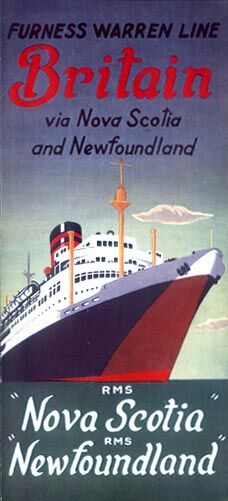 Copy from inside this brochure: "For comfortable and economical travel the Nova Scotia and Newfoundland present all amenities for good living at sea, and the limited number of passengers carried means personal service is assured.
The accommodation is of a high standard both in First Class and Tourist Class, the former having single and double rooms with private shower and toilet. Individual control of ventilation is installed in every cabin, only one of which has no outside location.
The Public Rooms are tastefully panelled and consist of a spacious Dinning Saloons and comfortable Lounges with a Smoke Room and Bar in each Class.
Both vessels have ample deck space for open-air recreation, deck games, etc. Cinema and Library are provided."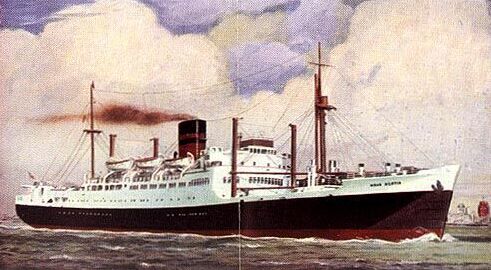 Warren Furness brochure and a photo from inside
SS Newfoundland departing Boston in 1960
Photographer unknown - *See photo notes at the bottom of the page
Each accommodated 60 First Class and 90 Tourist Class passengers until in December 1961, when due to declining passenger numbers it was decided to accommodate just 12 First Class passengers, leaving much of the ship unoccupied. Less than one year later they were placed on the market and sold.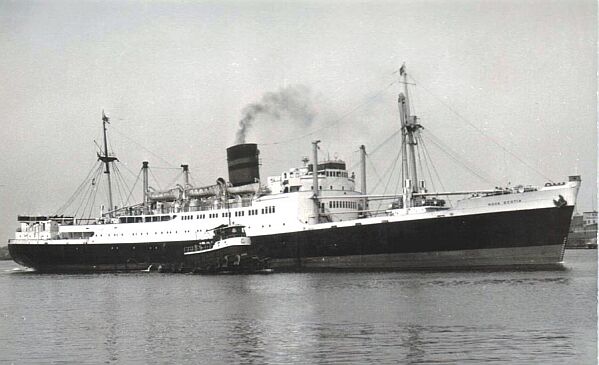 A fine photo of the SS Nova Scotia
Photographer unknown - *See photo notes at the bottom of the page
*****************************************
Part Two – Dominion Line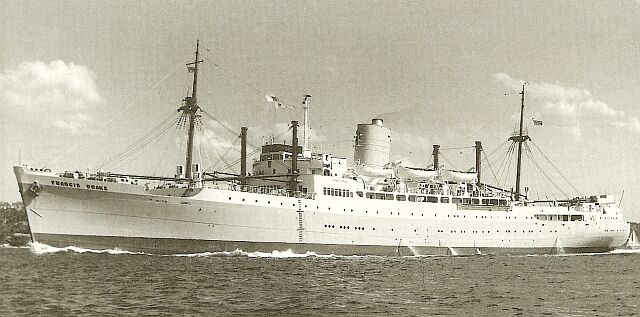 Francis Drake departs Sydney for Asia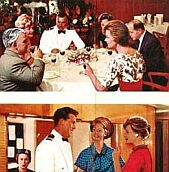 Above: Images taken from a Dominion Line brochure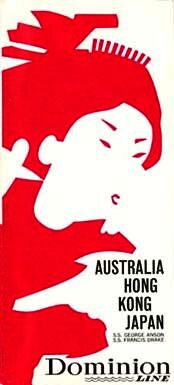 Left: A 1963 brochure / sailing schedule

SS Francis Drake - These two ships were well-proportioned fine looking small passenger/cargo liners
These fine ships were purchased by the Dominion Line in October 1962 to be used on the Australia Japan service. Both ships were sent to Barclay Curle Shipyards in Glasgow to be partially rebuilt and fully refitted. The superstructure was extended forward and all cabins were extensively remodelled. In addition full air-conditioning was installed for operations in warmer climate, and a pool was installed aft on Promenade Deck.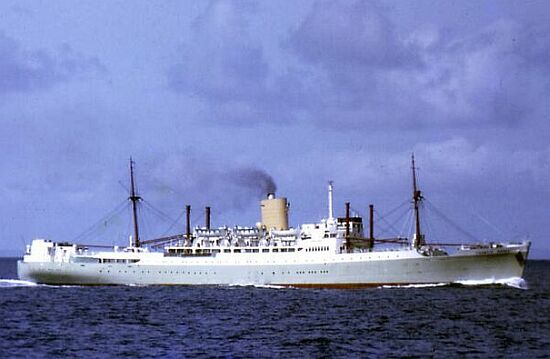 George Anson a fine sight at sea
Upon completion most cabins were for two, with several having a Pullman for a third passenger. There was one Deluxe Suite, and forty two cabins had private facilities. Public rooms included a Smoke Room forward, a fine Lounge located amidships, a Library, and a spacious Ballroom which was also used as a Cinema.
Mini Photo Album
Brochure Images blelow are from a Dominion Line brochure provided by Stan Evans - Newcastle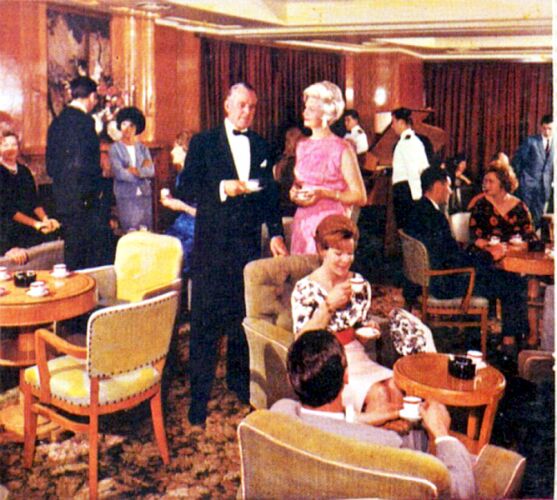 Elegant nights in a beautiful Lounge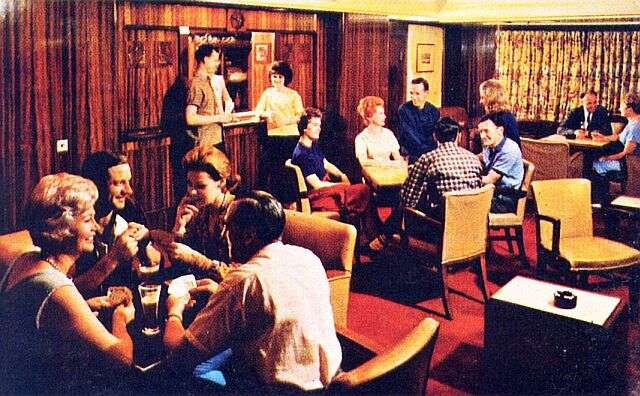 A game of cards, a chat and a drink in the bar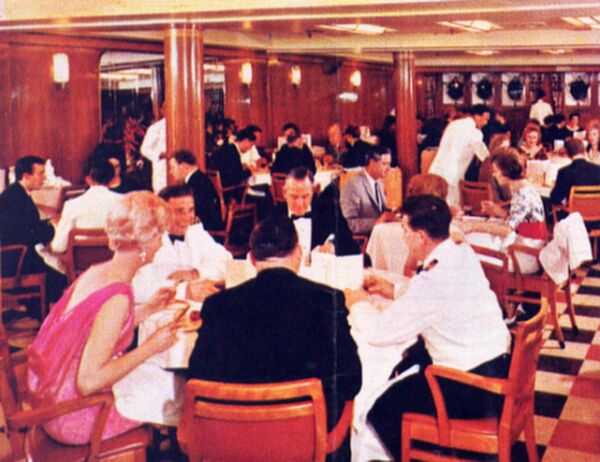 Superb timbers lined the walls, giving the Dinning Rooms a warmth, complementing the excellent service and the ships fine food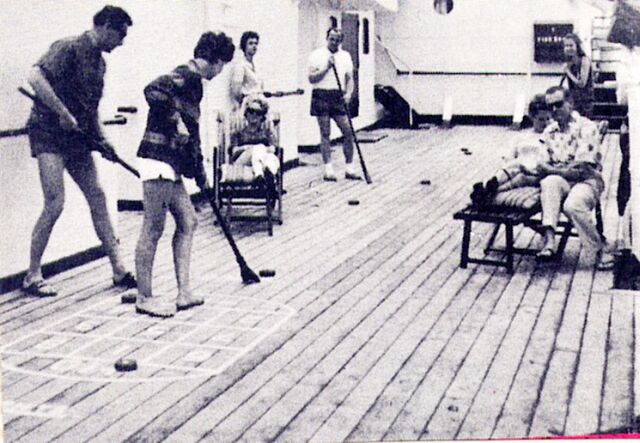 Suffle

board up on Boat deck was always popular!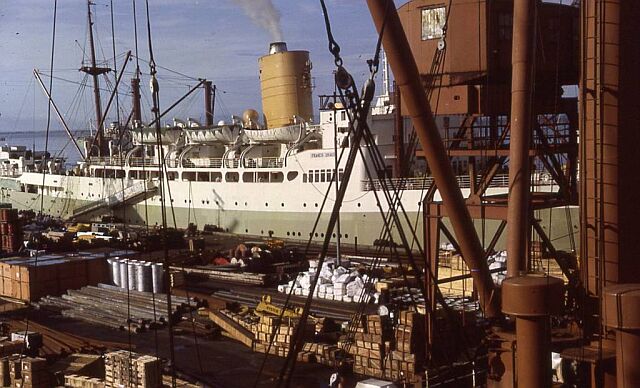 Here we see SS Francis Drake berthed and looking pristine at this busy port!

Photographer unknown - *See photo notes at the bottom of the page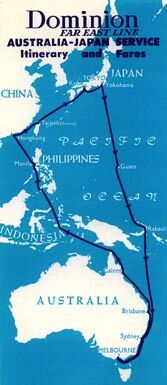 1965 brochure & schedule
Route: 1963-1965/1966-1971. Melbourne, Sydney, Brisbane, Townsville (optional), Cairns (optional), Manila, Hong Kong, Keelung, Kobe, Yokohama, Guam, Rabaul, Sydney, Melbourne.
Their alternative was: September 1965 to December 1966. Melbourne, Sydney, Brisbane, Cairns, Manila, Hong Kong, Keelung, Kobe, Yokohama, Guam, Rabaul, Sydney, Melbourne.
There was a great deal of competition on the Australia, Japan service, such as the Royal Interocean much white-yachts Tjiluwah and Tjiwangi. China Navigation Co, Changsha and Taiyuan, later the Kuala Lumpur was also added in a part time role. The Eastern Australian Steamship Co, Aramac. And finally P&O's Cathay and Chitral also operated on this service. There was no doubt that this service was popular, but eventually passenger numbers declined due to the glut of berths on offer.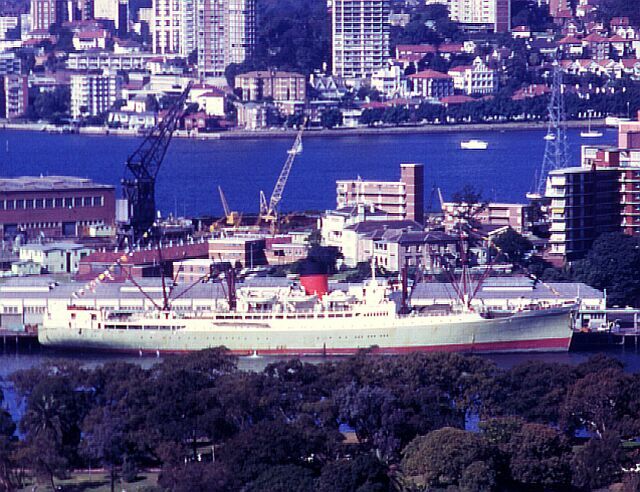 SS George Anson seen in Sydney
Photograph by & ? Stan Evans
Francis Drake and her sister George Anson were extremely popular offering an all first class service with superb service and cuisine. Most passengers undertook the sixty three day voyage from Melbourne (less from other Australia ports) as a leisurely cruise. Others disembarked in Asia and flew home, but the vast majority came home with rave reviews of the service and quality of these ships.
However, like most company's by 1970 passenger's numbers was rapidly declining, thus Dominion Line decided to terminate services and in 1971 both ships were sold to ship breakers and they departed for Kaohsiung, Taiwan and they were broken up that same year.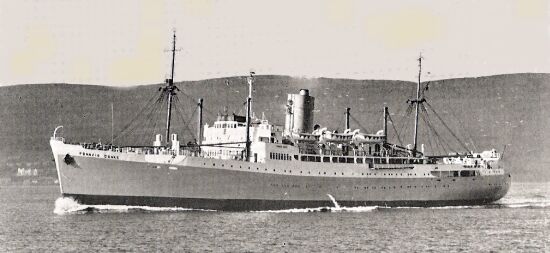 Francis Drake passes through Sydney Heads on yet another voyage to Japan
*****************************************
Specifications:??????????????????? Francis Drake & George Anson.
Built by:?????????????????????????????? Vickers Armstrong, Newcastle.
Tonnage:????????????????????????????? both 7,743 GRT – 7,438 as built.
Length:??????????????????????????????? 440ft.
Width:????????????????????????????????? 61ft.
Draught:?????????????????????????????? 25.6ft.
Engines:?????????????????????????????? Steam. D.R. & S.R. Geared Turbines.
Screws:??????????????????????????????? Single.
Service speed:?????????????????????? 16 knots.
Passengers:????????????????????????? 130 all First Class accommodations.
?????????????????????????????????????????? Fully Air-conditioned.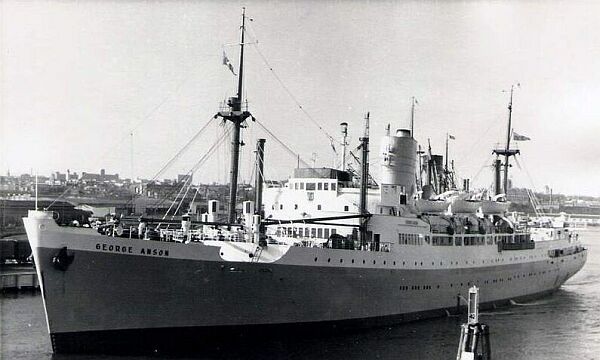 George Anson is seen here looking smart, but towards the end of her career

Go to Page Two: Photographs, Menu, and a Passenger List of the SS George Anson

"Blue Water Liners sailing to the distant shores.


I watched them come, I watched them go and I watched them die."

****************************

Visit our ssMaritime Main INDEX

Where you will discover around 680 Classic Passenger & Passenger-Cargo Liners!

ssMaritime.com & ssMaritime.net

Where the ships of the past make history & the 1914 built MV Doulos Story

Please Note: ssmaritime and associated sites are 100% non-commercial and the author does not seek funding or favours and never have and never will.

Photographs on ssmaritime and associate pages are either by the author or from the author's private collection. In addition there are some images and photographs that have been provided by Shipping Companies or private photographers or collectors. Credit is given to all contributors, however, there are some photographs provided to me without details regarding the photographer or owner concerned. Therefore, I hereby invite if owners of these images would be so kind to make them-selves known to me (my email address can be found at the bottom of the page on www.ssmaritime.com), in order that due credit may be given.

ssMaritime is owned & ? Copyright by Reuben Goossens - All Rights Reserved