Shaw Savill Line - QSMV Dominion Monarch - Memorabilia Page
Please Note: Firefox and some other search engines are not suitable – Use "Internet Explorer" for this page to load perfectly!

Click the logo above to reach the ssMaritime FrontPage for News Updates & "Ship of the Month"
With Reuben Goossens
Maritime Historian, Cruise'n'Ship Reviewer, Author & Lecturer
Please Note: All ssMaritime and my other related ssMaritime sites are 100% non-commercial and privately owned sites. Be assured that my sites have never been associated with any cruise or shipping companies or travel/cruise agencies or any other organisations! The author commenced working in the Passenger Shipping Industry back in 1960 but is now very much retired and I hope that the well over 625 articles on classic liners and cruise ships that I have written will continue to inform and also bring much joy to ship enthusiasts for many more years to come!
Shaw Savill Line
Q.S.M.V.
 

Dominion Monarch
Q.S.M.V = "Quadruple Screw Motor Vessel"
The Largest Liner of its Kind ever to be Built
Page Three - Memorabilia Feature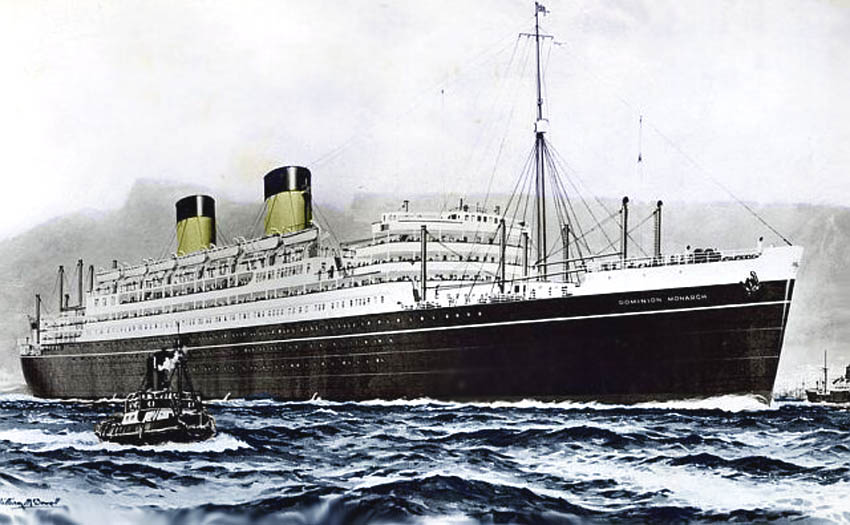 Here we see the partial black and white version of an artist impression of what was a colour version
Thank You to the Contributors!
This page has a wonderful collection of QSMV Dominion Monarch items of memorabilia, all of which has kindly been sent in by those who have either sailed on her, or the parents, as well as a crewmember. I hereby wish to thank Ken Goles, Lynne Hector, John Kelk and Dianne Morris for their kind contribution to this page, for be assured that so many ship lovers, especially who so dearly admire this great liner will enjoy seeing these items!
Playing Cards:
The following four images hereunder are a double pack of playing cards. These were kindly provided by Ken Goles. Playing cards were given to all passengers and were these were beautifully presented in a brass like tin containing the two decks of cards.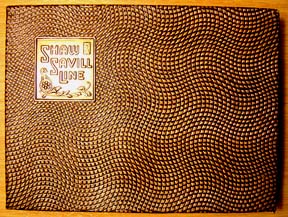 Lid of the card container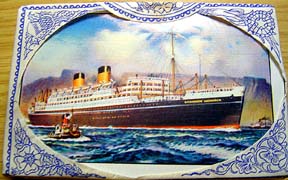 Outer pack is blue on white and are still sealed
The cards show the Dominion Monarch at Cape Town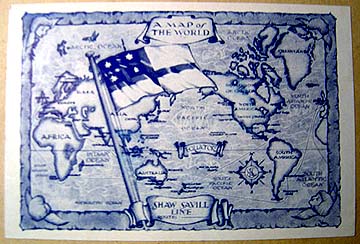 Bottom view of both packs show Shaw Savill's world map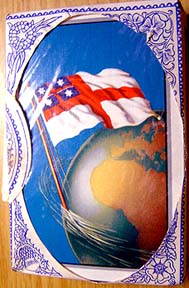 Second set of playing cards shows the Shaw Savill flag travelling around the globe
I wish to thank Coles for allowing us to use the card images that are seen above!
***********************************
A Beautiful Napkin Ring: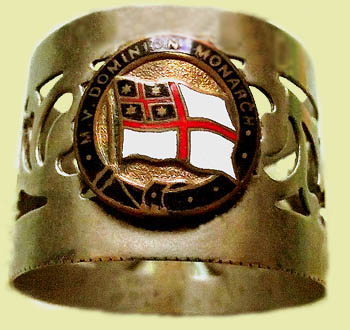 This was sent to me by yet another supporter, whose parents sailed on this great lady post War
Provided by Helen Cohen, nee Rosenblum
Pewter Mug: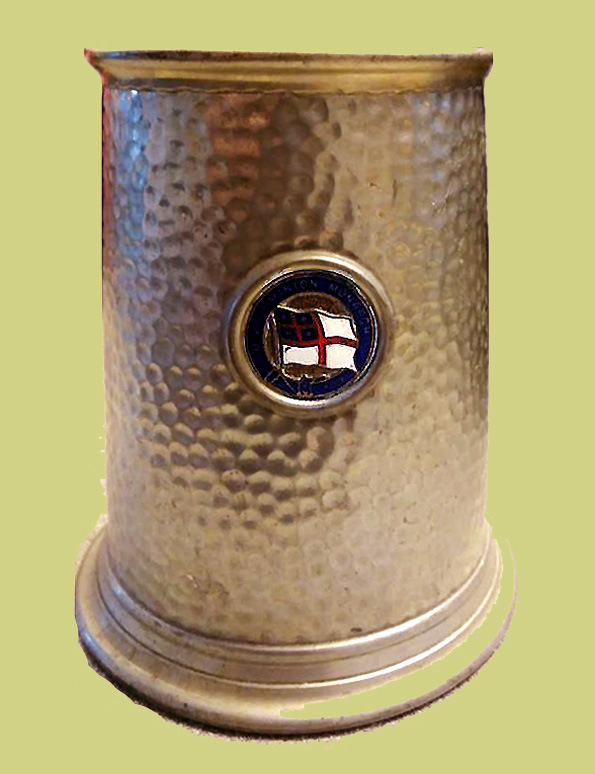 A beautiful pewter mug obtained from on board the QSMV Dominion Monarch
Photographs above & below were kindly provided by Gordon Driver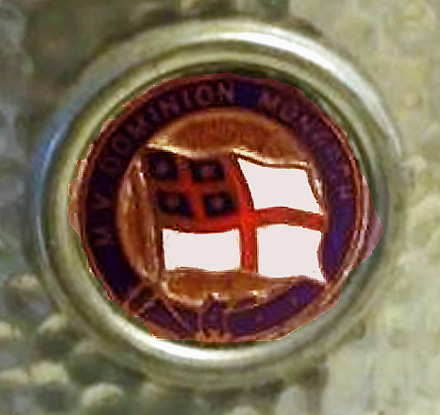 The Shaw Savill Logo from the front of the pewter mug
Gordon's father gave the pewter mug to him when he was a child and Gordon told me that "his father would have taken the Dominion Monarch to England from Cape Town when he was in his 20's." He looked the ship up and found it on ssMaritime, as most discover the ships people are searching for! Thank you Gordon.
A Menu behind a Mantelpiece?
On September 12, 2008, I received an email from Lynne Hector in New Zealand, who advised me the following: "We have recently removed a mantelpiece in our lounge and found behind it a menu to a Children's Tea Party on the Dominion Monarch on Thursday, 9th February 1950. It is quite damaged i.e. half the back page is missing." Lynne wondered if I would be interested in having it, and of course I certainly was. I am delighted to present this long hidden treasure below. Remember this was obviously a lost item from a previous owner of the house and stuck behind this mantelpiece possibly for a good 50 years or so. Thus it was a wonderful find, that here we still have at least 80% of this menu 58 years after it was printed on board the great all first class Dominion Monarch!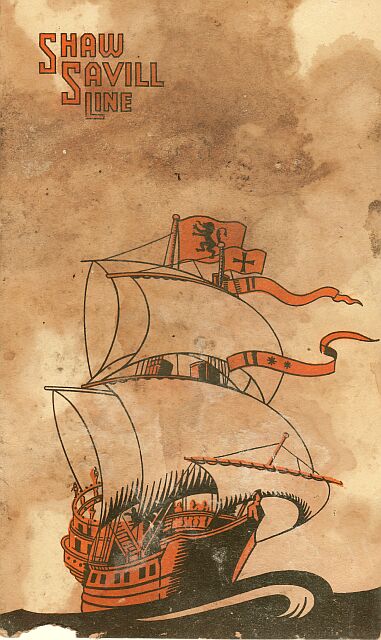 The front cover of Children's Tea Party Menu - February 9, 1950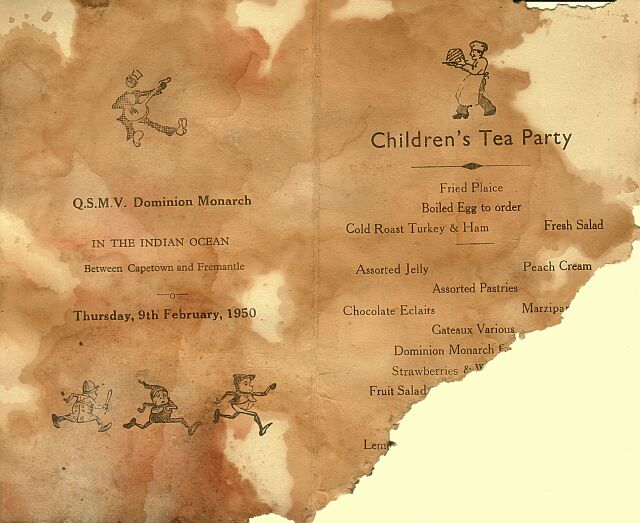 Can I have an Éclair please?
Thank Lynne Hector for so kindly sending the actual menu!
***********************************
John

's Various Items:
John Kelk was a Bellboy on the Dominion Monarch's from February to September 1958 and his story appears on page one. He provided the front cover of the Information Booklet and a set of menus!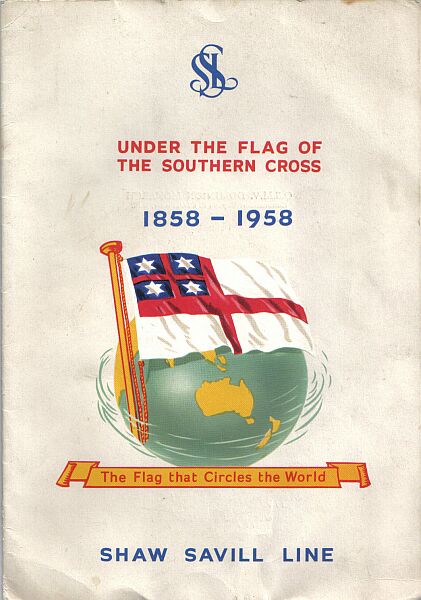 Front cover of the Information booklet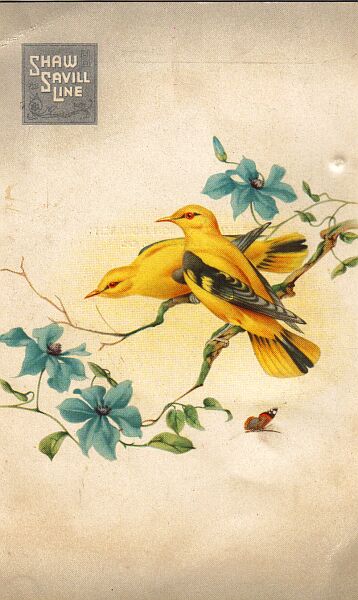 Landfall Dinner – Menu Cover – June 4, 1958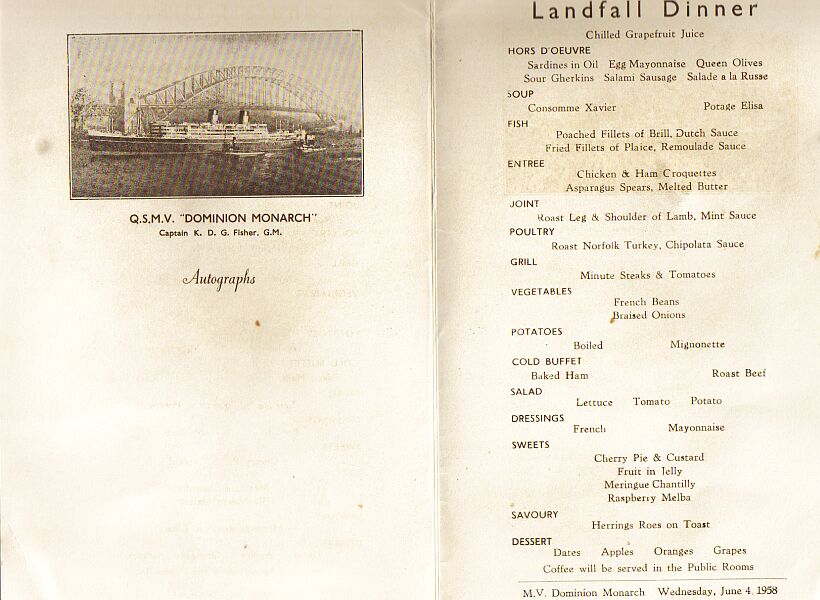 The Menu prior to a Sydney arrival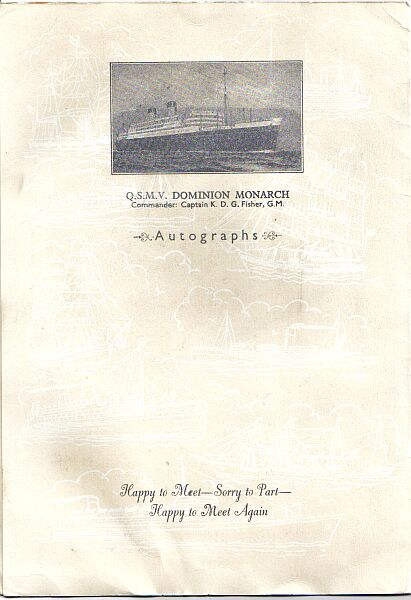 Back page for more autographs
The Home Voyage to the UK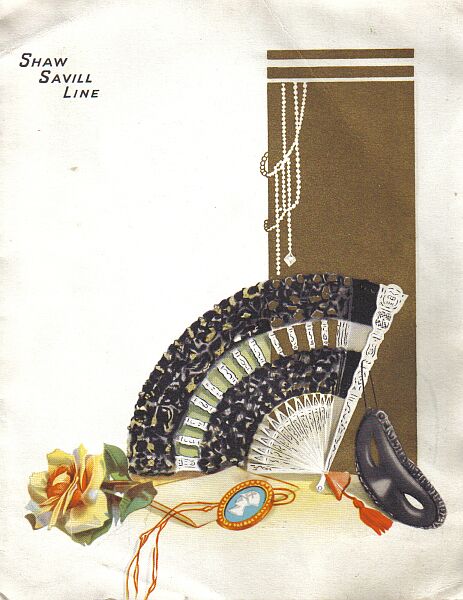 Mad Hatters Dinner - Menu cover - June 12, 1958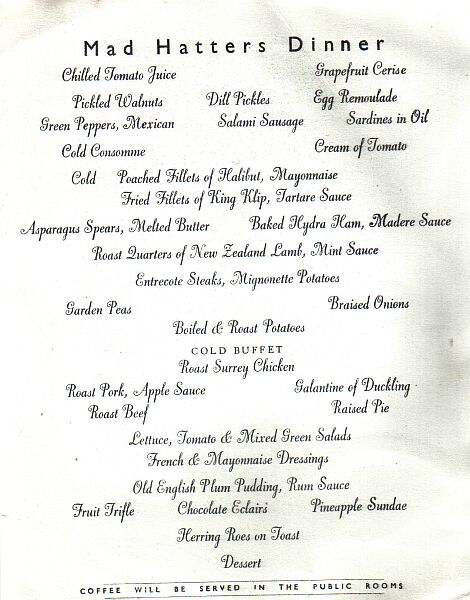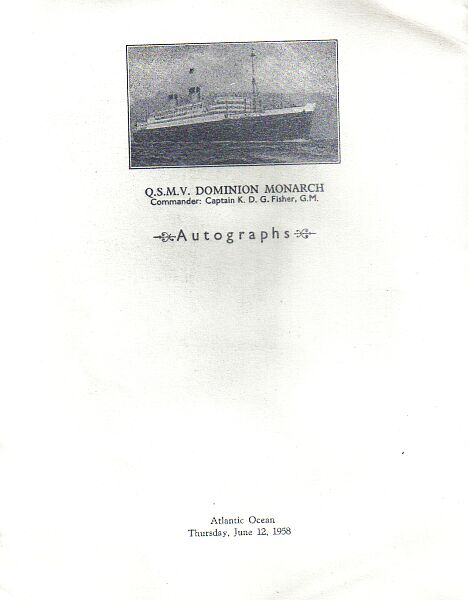 Autograph page
Items from her Final Months of Service:
In early September 2011 I received an email from Dianne Morris, who wrote: "On Monday 19 September 1961 my family celebrates the 50th anniversary of our arrival in New Zealand on board the Dominion Monarch from Cape Town. In preparation for our celebrations we came across the attached Race Meeting Programme and the Landfall Menu, which I thought you might be interested in. Thank you for your website, it's been fabulous to find all the information you have there."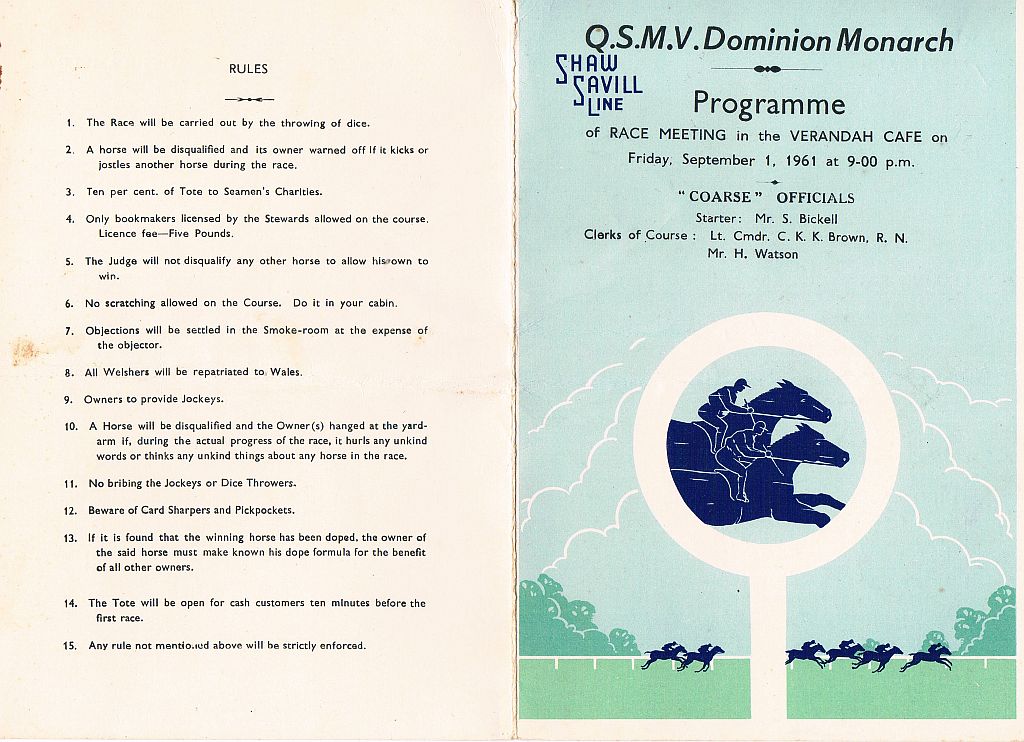 Race Page Cover dated September 1, 1961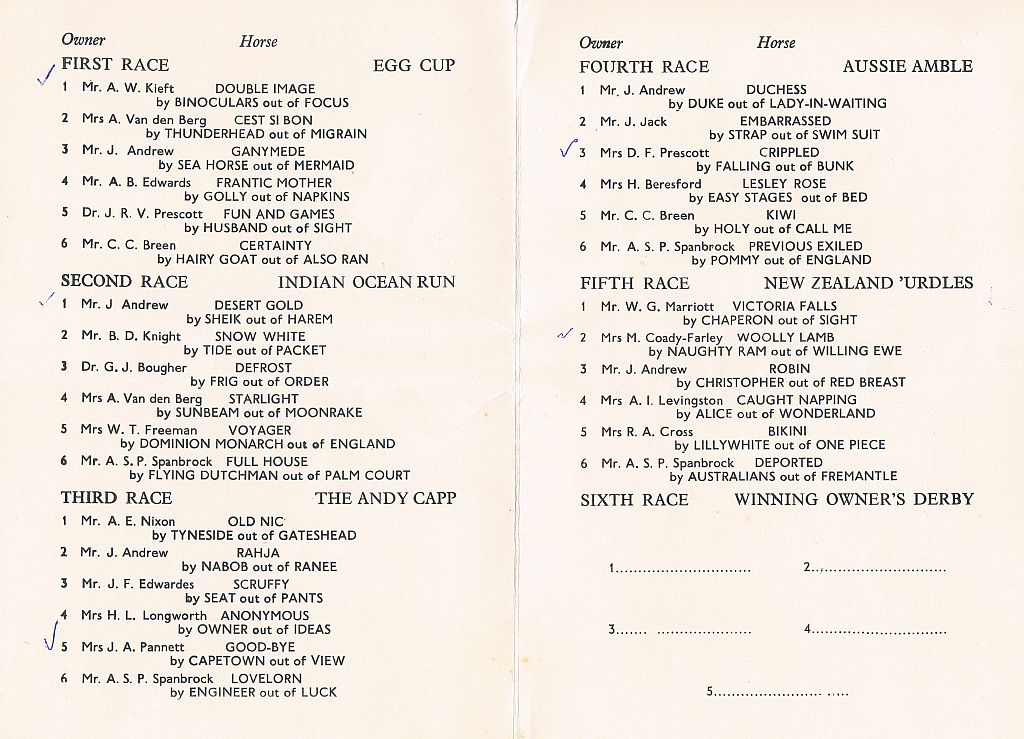 Interiors of the race guide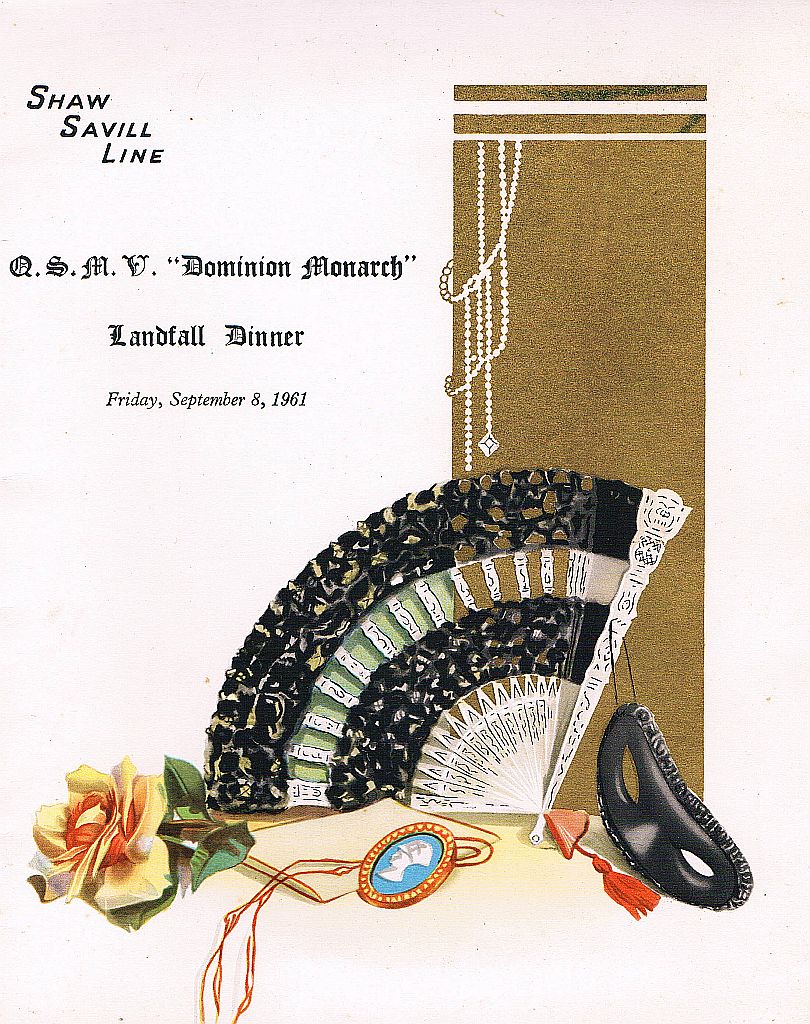 Dominion Monarch's "Landfall Dinner" September 8, 1961 - pre arrival in Melbourne or Sydney?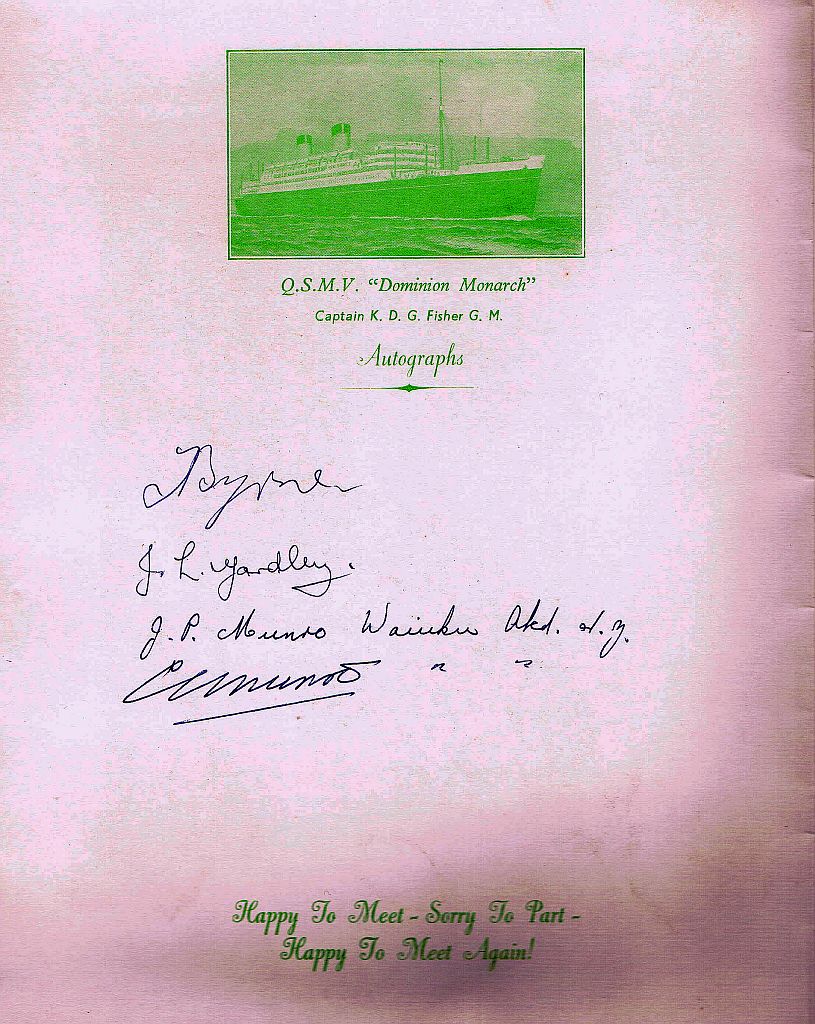 Inside left page, used for autographs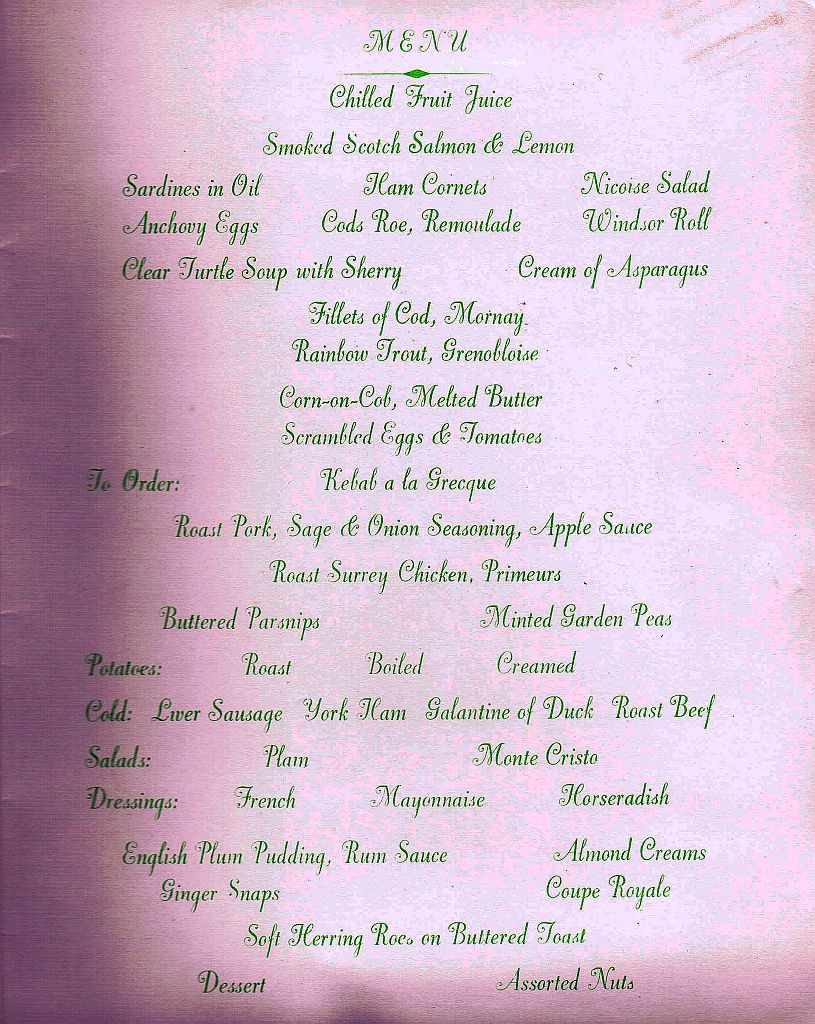 Inside right hand side – featuring a wonderful Dinner Menu
***********************************
LINKS:
Page Three:…..Memorabilia Page.
Page Four:……..Ship layouts dated February 1939.
Also read about other Shaw Savill ships on ssMaritime.com:
SS Southern Cross - SS Corinthic-Athenic-Ceramic-Gothic
"The Big Blue Water Liners sailing to the distant shores.
I watched then come, I watched them go, and I watched them die."
****************************
Visit our ssMaritime Main INDEX
Where you will discover over 1,250 Classic Passenger & Passenger-Cargo Liners!
ssMaritime.com & ssMaritime.net
Where the ships of the past make history & the 1914 built MV Doulos Story
Also visit my
"Save The Classic Liners Campaign"
Please Note: ssmaritime and associated sites are 100% non-commercial and the author seeks no funding or favours of any shape or form, never have and never will!
Photographs on ssmaritime and associate pages are by the author or from the author's private collection. In addition there are some images that have been provided by Shipping Companies and private photographers or collectors. Credit is given to all contributors. However, there are some photographs provided to me without details regarding the photographer/owner concerned. I hereby invite if owners of these images would be so kind to make them-selves known to me (my email address may be found on www.ssmaritime.com only), in order that due credit may be given.
ssMaritime is owed & © Copyright by Reuben Goossens - All Rights Reserved