QSMV Dominion Monarch -Deck Plan
Please Note: Firefox and some other search engines are not suitable – Use "Internet Explorer" for this page to load perfectly!

Click the logo above to reach the ssMaritime FrontPage for News Updates & "Ship of the Month"
With Reuben Goossens
Maritime Historian, Cruise'n'Ship Reviewer, Author & Lecturer
Please Note: All ssMaritime and my other related ssMaritime sites are 100% non-commercial and privately owned sites. Be assured that my sites have never been associated with any cruise or shipping companies or travel/cruise agencies or any other organisations! The author commenced working in the Passenger Shipping Industry back in 1960 but is now very much retired and I hope that the well over 625 articles on classic liners and cruise ships that I have written will continue to inform and also bring much joy to ship enthusiasts for many more years to come!
Shaw Savill Line
QSMV Dominion Monarch
The Largest Liner of its Kind ever Built
Shaw Savill Line - QSMV Dominion Monarch
General Ship Layout by the Builder
"Swann, Hunter and Wigham Richardson. Ltd, Wallsend, England."
Taken from a Commemorative booklet released upon her Maiden Voyage on February 17, 1939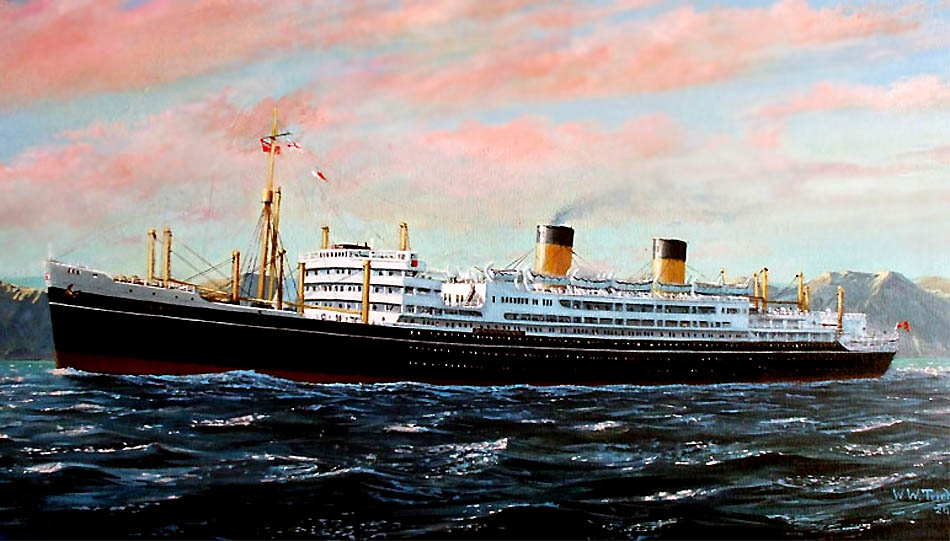 A fine painting of the Dominion Monarch by New Zealand's Maritime Artist Mr. Wallace Trickett
Visit Wallace Trickett's website at - www.bluestarline.org/index.html
On Page Two of the QSMV Dominion Monarch feature you will have seen a host of fine photographs, which came from a 63 page booklet I received from Jo Garrett, who's Father Mr. Eddy Garret worked for over thirty years at the famed Swan Hunter & Wigham Richardson shipyards and he was involved in the building of this great liner as well as many other ships. The images presented below originate from this commemorative booklet that was released and distributed amongst the staff and workers at the yard alone on the occasion of her maiden voyage on February 17, 1939. In the rear of this booklet were two fold away plans of the ship, although there were in a semi torn condition, however, scanning them with care and using Photoshop, they have come up well as a whole, and you will now gain an overall view of this great liner - Enjoy!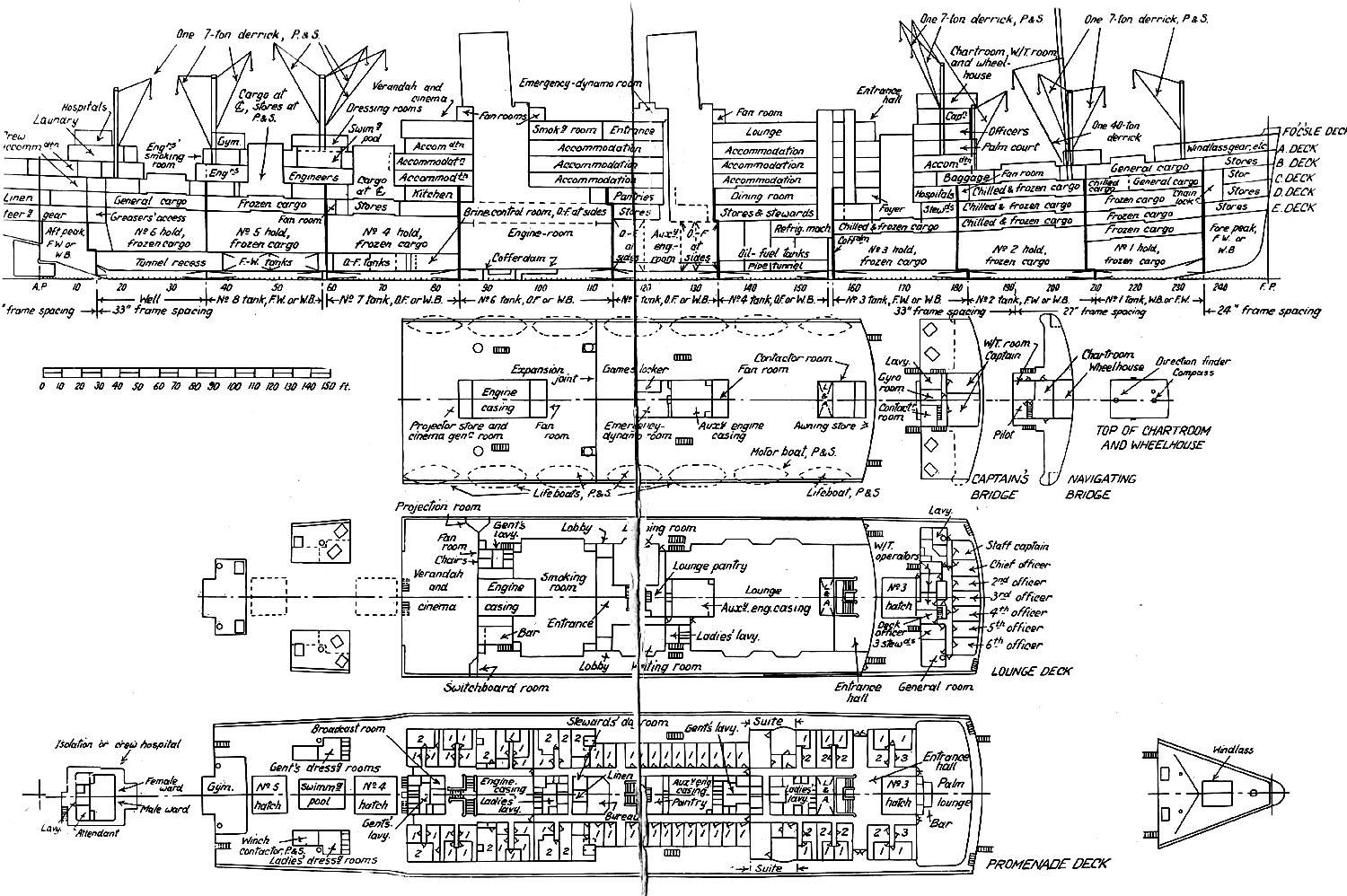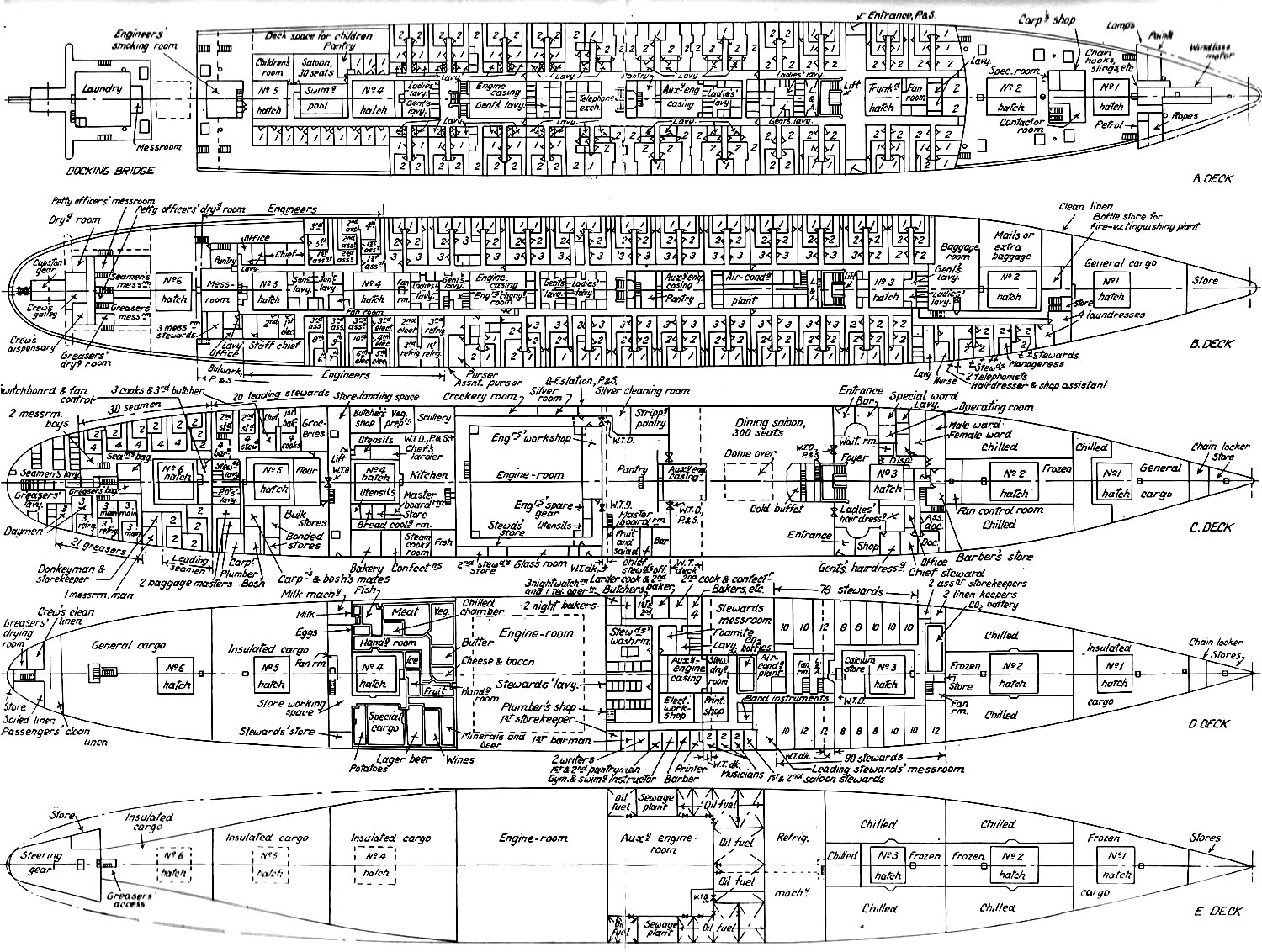 ****************************
LINKS:
Page Three:…..Memorabilia Page.
Page Four:……..Ship layouts dated February 1939.
Also read about other Shaw Savill ships on ssMaritime.com:
SS Southern Cross - SS Corinthic-Athenic-Ceramic-Gothic
"The Big Blue Water Liners sailing to the distant shores.
I watched then come, I watched them go, and I watched them die."
****************************
Visit our ssMaritime Main INDEX
Where you will discover over 1,250 Classic Passenger & Passenger-Cargo Liners!
ssMaritime.com & ssMaritime.net
Where the ships of the past make history & the 1914 built MV Doulos Story
Also visit my
"Save The Classic Liners Campaign"
Please Note: ssmaritime and associated sites are 100% non-commercial and the author seeks no funding or favours of any shape or form, never have and never will!
Photographs on ssmaritime and associate pages are by the author or from the author's private collection. In addition there are some images that have been provided by Shipping Companies and private photographers or collectors. Credit is given to all contributors. However, there are some photographs provided to me without details regarding the photographer/owner concerned. I hereby invite if owners of these images would be so kind to make them-selves known to me (my email address may be found on www.ssmaritime.com only), in order that due credit may be given.
ssMaritime is owned & © Copyright by Reuben Goossens - All Rights Reserved