Shaw Savill Line - QSMV Dominion Monarch
Please Note: Firefox and some other search engines are not suitable – Use "Internet Explorer" for this page to load perfectly!

Click the logo above to reach the ssMaritime FrontPage for News Updates & "Ship of the Month"
With Reuben Goossens
Maritime Historian, Cruise'n'Ship Reviewer, Author & Lecturer
Please Note: All ssMaritime and my other related ssMaritime sites are 100% non-commercial and privately owned sites. Be assured that my sites have never been associated with any cruise or shipping companies or travel/cruise agencies or any other organisations! The author commenced working in the Passenger Shipping Industry back in 1960 but is now very much retired and I hope that the well over 625 articles on classic liners and cruise ships that I have written will continue to inform and also bring much joy to ship enthusiasts for many more years to come!
Shaw Savill Line
QSMV Dominion Monarch
The Largest Liner of its Kind ever to be Built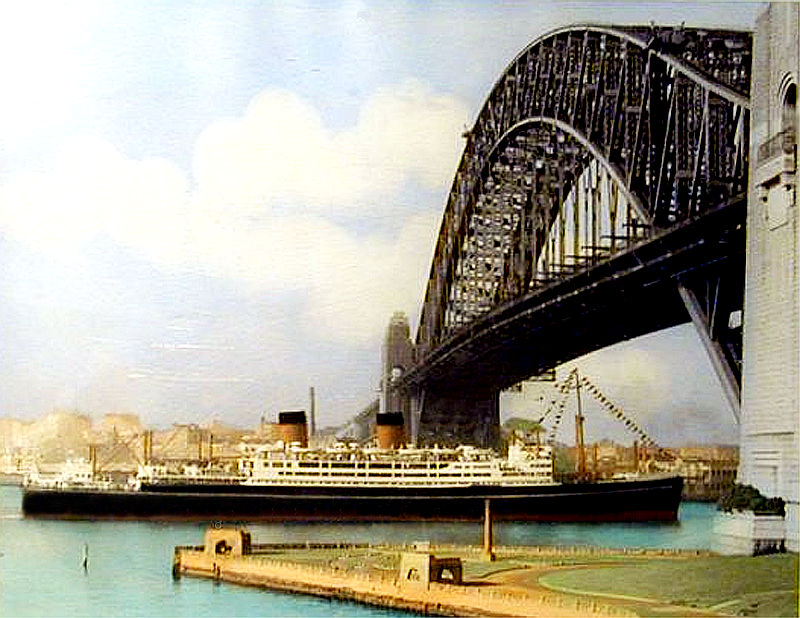 The Luxurious QSMV Dominion Monarch is seen in Sydney Australia
Page One – The Ships History
Please Note: All Photographs and images on this QSMV Dominion Monarch feature are from the author's private collection, unless noted otherwise!
Introduction:
At the time of her building, the QSMV (Quadruple Screw Motor Vessel) Dominion Monarch was the most powerful motor liner of her kind in the world and certainly the largest ship operating full time on the Australasian trade. Shaw Savill already had a great deal of experience in operating an all first class only passenger service and they were able to assure their passengers a voyage that would be the ultimate in luxury and in surroundings of style and elegance. The 27,155-ton Dominion Monarch accommodated just 525 passengers, and this combined with her crew of 385, her passenger ratio offered a service that is unequalled to this day.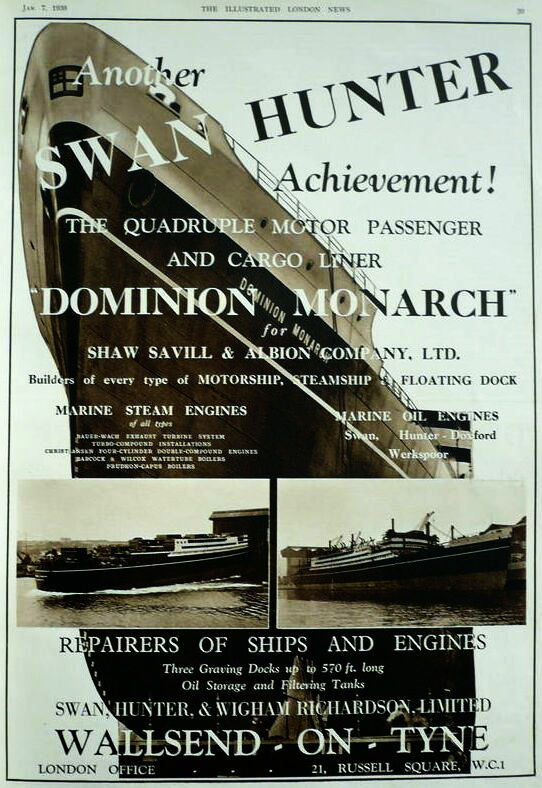 A 1938 Swan, Hunter & Wigan Richardson advertisement re the building of the Dominion Monarch
Some time back I received an interesting email from Jo Garrett, who's Father Eddie had worked for over thirty years at the famed Swan Hunter and Wigham Richardson shipyards and he was involved in the building of this great liner as well as many other ships. The images presented below originate from a commemorative book that was released and distributed amongst the staff and workers at the yard and it contains some the best possible information and many an image library of the ship, which is the best I have ever seen. These include the lounges and all areas, but they were all taken prior to her entering service. This book and a number of other items that were kindly sent, including some original drawings by Mr. Eddy Garret, being a cabinet designer and designed the captains and other cabins, etc. These are now part of the ssMaritime Museum. Currently there are four photographs of her being built to her launching and further images will be included in due course. I am most grateful to Jo Garrett for this gracious generosity of sharing all this of us in memory of Jo's Father!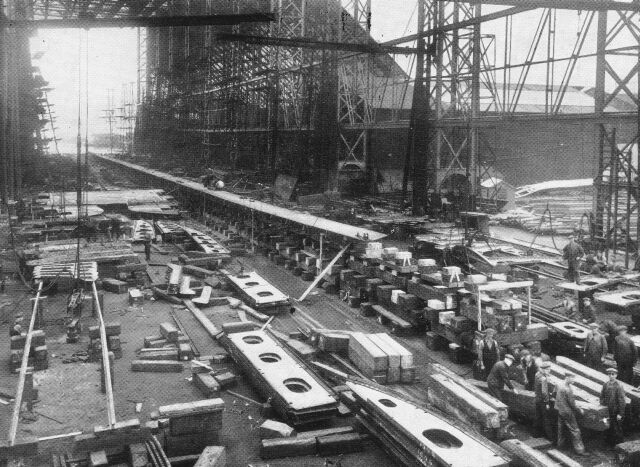 The keel was laid in one of Swan Hunter's glassed roofed West Yards on July 14, 1937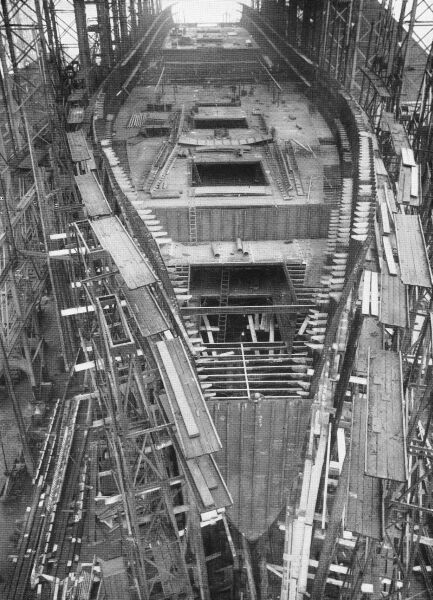 By October 15 the

hull was more than half framed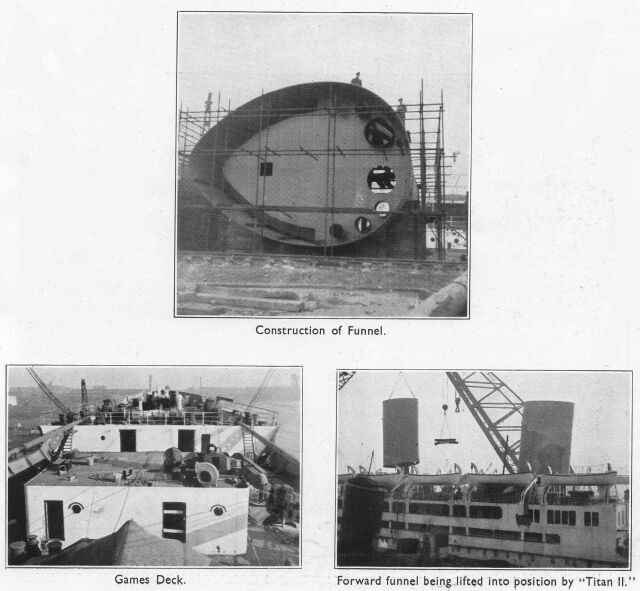 At the top we see a funnel being constructed and bottom right the forward funnel lifted into place.
Bottom right we see the forward well deck being completed
Dominion Monarch was named and launched at 3.30 p.m., on July 27, 1938, by Lady Essendon, the wife of the Chairman of Furness Withy and Company Ltd. QSMV Dominion Monarch was the largest ship built on the Tyne since the Mauretania.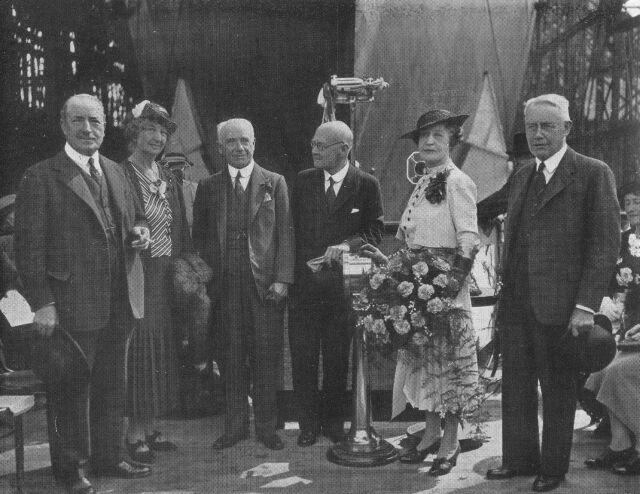 Here we see the launching party: From left to right. Mr & Mrs J Macmillan MD of Shaw Savill, Lord Essendon Chairman Shaw Savill,
Mr. J. Denham Christie, Lady Essendon and Mr. C. S. Swan Chairman of Swan Hunter

The "Dom" finally slips into the water!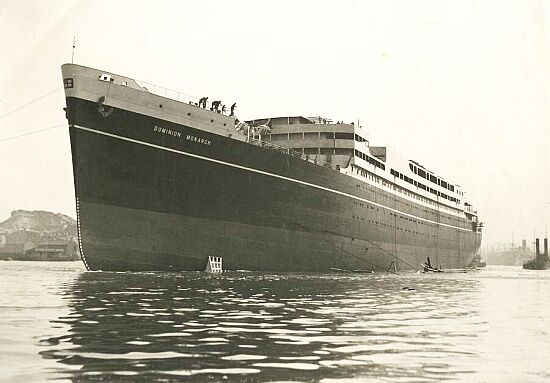 After launching, Dominion is moved to her "Fit Out berth"
She was an unusual ship as her design was that of a large passenger-cargo liner, with a relatively small passenger complement considering her large size. To this day, Dominion Monarch remains the largest (all first class) cargo passenger liner ever built. Many larger, faster passenger liners would later operate on the Australasian service, however, with the eventual demise of the Dominion Monarch, the era of deluxe traditional sea travel ended. She departed from the Australasian and New Zealand waters in 1962 being a victim of larger passenger liners carrying greater passenger numbers in multiple or as became more popular in a One-Class configuration, and the newer ships were more economical to operate as well as having a far greater passenger complement.
The Dominion Monarch had six holds, three forward and three aft all being operated by the standard kingposts and derricks. Her cargo capacity was as follows; Insulated cargo was a good 511.000 cubic ft, including 72,240 cubic ft for chilled cargo. General cargo had space of 162,000 cubic ft, thus a grand total of 673,000 cubic ft.
Specifications:
Builder: Swan Hunter and Wigham Richardson, Wallsend-on-Tyne, England.
Builder: Shaw Savill Albion.
Launched: July 27, 1938 by Lady Essendon.
Completed: January 30, 1939.
Port of registry: Southampton.
Maiden Voyage: February 17, 1939.
Tonnage: 27,155 tons.
Length: 207.8m - 682ft.
Beam: 26.2m - 84ft.6 inches.
Upper Decks width: 26.40m - 86.6ft.
Draught: 10.36m - 34 feet.
Propulsion: 4 Doxford 5 cylinder opposed-piston Diesel engines.
Screws: Quadruple.
Service speed: 1-5 knots service speed, 21.5 top speed.
Capacity: 1939–40. 525 1st class passengers.
. 1940–47. 3,556 troops.
. 1948–62: 508 1st class passengers.
Passenger decks: 6.
Crew: 385.
Livery: Black hull, white superstructure, buff and black funnels and Red boot topping.
Holds 6 with a total of 673 cubic ft of space inclusive.
Maiden Voyage:
The Dominion Monarch was completed late in January 1939, she completed her sea trials off St Abbs Head, after which she was delivered to Shaw Savill Line and she was manned, stored up and made ready for her duties. She would soon be ready to receive her first passengers who would experience the ultimate voyage on what was indeed one of the finest and grandest ships on the service!
On February 17, 1939 she departed London for her maiden voyage, under the command of Captain W. G. Summers (however, some sources state that it was Captain W. H. Hartman who was in command??). This voyage would be seven weeks long and it commenced from the King George V Dock, London.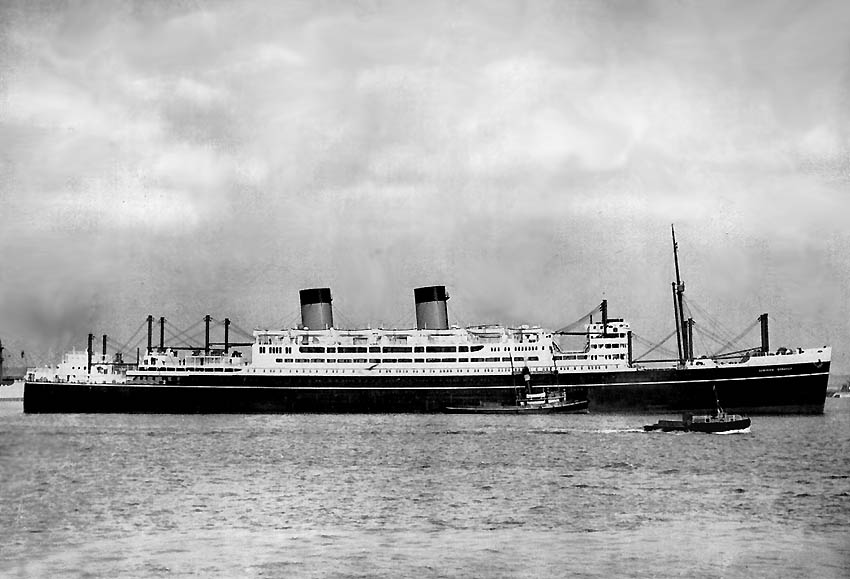 The Dominion Monarch is seen departing on her maiden Voyage on from London February 17, 1939
Her very first port of call would be Southampton and then she would commence her return journey
At Southampton, where her Australian and New Zealand bound passengers boarded. Her next port of call was Tenerife, where she arrived on February 21, 1939.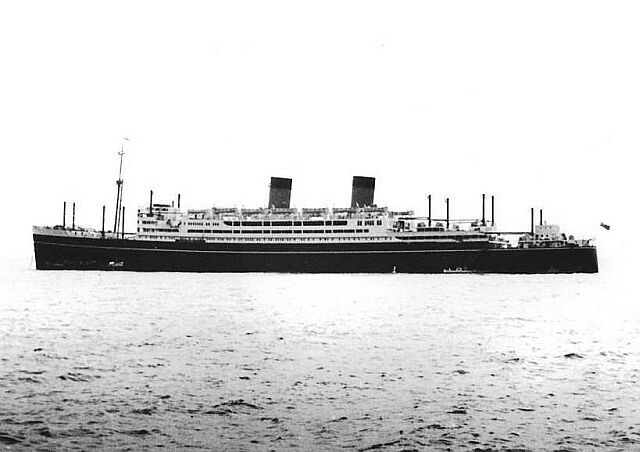 Dominion Monarch seen off Tenerife on February 21 during her maiden voyage New Zealand bound
Photograph - Tenerife Port authority
Her voyage continued via Cape Town, Durban, and she then crossed the Indian Ocean for Fremantle (Perth) where she arrived on March 11, 1939. She ended up setting a new record for the "Cape" route, to Melbourne and Sydney. The service was promoted as "The Clipper Route," with fares commencing at £58.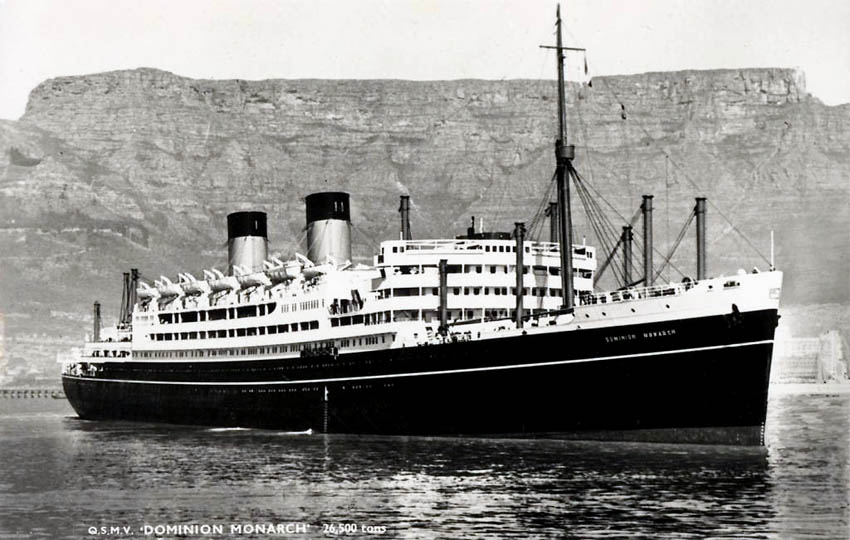 Dominion Monarch seen at Cape Town bound for New Zealand, via Fremantle, Melbourne, Sydney to Wellington
On April 25, she departed from Wellington for Sydney and her return voyage to the UK. A service that would continue until early 1962, but sadly as we would understand this would be rudely interrupted by World War II when she would serve as a troop ship!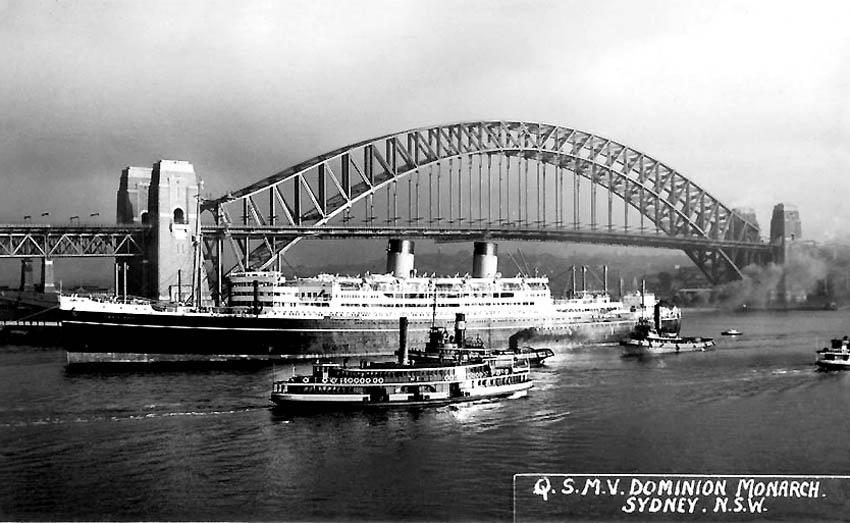 A postcard of the Dominion Monarch arriving at Sydney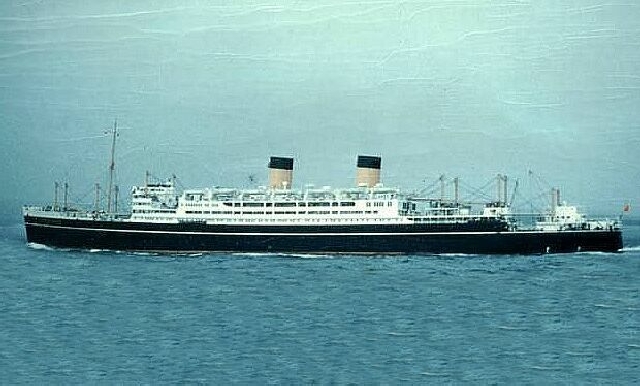 The grand lady is seen here at sea
Public facilities and accommodations:
Dominion Monarch's Accommodation was certainly on a grand lavish scale for her 525 First Class passengers. She offered an amazing 160 single bedded cabins, and 182 multiple berth cabins, including two deluxe suites, having a double bedroom, sitting room, bathroom, with a lobby and many cabins had private facilities. Passengers had the use of six decks - Games Deck – Lounge Deck – Promenade Deck & A - B & C Decks.
The Venues:
The public rooms consisted of the delightful Palm Court, located far forward on Lounge Deck. This was a restful Lounge with a large Bar cantered on the aft wall, all other Public Rooms were located one deck higher on Lounge Deck. From forward to aft, and starboard (sb) to portside (pt), they are as follows; far forward was the forward Lobby that had the ships only electric lift, which was manned at all times. Then heading aft through grand doors on the both sides you entered the very spacious Lounge, followed by the Writing Room (sb) and the Drawing Room (ps). Next came the amidships Lobby that led into the grandiose old world Smoke Room. Finally aft on Lounge Deck was a very popular venue, which was well used, as it extended the full width of the shop and it offered views of the ocean on the two sides, but aft this venue had sliding folding floor to ceiling window, looking out over the Swimming Pool below on Promenade Deck and her aft Decks and the ships wake! The venue was the Verandah Café and it was also used as the ships Cinema.
However, we must not forget the important role of C Deck for it was there were passengers would come aboard and enter into a magnificent lobby that just had to be seen, for it had so much more than just a stairwell and a lift, no certainly not, for it was more of small lounge in appearance. In addition on the starboard side there was a shop and the ships hairdresser, but on the portside there was a delightful cocktail bar and that was something not found on passenger liners in those days! Beautiful doors heading aft led into the grand 300 seat Restaurant that had a high dome amidships rising up into B Deck.
Mini Photo Album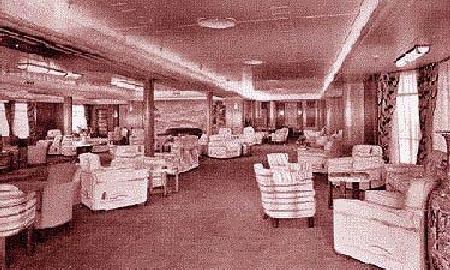 The spacious Main Lounge and most other public Rooms were on Lounge Deck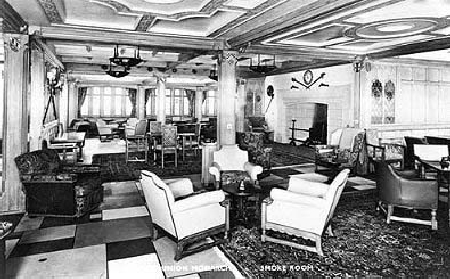 The classic Smoke Room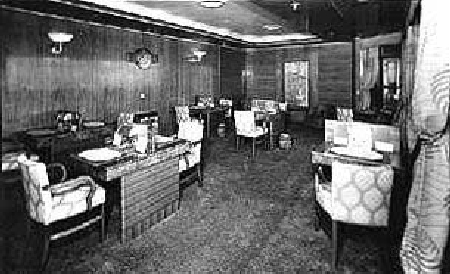 Writing Room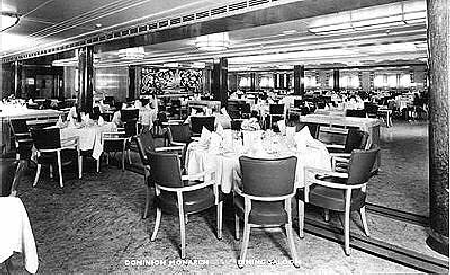 Dine in style in the fully air-conditioned Restaurant on C Deck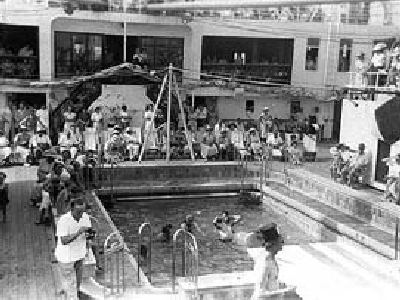 Ships Pool and looking up to the wonderful Verandah up on Lounge the Deck above
The pool was 24ft x 16ft and directly aft of the pool was the Gym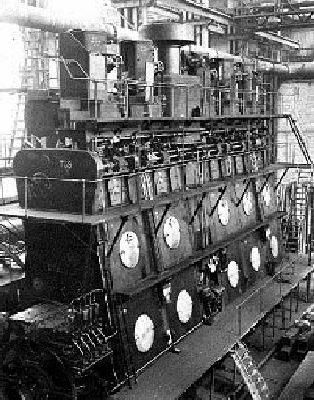 The Doxford Diesels is what made the ship tick like clockwork!
Please Note: Page Two with a comprehensive range of photographs of all the ships Public venues is now online
These photographs were taken prior her Sea Trails - The Link is be located on the INDEX at the bottom of the page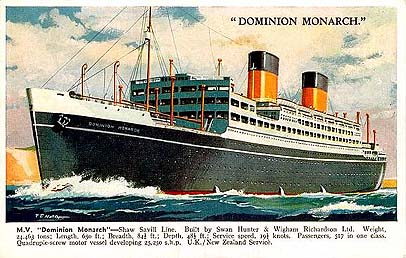 **************************************
World War II: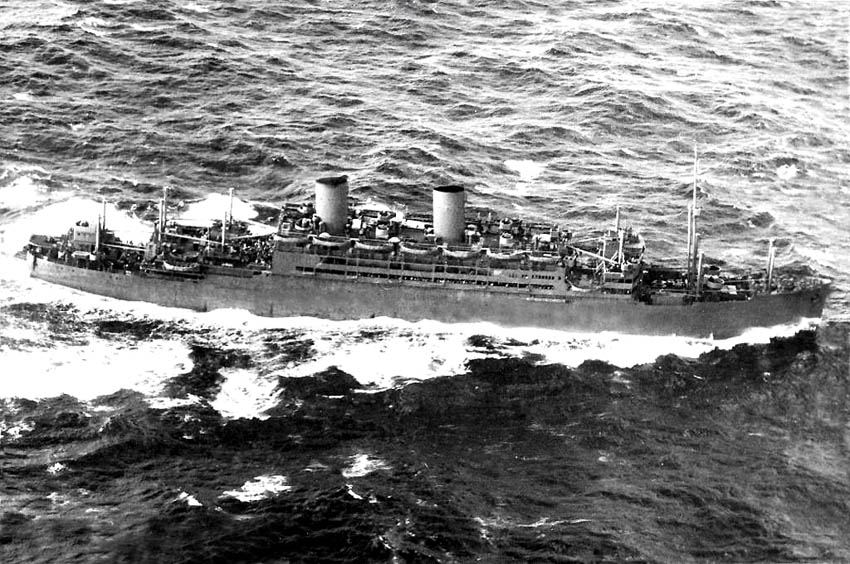 A sad looking and a well-armed ship, as the gun placements are clearly visible topside, during those sad days
During her second voyage, Great Britain and France declared war with Germany. John Carver who was a Bellboy on this voyage told ssMaritime, "Dominion Monarch was outward bound going through the Australian bight when war broke out. An announcement was made over the tanoy just as dinner was being served."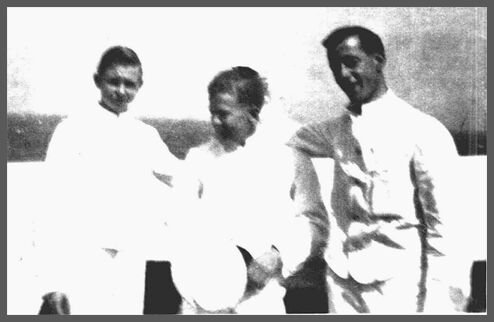 Dominion Monarch bellboy, John Carver is seen on the right
Provided by John Carver
She was despatched to Sydney were she was fitted with light armament and returned to the UK via the hazardous Indian and Atlantic Oceans. Upon arrival, Dominion Monarch was she was laid up, as it was considered that she was far too luxurious to be used as a trooper. She returned to her Australasian service until August 1940, when the British Government requisitioned her. She was stripped of her fine fittings and was fitted out with 3,556 berths. She was painted grey and commenced her service as a trooper. In all she carried over 29,000 American and British military personal and brought thousands of wounded soldiers home.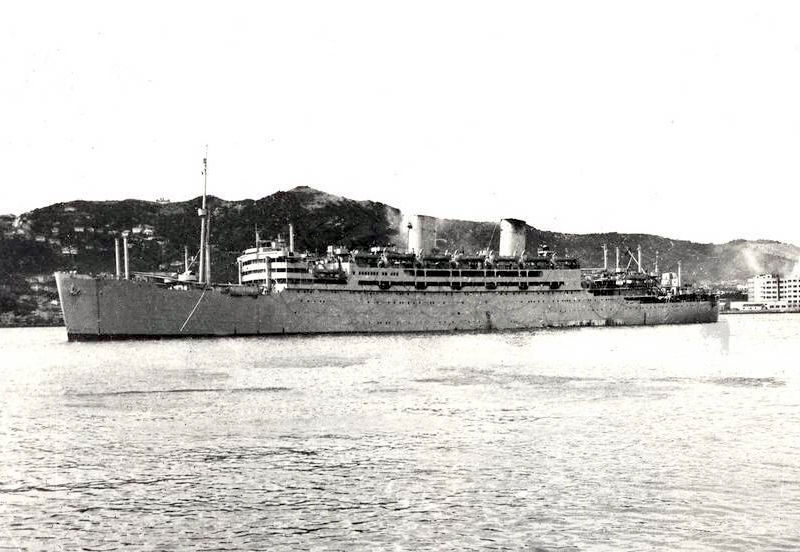 Dominion Monarch the trooper seen in Wellington New Zealand seen during one of her many visits
Alexander Turnbull Library, Wellington, New Zealand
I received the following interesting E-mail from one of the troopers who sailed on her in October 1943:
"Although I did not have the pleasure of voyaging on this superb liner, the Dominion Monarch in it's heyday, but I did sail on her whilst she was a troopship. We embarked at Liverpool and sailed to Port Said in the month of October 1943. The most exciting thing about this journey was the fact the Geraldo and his Orchestra were on board as they were bound for the Middle East to entertain the troops. Therefore we were entertained each night which certainly relieved the apprehension of what could have been a dangerous voyage.
All or most of us travelled to Alexandria by train, where we were dispersed as drafted. However, I eventually finished up on a minesweeper which was berthed in Malta. John Curtis."
In January 23, 1946 the Dominion Monarch arrived in Wellington New Zealand from the front bringing home members of the Maori Battalion having fought so bravely in the War!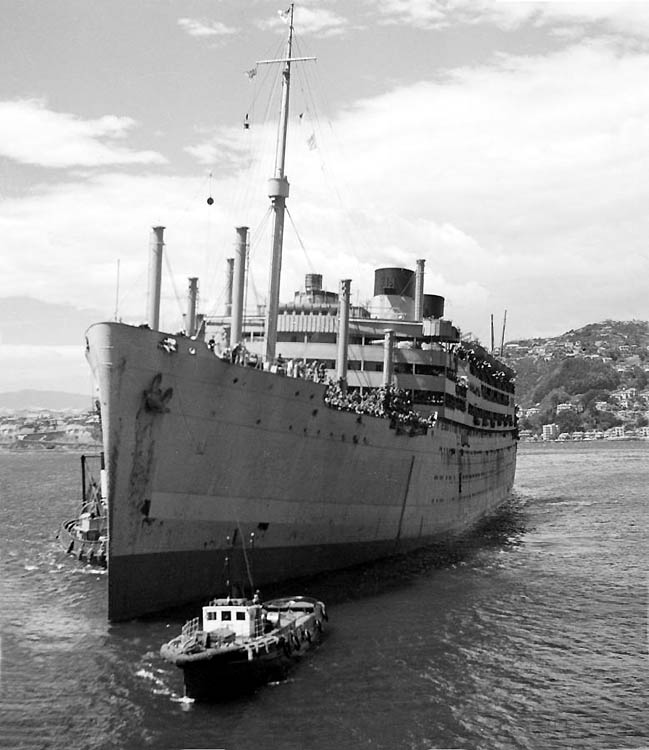 Dominion Monarch arrives in Wellington on January 23, 1946
Alexander Turnbull Library, Wellington, New Zealand
She operated between Europe, and the Middle East and Australia and New Zealand on a regular basis, then troopship Dominion Monarch's final voyages took place between April and June 1947 as she departed Melbourne Australia in April although I do not have all the details available.
But I do know that by July she was in Alexandria, Egypt and sailed to Port Said, sailed through the Suez Canal. Made a visit to Mombasa and continued to Durban, then sailed to Cape Town and completed her voyage to London's King George V Dock, arriving on July 21, and she was officially released from government transport duties. Soon afterwards she sailed north to her builder's Swan Hunter and Wigham Richardson yards where she was to be completely refurbished. During her 15-month restoration in order for her to resume her all First Class passenger service, her machinery was stripped out and completely overhauled and her luxurious accommodation was restored to its former glory. The only change was that she would now accommodate 508 passengers, being 17 less than before to the war.
An interesting email from Gerald Buttigieg South Africa.
"My father Joseph and his nephew boarded the Dominion Monarch in Port Said on June 7, 1947 and they sailed to Durban, stopping on the way at Mombasa. I have forwarded a photograph of then on the wharf and also included what is written on the back of the photo, which dates the photo and the name of the ship. I have forgotten most of my Italian but from what I do remember it confirms that it is the Dominion Monarch. The photo is addressed to my Mother. I do not know how my father managed to get a berth on the ship at that time and as he has passed on now the details have gone with him. However there were other families were on board who had boarded in Alexandria, thus it would have been some special scheduled voyage." Gerald Buttigieg - South Africa.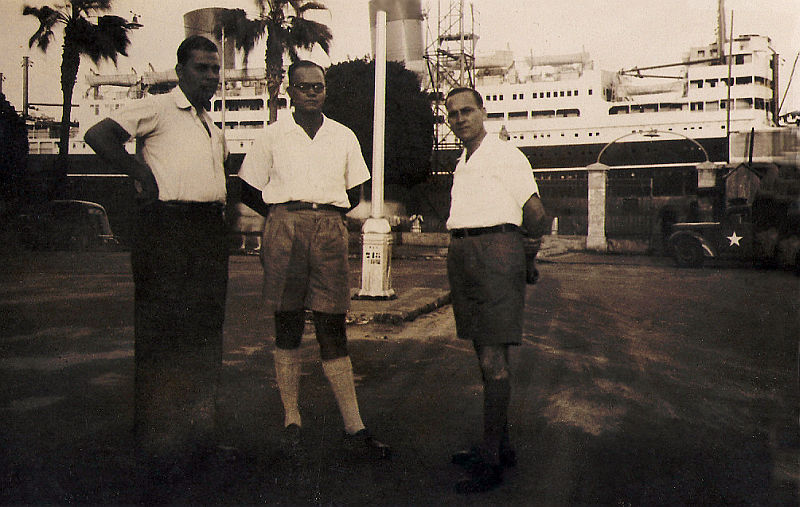 Above: My Father Joseph Buttigieg is standing on the right, with his nephew Frank Saliba, who travelled with, is seen him in the middle. The gentleman on the left is unknown. Behind them is the Dominion Monarch seen in Port Said on June 7, 1947. Photograph provided by Gerald Buttigieg - South Africa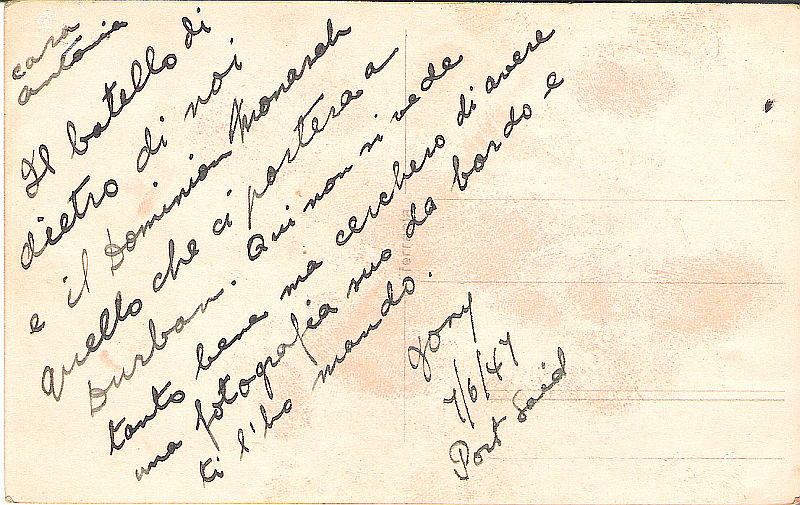 On the back of the photo above is this message in Italian to Mrs. Buttigieg from Joseph (can anyone translate it please?)
Provided by Gerald Buttigieg - South Africa
**************************************
Back in Service: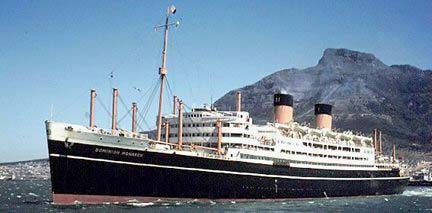 Dominion Monarch looking her grand self, departing Cape Town
Provided by Ian Shiffman of …
http://home.worldonline.co.za/~snai/launch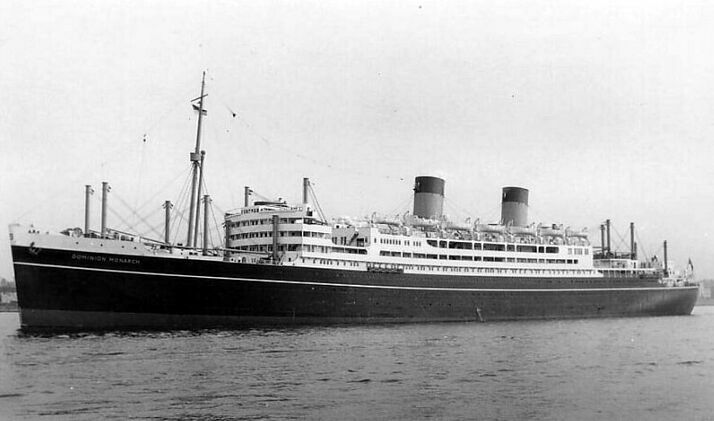 A superb study of a great liner
Photographer unknown - See special photo notes at bottom of page
Dominion Monarch was returned to Shaw Savill in 1948, after a refit she recommenced her regular duties. On many occasions, whilst Dominion Monarch was in Wellington New Zealand during the early sixties, the youthful author, employed in the shipping industry as an office boy, spent a great deal of time on this fine liner, enjoying the beauty of her classic appointments. I recall the joyful departures with the brass band playing and colourful streamers thrown by passengers leaning over the rails saying goodbye to their loved ones on the quay.

A rare encounter, Dominion Monarch and the Southern Cross
berthed side by side in Wellington New Zealand
The John Kelk Story.
Dominion Monarch actually had Bellboys and John Kelk was one of these. One of his main duties on the liner whilst she was at sea was to open the door to let passengers into the dining room at meal times, breakfast, lunch and dinner. Then after each meal he and the other Bellboys would have to sweep up all the spills in the dinning room. John was located, he told me on the portside door together with a lad by the name of Peter. Whilst, one of the other boy's named Cato was on the starboard door. John recalls that the best job he had whilst on board was when they were in Wellington for three weeks and he was given the job as the liftboy.
John boarded her on 26 February 26 and completed his duties on June 21 1958. The master of the ship was Captain K .D. G. Fisher. As John states "It's a time I will never forget."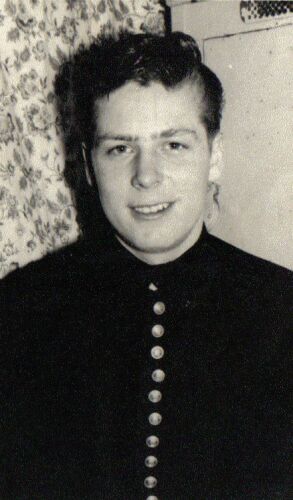 This photograph of John was taken on May 20, 1958
Photograph provided by John Kelk
Sadly, during the mid sixties the Australasian luxury passenger market was rapidly declining. And all too often, she would depart with a small complement of passengers, therefore the time came when Shaw Savill decided that their grand and much loved liner had sadly become too uneconomic and it was with great sadness the decision was made to place her on the market.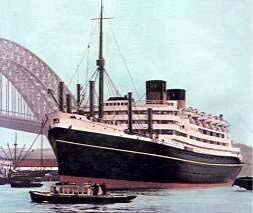 Arriving at Circular Quay Sydney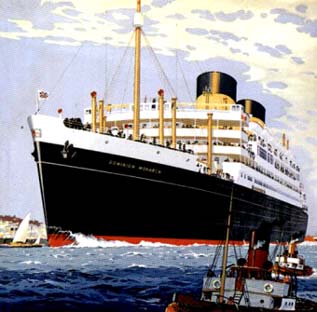 A popular illustration
Below is my favourite photographs of the magnificent Q.S.M.V. Dominion Monarch, as we see her berthed and a Dad with his two kid's at his side is fishing at her bow. I am sure you will afree that it is a stunning photograph indeed!"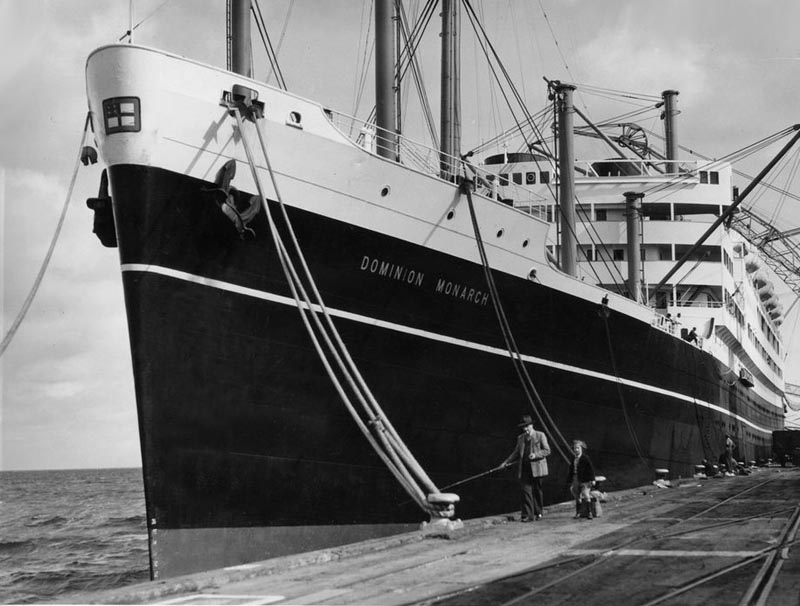 Goodbye:
Then on June 27, 1961 Vickers-Armstrong launched the ship that would replace the Dominion Monarch?, being the 24,731 GRT SS Northern Star. However, the still magnificent QSMV Dominion Monarch departed London December 30, 1961 for her very last ever voyage to Australia and New Zealand sailing via Durban South Africa. There was no doubt, that each of her farewell departures from New Zealand and the Australasian and South African ports were all sad occasions for past passengers as well as ship lovers. But during her return voyage it was in February 1962 that she was sold to Mitsui for £400,000.
Dominion Monarch is seen here in Lyttelton (Christchurch) New Zealand during her farewell visit in February 1962
Photographer unknown – See Photo Notes at the bottom of the page!
I was dockside as this great liner, a ship that I had been on board several times, finally departed Wellington for her last voyage homeward, and she looked as majestic and grand as ever. Lasting memories for me were her three long blasts on her horn and her sailing majestically out of Wellington Harbour. The largest Liner of its kind had finally left; and there have been few other ships that had had the same impact on ship enthusiasts as she had. For the Quadruple Screw Motor Vessel (QSMV) Dominion Monarch had a graceful beauty and a style and beauty that have not been seen since. I took many photographs of her departure, but, one of the boxes was lost when I moved to Australia in 1965 and many of my shipping photographs and memorabilia just happened to be in that very box, and it was never recovered. However, to my joy I did find a old photo packet with two negatives and one was of these the Dominion Monarch departing that day and it can be seen below as I also provided it to the local newspaper! Of course the was a huge crows seeing her off for where I was standing it was packed!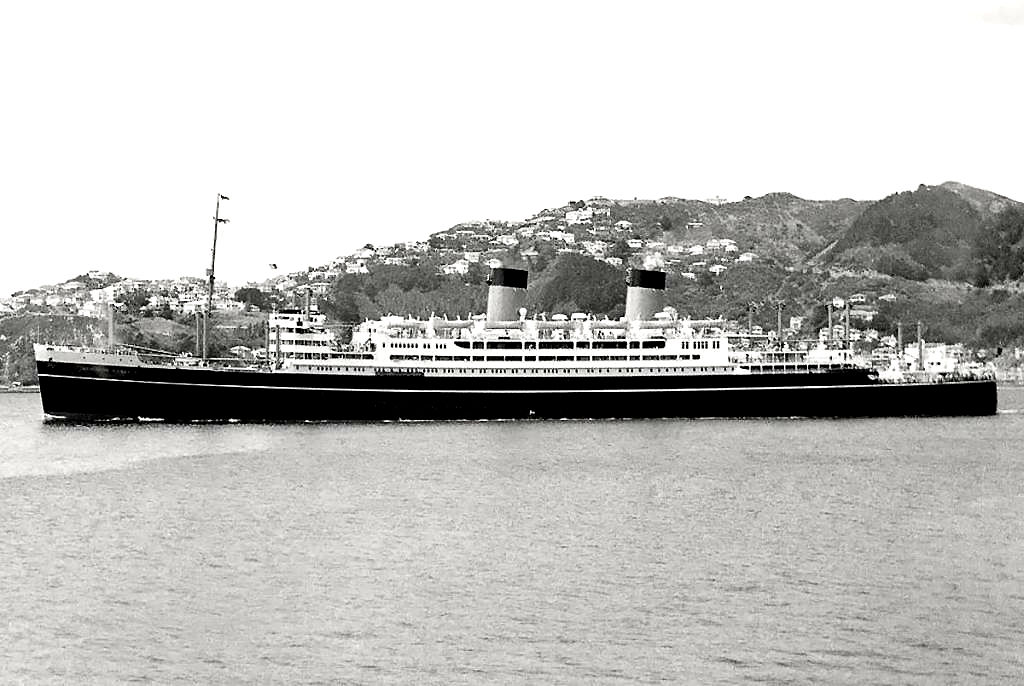 Here we see the Dominion Monarch depart Wellington New Zealand on March 15, 1962 for the final time
It was a sad moment not only for me, but also for the thousands that lined the docks to see her go!
The End of a great liner:
She returned to the United Kingdom, not to London, but to Southampton on April 22. Once all passengers had disembarked she departed and headed for London to unload her cargo and destoring. It was on 10 July 10, that the SS Northern Star took over the Dominion Monarch's duties to Australia and New Zealand, but she was a troubled ship as sadly Shaw Savill had decided to make savings on her and she wore out very rapidly to say the least. You cannot go on the cheap, and this ship sent Saw Savill broke!
Her new owners leased the Dominion Monarch out as a floating Hotel and Entertainment Centre for Seattle's Century 21 Exposition from June to November 1962 Mitsui. She arrived at Seattle on May 29, 1962 and she was moored at Pier 51, Elliot Bay. Towards the end of her stay, her funnels were painted by her new owners featuring a diamond shaped insignia of and she was renamed Dominion Monarch Maru.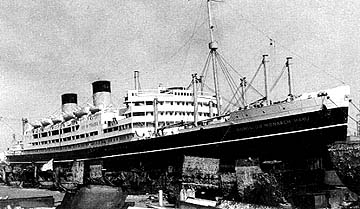 With her name changed to Dominion Monarch Maru
see is seen here in Seattle prior her departure
However, the demand for accommodation at the Exhibition seemed to be far less than had been predicted, and thus her American charterer lost a US$200,000 on her and they concluded her charter several weeks earlier. The Exhibition closed on October 21, and sadly on November 25, 1962 the still beautiful ex QSMV Dominion Monarch, now named MV "Dominion Monarch Maru," arrived at Osaka, Japan where she was broken up.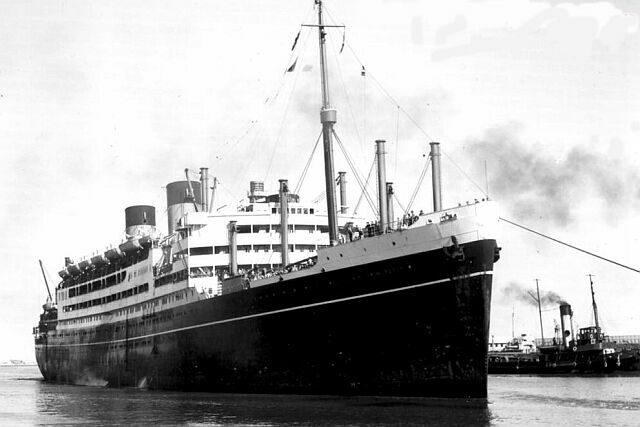 The MV Dominion Monarch Maru is seen heading for the breakers
A Lasting Memory:
Dominion Monarch had a dignified 23-year career, even though this is a short life compared to most some other liners, she remains one of the most impressive and luxurious of all First Class Passenger-Cargo Liner ever to be built! In addition, she was a one of a kind, as she was so grand and a graceful liner the kind that will never grace the Seven Seas ever again!
Reuben Goossens.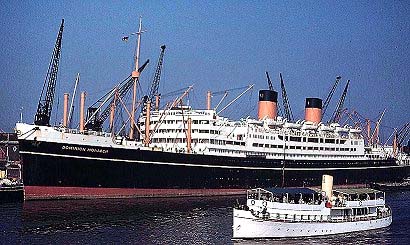 The magnificent Dominion Monarch preparing for departure – Australia bound!
****************************
LINKS:
Page Three:…..Memorabilia Page.
Page Four:……..Ship layouts dated February 1939.
Also read about other Shaw Savill ships on ssMaritime.com:
SS Southern Cross - SS Corinthic-Athenic-Ceramic-Gothic
"The Big Blue Water Liners sailing to the distant shores.
I watched then come, I watched them go, and I watched them die."
****************************
Visit our ssMaritime Main INDEX
Where you will discover over 1,250 Classic Passenger & Passenger-Cargo Liners!
ssMaritime.com & ssMaritime.net
Where the ships of the past make history & the 1914 built MV Doulos Story
Also visit my
"Save The Classic Liners Campaign"
Please Note: ssmaritime and associated sites are 100% non-commercial and the author seeks no funding or favours of any shape or form, never have and never will!
Photographs on ssmaritime and associate pages are by the author or from the author's private collection. In addition there are some images that have been provided by Shipping Companies and private photographers or collectors. Credit is given to all contributors. However, there are some photographs provided to me without details regarding the photographer/owner concerned. I hereby invite if owners of these images would be so kind to make them-selves known to me (my email address may be found on www.ssmaritime.com only), in order that due credit may be given.
ssMaritime is owned & © Copyright by Reuben Goossens - All Rights Reserved