ssMaritime.com & ssMaritime.net
With Reuben Goossens
Maritime Historian
The Ellerman Quartet

MV Mediterranean Sky
Ex TSMV City of York
Our Voyage on the MS Mediterranean Sky
With details, photos & images provided by Hansjörg Wiersch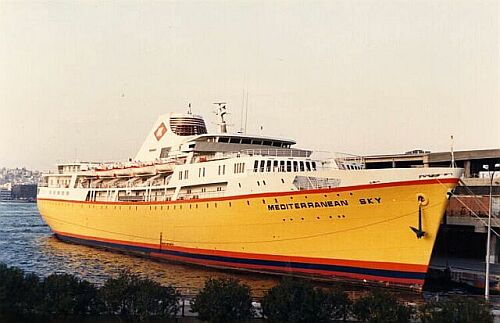 MS Mediterranean Sky
Authors private collection
Quite some time back I received an email from Hansjörg Wiersch who had sailed on the MS Mediterranean-Sky from Ancona to Patras in 1978.
Hansjörg wrote:
"I was accompanied by my (former) wife and by a married couple who were friends at the time. When all passengers and cars (of course ours, too) were on board, we left Ancona at 5th March 1978 at 11.00 p.m. (local time). We decided to book together and stay in the one cabin, number 519 on Main Deck as it was a lot cheaper. In Patras we arrived on 7 March at 10.00 a.m. (local time), thus some thirty-six hours later and it was a most enjoyable and a memorable voyage!
Album 1 - On board photos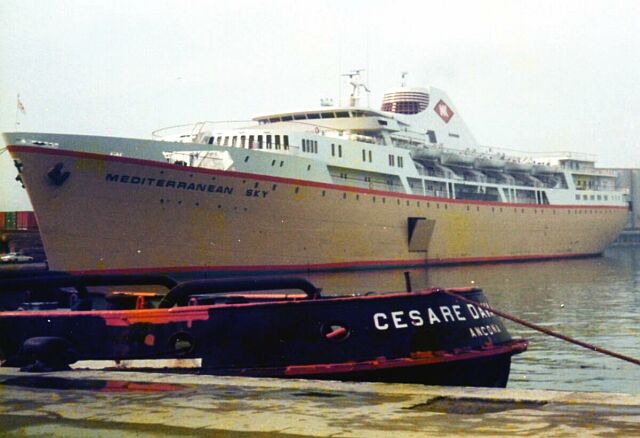 The MS Mediterranean Sky is seen here at the Ancona Harbour in 1978
Photographed by passenger & © Hansjörg Wiersch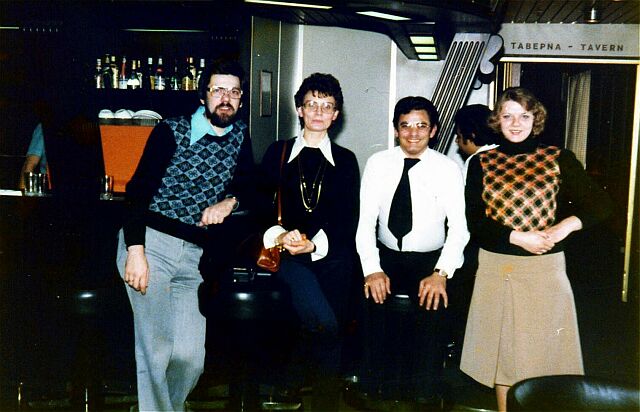 The four of us in one of the bars – that's me on the left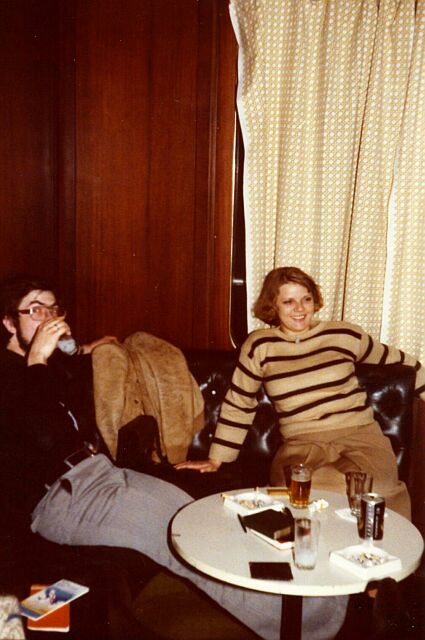 Having a great time aboard!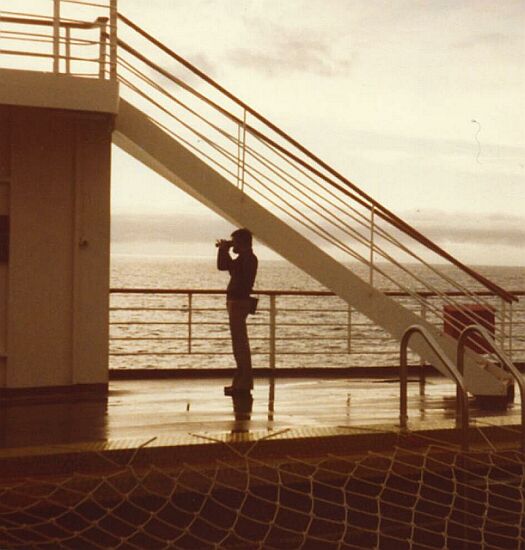 This is me looking out at sea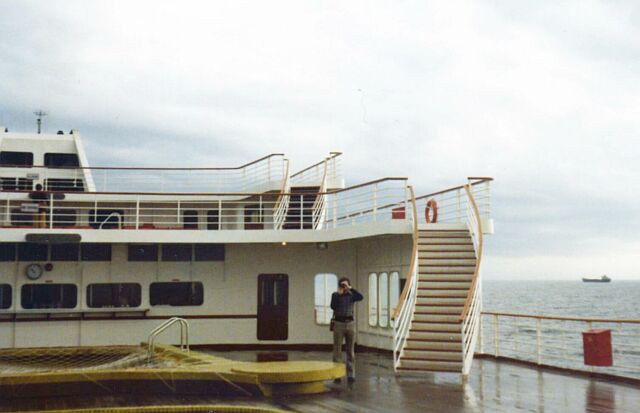 Are we photographing each other?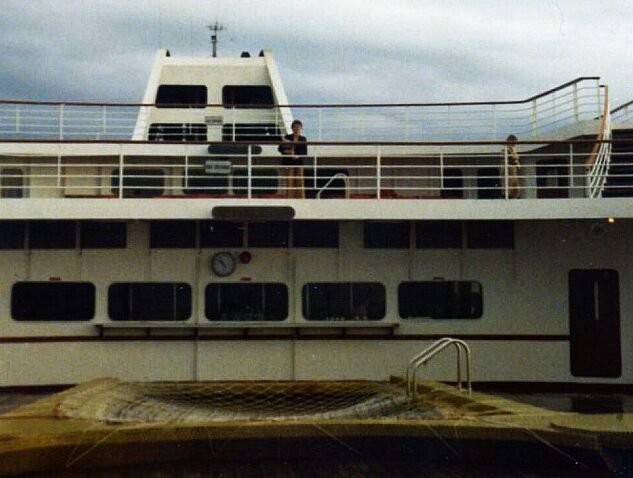 Aft of the ship overlooking the still closed pool forward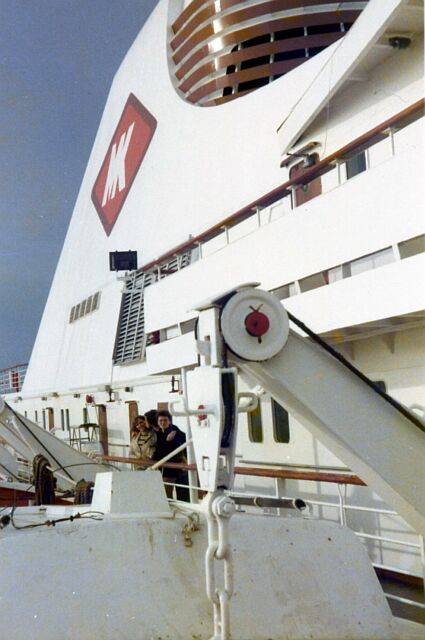 A shot of my wife and two companions at the side of the ships proud funnel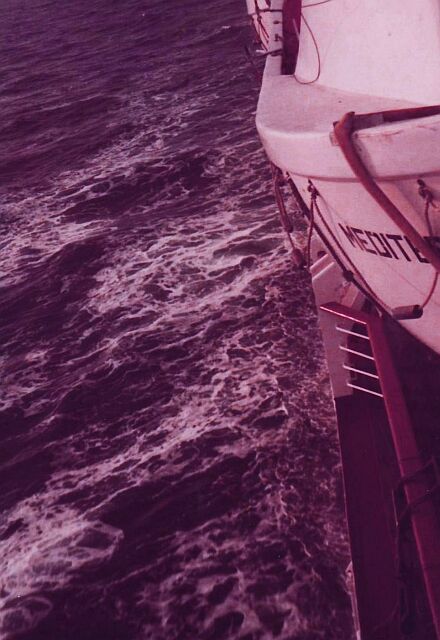 Looking seaward with a lifeboat in view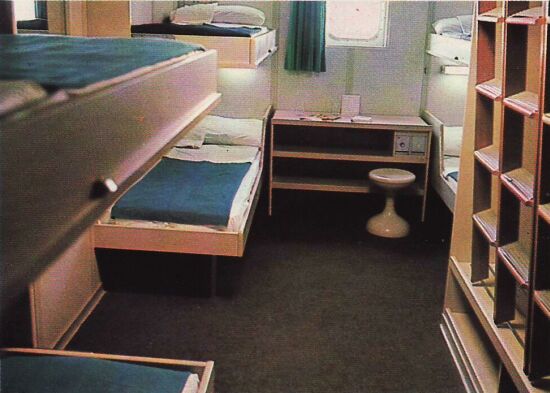 Although we booked in a 4 berth, cabin 519 on Main Deck it turned out to be a 6 berth for us to use and this is it!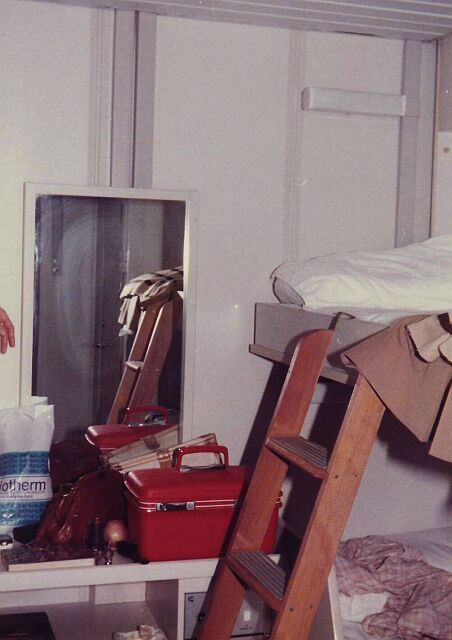 We took the inner two berths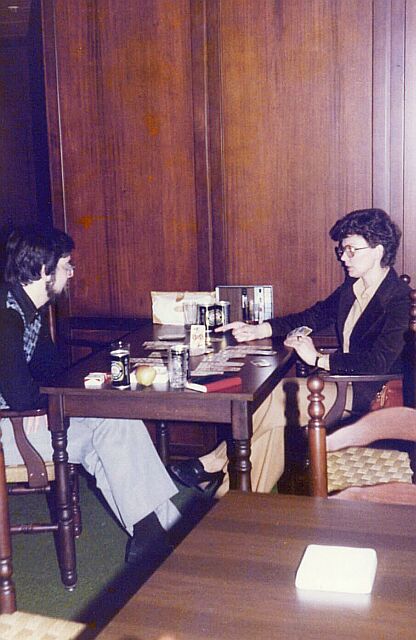 Daytime was spent relaxing in one of the lounges with a drink and playing cards
In September 2006 I spent made another visit to Greece. And on September 25 my wife and I, as well as a couple of friends, made a trip in our rented car from Vrachati (near to Corinth) to Piraeus. I recall that we took the road along the coast and then at Eleusis Bay we stopped for a while and whilst there I discovered a ship wreck that was lying on its side. None of us could identify it, because we could not see any name on the bow. As I did not feel any relationship to the wreck, I took no photographs of it or a movie. Never did I think that this wreck was the Mediterranean Sky, the very ship that had taken me to Greece back in 1978!
On January 8 this year I decided to search for the "Karageorgis Line" on the web. And I found www.faktaomfartyg.se on which I read something about the Ellerman Fleet as well as something on the Mediterranean Sea, ex City Exeter, and the Mediterranean Sky, ex City of York. Because I could not find any details regarding the Mediterranean Sky before, having found something I had become "infected with the bug" and was wanting more information about "my Ship in 1978." I then discovered your site; www.ssmaritime.com on January 12. Perhaps you can feel my surprise when I saw all the pictures of the Mediterranean Sky lying on her side in Eleusis Bay. My heart began to beat quicker, when I saw this proud ship after its disaster, but during the first minutes of looking at these pictures I felt really very sad.
On your web side I read that you probably are interested to get more information of former passengers of the Mediterranean Sky. Thus I am sending you a series of about 12 images from the voyage and schedule. There are also photographs of the interiors of the ship, of course with persons of us. I have 2 original brochures (from 1977/78 and 1978/79) from Karageorgis Line about Mediterranean Sea and Mediterranean Sky - also with some details from these ships. And I have the original invoice for the one-way-passage from Ancona to Patras." Best wishes - Hansjörg Wiersch.
Album 2 – 1978/79 Brochure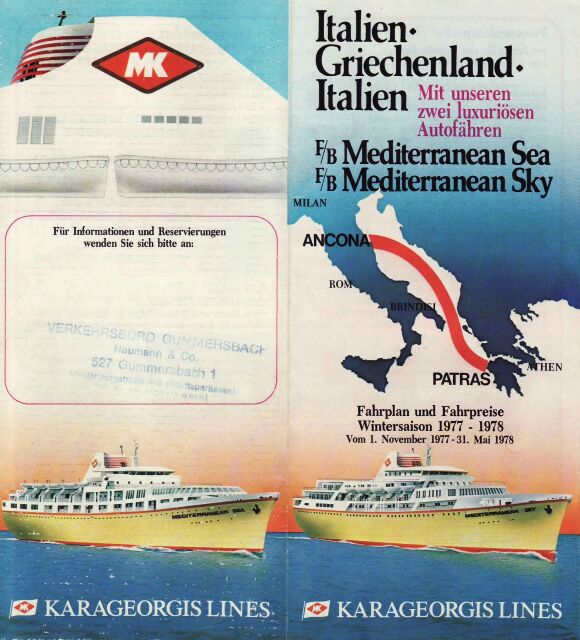 The 1977/78 brochure – the cover of the next 1978/79 brochure is at the bottom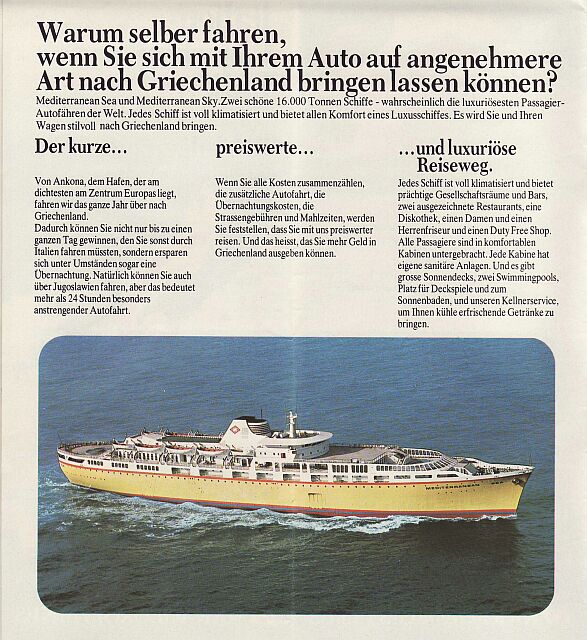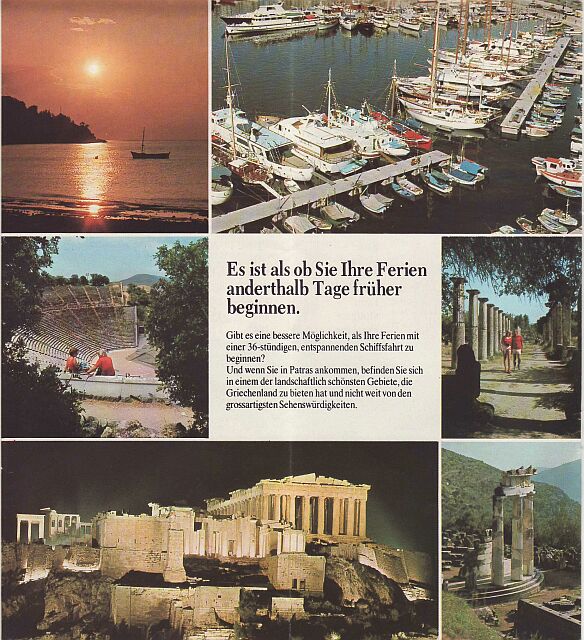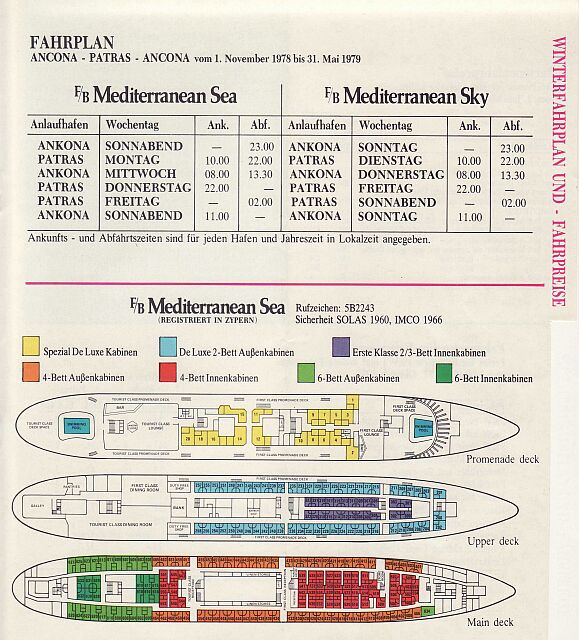 The Mediterranean Sea Schedule & Cabin Plan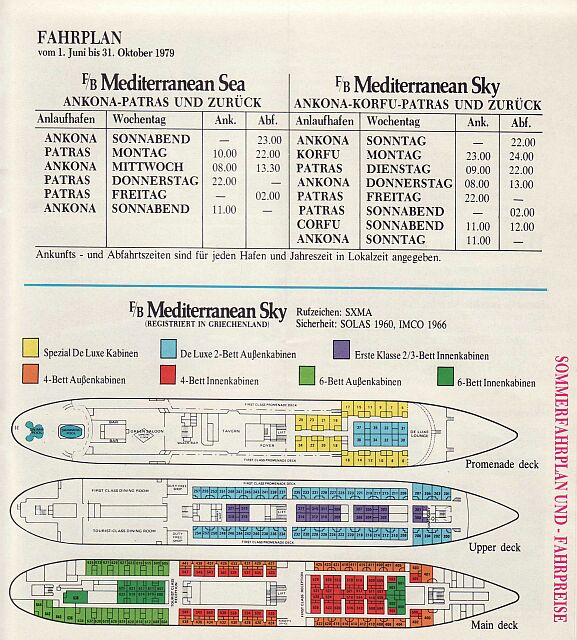 The Mediterranean Sky Schedule & Cabin Plan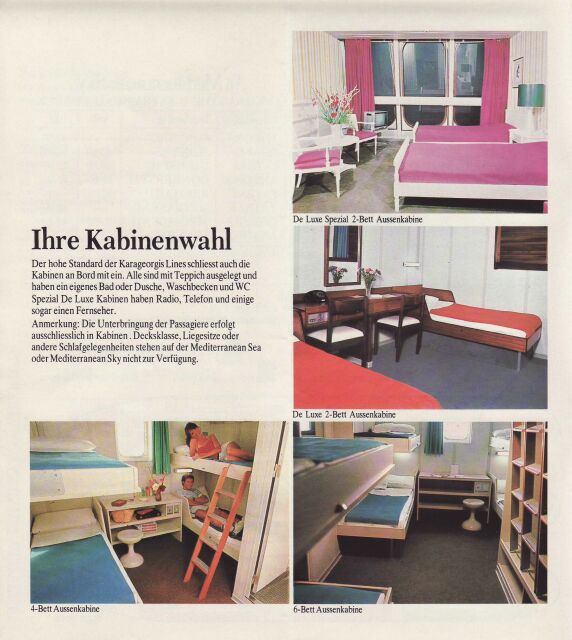 Images of the cabins on board both ships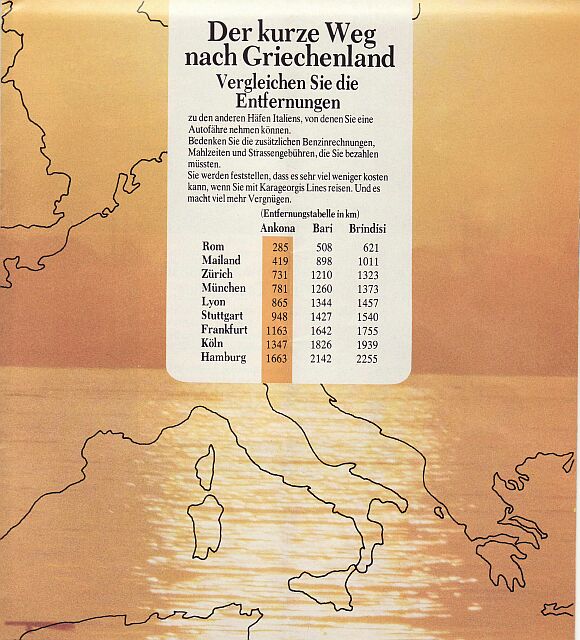 Distances are shown in Km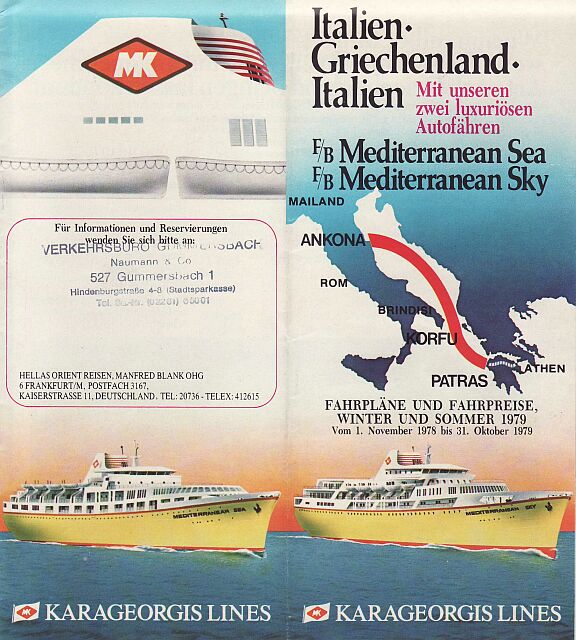 The 1978/79 brochure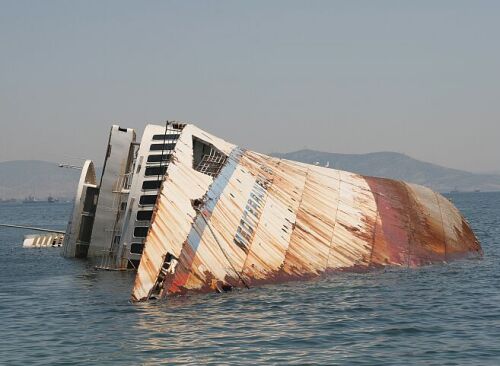 A tragic sight of the Mediterranean Sky on her side in Eleusis bay, seen much later by Hansjörg in 2006
Photograph by & © Philippe Brebant - Le Havre - France
I am grateful to providing all the above as it is a valuable source of information on this delightful ship that has such a rich history yet had such a tragic end!
Page One:    The Ellerman Story
Page Two:   Cabin Plan – City of Exeter
Page Three: Cabin Plan - Mediterranean Sea, ex City of Exeter
Page Four:   Cabin Plan – Mediterranean Sky, ex City of York
Page Five:    Mediterranean Sky – Hansjörg Wiersch sails on her in 1978!
Use the Back button on your browser or Close the Page to return to the previous page
or go to our INDEX
***********************************
Who is the Author of ssMaritime?
Commenced in the passenger Shipping Industry in May 1960
ssMaritime.com & ssMaritime.net
Where the ships of the past make history & the 1914 built MV Doulos Story
Also visit my …
"Save The Classic Liners Campaign" & "Classic Ocean Voyages" pages
Photographs on ssmaritime and associate pages are by the author or from the author's private collection. In addition there are some images that have been provided by Shipping Companies and private photographers or collectors. Credit is given to all contributors. However, there are some photographs provided to me without details regarding the photographer/owner concerned. I hereby invite if owners of these images would be so kind to make them-selves known to me (my email address may be found on www.ssmaritime.com only), in order that due credit may be given. I know what it is like, I have seen a multitude of my own photographs on other sites, yet these individuals either refuse to provide credit or remove them when asked, knowing full well that there is no legal comeback when it comes to the net. However, let us show these charlatans up and do the right thing at all times and give credit where credit is due!
This notice covers all pages, although, and I have done my best to ensure that all photographs are duly credited and that this notice is displaced on each page, that is, when a page is updated!
ssMaritime is owned and © Copyright 2010/12 - by Reuben Goossens - All Rights Reserved