ssMaritime.com & ssMaritime.net
With Reuben Goossens
Maritime Historian
Canadian Pacific Line
TSS Empress of Britain III
Sold to become: Queen Anna Maria, Carnivale, Fiesta Marina, Olympic, The Topaz (Peace Boat)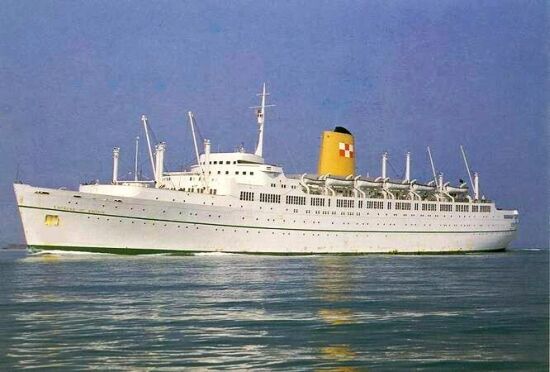 TSS Empress of Britain
What makes this fine ex Canadian Pacific Liner so special today? At the good old age of 50, having been at sea all these years, she still sails on and we hope that she will continue to do so until at least to 2010 when the new SOLAS (Safety Of Life At Sea) regulations come into effect. This, the third Canadian Pacific Line ship to be named Empress of Britain has remained at sea twice as long than her earlier namesakes. The first the Empress of Britain I sailed for 24 years before being broken up, whilst the second only lasted 9 years due to being torpedoed during World War II. There is no doubt that Empress of Britain is special, as she has even out lived her newer sisters, the 1957 Empress of England, and the 1961 Empress of Canada.
Looking back to her earlier namesakes
Empress of Britain I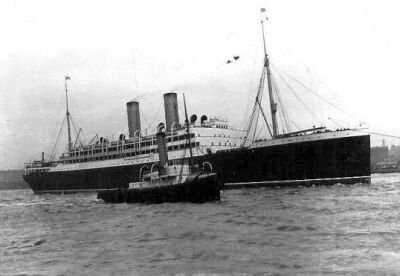 Empress of Britain I
There were three Canadian Pacific Liners named Empress of Britain. The 14,189 GRT Empress of Britain I was built at Fairfield Shipbuilding at Glasgow and was launched on November 11, 1905. She was completed in April 1906 and departed on her maiden voyage from Liverpool to Canada on May 5, 1906. She accommodated 310 First Class passengers, 500 Second, 500 Third and 270 in Steerage.
Her fame is that on two occasions (1906 & 1908) the Empress of Britain set the Canada to England speed record. It was unusual when you think about it, but Empress of Britain 1 had two funnels, whilst the newer grandiose Empress of Britain II had three, and the modern Empress of Britain III had just one. Somehow it seems to be out of order. However, she also had her down time, as on July 27 1912, the Empress of Britain collided with a British steamer off Cape Madeleine The ship involved the SS Helvetia sank.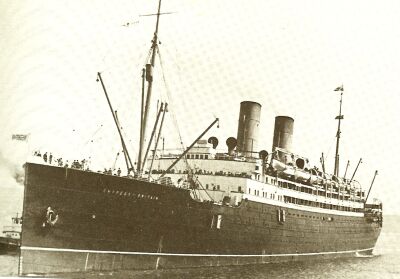 Seen just prior her 1924 refit when she was renamed Montreal
During World War I, the Empress of Britain served as an armed merchant cruiser and a troop carrier, returning to Canadian Pacific Line in 1919, after one voyage to and from St. John she received a major refit, and was converted to oil fuel. She recommenced her Liverpool-Qu?bec service in 1920, but was transferred to the Southampton-Qu?bec route in 1922. In 1924 she received another refit which resulted in new passenger accommodations for 600 Cabin class passengers as well as and 800 Third class. Upon completion she was renamed Montreal. and she resumed her Liverpool-Qu?bec service. In 1927, she started the Antwerp, Southampton, Cherbourg to Qu?bec service, with occasional calls to Hamburg, a service she remained on until September 1929, when she was laid up off Southend. After twenty four years at sea, she was sold on June 17, 1930 to be broken up by the Stavanger Ship breaking Company in Norway.
*************************************************
Empress of Britain II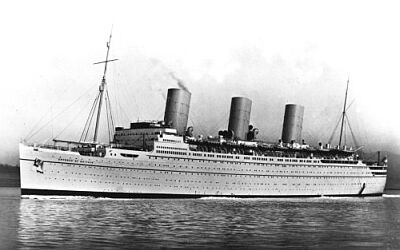 Empress of Britain II
Empress of Britain II was built by John Brown & Co. of Glasgow, and at 42,348 GRT she was Canadian Pacific's largest passenger liner and the largest ship ever to serve on the Canadian service. On June 11, 1930 she was launched by the Prince of Wales, and was completed on April 5. She departed on her maiden voyage from Southampton to Qu?bec on May 27 1931. Whilst doing so she set a westbound Canadian crossing record. She continued to set records making her a remarkable ship! Rolex ReplicaDuring the winter months she operated cruises. She accommodated 465 First class passengers, 260 Tourist class and in 470 Third class.
Empress of Britain was chosen by King George VI and Queen Elizabeth in June 1939 for their return to England after a visit to Canada. Just three months later, on November 25, she completed her 100th crossing she was made ready to become a troopship.
On October 26 1940, she was bombed by a German long range bomber off the northwest coast of Ireland and she caught fire. Passengers and crew took to the lifeboats and were picked up by Naval sips in the vicinity. Empress of Britain was taken under tow by the Polish destroyer Burza, however, two days later, October 28, a German submarine, the U32, torpedoed and sank her. The great Empress of Britain became the largest liner to be sunk during World War II. There were 49 fatalities.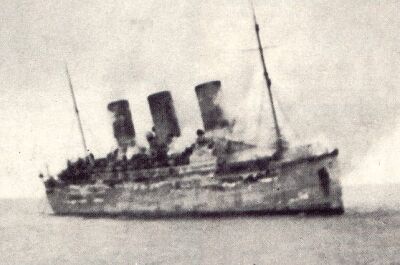 The once majestic liner seen ablaze of the coast of Ireland
*************************************************
TSS

Empress of Britain III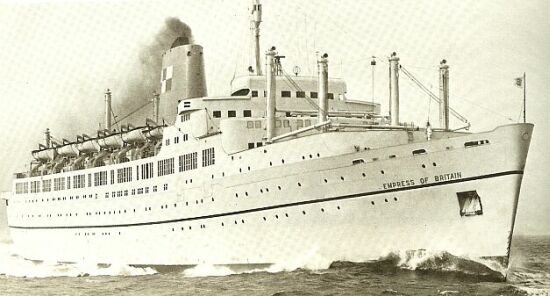 Seen at full steam ahead crossing the Atlantic to Canada
The Empress of Britain was built by Fairfield Shipbuilding of Glasgow (yard 131) and was launched by Her Majesty Queen Elizabeth on Wednesday June 22, 1955. At the time she had the distinction of being Britain's first fully air-conditioned liner. Upon completion she undertook her sea trials on March 9 and 10, 1956, after which she undertook two short shakedown cruises. Looking impressive, she departed Liverpool on her maiden voyage for Montreal on April 20.
As air travel began to have an effect on passenger numbers, she began to operate winter cruises from New Yorkin 1960. Some these were under charter to Travel savings Association. During last few years she would spend most of her time cruising. However, mid 1963 it was decided to place her on the market. She undertook her final Trans-Atlantic voyage for the company in October 1963,Replica Watches just seven years after her maiden voyage. Upon her return to Britain she was laid up awaiting a buyer.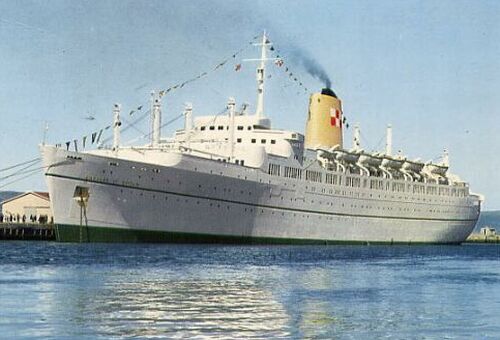 (photographer unknown)
Specifications – Empress of Britain - 1956-63
Engines:???????????????? Geared Turbines by shipbuilder 30,000 SHP
Screws:???????????????? Two
Tonnage:?????????????? 25,516 GRT
Length:????????????????? 640ft – 15.1m
Breadth:???????????????? 85ft – 26m
Draught:??????????????? 29ft
Passengers:??????????? 160 First class
??????????????????????????? 894 Tourist class
Crew:??????????????????? 464
The Empress of Britain was purchased by the Greek Line (Transoceanic Nav Corp – Andros) in February 1964 and was duly handed over on November 16, 1964.
The Greek Line renamed her Queen Anna Maria and gave her an extensive refit and extended and adding a lounge on promenade deck aft. When completed in 1965 she operated a fortnightly service to New York calling at Naples and Lisbon. But again, these were difficult times in shipping, and although she was used for cruising, the Greek Line was facing great financial difficulties. Eventually the Greek Line collapsed and she was sold to Carnival Cruise Line. She was again refitted and in 1975, renamed Carnivale she joined her newer Canadian Pacific sister the Mardi Gras (ex-Empress of Canada). She became a successful cruise ship for Carnival and has a loyal following. However, following many new build ships especially designed for Carnival having been placed in service, she was transferred to a subsidiary "Fiesta Marine Cruises" and she was renamed the Fiesta Marina.
Fiesta Marina was finally sold in 1994 to Epirotiki who renamed her Olympic, who placed her on charter to the British tour company Thomson Cruises as the Topaz. Then in 2002, Topaz received a new colour scheme. In 2003 she was chartered to the Japanese organisation who successfully operated her as the PeaceBoat – The Topaz which saw her sail around the globe on many occasions!
However, age caught up with her, and although there was a rather feeble attempt by a minor British group to save her, and let's face it, from my experience with those I have been in contact with over many years over there, and that is certainly NO reflection on my many wonderful English friends, But these fools have a lot of talk but are useless at saving anything, unlike the Dutch who have save the great SS Rotterdam, and myself having saved a good number of fine and historic ships single handed, including the most famed 1914 built MV Doulos, ex Costa Lines MS Franca C.
Thus, the PeaceBoat Topaz was sold and arrived at Alang India in July 2008 and was beached on the 5th.and was duly scrapped.
Empress of Britain / The Topaz – Index:
Page One …?????????????????? Empress of Britain – History Page
Page Two …????????????????? SS The Topaz
Page Three …??????????????? Topaz Photo Album
Use the Back button on your browser or Close the Page to return to the previous page
or go to our INDEX
***********************************
Who is the Author of ssMaritime?
Commenced in the passenger Shipping Industry in May 1960
ssMaritime.com & ssMaritime.net
Where the ships of the past make history & the 1914 built MV Doulos Story
Also visit my …
"Save The Classic Liners Campaign" & "Classic Ocean Voyages" pages
Photographs on ssmaritime and associate pages are by the author or from the author's private collection. In addition there are some images that have been provided by Shipping Companies and private photographers or collectors. Credit is given to all contributors. However, there are some photographs provided to me without details regarding the photographer/owner concerned. I hereby invite if owners of these images would be so kind to make them-selves known to me (my email address may be found on www.ssmaritime.com only), in order that due credit may be given. I know what it is like, I have seen a multitude of my own photographs on other sites, yet these individuals either refuse to provide credit or remove them when asked, knowing full well that there is no legal comeback when it comes to the net. However, let us show these charlatans up and do the right thing at all times and give credit where credit is due!
This notice covers all pages, although, and I have done my best to ensure that all photographs are duly credited and that this notice is displaced on each page, that is, when a page is updated!
ssMaritime is owned and ? Copyright 2010/12 - by Reuben Goossens - All Rights Reserved