Bibby Line T.S.S. Oxfordshire Sitmar Line/Cruises & P&O Cruises T.S.S. Fairstar
Please Note: Firefox & Google Chrome other search engines may not suitable
Use Internet Explorer or Old Google for this page to load perfectly!

Click the logo above to reach the ssMaritime FrontPage for News Updates & "Ship of the Month"
With Reuben Goossens
Maritime Historian, Cruise'n'Ship Reviewer, Lecturer & Author
Please Note: All ssMaritime and other related maritime/cruise sites are 100% non-commercial and privately owned. Be assured that I am NOT associated with any shipping or cruise companies or any travel/cruise agencies or any other organisations! Although the author has been in the passenger shipping industry since 1960, although I am now retired but having written on well over 1,116 Classic Liners, humble Migrant Liners and Cargo-Passengers Ships I trust these will continue to provide classic ship enthusiasts the information they are seeking, but above all a great deal of pleasure!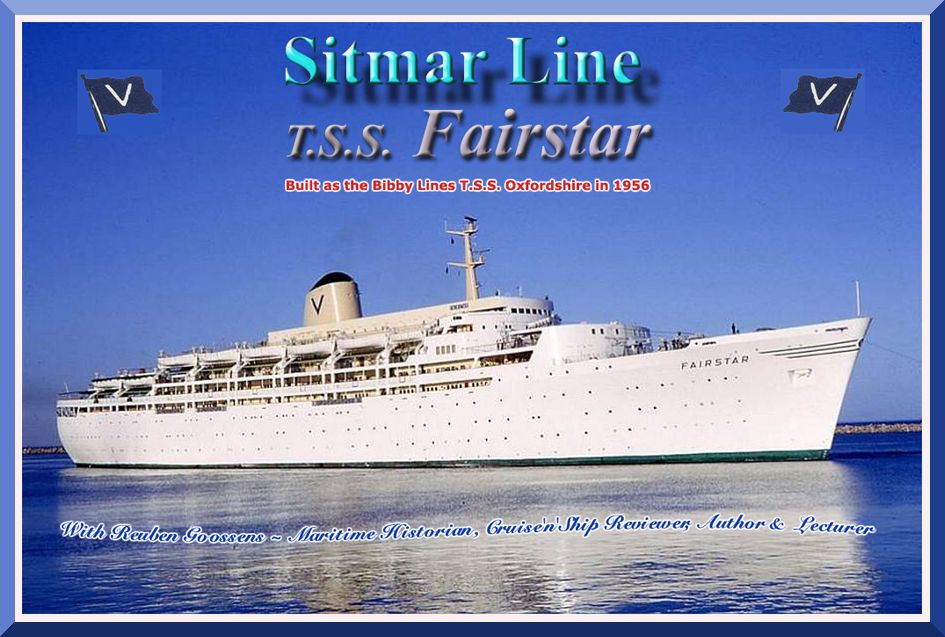 Introduction:
ssMaritime is delighted to present a page on a liner and cruise ship that has become an icon to a multitude of ship and cruise enthusiasts in the UK, Europe, but more so in Australia and New Zealand, especially for those who left their homeland and ventured far across the sea, deciding to make a new life "Downunder."
Due to the Jet Age, travel by sea sadly rapidly declined in the early 1970s and migrants were transported in general on Boeing 747's or Jumbo Jets being their more popular name. But the truth is, those who spent over 24 hours flying, missed one of the most amazing experience being a 5-week ocean adventure discovering interesting and historic ports of call before arriving in their new homeland. In addition, on the beautifully rebuilt and refitted T.S.S. Fairstar all meals, entertainment, and excellent accommodations were all included, and cabins onboard were of a very high standard, not on some of those older wartime ships that fast rebuilds, where passengers tended to be house in very large dormitories.
However, in due course the greatly loved Fairstar took on a completely a new role and she became a full time cruise ship. Sitmar Line decided to home port their ship in Sydney and she commenced cruising year-round to the South Pacific, New Zealand including occasional cruises to South East Asia. She became Australia's most famous and the most loved cruise ship ever, so much so that she became lovingly known as "Fairstar the FunShip."
Those who sailed on this delightful ship will always remember her, for the name Fairstar conjures up joyful memories for up to a million people, being those who migrated from the UK and Europe and those Australian's and Kiwis, who ventured on one of the many voyaged to and from Europe and the UK on Vacation, as well as her countless cruises between 1965 and 1997.
The Fairstar certainly had a varied and an interesting career … from a proud British Troopship, the Bibby Line T.S.S. Oxfordshire to a full fledged passenger liner sailing around the world to a full time cruise ship.
I trust that this feature will bring back enjoyable memories of this fine old Dame of the Sea, a ship that gave so much enjoyment to so many during her time at sea!
Reuben Goossens.
Maritime Historian, Author, Lecturer & Cruise'n'Ship Reviewer.
Commenced in the Passenger Shipping & Cruise Industry in 1960.
Please note: Photographs were either taken by the author, or as noted; all publicity images are from the author's private collection.
Part One - Fairstar the Liner: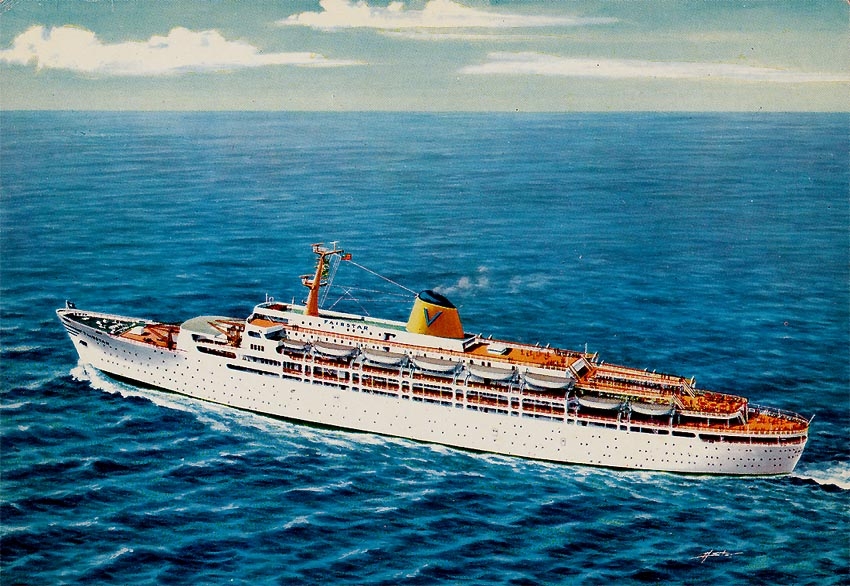 A popular postcard with an illustration of the Fairstar seen as built
been laid up for a short time, the T.S.S. Oxfordshire was chartered to the Fairline Shipping Corp, being part of the famed Vlasov Group - Sitmar Line who would operate her for six years. She soon crossed the North Sea to Schiedam (Rotterdam) in the Netherlands where she would be totally rebuilt by Wilton-Fijenoord, at a cost of 2.3 million UK pounds, making her ready to operate on the Australian passenger & migrant service. However, in March 1964, whilst she was being rebuilt, the "Fairstar Shipping Corp, Monrovia" - Sitmar Line decided to purchase the ship outright, and renamed her "Fairstar."
However, there was a dispute between Wilton-Fijenoord and Sitmar, and recently I received some communication with an engineer who worked at the yards who has filled me in on some of the details …
"This is the Fairstar being laid up at the yard during the period that the owners did not want to accept her. As far as I can remember the ship was ready but there was a financial dispute with the ship repairs a price that is always worked out according the specifications. (At least it was in my days). When the job is done parties sit together to discuss the account." (Continued).
T.S.S. Fairstar is seen idle during the dispute between Wilton Fijenoord & Sitmar
Photograph by & © Hans Kleijwegt
For Interest: At the bottom of each page is an Index to all pages related to the T.S.S. Oxfordshire, T.S.S. Fairstar & other Sitmar Ships.
"The yard was attempting to get paid for extra-work that had to be undertaken, but the owner's tried to convince the yard that it was part of the original contract. In other words the clearer the specifications about the work that was to be undertaken, the less problems in the future. In case of the Fairstar a great deal of ballast had to be placed in double-bottom tanks, because originally she had large dormitories for up to soldiers down there. With the rebuilding and additions of cabins, a cinema and many lounges, as well as her decks raised and moved forward, the ship had become much heavier topside, which meant she required additional ballast.
As far as I can remember this was the main reason for the dispute which was finally settled by an international court of arbitration for such cases in Paris, I believe more then two years later. But, Sitmar moved the ship to the UK for the final refurnishing." Hans Kleijwegt, NL.
After the dispute the Fairstar was relocated in April if 1964 to Harland & Wolff for completion at Southampton and it was just a month later emerged in May 1964 as a superb 21,619 GRT, one class passenger liner with a maximum capacity of 1,870 passengers.
On May 19, 1964 the T.S.S. Fairstar departed Southampton for her maiden voyage to Australia with a complement of 1,870 passengers. As she was fitted with powerful Twin Steam Turbines (thus the T.S.S.), her service speed of 17 knots was a breeze. There was no doubt about it, for the Fairstar was not just a comfortable ship in every respect, but she proved the perfect ship for long distance voyages.
She arrived in Fremantle, (Perth) Western Australia on June 12, she then sailed via Adelaide, South Australia to Melbourne, Victoria where she arrived on June 18 and Fairstar concluded her voyage to Sydney New South Wales on June 21, 1964 as she was given a fine welcome for her maiden arrival as she entered the inner harbour!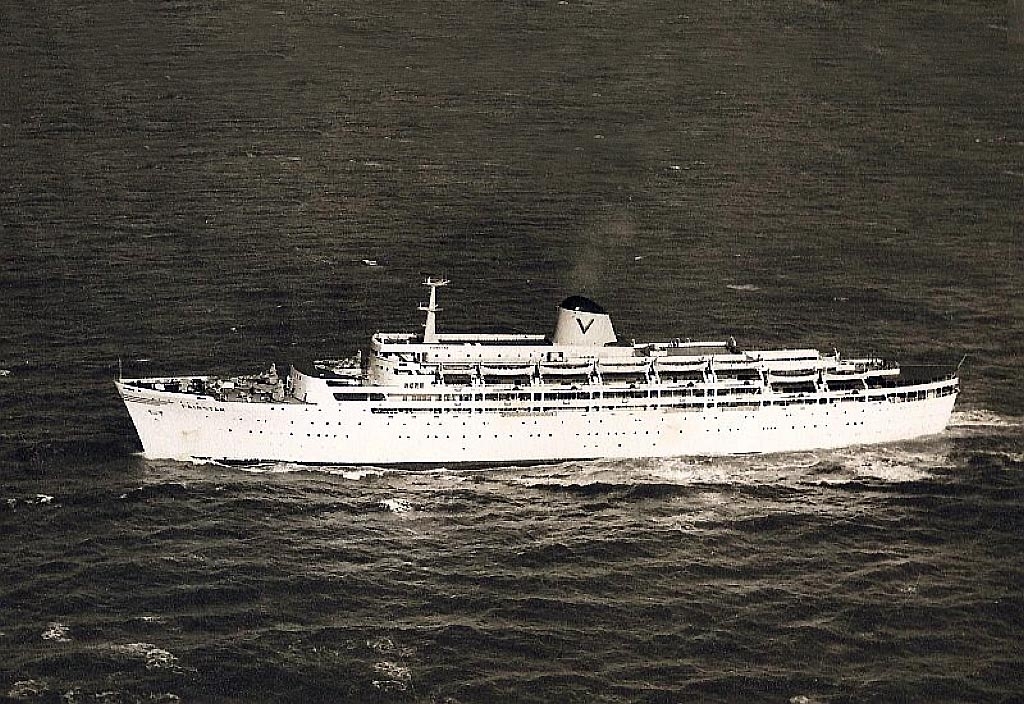 T.S.S. Fairstar is seen in Port Phillip Bay heading for the Port of Melbourne on June 18, whilst on her Maiden Voyage
From the author's private collection
Sitmar Line had been operating voyages to Australia and New Zealand, with three relatively older ships. However, whenever, a Sitmar ship arrived in port, that ship always seemed to have a special appeal to those that saw them. Their gleaming white hulls and their tall superstructures with their modern yellow funnel featuring a large blue V were a popular sight in all ports. Many wondered why Sitmar had a V as their distinguishing logo. Well the V stood for the company's founder, the famous shipping magnate's name, being the Vlasof family. Their story is a book in itself!
"Fairland Shipping Corp," - part of - SITMAR Line is a name derived from Societa Italiana Trasporti Marittimi.
At the time, Sitmar operated three other ships on the Australian/New Zealand migrant service, the Castel Felice, Fairsea and the very popular Fairsky.
1 – MS Fairsea (Maiden Voyage with Sitmar in 1949 - 13,317 GRT).
2 – SS Castel Felice (Maiden Voyage with Sitmar in 1952 - 12,478 GRT).
3 – SS Fairsky (Maiden Voyage with Sitmar in 1958 - 12,464 GRT).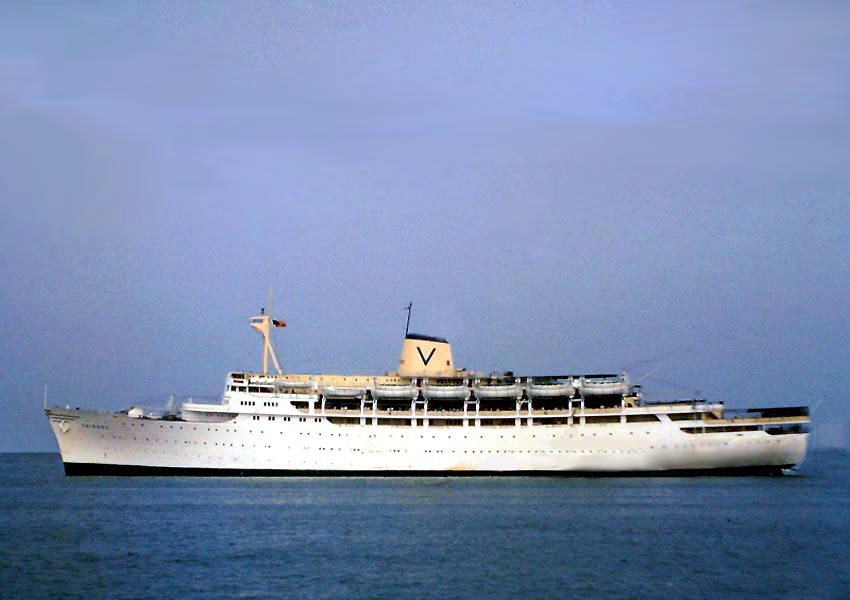 The Sitmar Liner SS Fairsky seen in her early days just outside of Sydney Heads
When she was completed, there was no doubt about it, but the Fairstar was an exciting and a very modern ship for her day! She featured many fine public rooms, such on Promenade Deck forward there was the huge two level "Zodiac Lounge," with the magnificent mezzanine and Bar above on Boat Deck. Just aft of the Zodiac Lounge on the port side was an attractive "Library and Writing Room," whilst alongside the starboard side was a Shop. Amidships there was the famed "Bavarian Beer Hall," with its huge timber topped Bar. The Bar also had an opening into the aft port side "Rainbow Lounge," which was a colourful, but such a peaceful intimate room. The aft lounge on Promenade Deck was the popular "Aquarius Lounge" and nightclub. This room was so named, due to the large portholes in her mid-aft walls, providing a spectacular view into the swimming pool, located above on Boat Deck.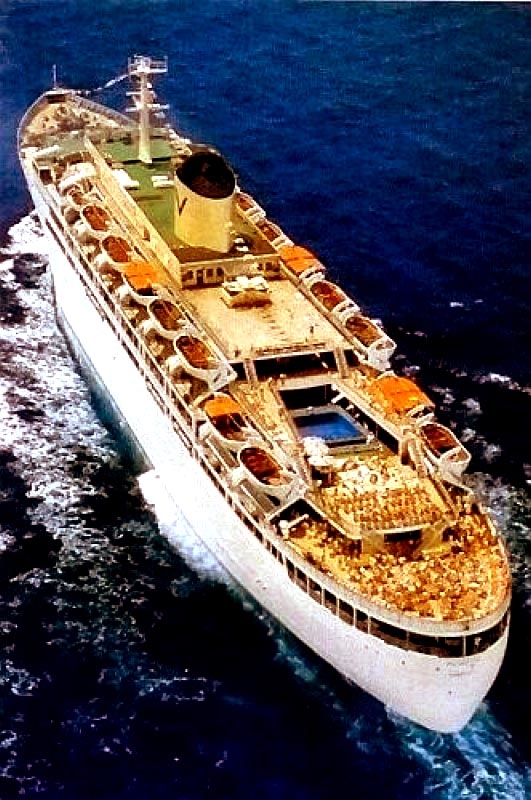 A fine aerial view of the Fairstar overlooking her Lido Deck and her pool to her forward decks above
From the author's private collection
Overlooking the Swimming Pool on Boat Deck was the most popular day spot on the ship, and that was achieved from the Surf Club with its vast wall of floor to ceiling windows, featuring a unique Island Bar, with stainless steel cladding. The Children's Play Centre with a pool was located far forward on Promenade Deck. Above the play centre on Boat deck forward, was the Jungle Room, which was a teenager's delight. On the port side there was the Milk bar, a jukebox with a dance floor. On starboard side, where a number of poles with two seats attached and a shelf for drinks, leaves sprouting from the top of the poles, made this a unique room perfect for those so full of "puppy love." I remember all this very well, as I was one of the young set on Fairstar's second voyage from Melbourne in September 1964, listening to Eric Burton and the Animal's huge hit "The House of the Rising Sun," as I sailed, via Sydney Brisbane, Singapore, Colombo, Aden, Suez, Port Said to Naples from where we took several trains to our destination.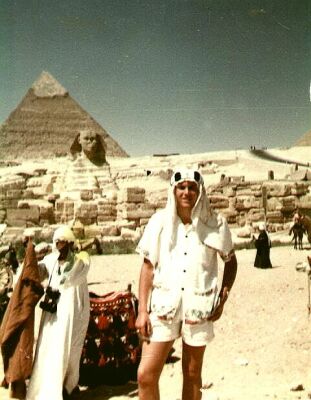 The author seen at the Pyramids at Giza near Cairo, part of a tour during his voyage on the Fairstar in 1964
Photograph by my Mother © Reuben Goossens
Due to the Middle East Was, the Suez Canal was closed and all Sitmar liners were forced to sail to Australia via South Africa. The Fairstar was chosen for a very special live TV event, for whist the Fairstar was in Melbourne on April 10, 1967 she was the location for 1966 *"Logie Awards," hosted by Australia's most famous star, Bert Newton. *Australia's equivalent of the "Emmy Awards."
In due course the Fairstar would sail on round the world voyages, sail via South Africa to Australia and then continue to New Zealand and return via the Pacific and the Panama Canal back to Southampton. These return voyages proved to be popular for Australians and Kiwis who were bound to the UK or Europe to visit family or friends, or who were intending an extended vacation undertaking one of the many coach tours available, and the return to Australia per ship at a later date!
However, it was in 1965 that Sitmar Line decided to broaden its operations and commenced a series of South Pacific cruises from Sydney utilising the Fairstar as well as the Fairsky and the Castel Felice. In a way this could have been considered to be a sort of a prophetic move, for when Sitmar Line lost its migrant contract to the Greek Chandris Line in 1970, Sitmar decided that their future would be cruising the South Pacific, New Zealand and also to South East Asia. Sitmar commenced to mix the Fairstar's Line voyages with cruising, and they did this until 1974.
Then can what was the biggest even of all, for it was on November 13, 1974 that the T.S.S. Fairstar departed Southampton for the very last time, and she sailed once more via Cape Town, Fremantle, Adelaide, Melbourne, Sydney to Auckland and returning to Sydney to become the very first cruise ship ever to call Australia home on a permanent basis!
These days P&O tend to forget the past and they actually make the claim that P&O (United Kingdom) was the first Australian cruise company, but they were not, for it was the Italian company "Sitmar Line," who had renamed their company "Sitmar Cruises", and they were the very first Cruise Company to home port a cruise ship, the T.S.S. Fairstar in Sydney Australia and not the English Shipping Line, P&O!
Part Two - Fairstar the Cruise Ship:
Fairstar, the cruise ship, departed Sydney 23 December 1974 fully laden with 1,280 passengers on her first official cruise as a Sydney based cruise ship! Thus began the exciting and colourful era that would last for more than 20 years.
If we look back to the massive cruise industry Australia has to day, with so many ships home ported here, there is no doubt that the one ship the T.S.S. Fairstar spearheaded Australia's billion dollar-a-year cruise industry, even though there had been other cruise ships before her, but she was the very first ship to be permanently based in Australia on a year round basis, whereas all other ships, were only stationed here for a few months at a time during the Australian summer, being the low season in the UK and Europe whilst there was little work available for ships during the winter months in the Northern Hemisphere.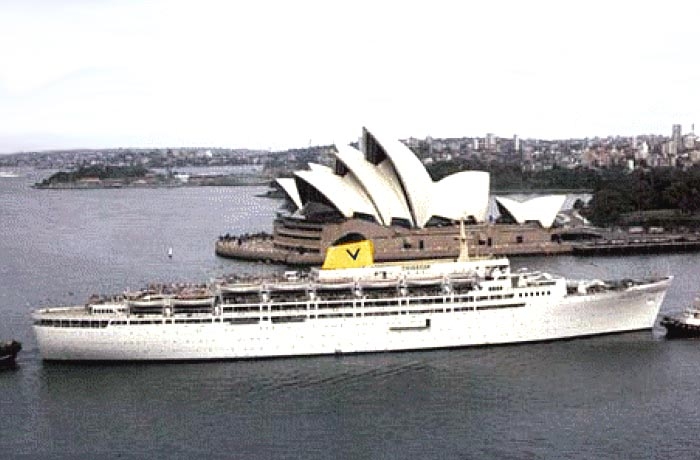 The Fairstar arrives home from a cruise to Sydney's Circular Quay.
By the time she sailed her final voyage in 1997, she sailed past the Opera House over eleven hundred times.
From the author's private collection
Sitmar Cruises operated the popular Fairstar for fourteen years, during which time she received a number of refits and improvements to keep up with the times. During this time she did have occasional mechanical problems, as do many ships, but generally Sitmar looked after her very well. Australian's and New Zealanders enjoyed the mostly Italian officers and crew and their generous hospitality!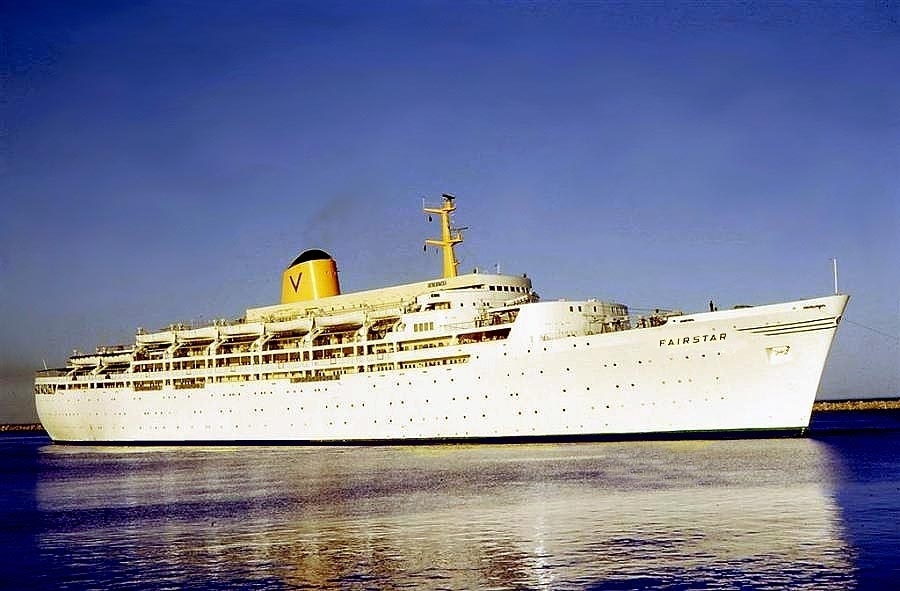 Fairstar the cruise ship still with her much loved yellow funnel with the big blue V
From the author's private collection
Fairstar mostly cruised around the South Pacific Islands, but she also undertook one or two longer cruises to the Far East and Japan. In 1982 ended cruising to Asia and consecrated on the South Pacific. With her regular updates, one of notable exterior changes was the new windows that were installed far forward on Promenade Deck just aft of the children's facilities, and later they added, laminated canvas for strength, with clear plastic windows that headed further aft. The deck space that was now glass enclosed in due course became the popular "Brasserie Delfino."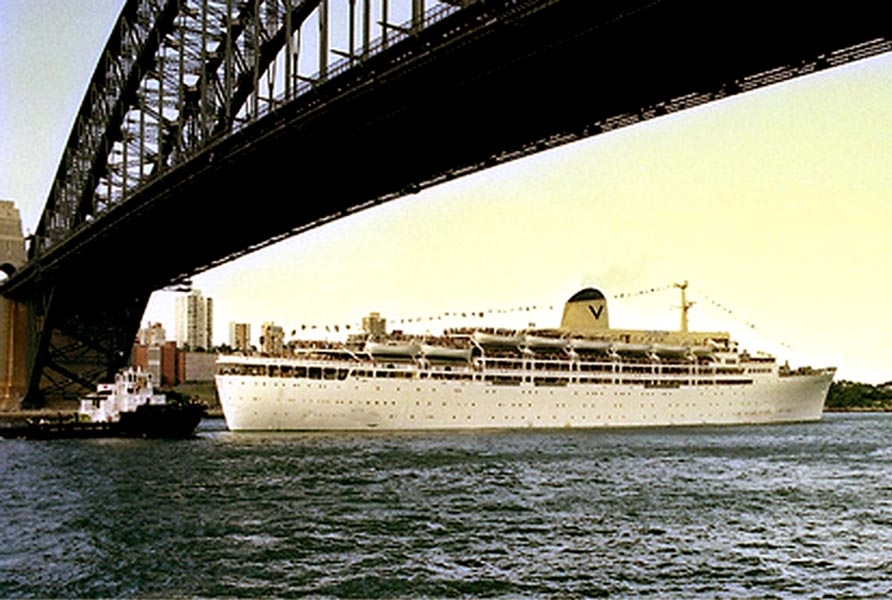 The Fairstar is seen here departing Sydney on yet another cruise not long before her livery change
Photographer is unknown – Please see the photo Notes at bottom of page
Refits and Changes:
On June 3, 1984 the Fairstar entered the Cairncross Drydock in Brisbane for an overall refit, which saw her passenger numbers reduced to just 1,390.
Then from 1988, she commenced making one Asian fly/cruise programme annually and when she arrived in Singapore passengers would spend time in a hotel and take several tours and fly home, or visa versa. Whist she was in Singapore she would be dry-docked for her regular overhauls as well as a refit and construction work, if required,
As Sitmar Line had been renamed "Sitmar Cruises" having gained two new luxury cruise ships for the American market, the Fairstar was again in Singapore shipyards in June 1988 where she received the new Sitmar Cruises colour scheme on her funnel: a stylised (1) White & Red Swan on a dark Blue funnel. Personally I did not like this funnel on her and it certainly did not prove to be very popular with Australians either, for they had come to love the beloved Sitmar yellow funnel with that great big blue V on it!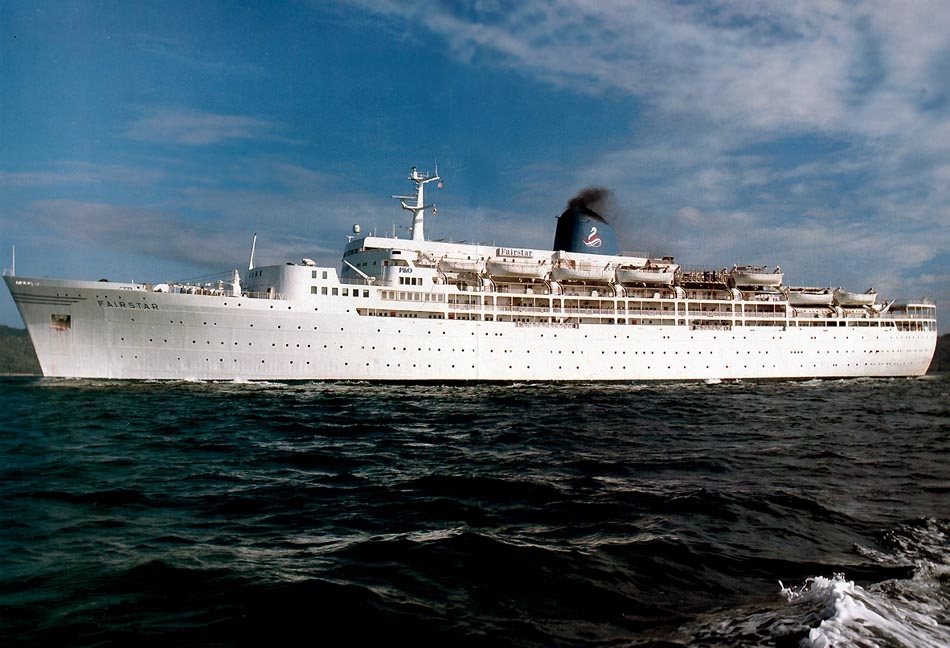 (1) Above & below: Here we see Sitmar Cruises Fairstar with the new blue Funnel Livery with the white/red swan logo
Also note the canvas with plastic windows section forward along Promenade Deck!
The photograph above was provided to me by Sitmar Cruises - The one below is unknown - Please see the photo Notes at bottom of page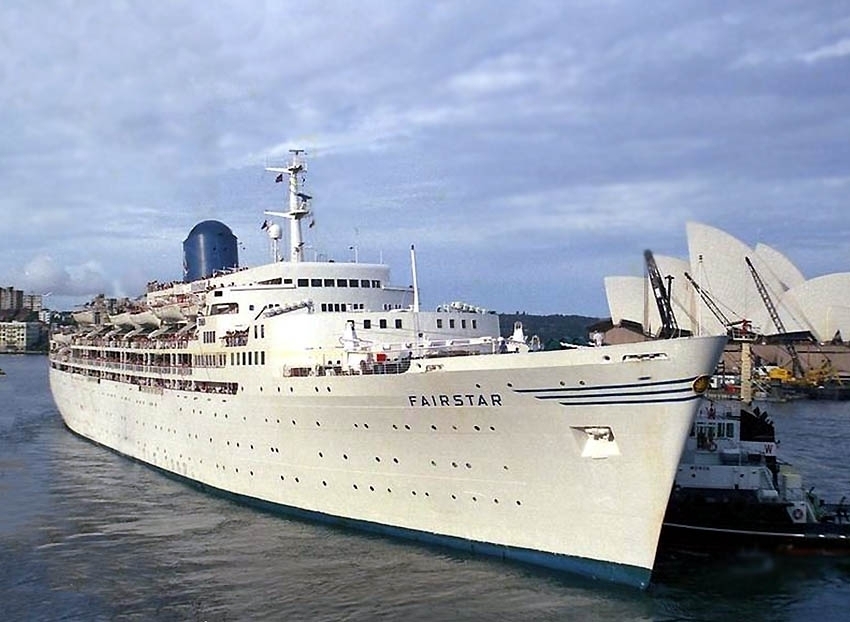 Part Three - Fairstar the P&O FunShip:
However, due to Sitmar Cruises incredible success with the cruising public in the United States and of course in Australia since 1974, P&O/Princess Cruises decided to purchase Sitmar Cruises, including our very own T.S.S. Fairstar in September 1988.
Thus P&O decided to give her another refit in April 1989 that saw her lounges and accommodations being upgraded with new carpet being laid as well as new furnishings. But it was her Boat Deck that saw the biggest change as it was extended far aft and full width making her Lido Deck and Pool area far more spacious! In addition, it also provided the perfect buffet and keep fit area one deck below, being Promenade Deck aft. This new fully covered area adding complete cover for the newly created "Starlight Disco." Now the T.S.S. Fairstar had become a genuine cruise ship with all the comforts of one! In addition her passenger capacity was now 1,390. Yet amazingly P&O Holidays retained the Sitmar livery.
Finally in June 1991 did P&O Holidays decided to change that horrid blue funnel for it certainly needed to be changed, and the funnel was pained all white with a (2) Blue and Red Swan, but it was still the "Sitmar Cruises" logo on the P&O ships funnel? This livery remained until the next and final change in late 1993.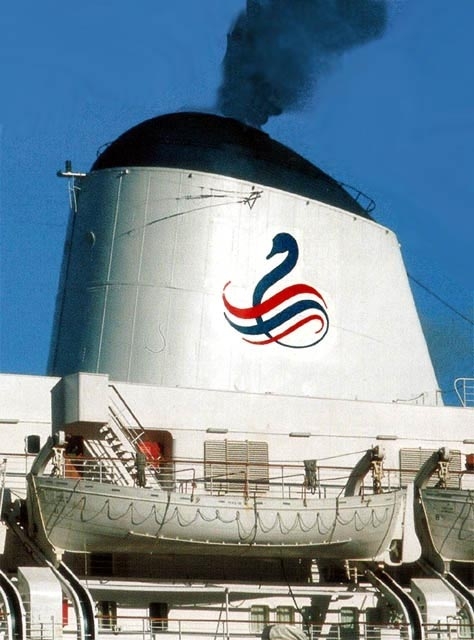 (2) The Blue and Red Swan Sitmar Cruises Logo on a white funnel, which suited the ship better, but still not right!
From the author's private collection
During her P&O years, she was regularly updated to meet changing Australian tastes, standards and demands. As she cruised on, she became lovingly known as the P&O "FunShip" under the renamed company, "P&O Holidays" team, which was superbly headed by the author's maritime friend "Mr Fairstar," Phil Young the Managing Director, who was later *followed by the equally able Mr. Phil Riley.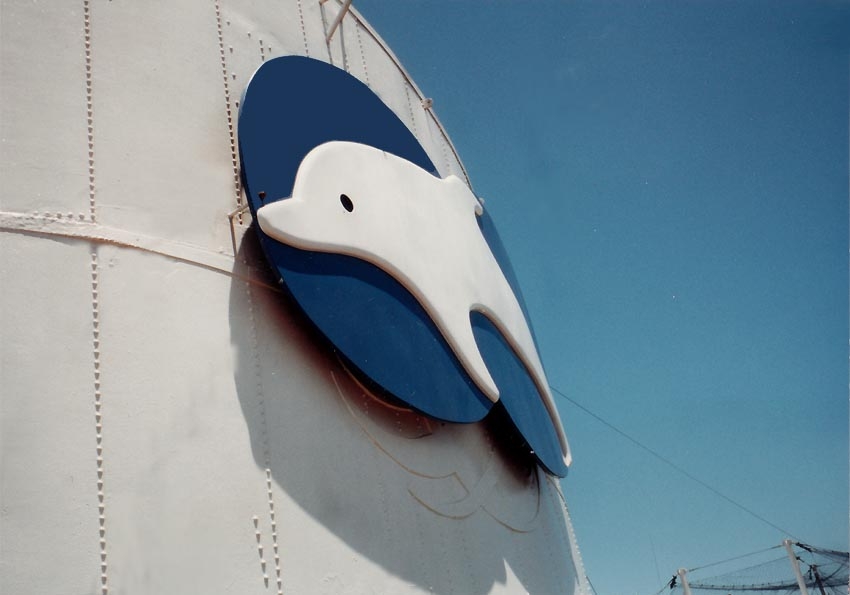 (3) Finally an all new P&O dolphin logo on Fairstar's funnel
With P&O Holidays now operating the much-loved Fairstar, but in 1993 they finally gave her a much needed new logo on her funnel, being (3) two blue overlapping discs, with a white jumping dolphin. This, together with the ships many onboard improvements, including two new locations; the popular Brasserie Delfino, which was perfect for Italian food and that freshly baked Pizza, that was located forward on Promenade deck. Then far aft on Officer's Deck, overlooking the Pool and Lido Deck was the delightful Al fresco Café for that perfect Espresso Coffee, a Latte or a cup of tea of choice, and delicious pastries! The new Fairstar with her Dolphin somehow became even more popular that ever, for this was the most popular incarnation of the Fairstar ever.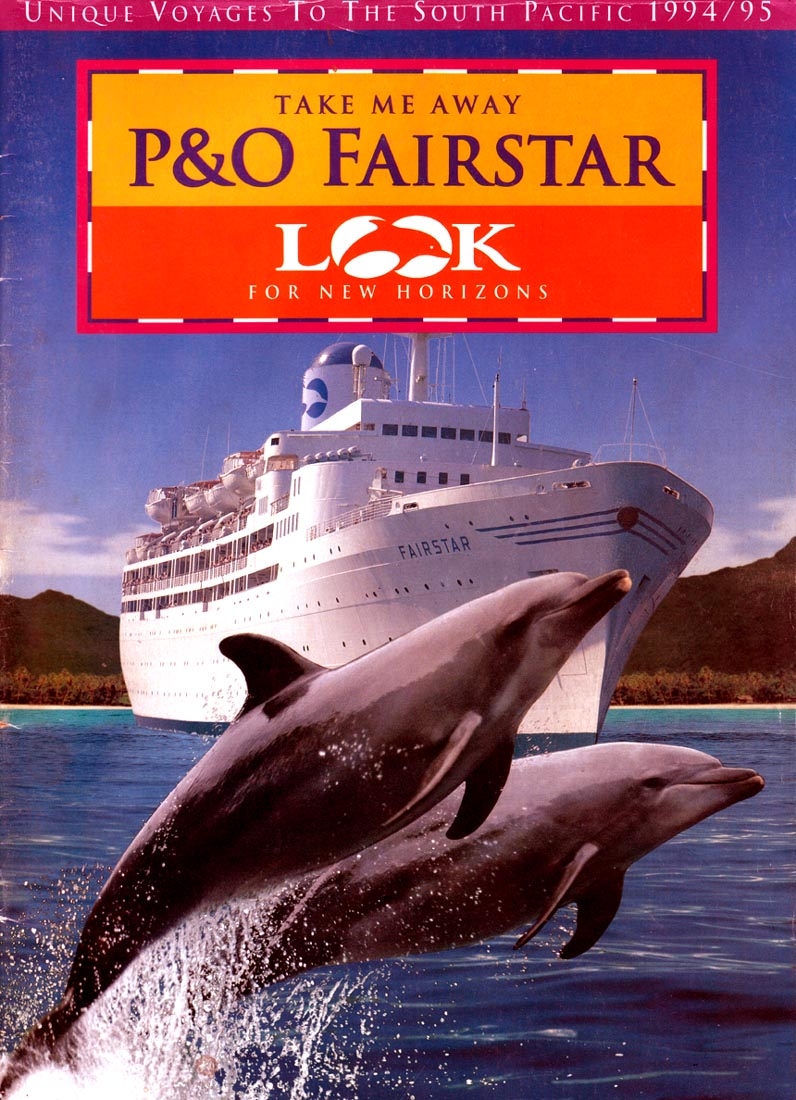 This the very first and new Dolphin brochure for 1994-95 cruise season, released by P&O Holidays in July 1993
The bright new looking T.S.S. Fairstar departed on her first cruise in her new guise, being an 11 night Pacific Island Cruise, visiting all the most popular Islands, such as; cruising along the Chesterfield Islands, then onto the superb Champagne Bay, one of the popular locations in Vanuatu, then to its Capital Vila, next to the ideal uninhabited Mystery Island, where the Natives come per small boats from other islands and set up stalls and they perform, and in those days P&O used to have a great BBQ lunch on the Island, but those days seem to have gone. Next was Noumea in New Caledonia, not everyone most popular port, and back to Sydney. But most importantly, the all new Fairstar was a huge hit!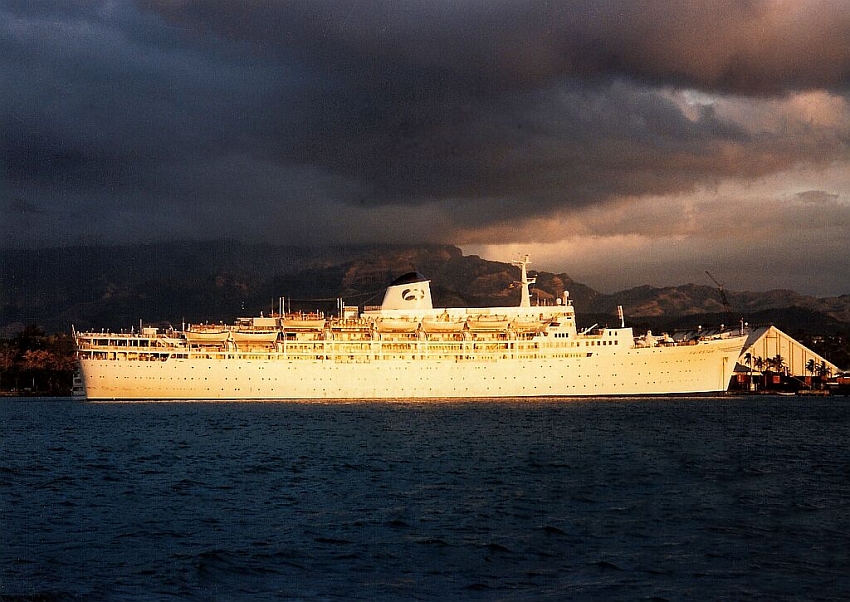 The Fairstar was on a 13 night cruise and is seen berthed in Fiji mid afternoon whilst this very wild storm
was heading our way. We departed at 9 PM and thankfully this very rough storm had blown out by then!
There is no doubt that the product known as the "FunShip" Fairstar grew in popularity, one that remains unequalled to this day! Yes there have been and now are many fine modern ships home ported in Australia, but not one has left an impact on those who love cruising, than the Fairstar the "FunShip" did!
The author and a friend undertook, what turned out to be his very last cruise on his beloved T.S.S. Fairstar, which departed Sydney on September 17, 1996 and she would make her very last cruise ever just three months later!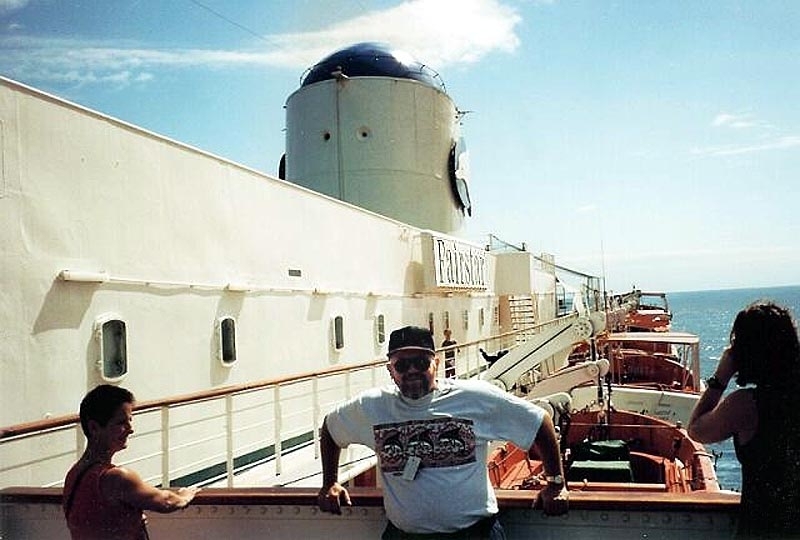 The author is seen on the Fairstar's Bridge port wing overlooking aft along Officers & Boat Deck
Photograph by associate Kosta Specis © Reuben Goossens
You will find a series of photographs that I have taken whilst on board of her lounges, her decks and some of her other facilities, in order that her memories may live on! These and others images are shown on the Photo Page and can be reached via the link on the Index below. HOWEVER her story continues!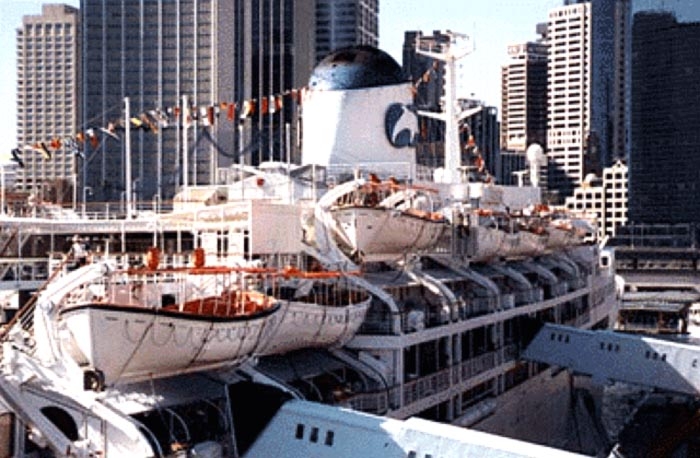 Fairstar ready and awaiting her guests for another "Fun Packed" cruise!
Note the Alfresco Café aft on Officers Deck
Part Four - Fairstar's final days;
Although the Fairstar had a comprehensive AU$2 million refit at the ADI Garden Island Shipyard in February 1995, but by 1996 it became obvious that most good things tend to come to an end. The truth is that the beloved Fairstar, started to show her age rather badly and she was beginning to suffer frequent breakdowns as well as other problems. The ships engineers and technicians worked so hard to keep the old girl going and on schedule, and there is no doubt about it they were simply amazing! On the authors last cruise, less than a year prior to her eventual departure 56o the breakers, toilets were known to overflow on the lower decks, air-conditioning was poor, especially on the lower decks and fans were required in cabins to keep cool. Her mechanical problems increased so much, that her average speed had to be reduced to avoid to total collapse of her old machinery. In April 1996, one of her cruises had to be cancelled, due to a sudden fall of a part of her boiler brickwork. It became apparent that the Fairstar required massive, and very expensive repairs, as well as the costs to bring her up standard for new 1997 SOLAS requirements. P&O Holidays were sadly forced to decide to retire the old girl and replace Australia's favourite cruise ship very early in 1997. In the meantime, she limped around the South Pacific, without the passenger being aware of her sad state. As soon as P&O announced that the Fairstar would make her very last cruise from Sydney on January 21, 1997 she was completely booked out within an hour! I missed out due to being at a long boring meeting, when the announcement was made, thus by the time I attempted to book, nothing left.
Part Five - Interesting Facts:
Almost one million passengers cruised on Fairstar since her first official Australian based cruise from Sydney December 1974. Fairstar became a household name and she reigned unchallenged in Australia, steaming more than two million nautical miles, which is the equivalent of 251 times around the world, or four times to the moon and back.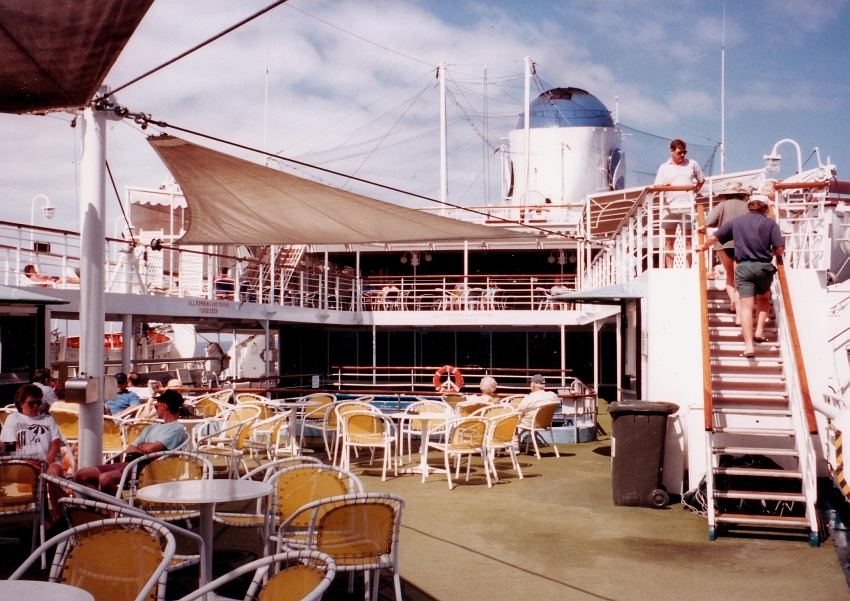 Now we can just see the Kiosk on the left, the Pool and the Sunset Lounge Windows
She is credited for pioneering the cruise industry in Australia. Fairstar based in Sydney maintained an average market share of just over 65 per cent. During her reign, Fairstar survived no less than eleven different challenges to her throne. Occupancy rates were as high as 100 per cent, having a repeat passenger rate of around 20 per cent. Onboard surveys show that 95 per cent of passengers consistently rate a Fairstar cruise as excellent or good, with a good few returned for a cruise on her up to 50 times.
Much of Fairstar's success is credited to the fact that she was managed by Australian's for Australian's and Kiwis, offering a quality product suited to the market. Fairstar was such a familiar sight in Sydney Harbour, as she sailed past the Sydney Opera House more than eleven hundred times during her "Downunder" cruise career.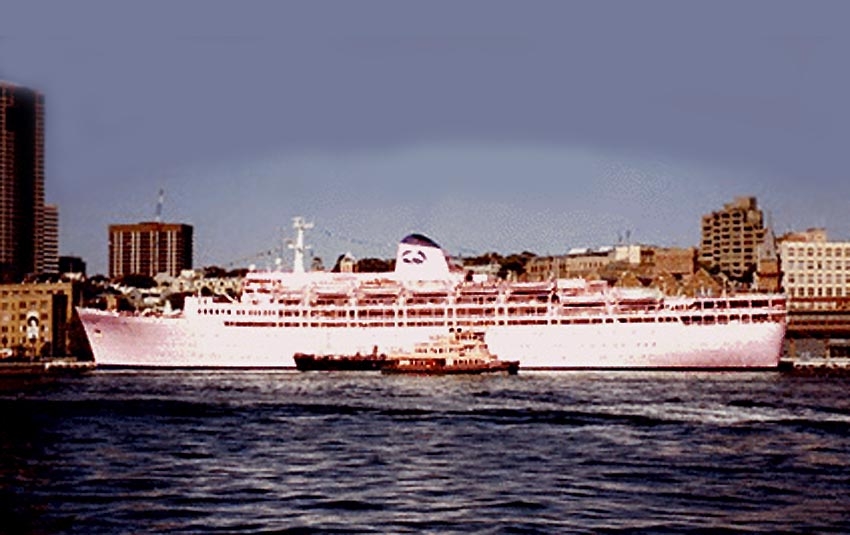 P&O Holidays Fairstar at Circular Quay International Passenger Terminal on January 21, 1997
As Fairstar sailed out of Sydney Harbour on Tuesday January 21, 1997 for her final cruise, the media was on hand reporting on this massive event, for this ship had become like a part of Australia. Having departed around 5 Pm she headed for Amedee Island in New Caledonia on Friday January 24, remaining between 11 Am to 6 Pm and she then headed the nearby Noumea where sh3 arrived just three hours later at PM on the same day and remained overnight for a twenty four hour stay! She departed at 9 PM on Saturday January 25 and she arrived at Lifou, at the Loyalty Islands the next day at 7 Am and departed at 5 PM. Her next port of call was Vila in Vanuatu on Monday January 27, arriving at 8 AM and departing again at 5 PM the sailing via the Havannah-Boulari Passage on the 28th.back home, arriving in Sydney on Friday the 31st.Upon her return to Sydney on January 31, 1997, Fairstar had flying that traditional long white paying off pennant from her radar mast, which was in reality a very sad sight of maritime ship lovers, for this was and had been an amazing ship, for she had carried over 1.1 million as a cruise ship, that is not counting all her migrants and passengers, as well as troops in her earlier life as the Oxfordshire.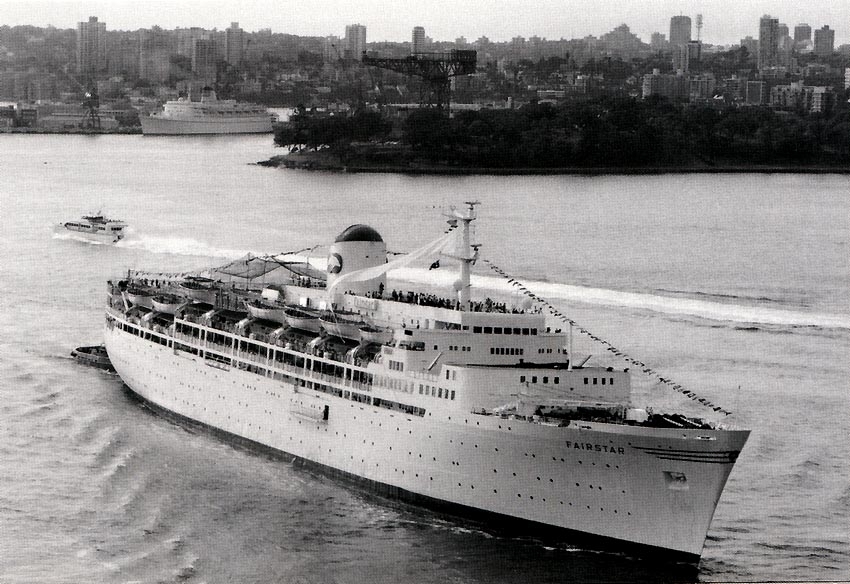 Still looking amazing and spotlessly clean, the T.S.S. Fairstar returns from her very last cruise ever on …
January 31, 1997 and we see the ship that will take over from her, the T.S.S. Fair Princess berthed at Garden Island
This wonderful photo was taken by & is © Gerald Laver, thank you Gerald!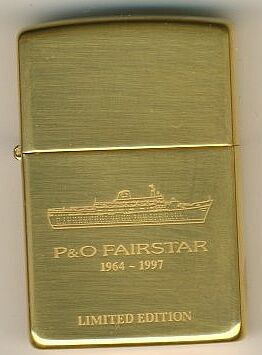 Souvenir farewell P&O Fairstar Zippo brass lighter sold in the gift shop during her final months
Image © and lighter from the Jim Stanoff collection - USA
Whilst at Garden Island her successor awaited her commencement of cruise duties. Fairstar completed her illustrious career spanning almost a quarter century. She was laid up at Garden Island (Sydney) with her replacement Fair Princess lying right at her stern. She looked a lonely sight when the author took photographs of her and her successor, the afternoon of Wednesday February 5, 1997.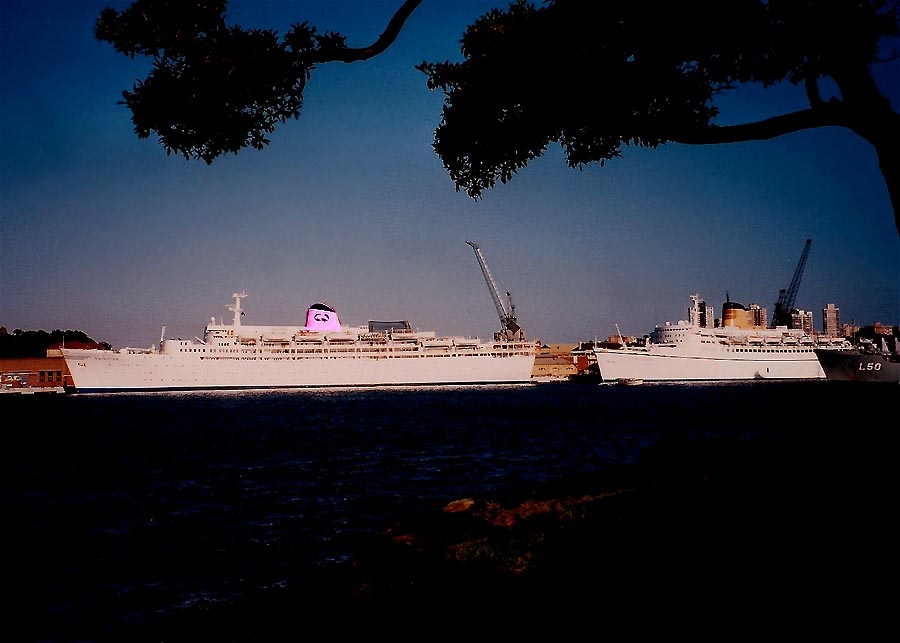 The T.S.S. Fairstar and her replacement, also an ex Sitmar ship is seen behind her at Garden Island, the T.S.S. Fair Princess
On February 5, 1997 the Fairstar still looked simply wonderful, just if she was ready to return to cruise the Pacific again. However, in reality she was a sad lonely sight with her successor berthed just astern. Just two seven days later the ex Sitmar liner and cruise ships, which was taken over by P&O Holidays, our beloved "FunShip" left Sydney for the very last time as she was heading for the breakers in India. On her bow she had been given a new name, but she rather crudely renamed "RIPA" and she flew the St. Vincents & Grenadines flag from her stern.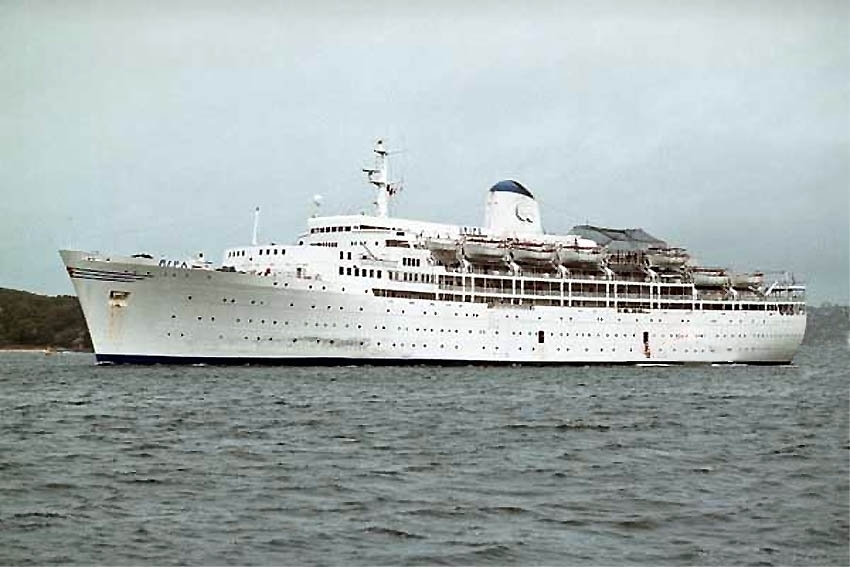 Note her new name "RIPA painted so poorly high up on her bow and upper name board - She is seen from the North Shore
Photograph is by & © Gerald Laver
We were not given any warning and she left early in the morning, as I said just seven days after I took the photograph of the two ships together. Her dolphin logo had been poorly painted out in white, and the name RIPA had also been poorly painted on her upper name board. I was told by someone who just happened to be there that "She quietly slipped her berth and it seemed all to fast that the beloved Fairstar was out of sight and she had passed Sydney Heads for very last time."
She then set a course for a long slow voyage for India, were she arrived at Alang on April 10, 1997 where she was beached and broken up. Australian's and New Zealander's had felt that Fairstar had been without a doubt a "RIPA" of a ship, for all who sailed on her had such a wonderful time, for she was a real ship not like the building we tend to go on these days!
PS: (RIPA is Australian slang for something really great or fantastic).
As you will have gathered, if you have read all of this page carefully, I have been involved with the T.S.S. Fairstar from her second voyage having arrived in Melbourne early in September 1964, and I boarded her bound for Naples Italy, sailing via; Sydney, Brisbane, Singapore, Colombo, Aden, Suez, Port Said and then directly to Naples. In Naples I caught a train to Rome and connected there to a first class a sleeper carriage to the Netherlands. The voyage on what was then considered great and modern liner was amazing to this, a younger man and I had a wonderful time and even fell in love with a beautiful Spanish girl, but sadly due to circumstances, it was not to be. Then many years later, I cruised on Sitmar's T/S Fairsky and later, countless times on the Sydney based T.S.S. Fairstar, until P&O UK purchased Sitmar Line in September 1988. It is important to note that it was Sitmar who made Sydney Fairstar's home base,, the Italian's were the very first company to do so, and NOT P&O UK. The Fairstar was operated in Australia by "P&O Holidays" for "P&O Cruises Australia" was not formed until much later! Thereafter I cruised on P&O's Fairstar many times, seeing ongoing refits but I must admit her final look, with the Dolphin on her white funnel and interior changes was outstanding!
I cruised on her to almost the very end, and it was so sad to watch her go to the breakers yards; for memories mean so much, considering I had a 33 year history with this wonderful Liner and late a Cruise Ship, which has filled me with countless unforgettable and amazing memories!
Reuben Goossens.
Maritime Historian, Author, Lecturer & Cruise'n'Ship Reviewer.
Commenced in the Passenger Shipping & Cruise Industry in 1960.
Part Six – Fairstar's replacements:
The Fair Princess was previously the Sitmar luxury cruise ship the SS Fairsea, ex Cunard RMS Carinthia. Princess took her over in 1988 and renamed her Fair Princess and late in 1996 she arrived in Sydney where she received a relatively minor refit. She departed for her maiden cruise on February 7, 1997 but sadly the Fair Princess set the Australian cruise industry back many years, for she had ongoing breakdowns, which made the Fairstar look like the most reliable ship around. Highlights of her maiden cruise were; breakdowns, a fire, flooding of cabins. She had such a poor start, that cruise lovers were uncertain of the reliability of Fair Princess. The fact was, Fair Princess was a poor replacement for the Fairstar, even though, she offered a range of facilities and itineraries, which were in reality far superior to her predecessor, but she was without doubt the wrong ship, and P&O Holidays had made a grave error.
Eventually technicians were brought over from the United States who both knew and worked on her thankfully they finally improved her and then she served her passengers well. In spite her many problems, Fair Princess did become the last of the traditional passenger ships to be based in Australia. She featured a sheer (no longer seen on modern ships), polished timbers, and had that delightful traditional maritime feel.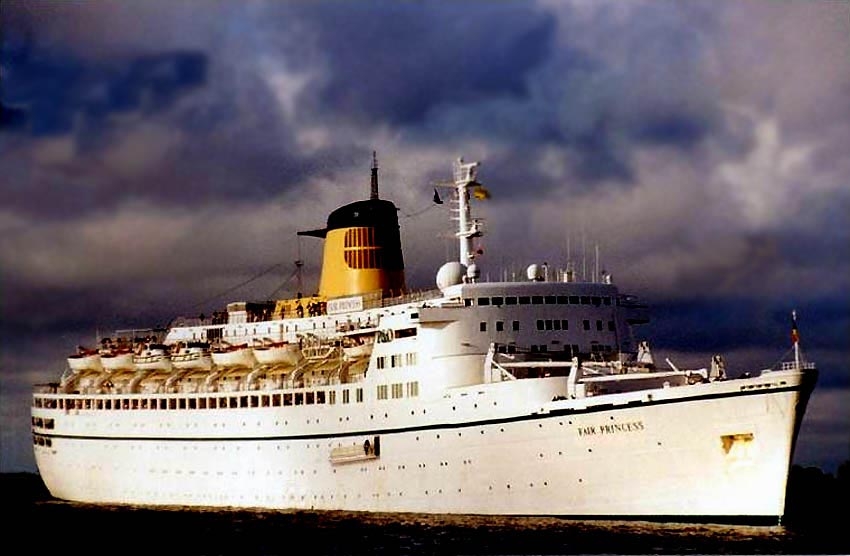 The Fair Princess amazingly did end up being greatly loved once she was fixed and I sailed on her a good number of times
Including her last cruise to New Zealand and during this cruise on which I gave a Maritime Lecture in the Seaward Lounge
It must be said due to the excellent service, combined with top entertainment, and volumes of basic, but good food, the wonderful old Fair Princess (ex Carinthia, Fairland), became loved by those who cruised on her! But suddenly the announcement came in 1999 that Fair Princess would be sold and early in 2000 she headed for a Casino consortium in Asia, I do know that P&O managed to obtain a huge amount for, far more than she was really worth, thus the reason P&O sold her for sheer greed, well can you blame them. The truth is, if bad businessmen will pay so much for an aging and a troubled ship, it was no wonder that after having been given a refit, she ended up being a total failure, and was soon laid up for an extended period of time and eventually scrapped at Alang, India in 2006.
T.S.S. Fairstar Main INDEX
Part 1 …                    Oxfordshire - History. The troop ship that became a loved liner & cruise ship!
Part 2 …                    Oxfordshire Her Final Voyage.
Part 3 …                    Fairstar History & Page One.
Part 4 …                    Fairstar Photo Album Photographs taken during her final years.
Part 5 …                    Fairstar Deck Plans. Her original 1964 Plan and a 1995 Plan.
Also Read …              Fair Princess Story From their Cunard days to Sitmar & P&O ships,
Read…                       The Sitmar Ships covering all the other Sitmar ships.
"Blue Water Liners sailing to the distant shores.
I watched them come, I watched them go and I watched them die."
****************************
Visit our ssMaritime Main INDEX
Come & discover over 1,166 Classic Passenger, Humble Migrant Ships & Passenger-Cargo Liners!
ssMaritime.com & ssMaritime.net
Where the ships of the past make history & the 1914 built MV Doulos Story
Please Note: ssmaritime and associated sites are 100% non-commercial and the author does not seek funding or favours and never have and never will.
Photographs on ssmaritime and associate pages are either by the author or from the author's private collection. In addition there are some images and photographs that have been provided by Shipping Companies or private photographers or collectors. Credit is given to all contributors, however, there are some photographs provided to me without details regarding the photographer or owner concerned. Therefore, I hereby invite if owners of these images would be so kind to make them-selves known to me (my email address can be found at the bottom of the page on (www.ssmaritime.com), in order that due credit may be given.
ssMaritime is owned & © Copyright by Reuben Goossens - All Rights Reserved