Please Note: Firefox and some other search engines are not suitable – Use "Internet Explorer" for this page to load perfectly!

Click the logo above to reach the ssMaritime FrontPage for News Updates & "Ship of the Month"
With Reuben Goossens
Maritime Historian, Cruise'n'Ship Reviewer, Author & Maritime Lecturer
TSS

Fedor
Shalyapin
Ex RMS Ivernia – TSS Franconia
Page One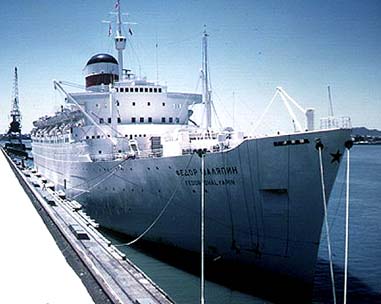 Fedor Shalyapin seen at Princess Wharf Auckland New Zealand, January 1976
Photograph by the author, Rueben Goossens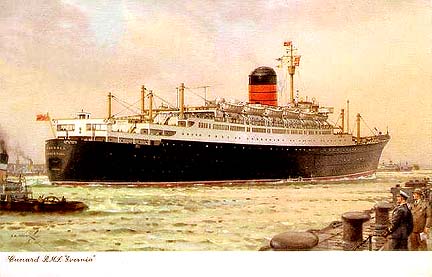 Postcard of Cunard's Ivernia
Postcard from the Author's private collection
In the 1970s, the author working with New Zealand's Lord Bolingbrock was an executive with Atlantic & Pacific Travel International owners of Shaw Savill Holidays PTY. Ltd., having chartered the Russian owned, Fedor Shalyapin. This delightful ship, like her three sisters certainly had a long and distinguished Atlantic career.
Built as Cunard's RMS Ivernia, this 21,717 GRT liner was launched December 14, 1954. Ivernia was one of four successful liners knows as the "Saxonia Class Liners," which were built especially for the Liverpool to Canada service. Her three sisters were the RMS Saxonia (1954), Carinthia (1955), and Sylvania (1956).
RMS Ivernia Specifications
Built by:

John Brown & Company Clydebank Scotland
Launched:

1954
Length: 185.3 m
Width: 24.5 m
Draught: 8.7 m
Displacement: 21,717 GRT (as built)
Propulsion: 4 Steam Turbines, Twin Screws 24,500 SHP
Speed: 19.5 knots
Passengers: 925 – 125 First – 800 Tourist
Crew: 461
These four liners were typical of many new passenger ships of their day, offering comfortable passenger facilities, as well as having a large cargo capacity. Each vessel had three holds forward, and three holds aft. The Saxonia Class Liners were revolutionary for their day, as they were the first liners to be built, with tourist class occupying the majority of the passenger accommodations, thus offering greatly improved comforts. Ivernia, like her sisters, were built within the maximum dimensions, allowing her to reach Montreal up the St Lawrence waterway.
July 1, 1955 she departed Greenock for her maiden voyage to Montreal, returning to homeport Liverpool. In 1957, she was transferred to Southampton and sailed both to New York and Canada.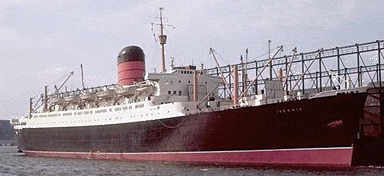 A delightful colour photograph of the Ivernia
Photo from the Author's private collection
Ivernia offered all the traditional Cunard standards of luxury and quiet elegance. This was particularly noticeable in her public rooms having an ambience closely related to stylish British, yet understated décor.
The largest venue, located aft on Promenade deck, was the imposing two deck high 'Amber' Lounge. Aft of the lounge featured a balcony, with an elaborate curved Staircase. The bandstand was located on the lower level forward wall. Moving just forward, on the port and starboard sides were the Garden Lounge, and the Drawing and Writing Room, both revealing an understated, yet stylish elegance. The next room forward was the popular 'City Cousins' Smoke Room and bar, being very much the art deco venue. Cocktail hour had passengers sipping their drinks, whilst the pianist twinkled the ivories of the grand piano. Forward of promenade deck, overlooking the bow, was a delightful small lounge, being the ideal lounge for quiet reflection. The large tourist class restaurant continued the understated British décor of the day and was a bright and airy room, whilst the first class dining room had an elegant, intimate ambience. Ivernia, like her sisters featured a fine balconied amidships cinema. Ivernia was fully air-conditioning, and had stabilisers, ensuring a comfortable Atlantic crossing.
RMS Ivernia/Franconia's interior postcards below are part of the author's private collection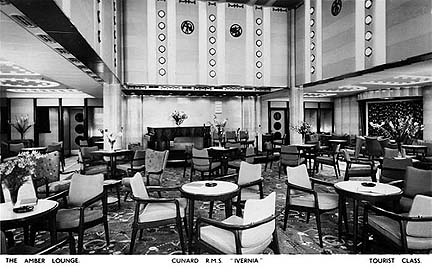 Amber Lounge and Ball Room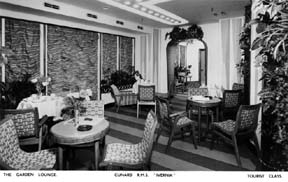 The Garden Lounge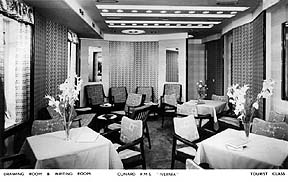 Drawing & Writing Room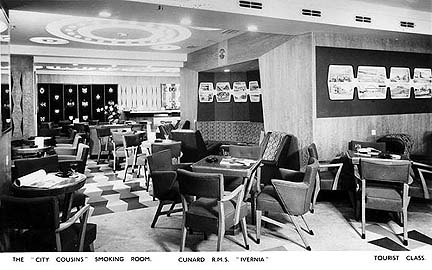 The popular 'City Cousins' Bar & Smoking Room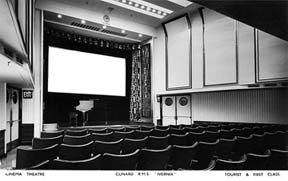 Cinema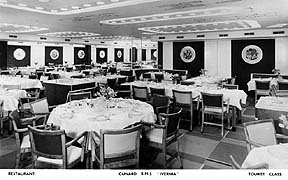 Restaurant
Ivernia and her sisters plied the Atlantic until 1962, when Cunard felt the ships needed to be substantially upgraded. Ivernia and two of her sisters received considerable refits from 1962 to 1965 receiving additional features, including the installation of private facilities for 60% of their cabins. After her refit, Ivernia was renamed Franconia, the Saxonia became the Carmania, whilst the Sylvania retained her original name. Carinthia neither received a refit nor a name change.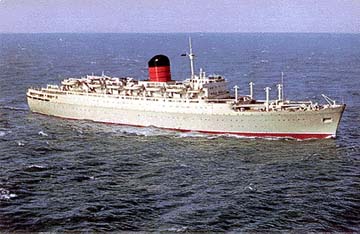 Franconia's new career began with the Green Cruise Livery
From the Author's private collection
Ivernia emerged with a green hull. Her aft section clearly revealed the added glass enclosures, protecting the new kidney shaped swimming and wading pool from the wind. On January 1, 1962, she commenced the Rotterdam-Canada service, which proved to be unsuccessful, after which she became a full time cruise ship. Franconia commenced cruising out of New York during the summer and Port Everglades in winter. In 1967, she was painted white, looking the perfect cruise ship.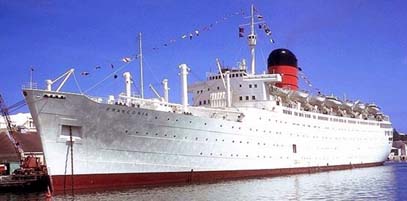 Franconia the cruise ship, looking spotless in white
Photographer unknown - * See Photo notes at the bottom of the page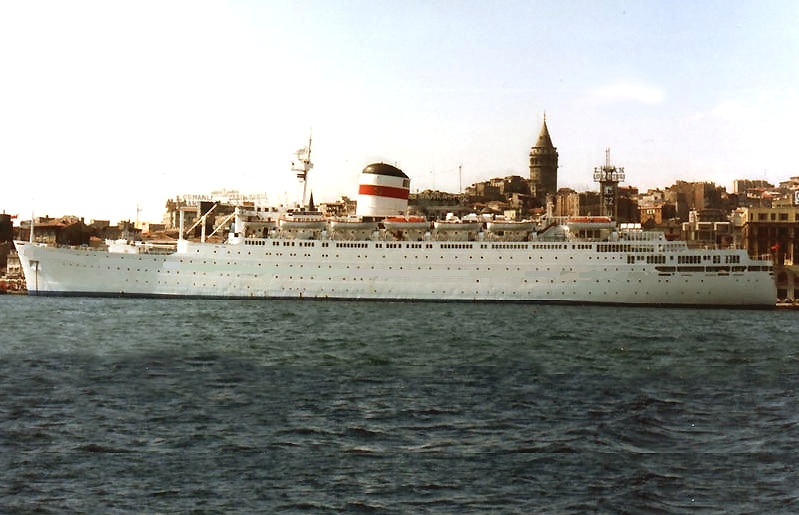 Fedor Shalyapin seen later in her career
Photographer unknown - * See Photo notes at the bottom of the page
Sadly, for Cunard, this venture did not prove successful, unlike the larger purpose built cruise ship, Caronia, which also featured the green cruise livery. Both Franconia and Carmania were withdrawn, and laid up late 1971. Cunard realised, the market for their Saxonia class liners had declined, and made the decision to place both ships on the market.
Index:
Page One … History page (this page)
Page Two … Franconia goes Russian.
Page Three … Photo Page & the Final Year
Read about the origin of this class of Cunard Liner & the TSS Fair Princess
By this author
***********************************
Use the Back button on your browser or Close the Page to return to the previous page
or go to our INDEX
Who is the Author of ssMaritime?
Commenced in the passenger Shipping Industry in May 1960
ssMaritime.com & ssMaritime.net
Where the ships of the past make history & the 1914 built MV Doulos Story
Also visit my …
"Save The Classic Liners Campaign" & "Classic Ocean Voyages" pages
Photographs on ssmaritime and associate pages are by the author or from the author's private collection. In addition there are some images that have been provided by Shipping Companies and private photographers or collectors. Credit is given to all contributors. However, there are some photographs provided to me without details regarding the photographer/owner concerned. I hereby invite if owners of these images would be so kind to make them-selves known to me (my email address may be found on www.ssmaritime.com only), in order that due credit may be given.
This notice covers all pages, although, and I have done my best to ensure that all photographs are duly credited and that this notice is displaced on each page, that is, when a page is updated!
ssMaritime is owned and © Copyright by Reuben Goossens - All Rights Reserved