Please Note: Firefox and some other search engines are not suitable – Use "Internet Explorer" for this page to load perfectly!

Click the logo above to reach the ssMaritime FrontPage for News Updates & "Ship of the Month"
With Reuben Goossens
Maritime Historian, Cruise'n'Ship Reviewer, Author & Maritime Lecturer
TSS

Fedor
Shalyapin
Ex RMS Ivernia – TSS Franconia
Page Two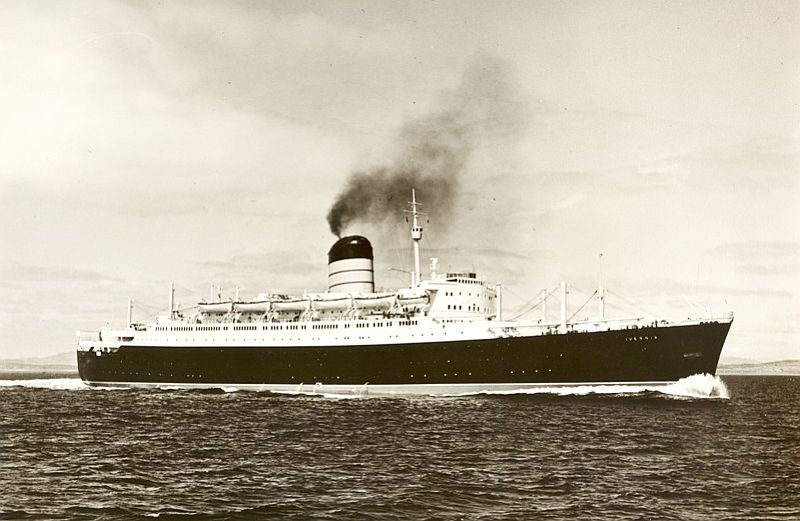 Here we see the ship as built, RMS Ivernia in 1955 sailing between Liverpool and Montreal
After their career as trans Atlantic liner and cruise ship, Cunard's Franconia and the Carmania were sold in 1973 to the Nikreis Maritime Cooperation, who acquired both ships for the Soviet Union's  Black Sea Shipping Company (BLASCO) Odessa, who also operated by the Far Eastern Shipping Company (FESCO) Vladivostok. Franconia became the TS Fedor Shalyapin (BLASCO), named after a famous Russian baritone who died in 1938. Carmania became the TS Leonid Sobinov (FESCO).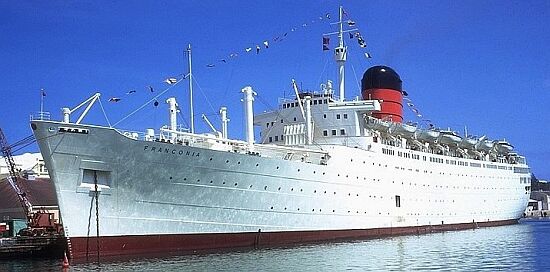 TSS Franconia prior being sold to the Black Sea Shipping Company
Photographer unknown - * See Photo notes at the bottom of the page
After the Fedor received some mechanical reconditioning at the Swan Hunter Shipyards in North Field, she sailed for Southampton. On November 20, 1973, under charter to CTC lines, she departed Southampton and sailed via the Panama Canal for Sydney Australia, after which she commenced full time cruise duties, out of Asia, New Zealand, and Australia for CTC.
Here is an interesting item sent in by Peter Cape who sailed from Southampton to Auckland New Zealand on her first voyage to New Zealand and Australia.
"I sailed on her initial voyage from Southampton to New Zealand which departed from Southampton on November 20th 1973, her first stop was Le Havre and we then crossed the Atlantic to Curacao. From there we sailed to Bilbao and transited the Panama Canal to Panama City. A day and a half out from Panama, we awoke to find the ship retracing her steps back to Panama due to a pregnant lady having some complications, which required urgent medical attention. A tender met us just outside Panama and took the lady to hospital in Panama City. Our next stop was Tahiti, where we had a very pleasant day ashore. A day out from Tahiti en route to New Zealand, we awoke to find the ship stationary and discovered that a Russian oil tanker "hove to" close by. This was the time of the 1973 oil crisis and apparently the Americans had refused to supply oil to the ship and consequently we were met by this tanker to re-fuel us. Initially this turned out to be a minor disaster as they (the Russians) had no experience of refuelling at sea and after they had got a fuel line across to us the two ships drifted close together and then apart and the fuel line snagged under one of the ships and broke! One of the passengers was an ex Royal Naval Officer and offered advice to the Captain that the only way to successfully carry out this exercise, was for both ships to be under way. This they did and we ended up towing the tanker with the fuel line loosely connected between the two vessels. Upon completion, we got up steam and headed for Auckland where we docked on the morning of December 23rd 1973. A pretty eventful initiation to travel by ship! But nonetheless, a very enjoyable one on what was a grand old ship with obviously a heap of character."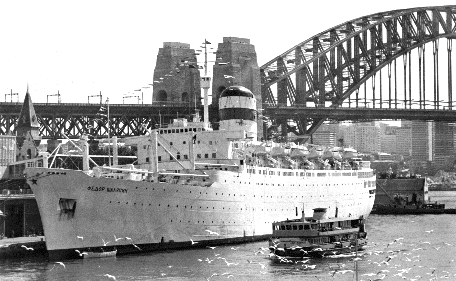 Fedor Shalyapin at Sydney's International Passenger Terminal - Dec 1975
Taken by the Ships Photographer
Reuben managing "Atlantic & Pacific International" in Brisbane, working together with Lord Bollingbrock of New Zealand and Tony Millmore of Sydney to commence a new cruise operation in Australia and they chartered the Russian liner TSS Fedor Shalyapin (ex Cunard liner RMS Ivernia, later TSS Franconia) for their company "Shaw Savill Holidays," but marketed their venture under the banner of a brand new venture named … "Celebrity Club Cruises." The first cruise departed Sydney in October 1975 being the beginning of a popular cruise venture that had an average loading of 97.6%.
With the Fedor marketed under the banner of "Celebrity Club Cruises," she became a great success. The Fedor was placed on a comprehensive series of Pacific cruises, offering a wide choice of itineraries including calls to New Zealand, giving New Zealanders the opportunity to join the ship for a round cruise of Australia and the Pacific.
Below: We see one of the early advertisements I placed in the Brisbane Courier Mail in November, 1975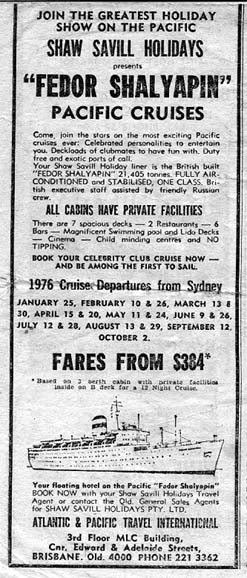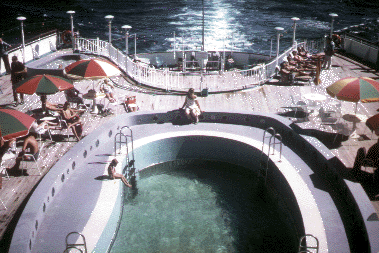 The kidney shaped pool & Lido decks
Photograph by & © Reuben Goossens
During her latter days as the Franconia she had an extensive refit, thus thankfully the Russians left her delightful lounges untouched. Exceptions being, the "Garden Lounge," which became the "Fedor Shalyapin Lounge," featuring large grey mural with a number of images, including that of Fedor Shalyapin himself of course. This room became the venue for regular classical music presentations. A large painting of Fedor Shalyapin was located on the promenade deck aft staircase. One of the ships popular features was the traditional fully enclosed glass promenade deck, and it was a wonderful place to enjoy superb sea views and a great place to laze in a deckchair with a good book and always out of any wind. At night, the starboard side would become the Grand Buffet and a most popular location
As I said, under the "Celebrity Club Cruise" banner the Fedor Shalyapin became a popular cruise ship in Australia and New Zealand. We employed an all-Australian cruise and a small number of hotel staff, ensuring a quality environment and efficient operation of the ship, considering the Russian crew etc. In addition, the Fedor featured an entertainment package not seen on any other cruise ship at the time. There was a large British show troupe hired and they provided spectacular Broadway style productions, with shows such as Oklahoma, South Pacific, Brigadoon, and other well-known musical productions. Another major attraction added to Fedor's popularity, was that on each cruise had up to four popular celebrities on board, raging from top Australian, singing, TV, movie or stage stars onboard. These would range from famous pop, rock groups, solo vocalists and actors. During the day they would freely roam and laze around the decks or lounges much like the rest of the passengers, providing passengers the ideal opportunity to mingle with them. Then on various nights, Showtime would feature their talents.
The author sailed on the 1975/76 Christmas - New Year cruise, which featured, the showman of all showmen, Jimmy Hannan who performed on a number of nights. However, one, which stands out in my memory, was the New Years Polynesian night party. Which had Jimmy Hannan performing first in a Roman toga, and then changing into a Hawaiian warrior?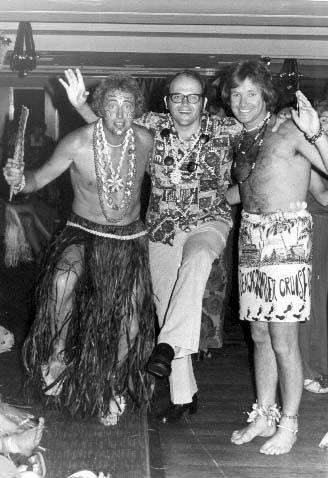 The Author seen with Jimmy Hannan (left) & Ken James (right)
Photograph bt the Ships photographer
Other celebrities onboard were the impeccable actor - 'the voice' - Mr Stuart Wagstaff, and Australian actor, Ken James, known for his roles in the TV productions of 'Skippy the Kangaroo' and popular Australian Soap at the time being "The Box," although to say the least, he proved to be a pain in the neck!
Fedor's identical sister the TSS Leonid Sobinov did not enjoy the same success as our ship that was operated under the banner of "Celebrity Club Cruises." It was for this reason her Russian owners without warning decided to rescind their charter agreement with us mid 1976, and the Fedor Shalyapin was transferred to CTC Cruises, being a wholly Russian owned Company, although they had their head quarters based in London. Whilst the Fedor was with CTC she never again regained the popularity her halcyon days. As Mr Kosta G. Specis wrote "We have always known from Reuben's many marketing successes that he was a marketing genius and he always worked with integrity and total honesty, never offering a fare in the media that was not available to Mr and Mrs Average as it seems to be these days where you have to be able to read the fine print on TV or in the paper,"
After a brief overhaul and refit in Hong Kong, the Fedor returned to Australia, where CTC attempted to regain her popularity, which she had gained whilst under our management, however somehow the ship never regained it in Australia.
But, happily CTC Cruises would suffer the consequences of their actions in due course, as I believe that there is always a consequence to a great wrongdoing! There was an occurrence at sea that would make a total end of their operations in Australia for a long time! This was because the Fedor Shalyapin rendezvoused with a Russian submarine whist crossing the Tasman Sea between Auckland and Sydney. Upon her return to Sydney, passengers told the media of the strange events encountered and how both some boxes and crew was transferred to and from the submarine. This caused a massive controversy in Australia, however, what and why it happened was never fully explained. This combined with the Soviet invasion of Afghanistan, Australian Frazer Liberal Government banned all Soviet based cruise ships for a considerable time. Never let it be said that a wrong does not get repaid in some way or another!
It was in 1983 that a new Government reversed the order and CTC returned operations in December 1983.
But prior to the banning of all Russian cruise ships, the Fedor Shalyapin operated a variety of Fly/Cruise vacations, Sydney to Hong Kong, or Hong Kong to Sydney, where passengers would fly to, or from Hong Kong. Other passengers would fly from Hong Kong to Europe and via versa, offering inexpensive vacations to Europe. But due to rather poor loadings and rising fuel costs, CTC decided in mid 1979, that her 1980 Australian cruise schedule would be cancelled and thus she subsequently disappeared from Australian waters in 1979.
We must never forget that the Fedor Shalyapin in the mid seventies under "Shaw Savill Holidays" – Australia, had been the most successful cruise ship that ever sailed from Sydney yet she suddenly lost her gloss and popularity when she was with CTC in Australia! Yet so many Australian's and New Zealanders still have fond memories of their time on this stately ex Cunard ship, with a Russian, Australian and British (UK) crew, for she was generally offered a far superior product to most of the Soviet cruise ships, whilst she was with us, always having the very best of Australian singing, movie and TV stars on board on all of the "Celebrity Club Cruises" of "Shaw Savill Holidays, PTY, Ltd," Australia! 1975 and 1976 were her best years, as they could never be repeated value, loadings and quality wise!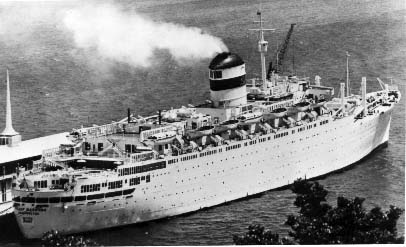 Fedor Shalyapin at the Wellington Passenger Terminal Dec 19745
Photo by the Ships photographer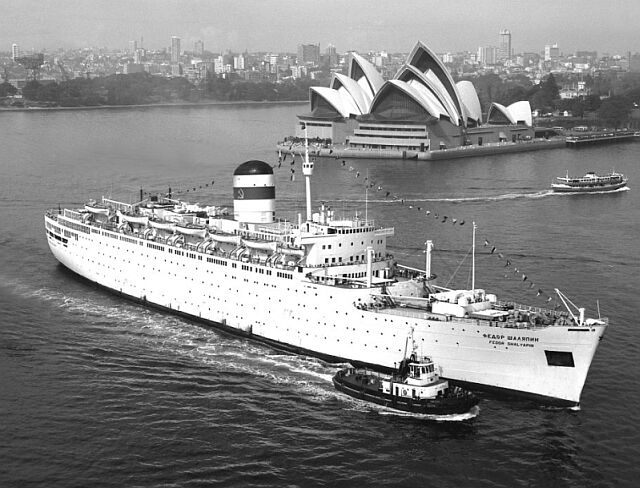 Fedor Shalyapin arrives back in Sydney after a cruise
Photograph © Shaw Savill Holidays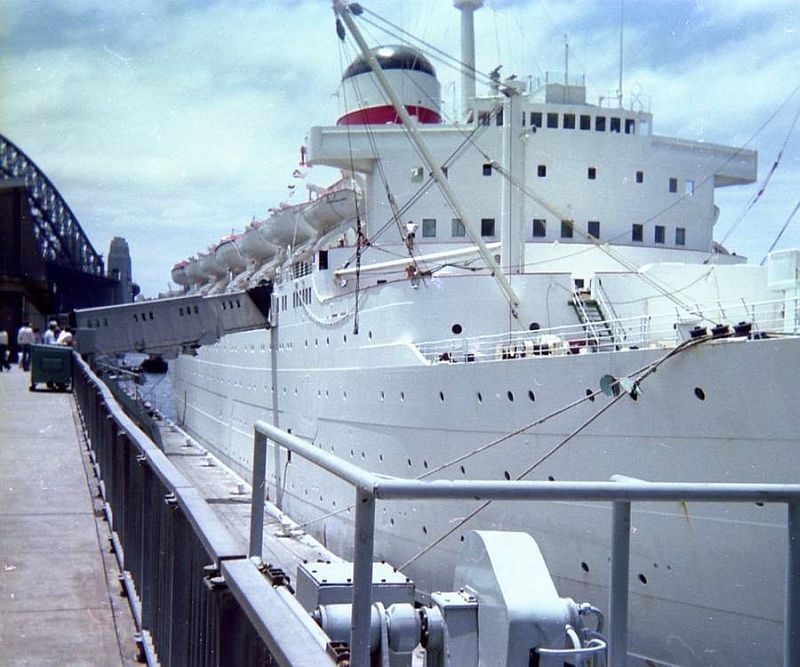 The Fedor seen at the Passenger Terminal in Sydney
Photograph by & Jeff Eastwood
Index:
Page One …         History page
Page Two …         Franconia goes Russian.
Page Three …       Photo Page & the Final Year
Read about the origin of this class of Cunard Liner & the TSS Fair Princess
By this author
***********************************
Use the Back button on your browser or Close the Page to return to the previous page
or go to our INDEX
Who is the Author of ssMaritime?
Commenced in the passenger Shipping Industry in May 1960
ssMaritime.com & ssMaritime.net
Where the ships of the past make history & the 1914 built MV Doulos Story
Also visit my …
"Save The Classic Liners Campaign" & "Classic Ocean Voyages" pages
Photographs on ssmaritime and associate pages are by the author or from the author's private collection. In addition there are some images that have been provided by Shipping Companies and private photographers or collectors. Credit is given to all contributors. However, there are some photographs provided to me without details regarding the photographer/owner concerned. I hereby invite if owners of these images would be so kind to make them-selves known to me (my email address may be found on www.ssmaritime.com only), in order that due credit may be given.
This notice covers all pages, although, and I have done my best to ensure that all photographs are duly credited and that this notice is displaced on each page, that is, when a page is updated!
ssMaritime is owned and © Copyright by Reuben Goossens - All Rights Reserved