Please Note: Firefox and some other search engines are not suitable – Use "Internet Explorer" for this page to load perfectly!

Click the logo above to reach the ssMaritime FrontPage for News Updates & "Ship of the Month"
With Reuben Goossens
Maritime Historian, Cruise'n'Ship Reviewer, Author & Maritime Lecturer
TSS

Fedor
Shalyapin
Ex RMS Ivernia – TSS Franconia
Page Three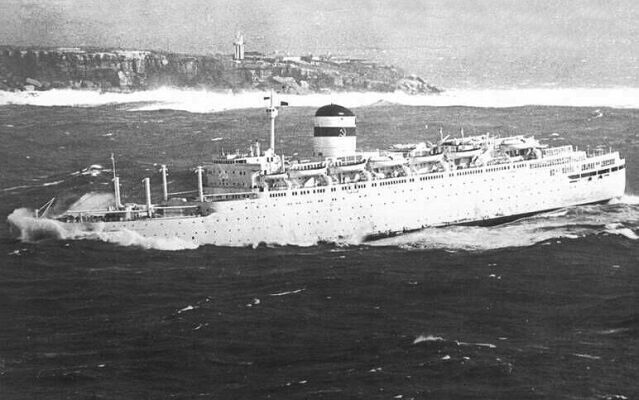 Rough Seas as the Fedor passes through Sydney Heads
Photographs below were taken by the author Dec/Jan 1975/1976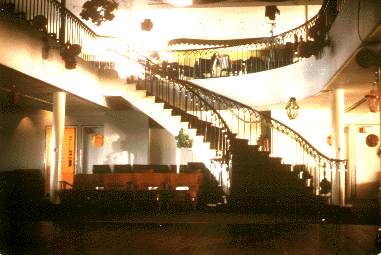 Main Lounge & Show Room looking aft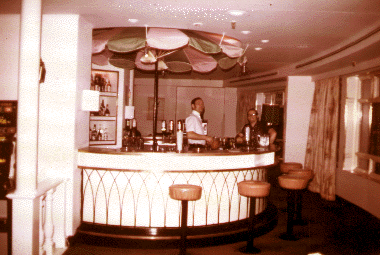 Forward Lounge & Bar – Author seen at the bar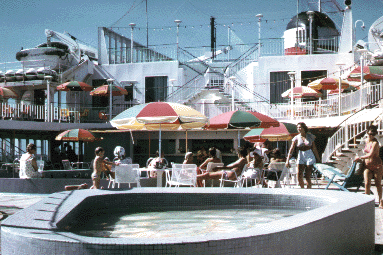 Swimming Pool and Lido Deck's - looking forward
Aft sports (basketball) deck is seen behind the funnel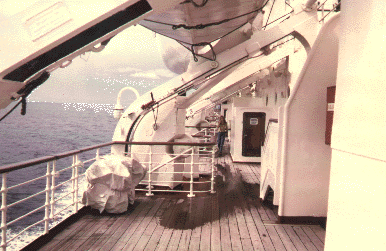 Boat Deck – port looking forward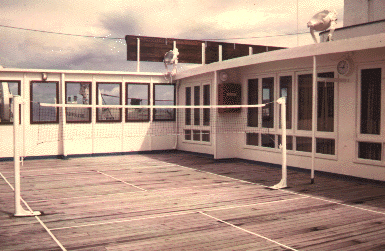 Right: Forward Sports deck & Gym-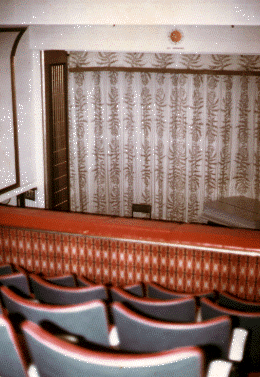 -Left: Cinema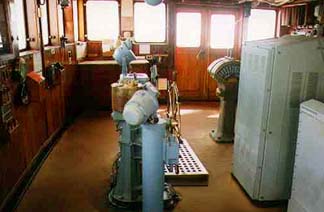 The Bridge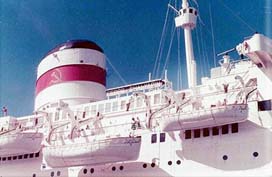 Lifeboats inspection - 1978 at Padang Bai, Bali, Indonesia
The Funnel still featured the Hammer & Sickle
Photo by Max Cleary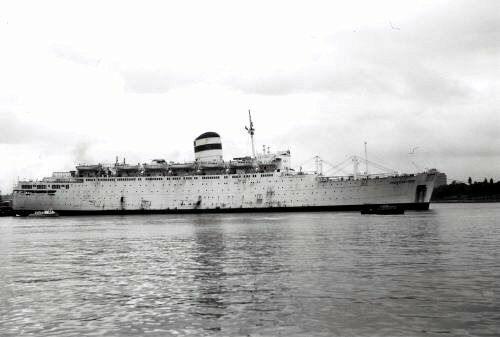 Here we see the Fedor departing and looking in a very sad state
The date is unknown but it is before she commenced her new life in the Northern Hemisphere
Photographer unknown - *see bottom of page for details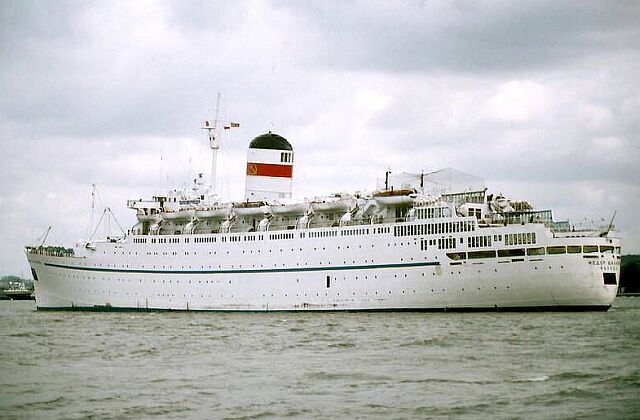 The Fedor Shalyapin is seen here in Tilbury UK
From the author's collection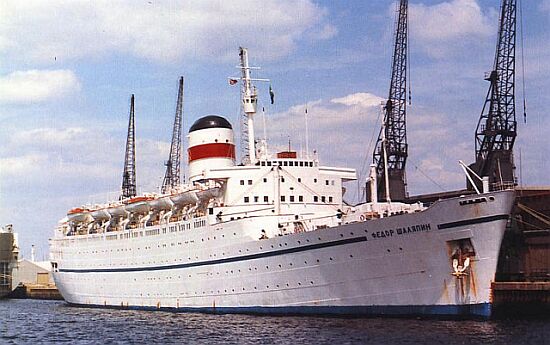 Fedor Shalyapin seen in Southampton during her later cruising days
From the author's collection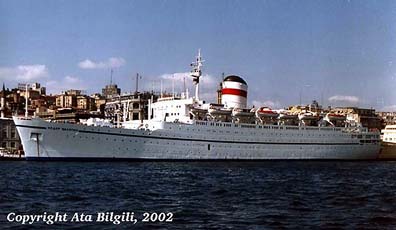 A pristine Fedor Shalyapin seen in her latter years
The funnel with a red band, the Hammer & Sickle had been removed
Photograph by Prof. Ata Bilgili Istanbul, Turkey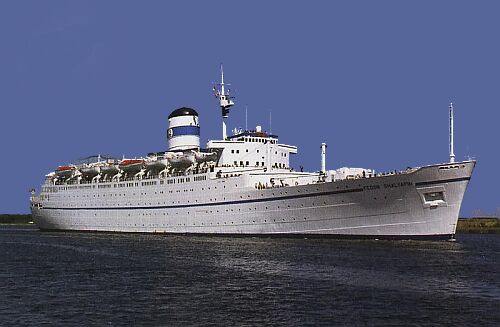 Here she has new funnel markings during her very last days
A postcard from the author's collection
She continued cruise duties in the Caribbean, and in Europe, where she regained the respect of the cruising public, especially those who loved her classic style and atmosphere.
Unlike her two sisters, Carinthia and Sylvania, which were sold to Sitmar Line in 1973, the Fedor retained her classic Cunard lines.
The Albatros, a V Lines ship, ex Sylvania, Fairwind, Dawn Princess, cruised the world for Phoenix Reisen, mostly for the German market. However, due to mechanical problems, she was sold to be broken up. She was beached at Alang on January 10, 2004, and has been scrapped. Read her story on Raoul Fiebig's – Das Ruderhaus - Albatros Page. This page contains many excellent photographs.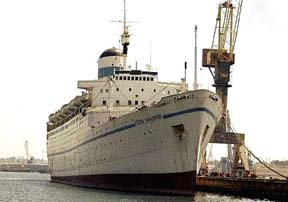 Fedor laid up in Ilichyovsk*

Fedor's last funnel marking*
Fedor Shalyapin was magnificently maintained during her long career. However, in her latter days whilst laid up in the Ukrainian port of Ilichyovsk I was told that she was "in a sorry state." Although at the time, she is registered in Valetta Malta, she was then still under Ukrainian ownership. On her funnel was a yellow circle on a blue stripe, on close inspection we found that it had a bird instead of the Ukrainian National Emblem. This is due because she was not being registered in Ukraine.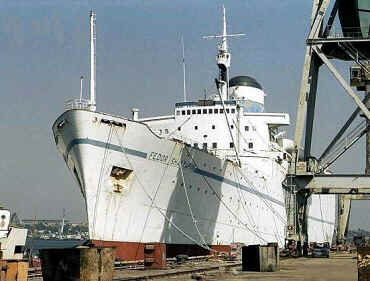 Fedor Shalyapin Ilichyovsk and still looking good*
*The three images above are by © Nikolay Prikhodko & Patrick Wetter
Conclusion
Fedor Shalyapin has now been broken up at Alang India, but she was a remarkable ship until the end. Her profile and interiors remained as built, except for a new lido deck which had a kidney shaped pool and wind protective windows. These modifications were made by Cunard themselves when they decided to use her as a cruise ship.
There two interesting messages provided by a well-known shipping identity who visited her in her final days whilst laid up.
"I understand Fedor is still at Iliychevsk, but that she could go anytime to India or even local Ukraine breakers. I think her owners have given up on her ever returning to service. When I last saw her in 1998, she was in a sorry state, so I can only imagine what she is like now."
Also, good friend, Raoul Fiebig of www.ruderhaus.de/ said …
"A friend of mine visited the ship in Ilychevsk two years ago, and he will visit her again next month … despite the fact that she still looks pretty good from the outside, she's completely ruined inside. He's told me that e.g. the library has been literally devastated, and books and papers are all over on the floor in a chaotic mess. He also reported that in contrast to the cabins and public spaces, the bridge is still in a good shape. BLASCO has not yet decided what to do with her but my friend (he works in the industry) says that he sees no chance whatsoever for her to return to service."
It was in January 2004: Fedor Shalyapin was sold to be broken up by Kumar Steel Industries at Alang India. However, there is a last minute request to buy the ship for the use of a hotel/museum/tourist attraction in Northern Ireland. The author was the consultant between the owners and the purchaser. However, this venture sadly failed. There is no doubt that Fedor Shalyapin left an imprint on the minds of those who sailed on her, be it during the days she was RMS Ivernia, SS Franconia, or TS Fedor Shalyapin!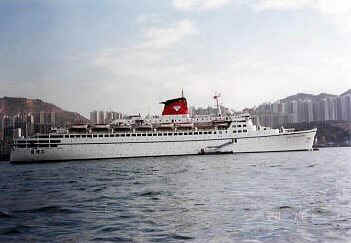 China Sea Discovery seen in Hong Kong
Photograph © 2001 Kiwi Marine Consultants Ltd, Hong Kong
Another sister was the TSS Fair Princess, ex Fairsea, Fairland, which was converted by Sitmar and later taken over by P&O Princess Cruises, She was a successful ship both in the US and in her later days in Australia. She was sold to become the China Sea Discovery, and was used as a Casino ship in Asia, offering one, two, and four night voyages from Keelung, Taiwan. Due to financial troubles she was laid up and placed on the market by the bank. She was sold in August 2005 and has been broken up at Alang India. The TSS Albatros was also purchased and rebuilt by Sitmar. Later in her sailing days she became the very popular in the German cruise market. She has also been broken up.
Read about all identical four sisters of this class - The Saxonia Class Liners.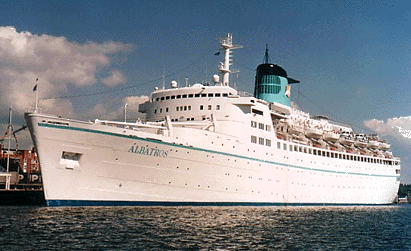 The TSS Albatros
Photo by by Raoul Fiebig
Index:
Page One …         History page
Page Two …         Franconia goes Russian.
Page Three …       Photo Page & the Final Year
Read about the origin of this class of Cunard Liner & the TSS Fair Princess
By this author
***********************************
Use the Back button on your browser or Close the Page to return to the previous page
or go to our INDEX
Who is the Author of ssMaritime?
Commenced in the passenger Shipping Industry in May 1960
ssMaritime.com & ssMaritime.net
Where the ships of the past make history & the 1914 built MV Doulos Story
Also visit my …
"Save The Classic Liners Campaign" & "Classic Ocean Voyages" pages
Photographs on ssmaritime and associate pages are by the author or from the author's private collection. In addition there are some images that have been provided by Shipping Companies and private photographers or collectors. Credit is given to all contributors. However, there are some photographs provided to me without details regarding the photographer/owner concerned. I hereby invite if owners of these images would be so kind to make them-selves known to me (my email address may be found on www.ssmaritime.com only), in order that due credit may be given.
This notice covers all pages, although, and I have done my best to ensure that all photographs are duly credited and that this notice is displaced on each page, that is, when a page is updated!
ssMaritime is owned and © Copyright by Reuben Goossens - All Rights Reserved