Please Note: Firefox and some other search engines are not suitable – Use "Internet Explorer" for this page to load perfectly!

Click the logo above to reach the ssMaritime FrontPage for News Updates & "Ship of the Month"
With Reuben Goossens
Maritime Historian, Cruise'n'Ship Reviewer, Author & Maritime Lecturer
Please Note: All ssMaritime and other related maritime/cruise sites are 100% non-commercial and privately owned. Be assured that I am NOT associated with any shipping or cruise companies or any travel/cruise agencies or any other organisations! Although the author has been in the passenger shipping industry since 1960, although is now retired but having completed around 680 Classic Liners and Cargo-Passengers Ships features I trust these will continue to provide classic ship enthusiasts the information the are seeking, but above all a great deal of pleasure! Reuben Goossens.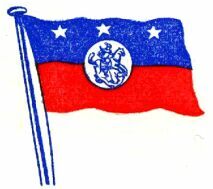 Cogedar Lines
MS Flaminia
Page Two - A Migration Story
A Young man escapes the Holocaust in Hungary then sails to Australia in 1957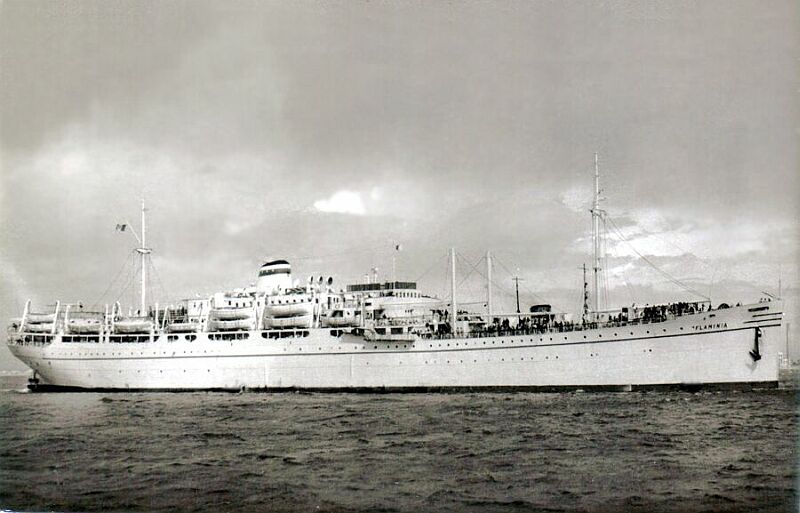 MS Flaminia seen in the mid 1950's
I was born in 1938, in Budapest Hungary and as a child I have survived the Holocaust. My parents always said that we are Hungarians and have never considered immigration. My father fought in WW I and was wounded. Despite this my father was killed by the Nazis. Nazism was followed by communism in Hungary. Because my Dad was a self-employed tailor before the war and my mother was a working partner in a hardware store, we were considered as being capitalists and therefore politically undesirable. My older sister completed year one at university, but was not admitted to year 2 despite her good results. I have matriculated in 1956 and was also not admitted to university. All who were considered to be capitalists were deported from Budapest into country areas. Every time a truck passed our home during the night, we were scared that may be it is our turn. Immigration was not permitted, despite, that we were unwanted. We committed no crime, yet we were discriminated by both regimes.
So, when the chaos that followed the 1956 revolution gave me the opportunity to escape, I grabbed it by 2 hands. I crossed into Austria and lived in Vienna and applied to go to Australia. Early January 1957 I finally received my papers to go to Australia. All Hungarian immigrants who were booked to go to Australia were taken to Winerneustat and placed into a camp. It was not like the immigration camps of today. We were free to come and go, as do as we wished. When all the prospective immigrants have arrived, we were taken by train to Genoa Italy. Although we each had visa to for Australia, strangely enough none of us had a passport. The train was locked on the Italian/Austrian border and it went direct to the wharf and stopped directly next to the ship. We got off the train and walk straight onto the ship. Although I was in Italy, I really did not seen any of it (on that occasion) only what we saw as the train raced by whatever was next to the railway line.
Around half of the ship was filled with passengers were immigrants from Hungary, whilst the other half from were from Sicily. When the ship left the dockside, on January16, 1957, the loudspeakers were playing "Arridiverchi Roma..." All the Italians, men and women were crying their eyes out. Although I was not so emotional. I had already left Hungary in November and the Nazis taught me, that I was not a Hungarian, but an unwanted Jew. I remember feeling very lonely, I was on my own and only 18 ½! It seemed that I must have been the youngest person on the ship to come to Australia and without parents, family or any kind of support. At the same time, I was looking very much forward to go to a country where there was peace, no anti-Semitism, No Nazism or communism, where your work is rewarded and where you can succeed on your merits.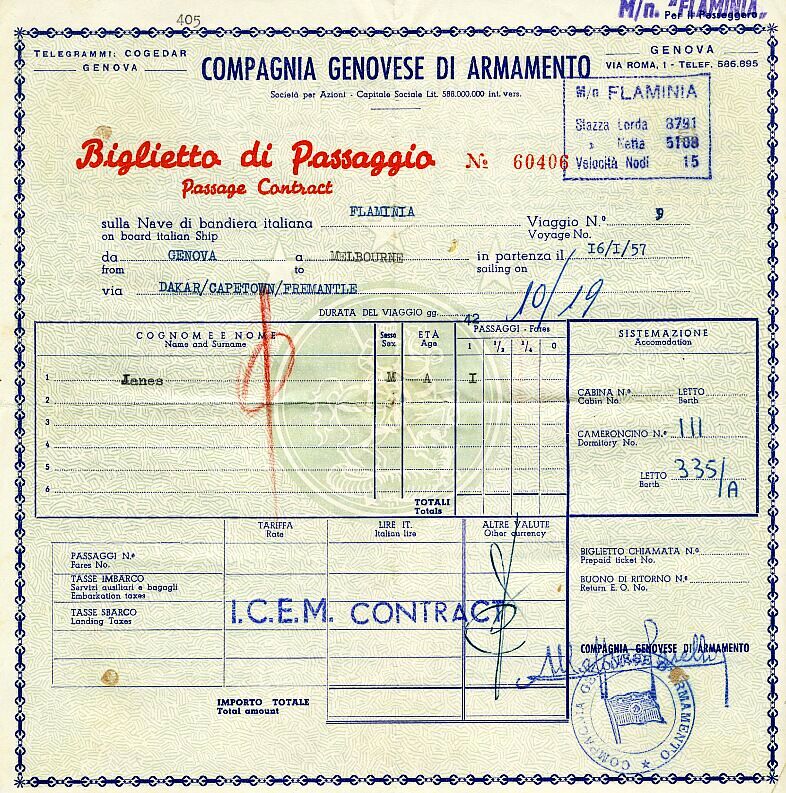 Accommodation for me was in a dormitory, having bunk beds (berths). There must have been about 25 or 30 men in the room. Toilet and shower facilities were shared. The ship could not have sufficient size fresh water tanks as on the longer legs of the journey, on 2 occasions, they supplied sea water to the showers. Cabins were given to families. They were nothing like the cabins on today's modern cruiser ships. For they also had share bathrooms. But then again, this was a migrant ship and not a luxury liner! My ticket was arranged by an UN organisation, called I.C.E.M., as we were considered as refugees, whist the Italians sailed on what was called the "Australian Italian Assisted Passage Scheme."
However, I was impressed with the quality of food, for at every meal, there was fresh bread rolls on the table and a carafe (or 2) of nice wine. Although I never drank very much, but believe me, there were plenty of people to drank my share and more! The carafe has never gone back with any wine left in it.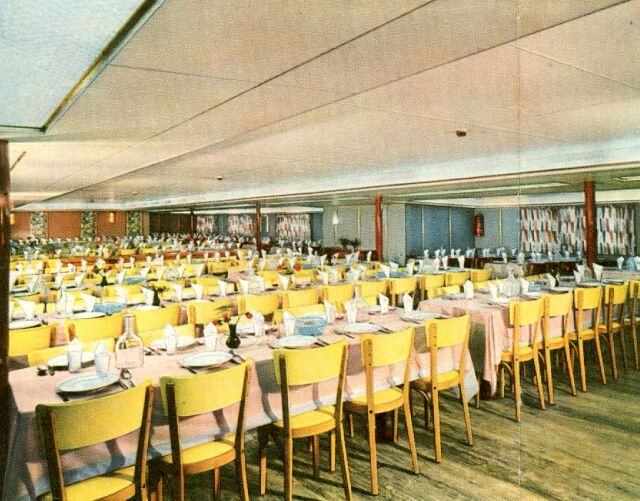 The Main Dinning Room
As the Suez Canal was closed at the time, the Flaminia went around the West coast of Africa and our first port of call was Dakar, then sailed via French Africa. I remember two things about Dakar. I spoke no French and had hardly any money, but wanted to buy a pair of socks. I went into a shop, eventually explained what I wanted, and when I tried to bargain, the salesman, just packed everything up and put it away. I thought that in an African country, you must bargain. The second thing was that I have observed lots of children with malnutrition. Their arms and legs seemed like toothpicks and their stomach's was bloated.
The next port was Cape Town. Many of us got up early to see the ship enter the harbour and to see the Table Top Mountain just after sun rise, contrasting against the crystal clear blue water, on a beautiful clear day. This will always remain an unforgettable memory. We were in port for about 2 or 3 days. Again, I went sightseeing. At a railway station I went to a toilet. Standing at a urinal, I had the feeling a couple of black men were taking about me. At the time, I did not speak English so I was not sure. When I came out, I have noticed the sign on the toilet "Men". The adjoining toilet had a sign, saying "European Men". I understood the difference. At that point, it dawned on me, that perhaps the communists weren't lying about everything. Starving African children, apartheid in South Africa, I have always written off, as communist propaganda, until then. Now I could see it with my own eyes. Could this really happen in the enlightened West? Did I jump from the frypan into the fire? Doubts entered my mind and it did not evaporate until I was in Sydney for a few weeks and got to know the people.
We departed Cape Town and sailed for Fremantle in Western Australia. This ship had 2 engines and 2 screws. However, one of the engines suddenly broke down about half way across the Indian Ocean on our way to Fremantle and here we were drifting in the Ocean for two days, whilst the crew desperately worked to repairs the problem. However it seemed that the problem was too big and thus it was decided to "limp" to Fremantle on just one engine and we arrived there a few days late on February 20, 1957. Whilst in Fremantle for a number days they were still trying to carry out repairs, and whilst we were all living on board and everything catered for, I decided to go sightseeing in my new country.
During the voyage and being a young boy, my mind was on girls almost all of the time. There were very few Hungarian girls of my age and 5 or 10 times as many males. It was an impossible situation. There were more Sicilian girls on board, but their parents were very vigilant. Probably their religious believes prevented them to allow their daughter to have a boyfriend. I couldn't speak Italian anyway, so this was impossibility. My memory of the trip was boredom. There were the occasional functions organised by the crew, but again it was in Italian. There was a lot of celebration crossing the equator. We had King Neptune celebration, plus binoculars with a hair across the lenses. When you looked into them, you could see the equator!
I have to say, Fremantle was a bit of a surprise. I have never seen balconies or awnings overhanging and supported by posts, placed near the edge of the footpath. I have only seen this in Western (Cowboy) movies! The tramlines ran on elevated blue metal tracks, much like the railways. I was used to tramlines sunk into the road surface. My other observation was the weather. It was February, and it was very hot and humid. In the other hand, I fund the people very friendly and helpful.
As the engine problems continued and could not be repaired in time, eventually, it was decided to send us all by train to the Eastern States. On the platform at Perth railway station, everyone was buying meat pies and beer. I have never been much of a drinker thus I only bought a pie. In Hungary, fruit pies are popular, but meat pies were unknown. Not long after departure, I bit into this warm tasty looking pie, but instead of sweet fruit flowing into my mouth, it was meat sauce. I was so surprised; I threw out the rest of the pie of the open window. Those days the trains were not air-conditioned. My second surprise came in the restaurant car. We set down to a beautifully laid table, that had a Damask table cloth and serviettes, silver cutlery, etc. Every ones' bread plate had a slice of snow white bread on it. It looked so appetising. I buttered mine and bit into it, however that invisible dust from the Nullarbor obviously had come through the windows and settled on the bread and when eating, it grated between your teeth. However, the food overall was really very good aboard the train, so if I sounded a little critical, I certainly did not mean to be!
The train took us to Bonegilla Migrant Camp, which took about 3 days and 3 train changes due to different railway gages. I really enjoyed the train trip as I got to see a lot of the country side. The camp was located on the banks of the Murray River near the Towns of Albury and Wodonga on the border of New South Wales and Victoria, and it was originally an Army camp, part of which was now used for the "New Australians" as we were called in those days.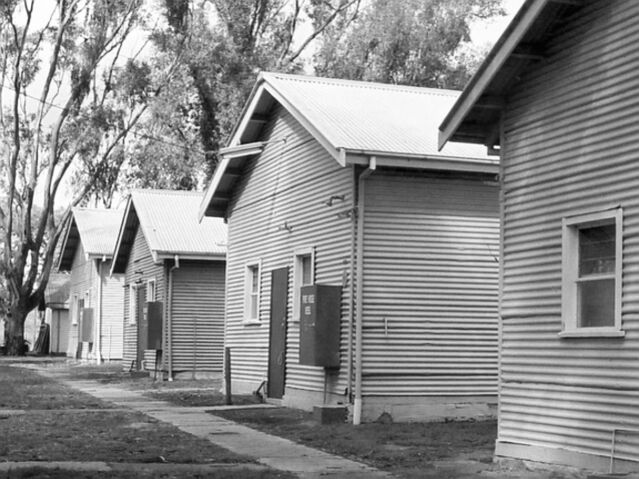 Bonegilla Migrant Camp
They were Nissan huts, but as an 18+ year old, I was quite satisfied. I had a clean comfortable room and plenty of good food, etc. They made me feel welcome. We were free to come and go and things like security were unheard of in those days. I think I stayed there for 3 days, before I was given a train ticket to Sydney. Although my memory is little hazy from here, but I think I may have arrived in Sydney around March 3.
Every day I think about immigration, I thank God, that I chose this country. Those people who criticise us, don't know, how lucky they are to be here."
This story was sent to ssMaritime by Janes and I am most grateful to him sending it and for its content, as it provides a very special insight of his voyage and experience during of that part of his life. And I am so happy to know that a good new life was found for him in this fine country of Australia!
Reuben Goossens.
Page One:     MS Flaminia History Page
Page Two:    A Holocaust Survivor sails to Australia
Page Three:  Lifelong friends sail to Australia in 1958
Page Four:    Ingolf Schreiber's Voyage in 1960
Also visit:     Cogedar's MS Aurelia
"Blue Water Liners sailing to the distant shores.
I watched them come, I watched them go and I watched them die."
****************************
Visit our ssMaritime Main INDEX
Where you will discover around 680 Classic Passenger & Passenger-Cargo Liners!
ssMaritime.com & ssMaritime.net
Where the ships of the past make history & the 1914 built MV Doulos Story
Please Note: ssmaritime and associated sites are 100% non-commercial and the author does not seek funding or favours and never have and never will.
Photographs on ssmaritime and associate pages are either by the author or from the author's private collection. In addition there are some images and photographs that have been provided by Shipping Companies or private photographers or collectors. Credit is given to all contributors, however, there are some photographs provided to me without details regarding the photographer or owner concerned. Therefore, I hereby invite if owners of these images would be so kind to make them-selves known to me (my email address can be found at the bottom of the page on www.ssmaritime.com), in order that due credit may be given.
ssMaritime is owned & © Copyright by Reuben Goossens - All Rights Reserved