Please Note: Firefox and some other search engines are not suitable – Use "Internet Explorer" for this page to load perfectly!

Click the logo above to reach the ssMaritime FrontPage for News Updates & "Ship of the Month"
With Reuben Goossens
Maritime Historian, Cruise'n'Ship Reviewer, Author & Maritime Lecturer
Please Note: All ssMaritime and other related maritime/cruise sites are 100% non-commercial and privately owned. Be assured that I am NOT associated with any shipping or cruise companies or any travel/cruise agencies or any other organisations! Although the author has been in the passenger shipping industry since 1960, although is now retired but having completed around 680 Classic Liners and Cargo-Passengers Ships features I trust these will continue to provide classic ship enthusiasts the information the are seeking, but above all a great deal of pleasure! Reuben Goossens.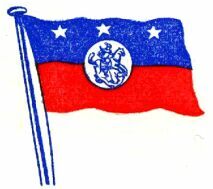 Cogedar Lines
MS Flaminia
Page Three
Story & Photographs provided by:
Mrs Gertraud Eberhöfer, nee Boesch and Mrs Hildegard Engstler, nee Bartel
Austrian's become lifelong Friends as they sail from
Trieste Italy to Sydney Australia in 1958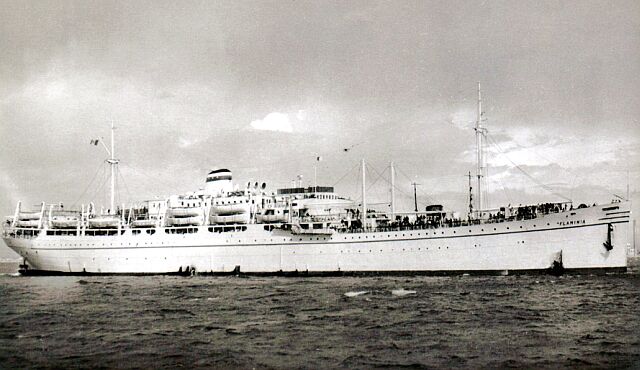 MS Flaminia seen at sea in 1958
This page contains the story of four young Austrian's; the girls being: Gertraud (22), Hildegard, and their respective husbands (to be?): Heinz (26) and Werner, who had decided "to live in a country far away from home, because we were young and were looking for adventure." The two couples met whilst on the Flaminia and became lifelong friends to this day!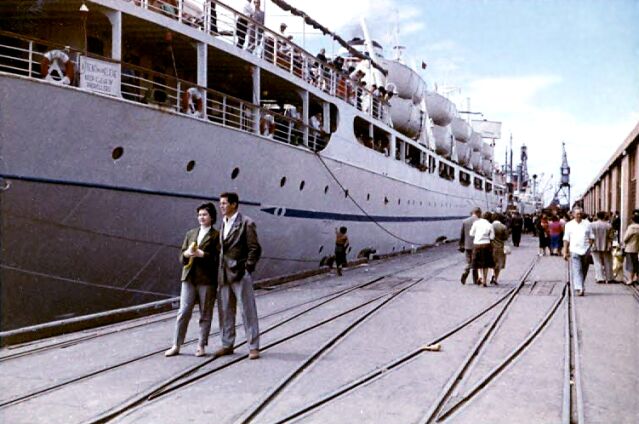 Photo 1: Is this Gertraud and Heinz or you Hildegard and Werner? And this is in Trieste, right?
All migrants from around Austria had to come to Salzburg in Austria on October 1 to a Military Camp, which was the official meeting point Then that evening we departed Salzburg by train for Trieste Italy arriving the next morning, the 2nd,.and after clearing all the formalities on the wharf we boarded the Flaminia that immediately gave us the impression of being a very friendly ship as the crew was so nice to us all.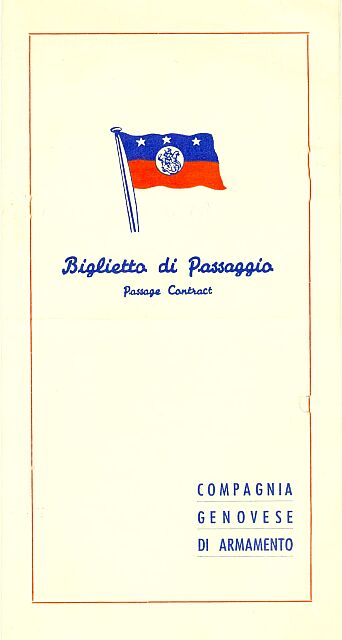 Ticket cover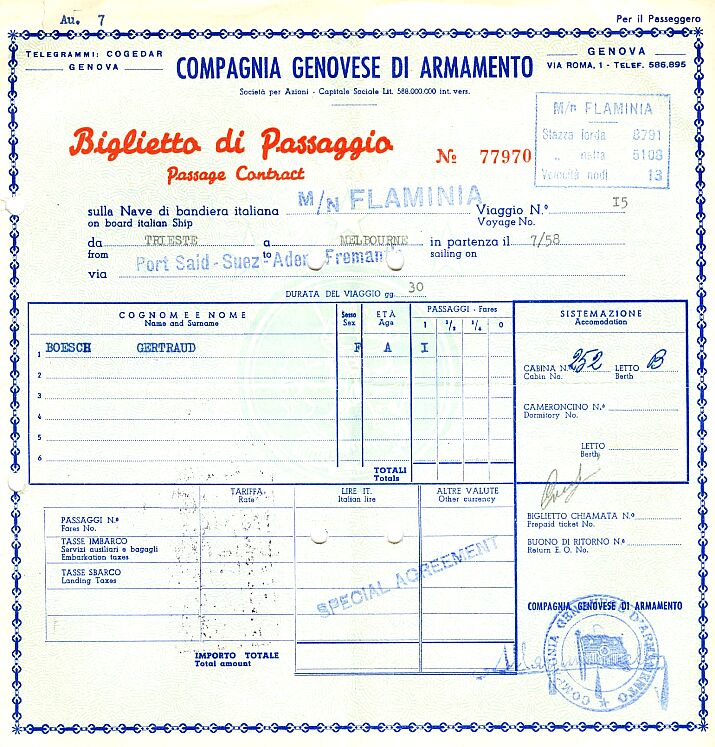 This is Gertraud's ticket – Cabin 252, and she occupied berth "B"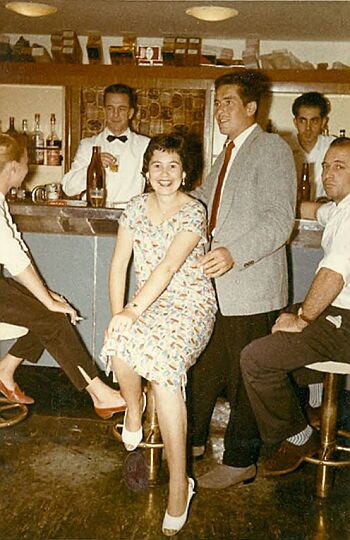 Gertraud and Heinz enjoying some time in the Bar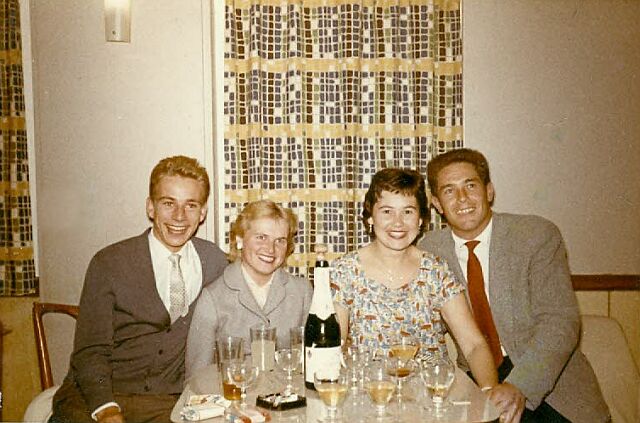 Werner, Hildegard, Gertraud and Heinz having a bottle of bubbly in the Lounge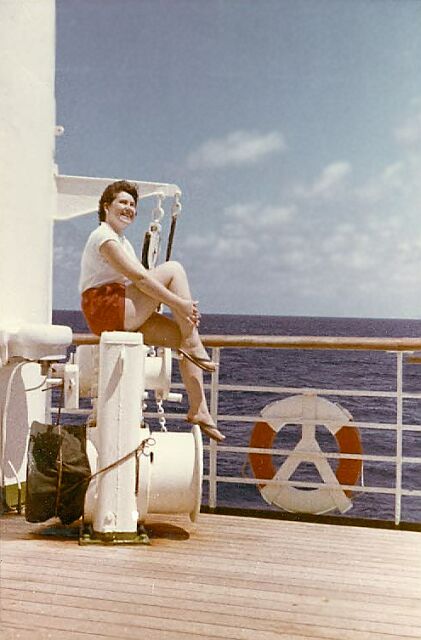 The sun shone for most of the voyage and Gertraud made the best of it out on deck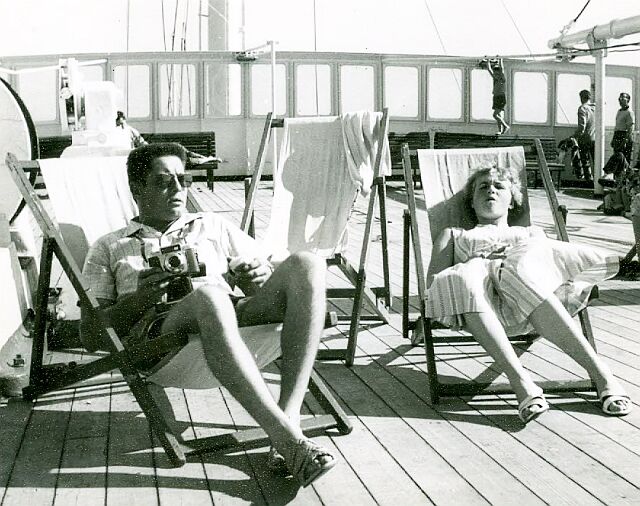 This is far forward of the ship and a perfect place to take in the sun and even take a nap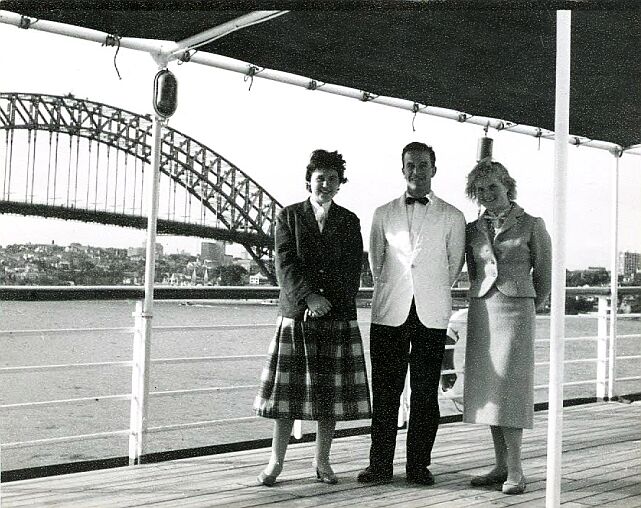 Finally arrived in Sydney and here we see Gertraud, one of the waiters and Hildegard out on deck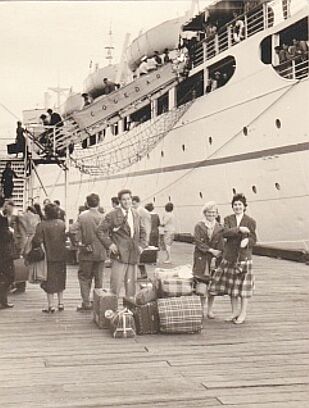 ------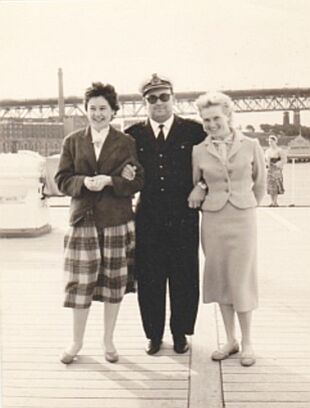 Right photo: Sydney - Heinz, Hildegard and Gertraud having disembarked the MS Flaminia
Left photo: Gertraud, Flaminia's Captain Guiseppe Quarini & Hildegard
Page One:     MS Flaminia History Page
Page Two:    A Holocaust Survivor sails to Australia
Page Three:  Lifelong friends sail to Australia in 1958
Page Four:    Ingolf Schreiber's Voyage in 1960
Also visit:     Cogedar's MS Aurelia
"Blue Water Liners sailing to the distant shores.
I watched them come, I watched them go and I watched them die."
****************************
Visit our ssMaritime Main INDEX
Where you will discover around 680 Classic Passenger & Passenger-Cargo Liners!
ssMaritime.com & ssMaritime.net
Where the ships of the past make history & the 1914 built MV Doulos Story
Please Note: ssmaritime and associated sites are 100% non-commercial and the author does not seek funding or favours and never have and never will.
Photographs on ssmaritime and associate pages are either by the author or from the author's private collection. In addition there are some images and photographs that have been provided by Shipping Companies or private photographers or collectors. Credit is given to all contributors, however, there are some photographs provided to me without details regarding the photographer or owner concerned. Therefore, I hereby invite if owners of these images would be so kind to make them-selves known to me (my email address can be found at the bottom of the page on www.ssmaritime.com), in order that due credit may be given.
ssMaritime is owned & © Copyright by Reuben Goossens - All Rights Reserved