Please Note: Firefox and some other search engines are not suitable – Use "Internet Explorer" for this page to load perfectly!

Click the logo above to reach the ssMaritime FrontPage for News Updates & "Ship of the Month"
With Reuben Goossens
Maritime Historian, Cruise'n'Ship Reviewer, Author & Maritime Lecturer
Please Note: All ssMaritime and other related maritime/cruise sites are 100% non-commercial and privately owned. Be assured that I am NOT associated with any shipping or cruise companies or any travel/cruise agencies or any other organisations! Although the author has been in the passenger shipping industry since 1960, although is now retired but having completed around 680 Classic Liners and Cargo-Passengers Ships features I trust these will continue to provide classic ship enthusiasts the information the are seeking, but above all a great deal of pleasure! Reuben Goossens.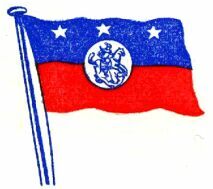 Cogedar Lines
MS Flaminia
Page Four
The Ingolf Schreiber Story
Bremerhaven to Melbourne - April 23, 1960

MS Flaminia a picture taken from a brochure

All photographs and images on this page are by or provided by Mr. Ingolf Schreiber

Nineteen year old Ingolf decided to go to Australia and join his brother who had already migrated to Australia in 1953. Thus, having made all the arrangements and passed the usual requirement he was accepted and was booked to sail on the liner SS Flaminia from Bremerhaven on Saturday 23 April 1960. Although his ticket showed he had been allocated cabin 948, upon embarkation he was allocated a somewhat better cabin, number 838.

Like young men do, he made many shipboard friends and from all accounts, as we will read from his own story, he had a wonderful and an eventful voyage.
Ingolf
Schreiber reminisces on his 1960 Flaminia Voyage
Introduction
I had already decided whilst I was an apprentice to emigrate to Australia, because my brother had gone there in 1953 on the Sitmar liner MS Fairsea. Not much later his fiancée followed him on the Cogedar liner MS Aurelia in 1955. They were married in Melbourne and moved to Tasmania where they continue to live today.
My other reason for wanting to go was the desire for adventure and to see other countries. After I had completed my apprenticeship, I sent an application to the Australian immigration office in Cologne, then on February 9, 1960 I received a letter from that Office of the Australian Embassy telling me to report to Uberseeheim Haus Number 100 in Bremen-Lesum at 8.30 on March 15 for a medical examination and an examination of my application by an officer from the Australian authorities. Needless to say, I was very excited and happy to comply, and went there by train.
All was well with the medical, the interview and my documents, so then I had to wait for their decision. Fortunately, it didn't take long, and on April 8, I was informed by the Inter-governmental Committee for European Emigration Liaison Office of the West German Government in Bad Godesberg that my application had been approved and the instructions I received were as follows: Date of departure: April 23, 1960 from Bremerhaven aboard the MS (Motor ship) "Flaminia." Obviously I had to immediately confirm my wish to go. In order to complete the necessary embarkation formalities, they said please be ready to depart by 1400 (2pm) on April 22, 1960 in the Overseas Terminal in Bremen. Anyone who is not there on time will be turned back. I still had to pay DM 210 for my ticket, so I sent that with my confirmation on April 11.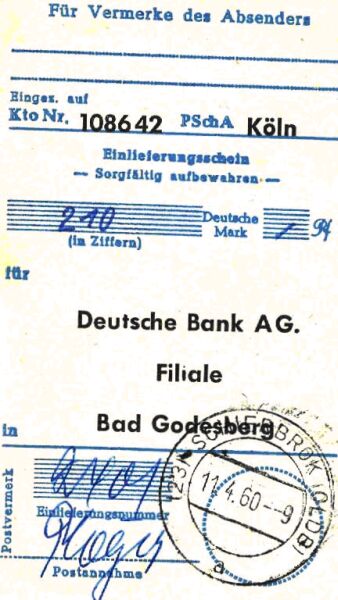 Receipt for Ingolf's 210 DM's
I received written confirmation of my booking on the 14th. There were now only eight days before departure, which wasn't long to get everything ready, including giving notice at work. I still had a couple of days' holiday so I was able to return to Langeoog to say goodbye to my family, so that was an emotional time.
On the 23rd I returned to Bremen-Lesum, and was assigned a bed in Room 1, Haus Number 99. I had to share the room with a couple of other people. In Lesum I also got my passenger number, which was 948.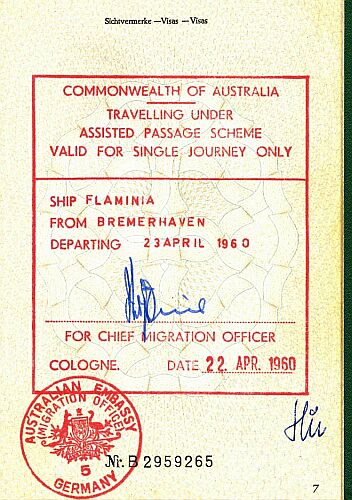 Ingolf's Australia's entry permit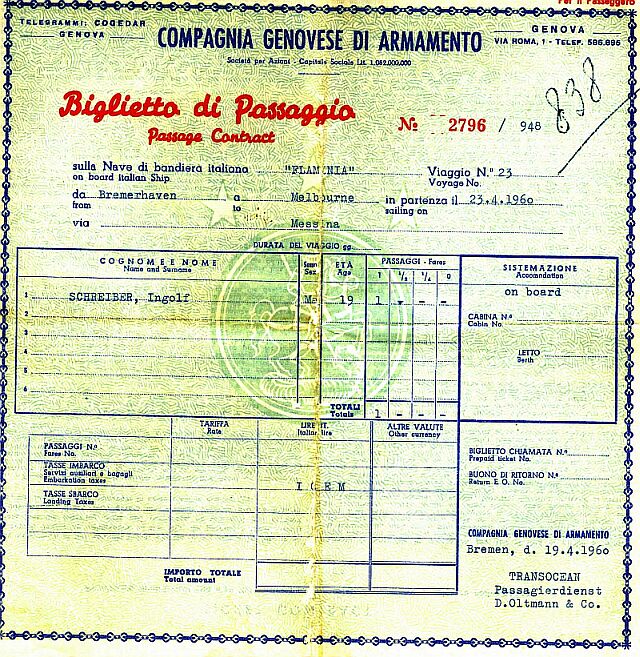 MS Flaminia's passage ticket
In the evening we celebrated in the "Golden Anchor", then the next morning we went by train to the Columbus Quay in Bremerhaven, which resembled a "migration of nations", as there were about a thousand people there, all of whom were off to Australia.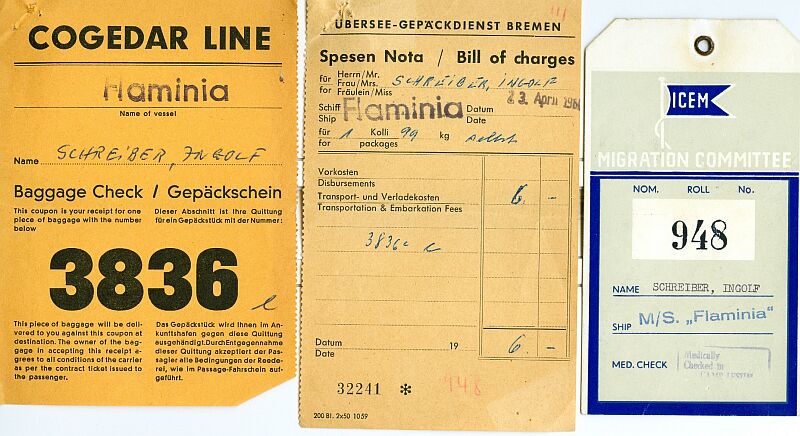 1. Baggage check – 2. Luggage charges – 3. Passenger number 948
When we'd cleared customs, we went on board the "Flaminia", an Italian emigration/passenger ship run by the Cogedar Line Compagnia Genovese di Armamento. It was built in the USA in 1921 as a cargo-ship. It had been refitted several times, and name changes. Cogedar Line bought it in 1948, and in 1955 was named Flaminia, and it was refitted again to carry 1024 passengers. From 1958-1961 it carried migrants to Australia and tourists homeward bound, but with many less passengers and upgraded services.
Two former colleagues, who had visitors' cards and were able to come onboard for a while, came to say goodbye. At first everything was at sixes and sevens while everyone was looking for their cabin. The crew was kept busy trying to create order! I eventually found my allocated 8-berth cabin, where I had a lower bunk.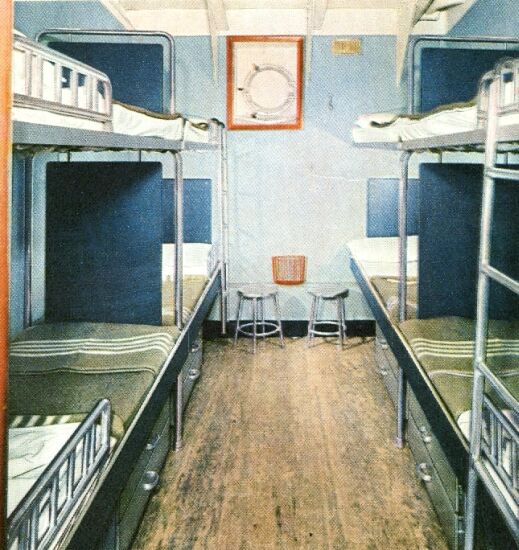 Ingolf's 8 berth cabin was identical to this
Bathroom facilities, consisting of share toilets, showers and hand basins, were just a few metres from our cabin. There were two stools to sit on in our cabin, and under our bunks were drawers for our luggage. There was only one porthole, which was about 1.5 metres above the waterline. We could open it in calm weather, but in stormy weather it had to be closed and bolted down. We cast off from the Columbus Quay towards evening on April 23 to the sound of the popular German song "Muss I Denn" and headed towards Australia. The adventure could begin, and I was able to leave without feeling too sad.
The trip would take five weeks, and the ports of call were as follows: From Bremerhaven we sailed to the North Sea, the English Channel, Bay of Biscay, Strait of Gibraltar, Mediterranean Sea to Messina in Sicily, then to Port Said in Egypt, Suez Canal, Red Sea to Aden in Yemen, Indian Ocean to Fremantle in Western Australia, then on to our final destination, Melbourne. From there I had to take the ferry from Melbourne to Devonport, Tasmania, where my brother would meet me and head for my final destination!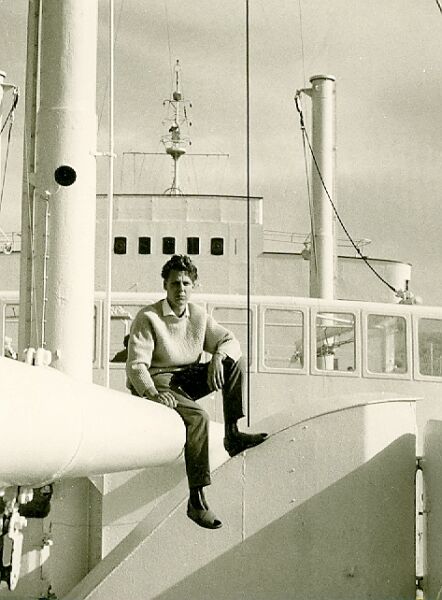 Here we meet the 19 year old Ingolf for the first time on the foredeck of the MS Flaminia
The Voyage
So, how was it to travel by ship in 1960?
The eight of us who shared the cabin soon got to know one another. We were of similar age and got along well right from the start. We struck our first storm in the North Sea, and none of us knew if we'd be seasick, so we spent our first hours up on deck. When we realised that we'd found our sea-legs, we went back to our cabin to sleep and slept quite well!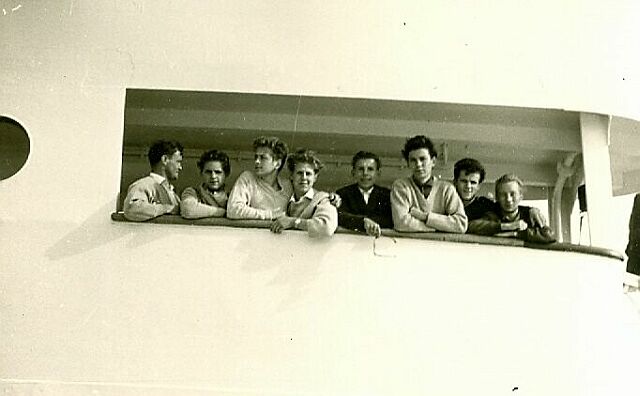 The eight cabin mates – Ingolf is 4thffrom the left
After breakfast the next day we went exploring. There were several bars, sporting facilities and a small pool available. And every now and then, when the weather was fine, a film would be screened on deck in the evening.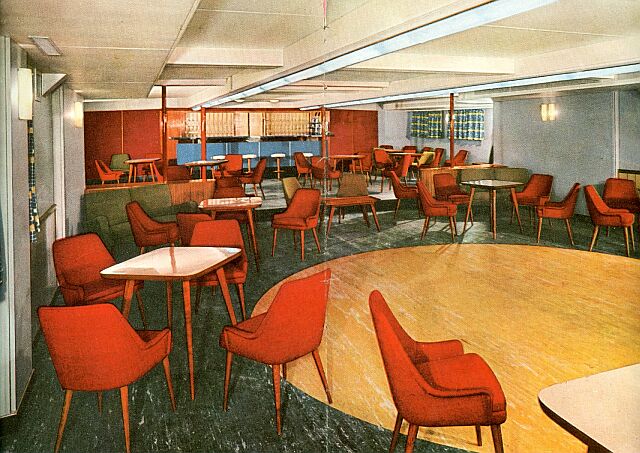 One of the comfortable Lounges and Bars onboard
Lunch was served in two sittings. When it was rough, we could eat the food which those who were seasick were unable to manage, which was something we always looked forward to. I found the food, which was mainly Italian, quite good, but I wasn't particularly fussy!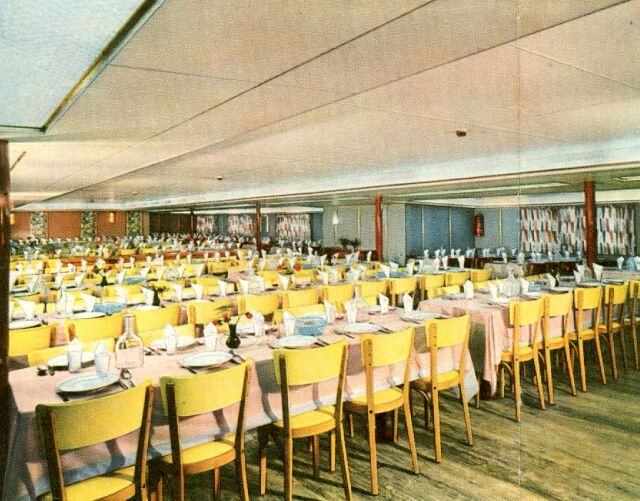 The Dining Room with its long tables
It was calmer when we got to the Channel, and also when we went through the Bay of Biscay. Up on deck was a map on which our location was marked every morning with needle and thread, and the time differences were also noted. The view, as we passed through the Strait of Gibraltar into the Mediterranean, was wonderful.
We passed the time on deck, gazed into the waves, sat together in the bars, played table tennis and took advantage of the many other activities on offer, we were certainly never bored on the Flaminia.
There was a light swell when we arrived at Messina, Sicily on May 1, 1960. There, after notifying the purser, we were able to leave the ship for a couple of hours to go and explore Messina, which was an interesting city. Then, before the ship left again, more emigrants came on board, taking the total number of passengers to over a thousand, which was a lot for a ship of that size.
Our next destination was Port Said in Egypt. Before we reached the harbour, sailboats came towards us and stopped alongside the ship. Grapnels were thrown over the rails and hawkers climbed aboard quickly and expertly. They spread out carpets on which they displayed their goods (all junk of course) which they pulled up from their boats in baskets.
After much haggling through our porthole I purchased a horse-whip with a stiletto. I reached out and grabbed it with one hand, while holding my money firmly in the other, the Egyptian doing the same, then we each let go at the same time. I soon discovered that the blade was made of cheap iron. Other passengers bought a fez which they later wore all over the ship.
Due to lack of time we were unable to leave the ship here. We departed in the evening and headed for the Suez Canal. I did get up in the night as we were passing through the Canal, but couldn't really see much, unfortunately. Only after the Great Bitter Lake were we able to see more, desert on sides, every now and again a hut, and the occasional goat or camel. The empty landscape was impressive, hostile yet strangely beautiful. But just imagine how long the trip would have taken if ships hadn't been able to use the Canal and if we'd had to sail right around Africa! Then it was on to the Red Sea when sadly an elderly woman passed away whilst at sea, her body was flown back to Germany from Aden in Yemen. The ship had to drop anchor there, and small motorboats (tenders) took us all ashore.
We were warned beforehand not to drink anything that was unfamiliar to us or in an opened container, only well-known brand drinks in sealed bottles were safe. We drank Becks beer from Bremen or Coca Cola.
The city was surrounded by a mountain range, and there was very little vegetation. In those days Yemen was under British administration and was a free trade zone. You could find bargains, especially cameras and accessories for them, but I couldn't afford to buy anything.
Aden to my eyes seemed rather dirty and poor, and in some houses you could see people sharing a room with their goats, or men lying on bare bedsteads on the pavements in front of the houses.
Also while we were on the Red Sea that a blind stowaway was discovered on board. We later found out that the crew had long suspected that he was there. In Bremerhaven every visitor had been given a visitor's card before boarding, and this card had to be handed in when the visitor left. One card had not been handed in, which is how the crew had worked out that one unauthorised person had stayed aboard. In the evening they had, unknown to us, they searched the entire ship for the stowaway, but could not find him, which is not surprising, when you consider that there were over a thousand passengers. We all knew this blind man, but didn't realise that he was the one they were looking for. He lived on breakfast and supper, because there were no formal seating arrangements for those meals, whereas for lunch everyone had a regular fixed seat.
Then one day this man drank too much in a bar and, when he was unable to pay, had to give his name and cabin number. He wanted to go and get his money so he could pay later, but when he hadn't paid by the next day, they went to look for him in his cabin and discovered that he'd given the name and number of another passenger. He was only found a few days later in a shower where he'd slept. He'd locked the door from the inside, but the crew had a master key, so they opened the door and arrested him. Then, when we were sailing, he had to work, and when we were in ports he was locked up. But I have no idea what became of him after that.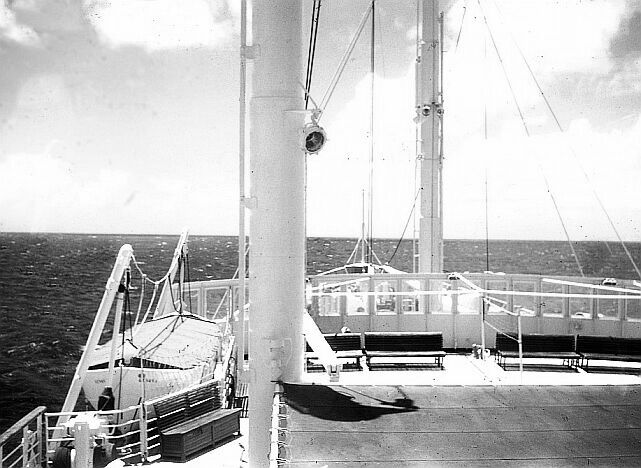 The forward sports deck looking out to sea
It took us two weeks to cross the Indian Ocean from Aden to Fremantle. All we saw during that time was dolphins and flying fish that seemed to accompany our ship. We also had to take part in "evacuation drills" in which after the alarm was sounded, every passenger had to take their lifejacket and assemble at a previously assigned lifeboat. Talk about confusion! Everyone was running back and forth trying to find the right place, if it'd been the real thing, with people panicking, and with the crew overworked they seemed to loose control, I think most of us would have drowned. The Indian Ocean has a long swell, which made the ship rock constantly. Mostly the swell came from the front and when the crest of the wave was under the stern you had the feeling that the propeller would be projected up out of the water. The whole ship would vibrate and make a loud rattling noise, which kept us awake at night for the first few days before we got used to it.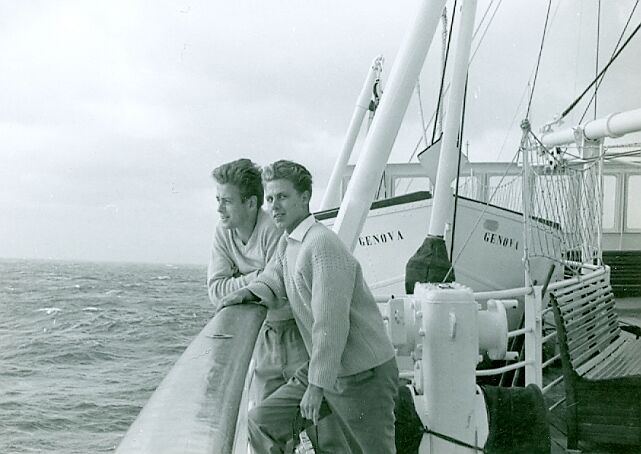 Ingolf and a friend looking out for some flying fish – port side on the forward sports deck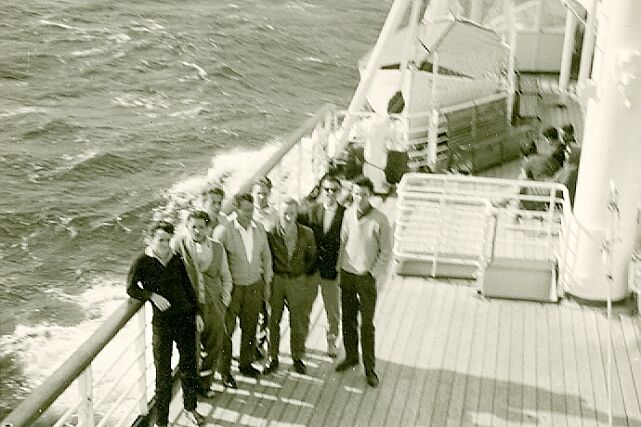 With a group of friends – starboard on the aft deck
We had a lot of fun during those two weeks. We crossed the equator on May 17, 1960 and were baptized in style. "Neptune" and his assistants came up with an idea for the baptism: first of all, you had to kneel down before Neptune, and something was said in Italian. Then you were lathered with an enormous brush and shaved with a big knife, before the suds were put down your trousers. And after a few more fun things like this, you were thrown into the pool.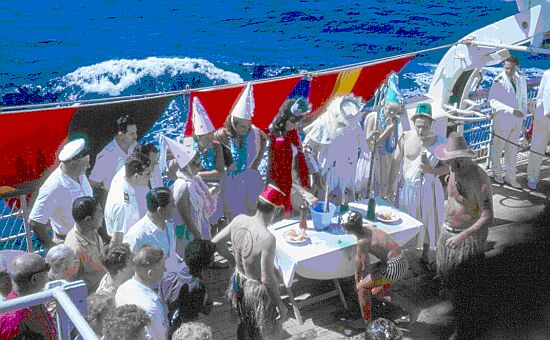 Ingolf receiving his baptism from King Neptune's servants'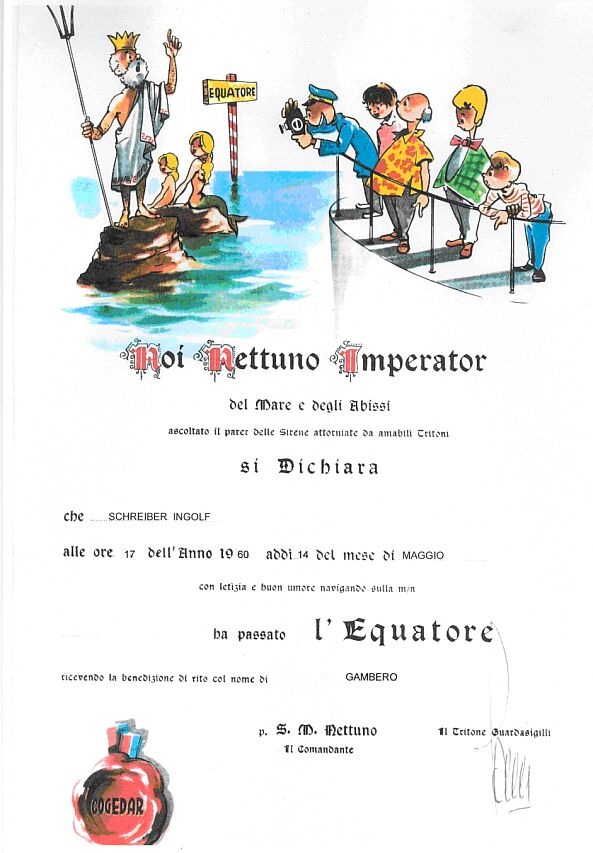 Ingolf's crossing the Equator Certificate
A few days before we reached Australia we saw our first albatross, so we knew that land wasn't far away. Someone had brought a portable radio and was able to receive Australian broadcasts.
When we reached Fremantle, the first emigrants left the ship. The rest of us were also allowed off for a few hours (not long enough to see much) and we found that we couldn't walk properly because it felt as though the ground beneath our feet was moving.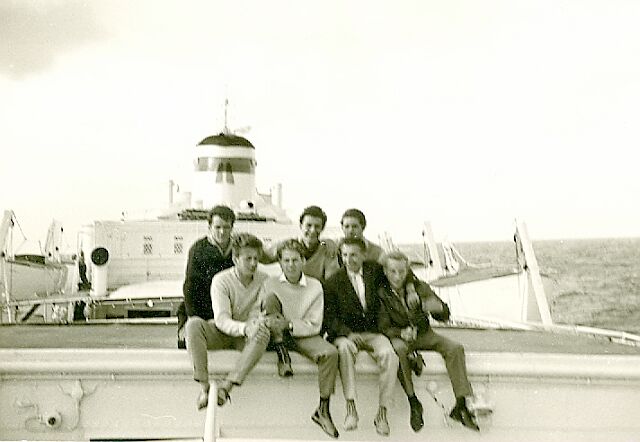 The cruise is coming to an end and friends have stuck together, but soon they have to say goodbye!
Then it was on to Melbourne. It was very rough, so a lot of people were seasick. We arrived on May 30. It was the end of the line, so we all had to disembark. Those emigrants who had no other place to go were taken by bus to the Bonegilla reception camp, where they stayed until they had found a job or work had been found for them. Many started off fruit picking, if only to get out of the camp, and after that they could look around for something they had been trained for or which they'd prefer to do.
Those of us who did have somewhere to go went on to catch their trains or those of us who did have somewhere to go went on to catch their trains or buses. Of the eight in my cabin, three of us (including me) had a job lined up, and the rest went to Bonegilla. I have never had any contact with any of them since, so I have no idea what became of them.
The Ferry to Tasmania
After I had passed through customs and immigration and all my papers were found to be in order, I was taken, along with other people I didn't know, by bus to the port in Melbourne. The ferry was called "The Princess of Tasmania", and its destination was Devonport in the north-west of the island. It was a modern ship for its time, with a deck for vehicles, and
plenty of facilities.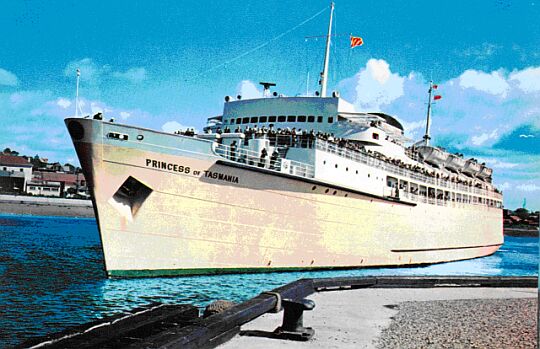 Princess of Tasmania
My next destination was Tarraleah, where my brother an I both worked for the then Hydro Electric Commission (HEC), the company which supplied most of the electricity for Tasmania. Roads, dams, tunnels, pipelines and power stations were built in the bush, some areas of which still hadn't been explored.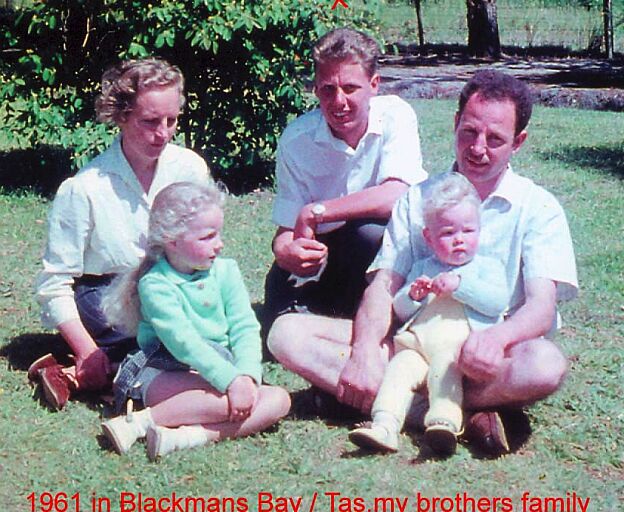 My brother and family were ready and waiting for me in Tasmania
Later I lived and worked in two other Hydro villages, Wayatinah and Poatina (the names are Aboriginal). Then I went back to the mainland to travel up the east coast as far as to Cooktown and into the red outback, because I was really interested in seeing this vast country.
In March 1962, I decided to return to Germany, but in recent years I have been back to Tasmania, a place I got to know well, and visited it three times with my wife.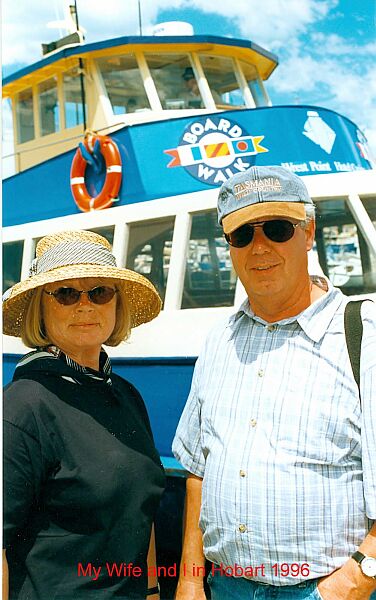 My wife and myself during a visit to Australia and Tasmania in 1996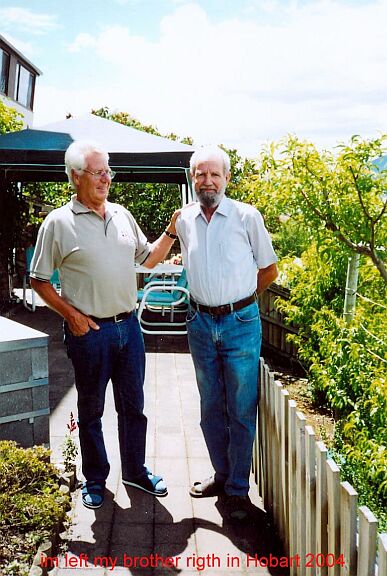 Another visit in 2004, seen with my brother in Tassie on the right
I might be living in Germany again, but I love Australia and the "Apple Isle" (Tasmania) and I will never forget my wonderful voyage on the Cogedar liner Flaminia, for as a 19 year old, it was a voyage of a lifetime!
Ingolf Schreiber
PS: If anyone reading this was also on the MS Flaminia from Bremerhaven to Melbourne, departing on 23 April 1960, I would love to hear from you. My E-mail address is: eischreiber@t-online.de.
Page One:     MS Flaminia History Page
Page Two:    A Holocaust Survivor sails to Australia
Page Three:  Lifelong friends sail to Australia in 1958
Page Four:    Ingolf Schreiber's Voyage in 1960
Also visit:     Cogedar's MS Aurelia
"Blue Water Liners sailing to the distant shores.
I watched them come, I watched them go and I watched them die."
****************************
Visit our ssMaritime Main INDEX
Where you will discover around 680 Classic Passenger & Passenger-Cargo Liners!
ssMaritime.com & ssMaritime.net
Where the ships of the past make history & the 1914 built MV Doulos Story
Please Note: ssmaritime and associated sites are 100% non-commercial and the author does not seek funding or favours and never have and never will.
Photographs on ssmaritime and associate pages are either by the author or from the author's private collection. In addition there are some images and photographs that have been provided by Shipping Companies or private photographers or collectors. Credit is given to all contributors, however, there are some photographs provided to me without details regarding the photographer or owner concerned. Therefore, I hereby invite if owners of these images would be so kind to make them-selves known to me (my email address can be found at the bottom of the page on www.ssmaritime.com), in order that due credit may be given.
ssMaritime is owned & © Copyright by Reuben Goossens - All Rights Reserved