Please Note: Firefox and some other search engines are not suitable – Use "Internet Explorer" for this page to load perfectly!

Click the logo above to reach the ssMaritime FrontPage for News Updates & "Ship of the Month"
With Reuben Goossens
Maritime Historian, Cruise'n'Ship Reviewer, Author & Maritime Lecturer
Please Note: All ssMaritime and other related maritime/cruise sites are 100% non-commercial and privately owned. Be assured that I am NOT associated with any shipping or cruise companies or any travel/cruise agencies or any other organisations! Although the author has been in the passenger shipping industry since 1960, although is now retired but having completed around 680 Classic Liners and Cargo-Passengers Ships features I trust these will continue to provide classic ship enthusiasts the information the are seeking, but above all a great deal of pleasure! Reuben Goossens.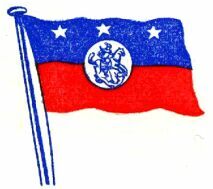 Cogedar Lines
MS Flaminia
Ex MS Genova, Capitaine Potie, Belgian Freighter, Empire Swan, Missourian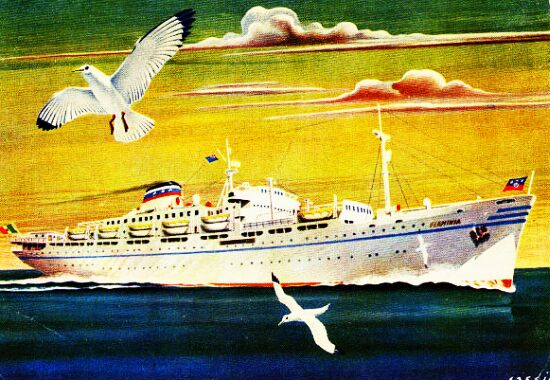 1955 Postcard of the Flaminia issued by Cogedar Lines
*Unless marked otherwise, all photos/postcards are from the author's private collection
Page One
One day per email came this request, "Can you advise me if you have any information on the ss Flaminia (Cogedar Line) as I sailed on this her - Heaps of stuff on the Aurelia but not much on the Flaminia." In response, I decided to add this ship to ssMaritime and have her story told. It has been said that she was an "unremarkable and a spartan ship." This may be so, but she transported thousands of migrants to Australia, real people who have memories of her, be they good or bad. However, having been unremarkable, she remains vital in the lives of those who came to Australia to find a new life in a new country, for them she is a remarkable ship indeed!
Flaminia was built by the "Merchant Shipbuilding Corp" Chester Pennsylvania, She was launched on 14 December 1921, as the 7,899 ton American-Hawaii Steam Ship Companies cargo ship, Missourian. She was completed in 1922. As built, her profile was remarkable by the fact that she had no funnel. Smoke was released through short masts situated on the back of the superstructure. She commenced her life as a simple freighter, first from the West Coast of America to Europe, later she was transferred to New York, from where she sailed to Europe and back.

MS Missourian as built
In 1940, she was sold to the British Government who placed her under the management of Runciman Ltd who entered her in the British Merchant Navy renamed Empire Swan. In 1942 she was transferred to the exiled Belgian Government based in London and she was renamed Belgian Freighter. She was managed by Compagnie Maritime Belge S.A. who purchased the ship outright in 1946 and renamed her Capitaine Potie. Over the next two years, she serviced both the Congo and South American routes.
In May 1948, Capitaine Potie was sold to Cia. Genovese d'Armamento (Cogedar Line) and by the fact that she was now registered in Genova she was renamed Genova.
Cogedar sent her to the Monfalcone shipyard in Trieste for an extensive rebuilding programme seeing holds removed, the superstructure enlarged, when completed she provided spartan accommodation for up to 800 third class passengers. In addition, she received a traditional funnel, certainly making her appearance more pleasing. Ready as a passenger liner, she commenced a successful service to the River Plate ports in 1949, which lasted for five years.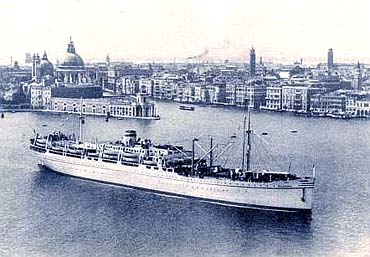 Seen here as Cogedar's MV Genova after her first rebuild in 1948/49
In  1954 Cogedar decided to place her on the Australian migrant service. Again, she received rebuild at Malfacone Trieste, where her B&W diesels were removed and replaced by efficient Sulzer diesels. The superstructure was enlarged even further to accommodate additional public rooms, deck space and a swimming pool. With additional cabin space, she now accommodated 1024 passengers in moderate comforts, considering, most cabins had eight berths. She was renamed Flaminia now being 8,776 ton with a length of 141m, and a breadth of 19m. Her rebuilding was completed in March 1955.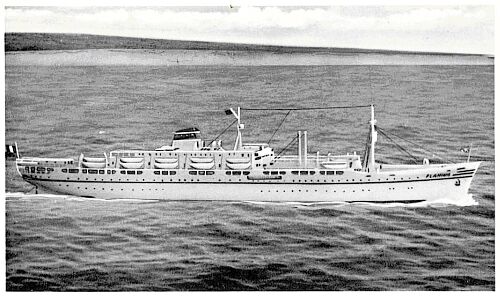 Postcard with an artist impression of Flaminia's new forward extensions to be completed in 1955
She departed Trieste April 1955 for her first voyage to Australia via the Suez Canal, arriving in Cairns 30 May. She remained in Cairns for three days, and returned to Italy. Her second voyage departed Trieste on 16 July, arriving in Fremantle 14 August, and Melbourne 19 August. She sailed between Italy and Australia.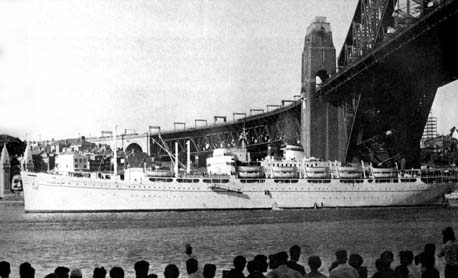 Flaminia arriving in Sydney Australia around 1959
Then, in December 1958, she commenced a new service, collecting migrants from the Netherlands and Germany. Flaminia departed Rotterdam on 15 December, and the next day visited Bremerhaven on her way to Sydney.
Australian, Mr. Geoff Archer wrote and told the author that the MS Flaminia transported the 3rd Battalion of The Royal Australian Regiment from Penang (Malaysia) to Brisbane (Australia) at the end of a two year tour of Military duty. He said "We departed Penang on the 5th Oct 1959 and arrived in Brisbane on the 14th Oct 1959. I seem to recall that some of the Battalion disembarked in Brisbane and the remainder were transported on to Sydney."
Flaminia served on the Europe to Australia this route for some time, until she suffered a fire in her accommodations whilst sailing Trieste and Bari. After repairs were completed she made one more voyage to Australia. Thus her very last port of call in Australia was Fremantle on 22 November 1961.

Flaminia berthed at Circular Quay Sydney towards the end of her Australian service
On her return to Italy she was chartered by Israel's Zim Line, for service between Marseilles and Haifa. In 1963, whilst still in the service of Zim Line, she was sold to another Italian company, Covena S.p.A of Genoa. When the charter to Zim Lines expired 1944, she was again sold to Saudi Lines and renamed King Abdelaziz.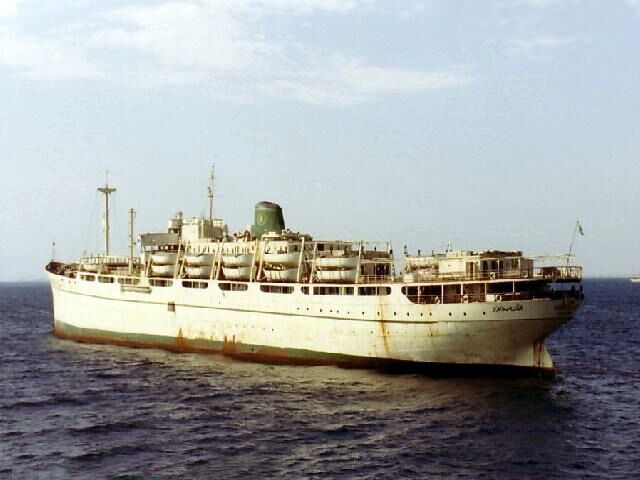 Seen here as the Pilgrim ship MS King Abdelaziz
Photograph by P.W. Hobday, sent in by a supporter from the U.K.
She was used on the pilgrim trade from Jedda, but she ran aground an Algaham Reef, off Jedda on 30 April 1965. After being re-floated, she returned to Italy for repairs, which were completed in September 1965. She returned to her pilgrim duties but was eventually laid up in Jeddah. Having reached the good age of forty-eight years ss Flaminia was sold in 1970 to be broken up in Kaohsiung Taiwan where she arrived on 20 April.
The Flaminia may have been a modest ship, but for many of those who sailed on her, most had a happy experience. She took them to a new land Australia, known as "The Lucky Country" and she took them there in a typical Italian friendly style!
Cogedar retained the popular Aurelia and the sleek Flavia on the Australian trade, until the migrant trade began to decrease due to air travel. Soon Cogedar withdrew their ships and had them occasionally cruising in the Mediterranean until being sold. Both the Aurelia and Flavia enjoyed further service as cruise ships.
Page One:     MS Flaminia History Page
Page Two:    A Holocaust Survivor sails to Australia
Page Three:  Lifelong friends sail to Australia in 1958
Page Four:    Ingolf Schreiber's Voyage in 1960
Also visit:     Cogedar's MS Aurelia
"Blue Water Liners sailing to the distant shores.
I watched them come, I watched them go and I watched them die."
****************************
Visit our ssMaritime Main INDEX
Where you will discover around 680 Classic Passenger & Passenger-Cargo Liners!
ssMaritime.com & ssMaritime.net
Where the ships of the past make history & the 1914 built MV Doulos Story
Please Note: ssmaritime and associated sites are 100% non-commercial and the author does not seek funding or favours and never have and never will.
Photographs on ssmaritime and associate pages are either by the author or from the author's private collection. In addition there are some images and photographs that have been provided by Shipping Companies or private photographers or collectors. Credit is given to all contributors, however, there are some photographs provided to me without details regarding the photographer or owner concerned. Therefore, I hereby invite if owners of these images would be so kind to make them-selves known to me (my email address can be found at the bottom of the page on www.ssmaritime.com), in order that due credit may be given.
ssMaritime is owned & © Copyright by Reuben Goossens - All Rights Reserved