Please Note: Firefox and some iPad's or iPhone's, etc are not suitable
Use Internet Explorer or Google Chrome for this page to load perfectly!

Click the logo above to reach the ssMaritime FrontPage for News Updates & "Ship of the Month"
With Reuben Goossens
Maritime Historian, Cruise'n'Ship Reviewer, Author & Maritime Lecturer
Please Note: All ssMaritime and other related maritime/cruise sites are 100% non-commercial and privately owned. Be assured that I am NOT associated with any shipping or cruise companies or any travel/cruise agencies or any other organisations! Although the author has been in the passenger shipping industry since 1960, although is now retired but having completed over 700 Classic Liners and Cargo-Passengers Ships features I trust these will continue to provide classic ship enthusiasts the information the are seeking, but above all a great deal of pleasure!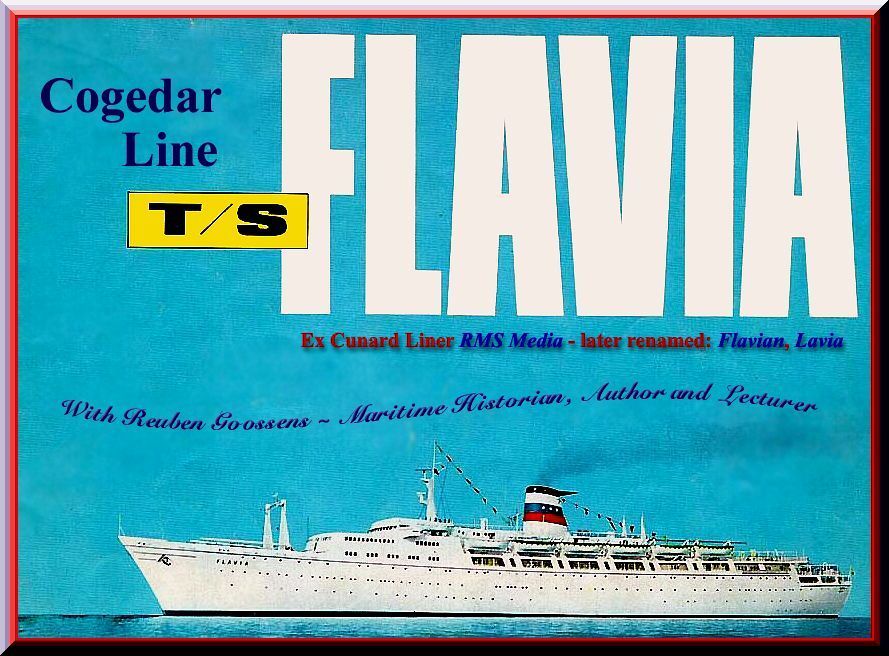 Part Two
Please Note: If you have arrived here via a Search Engine to see and learn about the T/S Flavia that is great, but if you wish to learn more about her Cunard days, I suggest that you first visit Part One that covers the Cunard Liner RMS Media that was rebuilt to become the T/S Flavia, as well as her sister the RMS Parthia.
Introduction from Part One:
The RMS Media had been sold for £740,000 pounds to "Compagnia Genovese d'Armamento S.p.A.," or Cogedar Line in July 1961 but she continued to her planned Trans-Atlantic schedules until September 30, 1961. She was then "destored" and was officially handed over to Cogedar Line in Liverpool on October 12 and after ten days she was reregistered and renamed Flavia. Cogedar had purchased her as they were in need of a new ship, for they required a replacement for their ageing MS Flaminia that was originally built in 1921, but had been extensively rebuilt many times into an immigrant ship.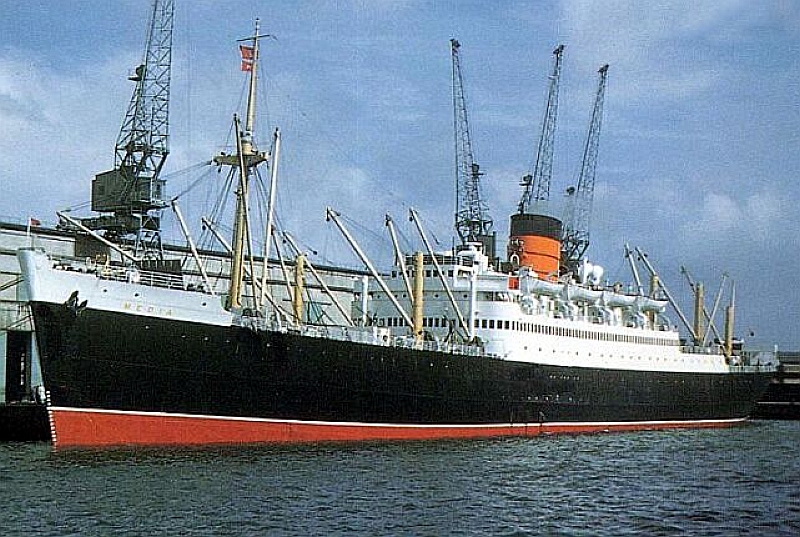 Here we see the Cunard liner, the RMS Media prior to her being rebuilt
into the ultramodern looking Cogedar liner T/S Flavia
Photographer unknown - *See photo notes at bottom of page
Part Two
The transformation of the RMS Media
Into the ultramodern liner … T/S Flavia
Although the Cunard Trans-Atlantic liner, RMS Media was sold to "Compagnia Genovese Di Armamento Genova" or Cogedar Line in July 1961, but she was not handed over to Cogedar Line until October 12, which was done in Liverpool and she rapidly departed for Genoa Italy.
The Media arrived at the "Officine A & R Navi Shipyards" at Genoa on October 21 where this well-built passenger-cargo liner would be completely rebuilt into an excellent modern passenger liner that would sail around the world voyages from Europe and England to New Zealand and Australia sailing via the Panama Canal, returning via the Suez Canal!
This well built passenger cargo liner received one on the most extensive rebuilding programmes ever seen on any liner to date that took around ten months. The Flavia had gained an amazing 26ft - 7.92m in length for her new superbly raked bow had been completely reshaped and lengthened. In addition she received a modern new funnel with a large aft fin being her crowning glory, combined with a shapely radar mast just aft of her Bridge. All of her previous accommodations had been scrapped and her cargo holds were completely rebuilt into passenger decks with new cabins.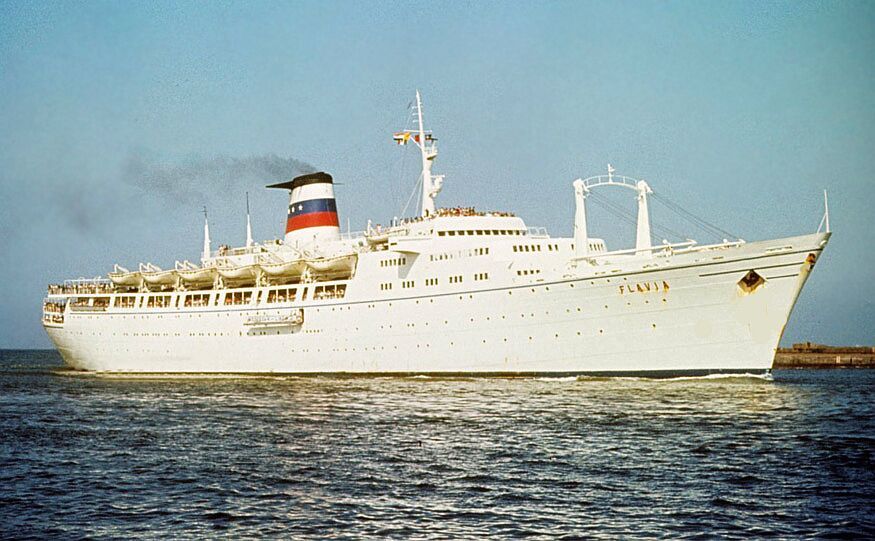 The elegant T/S Flavia is showing off her long sleek lines
The completed ship now accommodated up to 1,224 passengers on a One-Class configuration. She offered 153 two-berth cabins, 220 four-berth cabins and five eight-berth cabins; in addition there were some 100 folding bed-settees for children. The majority of cabins had private facilities and each cabin was comfortably furnished in warm timber tones and the floor and wall colours combined with the soft furnishings were all most peaceful!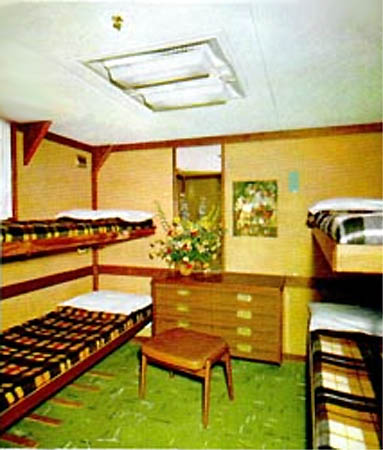 A typical four-berth cabin, be it one with a porthole or not
Her public rooms extended the full length of Riviera (Promenade) deck, which is directly below boat deck. Far forward there was the spacious two level Ballroom and the cinema located far aft. She featured two swimming pools and a glass-enclosed children's playground with paddling pool just forward of the upper level of the main lounge. Her two dinning rooms catered for all passengers in two sittings.
She had been officially been renamed the Flavia, she was registered in Genoa, and as being 15,465 GRT, and she departed Genoa on her maiden voyage for Australia on October 2, 1962 sailing via the Suez Canal across the Indian Ocean and there was no doubt, but as she steamed towards Australia she was an impressive sight, for she was a beautifully streamlined, a gleaming white perfectly balanced liner. She arrived in Fremantle on October 30, then arriving in Melbourne on November 5, and she remained there for two nights. The Flavia reached Sydney on October 9, and she departed the next day, the 10th. She sailed back to Europe and completed her voyage at Bremerhaven, which became her European homeport. The Flavia departed Bremerhaven again on December 22.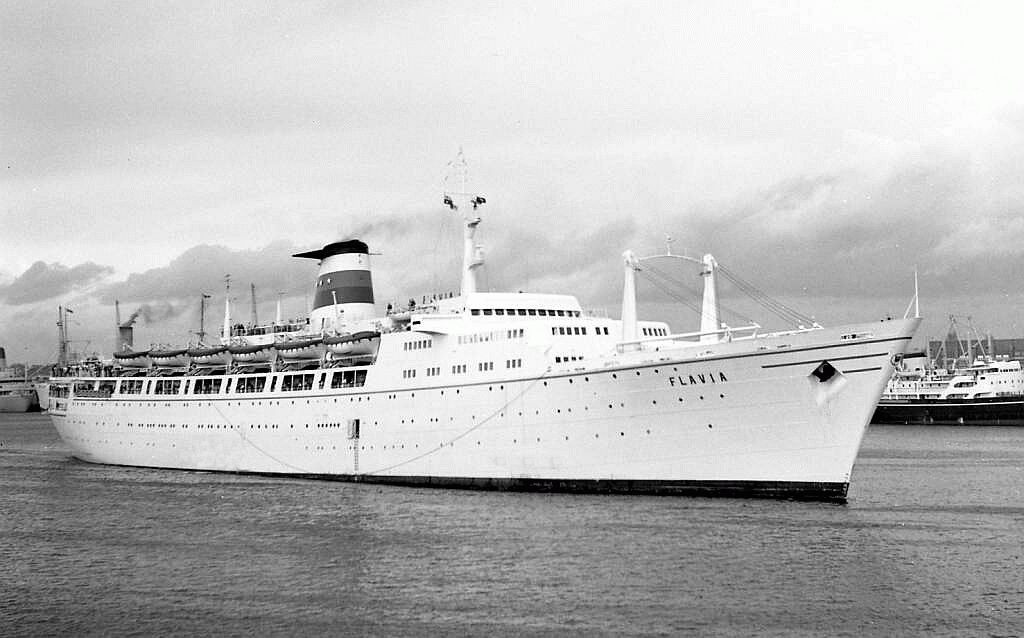 The T/S Flavia is now a fully operating liner and will be kept busy for some time
Photographer unknown - *See photo notes at bottom of page
In 1963 the Flavia commenced her around the world service and the author sailed on her in February 1965 and was booked to Melbourne, but due to illness had to leave the ship in Auckland and a year later continued on the MS Aurelia via Sydney to Melbourne. My story with many photographs is located on Part Three of this feature!
Flavia's Ports of Call: Bremerhaven, Rotterdam, London (Tilbury), Curacao, the Panama Canal, Papeete, Auckland, Sydney, Melbourne, Fremantle, Aden, Suez, Port Said, Cannes, London, Rotterdam, Bremerhaven. When the Suez Canal was closed in 1967, Flavia was diverted via Cape Town, South Africa.
The ever popular T/S Flavia also made a number of cruises out of Sydney, including one to the Far East.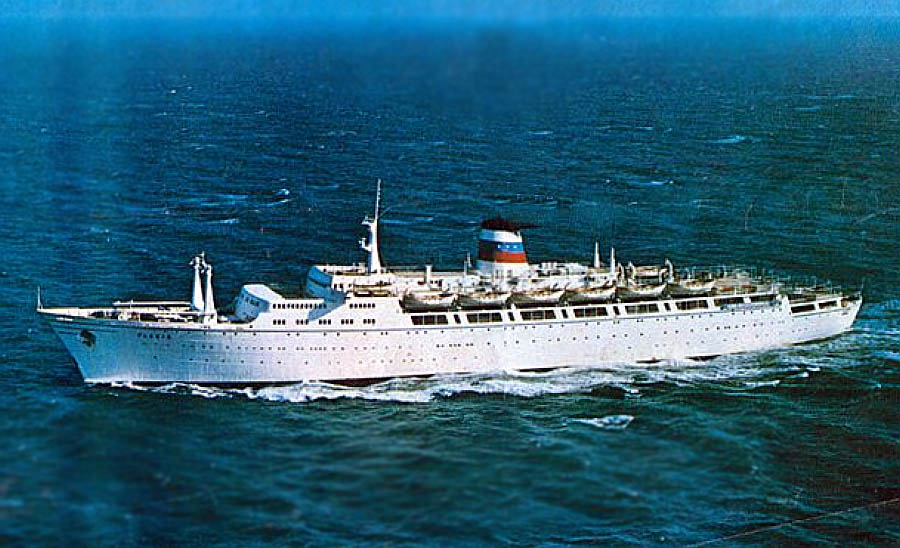 A wonderful aerial photograph of the T/S Flavia
A link to our Photo album is located further down the page
Sold to Costa Line:
However, the popular Flavia was withdrawn from the Round the world service in 1968, due to changes of the migrant contract. She made one final cruise out of Australia and the departed Sydney on October 18, 1968 and Melbourne on the 20th.for her return voyage to Europe. During her return voyage, she was chartered to Atlantic Cruise Line for cruising out of Miami to the West Indies. She received a rapid refit and refurbishing and she soon commenced her life as a cruise ship.
In that same year the Flavia was sold to the giant Italian shipping Company Costa Line. Costa was one of the first companies to operate full time cruising with the historic MS Franca C.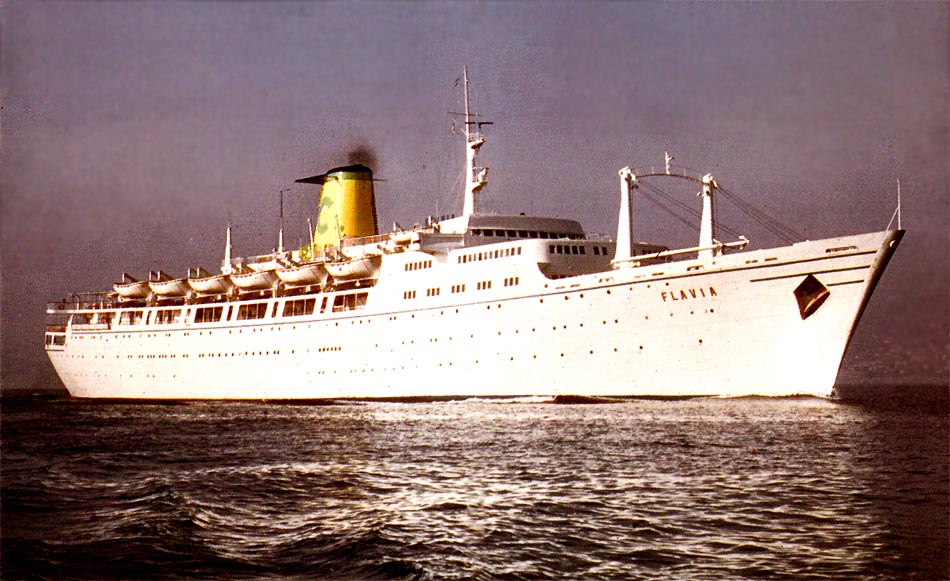 Costa C Lines image of the T/S Flavia from one of their brochures
The Flavia's accommodation was dramatically upgraded and her passenger capacity was reduced to just 850 passengers, in addition her public venues also received a beautification!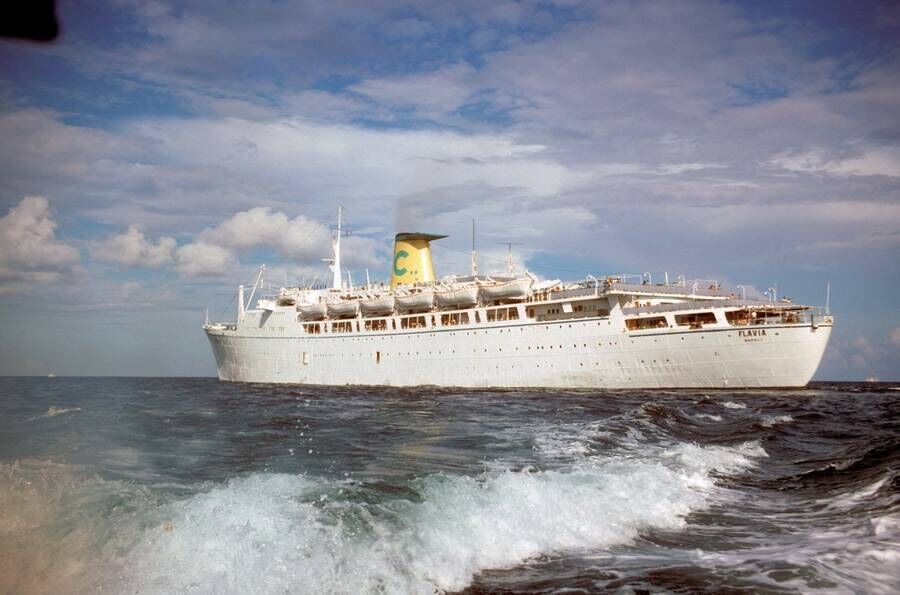 Here we see the Costa C cruise ship the T/S Flavia that had just departed Miami
This photograph was taken by a Miami pilot on May 26, 1975
T/S Flavia began a new and a very successful career, operating a year round, three and four day cruises from Miami to the Bahamas. She remained on this service until July 1977. Thereafter she operated a series of cruises out of South America, before returning to Europe for Mediterranean cruise duties, commencing in April 1978. Later that year in September, she returned to Miami and recommenced her previous cruise duties.
Sold to the Famed C. Y. Tung:
However, in 1982 the Flavia was ultimately withdrawn as Costa was obtaining new ships and therefore sold her to the well-known Hong Kong based C. Y. Tung Group. Her name was changed to Flavian and was due to commence cruising locally. But for some reason, this usually successful company did nothing with the ship and just laid her up for the next four years.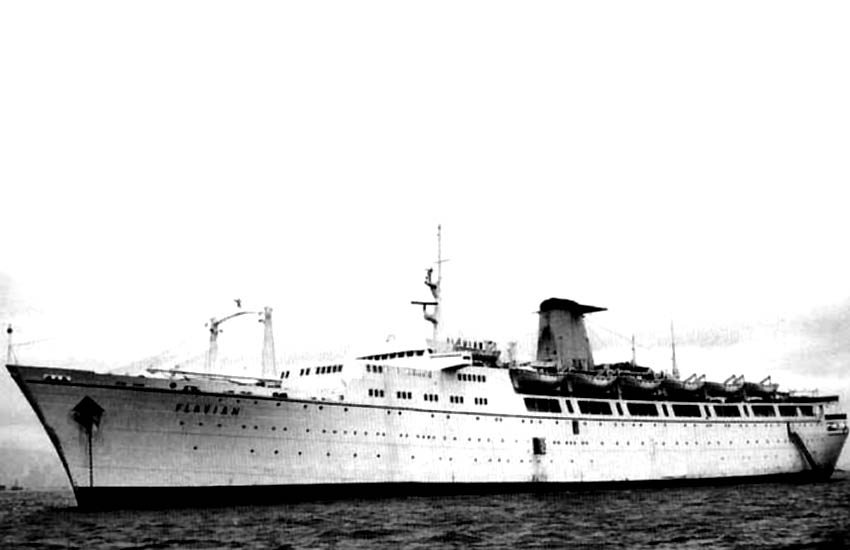 The Flavian was internally well maintained, but she was loosing her external elegance
T/S Flavia's Final Days:
The SS Flavian was again sold in 1986 to another Hong Kong shipping company, by the name of Virtue Shipping, who shortened her name even further to just, Lavia.
Tragically, this once proud Cunard liner, the magnificent and elegant looking Cogedar Liner and fine Costa Lines Cruise Ship, remained at anchor near Landau Island for another three years and received little to no maintenance or care!
Then, what we may call the inevitable occurred, for on January 7, 1989, the badly neglected SS Lavia caught fire and because she was at anchor away from the shore, it took time for the fire fighter boats to reach her, thus by then she was already almost completely gutted.
When the fires had eventually died out, her sad blackened hulk was rapidly sold to a Taiwanese ship breaker. For genuine ship lovers, it was indeed a tragic end for such a remarkable ship that had such an amazing history!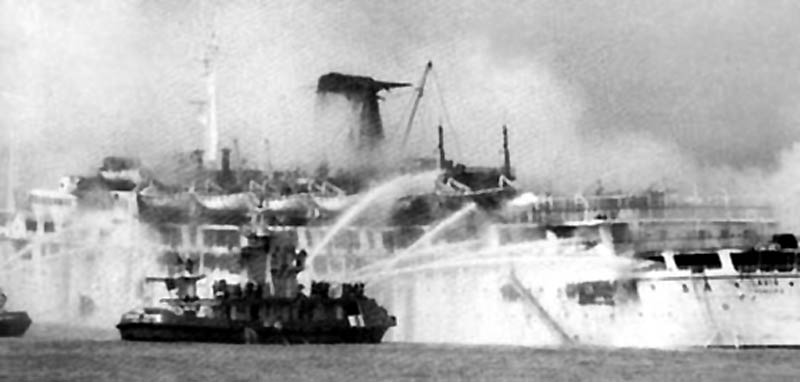 January 7, 1989 - SS Lavia ex Flavian, Flavia was gutted by fire
A Personal Thought:
As I stated earlier, I sailed on this wonderful ship from Rotterdam to Auckland via the Panama Canal, in February 1965. My memory of her as a man in my 20's, was without a doubt a most joyous one. She was a modern, bright, comfortable, and although not a large ship yet amazingly she was a spacious liner. Yet, like so many fine liners, she is sadly long gone, but for many who sailed on her, countless amazing memories of her will always remain!
Reuben Goossens.
Maritime Historian, Author, Lecturer and Cruise'n'Ship Reviewer.
Commenced in the Passenger Shipping & Cruise Industry in 1960!
****************************************
RMS Media & the RMS Parthia, Remuera & Aramac - INDEX:
Part One: RMS Media & Parthia and the ship that would become the Cogedar liner, T/S Flavia.
Part One - B: RMS Parthia. This is a completely separate but related feature that covers the RMS Parthia that became the SS Remuera and later the SS Aramac.
Part One - C: SS Remuera Malcolm Walker sails on Remuera's final voyage to the UK, before she became the Australia ship SS Aramac.
Cogedar's T/S Flavia
Part Two: T/S Flavia - History Page
Part Three: The Author's Voyage in 1965 & Photo Album
Part Four: Passenger Photographs & Menus
Part Five:
Cabin Plan
Part Six: Original Brochure
Other Cogedar Ships featured on ssMaritime:
1: MS Flaminia
2: MS Aurelia
Special thank you: I have received a number of images from supporters of ssmaritime that are featured on this page and I am most grateful for these, especially Rick Danley from the USA who supplied all the brochure images on this page. There are other photographs on this page that have been provided by supporters but details of the photographers/owners are not known. If you are the photographer and wish to receive a full credit, please see the photo notes at the bottom of the page and email me.
"Blue Water Liners sailing to the distant shores.
I watched them come, I watched them go, and I watched them die."
************************
ENTER OUR ssMaritime MAIN INDEX
Featuring over 1,084 Classic Passenger Liners, Passenger-Cargo Liners & Cruise Ships!
ssMaritime.com & ssMaritime.net
Where the ships of the past make history & the 1914 built MV Doulos Story
Photographs on ssmaritime and associate pages are by the author or from the author's private collection. In addition there are some images that have been provided by Shipping Companies and private photographers or collectors. Credit is given to all contributors. However, there are some photographs provided to me without details regarding the photographer/owner concerned. I hereby invite if owners of these images would be so kind to make them-selves known to me (my email address may only be found on www.ssmaritime.com), in order that due credit may be given.
This notice covers all pages, although, and I have done my best to ensure that all photographs are duly credited and that this notice is displaced on each page, that is, when a page is updated!
ssMaritime is owned & © Copyright by Reuben Goossens - All Rights Reserved