Please Note: Firefox and some other search engines are not suitable – Use "Internet Explorer" for this page to load perfectly!

Click the logo above to reach the ssMaritime FrontPage for News Updates & "Ship of the Month"
With Reuben Goossens
Maritime Historian, Cruise'n'Ship Reviewer, Author & Lecturer
Please Note: All ssmaritime and my other related ssmaritime sites are 100% non-commercial and privately owned sites. Be assured that I am NOT associated with any cruise or shipping companies or travel/cruise agencies or any other organisations! The author has been in the passenger shipping industry since May 1960 and is now semi-retired, but continues to write article on classic liners and cruise ships in order to better to inform cruise and ship enthusiasts for their pleasure!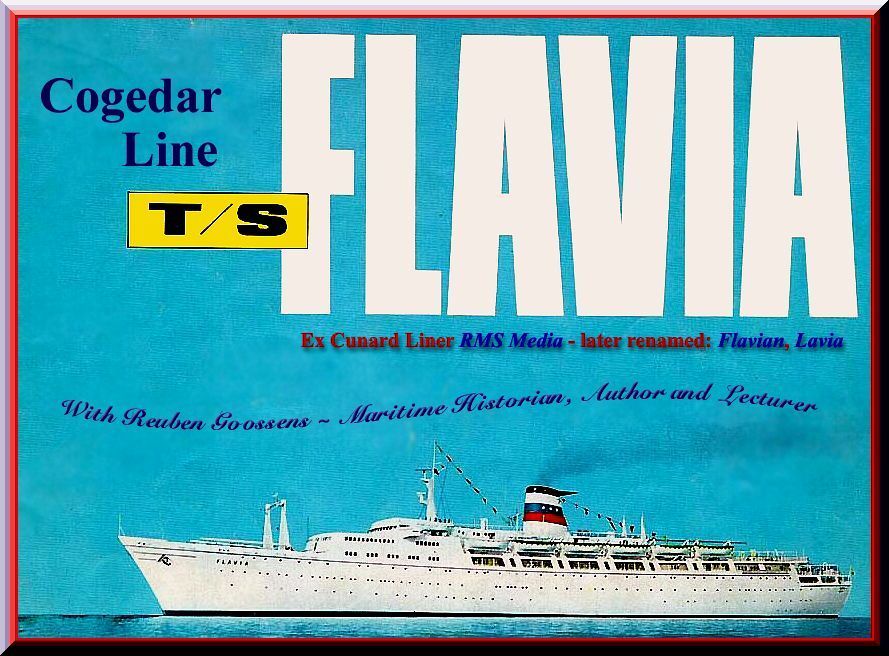 Ex Cunard Liner RMS Media - Later renamed: Flavian, Lavia
Part Three
The Author's Voyage on the Flavia & His Photo Album
This page is all about my voyage on the wonderful Cogedar liner T/S Flavia. My now late Mother Judith (known as "Jo") and I sailed from Australia to Naples Italy on TSS Fairstar's second ever-return voyage after she had been rebuilt in August 1964; and after our stay in Europe, we booked to sail back to Australia on the Flavia departing Rotterdam the Netherlands on February 20, 1965 in order to return to Australia.
The Flavia sailed via Bremerhaven Germany, Tilbury (London) UK, Willemstad Curacao, then to Cristobal and through the Panama Canal to Balboa and then across the wonderful Pacific to Papeete in Tahiti before reaching Auckland New Zealand, but we were booked to head via Sydney to Melbourne.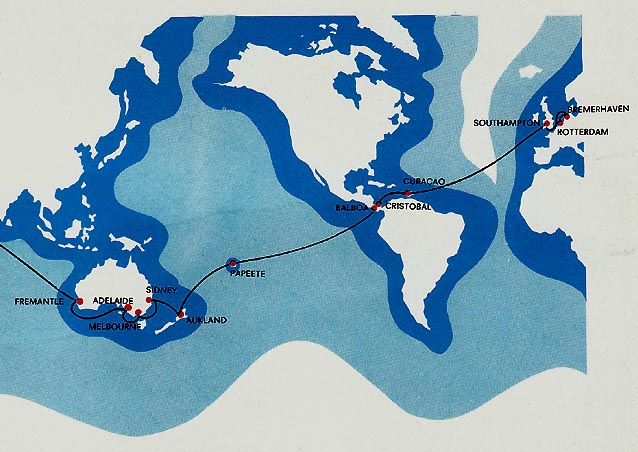 Although in my later years, I sadly lost a trunk when moving back to Brisbane and it contained thousands of photographs, including many from my voyage on the Fairstar and the Flavia and the Aurelia from my voyage from Auckland to Melbourne via Sydney. But thankfully, I did manage to locate a small number that were fortunately kept separately, which I am pleased to provide below and I trust that you will enjoy a touch of the ship as well as shipboard life and some views of me, my mother, other passengers as well as a few ports of call!
Departure from Rotterdam
Please Note
: Photographs are by myself, my mother or a friend, or as shown

This is me standing at the ships railing with the famed Euromast, that has a copy of the SS Rotterdam's Bridge halfway up
And on the left is Harbour Tunnel entrance (directly behind me) and further left, the large building is the air ventilation system

A friend of my mother, Michel Bouwman and me onboard T/S Flavia on boarding day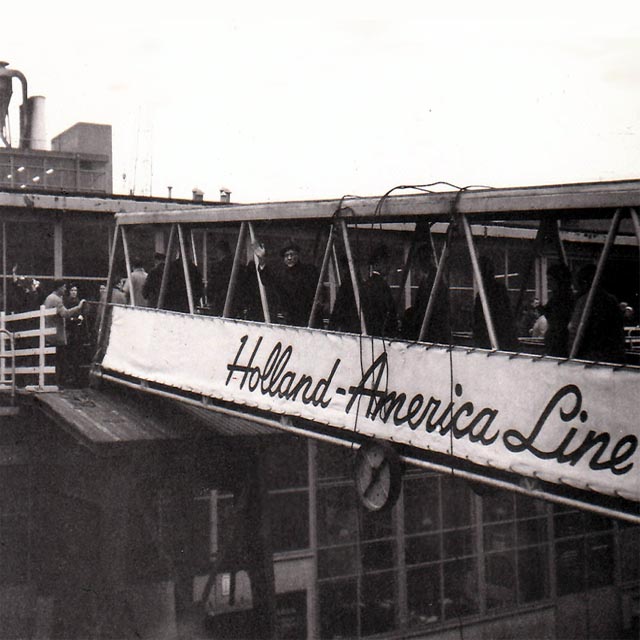 Michel leaves the ship and it can be seen that we are berthed at the Holland America Line Passenger Terminal
The Voyage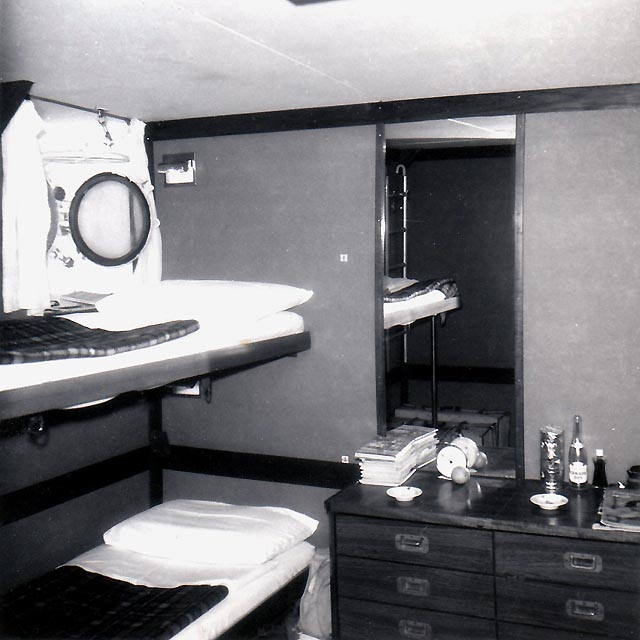 This is my cabin and I was booked in the upper berth (C) thus thankfully I had the porthole offering some light, fresh air as well as a view
As we departed Rotterdam I headed for my cabin and unpacked my suitcase and once I had completed that,Replica Watches it was time for dinner. I had my excellent evening meal as the food on the Flavia was really very good indeed, no complaints whatsoever! My table was reserved in the forward Dining Room for my cabin was located on the starboard side of Capri Deck, just aft of the Lobby, the first cabin hall and my cabin was the outside cabin on the aft side, thus obviously one of the better ones on the ship, but I was sharing with three others.
The evening was spent in the spacious two level Riviera Lounge that had a large corner bar located aft of the venue on the starboard side, whilst just forward of the bar as well as on the other side, there were stairs leading up to the balcony, The band stand was far forward with a huge central dance floor. The Italian Orchestra was simply a delight, and of course the song, Besame, Besame Mucho" was always a huge hit with everyone, but they had a massive international repertoire! I made a good number of friends onboard and found a delightful young lady who became my dancing partner and we seemed to be the perfect match, well for dancing that is. We certainly won a few dance competitions!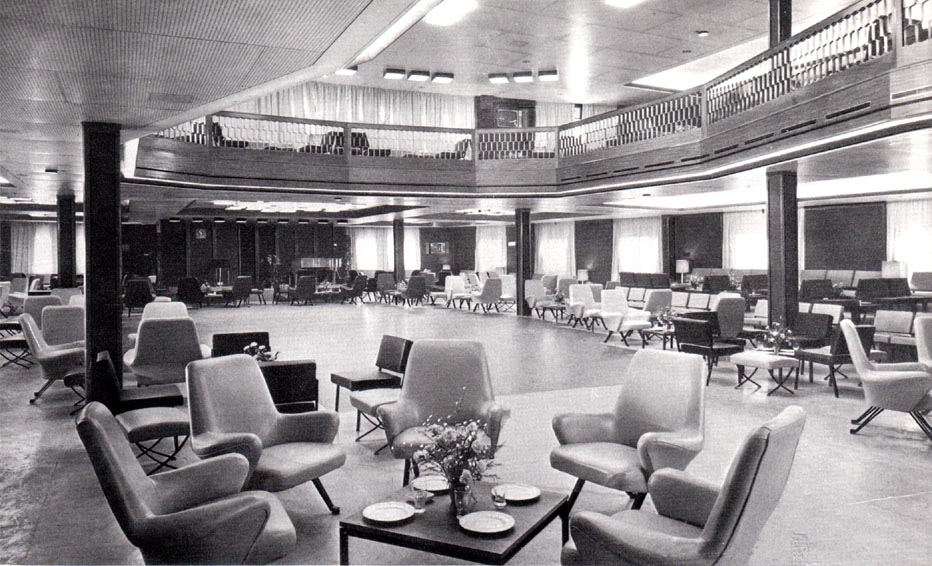 The wonderful two decks high Riviera Lounge with a full Mezzanine Gallery
These three images come directly from my T/S Flavia Brochure, which can be seen on a separate page
Online very soon franck muller replica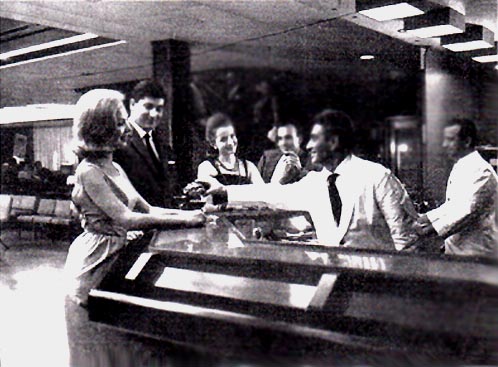 The Riviera Bar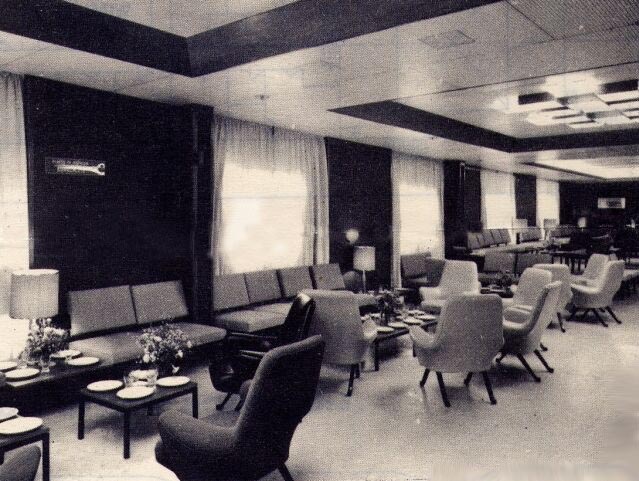 Looking along the side of the spacious lounge
But, the weather as we departed Rotterdam was not too kind and it was a wild night as we sailed to Bremerhaven overnight, arriving the next morning. I do remember that the ship would not have used its stabilizers, for it was far too wild out there, thus we tossed and turned wildly and many onboard were sick as a dog. Myself, well I love movement for at least you know you are at sea! In Germany I took a ferry across the other side and took a photo of the ship as we can see below.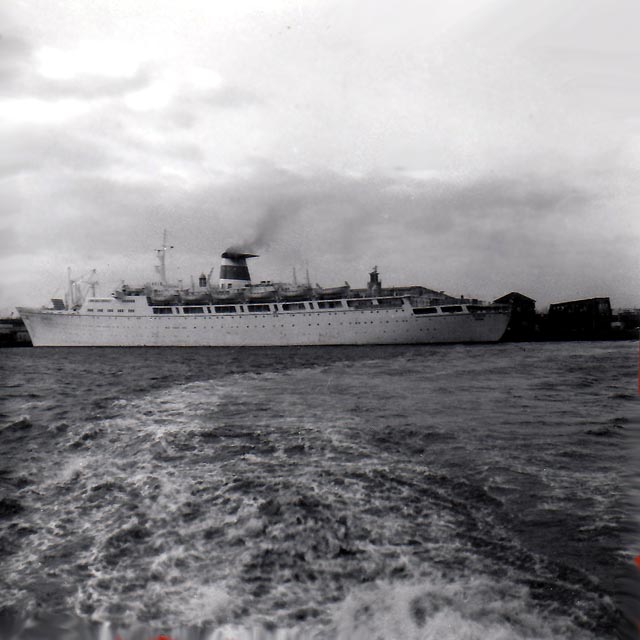 T/S Flavia berthed in Bremerhaven
As we departed Germany, we encountered another wild gale across to Tilbury but I and a number of other young people sat aft by the pool on Lido Deck and could see the moon slide through the clouds, and at times it would be below the stern and next high above us and going from one side of the ship to the other, that is how much we were pitching as well as rolling. It was a whole lot of fun for us up there! But, sadly, many would not have agreed with us! As we arrived in Tilbury, I went ashore and went to the local market and watched one of those salesmen selling dinnerware, it was amazing how their technique worked. Their arms would be filled with plates and saucers, etc and they would be going at it so fast, and yes they were selling them like nothing on earth, for the prices were obviously very good! But, it was to cold for this Australian, and I went back to the ship.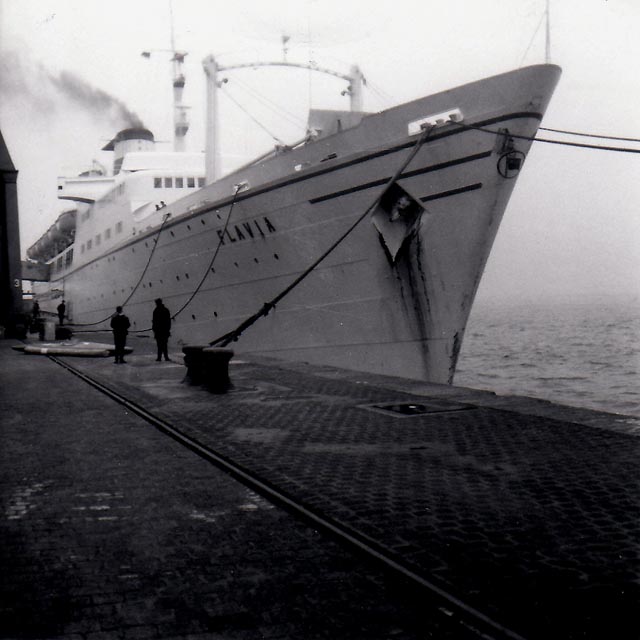 Here is Flavia's shapely bow seen at Tilbury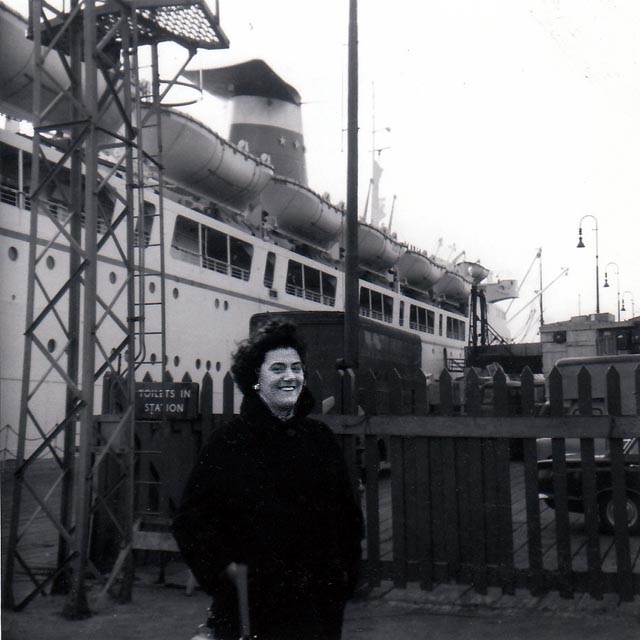 Above & below: My tired mother returns on this windy day and is about to re-board the ship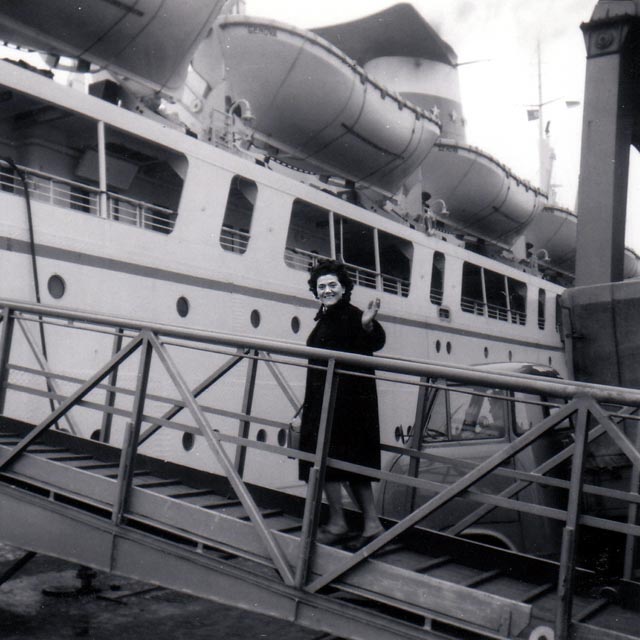 Thankfully several days into our crossing of the Atlantic bound for the Dutch city of Willemstad, the weather clears up and it slowly begins to warm a little. Thus we can finally begin to enjoy more of the outdoors facilities of the ship more. Now, we swim play sports and partake of the various organised Deck Games and yes I am so good of making a fool of myself, but that is the fun of a great ocean voyage!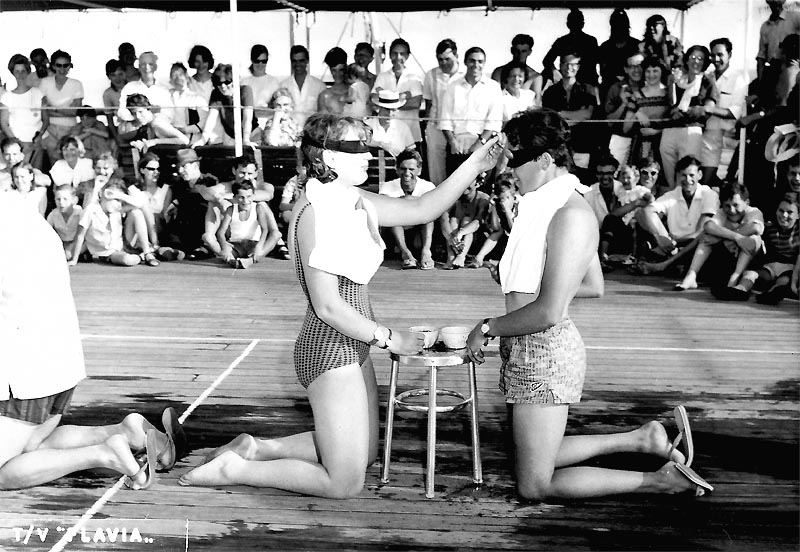 Yes that is me and I am being fed in the eyes by this dear young lady!
Willemstad Curacao
Of course I had been to Willemstad before, but this time I noticed that the beautiful Home Lines SS Homeric was in port, thus I decided to go and pay her a visit, as I was allowed to board her, I toured this luxurious and beautiful ship and whilst I was far forward I took the photograph of the Flavia.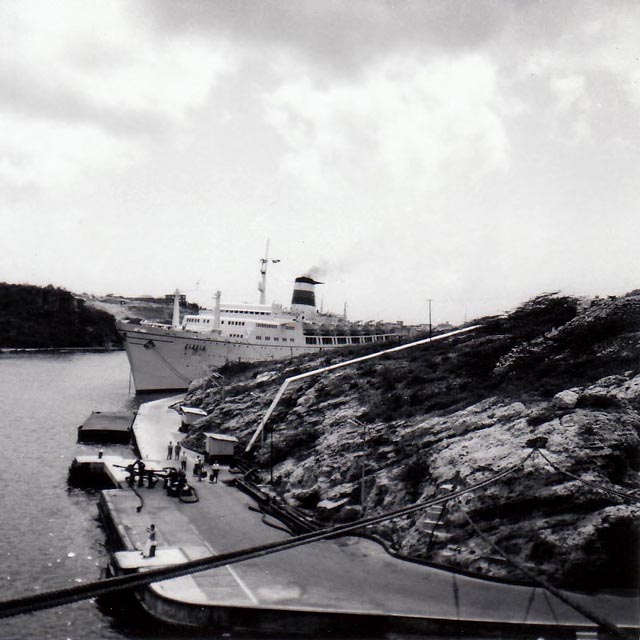 The Flavia as seen from the SS Homeric, note her shorelines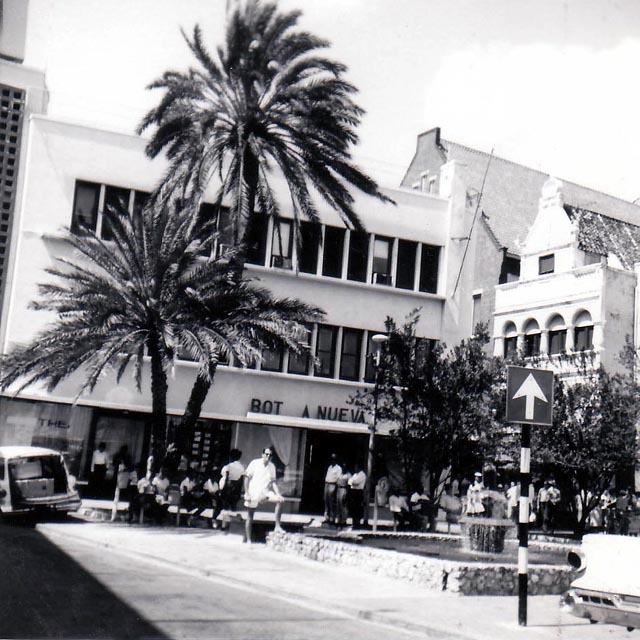 On the way back to the ship, I called in to town, which has the feel of a tropical type of Dutch architecture
It is always very hot and humid here, somewhat like home I mean, that is Brisbane in summer
Panama Canal
From Curacao it was a short hop to Cristobal, our port on the western side of the Panama Canal, although it was an overnight stop but we were not permitted to disembark. Then early in the morning even before waking we had began our journey into the Canal but then soon enough we reached the fascinating locks. In the canal there is so much to see, countless birds of all varieties, monkey' swinging from branch to branch, and there were even alligators in the canal as well as on its banks. Always amazing are those small locomotives that pull the ship in and out of the locks, they are a delight to watch and all passengers were on deck to watch the proceedings! Of course I had been through the Canal before, but at that time, I was just 13 years of age, but I appreciated it so much more this time! However, since then I have been through it again, during on a 106 night around the world voyage and then I was very much older and again I saw so much more, for it is an amazing place to see, and now there are new "mules" (locomotives) at the locks.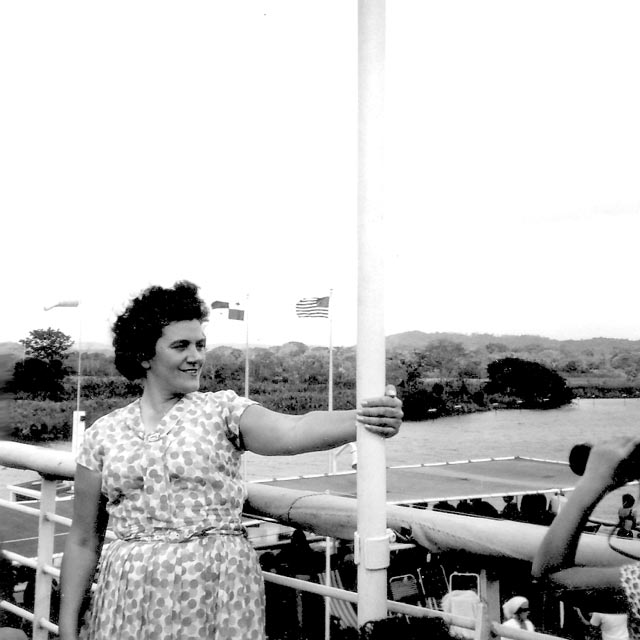 OK mum, we are just entering the lock, and here you have me taking your picture
at least I can see the locks flags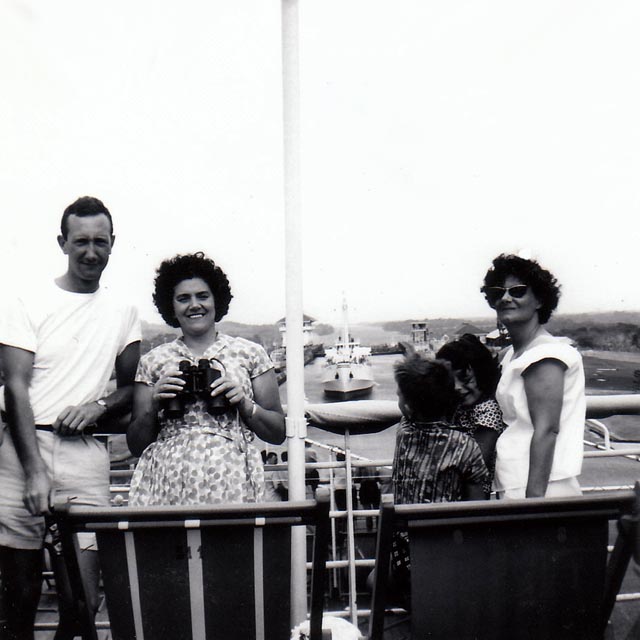 Well there is the lock, but it is behind us now, but at least we see another small ship behind us!
The ladies hated this photo, because the wind mucked up their hair. So typical, and who is that guy?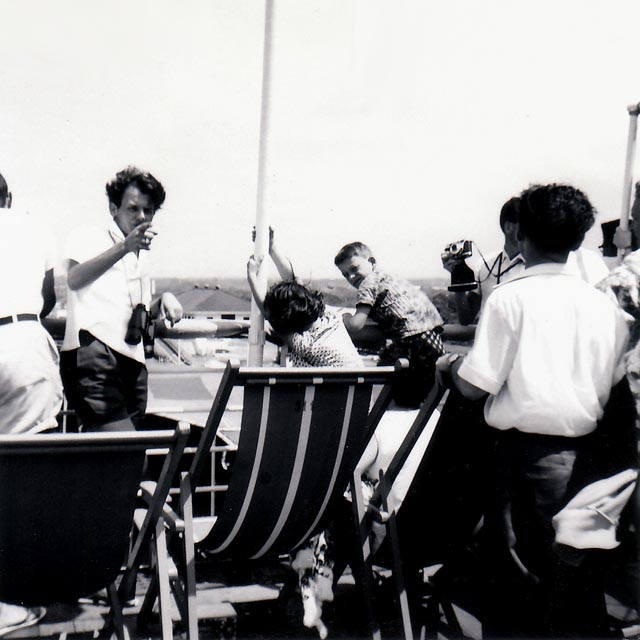 Here I am in the Panama Canal with the lock somewhere behind me!
Once we reached the West Coast we had a stop at Balboa but I remained onboard as it is not a port that remotely interests me, for it is very dangerous and a criminal place, especially at that time! Many decided to remain on the ship, and some who had gone ashore were robbed and even badly attacked by a mob, it is not a great place. But there were those who went off in a large group as was advised who arrived back safe, it was only those who did not heed, who suffered the consequences!
We then sailed across the beautiful Pacific Ocean bound for my beloved Tahiti and whilst we were at sea I noted that every one was slowly letting their hair down for the weather was sunny, warm thus simply sublime. In addition people were happy with the ship for everything was excellent, the service great, the food was greatly enjoyed and the entertainment was very good indeed! Although we, the young ones made much of our own fun on many nights, as I had a portable record player as well as the top 50 singles and more with me. Thus in the evening we would sit near the Lido Bar by the Lido Pool and play our favourite music and just dance the night away! Thus, I can tell you, this voyage was just simply the best for this 19 year old as we had a group of young people who could enjoy ourselves dancing the night away out on deck till late.
The Bridge
Then there was an invitation for interested passengers to come in small groups to visit the Bridge and of course I did, although I had already been on a good number of bridges on other ships, but I was looking forward to seeing this one as I was wondering what they had done to it, was it a new Bridge or did they take the original bridge interiors and moved it a long way forward and modernised the exterior.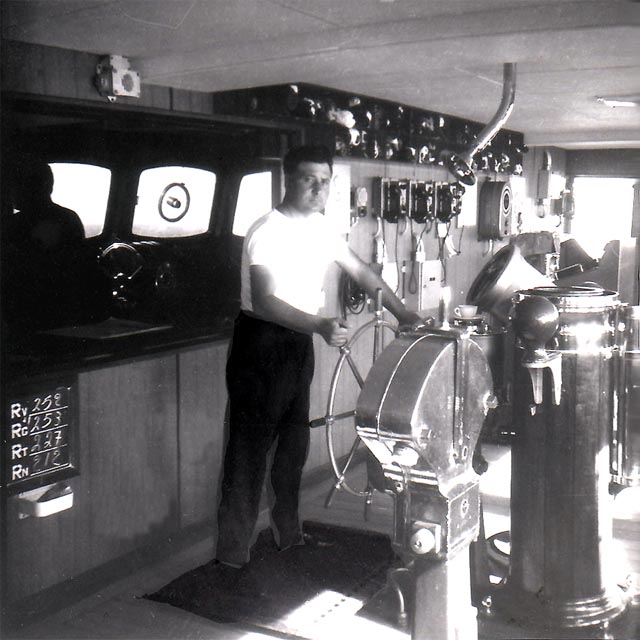 Surprisingly I discovered all the old RMS Medina equipment and it was just beautiful the way I like it!
But she did have the best and the most modern safety and navigational equipment for her day, etc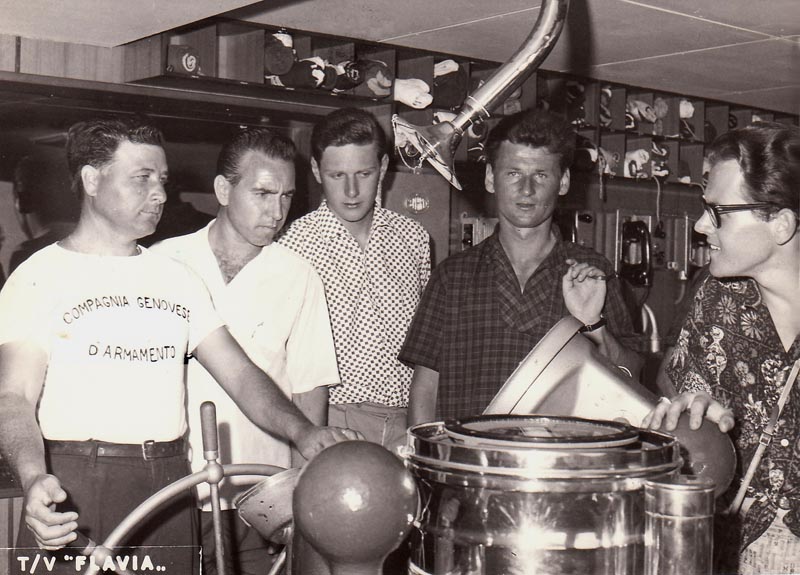 Above & below: We were given a talk by a member of the cruise staff and I am offered to take the wheel and steer to
so-many degrees to port, which I did and every one was looking on to see if I would do what I was told! I felt rather good
Looking at these photographs, I cannot believe how skinny I was back in those days?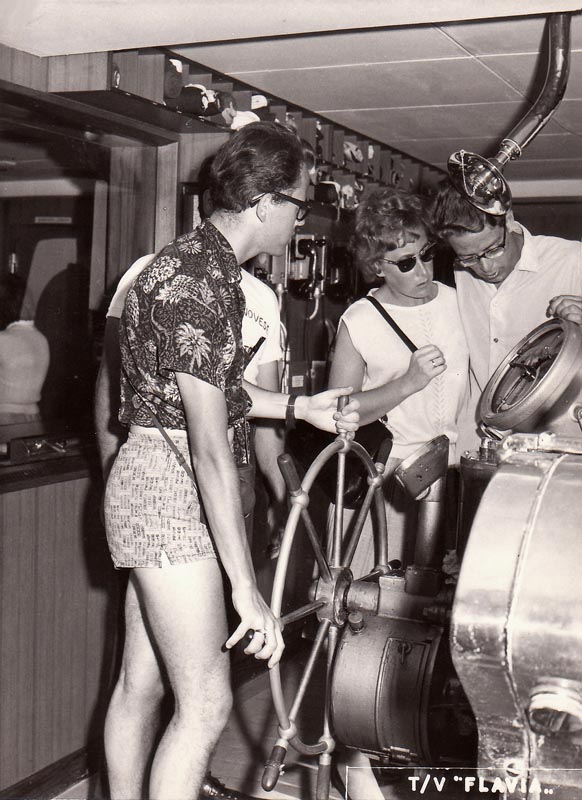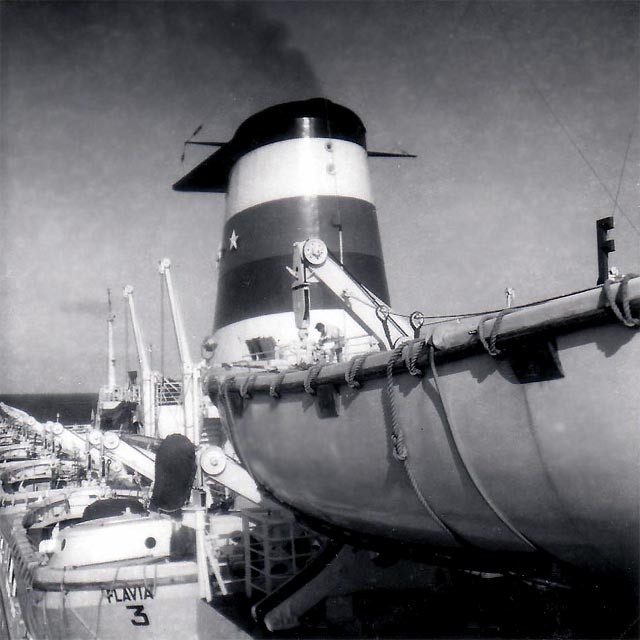 From the Bridge starboard wing and looking to aft there was this wonderful view of her lifeboats and funnel
Papeete- Tahiti
The next port of call would be of course Papeete in wondrous Tahiti and it is the place that I love so dearly having been there before. We had already planned where we were going that evening as the ship was staying until very late at night. There is a superb beachside hotel, and sadly at my old age, I have forgotten the name of the venue, but it was then one of the best in Papeete and it was famed for its superb buffet and Polynesian show. Thus that is were we would be heading late in the afternoon, having spent some time during the day in central Papeete!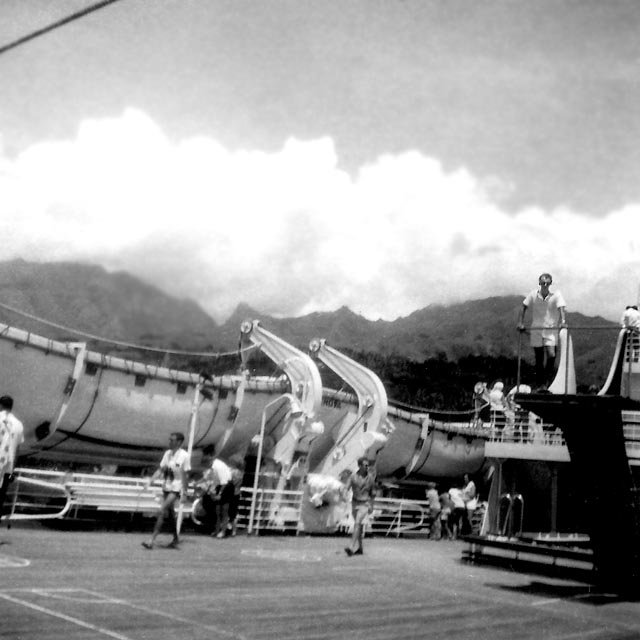 I am standing on top of the Lido pool slide, looking at my beloved Tahiti as we slowly approach

The Flavia is now berthing and my mother is standing along the railings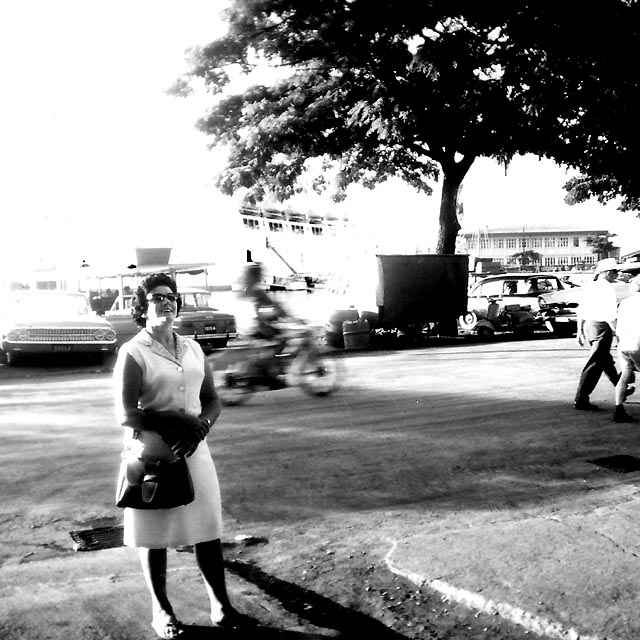 Above & below: Mum and I had a visit to town and the ever-popular Papeete Market and I am seen returning to the ship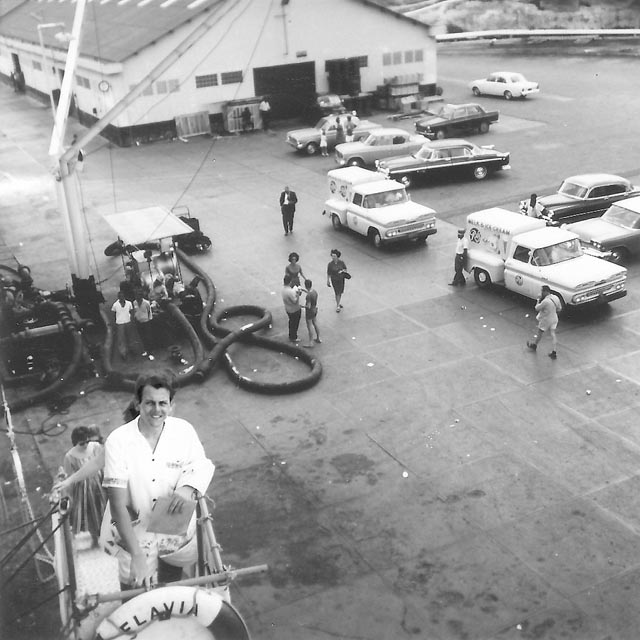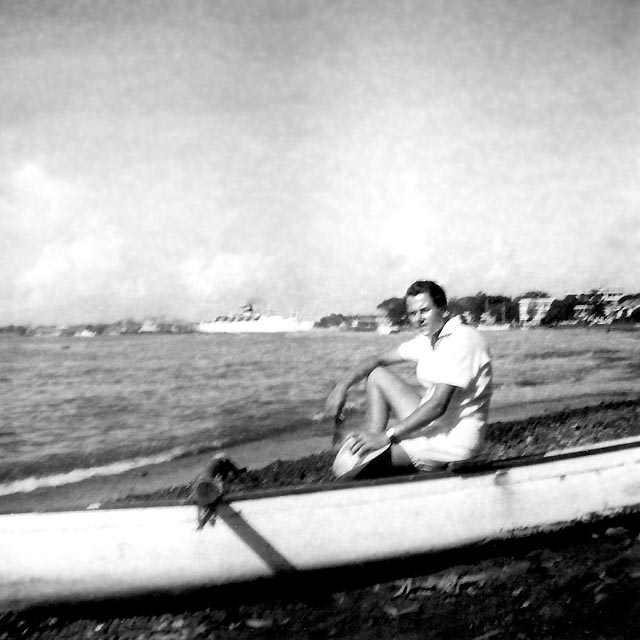 Above & below:
Late afternoon we took a Taxi to the luxury beachside hotel where we would have a grand buffet and enjoy the Polynesian show
From their beach I took several shots of the Flavia and someone took a shot that included me as well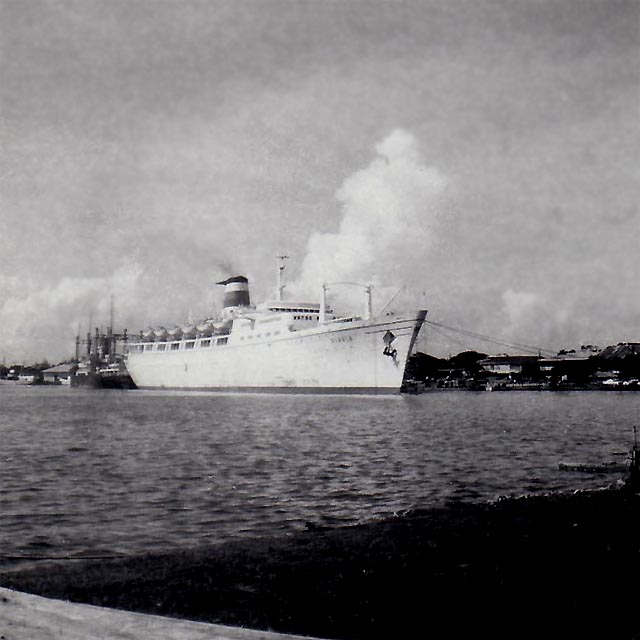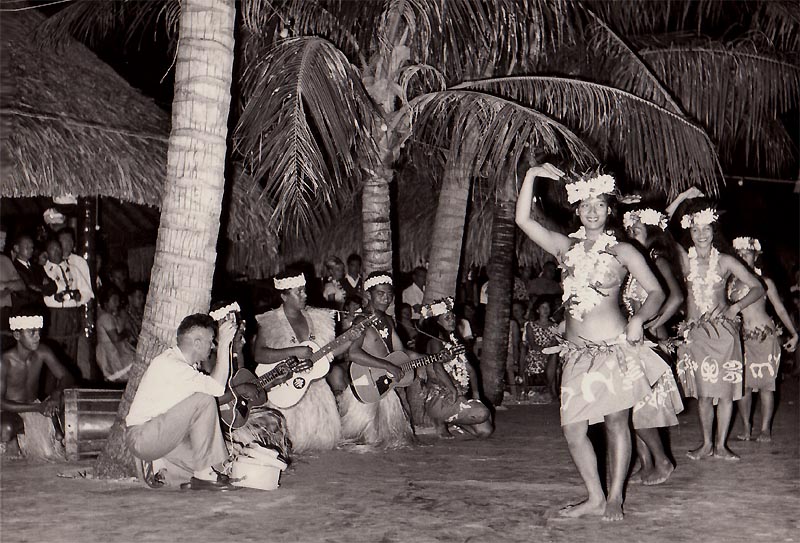 Above & below: Tahitian Dancers at the Hotel doing the Hula and that very sexy and famed "Tamuree"
At that time a single was released name "Doing the Tamuree," and believe it or not, it was a huge hit!
Photographs were taken during an earlier voyage ? Reuben Goossens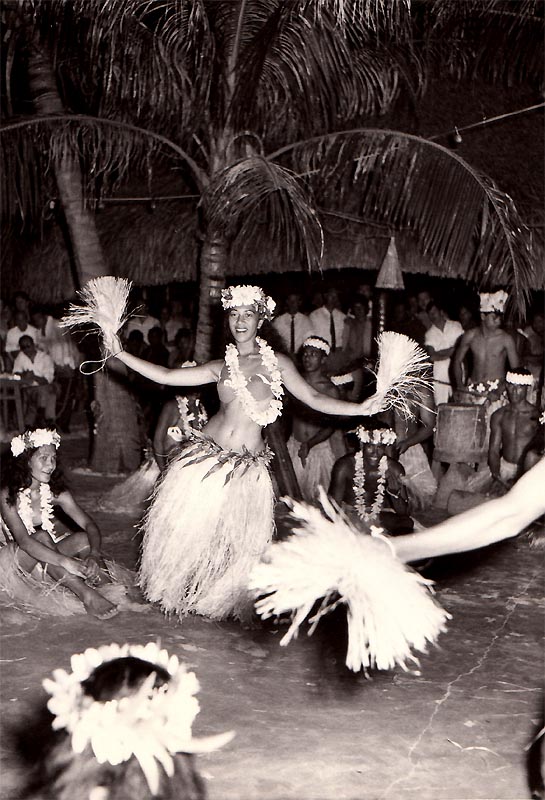 Papeete was a wonderful visit and a wonderful evening was had at the beachside hotel, which in those days was still very traditional, with the main building being a massive bure style building with a central hall for the reception desk and the entrance to a restaurant, etc. All the rooms were located in wonderfully decorated smaller bures beachside or around the garden. Just aft of the main building and to the sides of the main building were two extensions creating a large space for a performance area filled with large palms both close to the buildings and around the edges. One of the extensions was were we had our superb buffet and believe me the food was outstanding and so fresh! Then when the time came, we were seated on the ground around the performance area and the band and dancers came on and a spectacular show commenced, which lasted around 45 minutes. Of course there was some participation towards the end and I also attempted to do the Tamuree! And I thought that I was just great, but thinking back, I doubt that I was!
Crossing the Equator & Grand Equatorial Gala Ball
Of course our next adventure was the crossing the Equator and the associate ceremony. King Neptune ruled, but he did have his workers and I was chosen to be one and terrified some of the chosen participant, who was crossing it for the very first time, poor souls! First we had to put them on the table in order to prepare them to meet King Neptune and we had to be very thorough with the routine we were given! When had finished we had to colour their face with a rather horrid smelling coloured thick liquid and send them off to the next stage where they were completely covered in some sort of even worse muck and then the judgement was read out, after which they would be thrown in the pool.
In the evening there was the Grand Equatorial Gala Ball during which, Miss Flavia would be chosen by the King. The entertainment continued and the evening featured a lavish Midnight Buffet in the Auditorium just aft on Promenade Deck, and then it was the Nightclub! Looking back, things were so very different in those days, for we had so much fun and it was never a drunken bunch of louts, like it seems to be on Australia's P&O Cruises ships these days, were you are almost afraid to cruise on, for it is like a wild jungle of beasts, drugs and sex mad dogs everywhere! I love the days, when we had such good fun and a simple record player had us all dancing up near the Lido Bar by the pool at night, with a drink or two!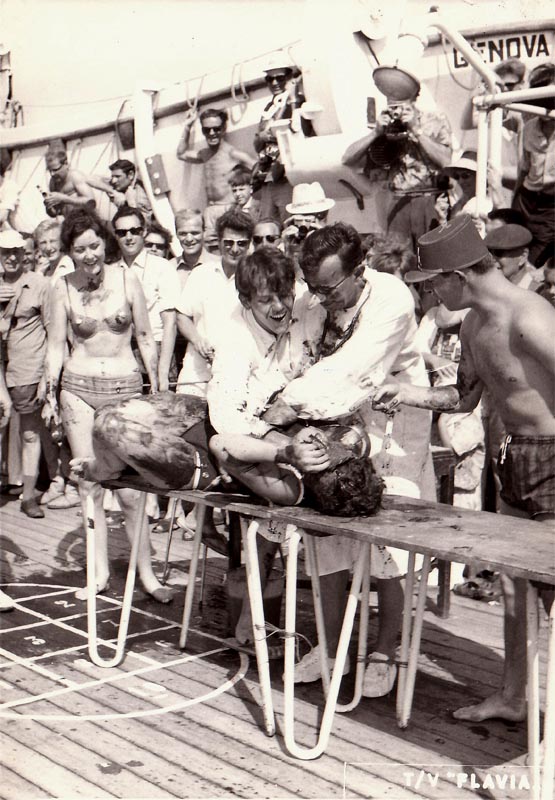 Myself (left) and shipmate Tony Kajper are cleansing a young lady from the judgement that was handed
out by King Neptune during the crossing the Equator Ceremony. We were assisted (right) by Otto Steenbrink
Everyone, including the young lady had great fun that day!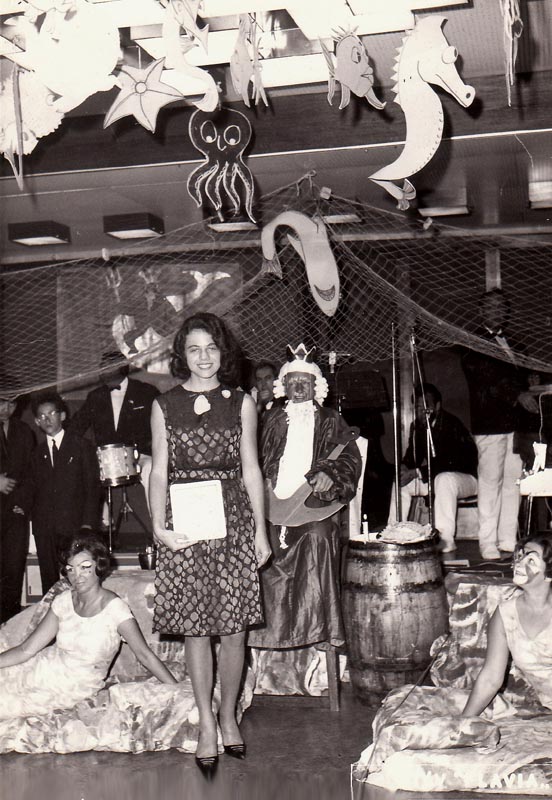 King Neptune is seen seated at his Throne, with his mermaids at his feet
And chosen was the very beautiful Metta van de Linde who became "Miss Flavia" in March 1965
Fancy Dress Ball
The next even noteworthy of mention and which I happen to have a photograph of, is the "Fancy Dress Ball" in the Riviera Lounge and it was a wonderful night indeed. My dancing partner Janie (Jane) van de Linde and I had decided to go as "Solomon and Sheba." We both wore silver garb, and I had a red cape with silver trim, a turban with a gold medallion I had borrowed, and on my chest was an Eagle with its wings stretched out, which was drawn and cut out and glued on. With a beard and a mo added, it looked good Janie looked lovely, sadly the photo just does her no justice, but we won!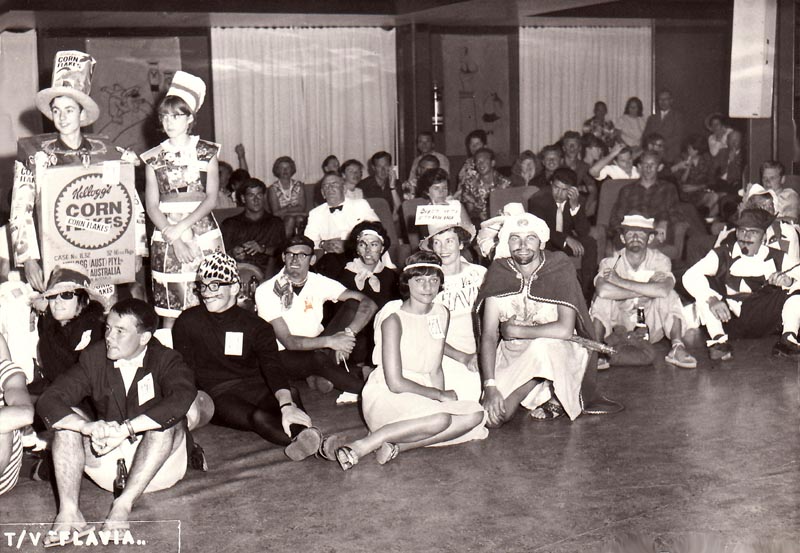 Janie and me seated awaiting the announcement if Solomon and Sheba did any good in the parade?
Having paraded in our fancy dress and the winners selected, with myself and Janie having won first prize, the Ball then commenced. Although not long after having been chosen as the winner, I had to return to my cabin as I was not too well. But, as usual, everyone danced the night away and they enjoyed the many games on offer during the evening, until it was time for the wonderful Midnight Buffet. There were so many wonderful days and nights onboard the excellent Italian liner Flavia and if she was around today, I would go on her again, for she was the perfect ship!
Voyage Conclusion
Now I come to something that I have purposely left out so far. Even though I had a wonderful voyage and I made the very best of it, but whilst I was in Europe and on the Flavia I was continually suffering from severe Tonsillitis! Doctors in Europe and doctors on the Flavia were forced to treat me with antibiotics, however as we had been on the move for many years as my mother was one to continually travel and I had to tag along, and that had been going on since the 1953, and of course I had no choice, for she made all my life's choices in those days being extremely domineering. Although I desperately required a tonsillectomy for many years, it was never done for we were on the move, thus the never-ending antibiotics and during the voyage it was just more and more antibiotics.
But suddenly whilst on the Flavia I ended up with severe "antibiotic poisoning" and the doctor advised my mother that we had to get off the ship in Auckland New Zealand, although we had a ticket to Melbourne Australia. But the Purser provided us a two-year open ticket to sail from Auckland to Melbourne. Thus when we reached Auckland we disembarked.
Nothing was done about my tonsils, which was usual, and I was sent to work in a shipping agency, then around a year later mother decided that it was time to start thinking about heading to Australia.
MS Aurelia Auckland to Melbourne
Some time later, we boarded the smaller but pleasant Cogedar liner, the MS Aurelia and we sailed to Sydney and continued to Melbourne. I recall that it was onboard this voyage I befriended the delightfully New Zealand Rock-Pop Star, Miss Dinah Lee and she such a delightful person to know and we got on like extremely well! She is a wonderful human being and I have loved her over the years. She is much loved here in Australia and she made her home here and continued her singing career and Dinah has released many albums and only released a brand new Album just recently!
Below are a number of images that came from a MS Aurelia brochure and they were kindly provided to me by a dear friend of mine, Stan Evans of Newcastle, Australia who has sailed on countless ships and we have crossed occasionally on a ship, the last time I saw him was whilst on the around the world cruise on the Dawn Princess. Thank you Stan!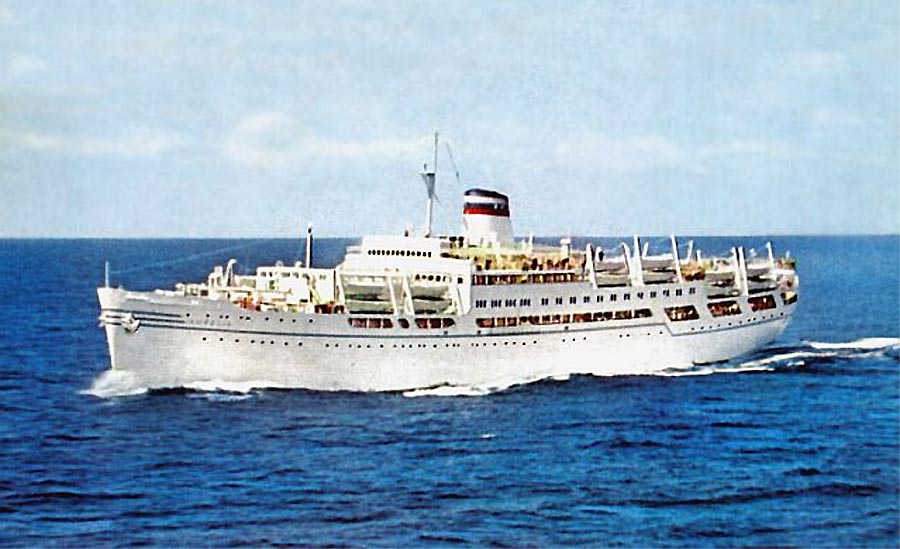 The delightful 1939 cargo ship rebuilt as a passenger liner to become the MS Aurelia in 1954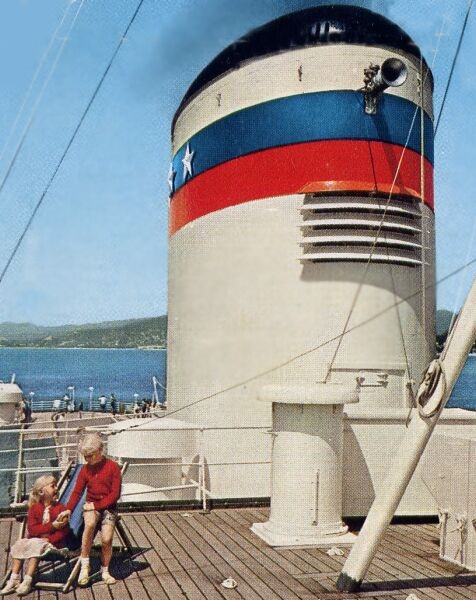 A traditional but stately funnel of the Aurelia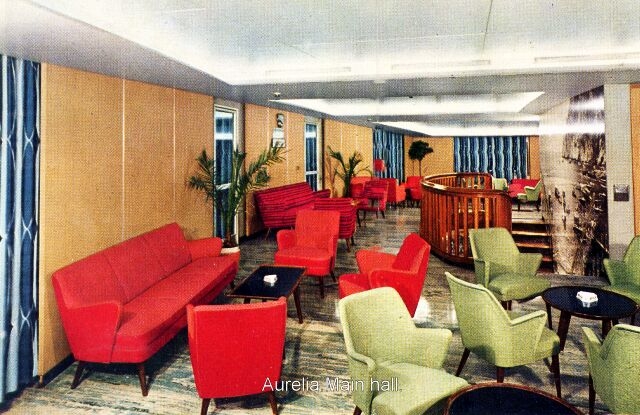 Far forward is the Main Hall on Riviera Deck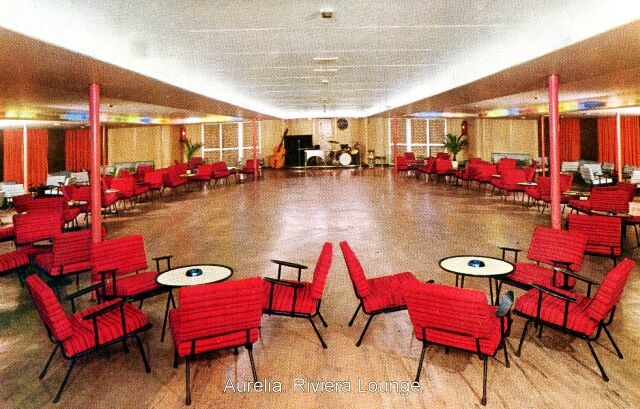 The grand Riviera Lounge & Ballroom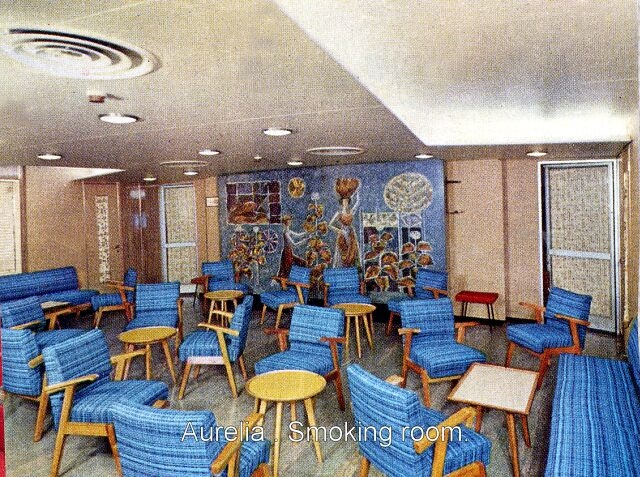 The Smoking Room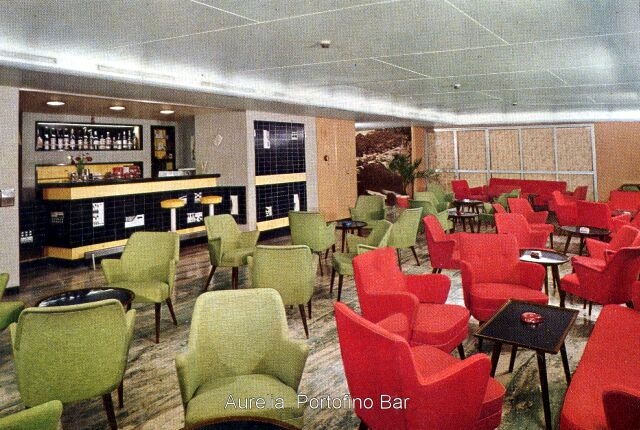 The delightful Portofino Bar, where Dina Lee and I spent a lot of time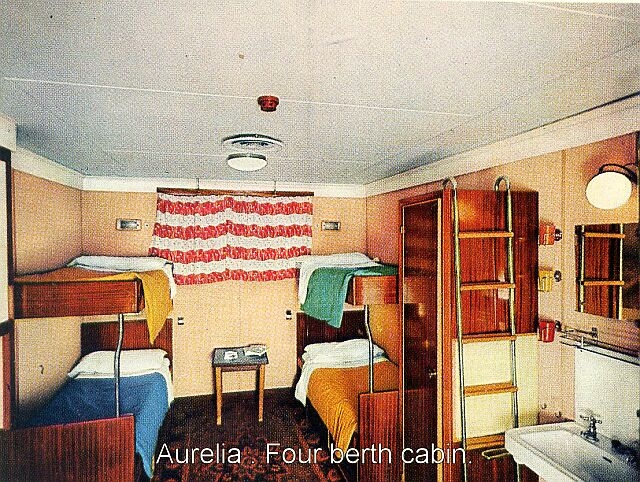 A typical four berth cabin, I had an upper berth on the left had side
It was down below, although we had paid for a superior cabin, yet I ended with a cheapie
Whilst mother was up topside in a single bed cabin, the best on the ship!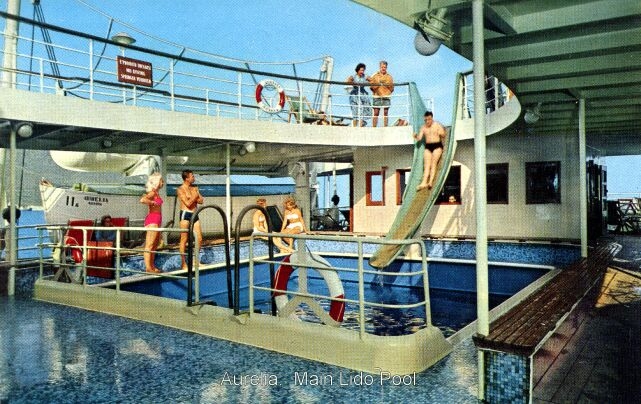 The Lido Pool and Indoor Bar
****************************************
PS: Once back in Australia, I managed to move out of home and headed to Brisbane where I very quickly organised to have my Tonsillectomy at the Princess Alexandra Hospital with an excellent doctor! Thus, finally I was over my long-standing problem and my suffering was finally at an end!
To conclude, I will just add one more beautiful photograph of the brilliantly rebuilt once somewhat boxy looking Cunard passenger-Cargo liner the RMS Media, which became the sleek and streamlined T/S Flavia. Although I was rather ill at times, but during my time onboard for the most of time, I had a wonderful time on board. The truth is that she was not just a beautiful ship, but the service was simply wonderful and the food could not be faulted and the atmosphere onboard was absolutely perfect, they showed great movies in the Auditorium, thus what more could you ask for … besides great ports of call, and we had those in - Willemstad, the Panama Canal and Papeete for they all had their special wonders! Bremerhaven and Tilbury, well they were just far too cold and windy to be enjoyed, but that is nothing new. If the Flavia could only return, but that is just a dream!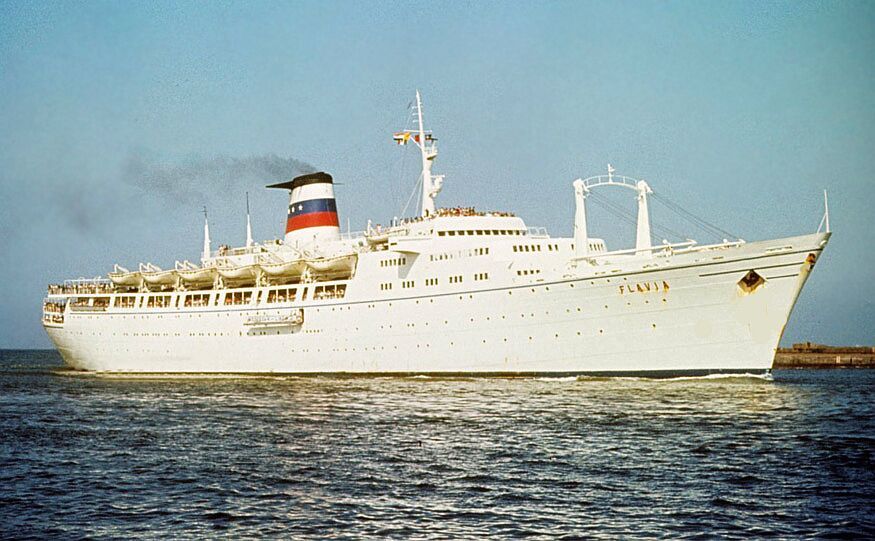 The superb and beautifully rebuilt liner, Cogedar Line's T/S Flavia
Reuben Goossens.
Maritime Historian, Author & Lecture
Commenced in the Passenger Shipping Industry in 1960!
****************************************
RMS Media & the RMS Parthia, Remuera & Aramac - INDEX:
Part One:????????????????? RMS Media & Parthia and the ship that would become the Cogedar liner, T/S Flavia.
Part One - B:???????????? RMS Parthia. This is a completely separate but related feature that covers the RMS Parthia that became the SS Remuera and later the SS Aramac.
Part One - C:???????????? SS Remuera Malcolm Walker sails on Remuera's final voyage to the UK, before she became the Australia ship SS Aramac.
Cogedar's SS Flavia
Part Two:????????????????? T/S Flavia - History Page
Part Three:?????????????? The Author's Voyage in 1965 & Photo Album
Part Four:???????????????? Passenger Photographs & Menus
Part Five:????????????????? Cabin Plan
Part Six:?????????????????? Original Brochure
Other Cogedar Ships featured on ssMaritime:
1:???????????????????????????? MS Flaminia
2:???????????????????????????? MS Aurelia
****************************************
Return to the ssMaritime Main INDEX
ssMaritime.com & ssMaritime.net
Where the ships of the past make history & the 1914 built MV Doulos Story
Also visit my
"Save The Classic Liners Campaign"
Please Note: ssmaritime and associated sites are 100% non-commercial and the author seeks no funding or favours of any shape or form, never have and never will!
Photographs on ssmaritime and associate pages are by the author or from the author's private collection. In addition there are some images that have been provided by Shipping Companies and private photographers or collectors. Credit is given to all contributors. However, there are some photographs provided to me without details regarding the photographer/owner concerned. I hereby invite if owners of these images would be so kind to make them-selves known to me (my email address may be found on www.ssmaritime.com only), in order that due credit may be given.
This notice covers all pages, although, and I have done my best to ensure that all photographs are duly credited and that this notice is displaced on each page, that is, when a page is updated!
ssMaritime is owned & ? Copyright by Reuben Goossens - All Rights Reserved